Best Offbeat Trek in Nepal for Beginners – Mardi Himal Trek Facts – 2023
I was planning to go for an offbeat small trek in the month of April when I learned about the Mardi Himal Trek in Nepal.
Having had a sedentary lifestyle, I knew I had to prepare myself. To prepare, I started visiting a playground near my home a month before my trip to Nepal.
For that month, I spent 1.5 hours, five days a week, engaging in activities such as jogging (2 km), running (800 meters), and walking (10 minutes).
Yes, that's how I readied myself for the easy-to-moderate, five-day trek in Nepal – the Mardi Himal Trek. Surprisingly, I completed the trek comfortably in just four days.
So, if you're concerned about the difficulty level of the Mardi Himal Trek, rest assured, you can do it.
However, let me emphasize that while the trek is moderately easy physically, it requires a substantial mental push.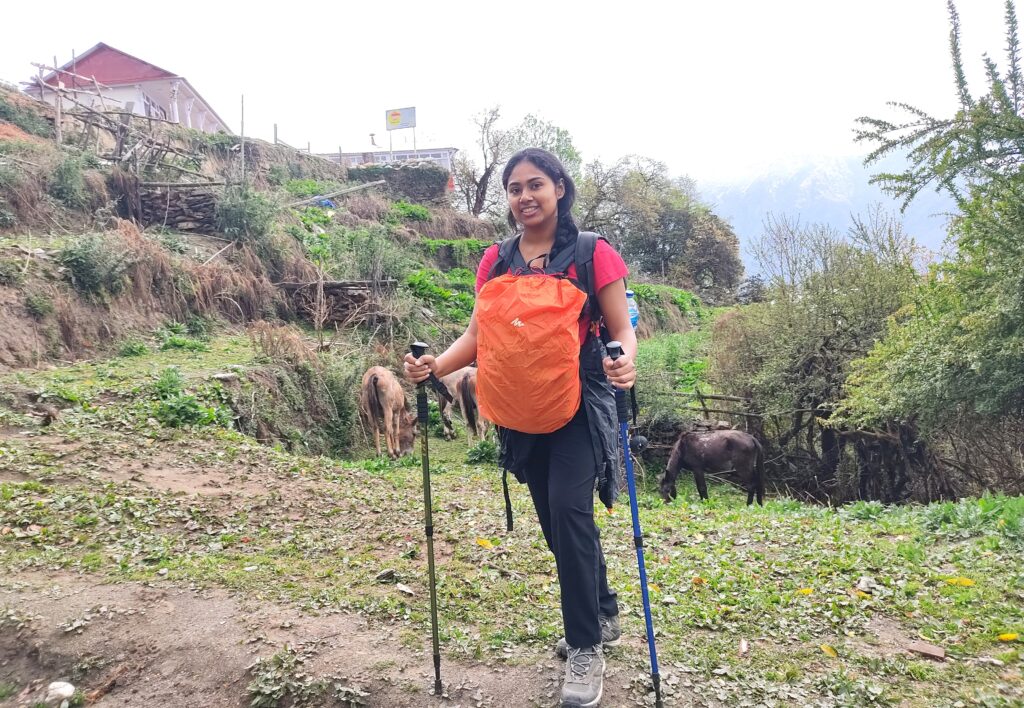 The trail has numerous stairs, and there might be days when the weather is less than favorable. Let me just give you a sneak peek of my trekking journey.
During my journey until reaching High Camp, I experienced rainfall, hailstorms, thunderstorms, black clouds, and a lingering fear of turning back to Pokhara. The rain was relentless and seemed never-ending.
The locals said that I could continue, and I believed them, so I carried on with the trek. The trekking route falls within the territory of the Annapurna Conservation Area.
This means it's a part of the Annapurna Base Camp Trek (ABC), albeit a shorter version that was introduced in 2012.
It offers spectacular views of Mt. Annapurna and Mt. Fishtail. This was my first solo trek in Nepal, which I did without a guide using Map. me, a map that shows the trail, distance, and way.
Read More: How can you travel to India?
Table of Contents
Important Notice about Mardi Himal Trek Route Details
Until April 1st, 2023, one could undertake the Mardi Himal Trek solo, without the need for a guide or a pre-booked guided tour.
However, during my visit to Pokhara, Nepal on April 17th, 2023, I was informed by the hostel owner that the Government had implemented a new regulation as of April 1st, 2023.
This new law mandated that tourists and trekkers must hire a local guide for the trek, with the primary intention of ensuring the safety of the tourists.
This news left me feeling concerned, as I had originally planned to tackle the trek solo, and the cost of a guided tour was expected to be at least $250 – an expense I hadn't budgeted for.
Fortunately, when I visited the Nepal Tourism Border, the officer informed me that although the rule had been established, it was not being strictly enforced yet.
He granted me the pass I needed and provided me with both a Nepal Map and an Annapurna Base Camp trail Map.
He assured me that the Mardi Himal Trek is regarded as one of the safest short solo treks in Nepal, especially for female travelers.
It was a relief to have the chance to proceed with my solo journey, and the officer's guidance provided a sense of reassurance.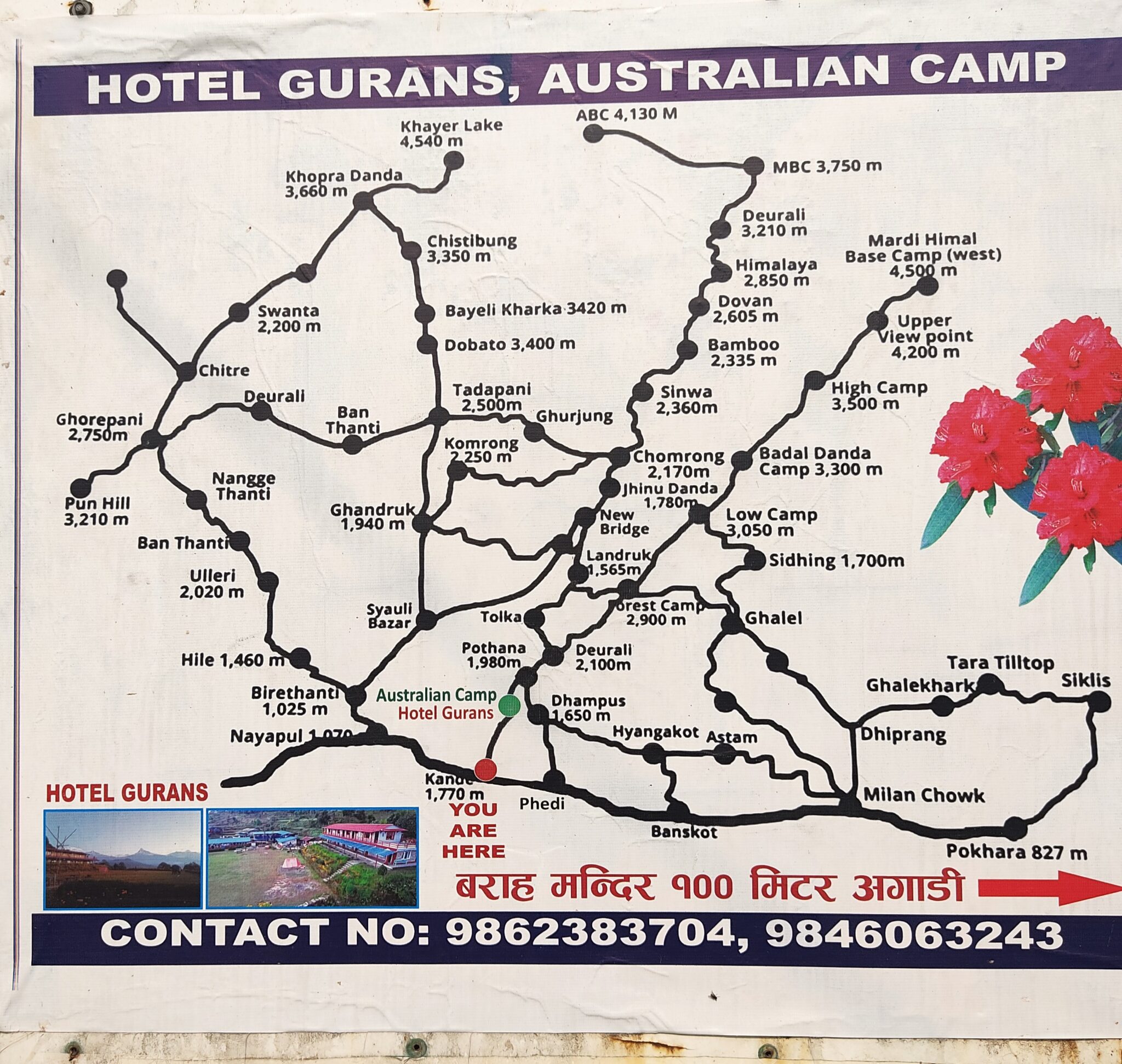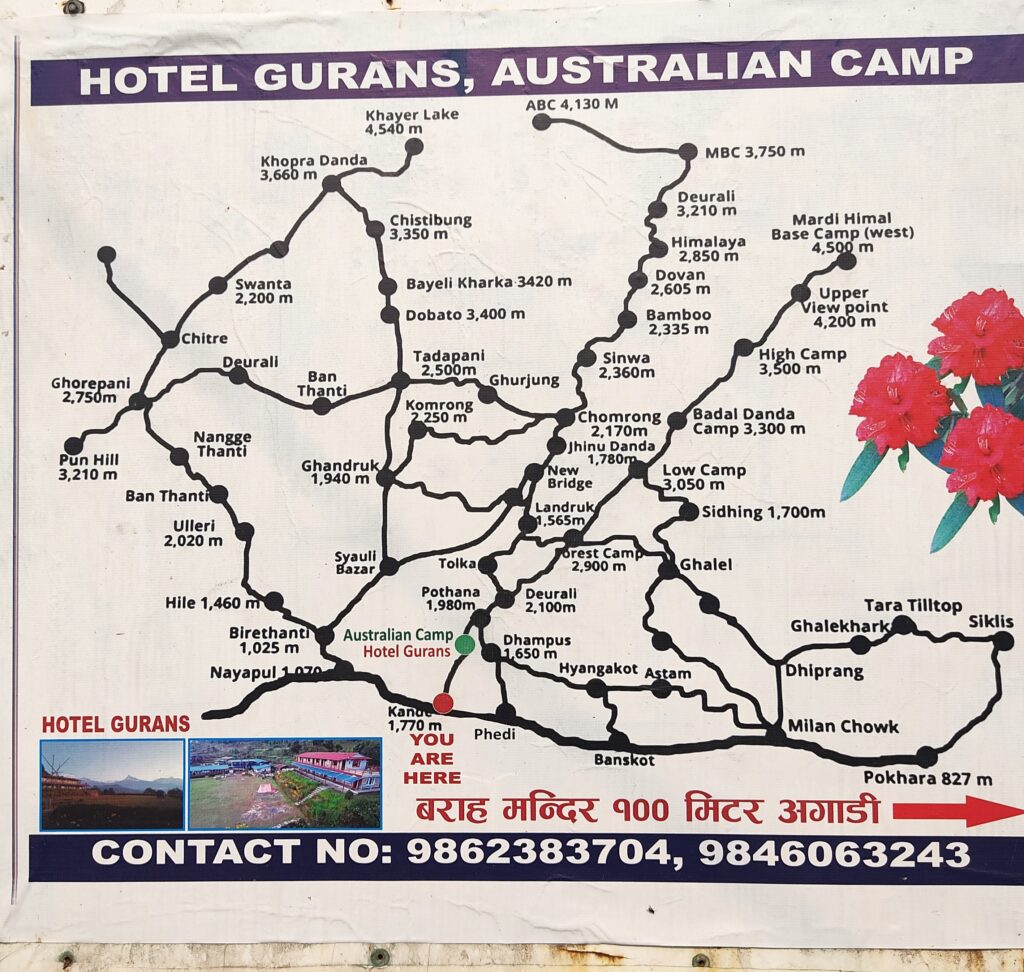 This blog is my experience highlighting the importance of being updated with the latest regulations and guidelines when embarking on such adventures.
If you find yourself in a situation similar to mine, where budget is a concern, I have a suggestion that might help.
I recommend considering teaming up with other fellow travelers to share the expenses.
Many individuals embark on the same trek, and by striking up conversations and building connections, you might find like-minded individuals to join forces with.
Sharing expenses can significantly reduce your overall costs. This approach can make the experience more affordable and enjoyable.
Additionally, if you're interested in having a guide accompany you, that's a viable option too. Allow me to share the contact details of a guide named Nimay.
He's a local guide known for his patience and support. You can reach him at +977984-5431718. I had the pleasure of meeting Nimay on the trail, where he was guiding two fellow travelers named Roy and Eden from Israel.
I'll share the story of how I crossed paths with them and how we decided to trek together. It's okay to note that when you're on the trail, you're never truly alone.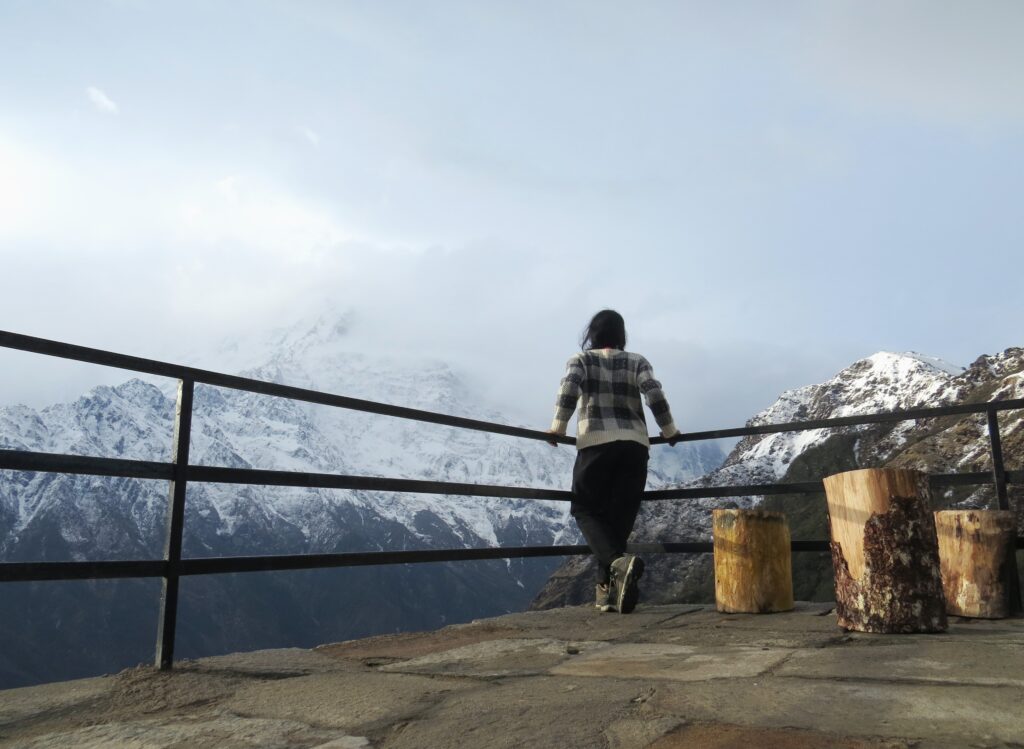 Opportunities to connect with others and share experiences are abundant, making the journey even more fulfilling.
Furthermore, if doing this trek solo doesn't align with your comfort level, I strongly advise considering the option of selecting a reliable tour operator or hiring a guide.
While this may entail additional expenses, it guarantees a journey under the guidance of experienced hands, eliminating the stress of managing everything on your own.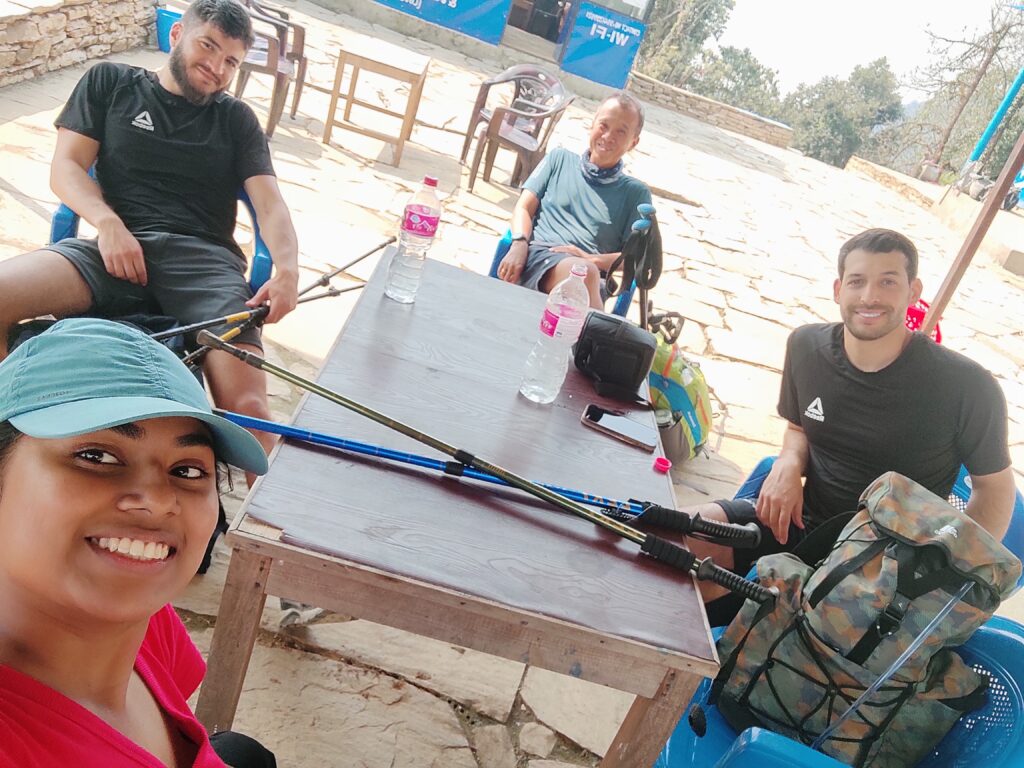 Read More: Places to try Indian food?
Mardi Himal Trek Permit Process
The likelihood of permit and pass checks on the Mardi Himal trail is a mere 1 out of 100. Rarely does anyone verify documents on the route.
However, it's important to bear in mind that surprises can happen, and you never know when circumstances might change.
And, if you're caught not buying the passes for the trek then be sure to pay an hefty amount of fine no less than $ 200.
This is why obtaining the necessary permits and documents is of utmost importance and shouldn't be treated as a secondary concern.
Ensuring you have the required paperwork is a crucial part of your preparation. To obtain these permits, you must visit the Nepal Tourism Board, which has offices in both Kathmandu and Pokhara.
The offices are operational from Monday to Friday, between 10 am and 5 pm. When I obtained my permits, I chose the Pokhara office, finding it less congested than the one in Kathmandu.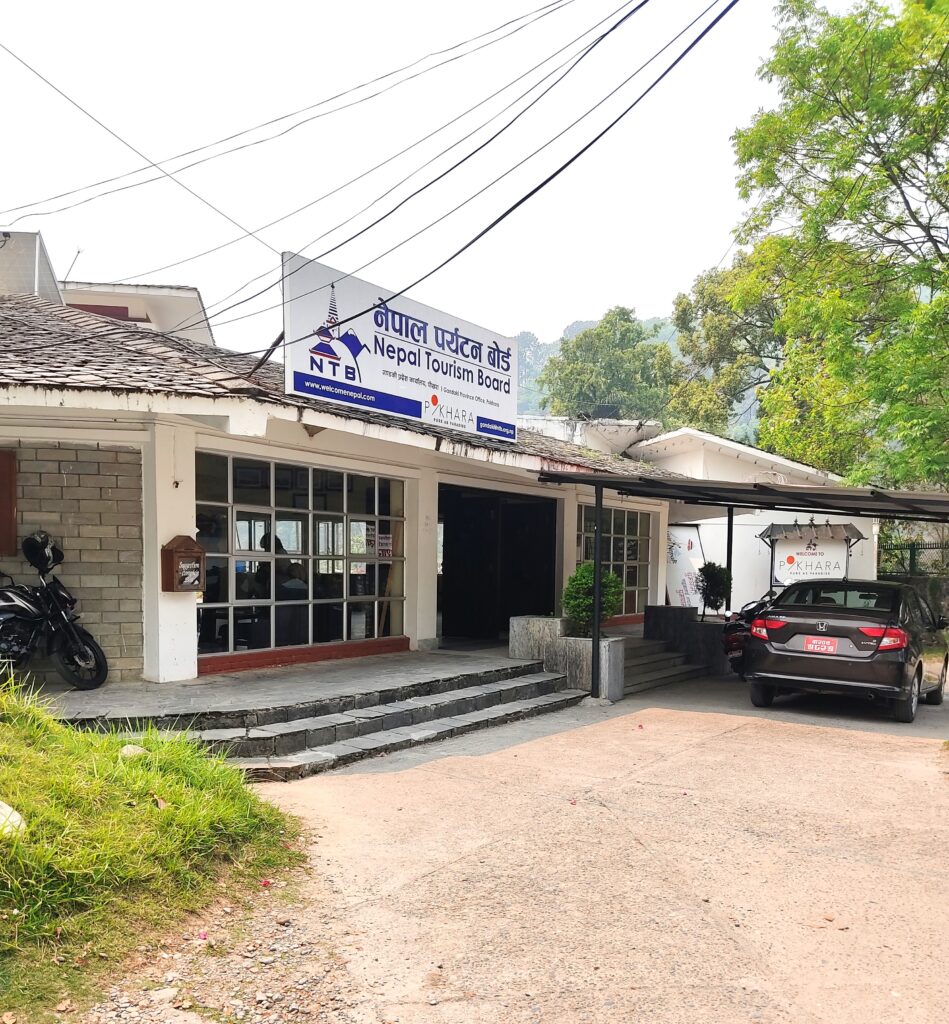 The process there was efficient and the permits were issued promptly. It's truly impressive how responsibly they document all your information.
This meticulous documentation ensures that, in the event of an emergency, you're in a safe and secure position. Remember, the permits are always on arrival, you cannot do it online.
Upon arriving at the office, you'll need to inform the officer about your intended trek destination. They will then provide you with two forms that require your attention.
Filling out this form demands meticulous care, ensuring that you provide all the details requested accurately. The first form is called Trekkers' Information Management System (TIMS), and Annapurna Conservation Area Permit (ACAP).
Some of the details you'll need to include are your name, nationality, duration of your trip, the name of the trek, the starting and ending points of the trek, passport details, and a photocopy of your ID cards. Alongside this, you'll also need to attach four passport-size photos.
After you've meticulously filled out the form and attached the necessary documents, the next step is to pay the required fee.
Being from India and a member of the SAARC region, I was required to pay only 1000 Nepali Rupees.
However, if you hail from a non-SAARC country, the fee for the Mardi Himal Base Camp Trek is $30.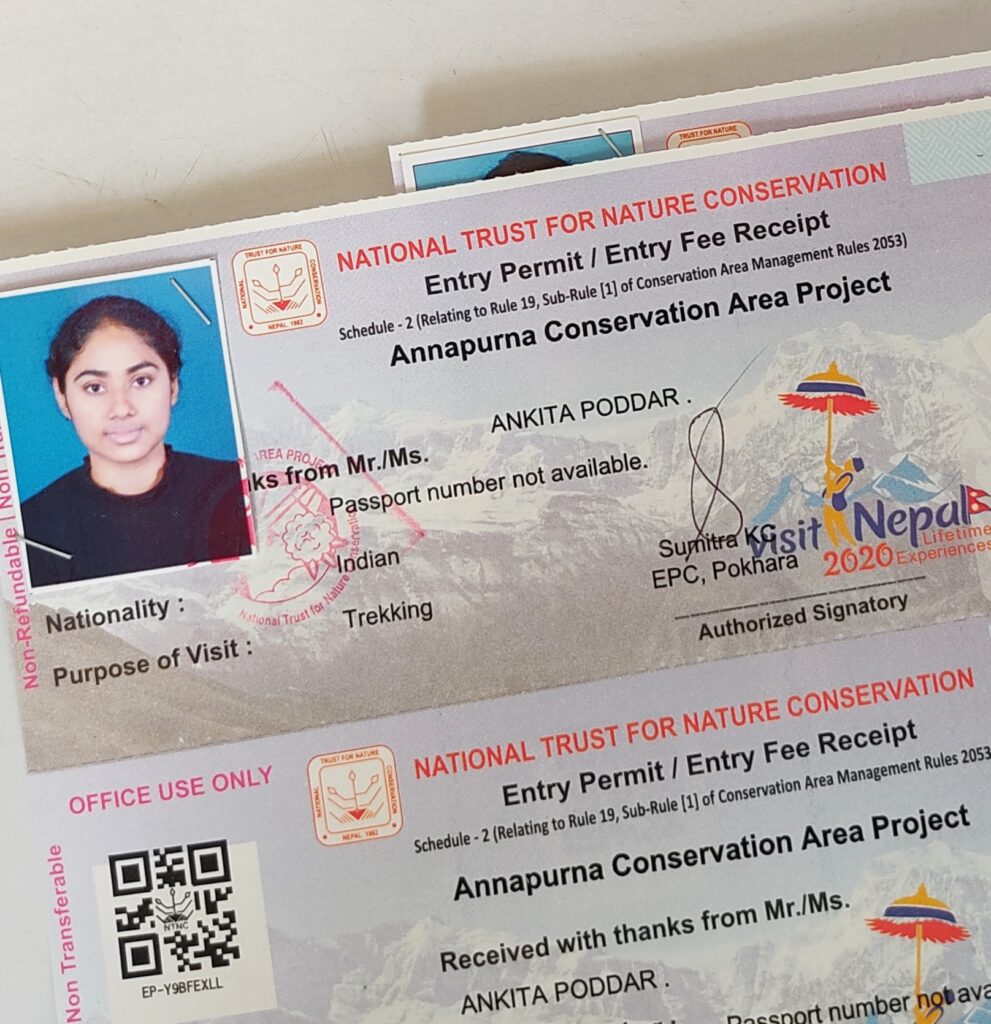 Where can you travel in India
Fitness and Training Consideration – Mardi Himal Base Camp Trek
To complete the Mardi Himal Trek in four days, you'll need to hike for approximately 6-7 hours each day, covering the trail from Kande to Forest Camp, High Camp, Low Camp, and Siding.
Indeed, you have the option to extend the trek by adding more days and stops, which would reduce the daily hiking time. Regardless of the chosen duration, having a basic level of fitness is imperative to undertake this journey.
Each day, there's an average elevation gain of 500 meters. It's important to note that hiking uphill is distinct from walking on level ground – the experience is quite different.
The trail is marked by numerous staircases, and the forested surroundings often lead to muddy paths, slowing down your pace. Adequate stamina is a necessity.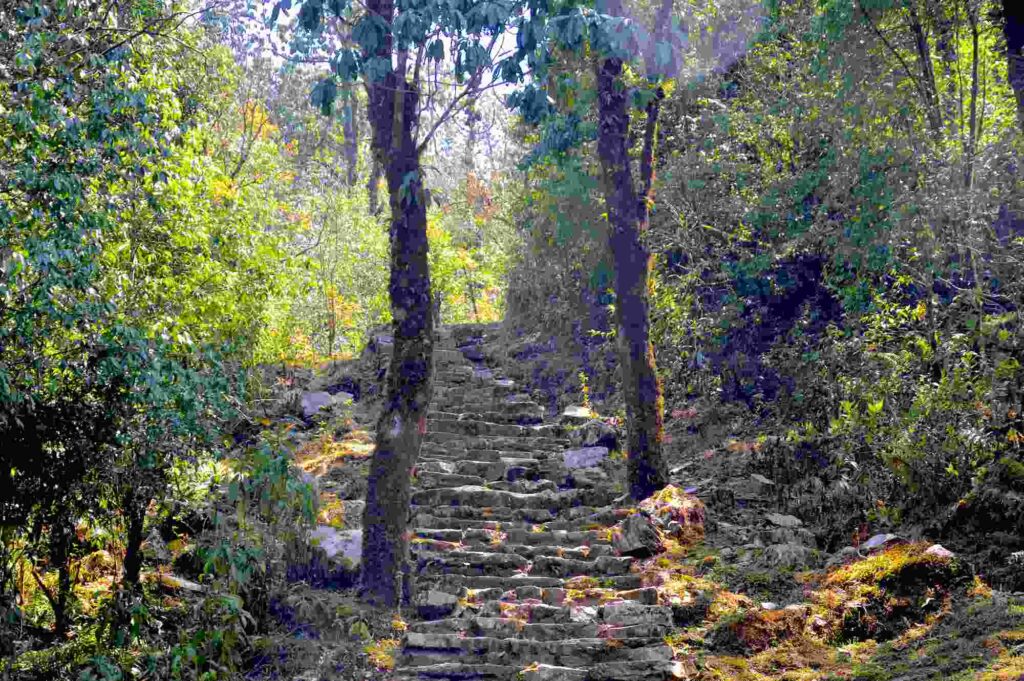 During my time on the trail, after passing Australian Camp, I met Roy and Eden from Israel, along with their guide Nimay. A lot of people also come here camping. If you've time, do check out this place!
While standing at a trail intersection, pondering which route to take, Roy approached me and requested a photo with Dhaulagiri in the background.
With a smile, I obliged and captured their picture. After taking a few pictures we started talking, I shared that I was traveling alone in Nepal and had embarked on the trek solo.
Eden then extended an invitation for me to join them, which I happily accepted, and our trek together commenced.
As we hiked together, I quickly realized that their stamina surpassed mine. They didn't experience muscle stiffness and maintained a brisk pace, outpacing me.
Through our conversation, I discovered that Eden maintains an active lifestyle as a district-level swimmer, while Roy has been involved in the fitness industry for 14 years.
In contrast, my preparation had been limited to jogging and running for a month prior to the trek. Despite our varied backgrounds, the four of us successfully completed the trek. However, they finished about an hour ahead of me.
This experience highlights a crucial point: completing one of Nepal's finest small treks, like Mardi Himal, demands a basic level of fitness.
Furthermore, a strong mental resolve is equally vital. There will be moments when the elevation makes you feel like giving up, but, it's your mental strength that will drive you forward.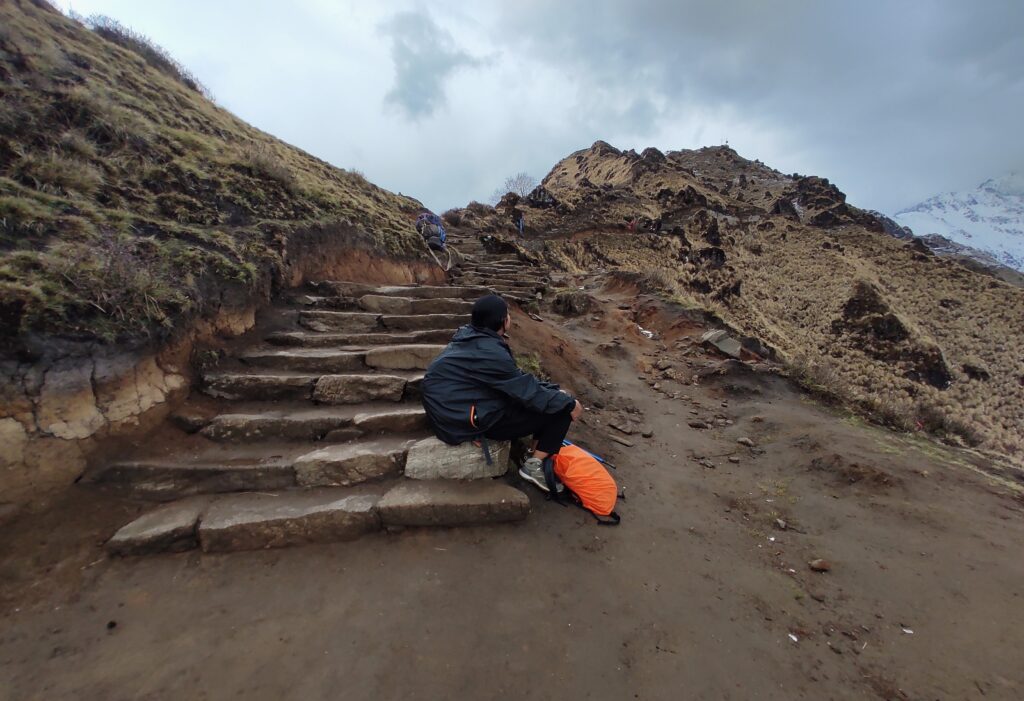 Read More: Come to India to know about historical places
Significance of the Mardi Himal Trek and its Popularity
Within the expansive Annapurna region, Mardi Himal is the offbeat and shortest trekking trail in Nepal.
It takes 4-5 days to complete the trek ensuring clear views of South Annapurna and Mt. Fishtail. Also, it is the only trek that takes you at an altitude of 4000m + only within 4 days.
This trek is ideal for travelers for whom time is constrained and who want to choose an offbeat spot other than Everest Base Camp and Annapurna Base Camp.
The trail presents a picturesque journey, winding through verdant hills and forests adorned with oak and rhododendron trees, where the hues of pink and yellow flowers create a captivating display.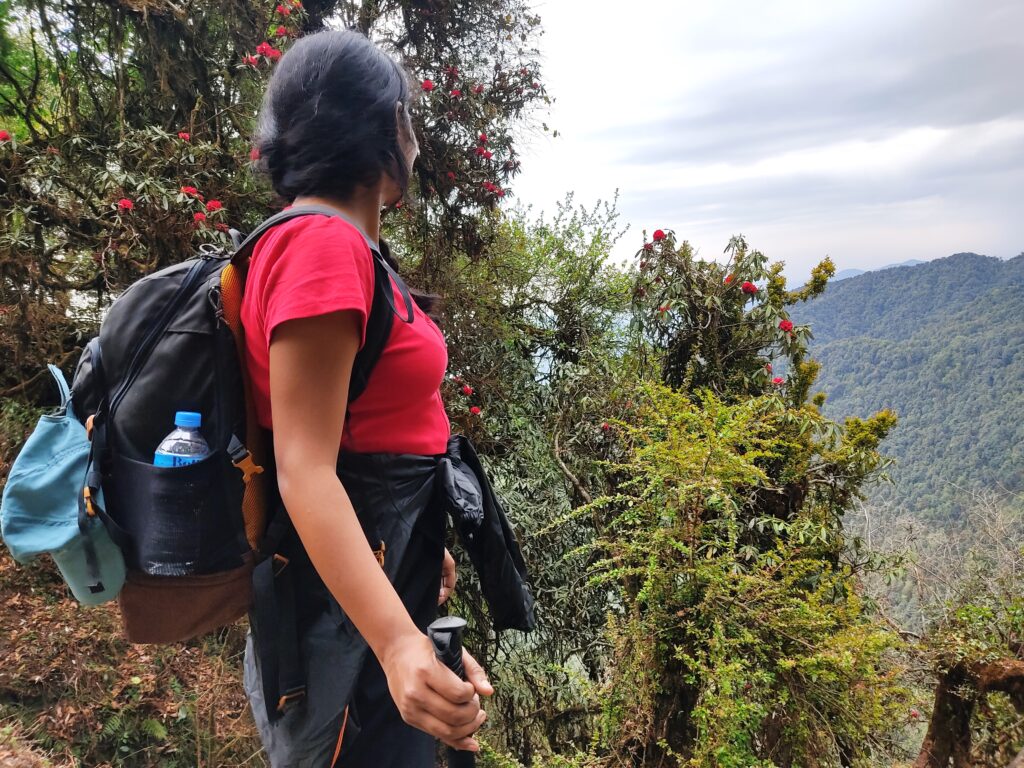 The air is filled with an earthy aroma that envelops your senses. At certain points along the route, you'll find yourself accompanied solely by the presence of flowering trees, a true immersion in nature's beauty.
On the trek, you'll be seeing Gangapurna Himal, Machhapuchre, Annapurna I, Annapurna South, and of course Mardi Himal. The rocky ridges are also worth mentioning.
Tip: In the month of March to the beginning of April, the trees are full of Rhododendron flowers. It is said animals like Musk deer are there, but I did not see any.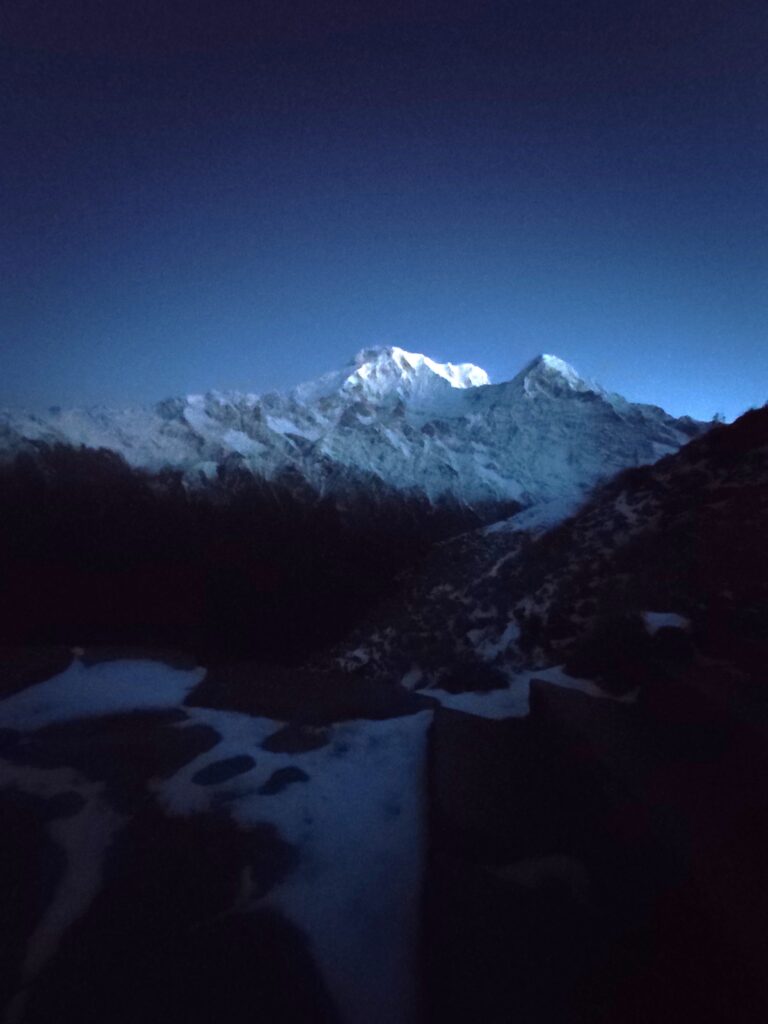 Mardi Himal Trek Packing List – Traveling without Guide
The Mardi Himal Trek takes you to higher altitudes, requiring you to "pack light, but pack right." If you opt for licensed guides, they typically charge $25 per day, covering food and accommodation. Alternatively, porters charge $20 per day, including food and lodging.
In my case, since I embarked on the trek solo, I didn't incur these costs. I only paid for my room, meals, and the charging of my electronics at Low Camp. Reflecting on my experience, I made the mistake of carrying two bags – a 30-liter backpack and a 10-liter bag in the front. This proved to be quite a challenge at times during the trek.
The mistake I made wasn't in carrying the essentials but rather in how I packed them. I hadn't packed efficiently, resulting in the burden of two bags. I share this so you can avoid a similar misstep and pack intelligently for the Mardi Himal Base Camp trek.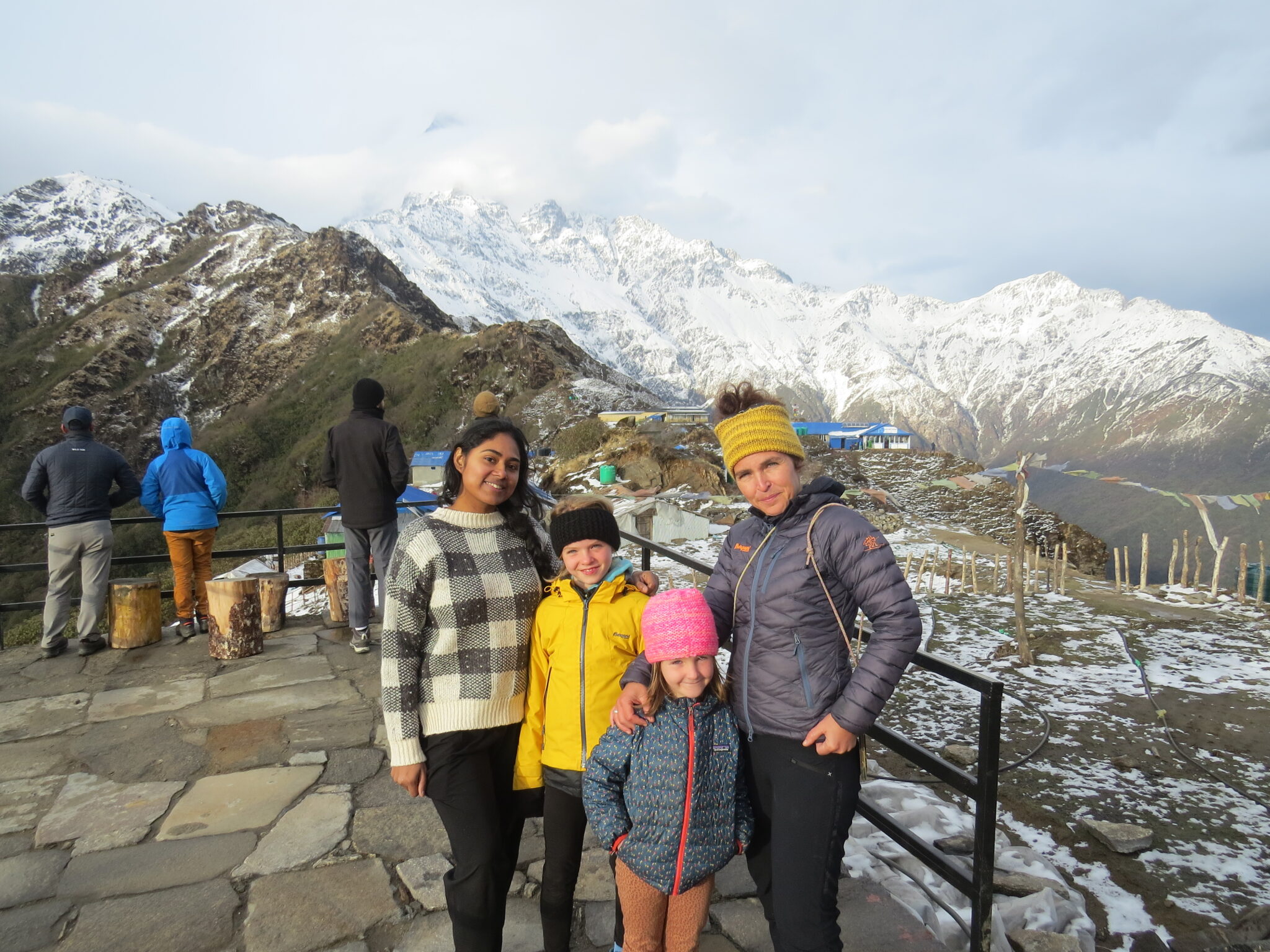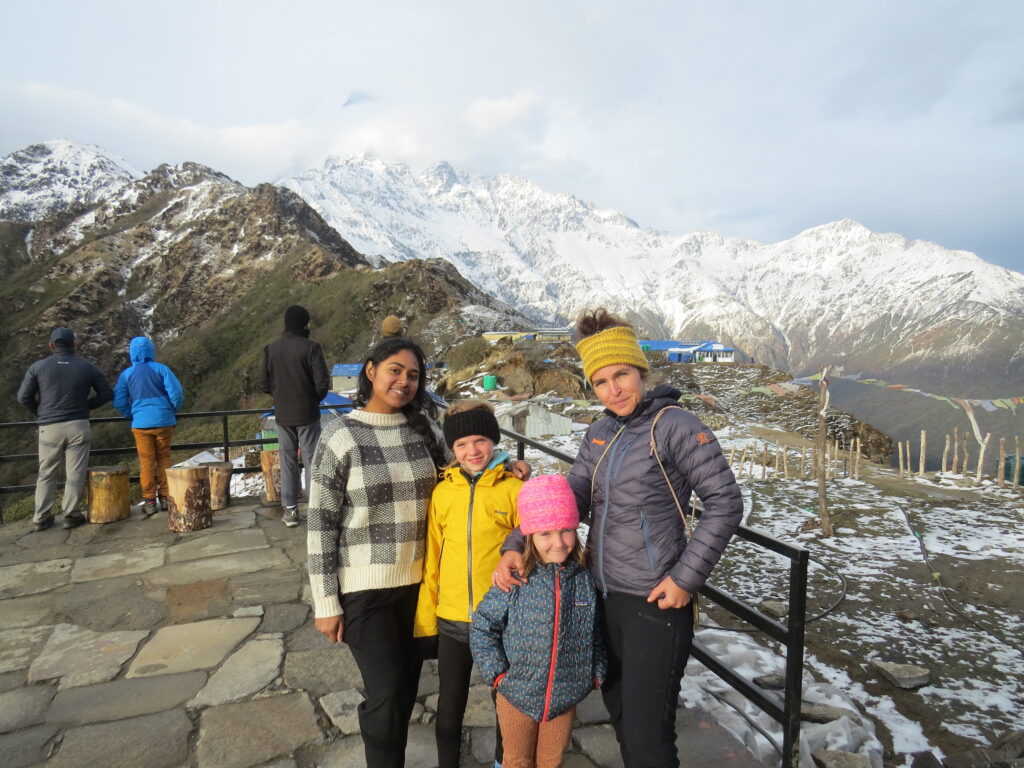 When it comes to accommodations, there's no need to worry. At each stop, numerous hotels and homestays are available, and pre-booking isn't necessary. The facilities provided at such high altitudes – including food quality, quantity, room conditions, and cleanliness – are truly remarkable.
Typically, the cost of homestays at each stop ranges from 400 to 500 Nepali Rupees, making it quite affordable. Food prices, however, tend to be a bit higher, ranging between 500 and 700 Nepali Rupees. Keep in mind that the cost depends on the items you order.
I was truly delighted by the diverse menu offerings at Forest Camp, High Camp, and Low Camp. They cater to a wide range of preferences, serving everything from traditional Nepali non-vegetarian Thali to apple pie. Vegetarians need not worry; they offer piping-hot Indian flatbread.
A noteworthy point: during the trek, it's essential to have Nepali currency with you. At all stops, food stations, and places of rest, only Nepali currency or Indian Rupees are accepted. I rarely saw anyone using US dollars.
Here are my tips and recommendations for packing essentials for the Mardi Himal Trek: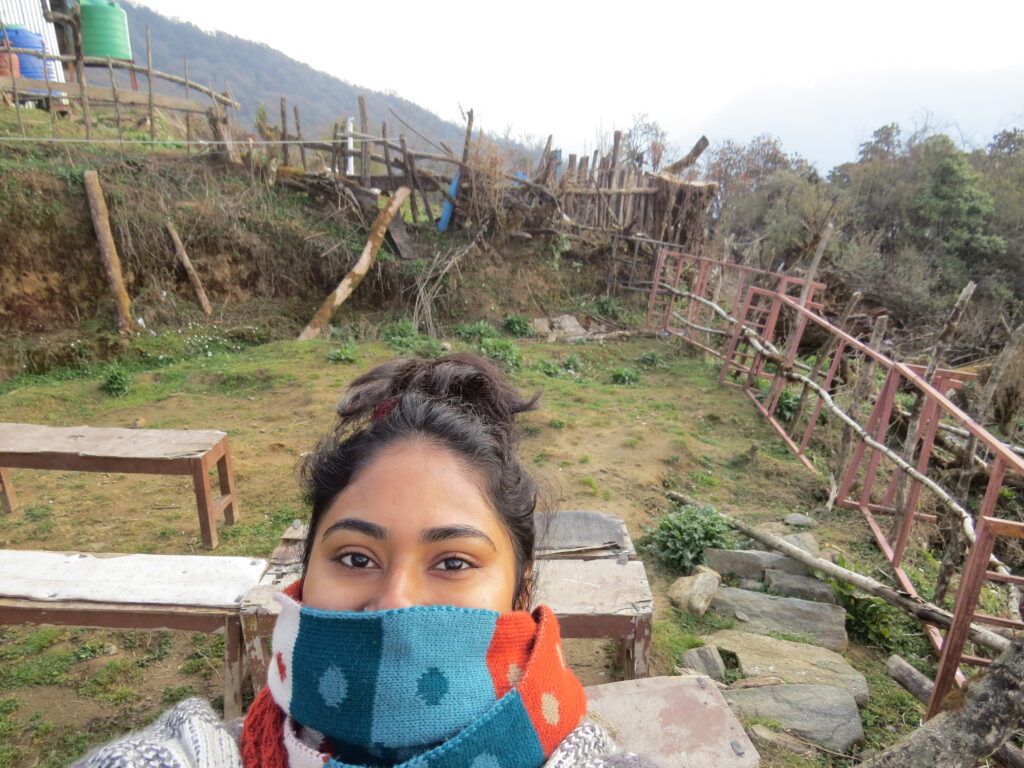 Clothing:
Thermals
Fleece
Waterproof jacket
Raincoat/ Poncho – must
1 pair of hiking trousers (full-length)
2 pairs of hiking T-shirts
1 normal shorts and 1 T-shirt
1 hat – must
1 pair of cotton long socks and 1 pair of woolen socks
Hiking shoes
Woolen gloves
Woollen cap and Balaclava
2 pairs of inner garments
Food:
Almond, Raisin, Walnut, peanuts, cashews, pumpkin seeds, sunflower seeds, (must), and 8-10 protein bars
Oats biscuits
Oral Rehydration Solution – and water bottle
Equipment:
One 50 Lit backpack with rain cover
2 trekking poles – must
Trekking towel
Headlamp with extra batteries – must
Camera
Mobile charger
First Aid Kit:
Diamox
Aspirin (pain relief)
Antiseptic ointment
Bandages
Imodium (for diarrhea)
Vicks
Toiletries
Toothbrush and toothpaste
Hand sanitizer
7-8 big plastics to wrap wet clothes while returning back
Face wash and body wash
Moisturizer – body, and face
Lip balm with SPF
Sunscreen (SPF 50+)
Toilet paper – must
Mardi Himal Trek Accommodation Booking
Allow me to provide you with comprehensive information about the Mardi Himal Trek tea houses, which I believe will put your mind at ease. I understand that you may not find these accommodations listed on platforms like booking.com or hostelworld.com, which can be quite concerning. However, worry not!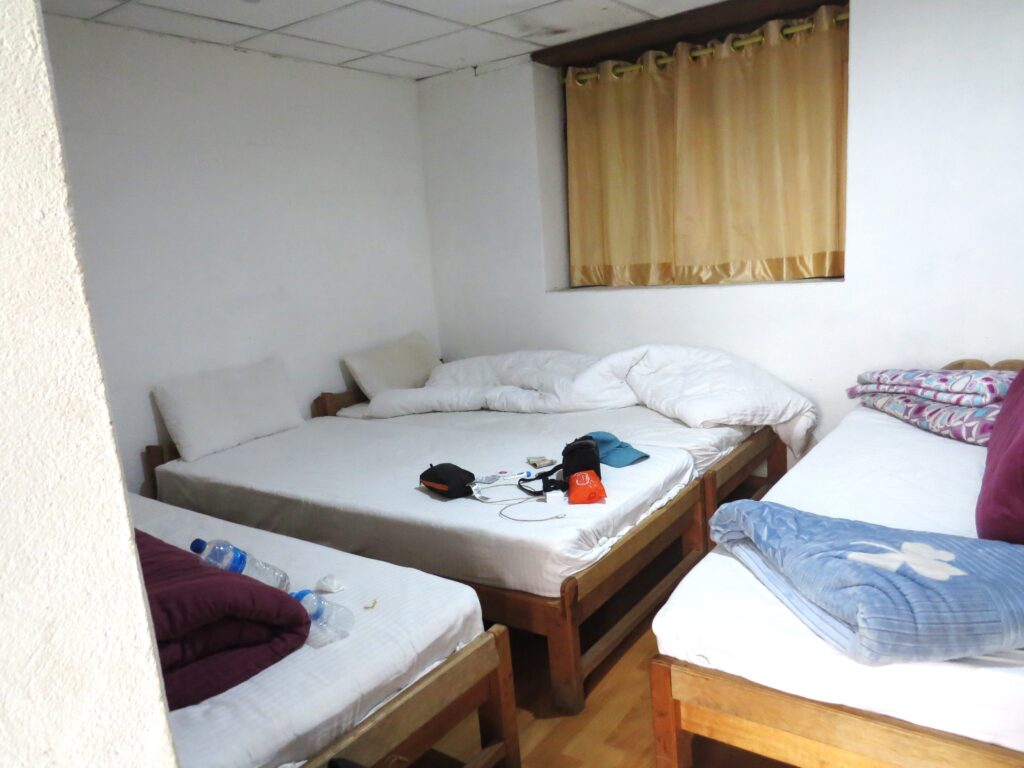 At Forest Camp, High Camp, and Low Camp, you will find cozy teahouses or guesthouses. These lodgings offer rooms with 2 to 6 beds each, along with basic amenities such as outdoor toilets, showers, and a communal dining area.
This dining area becomes a gathering spot in the evenings, where trekkers come together, converse, and bask in the warmth. The cost of accommodation ranges from 400 to 500 Nepali Rupees.
The rooms are comfortable and of good quality. If you're considering camping during the Mardi Himal Trek, I suggest considering these properties. However, do note that there might be a charge for camping, making staying in the provided rooms more appealing, especially given the cold conditions.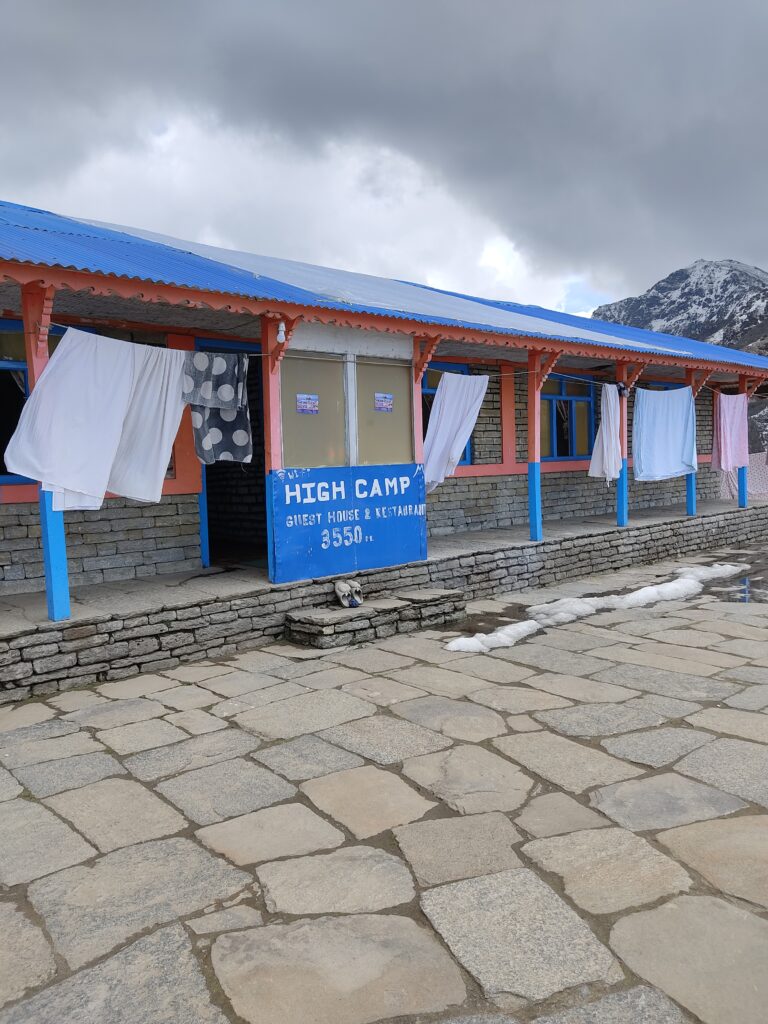 For those planning to trek during the peak season (August to September), I recommend pre-booking a guesthouse in High Camp. The options for accommodations at High Camp are relatively limited compared to Forest Camp and Low Camp.
During my stay, I lodged at Hotel High Camp, and I'm sharing their contact details: 061-696839, 9866014558. I've heard stories that if you arrive without a booking and all the rooms are occupied, they might offer you space in the dining room to sleep.
These dining areas are equipped with beds. If you're experienced with camping, this arrangement might suit you. However, if not, it could be a bit uncomfortable.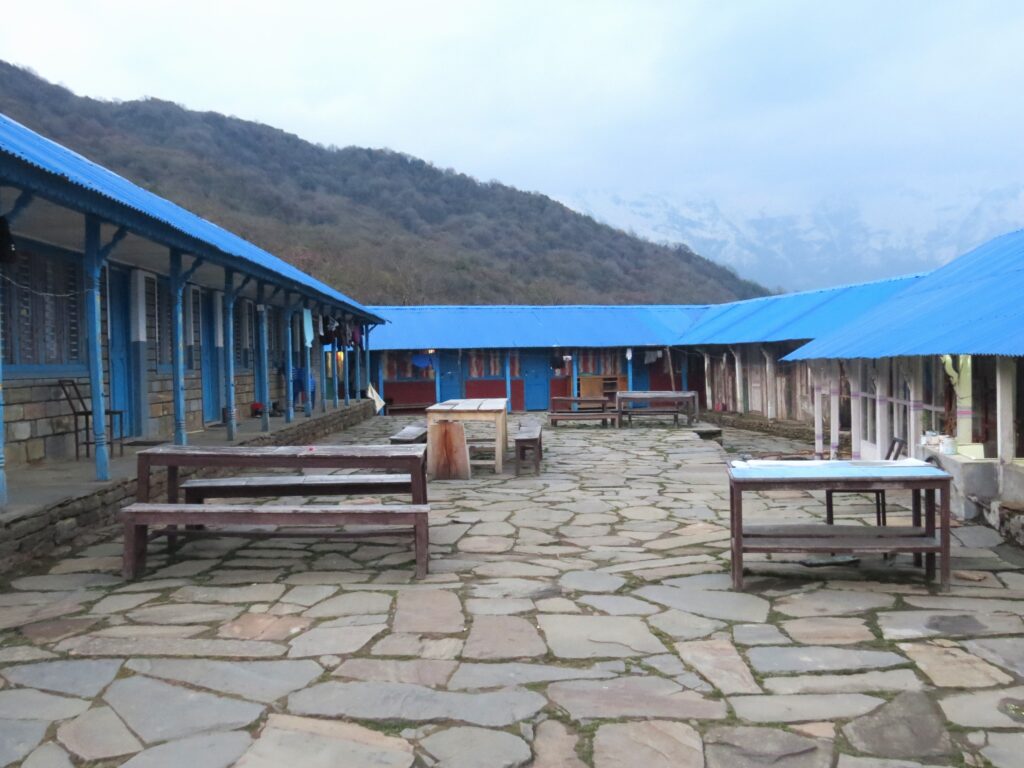 What to Expect on Mardi Himal Trek with Food?
When it comes to dining, your options on the Mardi Himal Trek span from pizza and Maggi noodles to local dal bhat. Every campsite offers a variety of Indian, Nepalese, and Western dishes to cater to diverse tastes.
Among the most renowned and frequently chosen dishes is the Nepali Thali, which typically includes rice, lentils, chapatti, grilled vegetables, and spinach. You can also find egg-based preparations, such as fried or boiled eggs, spring rolls, various breads, soups, honey lemon tea, milk tea, and chicken curry.
In my experience, I noticed a few individuals indulging in desserts like apple pie, chocolate cakes, traditional fried pies, and hot beverages. The cost of food ranges between 500 and 700 Nepali Rupees, which might be a bit steep for budget travelers.
However, it's crucial not to skip your breakfast, lunch, or dinner. Given that you'll be walking for 5-8 hours each day, your body requires the necessary calories. I recommend packing a variety of provisions, including fresh fruits, cakes, biscuits, a loaf of bread, butter, and an assortment of dried fruits from Pokhara itself.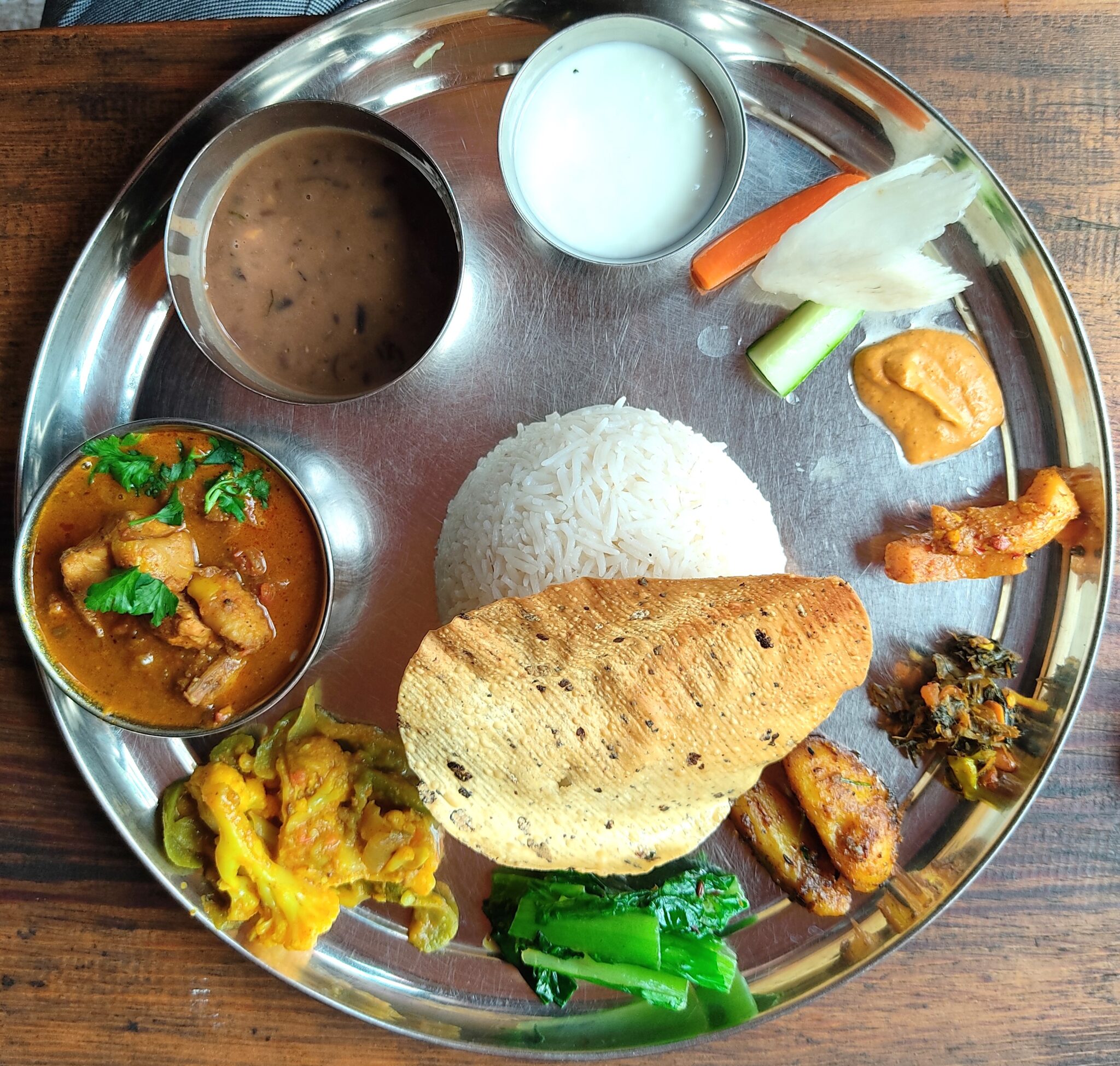 Proper Acclimatization Techniques For Mardi Himal Base Camp Trek
The Mardi Himal Base Camp is situated at an altitude of 4,500 meters, demanding proper acclimatization for your safety and well-being. Prior to commencing the trek from Pokhara, I strongly advise dedicating a full day to rest, allowing for ample hours of quality sleep.
Commencing the trek with optimal energy levels is crucial. It's essential to ensure adequate protein intake in your diet and maintain proper hydration by consuming a minimum of 4-5 liters of water daily, alongside a well-balanced diet.
I strongly recommend refraining from smoking or consuming Gokarna beer or any other types of beer or whisky before or during the trek, as these can adversely affect your overall experience and health.
Many individuals experience higher altitude sickness, sore throats, and headaches during the trek. Therefore, acclimatization, staying well-hydrated, and ensuring proper sleep are of utmost importance.
Additionally, I strongly recommend incorporating basic stretches into your routine. Once you return to the teahouse after a day of trekking, taking the time to perform these stretches will greatly aid in relaxing your muscles.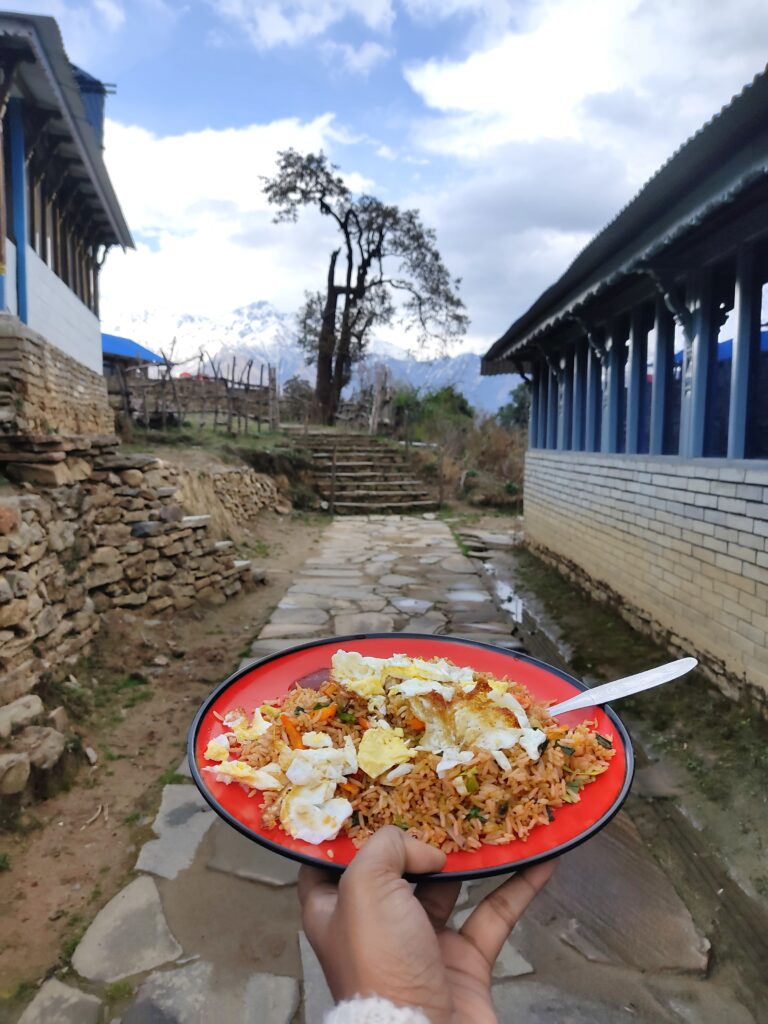 Mardi Himal Trek Solo Trekking Tips
Your mind is your biggest enemy and your dearest friend. You need to know mastering its control as you persistently need to stride even when the path seems daunting uphill
Pack your pack consciously and smartly
Carry the required permits, food, and medicines. Also, keep these things handy
Talk to fellow travelers, they're sure to make your journey more memorable
Carry enough Nepali Rupees throughout the trek
Drink a lot of water and nuts in between trekking
Mardi Himal Trek Trekking Challenges
Based on the experiences shared by numerous solo trekkers on the Mardi Himal route, it's evident that both the weather and occasionally the trail itself can pose challenges. In my case, weather emerged as the primary hurdle. Throughout my journey, persistent rainfall led to a significant drop in temperatures.
I found myself battling shivers in my hands, a chilling sensation in my nose, and cold air seeping through my ears. As I donned a Balaclava and continued walking, I felt my breath becoming shorter.
Confused about what to do, I realized I needed protection against the cold, leading me to switch to a muffler and my raincoat cap. This combination safeguarded my ears and nose from both the cold and the rain, providing a more comfortable trekking experience.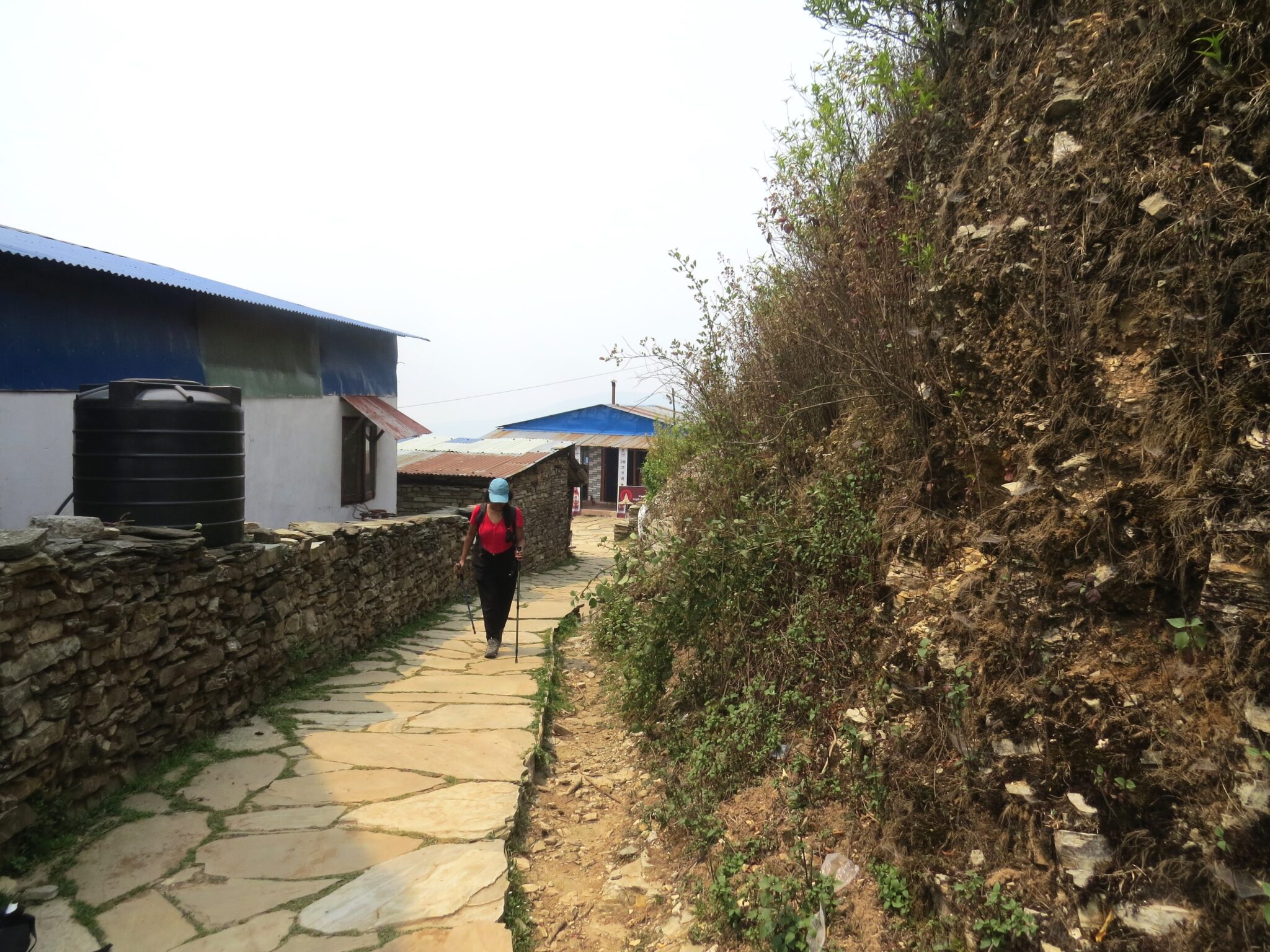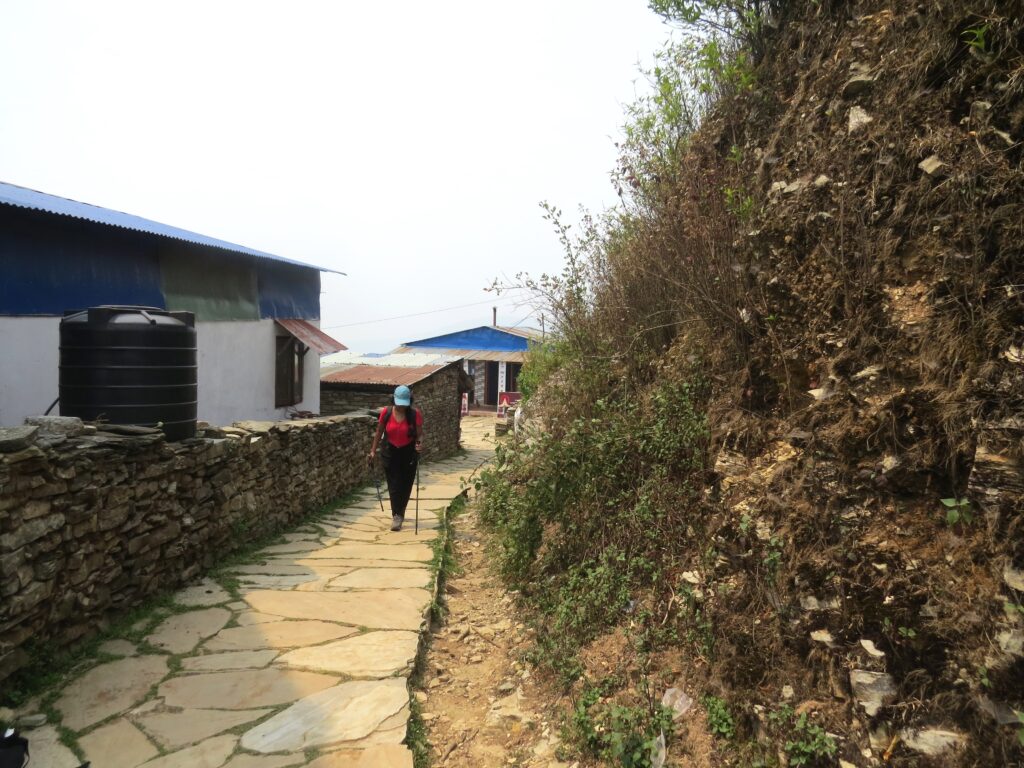 While the trail itself didn't prove overly challenging for me, I opted for frequent breaks lasting 3-4 minutes when the going got tough, allowing me to regain my strength. Also, you should pack your backpack smartly, to not feel too much weight on your back.
Beyond these aspects, the food, accommodations, people, fellow travelers, the locales, and the natural surroundings all left a remarkable impression. The vistas of lush lowlands, terraced fields, thick maple and oak forests, and the harmonious melodies of various bird species in chorus create a truly enchanting ambiance.
My Mardi Himal Trekking experience was something truly dear to my heart. The uncrowded trail gave me the peace which I was looking forward to. I highly recommend taking this trek once in your lifetime.
Tip: You can check out my Instagram highlights to know more about my Nepal trip
Also, if you want to book rooms beforehand, give them a call and talk to them. I'm attaching some of the hotels' photos.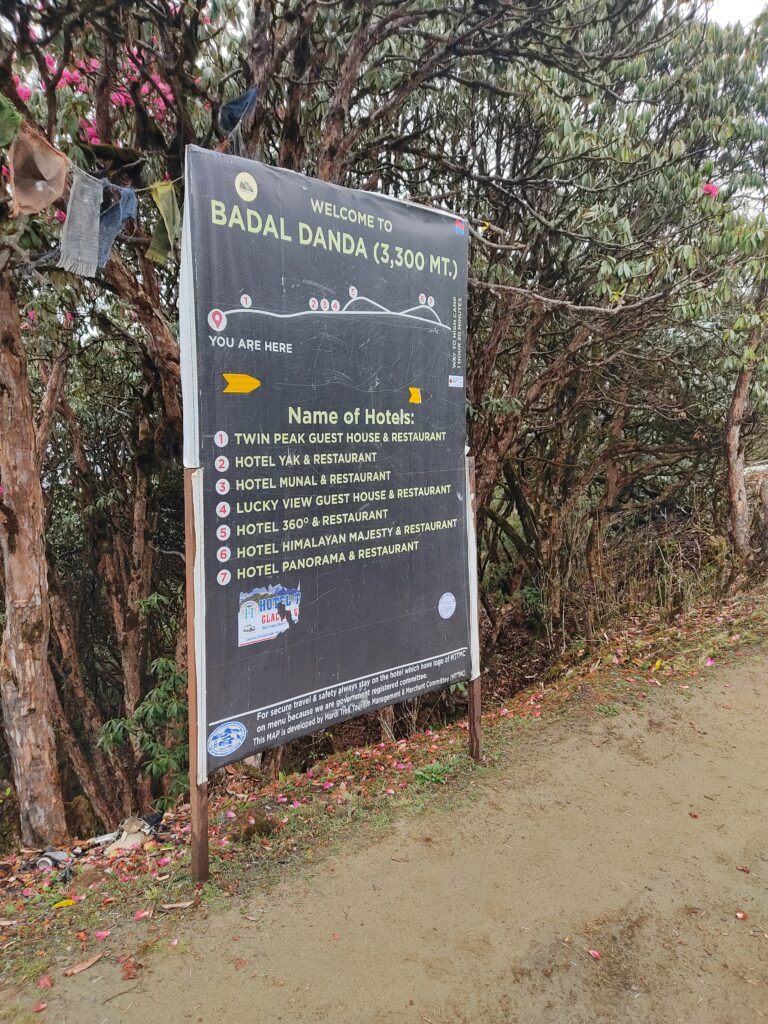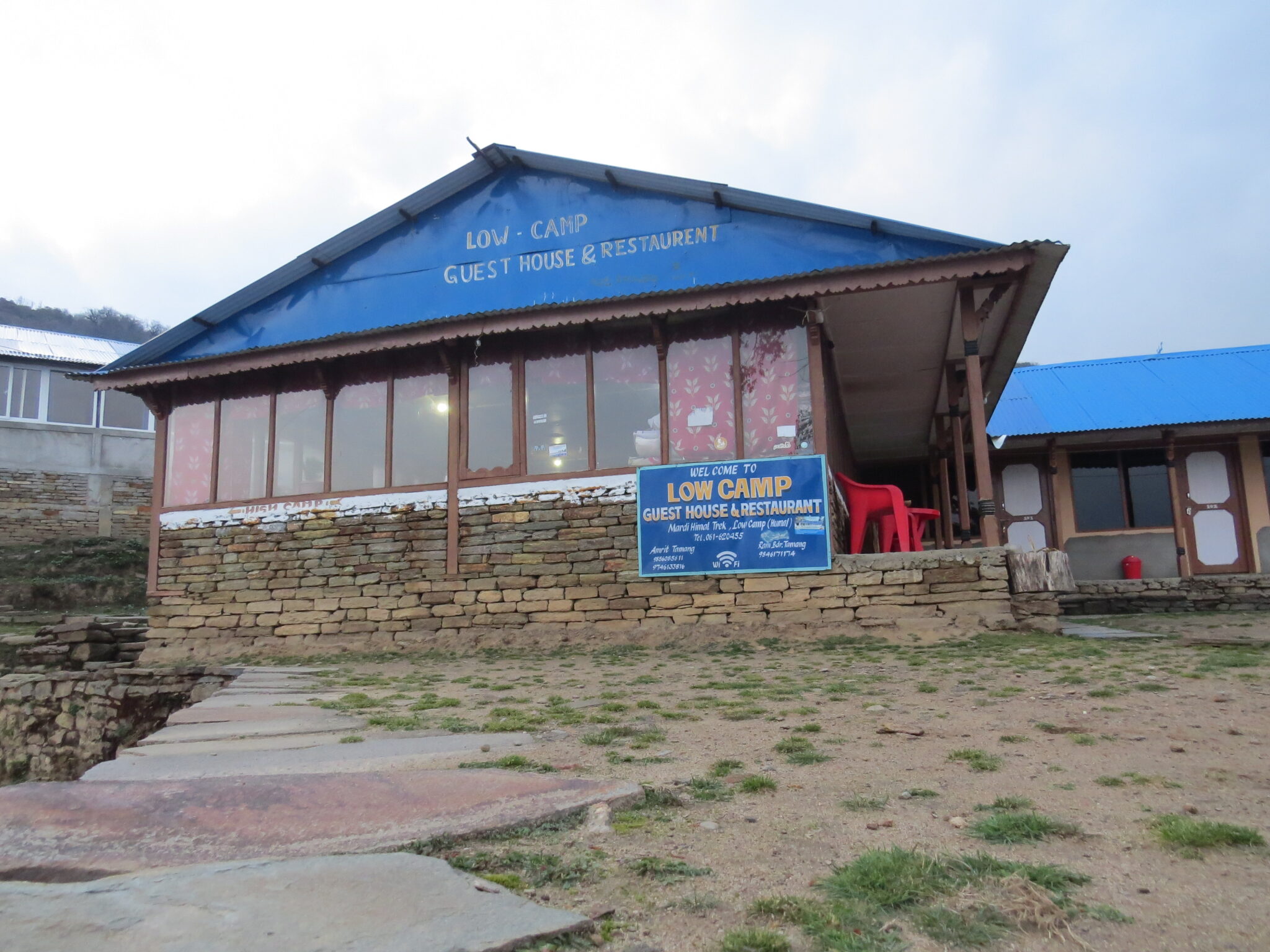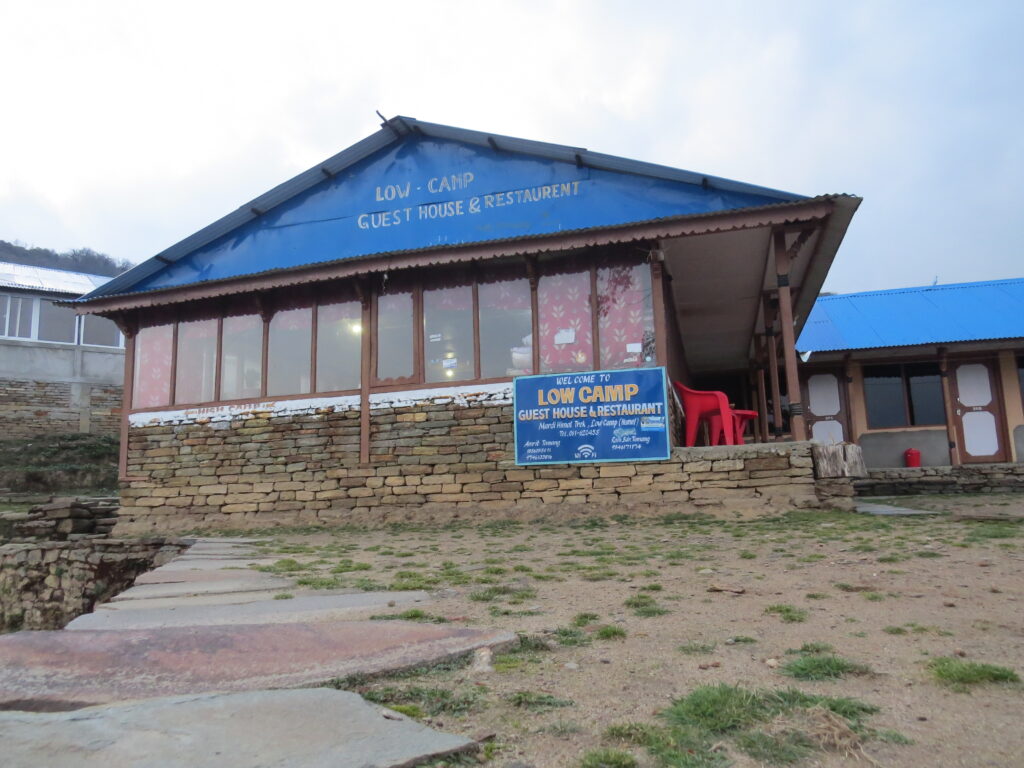 Note: If you're seeking further insights into the Mardi Himal Base Camp Trek and are interested in a comparative analysis with the Annapurna Base Camp Trek and the Ghorepani Poon Hill Trek, I have you covered. Feel free to explore my other blog post for comprehensive information.
Read More Blogs