A backpacker without her backpack is like wearing garish clothes in a business meeting. Can you imagine that awkwardness? An environmental-friendly stylish travel backpack is an essential travel gear for every female explorer.
So, being a traveler I always look for stylish travel backpacks for women that are designed keeping in mind the female body form. I need a backpack that sits properly at my torso keeping my back lightweight, and balanced.
I love funky designs with simple structures so that it's easy to access when I am in the woods, trekking, walking, meeting, pooping, or peeing behind the trees while traveling. I am hungry for a such travel backpack that suits every style keeping me in trend.
So, if you're a traveling woman, let me take you around some of my favorite fashionable backpacks for women.
Table of Contents
Stylish Travel Backpack for Women
Keep in mind, if you're an avid traveler using the backpack on daily basis the durability cannot be for a lifetime. You're getting a backpack, not a LIC certificate. Also, the age of the backpack depends on your way of usage.
I'm reviewing 9 stylish travel backpacks for women which I've used at least twice to date. Right now, I am using Osprey Fairview and Nomatic travel bags for my travel journey. These bags are 2 years old but still, run smoothly with me everywhere.
Read More: A Practical Guide On How To Pack Clothes For Travel
1. Osprey Fairview
Popular sister of the Osprey Fairview family, Osprey Fairview 40, is designed perfectly for the globe–trotting ladies of the world to provide an enriched and authentic experience of traveling and exploring.
Osprey Fairview comes in three different sizes (50 liters and 70 liters) and colors. I personally love Osprey Fairview 40 which makes my travel stories more convenient. The best part is not top loading, you can pack things like a suitcase!
The main compartment has a zip opening with compression straps which keep gear organized. The design is women-specific so the torso length and all the components are proportionate for women. You can carry laptops! Yes, separate mesh layer for the water bottle too!
It has a shoulder strap and padded handle at the top which I find to be the boom as I can put it on my side, hold the top handle and rush through the airport to get the boarding pass! Also, the slider zipper has a locked facility to keep my things safe.
The bag has a pocket at the top where I keep my first aid box and toiletries essentials. The big organization pockets help me to keep my documents safe while traveling. However, if the main compartment becomes fluffy, I face problems stuffing things in the other components.
For trekking and travel, Osprey Fairview 40 is indeed the most versatile and stylish travel backpack for women.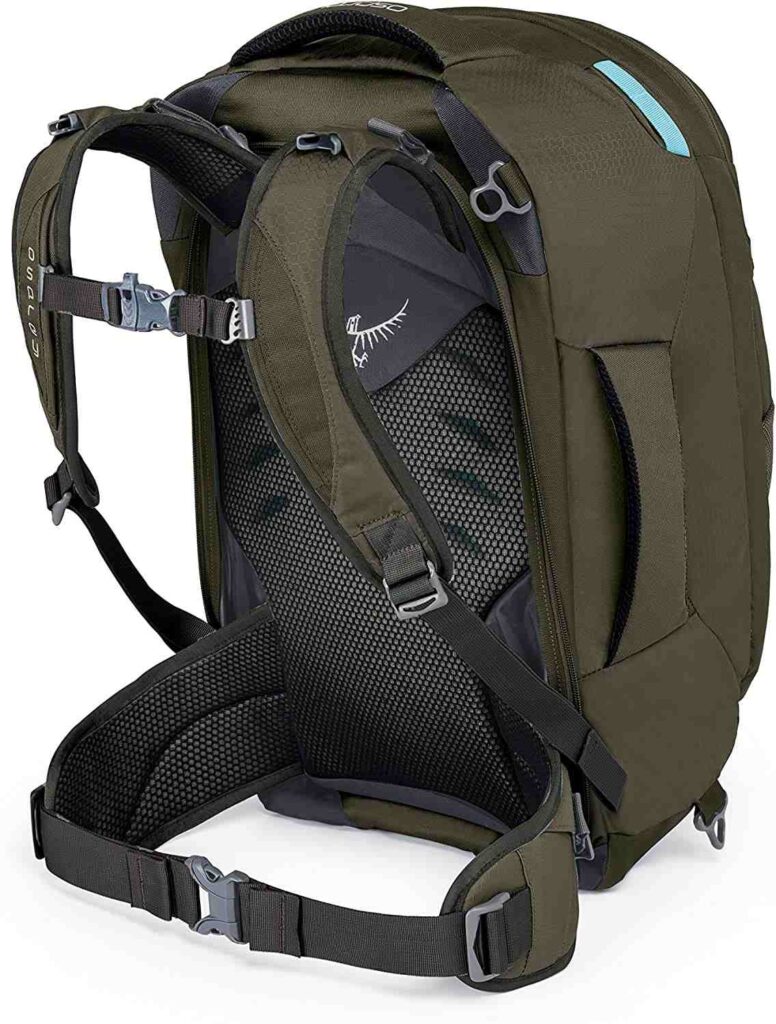 Read More: 9 Best Budget Travel Tips: How To Travel On A Budget?
2. Vankean Laptop Backpack
A day at the beach gets complete with a floral pattern backpack that highlights your sunlight personality without compromising quality or quality. Vankean Laptop backpack's water-repellent fabric with nylon poly fabric makes it environmentally friendly for explorers in the woods.
The travel backpack takes pride itself in featuring USB charging port coming out from the side with a built-in-a charging cable inside. You can invest in buying this bag rather than a portable charger. RFID blocking slots keep all your information from thieves.
This stylish laptop backpack for women is so darn comfortable, even under heavy loads. The main compartment fits a 17-inch laptop with other cushioned pockets for organizing books, Kindle, a head speaker, a charger, and a pen, and keeping room for other things too.
There is a top grab handle, helping you to run to take the last bus without your falling. The padded back panel and shoulder straps make it so comfortable to carry. However, I won't be that supportive of the Vankean Laptop backpack as it is not that good for hiking.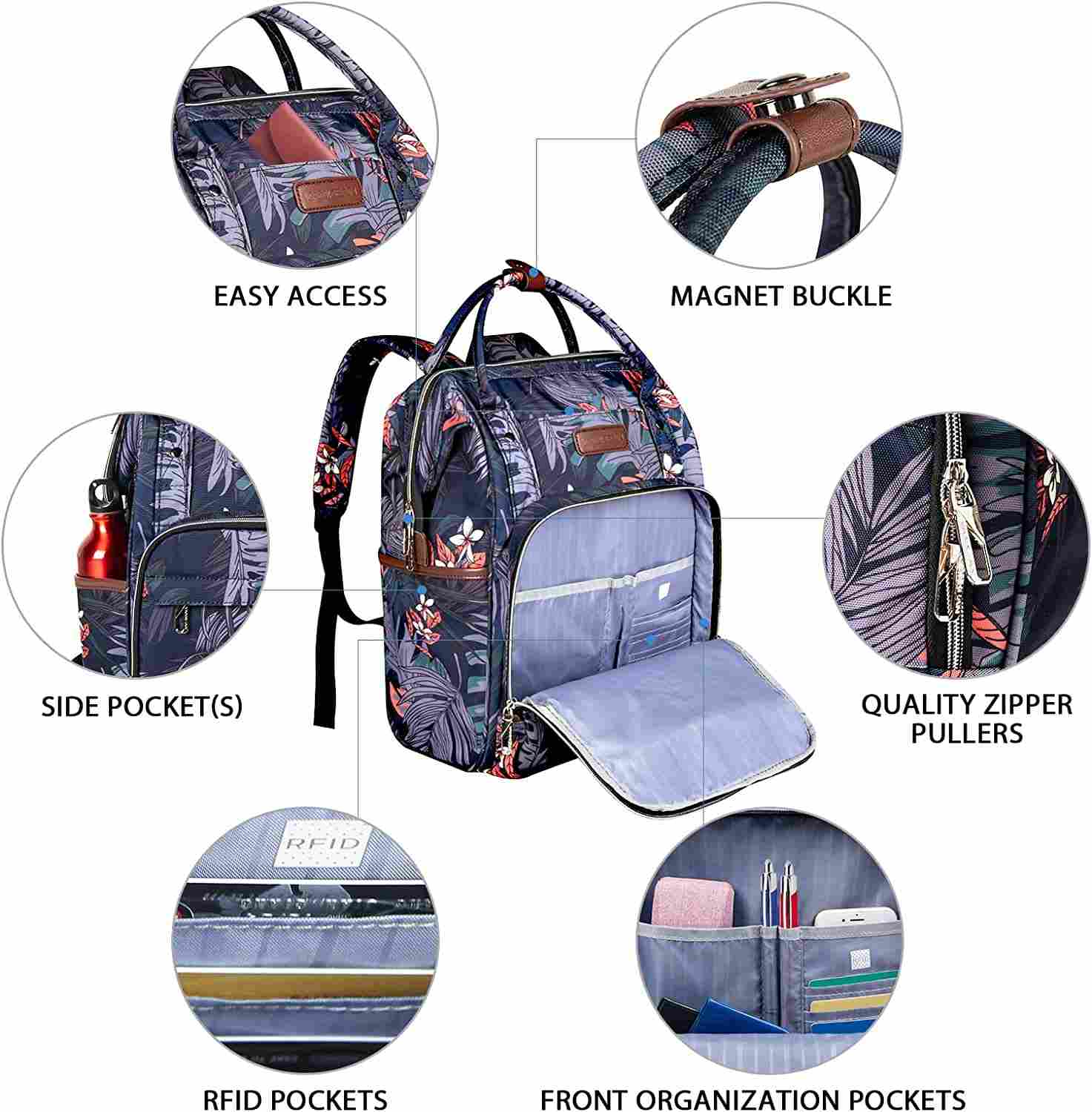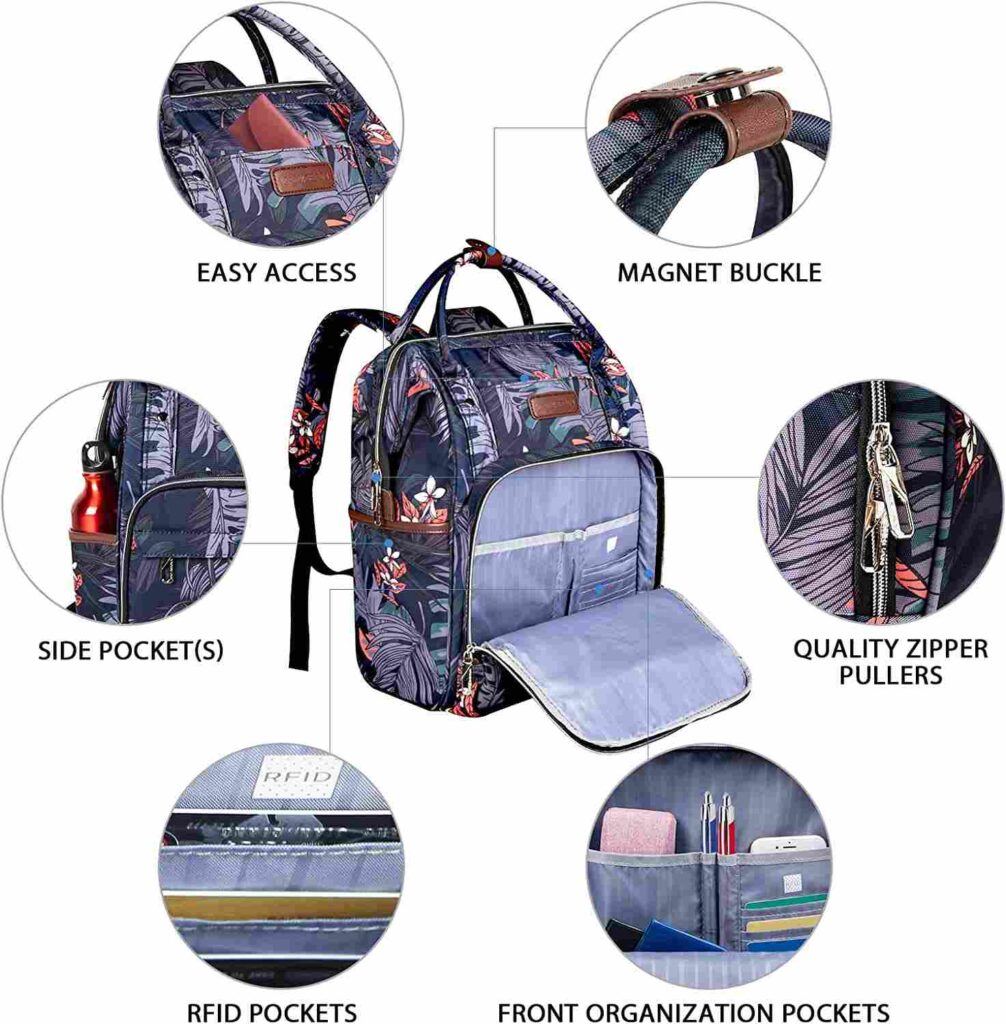 Read More: 9 Best Budget Travel Tips: How To Travel On A Budget?
3. Gregory Tribute Mountain
There was a time when it seemed like every mountain traveler was carrying Gregory Tetrad's backpack, and only for a good reason. I heard my friend saying that this bag feels like a bottomless pit though she stuffed layers after layer of trekking clothes and gear.
This medium backpack for women comes in red and grey color in three different sizes 40 Liters, 55 Liters, and 70 Liters. Apart from the main compartment, there are other smaller ones too, perfect for carrying toiletries and chargers. The internal mesh pocket is perfect for carrying important things giving you easy access to wood.
However, the only thing I do not like about the bag is it needs to be unzipped to the base to bring something out. You'll be surprised to know that it also comes with 18 Liter detachable daypack which means you get two bags to travel.
The active shield outside and waterproof lining inside keeps the bag protected from dirt and getting moisture or smelly inside. You can put your muddy sweaty socks inside the bag for days without making the other clothes smelly.
Gregory Tetrad backpack is not only a stylish travel backpack for women but its feature like the wishbone framework makes it in high demand. This framework keeps the weight of the bag balanced without straining your neck and shoulder.
How wonderful is that?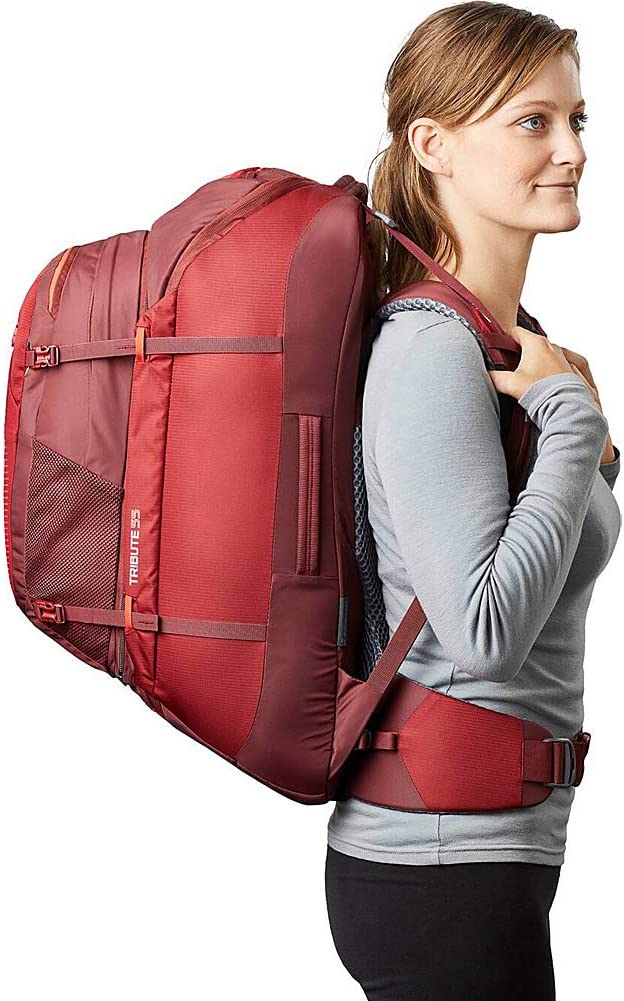 Read More: 17 Gifts For People Who Love To Travel – Affordable Gifts Ideas
4. The North Face Women's Hydra
From trekking the rough terrains of Mountain to hiking the forest land, The North Face Hydra is the best day hiking backpack for women. Primarily, the FlashDry fabric of the back panel keeps the clothes breathable by expelling moisturize.
The North Face Women's Hydra comes with a rain cover, a separate place for a jacket, two tool holders, and small compartments with easy access. The trampolines mesh at the back keeps a clear space for air to flow keeping the things inside the bag dry from sweating.
The North Face Women's Hydra is 38L available in Tandoori Spice Red color making it suitable for an excursion in the mountains. Friends can easily identify me by my bag. The best part about it is the strap, which is designed for the female anatomy.
Also, the Dyno Lift System helps to stabilize the body weight without even stopping the hike. Moreover, you can have better control over the backpack because of the T6 structure. The backpack is lightweight, it makes me feel sleek while traveling.
One better thing I've to say about this bag is that the material has reflective webbing which means at night your bag will be caught in head torch beams. However, I do not like its top-loading feature as it becomes difficult to get things out in the woods.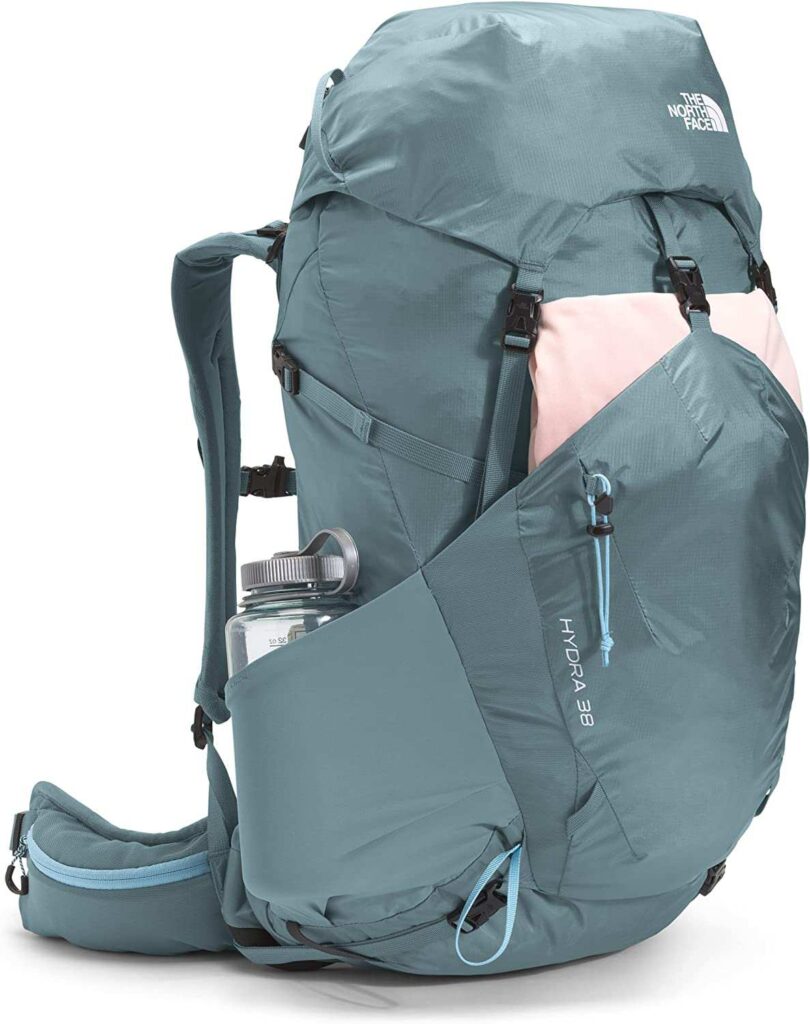 Read More: The Ultimate Guide- How To Travel Alone In India
5. Travelon Parkview Backpack
Well, when I've to travel in fashion and luxury, The Parkview Collection brings me the best stylish travel backpack for women, the Travelon Parkview backpack. Its modern innovative design called as Anti-Theft meaning anti-style is most fascinating.
The slash-resistant mesh on the straps and panels, locked compartments, as well as RFID-blocking organizer ensure your things are safe inside. So, rather than keeping an eye while traveling in the sleek, you can keep eye on the beautiful scenery of nature.
The best part of the Travelon Parkview backpack is at the front zipper pocket on the key leash you'll find a mini flashlight, Isn't that quality innovation? Well, I do not own this bag, my friend Soniya has one. I borrow it when I need it.
The bag features a roomy compartment for you to keep one day's clothes and laptops. As the 15'' padded sleeves are well crafted. Therefore, if you're in search of better craftsmanship of travel backpacks for women's anti-theft, you know which bag to order!
Read More: Airport Procedure For First-Time Flyers: The Complete Guide
6. Nomatic Travel Bag
The best travel backpack for women, the Nomatic Travel bag comes in 20 Liter and 30 Liter which makes you feel upgraded just by carrying it. The subdued aesthetic look with a shiny exterior makes it famous among USA airline authorities to use it in their day-to-day work life.
The tarpaulin exterior material of the Nomatic travel bag makes the backpack less slippery and more rubbery fish making it water resistant. It means, if you jump into the water with the bag, your things inside will remain completely dry. The roller bag loop is so good for carrying the sleeping mat!
The clamshell opening with waterproof Zoom zipper and YKK zipper and RFID –safe pocket make me give it thumbs up! The Wujin hardware on the straps helps you to buckle up the weight comfortably. The digital nomads love this because of its quality.
However, the shoulder strap is mediocre with less padding but it does not make you feel uncomfortable. Once you buy this bag you become a family of Nomatic Travel bag to enjoy a lifetime warranty. And, you get a sunglass case for free!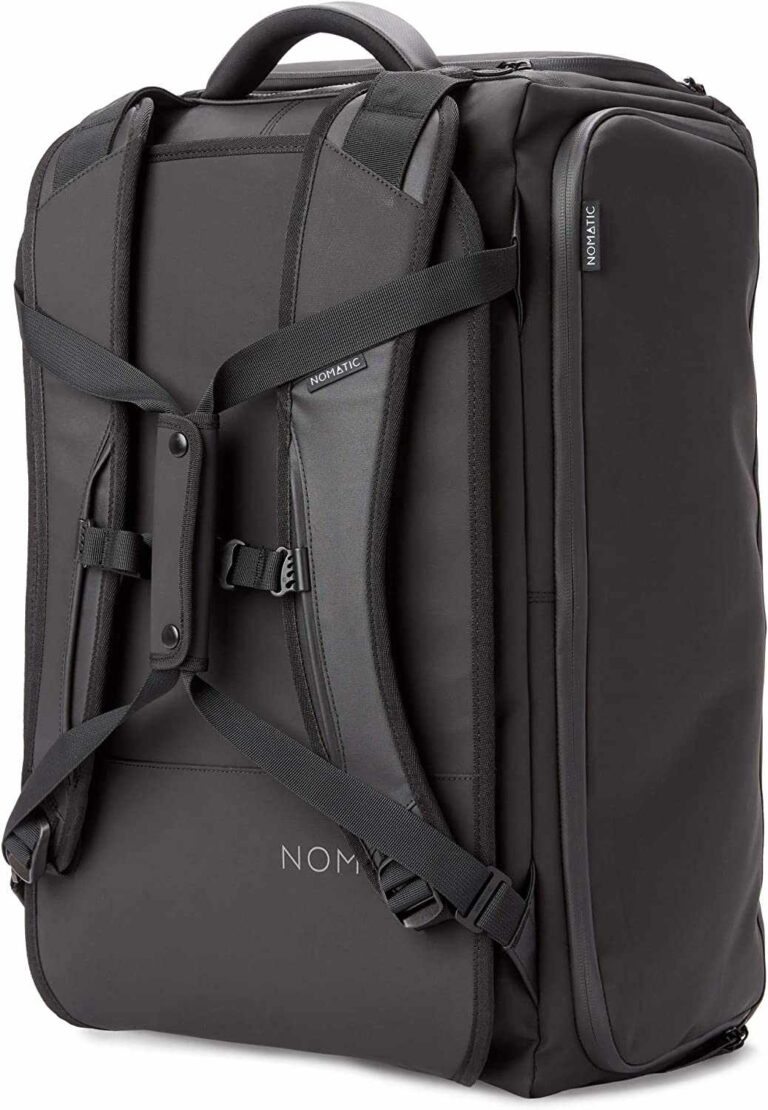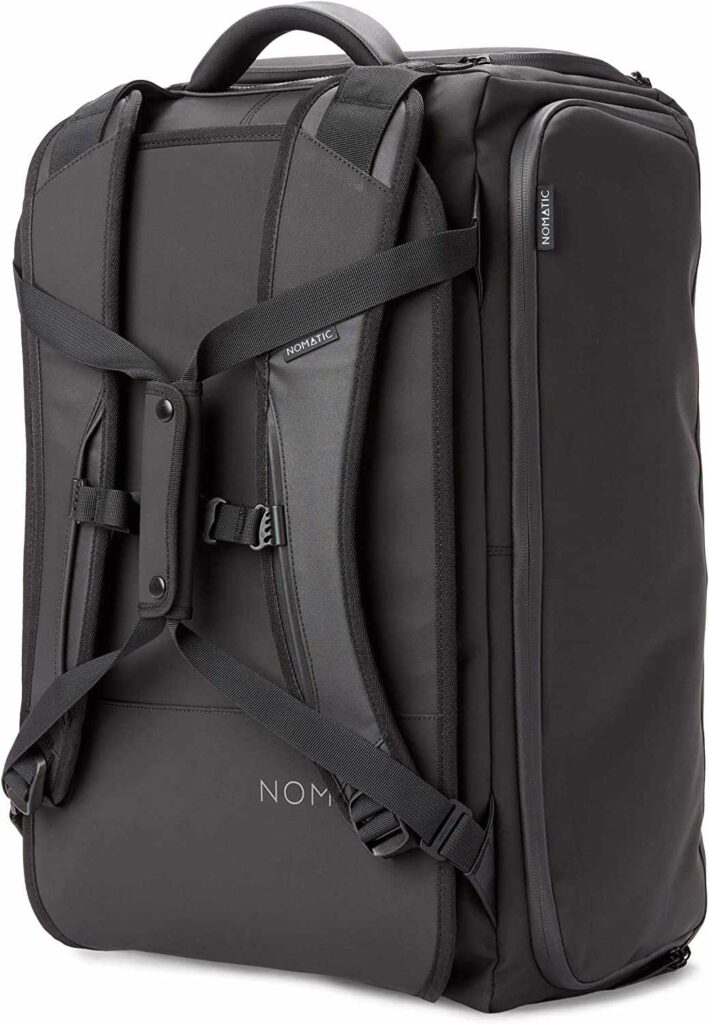 Read More: 20 Must Things To Do Before Moving To The USA From India
7. Osprey Arcane Roll Top Backpack
A fashionable backpack for women, Osprey Arcance Roll Top Backpack is designed with fit vintage flair for everyday use which makes people look back at your bag twice. The best part is you can carry it to the gym, office, pub and also while traveling.
The intuitive straightforward features like modern hardware, roll-top access, stretchy side slot for keeping water bottles, 15-inch laptop padded sleeves, and mesh pockets are good quality. The bag can hold quite a bit of kind of stuff without being bulky.
Once you touch the bag you can understand it feels like foam but actually, it is derived from recycled polyester from 12.5 plastic bottles. Also, Osprey guarantees its sustainability. The shoulder mesh is also of good material!
This stylish travel backpack for women with DWR finish travelers can travel with ease and no tension of things getting wet inside because of heat. I'm using it for years and I'm surprised by its durability and recycled fabric.
Read More: 10 Unique Offbeat Instagrammable Places In Kolkata
8. TUMI – Voyageur Carson
Of course, you want that sophisticated designed bag that is used by businesswomen but also wants to fit all your necessary things in an organized manner. With TUMI backpacks from the Voyageur Carson collection, your style statement is defined.
This stylish small travel backpack for women is lightweight with a nylon finish, and one compartment with a zipper at the top. Here you can put all your bulky items inside with separate open pockets for laptop chargers, mobile chargers, notebooks, and more.
TUMI Voyageur Carson's secret pocket at back with one water-resistant side pocket makes it desirable among travel women. The drawstring closure keeps your water bottle from sipping out. It's worth the money!
What I like the most about TUMI Voyageur Carson is an open pocket on the front of the bag, above the zipper compartment. Here, I can keep all my passports, visas, and travel documents while boarding the flight rather than digging into the main compartment.
Adjustable padded shoulder straps with a detachable leather dangler make the bag stand out among others. The customization option helps me to keep things organized. And, if you activate Tumi Tracer on your TUMI Voyageur Carson you can locate its position all the time. It means if it's lost, you know where to find it.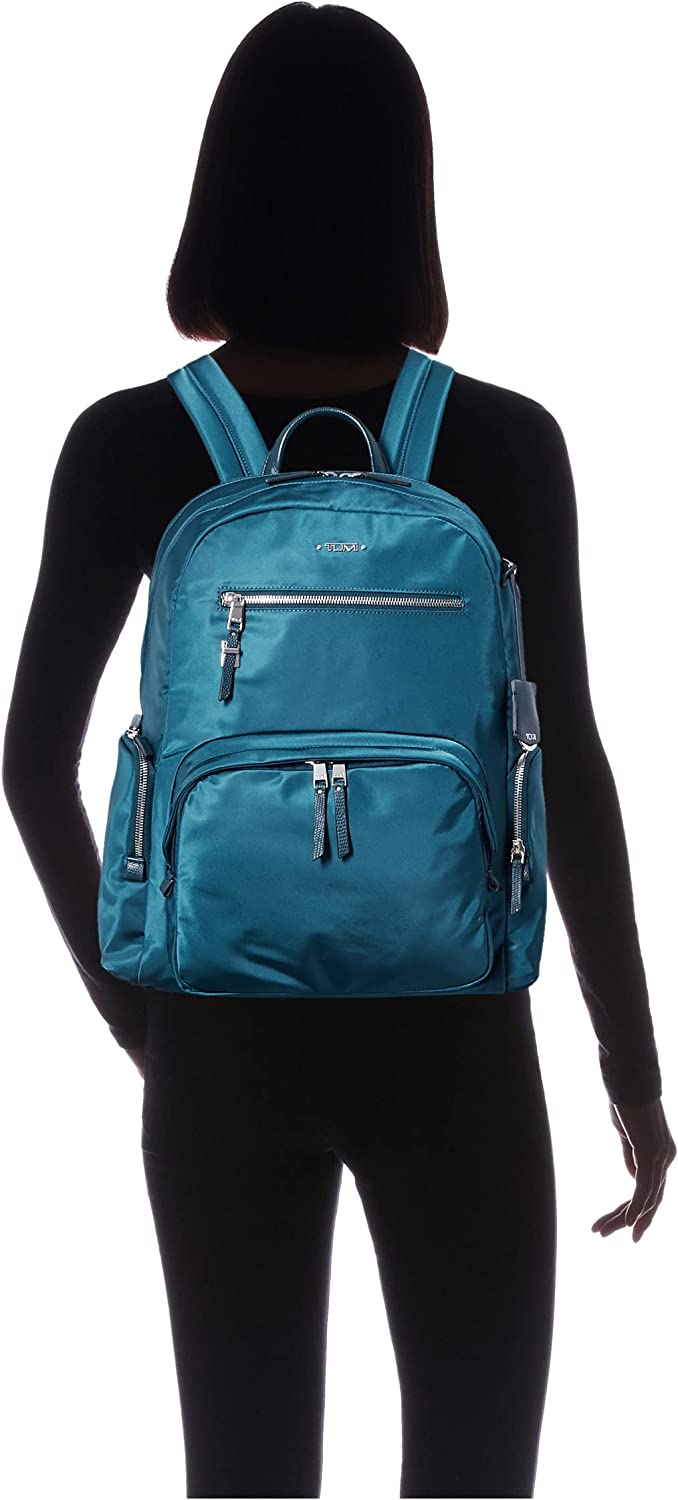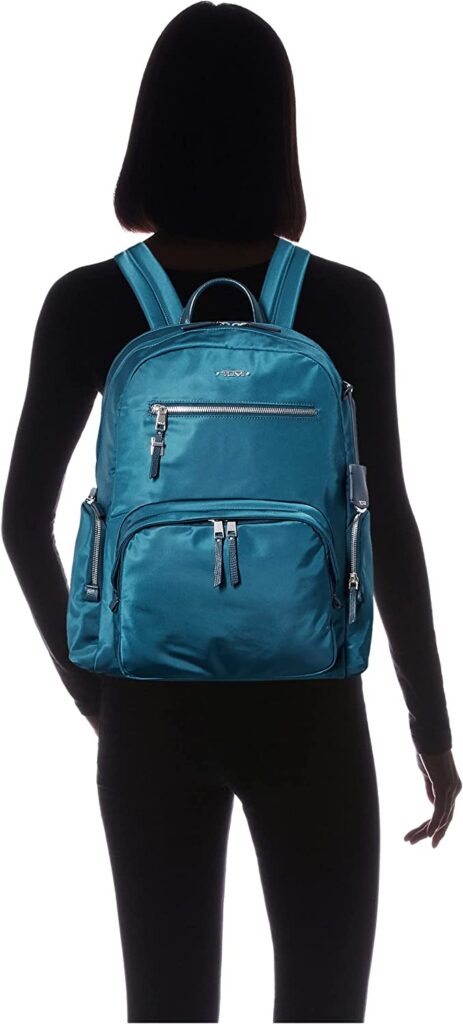 Read More: 9 Best North Kolkata Places To Visit
9. Lovevook laptop backpack for women
For travelers who are in search of waterproof laptop backpacks for women, I've got you the backpack for every trip. However, I'm newish to the Lovevook laptop backpack for women brand, and I already love it. I brought 17 inches one!
The backpack comes in 18 colors and patterns with anti-theft details, a multitude of pockets, cushioned straps, and flexible features like a USB port to charge your electronic devices. The sliming shape looks so trendy wherever you travel.
Lovevook backpack is impressively simple in structure giving you a clear view of everything you keep inside. You can open the zip and pack accordingly. However, I've heard a few people complaining about the straps but I never faced any problem.
The best about the bag is it comes with baggage straps which help to slip over the trolley handle and keep the bag over the trolley without the fear of falling. Also, the bag has three mini compartments to keep things in a much more organized and secure way.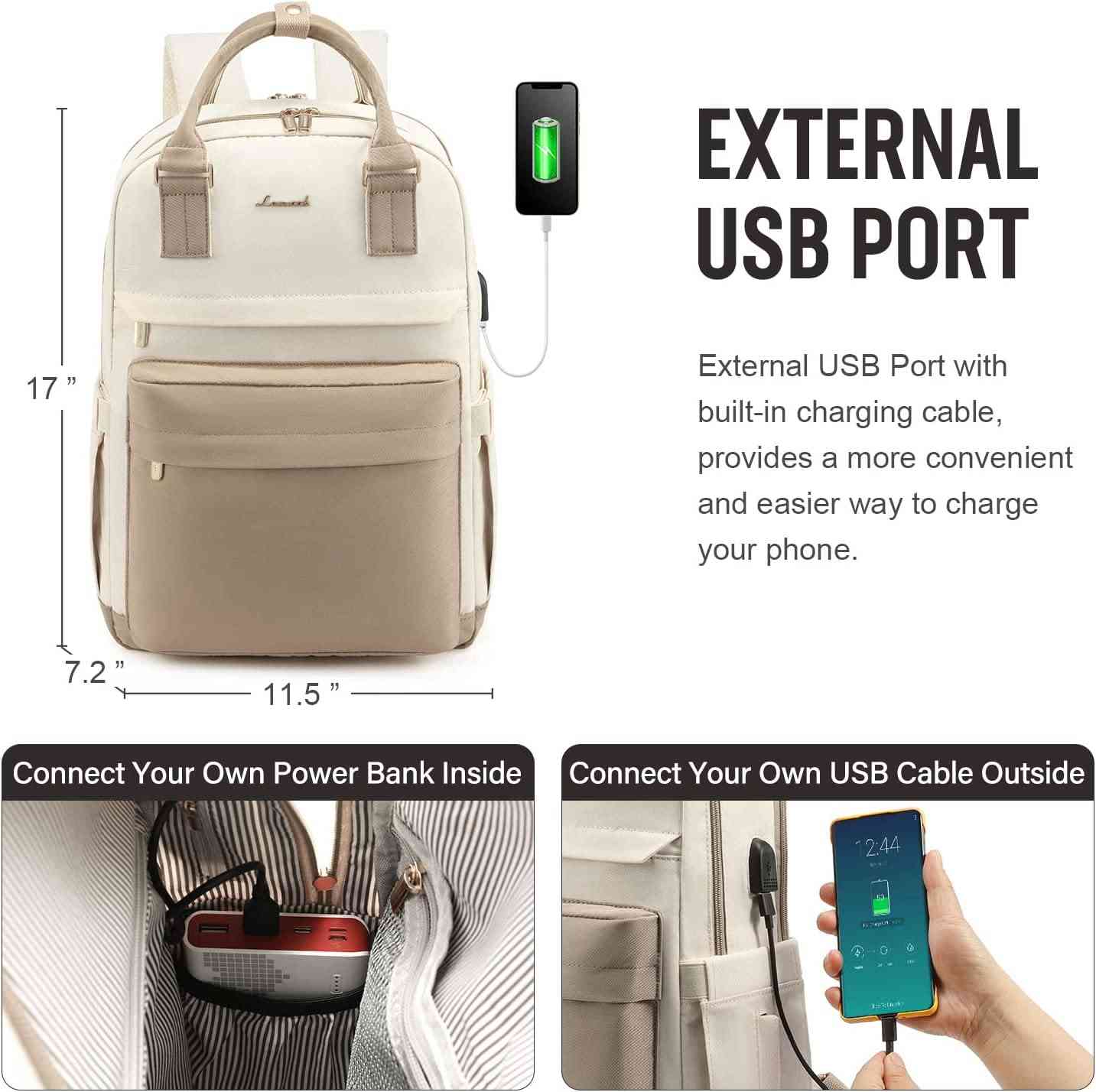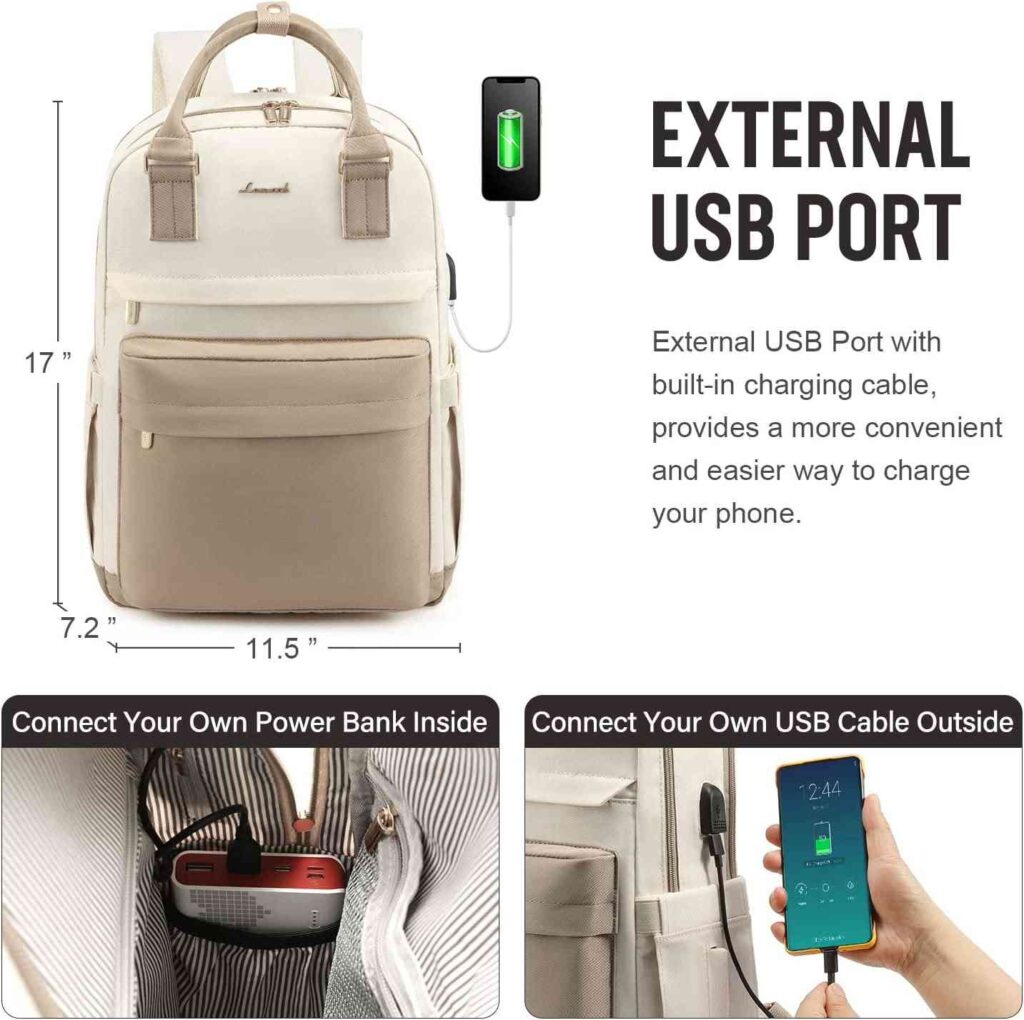 Conclusion
I do not suggest dropping hundreds of dollars and purchasing stylish travel backpacks every time. It is also worth remembering that the world needs dollar for betterment, rather than buying fashionable backpacks which do not even comes with a guarantee!
Therefore, buy one good quality environmentally friendly waterproof stylish backpack and try to use it for at least 5 years. After that, you can buy another one. Sometimes, for a sense of fashion, I borrow backpacks from my sister or friends too.
You can do that too! All the best for your purchase!
Learn More: