9 Best North Kolkata Places to Visit
Stunning colonial-era buildings, historical monuments, archaic hand-pulled rickshaw, a silhouette of boys playing cricket against the sunset in the "Galli's" or narrow lanes of Kolkata, and a mother shouting his son's name "Bhola" are the common sights that come to my mind, when someone says –
"NORTH KOLKATA"
The element that describes North Kolkata is "togetherness". The charm of old people sitting at the street side tea stalls with a newspaper and talking about politics, and literature, and the young population giving intellectual "addaas" are some spectacular appeals that no other city can match.
Of course, I am deeply attached to the city of joy and I am here to tell you the places to visit in North Kolkata that are full of heritage, drama, and glory. Moreover, North Kolkata holds the elegancy of Bengali culture, love for communism, and food items.
To the humble beginning, North Kolkata places to visit, I want you to explore the city's history, Ghats, markets, architecture, and culture.
Read: 7 Best Places to Visit Near Kolkata Within 100 Kms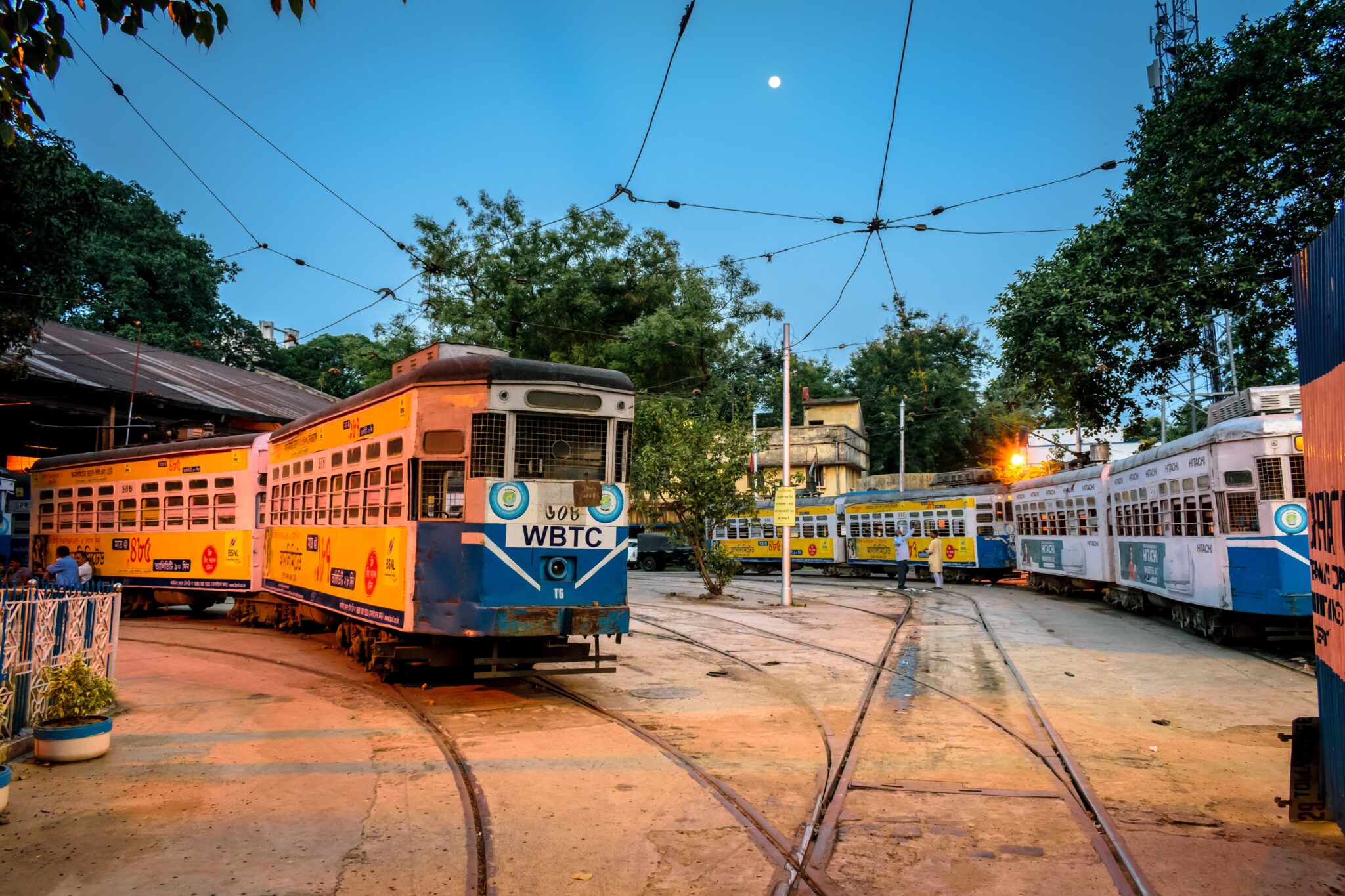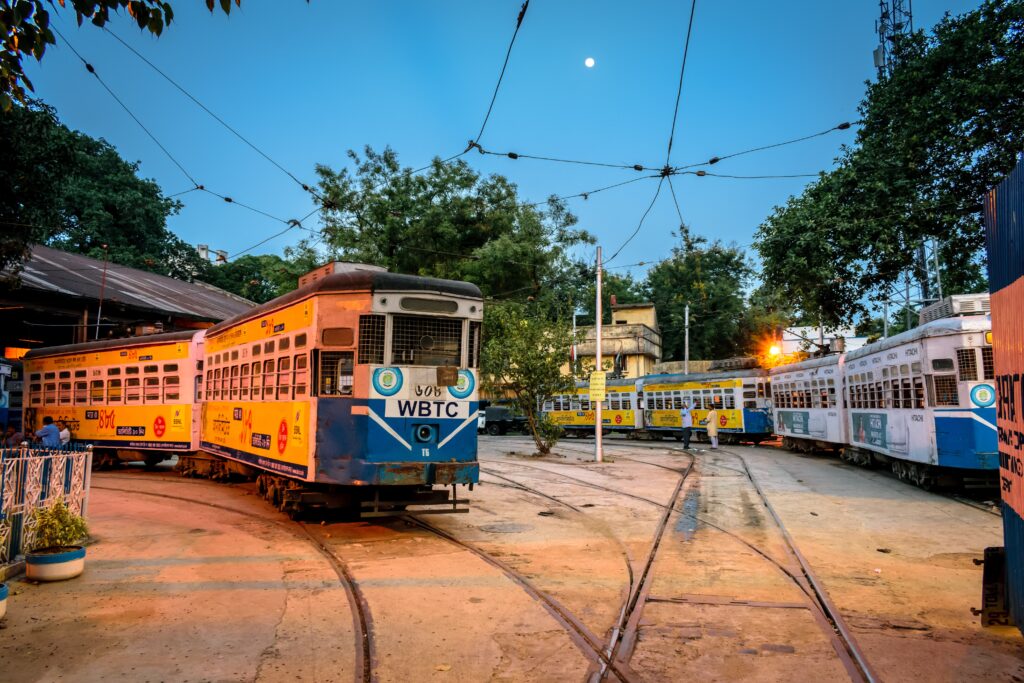 North Kolkata Places to Visit
The older version of Kolkata is depicted through the lifestyle, streets and legacy of North Kolkata. North Kolkata places retain their traditional value till date, making you fall in love with the culture, heritage and tradition.
Let's know the best North Kolkata places to visit.
1. Basu Bati
Location: 65/1A, Bagbazar St, Bag Bazar Colony, Baghbazar, Kolkata, West Bengal 700003
Time: Any time of the year
How to reach?
Get down at Shyambazar Metro Gate No 4, take an auto to reach Bagbazar Basu Bati.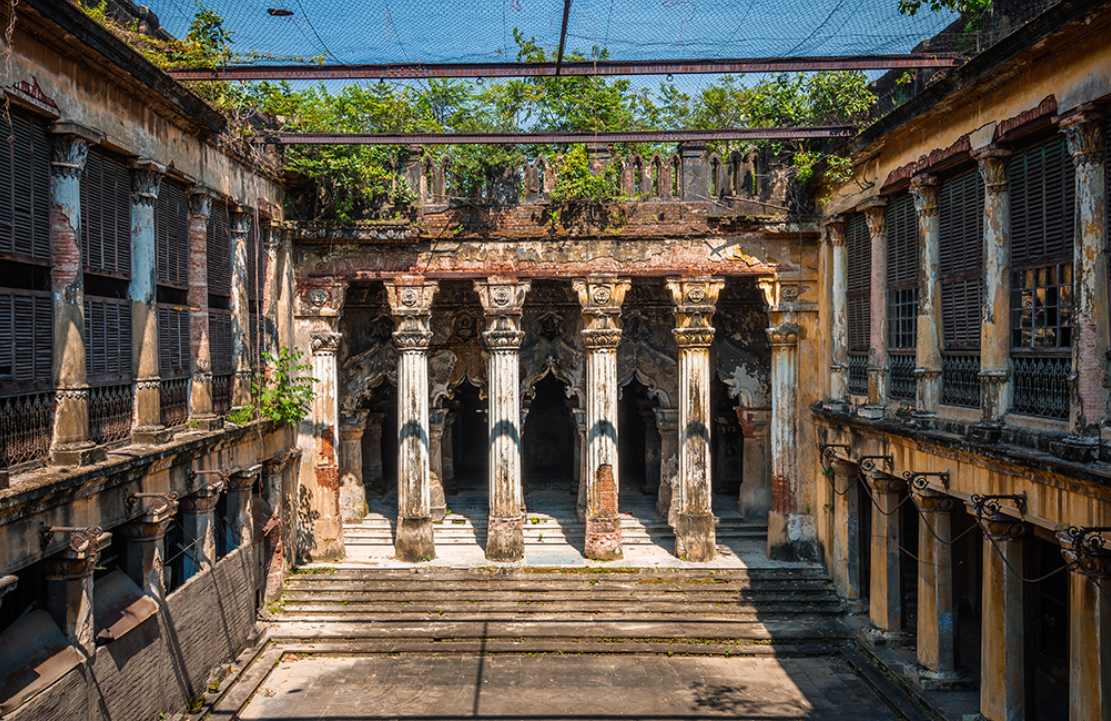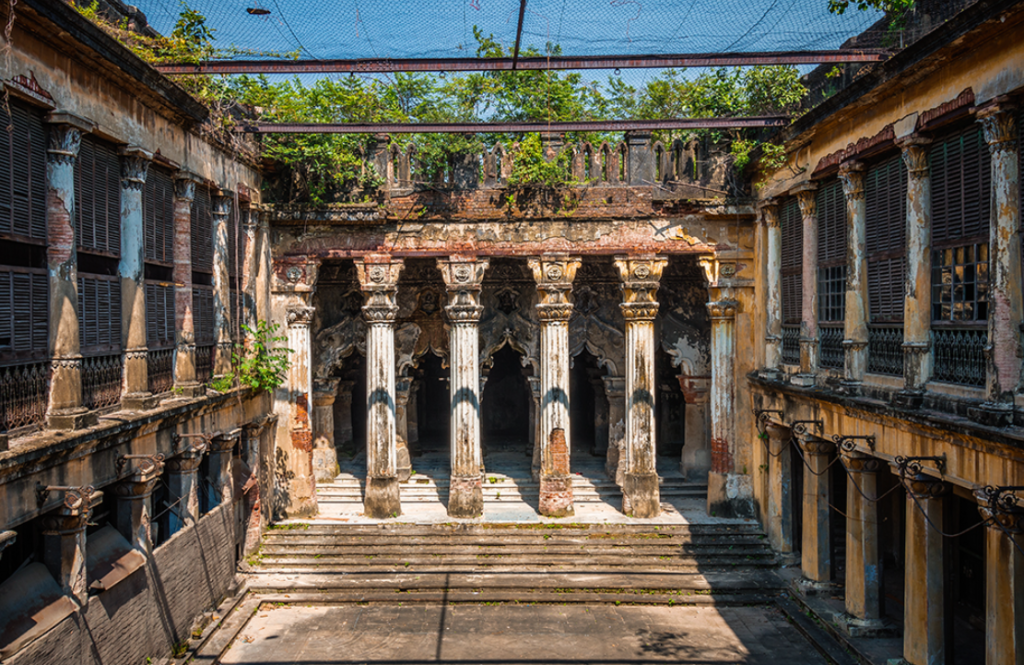 Picture courtsey: double-dolphin
Basu Bati is a place where movies like "Baishe Srabon", "Shob Bhooturey", "Elar Chaar Adhyay", and many more movies were shot here.
I visited this colonial mansion on a drizzling day with my friend and was amazed by the architectural pattern which blends Bengali, Islamic, Mughal, and Persian styles. The shadow of the buildings and the dark cloud above my head made the mansion hypnotise me.
This 150-old structure and long corridors with several pillars of a palatial mansion attract everyone in the town. The Thakurdalan, Andar mahal, Baithak khana, and wide balconies are its all-time-priced jewels.
The massive structure of monumental stone edifice, six massive fluted columns, stucco lotus flowers circling along the pillar, flight of stairs, red bricks, windows, and Thakurdalan give a decrepit look to the mansion.
The mansion was home to Nandalal Basu and Pashupati Basu, which now eco the glorious past.
The dark long corridors, stone idols, magnificent wall crafts, open façade, and Basu Bati's walls keep whispering something in silence making it one of the best North Kolkata places to visit.
The best thing about Basu Bati: North Kolkata places to visit
The gold and worn-out ceiling, twenty-four feet high walks, the huge dancing room, and the structure itself a classic examples of Bengal's past.
The oil paintings of Basu's ancestors, murals of Ajanta, artwork about Indian women and village life is so splendidly explained.
Picture courtsey: livehistoryindia
The stories from the famous drama "Pandob ou Kourab " by Girish Ghosh were shot here. All these sheer pieces of history make Basu Bati in Baghbaar one of the best places to visit in North Kolkata.
Read: 10 Best Places to Visit in Kolkata with Friends
2. Ahiritola
Location: Strand Bank Rd, Ahiritola, Beniatola, Kolkata, West Bengal 700005
Time: 5.30 Am – 9 Pm
How to reach?
You can reach Shyambazar Metro Station and take an auto to reach Ahritolla Ghat. From Hatibagan Market you can also take an auto or bus ranging from 10-15 Rupees. If you want to go anywhere in North Kolkata, take the ferry ride from Howrah to Ahritolla to save your time and traffic.
Photo courtsey: traveldreams
The ghats of Kolkata always come into the limelight because it imbibes the true heritage of "Calcutta".
On the day of the Mahalaya, the Durga Puja festival, Ahiritola Ghat gains a new perspective as hundreds of people come here to start the Durga Puja rituals and Tarpan to their ancestors.
Ahritolla Ghat is just not a place to board or de-board from boats but a place that culminates the life of Ma Durga from beginning to end.
Every year Durga idols are immerged into the water at the Ahritolla Ghat at the end of the puja, submerging hundreds of stories of hopes, well wishes and love.
During my college days every day I use to come to Ahritolla Ghat, the air and commotion always keep the place so busy and happening.
People bathe in this water considering it removes all their sins. I use to take the ferry to reach Howrah Station which passes under the Howrah Bridge making me nostalgic.
I cannot assure you of holiness but seeing children making paper boats, jumping into the water from the ferry top, and people offering to Ma Ganga, make me content and happy.
Passing through the red house or "Laalbari" and the rail line, near Ahritola Ghat, always made me realize that Kolkata is still upholding the old heritage and British architecture.
Now, it's been 7 years, walking down the Ahritolla ghat made me take a couple of pictures and tell you that it is one of the best North Kolkata places to visit.
The best thing about Ahritolla Ghat: North Kolkata places to visit
The pocket-friendly (8 Rupees) and breezy "Gangar Hawa "ferry ride with views are worth visiting. The ferry service starts at 9.30 Am connecting Baghbazar, Ahiritolla, and Howrah.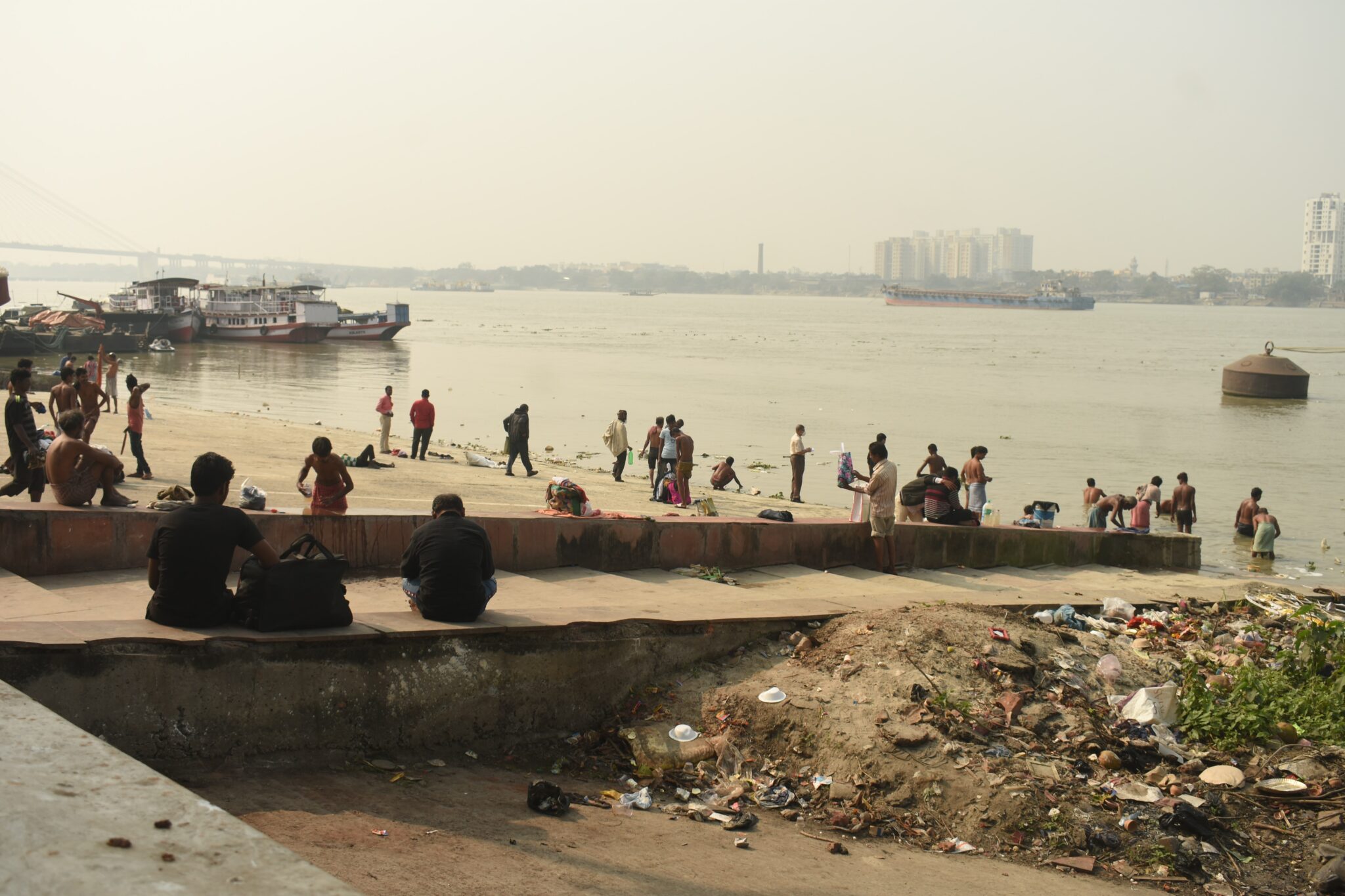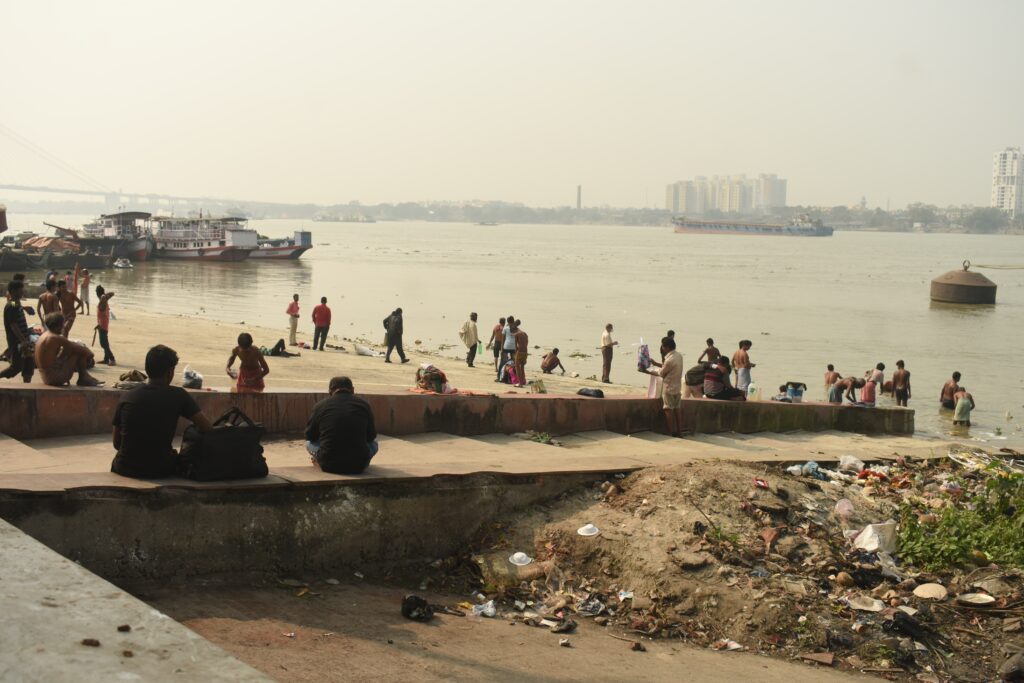 3. Kumartuli
Location: Hatkhola, Kolkata, West Bengal -700005, India
Time: The best time is early morning till 12 O'Clock
How to reach?
If you are coming from Sealdah Railway station take Bus 240 to reach Bagbaza. From here you can walk to Kumartuli.
Moreover, the easiest way to travel is by reaching Sovabazar Metro Station and walking for 8 minutes to Kumartuli.
The nominal fare would range from 15 Rupees – 25 Rupees.
Photo courtsey: lonleyplanet
Kumartuli or Kumortuli is the oldest and small neighbourhood in North Kolkata that is only navigable by legs, not even by hand-pulled rickshaw.
Kumartuli is a place of potters, artisans, and traders who are experts in sculpting Ma Durga, Ma Kali, Ganesh, idols and deities from clay giving shape to the divine.
Kumartuli alleys and by-lanes are one of the fascinating places in North Kolkata that emerge in history, heritage and divinity.
Kumartuli is a small locality of Kumars or "Potter" who uses "Tuli", the painting brush, Ganga mati, mud from the banks of river Ganga, Punya Maati, soil from the house of sex workers, Path Mati, mixed soil of Ganga Mati and jute particles, and colour to make magical idols of Ma Durga.
For you, Kumartuli might be just a place but for Bengalis and people in West Bengal, it's the most emotional enriched place where Gods and Goddesses on Earth are created.
In West Bengal, Durga puja is not just a carnival, religious or social affair but protection by the female goddess, Ma Durga from the evil power of Mahisaashur.
Usually on the day of Mahalaya, Devipaksha (start of Durga Puja) the potters invoke the power of the Ma by painting the eyes, known as Chokkhudaan (bestowing the eyes).
Every year I visit Kumartuli on the auspicious day of Mahalaya wearing "Handloom" sarees to share my interest in photography and watching the idol making along the streets.
The memories of bamboos, dried straws, clay, Ma Durga's ornaments, dress, hair, cloth and hands of the potter are so cherishing and one of the best places to visit in North Kolkata.
Note: However, if you are new to Kolkata then you need someone who knows this place because the streets are so narrow to follow up the exit point.
Picture courtsey: prokerala
The best thing about Kumartuli: North Kolkata places to visit
Kumartuli is indeed one of the must-visit places in North Kolkata. Come here to witness the process of idol-making into the decked-up model.
Read: 7 Days the Ultimate Meghalaya Trip Plan – Offbeat Meghalaya
4. Jorasanko Thakur Bari
Location: Ganesh Talkies, 267, Rabindra Sarani, Singhi Bagan, Jorasanko, Kolkata, West Bengal 700007
Time: 10.30 Am -4. 30 Pm
Entry fees – 30 Rupees for Indians and $2.19 for foreigners.
How to reach?
Reach Girish Park Metro Station and walk 800 meters to reach Jorasanko Thakur Bari or Tagore House.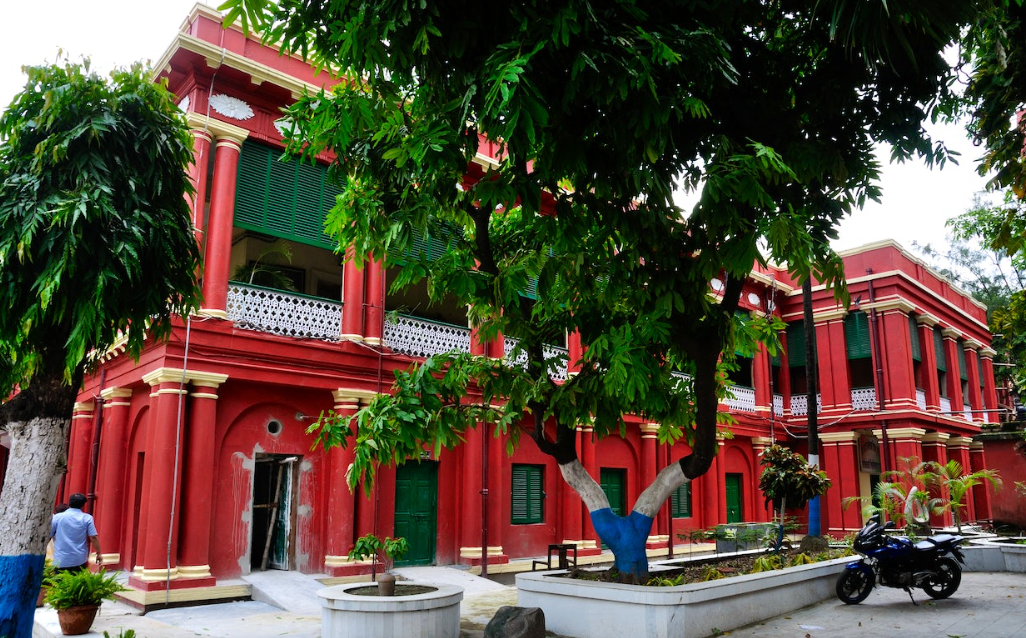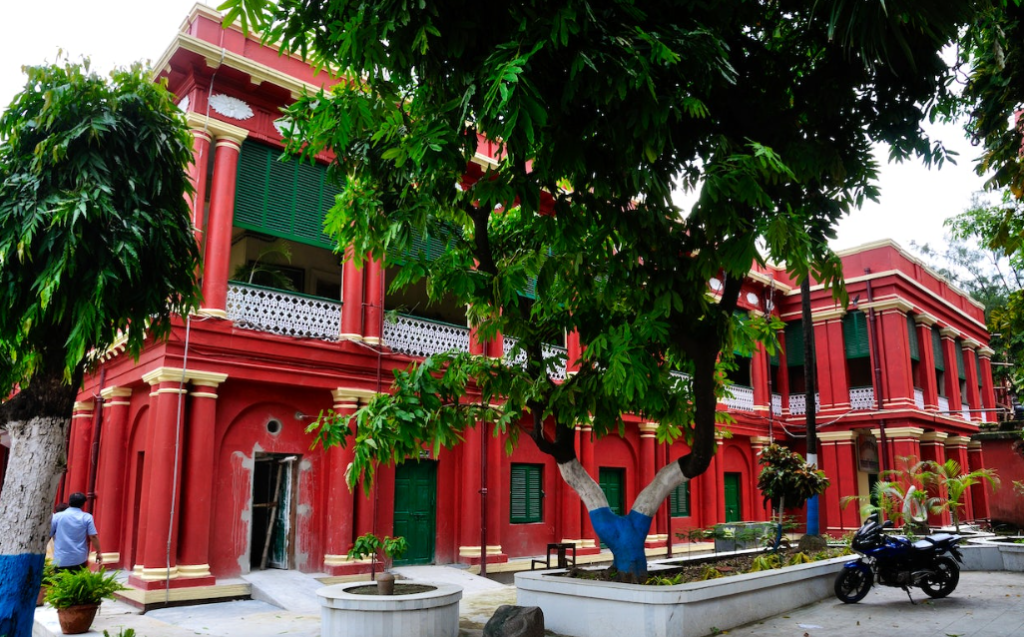 Photo courtsey: Biswarup Ganguly
Jorasanko Thakur Bari, an Indian-European style building resonates with the story of the Bengal Renaissance, Brahma Samaj, and the life of the first non-European Nobel laureate, Kobigure" Rabindranath Tagore.
The interconnected houses, courtyards, and rooms of Jorasanko Thakur Bari give us the story of "Rabindra Nath Tagore, where is spent his childhood and a major part of his life.
Rabindranath Tagore, the greatest master of literature of the time. His songs, poem, stories, paintings, music, and national events, rules the heart and mind of every Bengalis.
Jorasanko Thakur Bari is not just a building but a place of emotions that triggers the heart of every Bengali giving them flashbacks of their childhood reading the poems that seem so heart wreathing.
The National Anthem of India and Bangladesh is sung by Poet Rabindra Nath Tagore. The national anthem of Sri Lanka was also composed by him.
The rooms, walls, and a complete tour of Jorasanko Thakur Bari give you an eerie feeling and a vivid idea of the art, literature, and life of the historic personality.
The State Government of India has converted Jorasanko Thakur Bari into a museum to protect the huge and preserve the huge mansion.
Jorasanko Thakur Bari is one of the must-visit North Kolkata places for literature, art, and history lovers.
The long corridors, kitchens, and few rooms of the Jorasanko Thakur Bari are well preserved in the same fashion displaying the original 40 paintings of Gurudev a.k.a Rabindra Nath Tagore.
The best thing about Jorasanko Thakur Bari: North Kolkata places to visit
Jorasanko Thakur Bari tells you about Bengal's cultural life and the life of Rabindra Nath Tagore. Besides the building stands Rabindra Bharati University from where thousands of students graduate every year.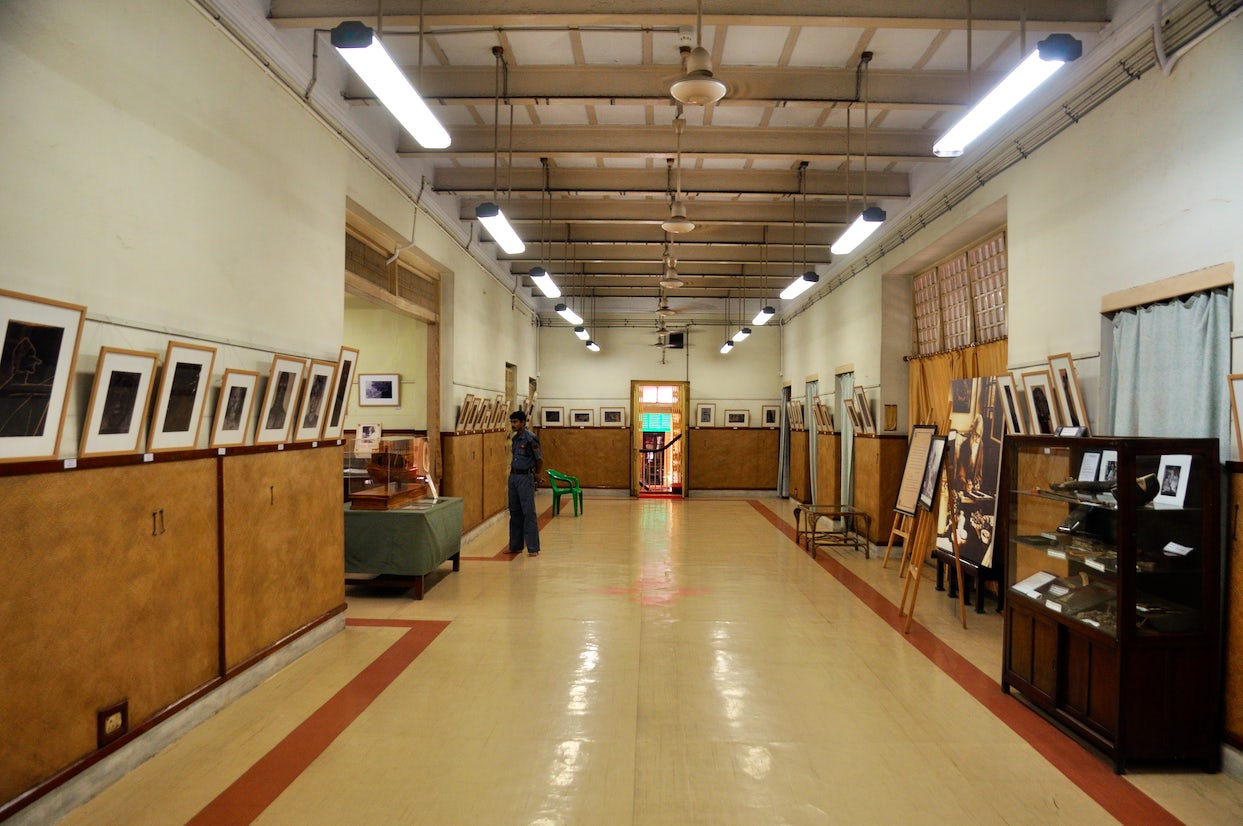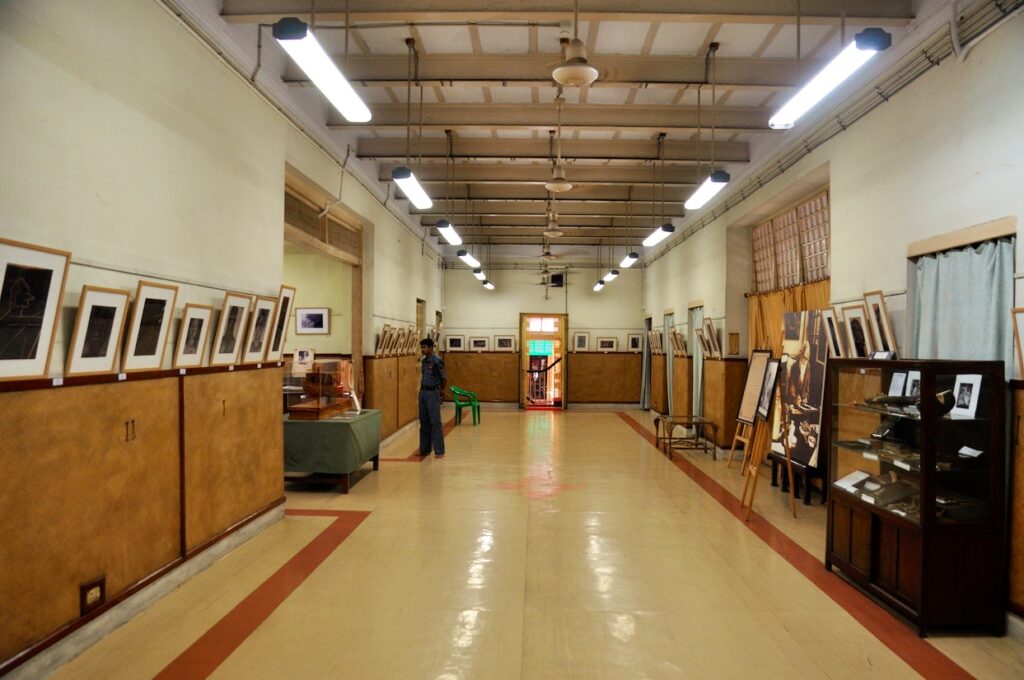 Photo courtsey: Biswarup Ganguly
You should come here on Panchise Baisakh (the 25th day of Baisakh month in the lunar calendar), Paila Baisakh, Aban Mela, or Bosonto Utshob (Holi) to witness cultural, art, and colour festival.
Read: The Guide: How to Travel with Dog in Train in India?
5. Sovabazar Rajbari
Location: 36, Raja Naba Krishna St, Raja Naba Krishna Street, Sovabazar, Shyam Bazar, Kolkata 700005
Time: The best time is during Durga Puja (October)
How to reach?
Reach Sovabazar Sutanuti Metro Station and walk for 3 minutes to reach Sovabazar Rajbari. Follow the Google Map.
Picture courtsey: thebengaliitoday
Sovabazar Rajbari is the oldest royal palace in North Kolkata and is best known for the celebration of the iconic Durga Puja in the month of October-November since 1700.
Raja Nabakrishna Deb constructed this building back then blending the colonial architecture with a mix of Hindu and Moorish styles.
In 2019, I went to Sovabazar Rajbari, a colonial massive mansion that stood upright giving the never-ending eerie feeling.
As I stood in the middle of the long corridor, I could see the huge tall pillar, shades of the windows, the colourful yet dull floor, worn off plasters from the wall has so many secrets of history.
Even in the broad daylight, the atmosphere feels like a movie set in a crime thriller or haunted story. Sovabazar Rajbari is one of the best North Kolkata Places to visit in October.
The Nat Mandap or Thakurdalan (open courtyard) at Sovabazar Rajbari supported by columns and arches has witnessed Durga Puja for many years which is performed with great pomp and show.
From birth, we Bengalis have heard stories of the incarnation of God and Goddesses from our grandmother to our mother making us believe that Durga Puja is a culture rather than a festival.
Back in 1757, Durga Puja was a matter of glamour, charm, and traditional culture of Bondedi Families (high-class aristocratic families).
Note: However, Sovabazar Rajbari is private property and therefore is inaccessible to the public for most of the year. But if you want to explore this gothic palace, come on Durga Puja.
The best thing about Sovabazar Rajbari: North Kolkata places to visit
A visit during Durga Puja at Sovabazar Rajbari is a golden opportunity to meet the Babus (inherent of Raja Nabakrishna Deb) and know history that's not on pages, the traditional concept of joint family, in a term of their grandeur.
Read: The Ultimate Guide- How To Travel Alone In India ?
North Kolkata Places to Visit – For Shopping
6. Burrabazar
Location: 8, Mullick Street, Kolkata-700007
Time: 10 Am- 9 Pm. Closed on Sunday
How to reach?
Get off at Mahatma Gandhi Metro Station and walk. Or, if you are coming from Howrah Station then take any bus number 219, 44 A, 44 A/1 or any other buses that come to Mahatma Gandhi Road.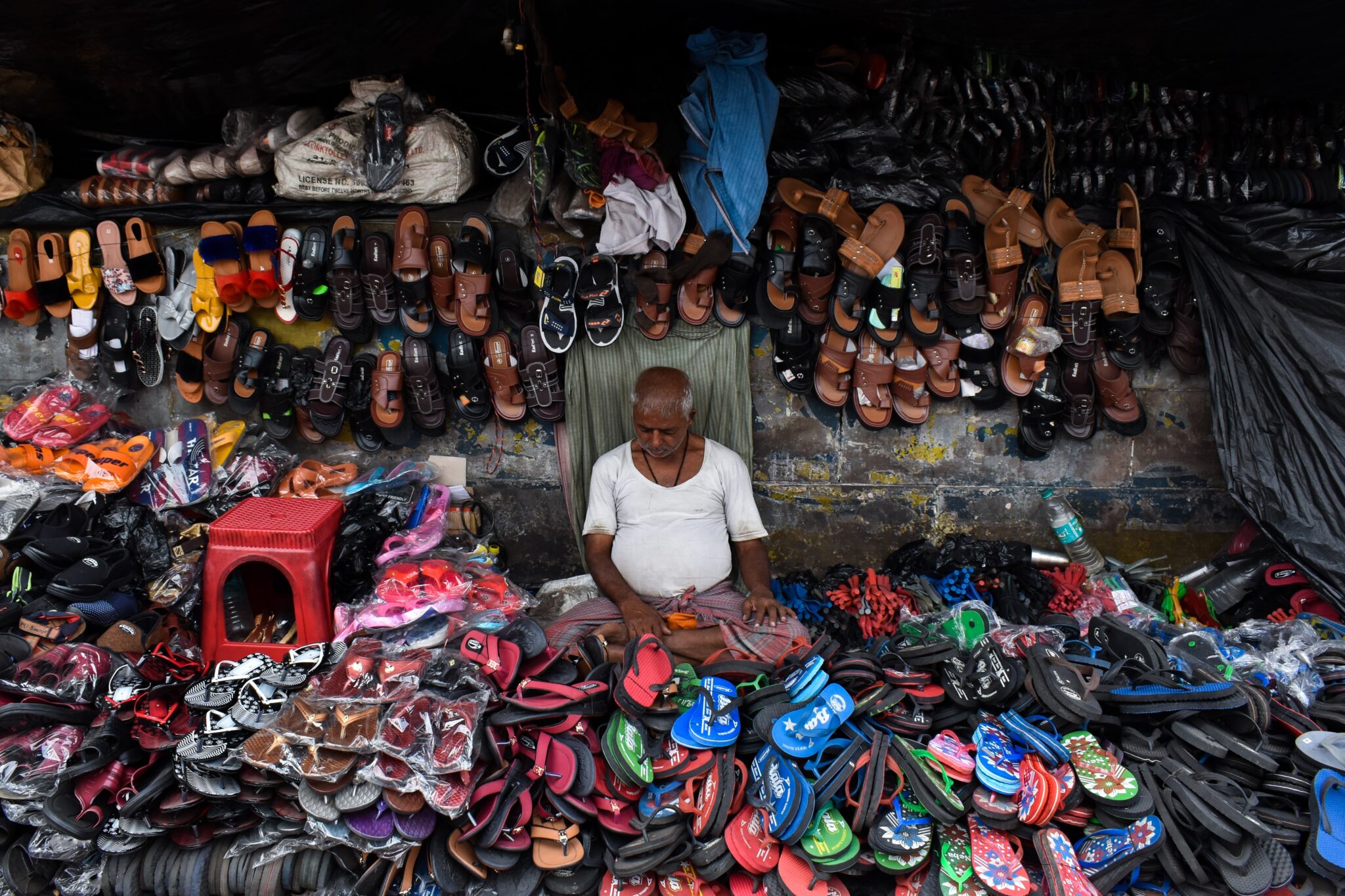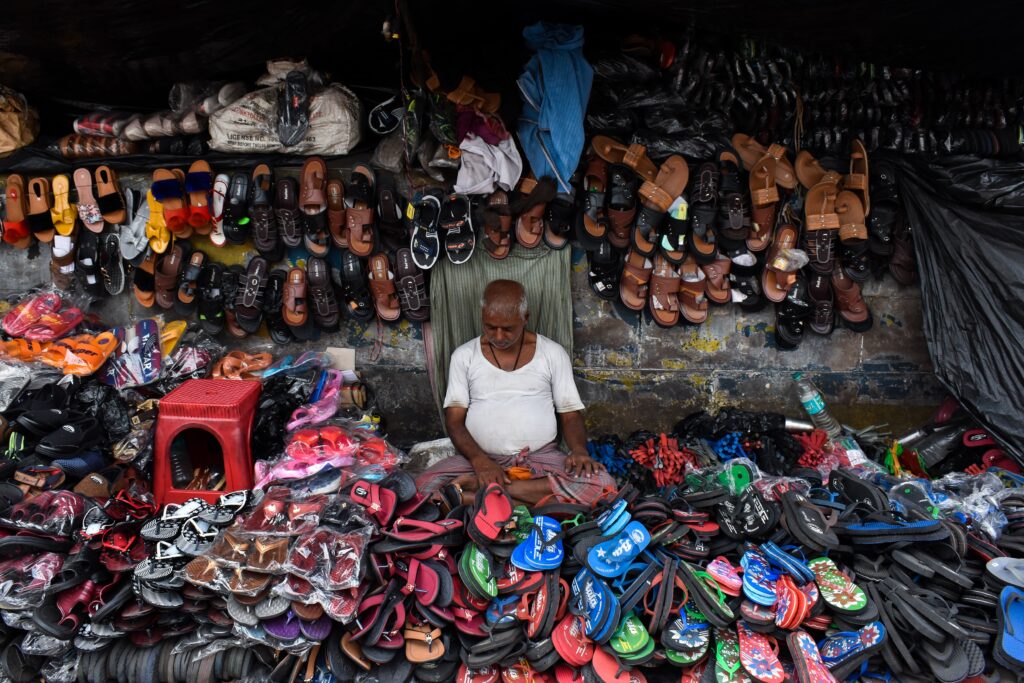 Burrabazar or Bara Bazar is one of the famous North Kolkata places to visit where you get everything under the sun. From vegetables, fruits, spices, sweets, clothes, pieces of jewellery, bridal wear, makeup, household stuff, too day-to-day stuff and kitchen stuff, all at wholesale price.
Since the times of the British Raj, the streets of Burrabazar are flamboyant with people buying and selling commercial things.
Bara Bazar is also called as wholesale hub of Kolkata where you will find that the human system is the biggest transport navigator. They carry the giant amount of weights on their head and shoulder navigating through the alleys and by-lanes of the busiest crowded streets.
For every shopaholic, Burrabazar is paradise because you can bargain on wholesale prices and can bring items at very cheap prices. Till now my parents bring papads, bhujiya, pickles, dry fruits, tea, and household stuff from Burrabazar.
Note: However, I would warn you that one-day shopping in Burrabazar will completely drain the life out of you and you need the famous "Shatur Sharbot" to boost yourself up.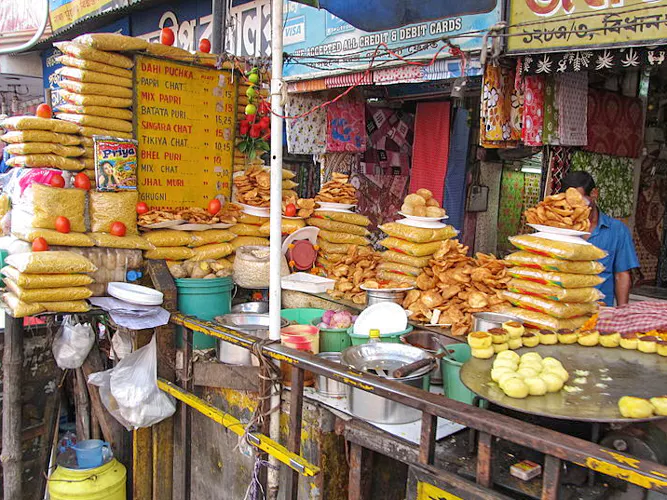 The best thing about Bara Bazar: North Kolkata places to visit
You get everything under the sun at wholesale price. Do not forget to explore the street food. I would recommend you to visit Kalakar Street to taste veg sandwiches, "corn chatt", juices, and soda water. If you are a non-veg lover like me then look no further and come to Zakaria Street.
Read: 5, Best Places for Solo Female Travel in India –
7. Hatibagan Market
Location: Hati Bagan, Shyambazar, Kolkata 700004, West Bengal, India.
Time: 10.30 Am- 9 Pm.
How to reach?
Take the bus from Howrah Station to reach Hatibagan More or near Star Theatre. Buses that are available from Howrah are bus 219, 215 A, 72 and more.
Photo courtsey: Okcredit
Hatibagan Market is home to branded outlets as well as streetside shops, with an endless range of merchandise.
The affordable, Hatibagan Market sells clothes, earrings, junk jewellery, shoes, kitchen appliances, home appliances, fancy goods, and lip-smacking food, at a budget-friendly price.
If you want to buy the famous "Handloom" Kolkata sarees, come to Dakshinapan Market. For good quality, Tusser silk sarees come to Indian Silk House or Priya Gopal Bishoyi.
The place is very crowded and famous among college-go students as near Hatibagan Market stands the oldest and famous Start Theater.
Photo courtsey: gozocabs
The best thing about Hatibagan Market: North Kolkata places to visit
Hatibagan is famous for junk pieces of jewellery of various quality and designs. Remembers, to bargain and reduce the price by half of it. For example, you can buy jhumkas at 150 Rupees which they might initially ask for 250 Rupees. So, bargain before buying.
North Kolkata Places to Visit – For Food
Location: 211 APC Road New Punjabi Hotel, Kolkata 700004, India
8. Golbari
Time: 12.30 Pm- 11.00 Pm
How to reach?
Reach Shyambazar Metro Station and walk towards the Shyambazar 5-point crossing. On the left side, you will see a small shop named New Punjabi Restaurant.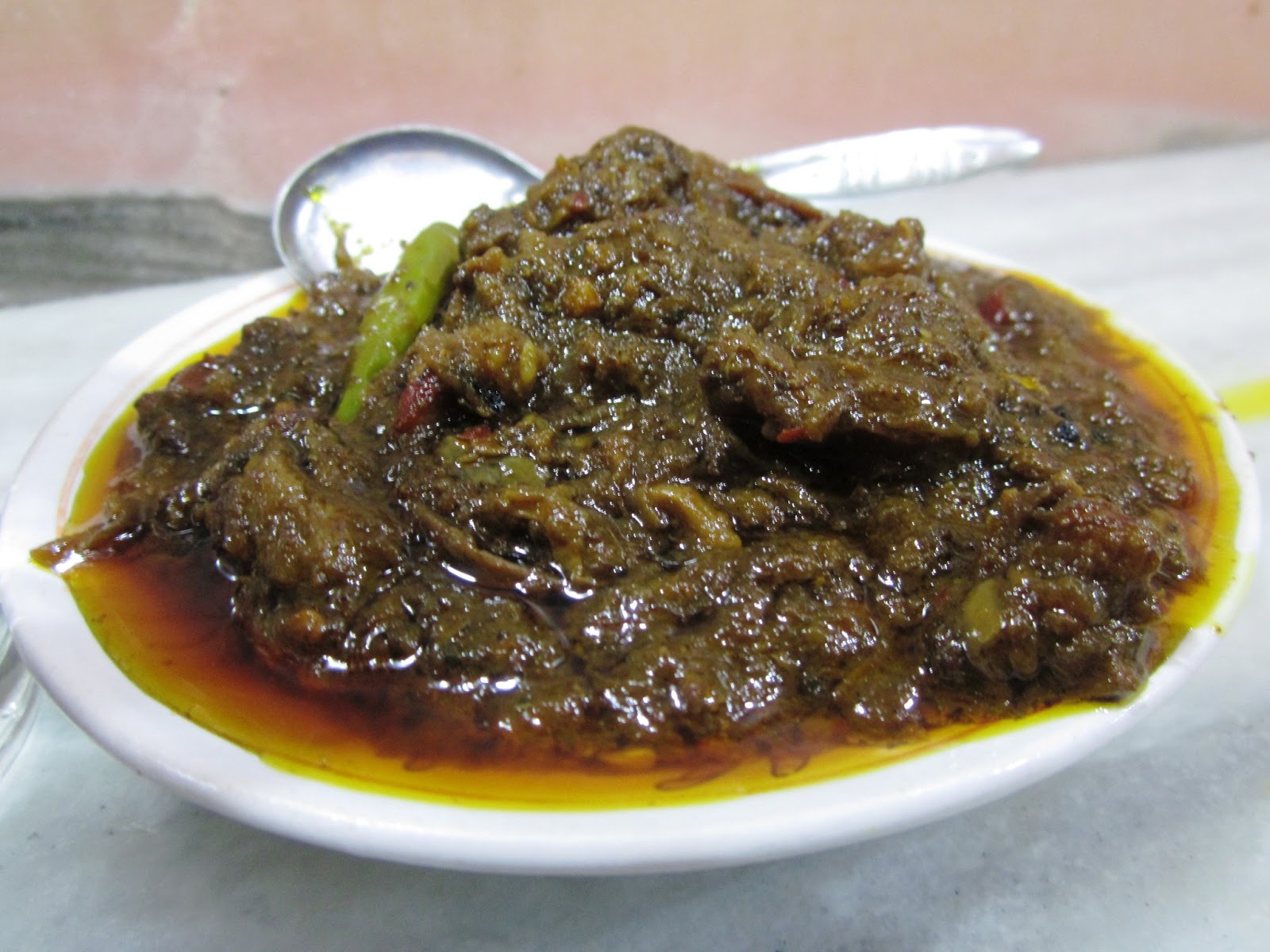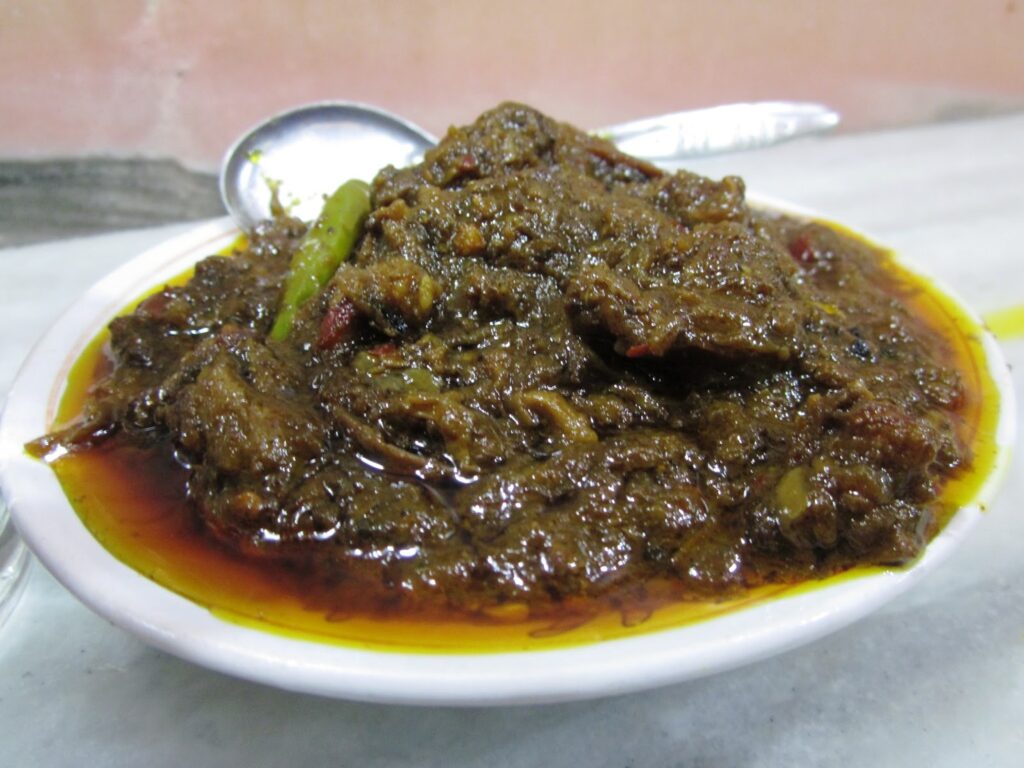 Can you say no to Golabari's velvety gravy shimmering soft and perfectly cooked juicy mutton with soft chapattis?
Ask any Kolkattan about the famous 92 years-old-eatery, Golbari, on the main road of Shyambazar's five-point crossing. They will tell you that no 5-star hotels can beat Golabari's taste.
New Punjabi Restaurant or Golbari is one of the best places to visit in North Kolkata with friends. The hotel was opened by Mr Ratan Arora with aim of serving fresh, spicy, delicious meals to the people of Kolkata.
Their signature dish is Bengali-style mutton curry aka Kosha Mangsho with paratha and Tamarind chutney. No Kolkattan can skip this place. The best part about Golbari is it is super affordable; the Mutton Kosha is just 180 Rupees.
The best thing about Golbari: North Kolkata places to visit
Dark, soft, gravy loaded with oil around the plate and big pieces of mutton floating served with traditional soft paratha is the signature dish of Golbari. The Paratha is not too greasy or too dry just perfectly melts inside your mouth. Ahh! It's mouthwatering.
Photo courtsey: presentedbyp
Read: Your Ultimate Guide: How To Plan Goa Trip For 3 Days?
9. Adi Malancha
Location: IBOE0N ,Sikdar Bagan Street, Hatibagan, Kolkata, West Bengal, 700004
Time: 5.45 Pm – 8.30 Pm
How to reach?
Reach Hatibagan crossing or Star Theater and start walking towards Shyambazar and take a second right turn towards "Sikdar Bagan Street", you will find the famous Adi Malancha.
Picture courtsey: bhuribhoj
If you ever visited Hatibagan – Shyambazar area then I guess you are well accustomed by the famous Adi Malancha at Shikdar Bagan Street, the oldest food eateries in North Kolkata.
For authentic taste and bestselling fast food, order Mughlai paratha, kabirajis, and cutlets.
Once, I came around 7.45 Pm to get the famous kabiraji but to my wonders, everything was sold out. Therefore, you can understand the rush and demand.
With a heart full of expectation, an empty stomach, and 100 Rupees in your pocket come to Adi Malancha and enjoy the mouthwatering street delicacies of North Kolkata.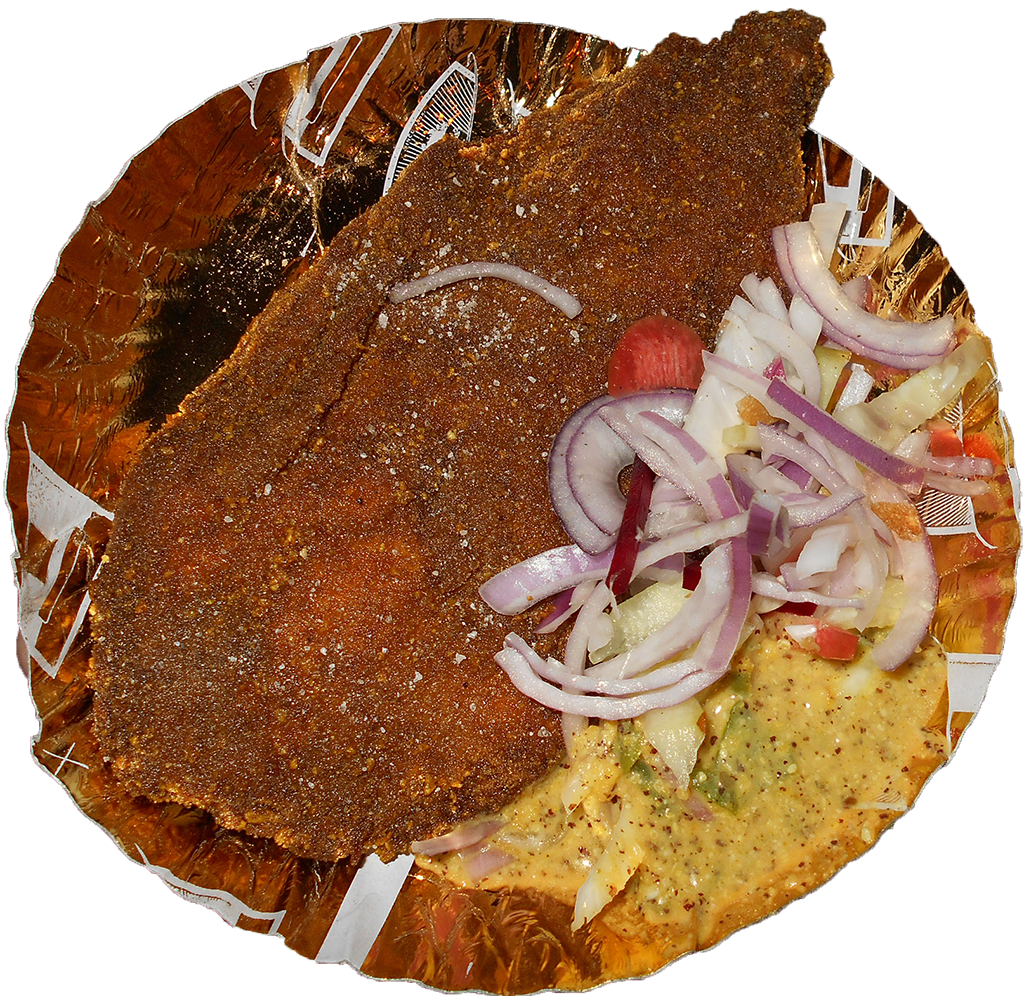 Conclusion
Thenarrow lanes, old red buildings, andall the above North Kolkata places to visit evoke emotions that are closely connected with simplicity, warmth, and a feeling of home. North Kolkata is a cultural hut of West Bengal, and I want you to explore the place and know more about it.
Read: A Practical Guide on How to Pack Clothes for Travel
FAQ
What North Kolkata is famous for?
North Kolkata is famous for its fascinating century-old buildings, narrow little lanes, old world charms, astonished glam tram ride, and interesting old markets.
Which is better north or south Kolkata?
North Kolkata has its charm and believes in a traditional way of life whereas, south Kolkata is more modern with theme cafes.
Which is the most visited place in Kolkata?
Burrabazar or Bara Bazar is one of the most visited places in Kolkata because here you get everything. From vegetables, fruits, spices, sweets, clothes, pieces of jewellery, bridal wear, makeup, household stuff, and kitchen stuff, to day-to-day stuff all at wholesale price.
Is Kolkata beautiful?
There is a popular saying, you might leave Kolkata, but the city never leaves you. The iconic yellow taxis, sweet breeze of Ganga ghats, century-old architecture, and charming elegant Bengali culture make Kolkata the most beautiful city in India.