8 Best Places to Babymoon in North Carolina: Pre-Baby Rest & Maternity Shoot!
Did you know that Travel + Leisure has ranked North Carolina among the top 25 best babymoon destinations around the world?
They say that the Outer Banks is the happy and stress-relieving destination for pregnant couples. I can't deny that, considering the mild climate and robust economy that make the place safe for everyone residing and traveling here.
and, North Carolina in the USA is one of the great places to move with your family, if you do not know the reasons, I recommend learning it. So, if you're one half of an expecting couple, consider North Carolina for your babymoon—a destination that offers a unique blend of beaches, mountains, Downtowns, and farmer markets. 
Also, if you're planning for a maternity shoot, this place has every spot to make you smile seamlessly! So, let's explore the best places to babymoon in North Carolina, whether on a budget or in a luxurious way—either way, fun is guaranteed!
If your babymoon is scheduled for December, I highly recommend checking out the charming Christmas towns of North Carolina. It will surely make you smile, laugh, and create romantic moments with your partner.
Ideas For Babymoon in Asheville, North Carolina
1. Let her have a funny ride in a purple bus with The City Comedy Tour
Address: 76 Biltmore Avenue, Asheville, NC 28801
Contact: 828-225-6932
Fee: $39
Specialty of the The City Comedy Tour:
90 minutes tour with endless laughter
10 minutes break at Green Man Brewing. You can see your friends ordering beer but you should not! Because you're pregnant my dear!
They offer other bus tours like Ghost Tour, Fender Bender, and kids famous Lil' Boogers
You know how incredibly beautiful Asheville's Downtown, Montford, and the River Arts district are, how can you miss this fun in Asheville without making your wife put her feet down on the road? So, let's take the Hey Asheville City Tour.
Yes, LaZoom brings a big purple bus where you sit, followed by bikers on their bikes and some nuns riding bicycles giving you knowledgeable guided tours with cracking witty and corny jokes that you never dreamt in your wild dreams.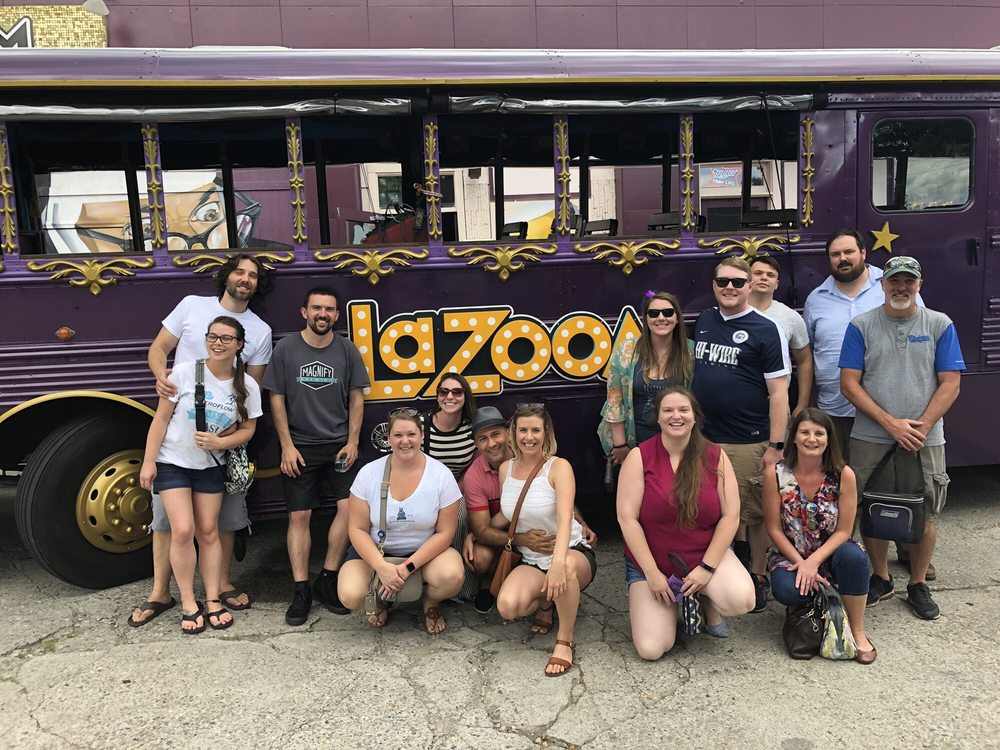 2. A resort-style vacation at Biltmore Estate
Address: 1 Lodge St, Asheville, NC 28803, USA
Contact: (800) 411-3812
Specialty of the Biltmore Estate:
Year-round they hold live music performances in the evening "Live After Five" is bound to make you smile and enjoy
Christmas Candlelight package – fancy breakfast buffet, explore Biltmore House, and Christmas Candlelight Tour with shuttle access at just one price – $70 – $90 per person
Room massage to relax and rejuvenate all your nerves
To pregnant couples out there looking to just rest, take the pressure off, and enjoy spending time with the scent of dozens of lovely roses and sparkling beverages, a stay at The Biltmore is your ultimate choice. And, yes, you can bring your dog pet too!
Why do I say it's ultimate? Because, by simply purchasing "full-day affair tickets," you can enjoy a walk to their winery, garden, Antler Village restaurants, and shops, unfold the history of the place, and capture hundreds of pictures flaunting your baby bump among the trees.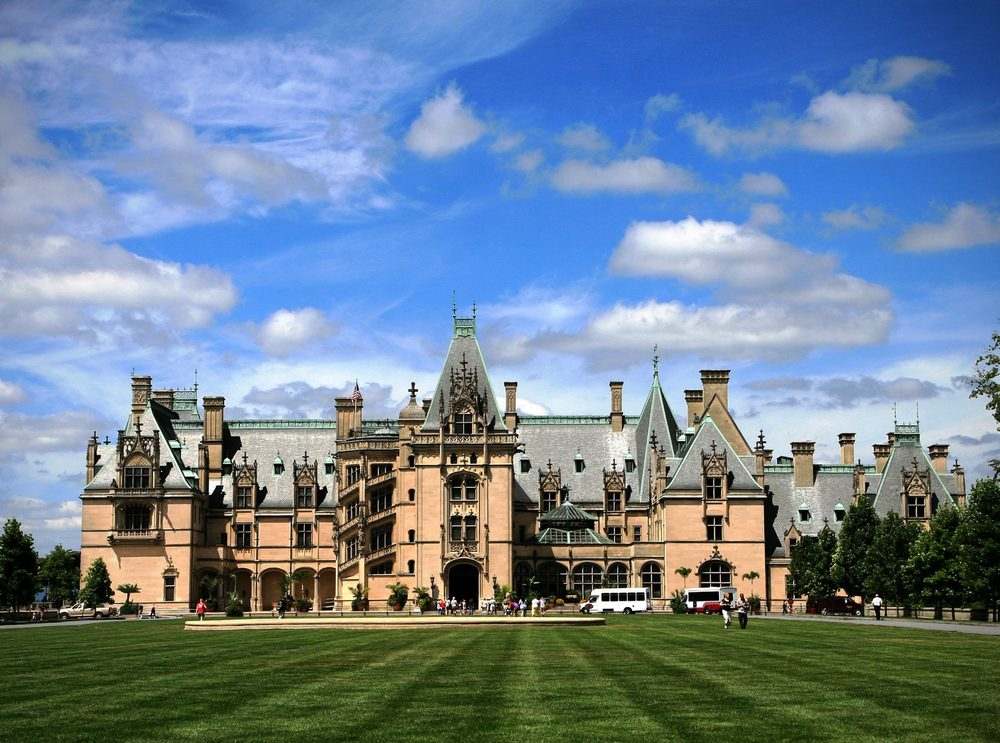 read: Do you know where you can take your dog on North Carolina beaches and have ultimate fun with your pet?
3. History lover pregnant wife, hop on Grayline Hop-on-Hop-off-tour
Address: 36 Montford Avenue, Asheville, NC 28801
Contact: (828) 251-8687
Fee: $37
The specialty of The Grayline Hop-on-Hop-off-tour:
90 minutes tour with endless laughter
Take you around shops and galleries and world-class culinary spots too
The historic bustling Biltmore Village, Omni Grove Park Inn, the artsy Downtown, and other historic legacy spots of Asheville are surely going to make all the pregnant couples go gaga!
My sister, Rebecca, a history lover says that opting for The Grayline Hop-on-Hop-off-tour is must activity during a babymoon in Asheville as it's so much fun! It narrates the highlighting history of each corner!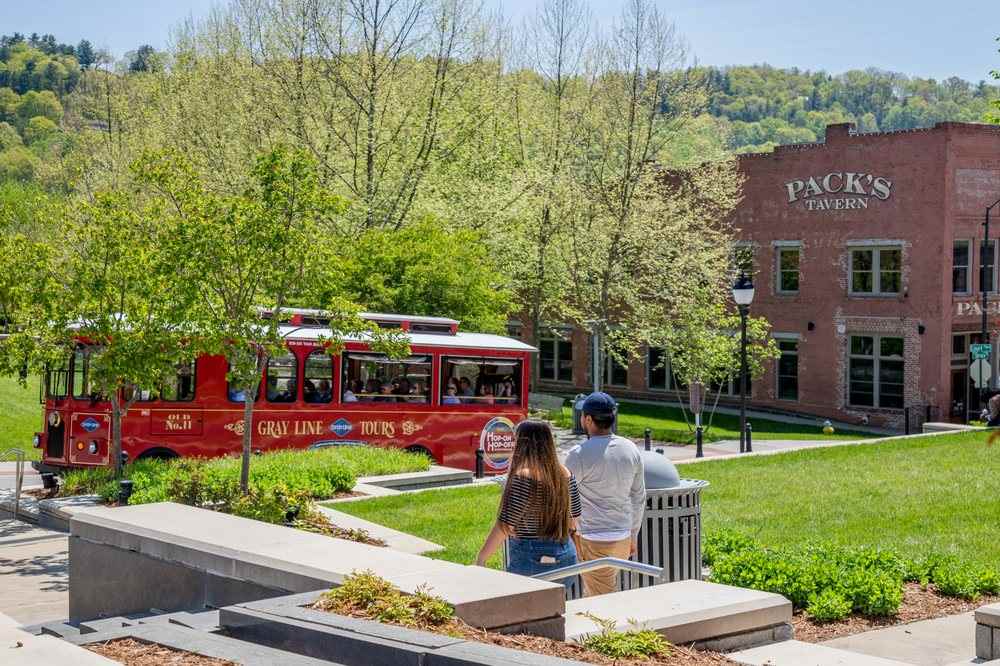 Read: Even relaxing at the beach towns of North Carolina is very relaxing!
4. Let your wife look out your car window and enjoy the mountain vistas
The best affordable babymoon plan you can make in Asheville is going on a ride with your car on North Carolina's Blue Ridge Parkway. You won't believe how old-fashioned rides can be so romantic. 
Oh, if you want to spice it up with romance, then carry a rug mat, homemade food, apple juice, some fries, and good songs, and stop at any of the viewpoints for a relaxing picnic. Have a great time together!
Tip: The roads are winding with amazing vistas all around; hence, if you're confident in your driving skills, go for this plan. Otherwise, you can hire a driver.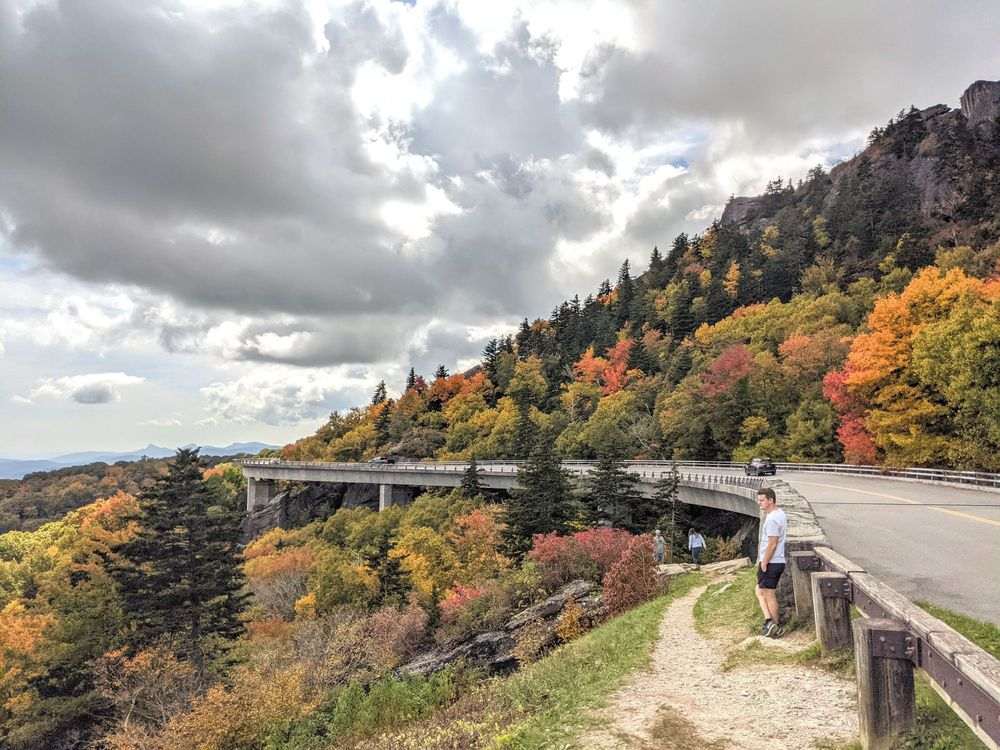 North Carolina Babymoon Places by Beach & Water
5. Have some secluded time at Lake Norman
Address: 759 State Park Road Troutman, NC 28166
Fact: For the pregnant couple looking for the best place to babymoon in Charlotte, Lake Norman is a great place
Before the baby comes out, you can have such a peaceful time by Lake Norman which has 500 miles of shoreline. The best part is you can either rent or launch your boat and enjoy boating and enjoying the sun.
I recommend some fun easy water activities with tour companies whom you can rely on during your pregnancy as they've years of experience. Cannon Board Co. for paddle boarding and Captain Gus' Lake Norman Laugh Liner can take you fishing at the best spots.
Tip: Spend the night at Lake Norman, you'll find cabins that you need to book. Additionally, you can also book Air Bnb cottages which are available at $155 per night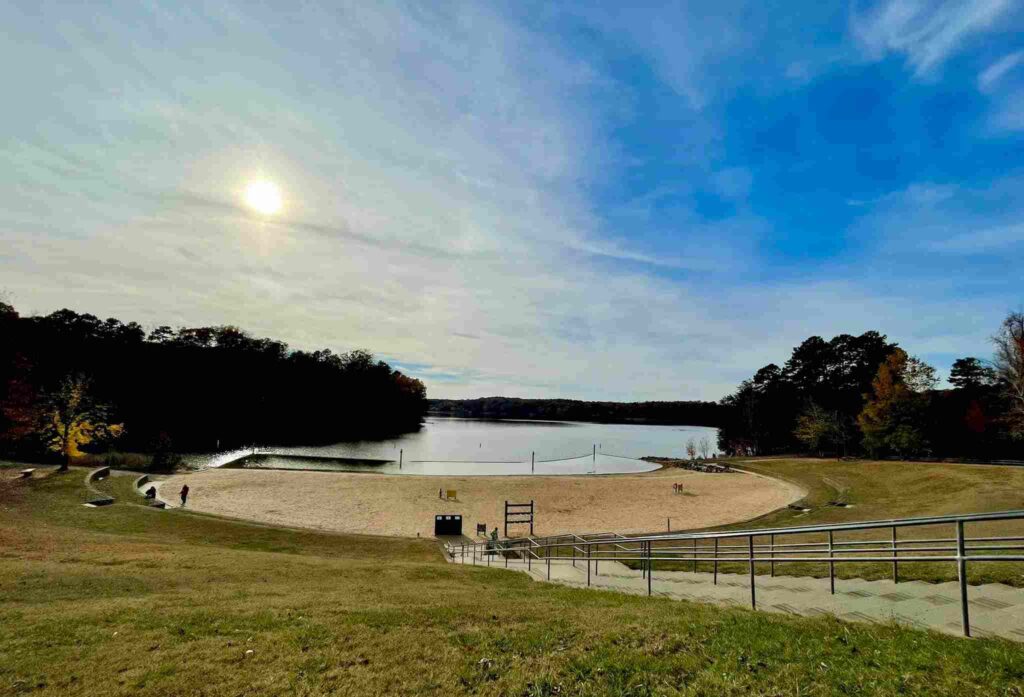 6. Cool off in the Atlantic and enjoy time exploring the Corolla Village  
Location: East coast of North Carolina, In Currituck County
Specialty of the Corolla Village: The soft sand of Corolla Beach where you can lie to enjoy the sun or swim in the water, 
Corolla Village is one of the small North Carolina Outer Banks spots to babymoon for couples cooking for a beach getaway. You know you can take your pregnant wife to see Hatteras Lighthouse (198.49 feet) which is just 2 hours away.
Also, if you don't want to ride, take her to Currituck Beach Lighthouse to click the picture of the beauty and her baby bump with the Outer Bank and the Atlantic Ocean in the backdrop. I would also recommend going to Audubon Sanctuary and Centre at Pine Island.
The best things to do in Corolla Village are to enjoy the beach, explore art galleries, shop bonanza, and have yummy food from various restaurants. My favorite place is Tim Buck II Shopping Village, as I could find plenty of seafood places and vendors overlooking Currituck Sound.
Tip:
Taste succulent crab cakes or platters of steamed shrimp and some juicy Black Angus prime rib
Corolla Village is famous for wild horse rides (north of the town), but I recommend you to not opt for this because of your pregnancy. If your husband is eager for the adventure he can contact Corolla Outback Adventure for it
Facts: there are so many things to do in Corolla Village, you can check it out!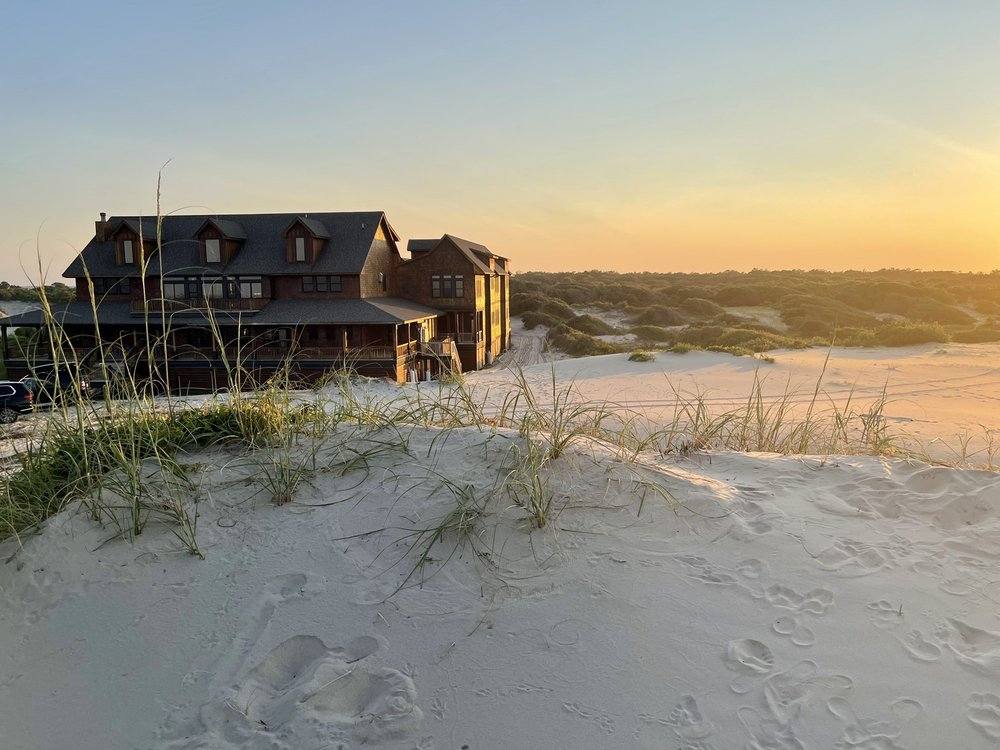 Best Places to Babymoon in North Carolina
7. Inhale fresh air at the pure mountaintop of the Highland
Location: West North Carolina, Highlight sits 4, 100 feet above sea level
Specialty of the The Highland, NC: The surrounding peaks, valley, and the clean view of Mother Nature
My sister has always loved mountains, so during her babymoon planning, I took everything into my hands and organized everything. I wanted her to enjoy the peaceful mountain air along with the eye-popping gifts of nature, so there's nothing greater than Highland.
She stayed at Vineyard in Scaly Mountains, a little offbeat from Highland but that's what I wanted, a secluded spot. I remember she called me in the night to tell that how every evening she and Kelvin (her husband) played cards and she defeated him!
Whenever she had sweet cravings at night, Kelvin took her to Midpoint Highlands for tasty ice creams. Now, the property has a lake and sits within the tall trees.
Tips:
On Saturday, check the Farmer Market at Founders Park to buy souvenirs for your family
Don't miss out on Cashiers, another beautiful spot where you can consider staying. Enjoy some fantastic spa sessions here. My sister even came here to try out Bucks Coffee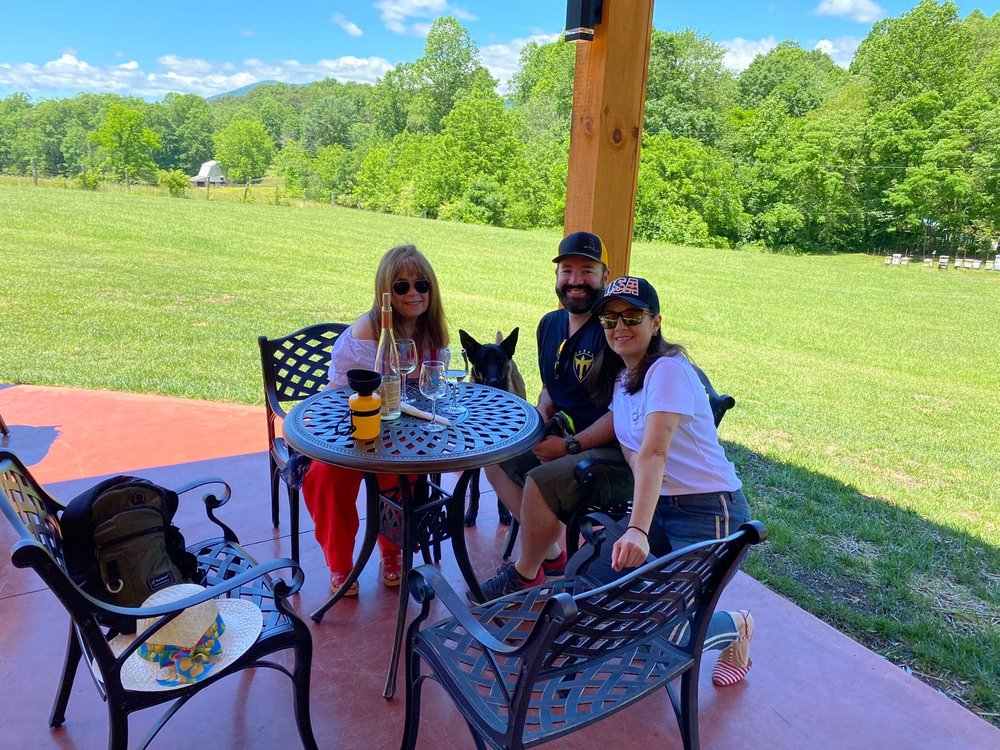 8. Simple staycation at The Durham Hotel, because rest is your top priority
Address: 315 E Chapel Hill St, Durham, NC 27701, USA
Give her a break from washing dishes, doing laundry, and taking care of the home by treating her to a week-long staycation near your place. During her 7-week pregnancy, my sister chose The Durham Hotel.
Now, Durham and Raleigh are neighboring cities, with Durham having a more hip vibe. You can choose any location that suits your goals. At The Durham Hotel, you can easily walk to top-notch restaurants, and boutiques, and explore the downtown area.
It is a boutique hotel with cozy rooms and comfortable pillows. In the evening, head to the rooftop to watch the beautiful sunset while sipping on some drinks. Additionally, the hotel is famous for serving its customers a signature coffee soda — make sure to try it!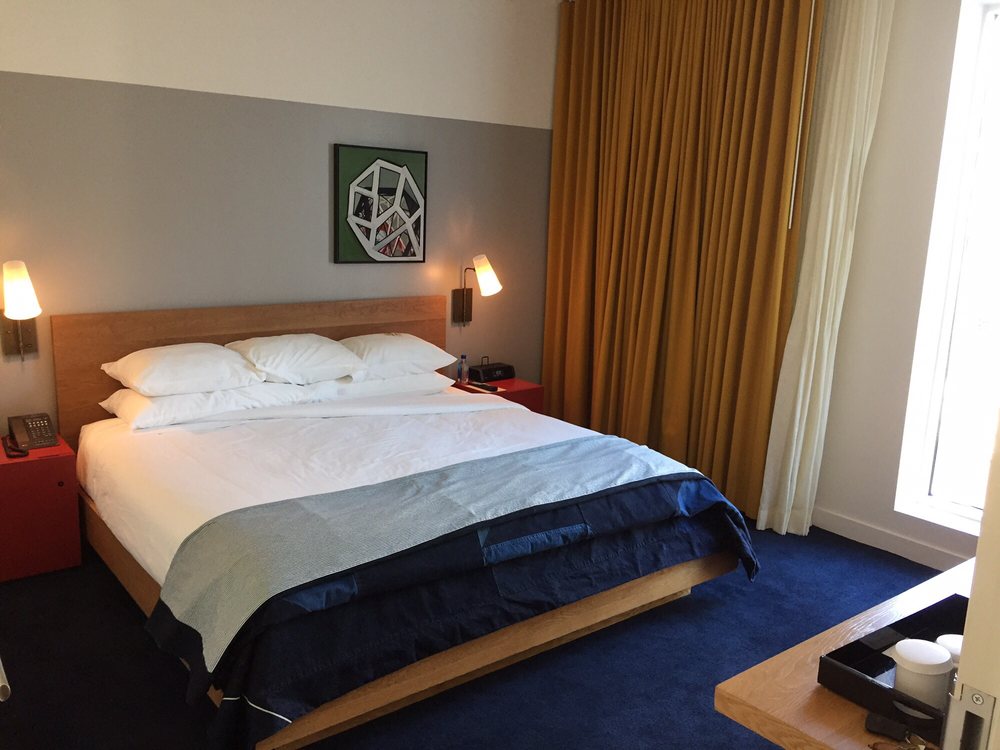 Conclusion
Indubitably, North Carolina stands as one of the best babymoon destinations in the United States and if you chance to come here to chill for a few days, I promise the experience to be nothing short of splendid!
Read More: