6 Spots of Bungee Jumping in North Carolina: Fun Adventure
When I was in sixth grade and learning about "free fall' and 'Newton's Law of Universal Gravitation'" for the first time, I couldn't help but wonder if I could experience the same sensation.
Yet, a fear held me back—what if something went wrong? Who would save me during a free fall? A child's mind is a whirlwind of 'ifs' and 'wants to.'
Growing up in late 1990s North Carolina, I embarked on numerous outdoor adventures with my father, grandfather, and elder brother. I love my place, North Carolina, you should also come here!
However, the concept of free fall was never a part of our discussions. As I matured, in 1998, I watched the movie 'Selena,' wherein Jennifer Lopez portrayed Selena Quintanilla-Perez.
In a pivotal scene, she visited a carnival and engaged in bungee jumping. The desire to witness the world upside down, to experience free fall, was ignited within me since then.
I understood that bungee jumping was a safer way to satisfy this curiosity. The sturdy bungee cord would be fastened to my ankle and I would be under the guidance of a professional legal team quelled my concerns about safety.
Finally, the opportunity presented itself during my college years. In Colorado at the Royal Gorge Bridge, I did my first bungee jumping.
The feeling of free fall was both exhilarating and surreal. Although my own place, North Carolina lacked bungee jumping locations, I'm writing this blog for all the adventure souls in North Carolina who wants to experience similar feeling like bungee jumping.
I'm listing all the options of reverse bungee jumping, and bungee swing jumping locations around North Carolina to give you a memory you cannot forget.
You'll also love reading:
Table of Contents
Where to Bungee Jump in North Carolina?
In 2023, surprisingly, there still isn't a legally established and professionally run Bungee Jumping Adventure Company in North Carolina.
Despite the passage of time, there remains no news but this doesn't mean tomorrow there won't be any news regarding the emergence of such an establishment within the city.
The traditional and authentic form of bungee jumping, known as a vertigo bungee jump, continues to be absent in both the North Carolina and South Carolina regions. However, alternative styles of bungee experiences, such as reverse bungee and bungee swing, are available for those seeking similar thrills.
These can be enjoyed at the nearest bungee jumping locations accessible from North Carolina. If you find yourself searching for the genuine vertigo bungee jump experience, it appears that you may have to journey beyond the state's borders.
Where can you have fun in North Carolina?
Thrilling Alternative Bungee Jumping Experience in North Carolina
1. Bungee Swing Workout, Raleigh
Address: 6278 Glenwood Avenue Suit 200, above Areapa
Certainly, you've witnessed numerous gym workout videos, but have you ever considered making a change by featuring videos on bungee swing fitness?
It's a cool concept, isn't it? Bungee Swing Workout presents an innovative and enjoyable approach to cardio sessions.
This approach not only aids in muscle development and strength building but also facilitates calorie burning.
Additionally, it offers the initial thrill associated with bungee activities. I've personally observed my sister enthusiastically engage in these classes.
The process involves being securely harnessed to a bungee station around the hips. The trainers then impart fundamental bungee movement techniques, guiding participants as they gradually advance through practice.
While it may not replicate the experience of an actual bungee jump, it presents an appealing alternative.
Especially for those who might be overweight or have physical limitations preventing them from attempting a real bungee jump, this could be an ideal option.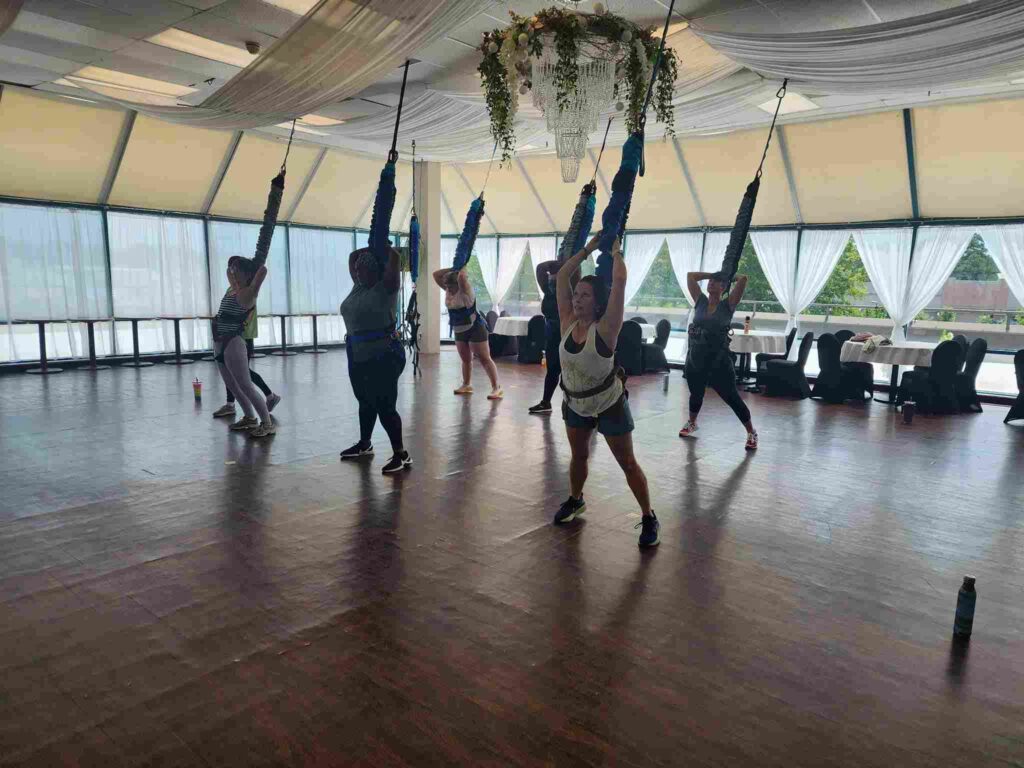 2. Carowinds Slingshot, Charlotte
Address: 14523 Carowinds Blvd, Charlotte NC, 28273
If you're searching for a supernatural thrilling adventure in North Carolina, nothing can beat the ride of Slingshot, an alternative for reverse bungee jumping.
The Charlotte Park sits between the border of North and South Carolina. The park is home to many more thrilling adventures.
Slingshot looks like a capsule and it needs two people to sit on one seat. So, drag your friend because you need a partner for this ride.
The ride is attached to two tall towers so that the capsule can fling, roll, and flip taking you with it. It doesn't sound so adventurous, right? I recommend watching this video!
You'll be asked to sit on one capsule and then with a bungee cord, you'll be safely tightened. Then the Slingshot rises straight up to the sky of 300 feet.
As it starts you'll feel that yes something, but within a few seconds, it takes its speed and rises to 60 miles per hour. Once you reach the top, the sensation is comprehensive.
But then within a few seconds, the Slingshot zooms back towards the ground and the rolling down is sure to give you the sensation of heads over heels.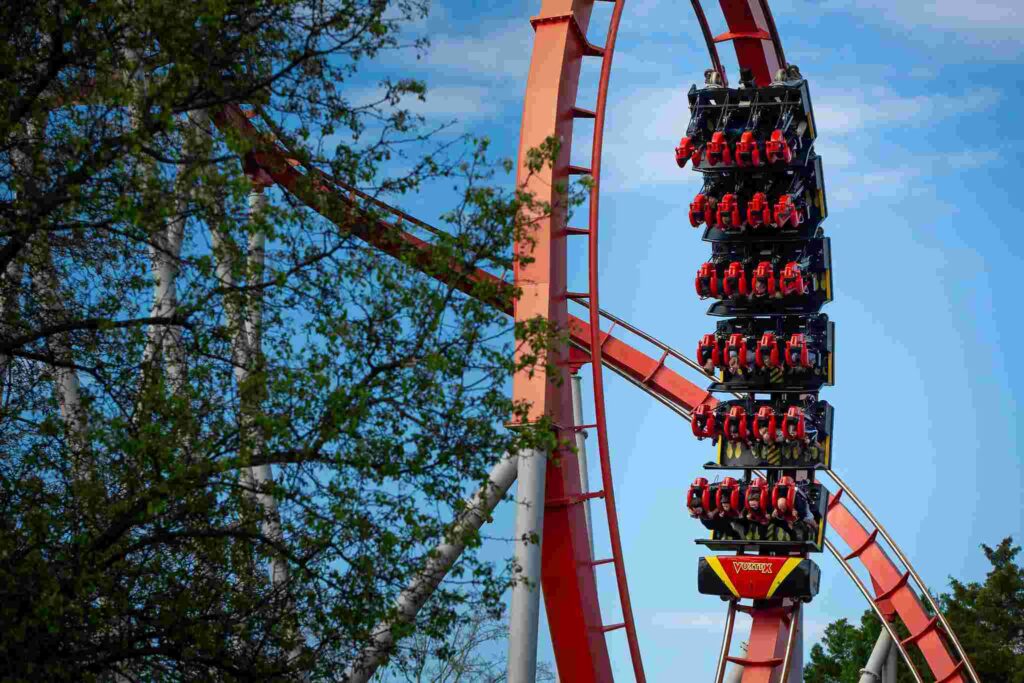 Unforgettable Bungee Jumping Adventure around North Carolina
1. Air Boingo, Myrtle Beach, South Carolina
Frequently referred to by locals as "Myrtle Beach Bungee," this attraction claims its spot along the picturesque Atlantic Ocean, gifting visitors with not only an enthralling adventure but also breathtaking views.
With a reputation to be proud of, Air Boingo boasts an impressive record of over 2 million successful jumps.
Their promise is to deliver a once-in-a-lifetime experience, inviting you to take the exhilarating leap from an impressive 80-foot altitude.
Operating not only in South Carolina but also extending its presence to Texas and Florida, Air Boingo takes safety and compliance with regulations very seriously.
This adherence ensures that your adventure is as secure as it is exciting. Among the array of experiences, the Slingshot ride stands out.
This ride hoists you to a towering height of 180 feet before an abrupt descent, providing an adrenaline rush that's hard to match.
The "Myrtle Beach Bungee" experience, offered by Air Boingo, presents an ideal opportunity to plunge from great heights and indulge in other attractions, such as the gravity-defying Slingshot ride.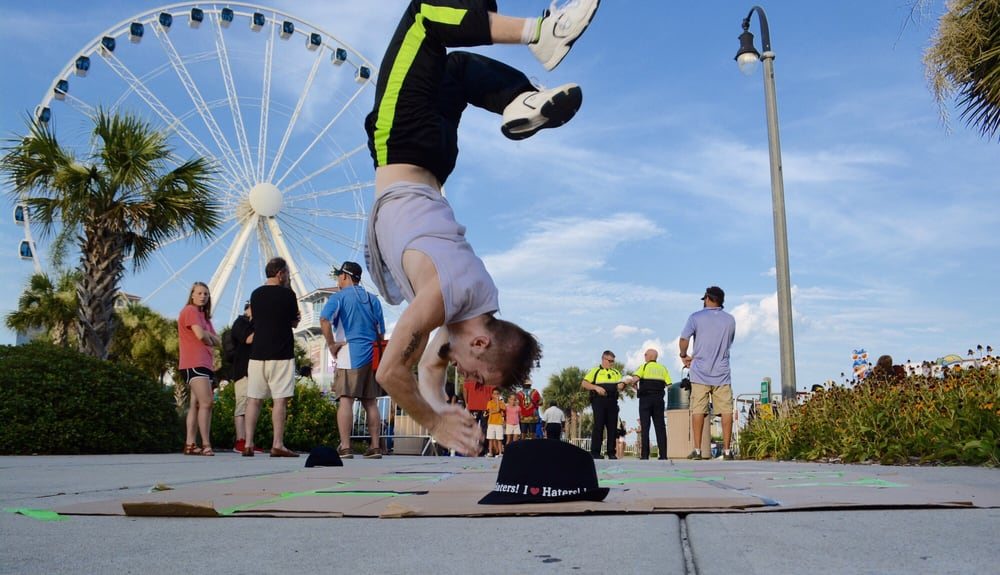 2. The Track Recreation Center at Pigeon Forge, Tennessee
If an adrenaline rush through bungee jumping is on your bucket list, East Tennessee beckons. Nestled in a mountain town, this locale offers a thrilling bungee jump from a 65-foot platform.
To partake, you'll ascend a flight of stairs that leads you to the precipice of the bungee jump platform. Here, a seasoned professional will secure an elastic bungee cord to your ankle and sometimes harness with rope too.
This cord acts akin to a yoyo, propelling you off the platform and eventually returning you to the ground. They follow the safety terms very keenly.
This adventure center at Pigeon Forge stands as one of the permanent options for North Carolinas to taste the adventure of bungee jumping.
Moreover, it offers a diverse range of entertainment and adventure options. From bumper boats to children's rides and an array of other attractions, the center promises an eventful experience.
A highlight not to be missed is the Sky Scrapper ride. Elevating you an impressive 150 feet into the sky, this ride fulfills any adventure-seeking void you may have harbored.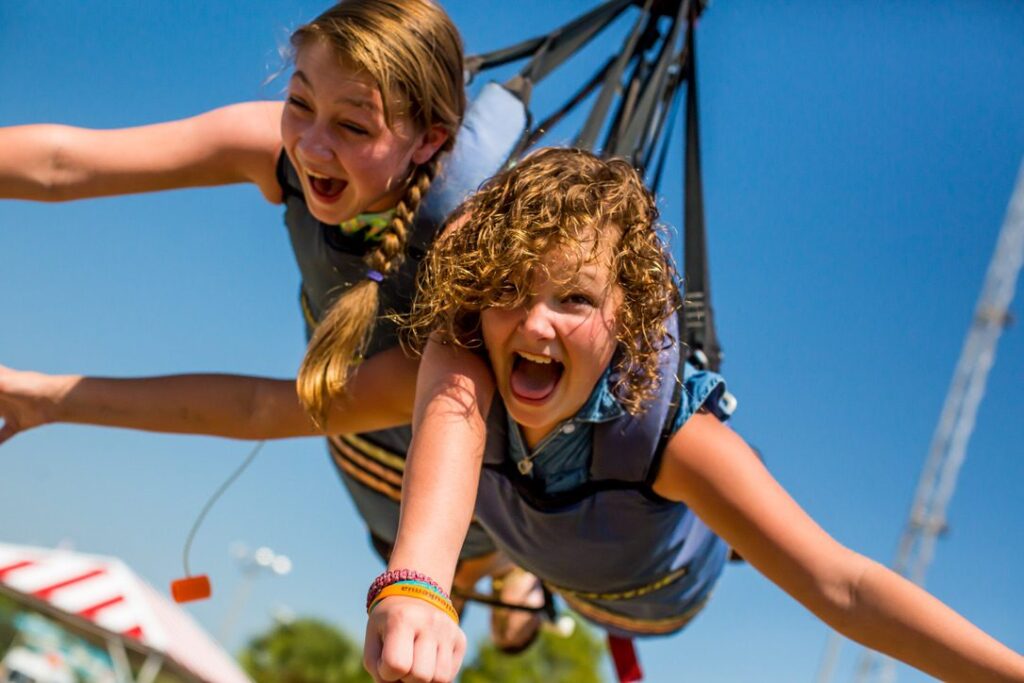 3. Xtreme SkyFlyer near Richmond, Virginia
Address: 16000 Theme Park Way, Doswell, VA 23047
Xtreme SkyFlyer is a combination of hang gliding, bungee jumping, and skydiving, Additionally, I would say this is much more comfortable as the bungee jumping cable bounces back creating a lot of discomfort for many users.
At the Kings Dominion Amusement Park, First, you've to lay on your belly and then they will harness you and take you at the height of 215 feet in the air. And, then you'll be dropped at 60 miles per hour to the ground.
Can you imagine the adventure? You can experience free fall like never before as you come toward the ground with such speed.
Tip: You have to buy the ticket, the park ticket does not include the adventure charge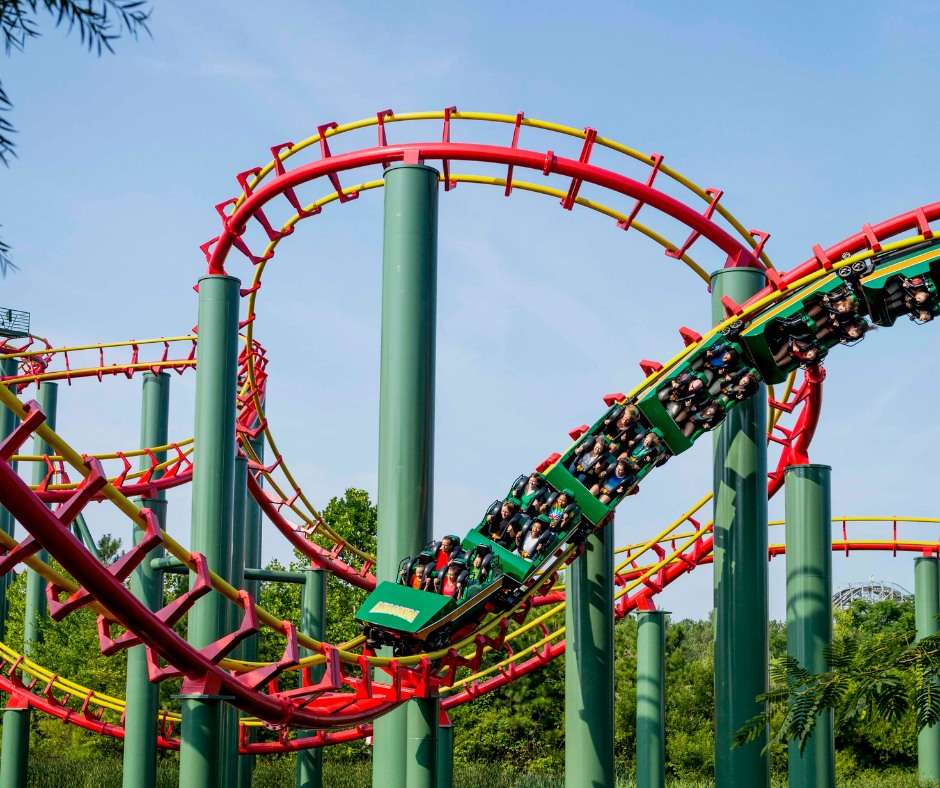 4. Vertigo Bungee Lawrenceville, Kentucky
In Kentucky, Vertigo Bungee stands as one of the oldest bungee jumping spots in the USA.
Between May and October, bungee jump enthusiasts flock here to relish a 240-foot leap over the river.
Adjacent to the Wild Turkey distillery and spanning the Kentucky River, lies Young's High Bridge—an age-old railroad bridge reborn as a bungee jumping haven.
The bridge's allure even captured MTV Sports' attention across multiple episodes. Believe me, if you're seeking premier bungee jumping spots near North Carolina, this is a prime destination.
With two decades of industry presence, Vertigo Bungee ensures you're in expert hands, making your taste of this extreme adventure entirely safe.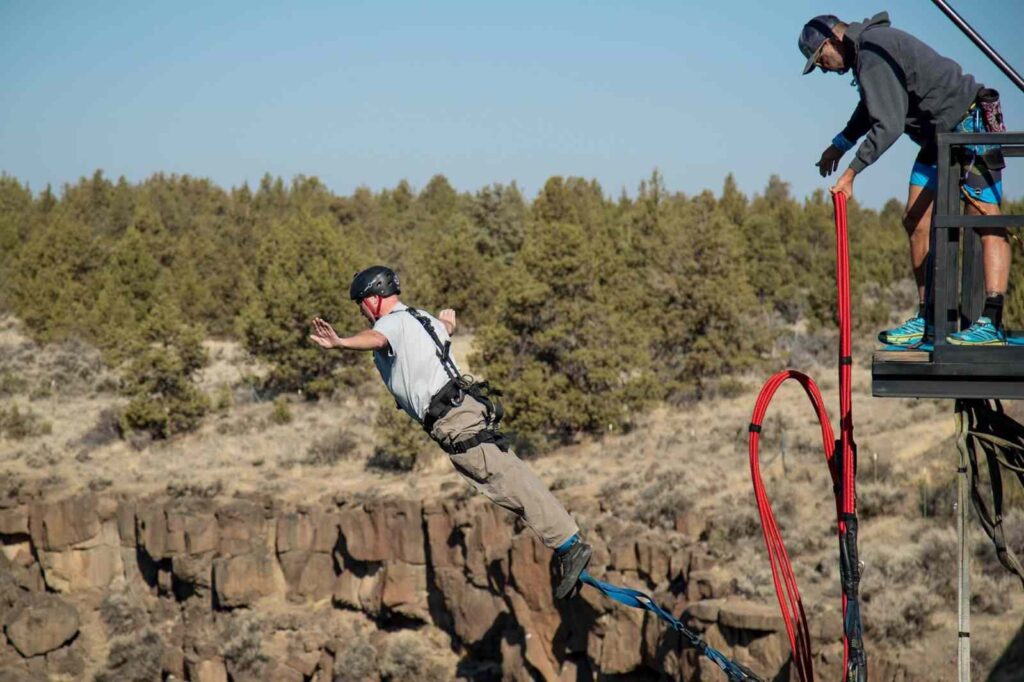 Learn More:
FAQ: Bungee Jumping in North Carolina
1. Where can you go cliff diving in North Carolina?
A. This summer, go to Carrigan Farms in Mooresville, NC, to enjoy free falls into the water.