Nothing is more fuelling in the vacation than relaxing on the shores of the Outer Banks of North Carolina – tasting mouth-watering seafood and witnessing turquoise waves.
Towns in Outer Banks, North Carolina are gifted with warm hospitality, and beaches that allow you to surf, swim, and snorkel as much as you desire! Also, North Carolina is a great destination to reside in.
I feel nothing is old-fashioned in traveling that can bring a smile to my face. So, like every year, I am here to enjoy southern beauty and hospitality.
OBX towns are all about beaches, lighthouses, food, water sports, laid back atmosphere, and a quiet environment.
Do you want to start exploring the best OBX towns in North Carolina? Here is the list. Keep reading!
Also read: 9 Best Places For Christmas In North Carolina
Table of Contents
Where are Outer Banks, North Carolina?
Outer Banks North Carolina is a string of barrier islands along the Eastern Coast ranging over 200 miles from Corolla to Ocracoke.
The place is also called "The Graveyard of the Atlantic" as history claims that Outer Banks was home to hundreds of shipwrecks.
Today, it is an ideal location for a fishing adventure and scuba diving. You can spot bluefish, tuna, cobia, mackerel, and other monster trophies.
These islands are connected to the mainland by bridges and ferries. Moreover, Outer Banks flourishes because of tourism as it recorded 5 million visitors each year.
This area is on the outskirts of North Carolina and is surrounded by the Atlantic Ocean, Pamlico, Croatan, Albemarle Sounds, Hyde, and Tyrrell Counties.
Here you'll enjoy more raw rustic beach life combined with windswept attractions, pristine maritime forest, wild horses, and good local seafood.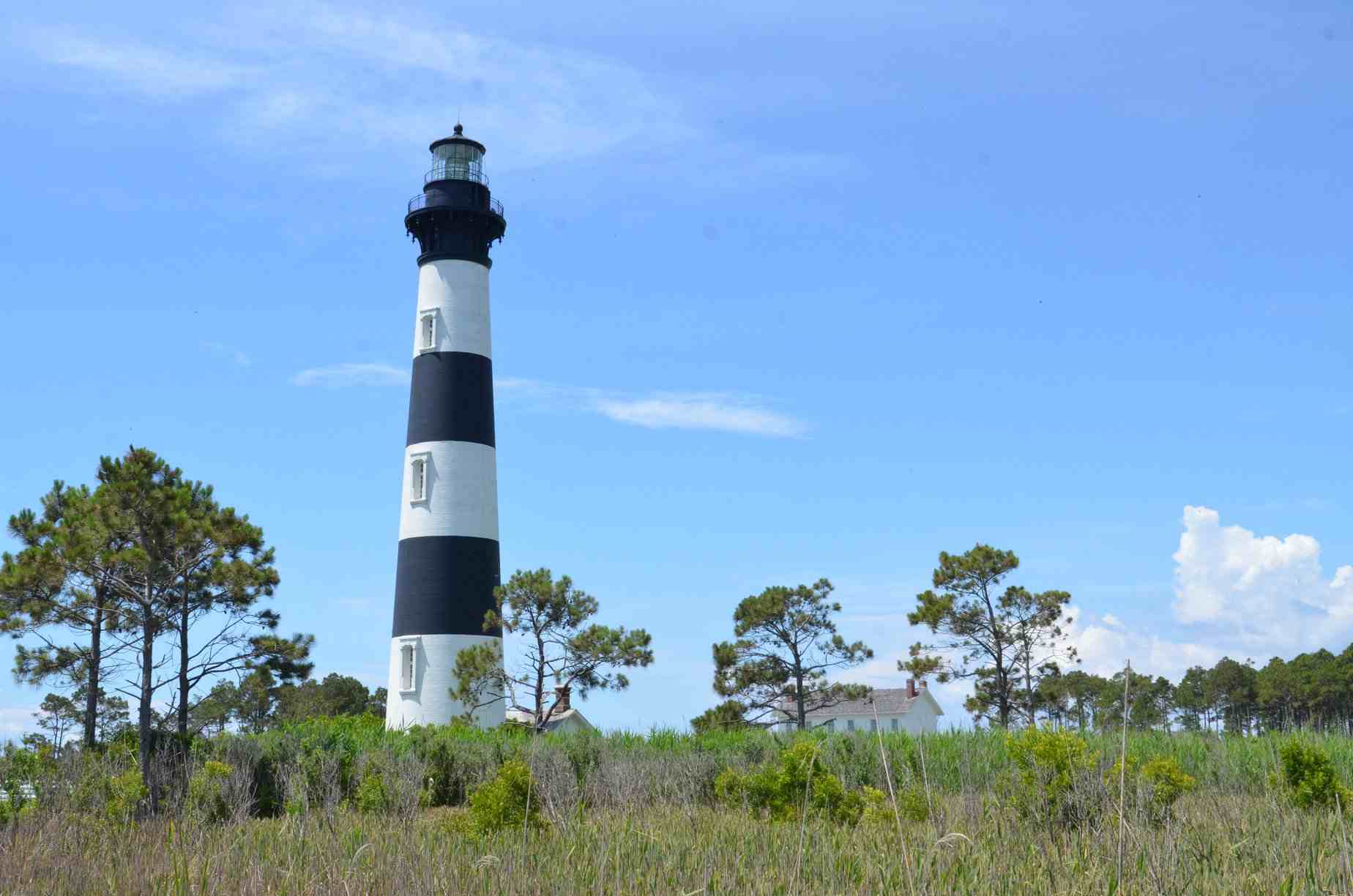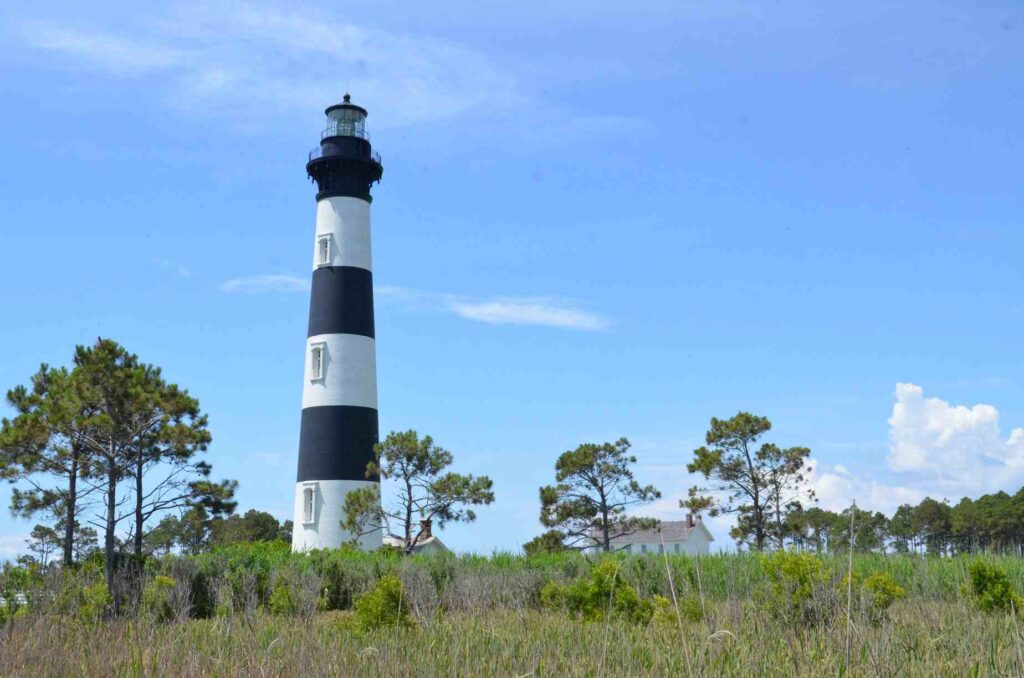 Weather Outer Banks North Carolina
If you ask a local, the best time to visit the Outer Banks is from March to May, in the spring season. But I would recommend you visit in December, in the winter season.
I am breaking down the weather of Outer Bank North Carolina for you to decide what to expect from here.
Winter
Winter season starts in December when crowds dissipate your experience – a peaceful environment, and low lodging and restaurant rates. Mostly, this is off-season!
The weather dips to 40 – 50 degrees Fahrenheit. Just keep in mind that during this season you might or might not see snow. But you've to carry a warm coat.
However, the chilly weather might be a downside for visiting outer banks towns but the cheaper price and quiet environment can be the positive side.
Season: December – February
Festivals in the Outer Banks: Wright Brothers First Flight Celebrations
Spring
Spring season starts in June when there will be a crowd but less compared to peak season. Lodging and food price is average. Also, there is a lot to do here on Easter weekend!
The temperature is between 60 – 50 degrees Fahrenheit. However, the water temperature is around 40-60 degrees Fahrenheit which can be a little chilly for dipping.
Season: March-May
Festivals in the Outer Banks: Taste of the Beach, Annual Hang Gliding Spectacular and Air Show, Flying Pirate Half Marathon, and Annual Duck & Wine Festival
Summer
Spring season starts in March when the weather is lovely and the water temperature is perfect for people to swim.
It is one of the best times to explore towns on the outer banks of North Carolina. You can drive as many water activities as you want.
The temperature is around 75-80 degrees Fahrenheit. However, the price of the accommodation and food are all high. Also, it is the beginning of hurricane season.
Season: June – August
Festivals in the Outer Banks: The Lost Colony, Outer Banks Food Truck Showdown, Outer Banks Pirate Festival, and OBX Watermelon Festival
Also Read: 17 Best Pet-Friendly North Carolina Beaches
Fall
The fall season starts at end of September when the crowd begins to diminish, and the temperature starts increasing.
The temperature ranges from 70 – 60 degrees Fahrenheit. However, the threat of hurricanes is still there. But can you spend your life in fear? So, enjoy every moment.
Season: September – November
Festivals in the Outer Banks: Outer Banks Seafood Festival, Bluegrass Island Festival, Duck Jazz Festival, and OBX Triathlon.
Map of Outer Banks Towns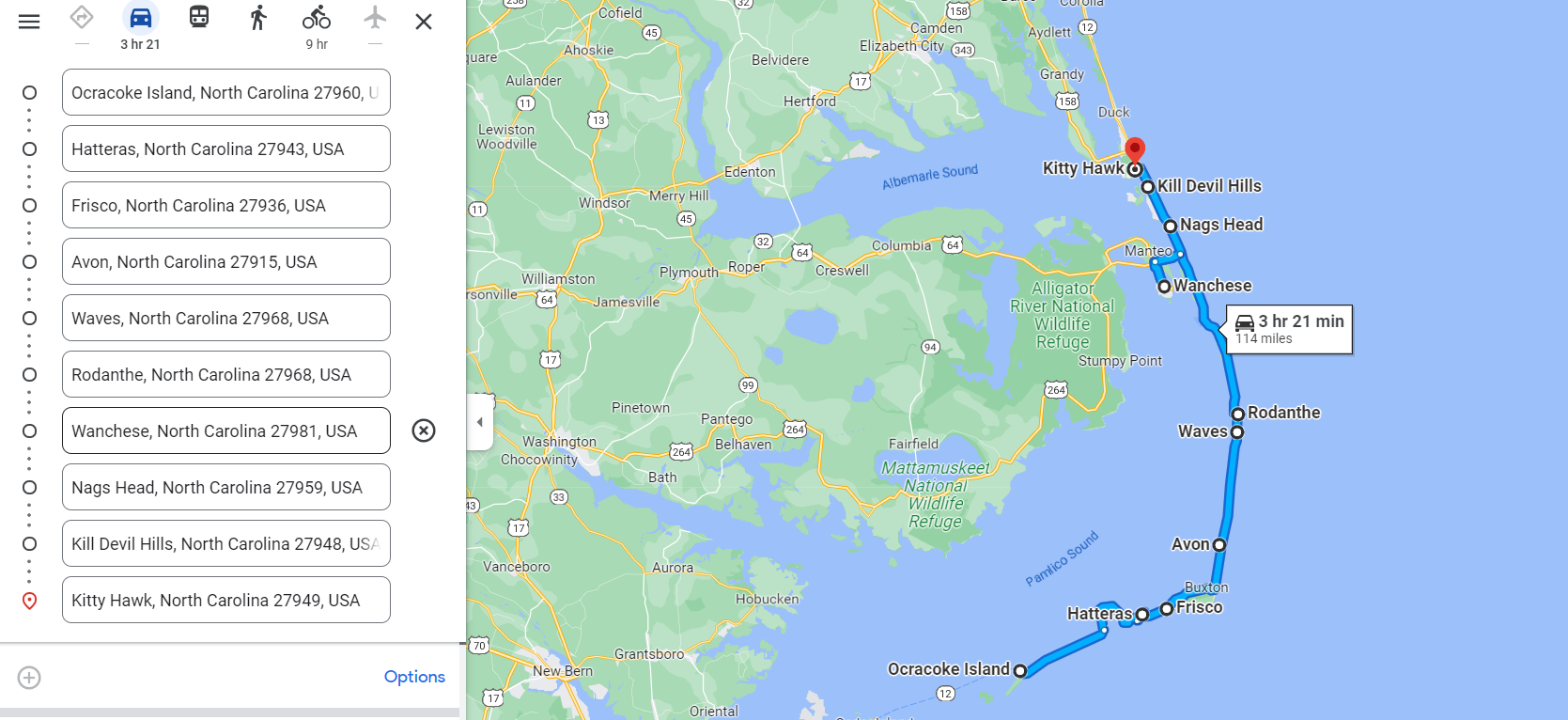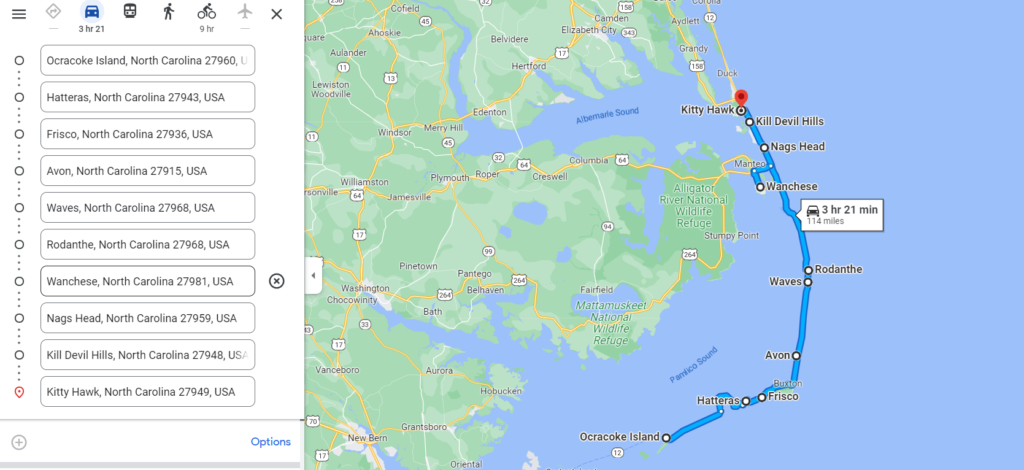 Towns in Outer Banks North Carolina
Ocracoke Island
1. Ocracoke
How to reach Ocracoke?
To reach Ocracoke, I took a ferry from Hatteras (1-hour ride) which charged me zero dollars at the cost of 360-degree views of sand bars, beaches, and maritime forest at far. I learned that you can also take the ferry from Cedar Island and Swan Quarter but in both cases, it will take more than two hours to reach.
Ocracoke is the secluded southmost Outer Bank town around Silver Lake which you should visit to get the pleasure of rustic old amenities and simple things.
I came here in 2022 with my friend and was amazed to see wild ponies running around, however, they were in their herd, so no worries!
The place feels like you've stepped back in time, the pace of life is carefree, scenic, independent, and more of the local coast.
Moreover, its rich history makes Ocracoke a must-visit place in North Carolina. You'll spot a 75 feet long lighthouse which is the smallest yet operating the longest in N.C.
Additionally, Ocracoke is those Outer Banks North Carolina beaches where you'll find mostly locals and very few tourists. Don't you love exploring offbeat places?
Ocracoke: Things to do in Outer Banks, North Carolina
Soak up the scenes of the harbor while sipping a coconut
Take a photo in front of historic homes and a beautiful pristine landscape
Wander the island and simply enjoy the aura of the local coastal place
Wiggle your toes in the sand and water walking along the 14 miles of beaches
Admire nature at Springer's Point. You can spot Ocracoke Pony Pen
Wear a black dress and come to British Cemetry of Ocracoke, this soil has been taken under lease by the United Kingdom.
You should say goodbye to your appetite at my favorite restaurant having seafood – Back Porch Restaurant
Learn about artifacts at Ocracoke Preservation Society
Listen to music and tales of the island from Ocrafolk Opry, a local community
I stayed at camps hosted by the National Parks Service. You can try it here too!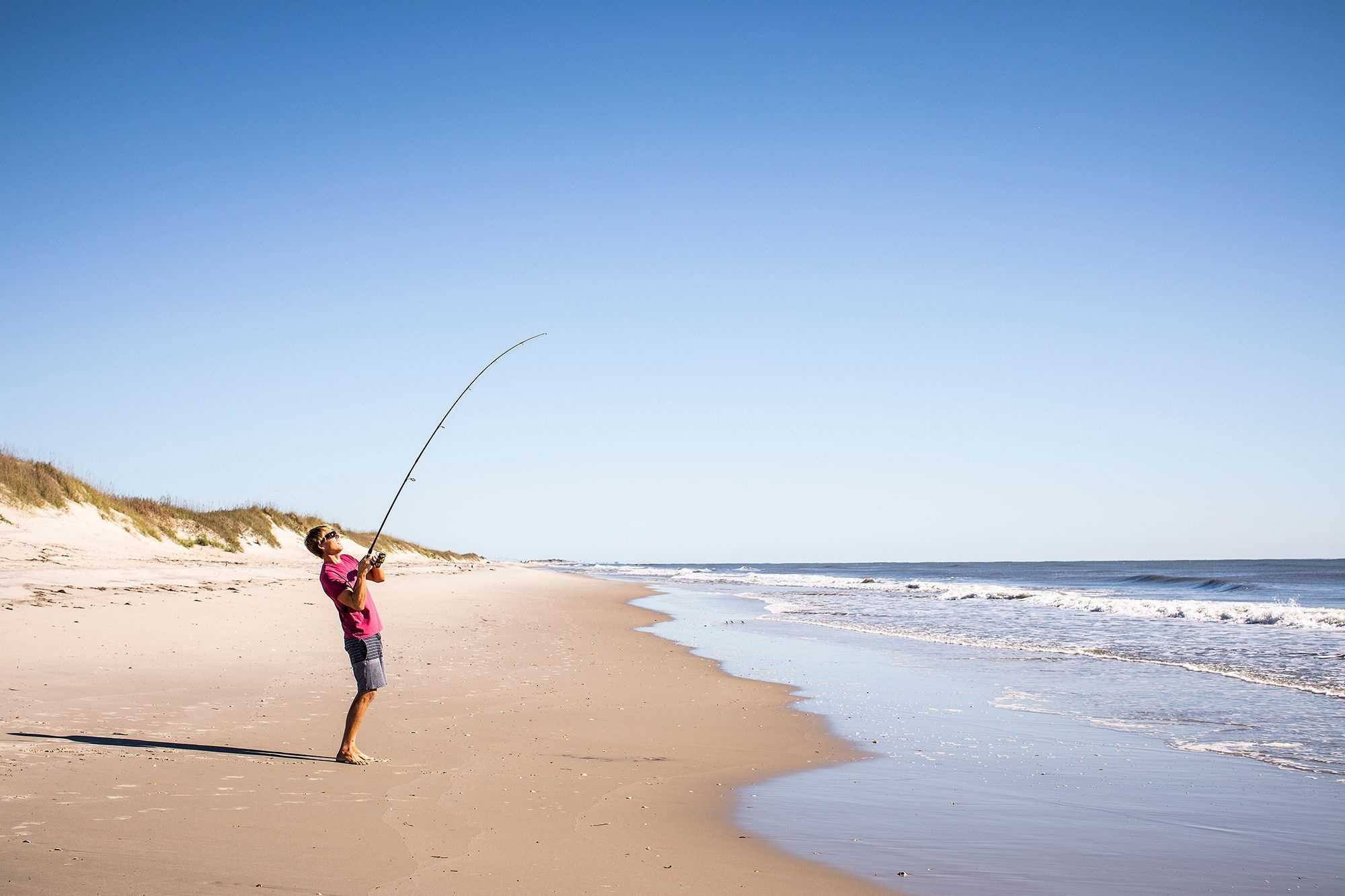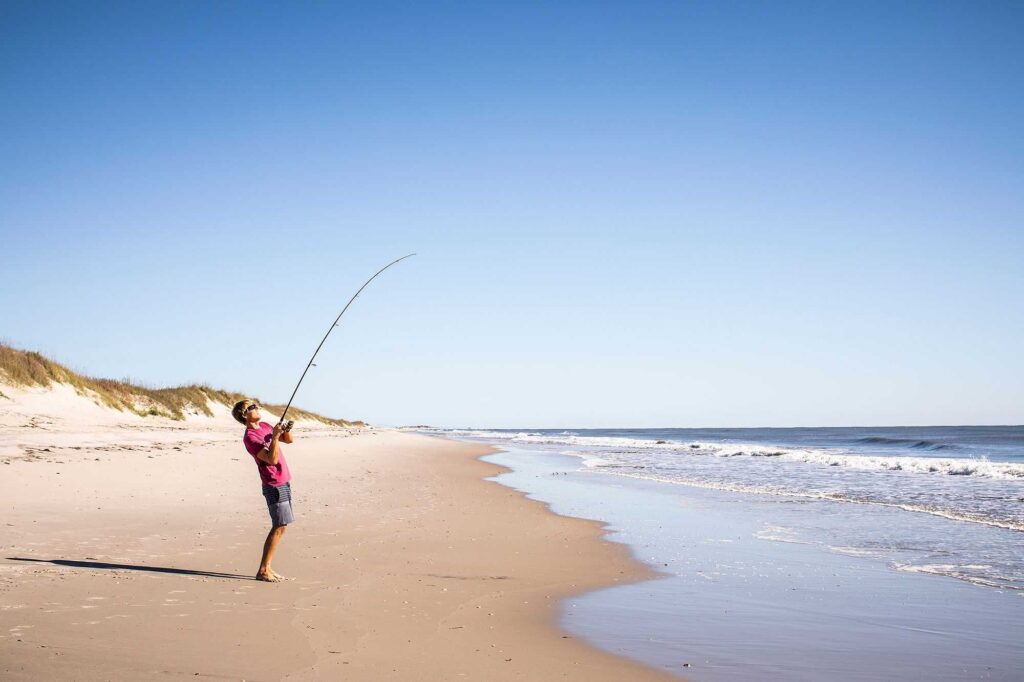 also read: 11 Creepy Abandoned Places In North Carolina
Hatteras Island
2. Hatteras
Disclaimer: Hatteras is not the Hatteras Inlet spot. I did this mistake. Hatteras Inlet is a channel of water between Ocracoke and Hatteras Island, not the island I'm speaking about. Hatteras is the whole place not only the water channel
How to reach Hatteras?
I reached Hatteras village by car from the north on North Carolina Highway 12 to Cape Hatteras. If you're coming from the south, take the I-95 to Wilson via US-64
I want to welcome anglers to visit Hatteras village, the fantastic spot on the Outer Banks of North Carolina for fishing. Offshore or inshore fishing, here you've it all!
It earned a name for itself – "Blue Marlin Capital of the World". It is said that over 1,000 pounds of Blue Marlins swim in the water.
Hatteras is about nature exploration and indulging in water sports like kite surfing, windsurfing, and paddle boarding. It is one of the largest ports in North Carolina.
This is one of my favorite towns in the Outer banks North Carolina as here I get the village vibe and feel the quietness and peace in the air.
Also read: 10 Unique Beach Towns In North Carolina
Hatteras: Things to do in Outer Banks, North Carolina
Bring your friend to Hatteras Landing to discover beautiful restaurants and stores for shopping.
Hatteras Village is 15 miles away from Gulf Stream, so fishing is something you cannot miss.
Bring your pet to Hatteras Beach. Keep him on a leash no longer than 6 feet.
For swimming come to the west of the village, The Pamlico Sound
Learn Maritime history in the Graveyard of the Atlantic Museum. Get ready to hear the story of lost and sunken ships off the cost
Bring your grandfather to the Cape Hatteras National Seashore for an unforgettable fishing trip and surf fishing
In September, you can be part of the Surf Fishing Tournament.
Hike at The Sea Breeze Trail to raise your appetite and have lunch at Dinky's Waterfront Restaurant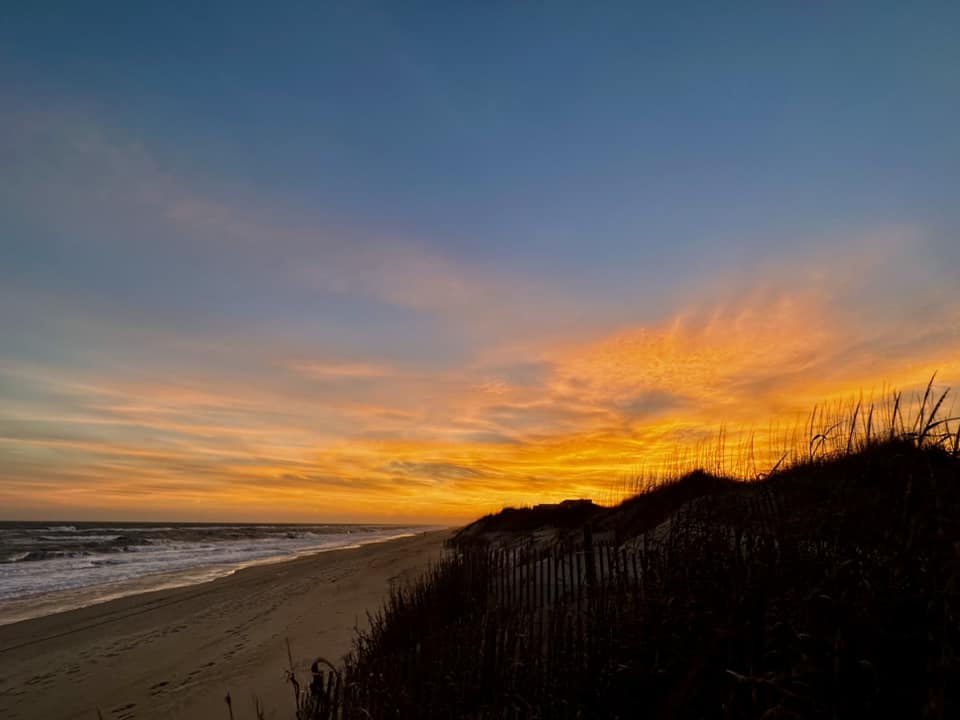 3. Frisco
How to reach Frisco?
Frisco is a 6-mile-long strip beach. You can drive taking I-664 through Tarboro, Columbia, and Manteo crossing the Virginia Dare Bridge. Drive to take Cape Hatteras National Seashore crossing Pea Island National Wildlife Refuge, Waves, and Buxton to reach.
Frisco is an undisturbed strip of land between Hatteras and Buxton which is also known as Buxton Woods for its famous wooden maritime forests.
There is no denying that Frisco is one of the best towns in the Outer banks, and my favorite place in the world to spot stunning orange sunrise over the ocean.
You can also plan week-long stays at vacation rentals and campgrounds. The place is refreshingly alive and loaded with a lot of historical stories and sits.
Frisco is dog friendly, keep him on a leash.
Frisco: Things to do in Outer Banks, North Carolina
Splashing in the water at Frisco Beach or collecting shells from the shore and enjoying the vibrant fresh air is so beautiful!
Did you want to ride a horse by the ocean? Come to Equine Adventure
Gingerbread House Bakery is a place for you to taste slices of bread, cakes, pastries, pizzas, and a lot more
If you are intrigued by purchasing original paintings, sculptures, and pearl jewelry then The Blue Lagoon is the place
Frisco has a go-kart track too! At Frisco Pier, you can enjoy the sea breeze and feel the vacation mode
Hike through live oaks, evergreen trees and around freshwater bogs at Buxton Woods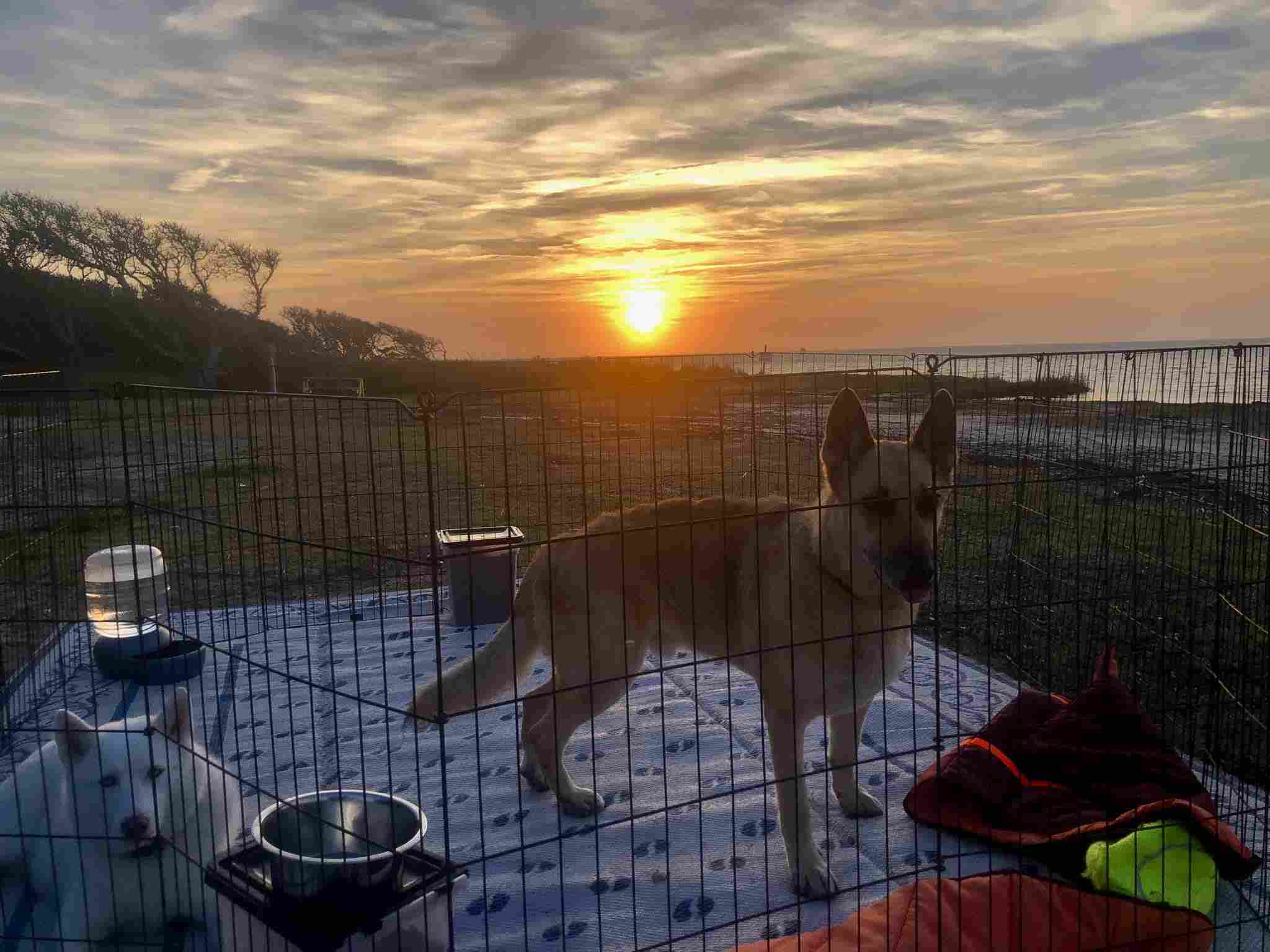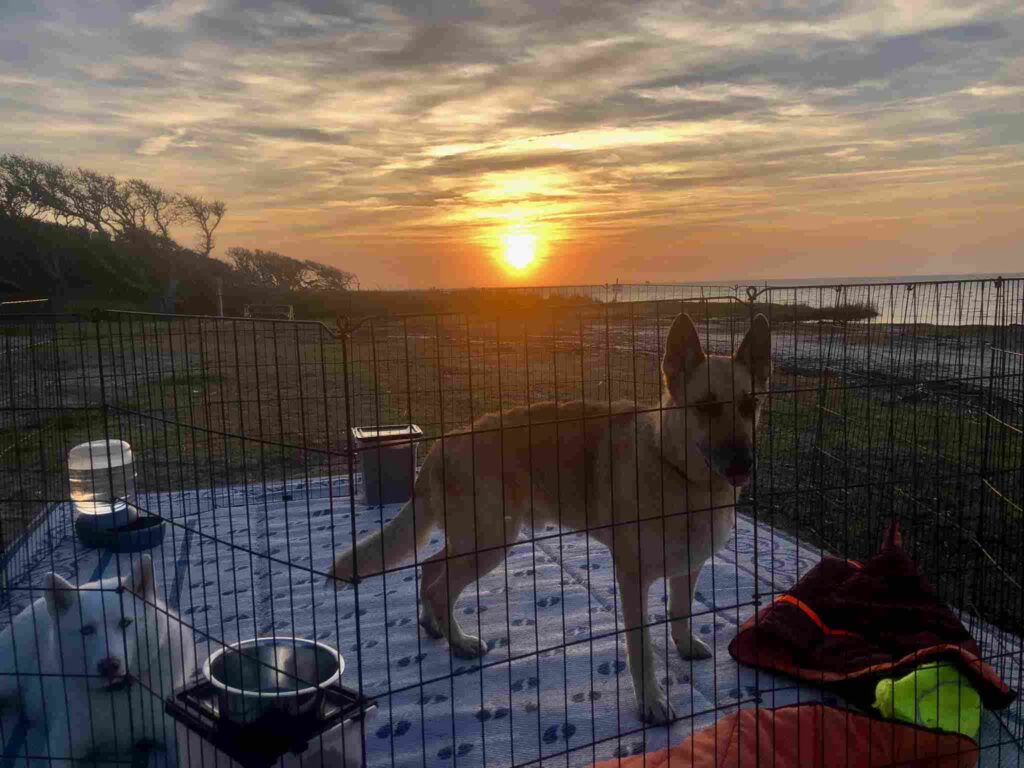 4. Avon
How to reach Avon?
I reached the car taking the NC 12 highway.
Avon is the central town in Outer banks North Carolina which was also called Kinnakeet in honor of a chef.
It is the only town on Hatteras Island that has a lot of fancy restaurants like Bros, Dirty Dick's Crabhouse, and The Froggy Dog Restaurant. It has a chain of grocery shops.
I came here in December, grazing over the silent blue seas and breathing the salty air. The feel is so divine.
My friends and I came to Spa Koru for a body massage with organic aromatherapy oils. Joniya, my friend took Spiral Up Facial which solved her pimple problems.
Avon: Things to do in Outer Banks, North Carolina
Catch trout, flounder, drum, and much more variety of fishes sitting off the wooden deck at Avon fishing pier.
Take part in the sport called Haulover or Canadian Hole
For an American culinary option come to Oceana's Bistro to taste their famous tuna
For a thrilling experience, ride the waves with Kite Club Hatteras. They can speak languages starting from Russian, and Spanish to English.
Treat your artistic taste at Kinnakeet Clay Studio & Showroom watching how artists can create magic with clay
Stroll around the oldest houses at Kinnakeet Village
End your day with fulfilling food at Surf's Up Seafood
For night fun, go to Koru Village Beach Club and Spa for a late-night dancing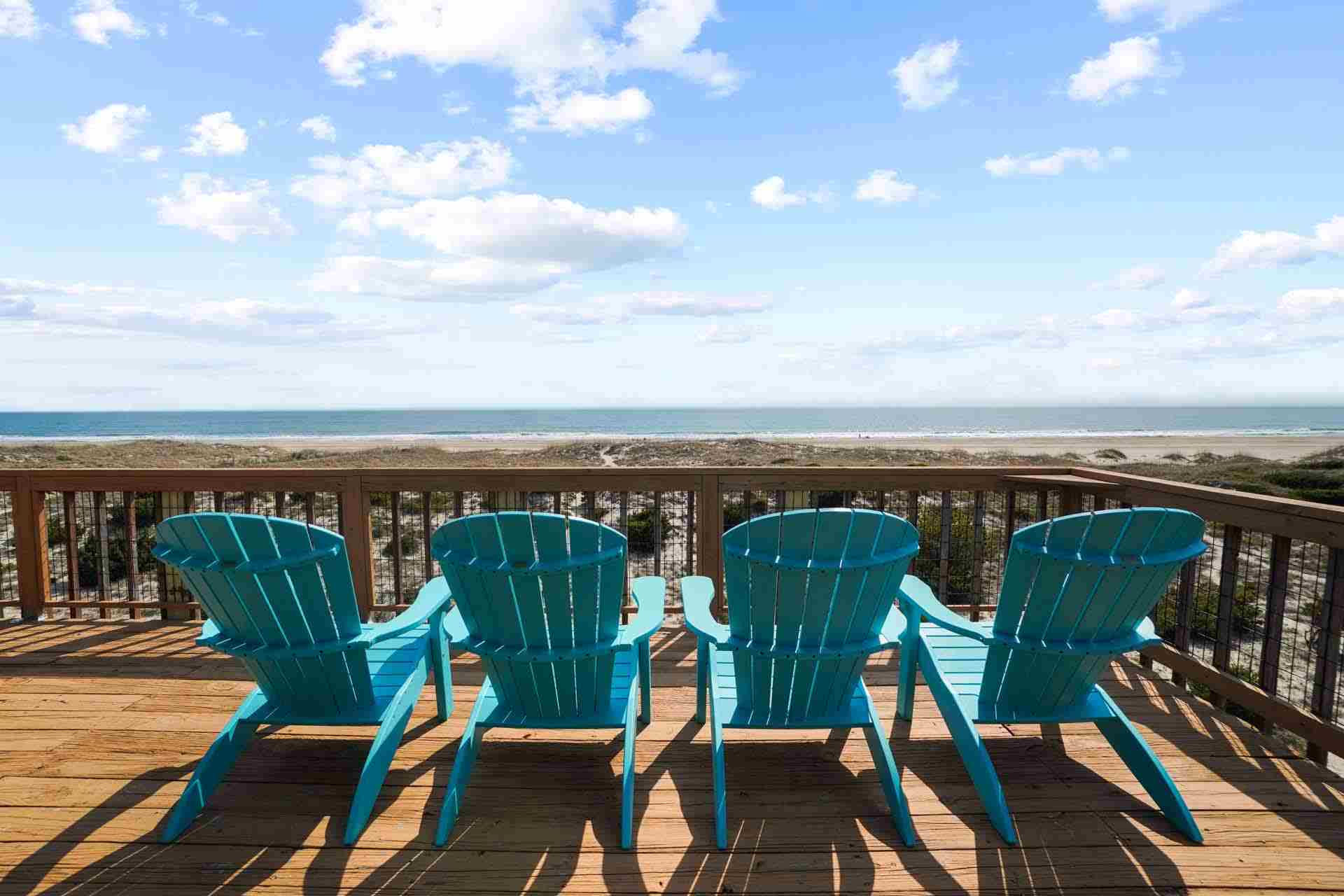 5. Salvo
City dwellers struggle with work pressure, continuous hoking, traffic jam, and busy metropolitan life. Want some fresh air? Come to Salvo.
Locals called Salvo the third of the Tri-Village (Rodanthe, Waves, and Salvo). It has a unique personality and a peaceful vibe.
From Salvo, I went to an unhabituated 11.5-mile section of the Cape Hatteras National Seashore which is perfect for windsurfing and kiteboarding.
Salvo: Things to do in Outer Banks, North Carolina
Pea Island Art Gallery to check out some beautiful artworks
Spend a day at the park called – The Salvo Day Use Area, kiteboarding and kayaking
Rent gear from Duck Village Outfitters for paddling
Book a room at Castaway Too Salvo, it has eight rooms available
Have yogurt and ice cream at Village Conery
Visit the lovely scenery for photography at the 59-meter-high lighthouse – The Cape Hatteras Lighthouse
6. Waves
If you are in search of a place where you can let your hair down without the stress of dirt and shampooing immediately, has to be Waves, a beautiful beach town on the Outer Banks of North Carolina.
Waves are completely underdeveloped town on Hatteras Island which is famous for water activities, gorgeous beaches, and very few oceanfront rentals.
Here if you're planning for water sports then rent all the gear from Real Water sports and Kitty Hawk Kites.
Of course, you can relax on the sand taking in all the sun
Waves: Things to do in Outer Banks, North Carolina
Let your fun and thrill meet at Waves beach. From kiteboarding, and jet skiing, to surfing and other water sports activities, Waves is full of fun
Get a unique dining experience at The Watermen's Bar and Grill. Scenery with food!
From craft beers, wines, and cider, to rum, you get everything at Waves Market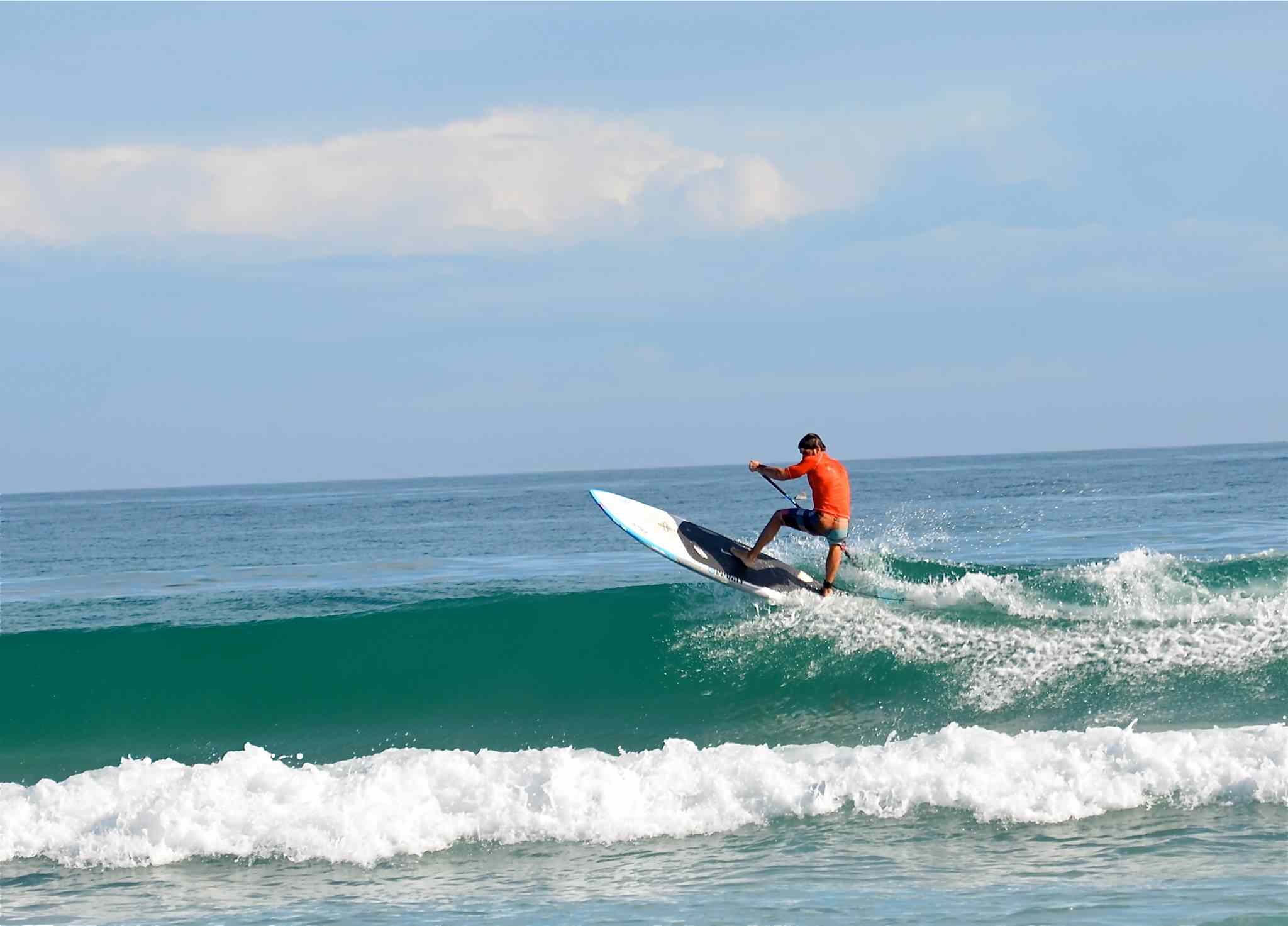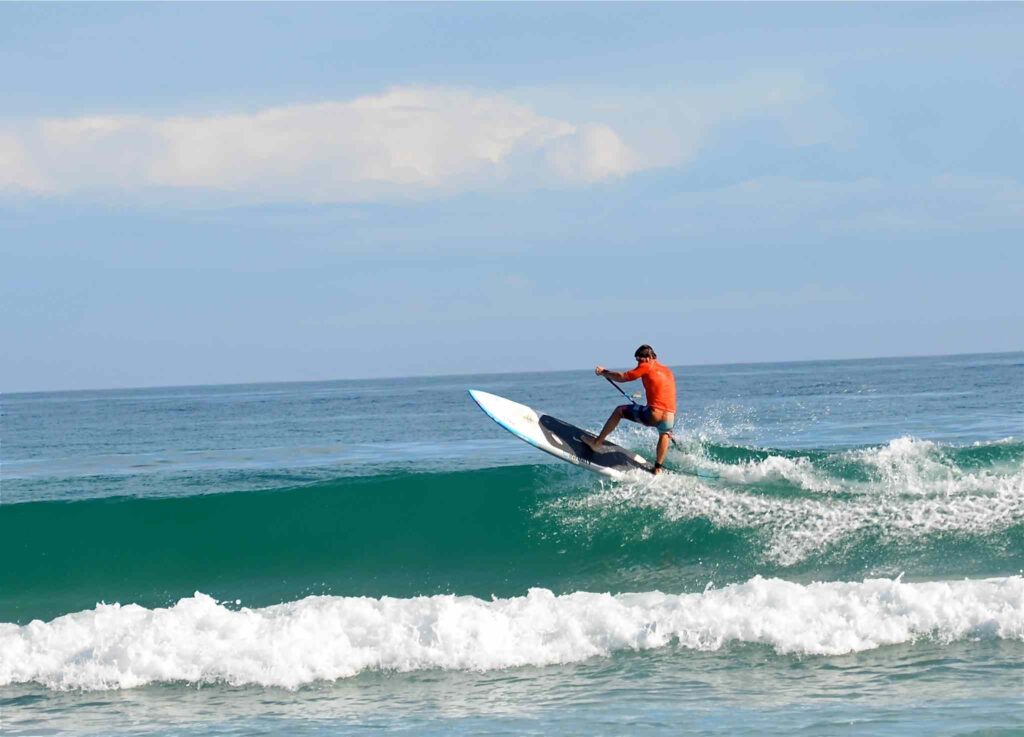 7. Rodanthe
Unwind with a trip to Rodanthe, home to starkly beautiful coastlines and stunning beaches. Did you watch Nights in Rodanthe, the American drama?
The movie showed how adventure and romance can be a deadly combination. And, believe me, Rodanthe is all about that. Worry not, it is one of the family towns in the outer banks.
One of the interesting facts about the Outer banks of North Carolina is it mostly unexplored. To a more offbeat destination, drive north of Rodanthe to reach Pea Island National Wildlife Refuge.
Rodanthe: Things to do in Outer Banks, North Carolina
Watch out for the artifacts narrating the history of the USA Life Saving Service at The Chicamacomico Life Saving Station Historic Site
To get a close look at nature and understand its pure form, come to Pea Island National Wildlife Refuge. For stunning vistas, go to the Cape Hatteras National Seashore property
If you're in search of campground outer banks in North Carolina, I would suggest you come to Rodanthe Water sports and Campground. It sits on Pamlico Sounds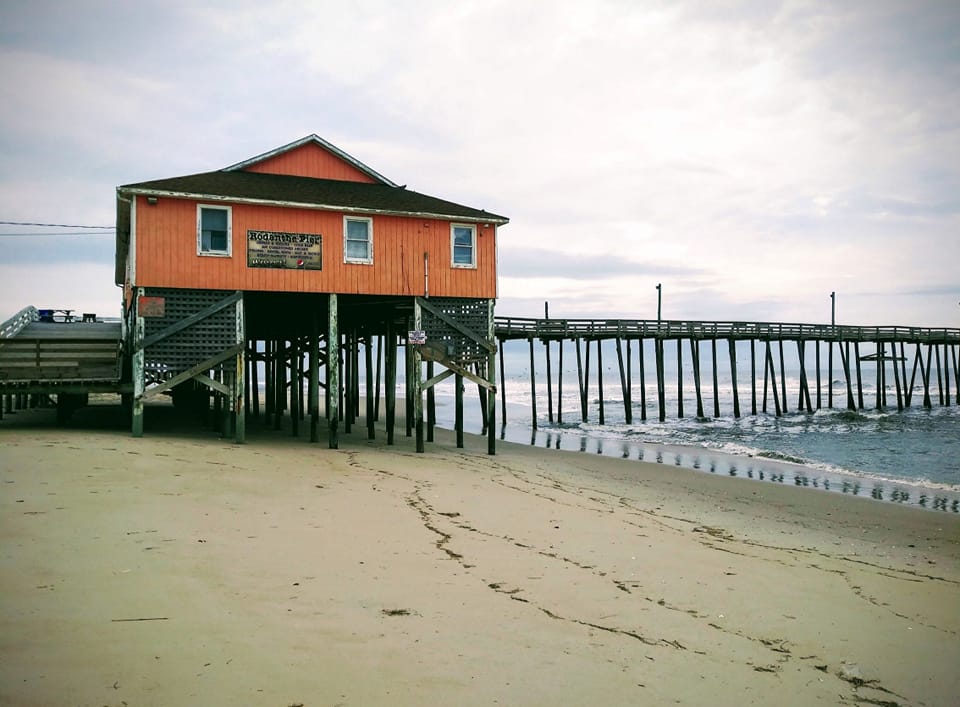 Roanoke Island
8. Wanchese
Just opposite Manteo to the north sits Wanchese, the famous fishing town on Roanoke Island. If you want to spend your vacation tasting delicious fish, come here!
For me, Wanchese is the best place to vacation in the Outer Banks to taste painted lobsters, crab pots, seashells, pizza, pork barbecue, aged beef, and also some gluten-free options too.
Wanchese: Things to do in Outer Banks, North Carolina
This idyllic retreat is home to witness the wild bottlenose dolphins of the Atlantic
Spend your day just off the Outer Banks beaches fishing! Catch red drum, striped bass, cobia, and many more.
Enroll yourself at Roanoke Island for get scuba diving excursion
Northern Part of the Outer Banks
9. Nags Head
One of my favorite cities in the central part of the outer banks is Nags Head. It is predominantly by historical cottages, adventure parks, dunes, and beaches.
I was so happy to be here as it offers a countryside vibe with calm, positive, and composed energy. To the history buffs, here you can learn a lot about its culture.
I would rate Nags Head as the best outer banks towns for families as this place is full of fun activities for kids of all ages, from toddlers, and teenagers to adults.
Nags Head: Things to do in Outer Banks, North Carolina
A walk along Jennette's Pier enjoying the views of waves of outer banks and the weather is the most memorable thing about Nags Head.
If you're in search of a breathtaking sunset in outer banks towns with sand in your shoes come to Jockey's Ridge State Park.
Plan a visit to Bodie Island Lighthouse in cloudy weather to get the best shot of the lighthouse between the cedar trees. Also, the area around is impeccable
Visit a place that has been encapsulated by nature – Nags Head Wood Preserve. It is one of the offbeat spots in Nags Head. The only sound you will be occupied with is the rustling of leaves, wind blowing, and birds chirping.
If you're coming with friends, go fo Go-karting at Full Throttle Speedway
Go on a day trip from Nags Head to Pea Island National Wildlife Refuge to spot turtles, otters, and hundreds of birds chirping around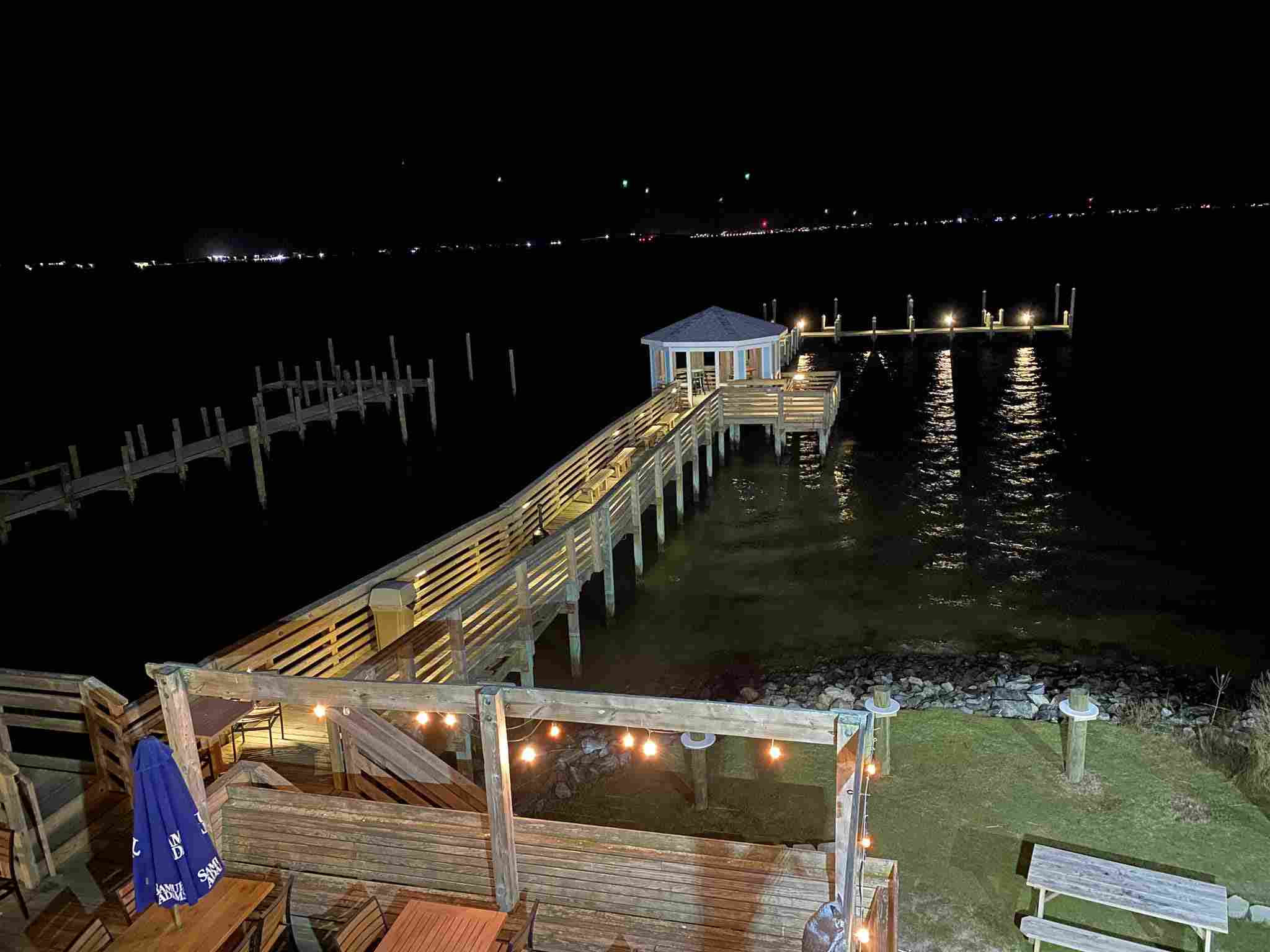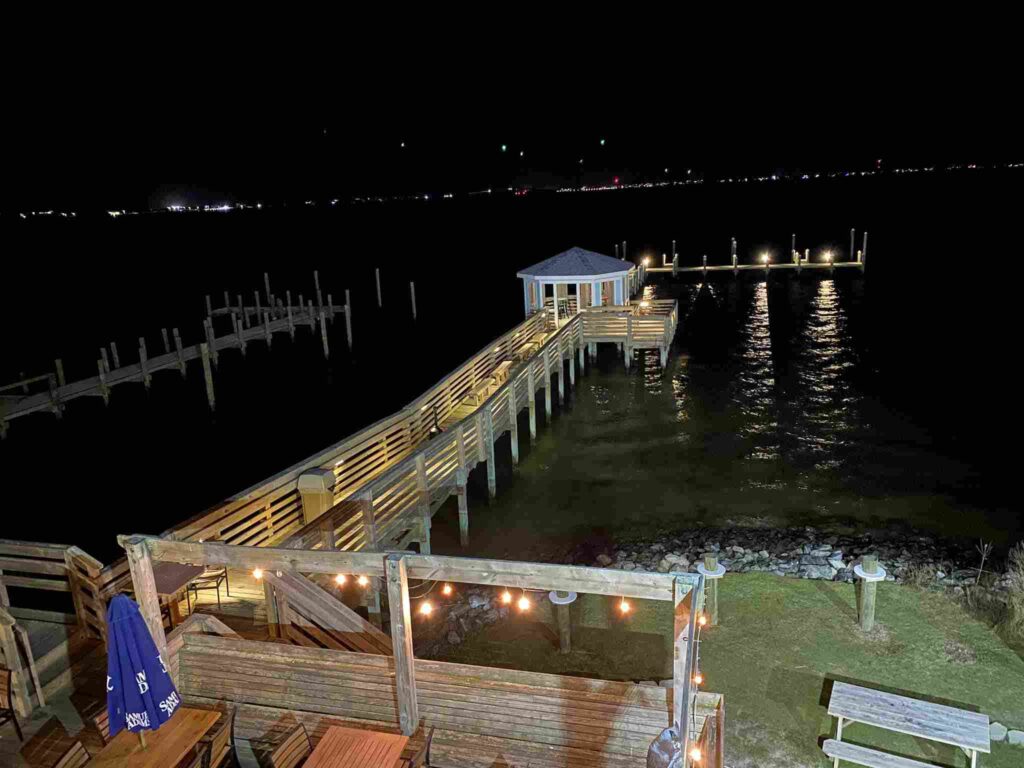 10. Kill Devil Hills
Don't you want to go for an adventure task of finding barrels of rum in the Kill Devil Hills dunes? Also, it received official recognition as the oldest town on the outer banks of North Carolina.
As history narrates, a ship carrying Kill Devil Rum sunken during the "Graveyard of the Atlantic", the rum is strong enough to "kills the devil". Hence, the town is named after it.
Moreover, Kill Devil Hills, outer banks North Carolina are a much more affordable place to book hotels, resorts, and luxury stays if you're planning for a Kitty Hawk trip.
Kill Devil Hills: Things to do in Outer Banks, North Carolina
Sitting high on the sound side, the Wright Brother's National Memorial Park is such a wonderful place to learn things about the forefather of aviation
I went to the Avalon Fishing Pier located at milepost 6, spotting blue fish, flounder, croakers, and more. You've to payday passes for fishing at $12.00
Enjoy steps around the trails at Nags Head Woods, the tall trees, and "Christmas House" are worth visiting
Start your breakfast from Stack'em High at Food Dudes with famous fish tacos and dinner at Mama Kwans
11. Kitty Hawk
Kitty Hawk is believed to get its name from a phrase – "a place to hunt geese". Here you can have the best taste of surfing and kayaking. There are a lot of rental shops!
With its awe-inspiring nature and 30 miles away from the mainland, Kitty Hawk is the best place to live on the outer banks of North Carolina to enjoy calm waters and sea life.
I love the small-town vibe, architecture of the area, and enchanting long meandering trails to spend the evening strolling around the area.
Kitty Hawk: Things to do in Outer Banks, North Carolina
Kitty Hawk outer banks North Carolina is all about natural trails in maritime forests, extraordinary wildlife, and perfect harmony. Come to Kitty Hawk Woods Coastal Reserve to explore the natural and undeveloped maritime forest
Go offbeat hike at Currituck Banks Coastal Estuarine Reserve and Duck Town Park Boardwalk
12. Southern Shores
I love exploring towns in the OBX that are mostly untouched, close to nature, and convenient to travel to. I walked west to the town to enjoy the view of live oaks and pines!
I went to Southern Shores to witness Outer Banks oasis which most tourists forget after visiting Duck and Kitty Hawk.
There's your chance to explore the unexplored land!
Southern Shores: Things to do in Outer Banks, North Carolina
Just right before the bridge to Currituck County, follow the footsteps to reach Martin's Point. You'll be amazed to see high-dollar houses in the middle of a maintained natural environment
At Currituck Sound, you can sail boats, motor boats, waterski, and perform other interactive water sports too!
Have the delicious Calabash Shrimp Jambalaya at any Southern Shore restaurant. For more local taste, come to Coastal Provision Oyster Bar
Enjoy some native natural scenery at Sandy Run Park in the evening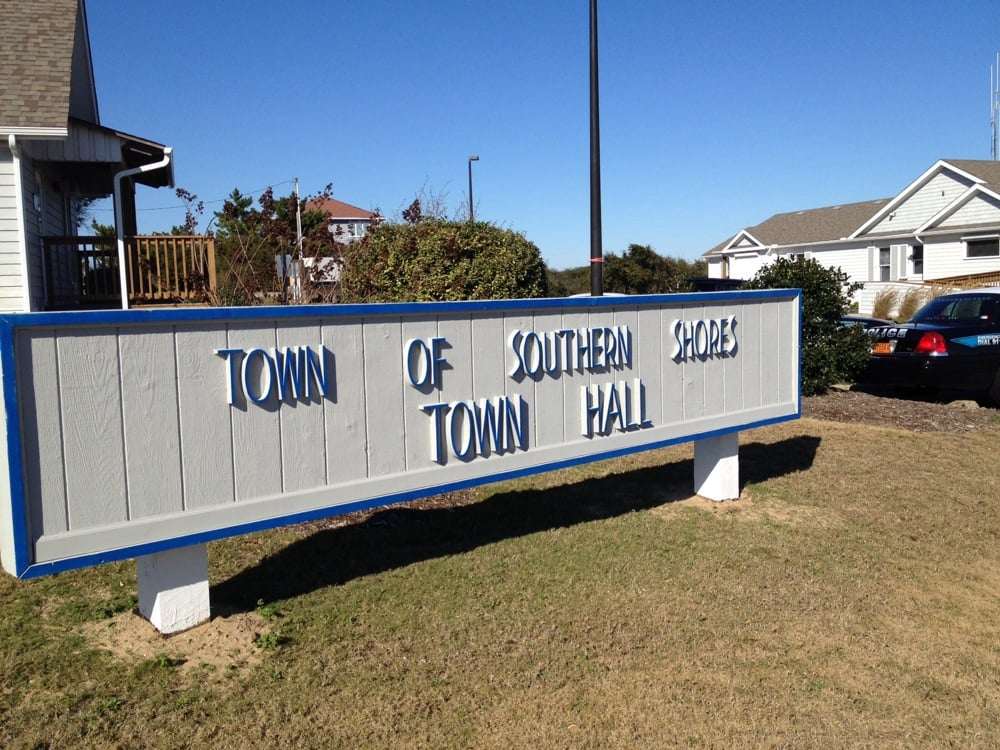 Read more: