Kolkata Christmas Celebration – 5 Places to See Santa in Kolkata
Getting out from under the blanket to visit the terrace, feeling the warm sun on your skin, and enjoying a hot cup of ginger tea while seeing the streets, and red walls of brick houses getting decked up with fairy lights – that's when you know it's winter Christmas festival in Kolkata!
I can tell you that as you finish the tea your mind seeks the famous and the oldest Babuji fruit cake! I can tell you celebrating Christmas in Kolkata is all about food, fun, hearing carols, and meeting friends.
Coming from a Bengali family, I can tell you that as December sets in, we already start making yummy plum cakes at home, going for small picnics, buying bakery things, and watching the children playing badminton along the alleys of the streets.
That's Kolkata in December and now we're getting ready for Christmas & New Year celebrations after Durga Puja! So, let me tell you how you can celebrate the Kolkata Christmas festival in a very affordable way!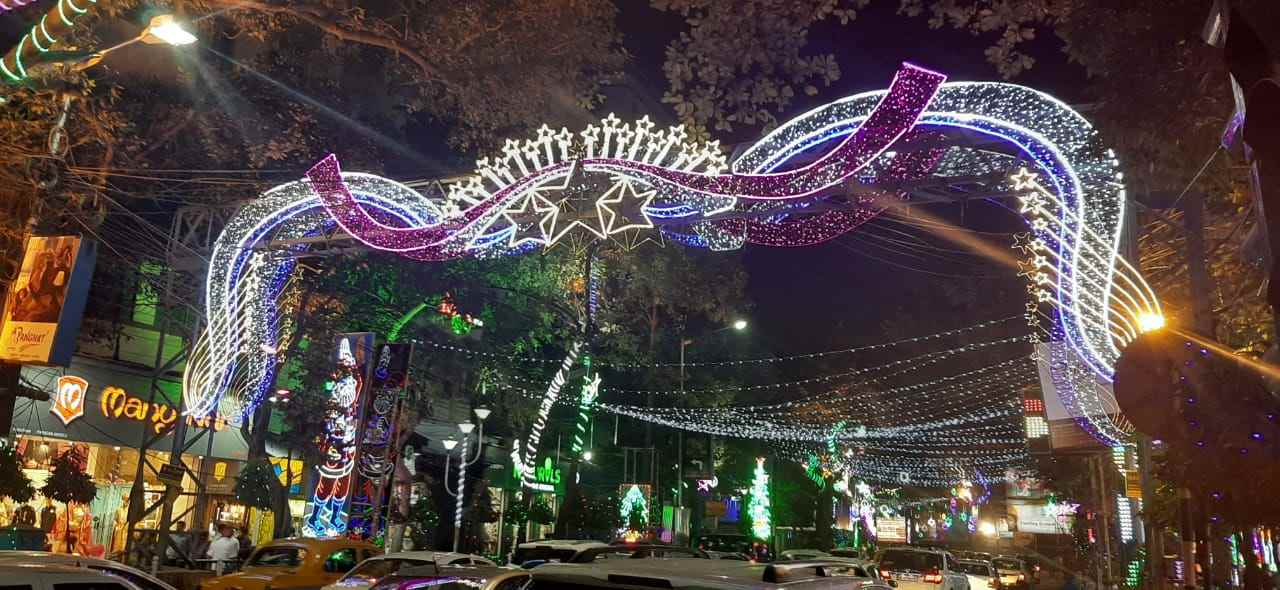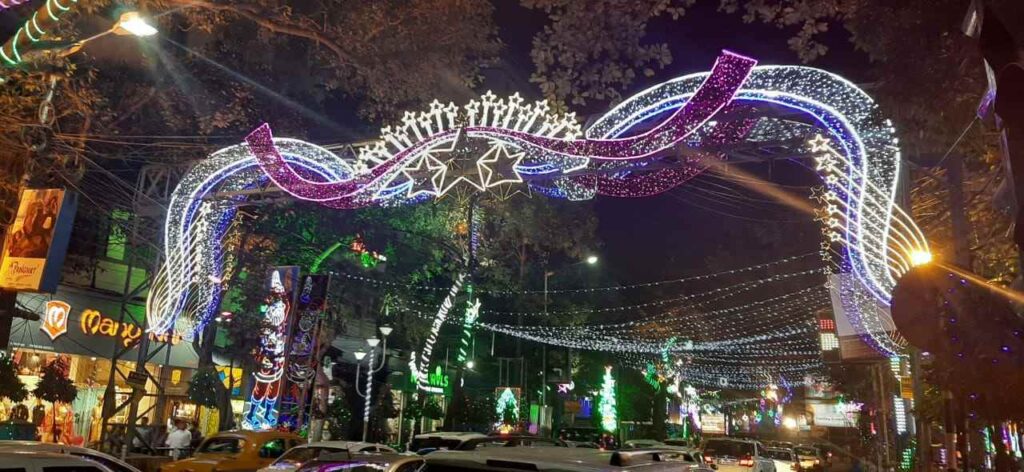 Table of Contents
Kolkata Christmas Carnival 2023
If you've seen the videos of the Durga Puja holiday fun of the people in Kolkata, then Christmas is another big winter festival we're getting ourselves ready for! A walk from St. Xavier's College to St. Paul's Cathedral or Vardaan Market on Camac Street is where the Christmas festival is up!
The Kolkata Christmas festival is all about parties, concerts, events, picnics, food tours, and a lot of fun! Not all places, but the church, the streets of Park Street, Allen Park, and Bow Barracks, turn into galaxies of lights and cheerful environments.
So, this blog is all about giving insight into the Kolkata Christmas celebration.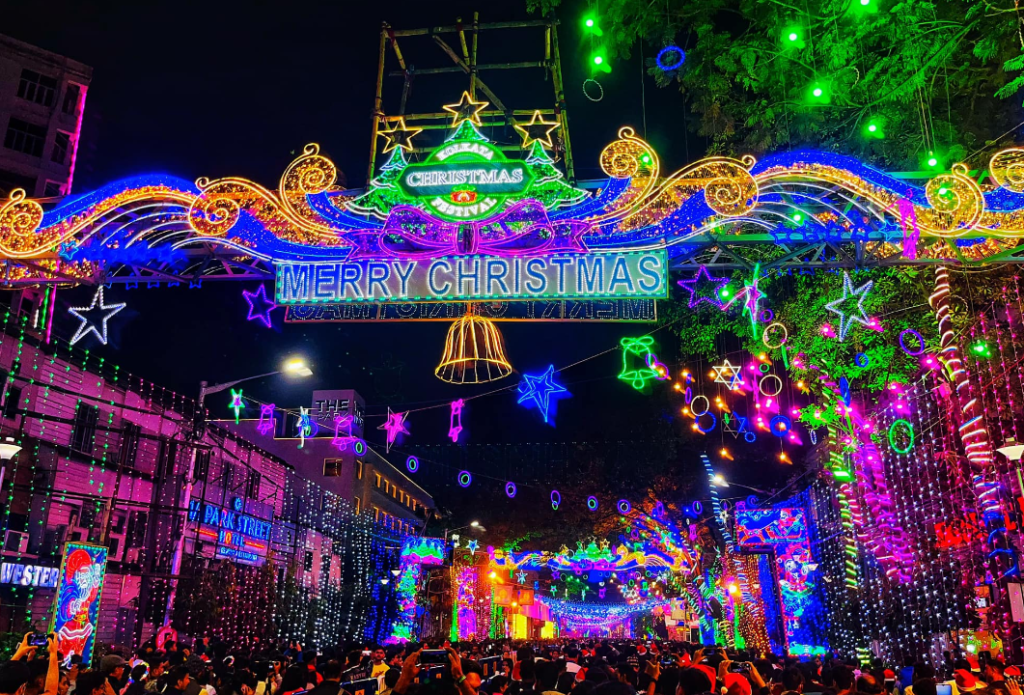 Where to Go for Christmas in Kolkata?
1. Bow Barracks
Have you ever seen Santa arrive in a human-pulled rickshaw? Welcome to Bow Barracks, near Chittaranjan Avenue, amid a cluster of red-brick apartments. Here, you'll have the chance to enjoy a North Kolkata-style Christmas celebration.
The entire Christmas week is packed with music programs, carol singers singing on the roads, girls and boys wearing LED devil horns, kids sporting bunny ears, vendors selling Christmas trees and Santa masks, mothers wearing sarees and clicking pictures of fathers holding their children and residents setting up food stalls to sell delicious homemade food.
Bow Barracks Christmas celebration is all about family celebrating in front of a three-meter-tall Christmas tree with cameras, laughter, and smiles! Once you come here you can witness history in front of your eye! The red buildings were once home to soldiers of World War 1, later it was converted for Anglo Indians.
What to do in Bow Barracks during Christmas?
Enjoy a walk around the street, and don't forget to bring your camera as it has become the most Instagrammable place in Kolkata with lights, fairies, people, and Christmas banners
Take part in open-air dance parties along the road where age is not a barrier. You'll see how "we" and "Bengalis" enjoy every festival with laughter and smiles. I can tell you it's no less than Goa without a beach! Yes, we've Ganga!
Watch the 2-day football tournament free of cost!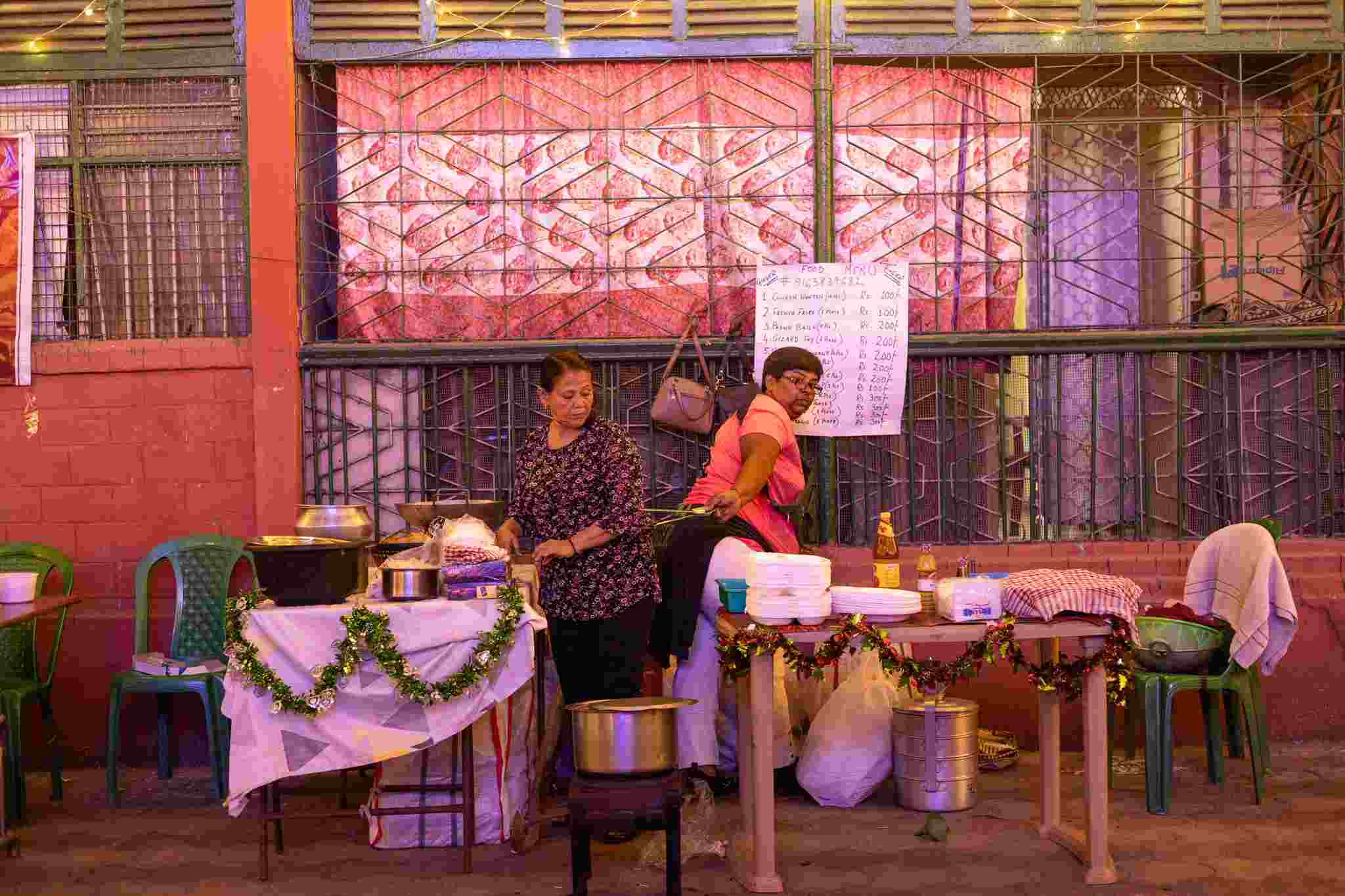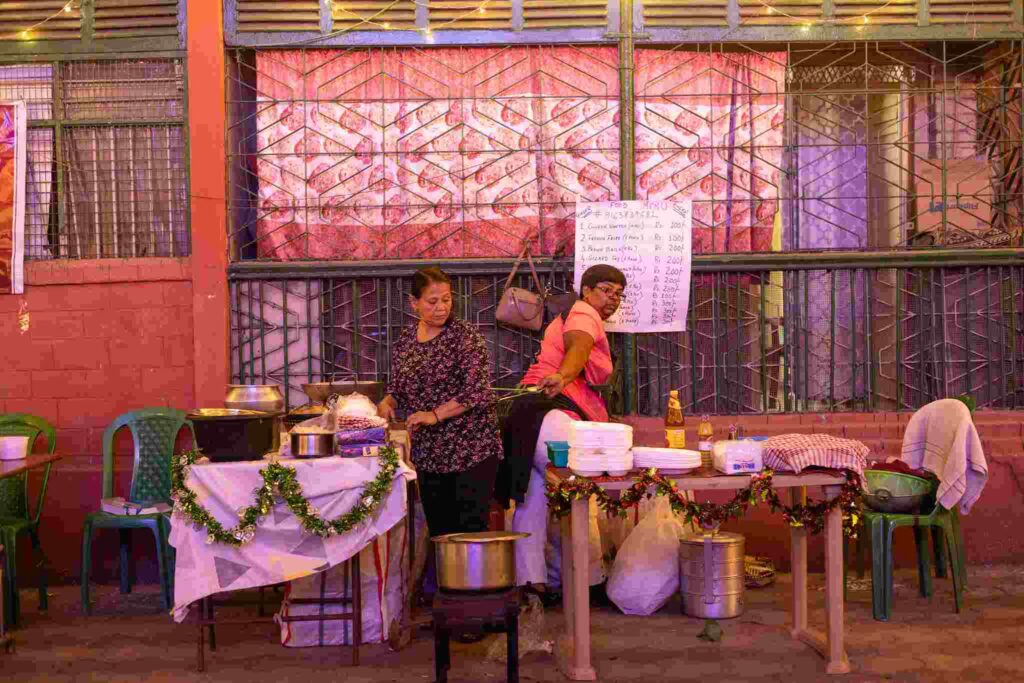 2. St. Thomas' Middleton Row
Not much hyped, St. Thomas Church is one of those simple churches in Kolkata that you should visit during Christmas to witness its airy interior and pretty altar windows. You'll love taking Christmas pictures while standing in front of the 1842 colonial gate with the backdrop of a Gothic tower.
On the 24th night carols singers come here and Kolkata Christians accumulate to celebrate and pay and it feels like you're in a European world. The high ceilings, paintings on the wall, and the grandeur altogether become very awe-inspiring!
What to do in St. Thomas Church during Christmas?
Attend the mass here. It starts from 24th December night to 25th December afternoon. You'll find the church surrounded by candlelight and hearing the choir!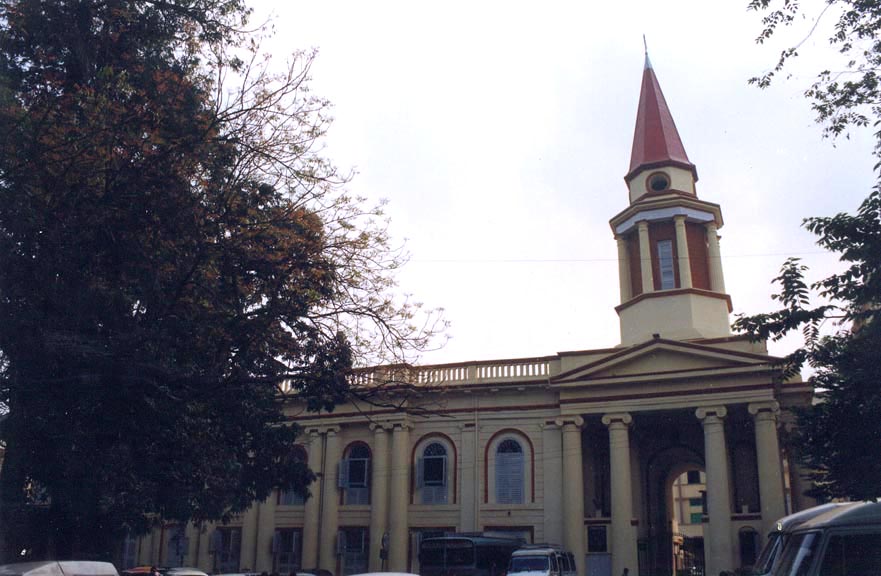 3. New Market or Hogg Market
An infinity line of shops sells Christmas items like toy Santas, plastic Christmas trees, hats, various types of lights, red sweaters, snowmen, packs of holly for decoration, and much more! Did you know you can find all these Christmassy decoration items here, starting from just Rs? 50 to a maximum of Rs. 1000?
Being a local, my father has always brought fruitcakes for us and his close friends from Nahoum & Sons, a Jewish bakery. For us, this place is an emotion. If you're coming here, I would recommend trying out my favorite chocolate and caramel fudge.
I remember during my college days, we used to come to Kalman's Place with our friends, having pork burgers and tea. It's one of those places in Kolkata where you can hang out with your friends in December over a cup of hot tea!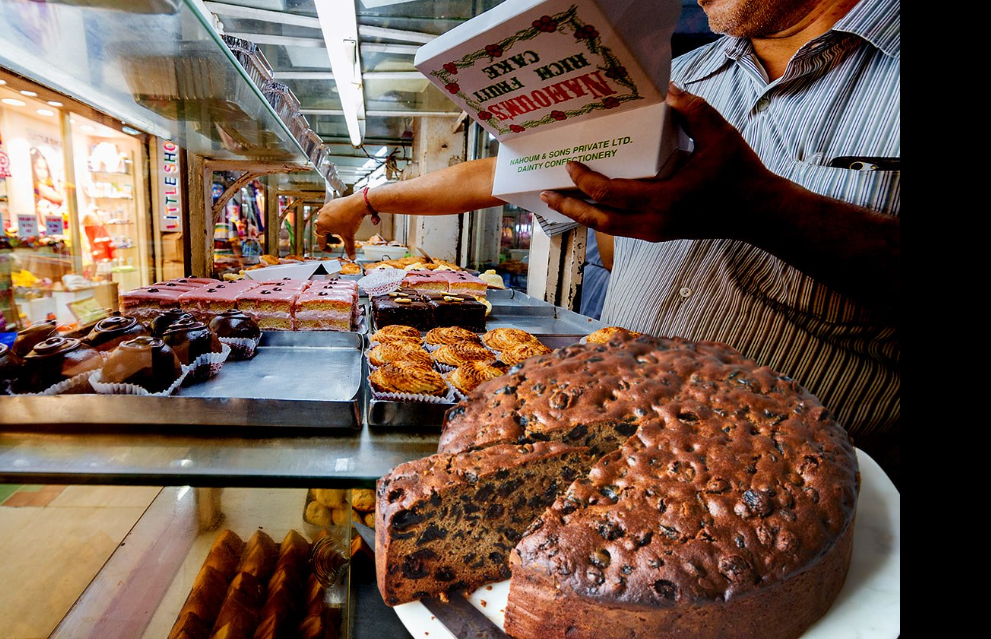 What to do in New Market during Christmas?
Shopping obviously! Apart from that you can dance your heart out at the clubs, nightclubs here near the Roxy cinema hall area are very pocket-friendly
Tip: If you're planning for a Christmas home party and want some honey-glazed ham for Christmas come to Mirza Ghalib Street (opposite St. Thomas School) to purchase the best meatloaf!
Read Blog: Find some offbeat places to shop from Kolkata
4. Park Street
I can assure you that Park Street in Kolkata attracts a diverse crowd on Christmas Eve, including photographers, Instagram stars, influencers, artists, residents, and tourists, all celebrating the holiday with their families and friends.
The street decoration of Park Streets is a combination of traditional Indian lights with West End Christmas Lights in London making it one of the most ideal places for youngsters spending Christmas here. Starting from pubs, fancy restaurants,
After sundown the lights are put on, harmonious carols start playing, the Christmas tree is decorated with twinkling lights, every corner of the street is covered in layers of thematic lights, mini Santas, stars are hung overhead, the yellow taxis passing the roads, the crowd is cheering – everything here is so Christmassy!
It's our custom to visit Park Street on the 24th have have our dinner at Peter Cat, Mocambo, Barbeque Nation, or Marco Polo. But, let me warn you from the beginning, the crowd is so huge that you need to stand in queue before getting in.
Tip: the crowd is huge so it's better to take the metro and reach here rather than your car or bike because it needs to be parked far away. The area becomes a "No-Entry" zone for vehicles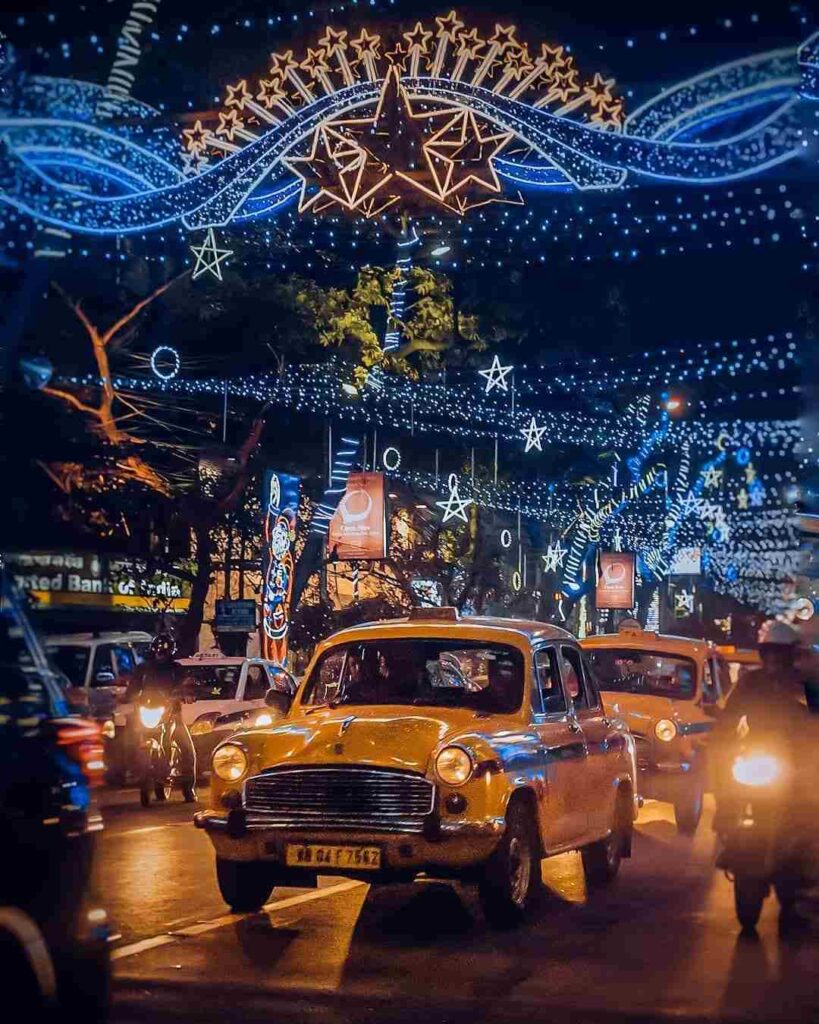 5. Allen Park, Park Street
Allen Park in Park Street is the place where all the cultural events, Santa sleights, and live programs happen from the 23rd – 25th night. This place needs a special mention because you can also see a Bengali Santa Claus wearing a Bengali Dhoti standing with the giant Christmas tree welcoming you for the winter fun!
Once you get inside the park, it's your chance to explore the food stalls where you'll find muffins, chocolate cakes, homemade brownies, cookies, moms, kebabs, fish chops, vegetable chops, and so more.
Even the Indian Chinese Association for Culture Welfare & Development set up its stall inside where you'll find Cheese balls and Spring Rolls. You'll also find Bengali snacks like Bhel Puri, Jhal Muri, Papri Chat and so more. It's a food tour place!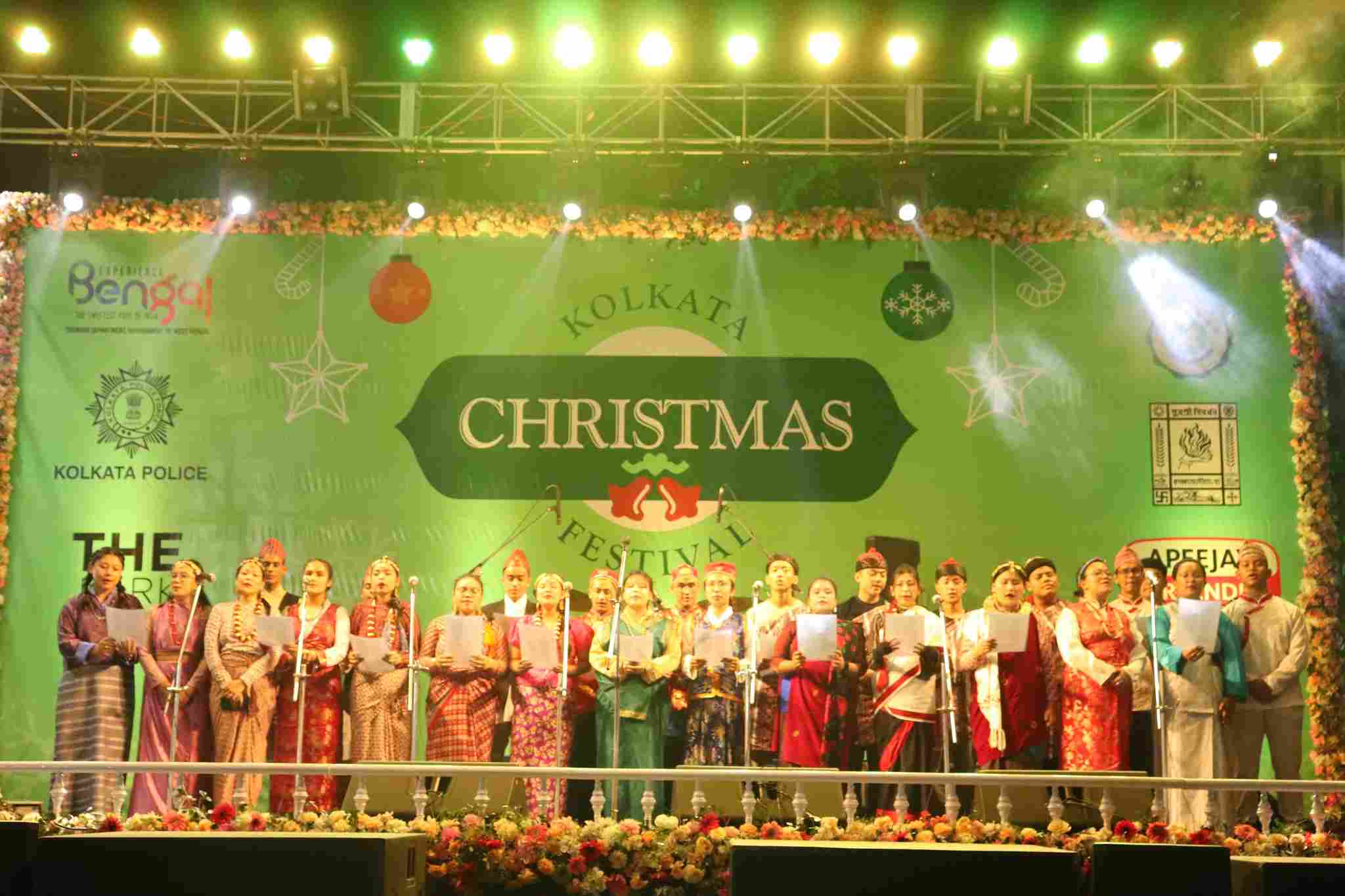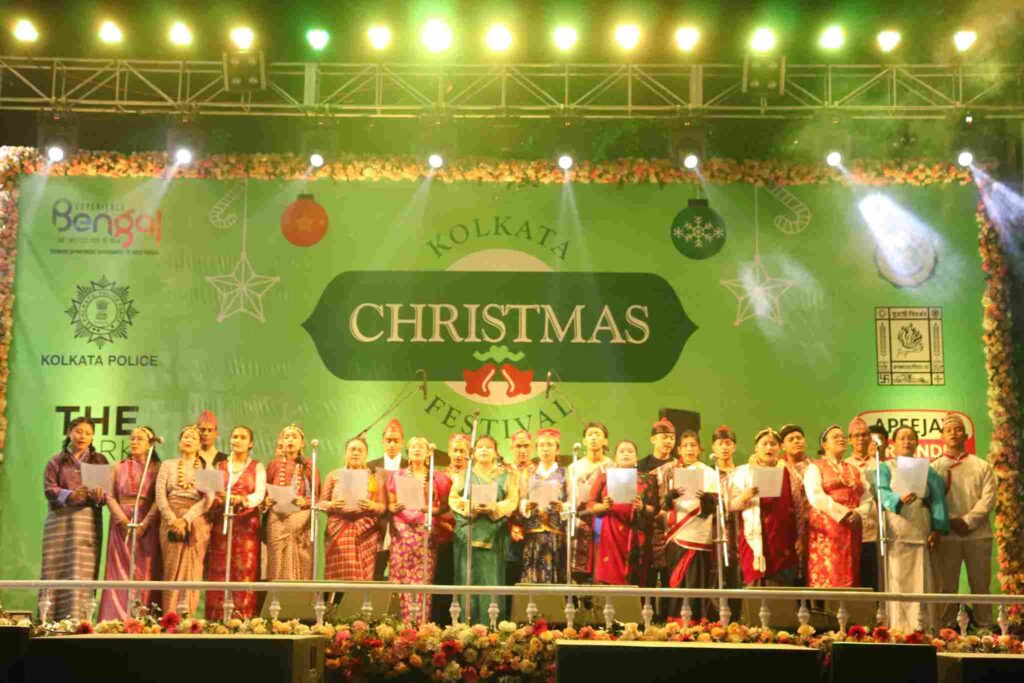 What can we do from Christmas Morning to Eve in Kolkata?
Plan a visit to St. Paul's Cathedral church – Birla Planetarium – Maidan – have breakfast at the hidden breakfast stalls – visit Victoria Memorial- come back home and rest.
In the evening – come to Allen Park and explore Park Street.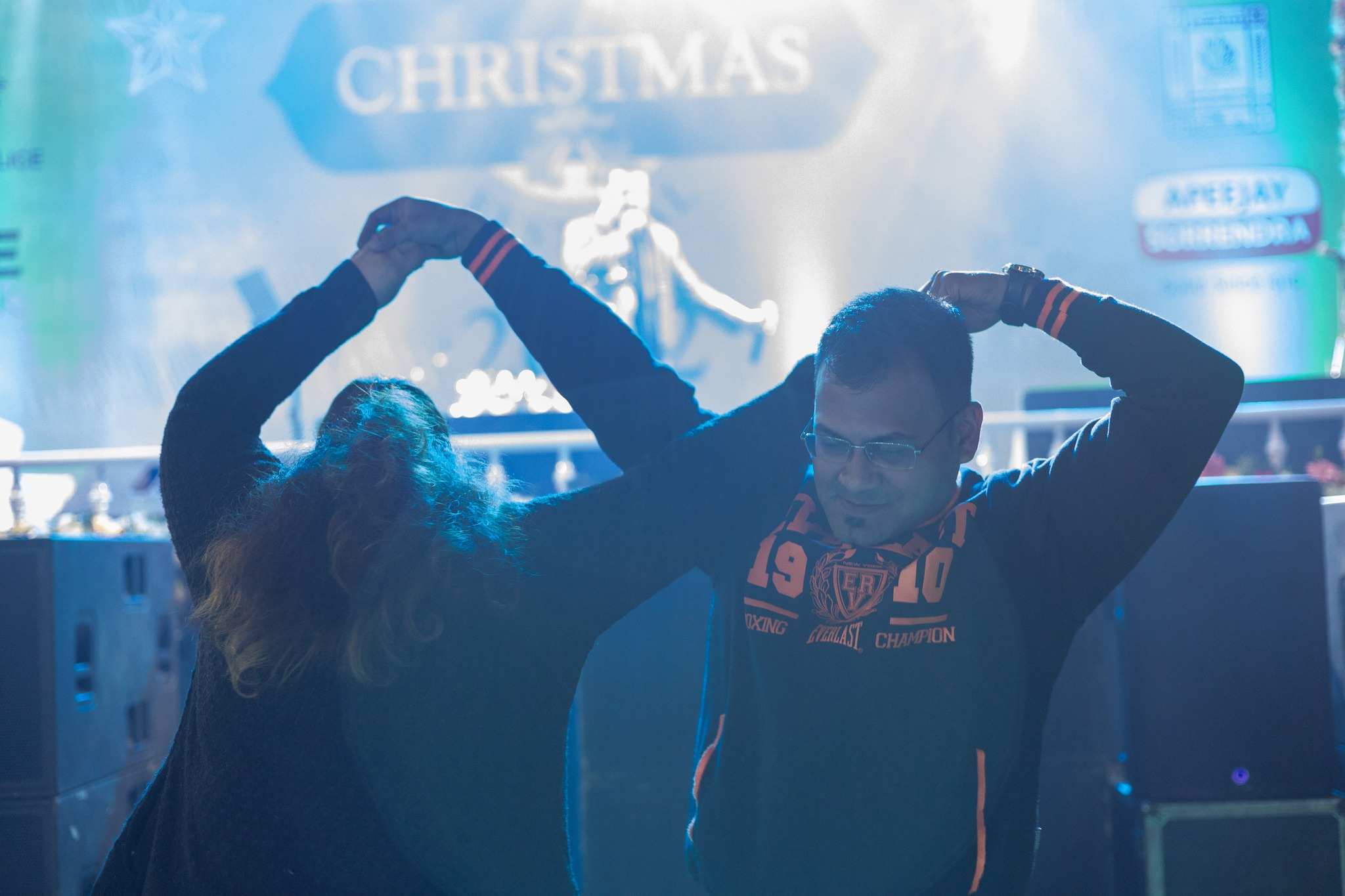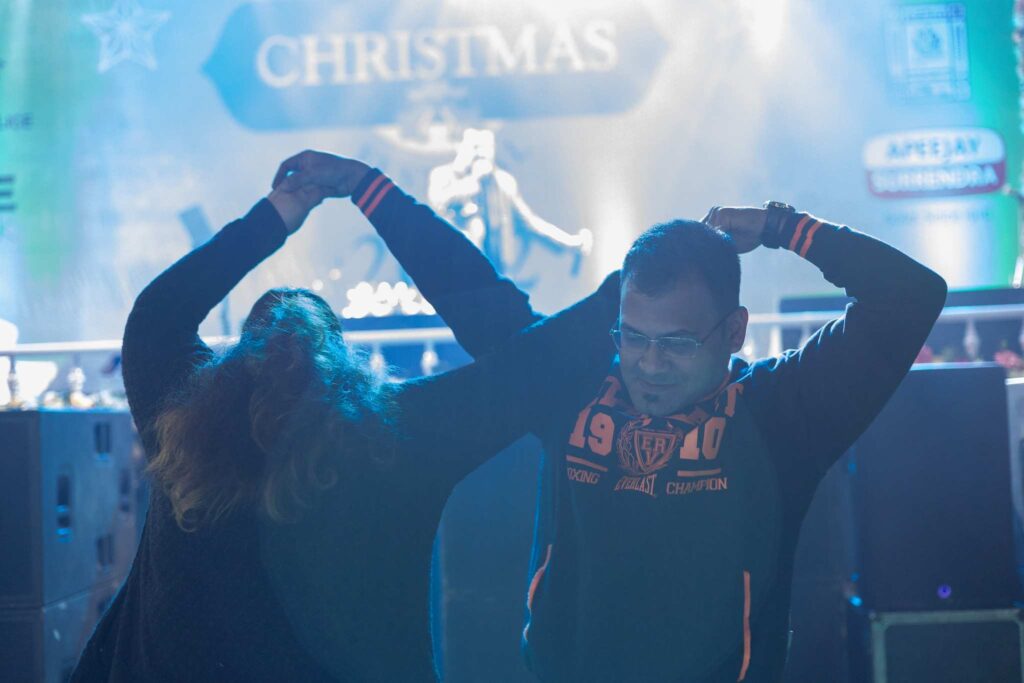 Conclusion
If you thought, Kolkata only celebrated Durga Puja, then you're so wrong! This time plan a visit to Kolkata and celebrate its Christmas with us! It looks like a multi-day Indian wedding with parties, dances, songs, food, and fun!
Kolkata is home to 39, 758 Bengali Christian population but not that we Bengalis love celebrations!
Read More: