10 Best Places to Visit in Kolkata with Friends
"KOLKATA, THE CITY OF JOY – Is not a city, but an emotion"
Kolkata, the capital city of the state of West Bengal is home for everyone – it is a place of Bengali culture, reminiscent of British Raj and of course, home of Muslims, Persia, Sikhs, and all the other regions who have settled down.
The city has a relaxed atmosphere, beautiful places which reflect the time of history, and the rich culture that you'll find nowhere in India. If you're from Bengal or planning to visit Bengal then there are more than 20 places to visit in Kolkata with Friends.
The earthen cups in which cha is server, or Durga and Kali idols being made in Kumartuli, or roaring crowd in Eden gardens, or stuffing face with phuchka – Kolkata has everything to make you feel child all over again.
If you're wondering what are the places to visit in Kolkata with friends then keep reading. This is a guide to all people there who are in search of the best places to visit in Kolkata with friends.
Read: 5, Best Places for Solo Female Travel in India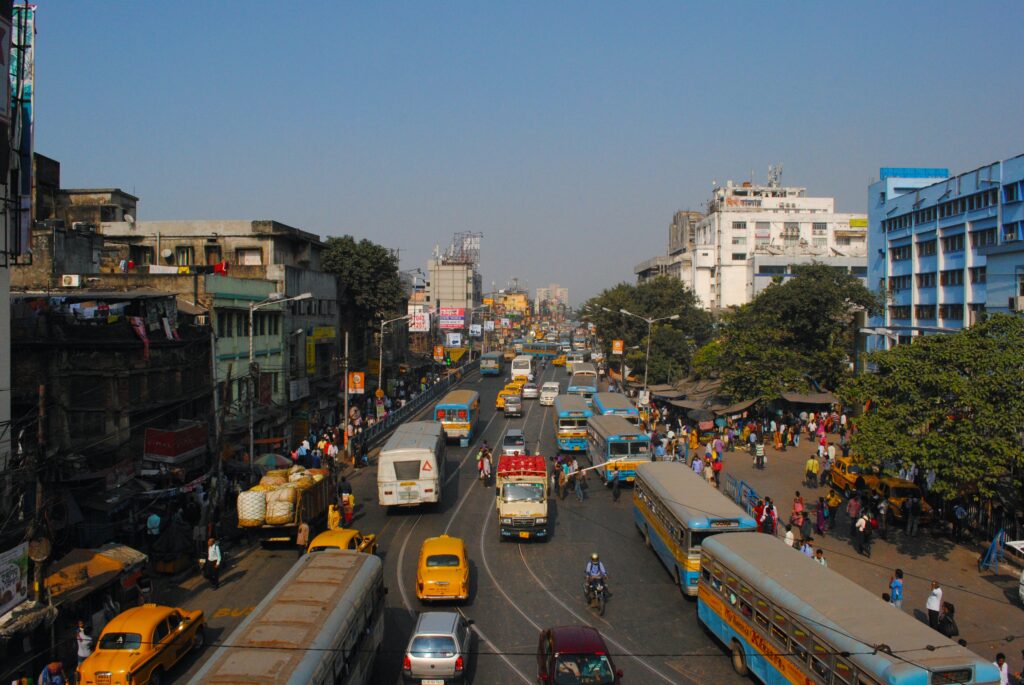 Best time to visit Kolkata – Places to Visit in Kolkata with Friends
There is no good time to meet with friends, Friends are family, and no matter late night or early mornings, Kolkata always welcomes friends, family and all who wants to have fun and enjoy the city.
She is always awake for you!
In the eastern part of India near River Ganga sits this renowned capital of Bengal which experiences coastal with a typical tropical type of climate From April to May the day temperature hovers between 30° C and 40° C. Sweating will be your day to day friend. From the end of June to September, the city witnesses monsoon season when it receives maximum rainfall.
But still, the best time and places to hang out with friends in Kolkata must have to be in Winter Season. It starts in November and lasts till March. The weather is mild, cool, and perfect; in October, people celebrate Durga Puja and the whole city is decked up in lights and celebrations. In November there is again festival like Laxmi Puja and Kali Puja; in December the city again celebrates Christmas and New Year.
So, winter season is the best time to hang out with friends in Kolkata.
Read: 9 Best Budget Tips: How to Travel on a Budget?
10 Places to Visit in Kolkata with Friends:
1. Maidan Tent
Location: Guru Nanak Sarani
Time: 24*7
How to reach?
Reach Esplanade via Metro or bus and from there you may board the tram to Maidan. This place is near the international Eden Garden, Victoria Memorials, Kolkata racecourse, and Royal Kolkata Golf club
The first thing that comes to my mind when I hear Maidan is a place where you can relax and chill out for hours without paying any penny. You can leisurely walk around the large open field of Maidan enjoying children playing football or cricket or old people taking their evening walk or friends chilling out. This is the best place to visit in Kolkata with friends.
This place is also called as "Lungs of Kolkata" for its open lush green ground which is famous for playing Hockey, football, and cricket. This place also has strategic importance in the pages of History for having Fort William; hence it is under the direct control of the Indian Army.
All happiness depends on good food and Maidan has all of it. You can taste vegetable stew from The Calcutta Referee Association Club Canteen which fails the taste of other 5 star hotels or get an eggroll or taste delicious tender mutton stew from a roadside stall.
2. Prinsep Ghat
Location: Strand Road, Vidyasagar Setu
Time: 24*7
How to reach?
For a unique experience, I would rather suggest avail boats that start from Babu Ghat on River Hooghly and reach the near Ghat and walk 15-20 minutes to reach Prinsep Ghat. You can also take a bus or metro to reach Esplanade and from there board the bus or hire a "yellow taxi" to reach the Ghat.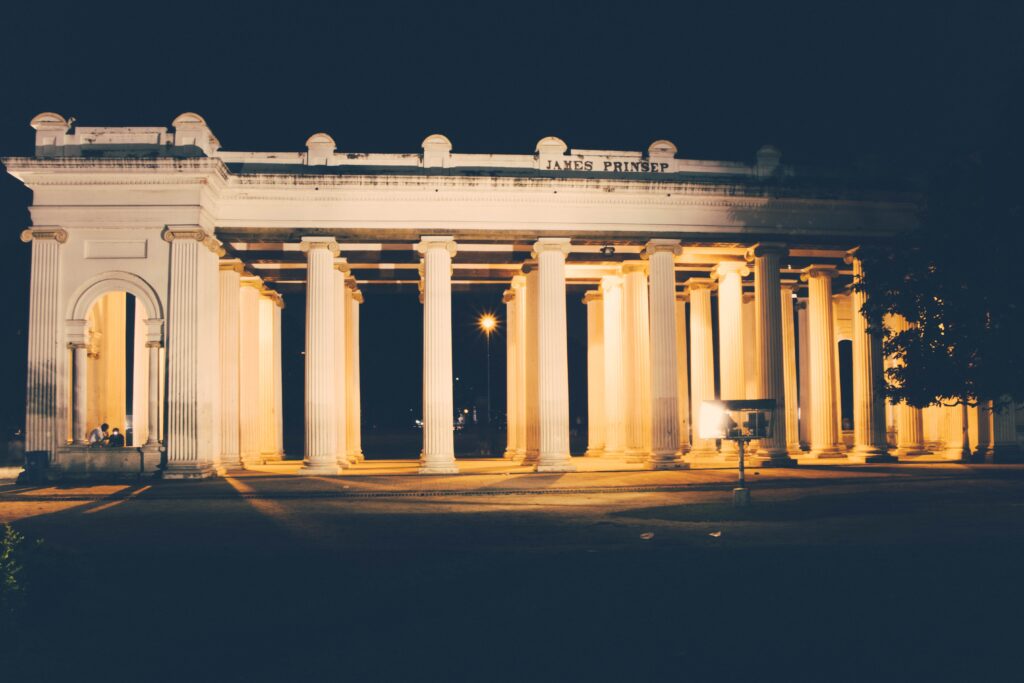 For an idyllic riverside outing with friends, Princep Ghat is one of the top 10 best places to visit in Kolkata. Beside the Hooghly River between Water Ghat and St. George's Gate of Fort William, this majestic Gothic inlays architecture stands strong reflecting the pre-independence aura.
The ride in wooden riverboats on the river Ganges watching the sun sinking in the horizon and the river bathing in different shades of yellow, red, and orange and reflecting the city light is so eye-soothing and fresh. The green lawns and their serene ambiance make it the perfect place to hang out in Kolkata with friends.
A long walk with friends in the cool air on the bank of the river with the ethereal view of Vidyasagar Setu Bridge and subtle lights in the evening is mesmerizing. Early morning or late evening view of the sun is so beautiful that it is also a place for photographers, city couples, and poets. This are my favorite place to visit in Kolkata with friends in the late afternoon.
3. Rabindra Sarovar Lake
Location: Southern Avenue, Golpark, Tollygunge, Dhakuria, Lake Gardens, Kolkata
Time: 24*7
How to reach?
Reach Tollygunge rail station or Rabindra Sarovar Metro Station and then walk to Rabindra Sarovar Lake.
An oasis of greenery and considered as one of the most romantic place to visit in Kolkata, Rabindra Sarovar Lake is a dream spot for relaxing with friends or partners for hours. This is a manmade lake which is also called Dhakuria Lake that spread over 75 acres surrounded by a garden, tall trees, and auditorium.
Here you'll find a Japanese Buddhist temple, a museum called "Thakur-der-gallery" because this house is where award-winning Durga idols of Kolkata are kept. There is no entry fee and every morning and evening people come here for jogging, chilling – making it an amazing place to visit in Kolkata with friends for a waterfront view.
Who doesn't want to enjoy the melodious birds chirping, cool breeze, and peaceful environment for chilling out with friends? In the winter season, it becomes home to many migratory birds brown-breasted flycatcher, blue-throated blue catcher, brahminy starling, and many more. If you're a photographer bring your lenses and click some amazing photos of the nature and your friends for the best memories.
4. Marble Palace
Location: Raja Katra, Machuabazar
Time: 10 am – 4 pm, Monday closed
How to reach?
Reach Girish Park Metro Station and from there, its five minutes' walk at the end of the street. You can ask local or use Google map to reach the exact location.
A grand palatial mansion, Marble Palace is one of the historical architecture and famous places to visit in Kolkata with friends. It is built by Raja Rajendra Malik in 1835 and since then it has been restored as a royal family palace. The neoclassical style mixed with traditional Bengali elements and of Chinese style which is unimaginably beautiful which reflects the sophisticated illustration of the British Raj.
It is a good place to visit in Kolkata with friends and click photos in front of the fine artistic statues, striking paintings, elegant Belgian glassware, and antique furniture. The decoration of the palace and statues of Napoleon, and Wellington, and sculptures of Praxiteles to Phidias, Venus to Apollo, Homer to Diana, and Mosses reminds us of the Victorian era.
This rustic furniture, artifacts, and decorative objects, in the palace will remind you of the history classes you did together with your friends in school. This place also has an adjacent museum and zoo which will make you more nostalgic reminding the stories of history. This is one of the best places to visit in Kolkata with friends.
5. Nalban
Location: HM Block, Nalban Bheri, Biddhangar, Kolkata – 700106
Time: 9:00 am to 8:15 pm; every day
How to reach?
Take a bus to Sector V, Salt Lake and book a uber or get a bike ride through EM BYE PASS to reach this beautiful place.
On the outskirts of Salt Lake, Nalban is a great place to visit in Kolkata with friends to spend a relaxing time. This popular amusement park is surrounded by lush greenery, a lake surrounded by calmness which makes it one of the best places to visit in Kolkata with a girlfriend. This beautiful green park is divided into three zones – ecological zones, theme gardens, and recreational spaces.
You can meet your friends and chill for hours enjoying the beautiful scenery and solitude. Welcome to the best place to hang out with friends in Kolkata!
It is a 400-acre lake that offers immense fun like boating from simple paddle boats to deluxe Shikaras, depending, upon your choice. You can also sail down on the serene water of the lake by the boatmen, called 'manjhi', as he sings the boatmen folk of Bengal, called Bhatiyali. Can anything be best than such an amazing memories with friends?
Inside the Nalban Lake vicinity, you'll find stalls selling chines to continental cuisines to satisfy your taste buds. You should taste their fish dishes which are very popular and famous among locals. You can also bring badminton bats and play with your friends. Isn't this is such a cool and the best place to hang out with friends in Kolkata?
Read: The Guide How to Travel with Dog in Train in India
6. Indian Botanical Garden
Location: Shibpur, Howrah
Time: 10 am – 5 pm (Monday Closed)
How to reach?
The Botanical Garden is 2 Km ahead from Howrah Station, take an auto from Howrah station to reach here. If you plan to come by metro then Palk Street is the nearest metro station. Reach the metro station and follow the first route.
The botanical garden sits on the western banks of the River Ganga which is the best place to visit in Kolkata with friends. It is one of the best picnic spots in Kolkata and is also known as Acharya Jagadish Chandra Bose Indian Botanical Garden. It is the most peaceful place for nature lovers and college students to spend quality time alone or with friends.
This place is over 109 hectares and home to 12,000 species of plants and trees from across the world. Tea was first introduced in India from China, here, and the major attraction of the garden is the Banyan tree, which is known as the biggest one and the second largest canopy in the world.
The garden was first started by Robert Kyd, an officer of the East India Company in 1787. This is the top place to visit in Kolkata if you haven't seen Mangroves. Many sculptures remind of the Goddess of Life, Te Fiti from Moana. Stand in front of these sculptures and take a unforgettable and memorable pictures with your friends.
Places To Visit In Kolkata with Friends
Cheap and Best Restaurants in Kolkata – Where You Can Converse Over Food
Kolkata is called a city of joy that never disappoints your taste buds and also home street foods, pocket-friendly restaurants, and even authentic Bengali food or any global cuisine. There are a plethora of options, therefore, face-to-face interaction with friends over food is the best idea to chill with friends.
7. College Streets and Kolkata's Coffee House
Location: College Square West, Calcutta University, College Square, Kolkata, West Bengal 700009
Time: 10 am – 8 pm
How to reach:
Take a bus and reach College Street and there you'll find Coffee House too.
You can explore the world's largest secondhand book market which is known as Boi Para or College Streets. In the age of "Go Digital" books shopping in College Street is the best feeling and the best way to revive your old memories of buying books. No matter how rare and old the book is it can be found here, and interestingly you'll get it at half the price with a lot of discounts.
The University of Calcutta, Presidency University, Calcutta Medical College, and Sanskrit College are all in College Street and therefore, I think this is the coolest place to go with friends in Kolkata.
Kolkata's Indian Coffee House is a nostalgic 'Adda' for the people of Bengal especially among students, writers, and artists. This place welcomes people of all ages to sit for hours and converse or discuss study plans, politics, business, economics, plans, dreams, and history, to sports, films, music, and whatnot. This is the best place to hang out with friends in Kolkata.
This affordable café in Kolkata is a must-visit place with friends to cherish old times and spend golden time. Buy some great books and come to Coffee House and spend time with friends over a cup of tea, samosa, and fish cutlet.
8. New Market and Tiretti Bazaar
Location: Esplanade
How to reach?
Reach Esplanade by bus or metro.
To reach Tiretti Bazar, walk from Central Metro Station towards Poddar court and on left there is a small mosque and you can see the food palace.
New Market is beloved of Kolkata's locals that reflect the historical and cultural values of Bengal. It is the famous festive shopping hub for regular buying of household miscellanies. And, I think there are no other good places to visit in Kolkata with friends other than New Market or Esplanade.
There are more than 200 shops from where you can buy some classic erotica books or frictional classics or some great crime pulp fiction books. There is an old saying that one can find everything ranging from a needle to even an elephant.
New Market is a treasure trove of exclusive glass items, traditional Bengal weaves such as Dhakai, Jamdani, Tant, and Banarasi, cotton kurtas, Chikankari, pajamas, oxidized jewelry, all at half price and not more than Rs 500 (depends). This is the best place to hang out with friends in Kolkata and do shopping together.
Tiretti Bazaar is Kolkata's "Chinatown" and heaven for locals who crave oriental breakfast at only Rs 40-50. This is one of the hidden gems of Kolkata and tourists don't know about it. To come to this place you've to wake up in the early morning and come here by 6 am; you'll be shocked to watch the crowd here. The market is operational till 7 am for all 7 days and on Sundays, there are more food varieties and more stock.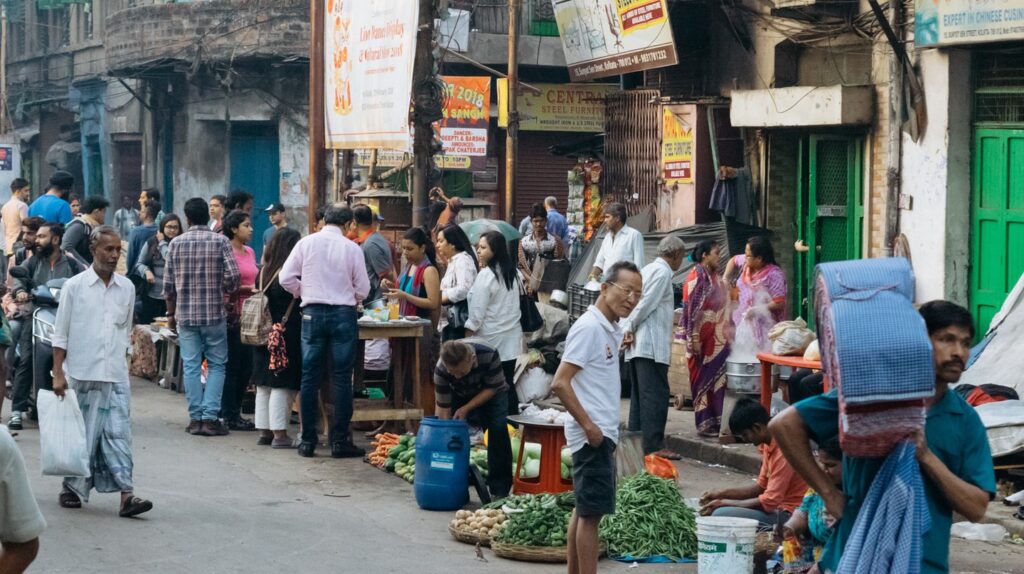 You'll find fishball, momo, soup, Maggi, pork and chicken recipes and all. Isn't this is a good place to go out with friends in Kolkata and enjoy mouthwatering dishes?
9. Park Street and Peter Cat
Location: Park St, opposite KFC Restaurant, Park Street area, Kolkata, West Bengal 700016
Time: 10 am -10 pm
How to reach?
Reach Park Street metro station and from there you can book a cab to Peter Cat.
Park Street is a unique place to visit in Kolkata with friends which is a home of 5-star restaurants, nightclubs, malls, and several known brand outlets. It is one of the posh areas where you can stroll around and enjoy the lighting all around the year and during the time of Diwali or New Year Eve, the streets are decorated with dazzling lights and crowds.
At night, walk around Park Street and fine dining with friends in Tung Fong, Barbeque Nation restaurants, Bar-B-Q, The Bridge, and a lot more. This is the best restaurant in Kolkata for couples, friends, and singles. A night to remember!
The most loved restaurant in Kolkata, Park Street, has to be Peter Cat. Their legendary signature dish Chelo Kebab(which is made with kebabs, buttered saffron rice, and a fried egg) is something you've to try when you're visiting with friends.
Recipes that have been passed on for centuries make it one of the best in the city. You can also try special sizzlers served with pork sausages, chicken steak, vegetables, and eggs, or Persian Pulao and Nentara.
10. Kalighat and Bachan's Dhaba:
Location: Anami Sangha, Kalighat, Kolkata, West Bengal 700026
Time: 5am to 2pm, 5pm to 10:30pm
How to reach?
If you are coming from south then reach the Kalighat station and if you are coming from north, then reach the Jatin Das Park metro station. From here you can walk to the temple.
Kalighat Temple is one of the cheap places to visit in Kolkata with friends. Thousands of people all over the world visit here to seek blessings from Goddess Kali which was built in 1809. This is one of the pilgrimage places in Kolkata by the banks of Adi Ganga, which is a small canal that connects to the Hooghly River. You can chill at the riverside with your friends and in the evening you can move to a restaurant.
Bachan's Dhaba serves the best North Indian, Mughlai, and Chinese Cuisine at a very reasonable price. Within your budget, you can enjoy the best service, the best tasty food, and the best staff. You should try tandoori roti, tandoori kebabs, butter chicken, kulfis, faluda, and other tasty desserts.
Read: The Ultimate Guide How to Travel Alone in India
How to Travel in Kolkata? Places to Go with Friends in Kolkata
To reach from point A to point B, Kolkata has enough transportation options. Kolkata's transportation cost is very cheap and affordable. Therefore, no matter which places you're planning to visit in Kolkata with friends, you can reach there without any worries.
Here are a few ways to get around Kolkata –
By Kolkata Metro
From North to South, you can visit anywhere in Kolkata at just Rs 5 or Rs 10.
By Local Train
The local train network in Kolkata is extensive and the price starts again from Rs 5 to Rs 15 (depends).
By "Yellow Taxi"
This is one of Kolkata's heritages and the taxi driver quote price based on the meter and distance you have traveled. You should negotiate and can strike a deal between Rs 200- Rs 500 (depends).
By Uber or Ola
These are online portals that offer taxi services at a very reasonable price.
Conclusion
I've visited all the above 10 places and have explored each of them. Being from West Bengal, Kolkata, I think these are the best recommendations I can give to you if you're wondering which places to visit in Kolkata with friends.
Leave a comment for me and let me know what you think.