13 Best Pet-Friendly Places in Kolkata
Well, I get a guilt trip every time I step outside of my house for not taking my Coffee – Shih Tzu with me.
I cannot take him everywhere I go, probably setting boundaries is important. But, taking him out twice a week is also important to bond well with him.
Busy streets, big markets, and main roads of Kolkata have always been overwhelming for Coffee.
A few months back, our home terrace was his enjoyment place till I discovered a few pet-friendly places in Kolkata.
Picture courtesy: deccanchronicle
Therefore, I have got a list of pet-friendly places in Kolkata where you and your pet can have a rollicking time.
In these places, you will see dogs of all breeds, sizes, and shapes patiently sitting, playing, and running around. Sometimes, I also take him to the grooming parlors, which he absolutely loves.
These places in Kolkata are ideal for pet owners and pets who love to socialize and pose no harm to another dog.
Read: 9 Best North Kolkata Places to Visit
Pet-Friendly Cafes in Kolkata – Pet-Friendly Places in Kolkata
1. Pawga
Website: Pawga
Location: Caffeine 'n' Carburetors, Elgin (check website for regular updates)
Did you ever think of doing yoga with puppies? Pawga has ingeniously merged the art of yoga with a compassionate approach to animal welfare, resulting in a truly remarkable and uplifting initiative.
your yoga mats embrace the unique bond forged between animals and humans. Through this magical union of yoga and animal welfare, Pawga in Kolkata became a testament to the beauty of unity.
The Best Part is while you're buying a ticket, Pawga is supporting animal welfare at the shelter. Half of each ticket's price goes directly towards this noble cause.
solo experience with a single ticket priced at Rs 1,100 or share the joy with a loved one by opting for the double ticket at Rs 1,693. And for the young enthusiasts, there's a special Kids' Pass priced at Rs 677
2. The Green House
Address: P510, Keyatala Road, Southern Ave, near Vivekananda Park, Kolkata, West Bengal 700029
Location: Salt Lake, Sector-I, Kolkata, West Benga
Time: Monday to Sunday –11 am – 11 pm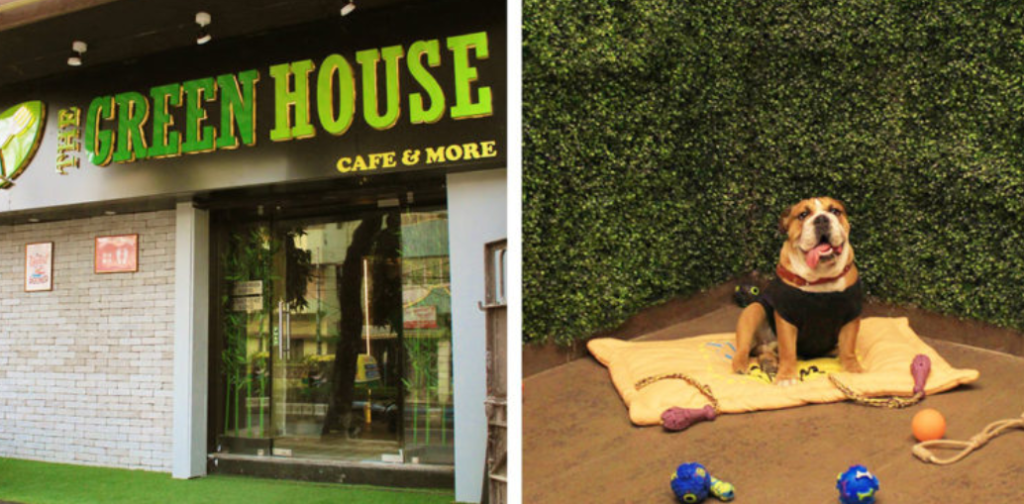 Picture courtesy: ohkolkata
Have you ever been welcomed to a café by dogs? Welcome to The Green House Café, the oldest and the first pet cafe in Kolkata.
The cafe is run by a charming, dog-crazy person, Anirban Deb Roy who aims to offer a warm ambiance and a menu card that has more than just a coffee.
The best thing about "The Green House" is you can play with their in-house super friendly canine – Jackey, Casper, Whiskey, Gin, Brandy, Scotch, Brutus, and Bailey. All are super cute and friendly.
It is a 1200 sq. café with a designated dog room, a lounge smoking room, a dining room, and a separate hookah room.
They offer continental, Chinese, and mixed Indian-like pizzas, waffles, crispy crunchy nachos, lasagna, fries, Dim sum, cheese balls, panner tikka, baby corn, and more.
Not only that, the menu has elaborate options starting from soups, ice cream, iced tea, and coffee, to mocktails, and mojitos.
As The Green House named it, they serve the tasty "The paw licious food" like chicken meals, egg white omelets, and cakes made up of chicken, eggs, and butter.
Tips
Dog food needs to be pre-ordered, minimum 2 hours before
Must order Aam Salam Iced Tea, the subtle taste is amazing
A grooming facility for a dog is also available
Read: A Complete: North Kolkata Durga Puja Guide Map – 2022
3. Throttle Shorttle
Address: near HP Fuel Station, Action Area IIC, Newtown, Kolkata, West Bengal 700161
Location: Newtown, Kolkata, West Bengal
Time: 24*7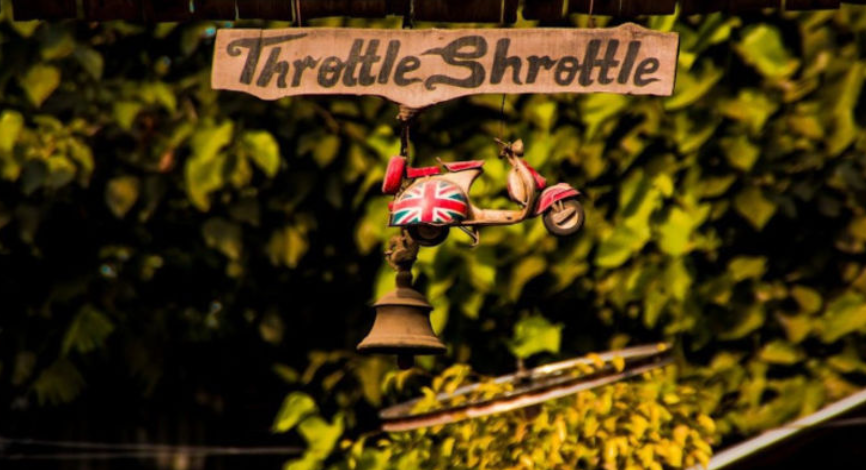 Picture courtesy: easydinner
"Throttle Shorttle", as the name sounds, is quirky, and the ambiance, theme, and rhythm of the place vibe up for bike and pet lovers.
Just by crossing the wooden bridge and small pool beside, you can sense the relaxed, easy-going ambiance greeted by Piston, their Great Dane.
Also, they have small two kitties and two white ducks adding crude charm to "Throttle Shorttle" café, the most beautiful pet cafe in Kolkata.
During, my visit I noticed that Piston came to our table and showed affection by wagging his tail but not for a single time he look at the food.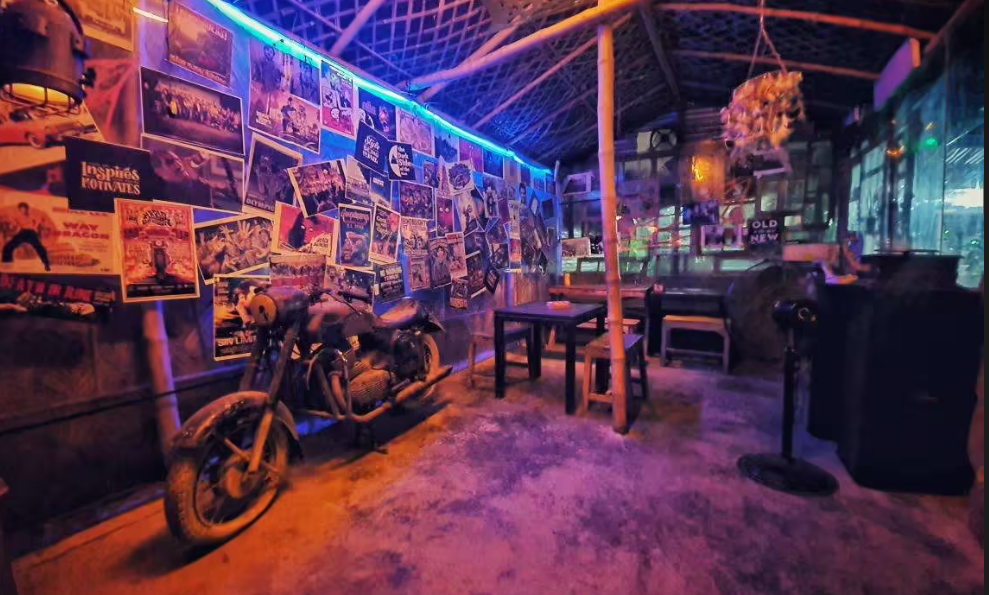 I was so happy to discover that "Throttle Shorttle" kept their pets free and none of them posed any threat to guests.
The open-air outer setting is open 24*7 and always lighted up with dim lights, and upbeat music. Believe me, it's perfect for Kolkattan aadda over a cup of chai!
To recharge yourself in the between of addas, order anything at standard fares such as pizza, cheese burst omelet, egg curry, pasta platter, lassie, cold coffee, and more.
Tips:
Attend their Reggae which they organize every weekend
Meal for dogs for just 100 Rupees
Enjoy the Goan hunky-dory vibe in the most pet-friendly café in Kolkata
Read: 7 Best Places to Visit Near Kolkata Within 100 Kms
4. Hugo & Finn
Address: 5B, Little Russel St, Kankaria Estates, Park Street area, Kolkata, West Bengal 700071
Location: Camac Street Area
Time: 12.00 pm – 8.00 pm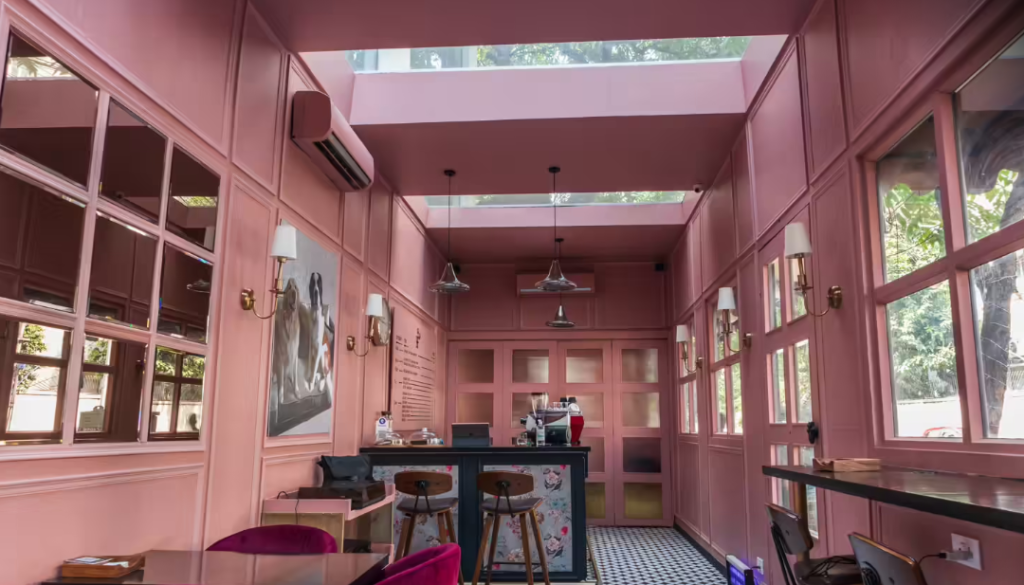 What if I said, you can enjoy the London café vibe in Kolkata? Hugo & Fin is the newest aesthetically appealing and one of the best pet-friendly cafes in Kolkata.
The warm interior color in dainty pink blended with subdued golden hues, classic foyer with beige tiled floor, and yellow bulbs setting, adds to your perfect pleasure.
I love their unique idea of a glass ceiling featuring dog-friendly photos hanging on the bright pink/peach wall along with simple yet classy hanging lamps.
The ambiance and away from the hustle and bustle of North Kolkata, Hugo & Fin makes you feel like you are in Oxford Street, London.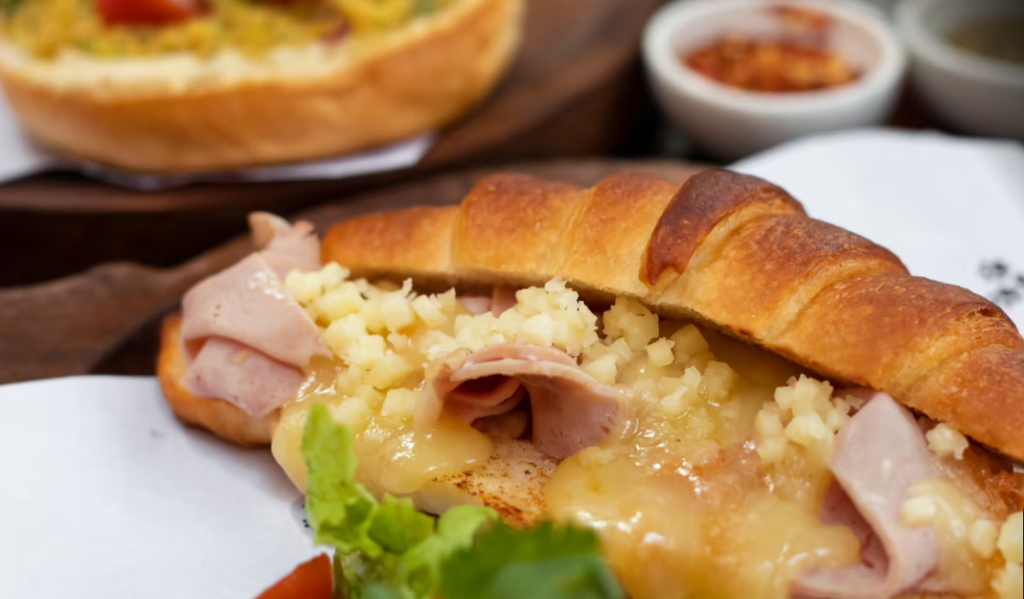 The pets are allowed to roam freely within the café, as Ritesh Shrivastava, director of Hugo & Fin says- "We are pet friendly rather than human friendly".
It's not a surprise that they serve lip-smacking Tandoors infused with grilled pomfret, grilled chicken, fresh veggies sauté with crunchy lettuce, overloaded chicken burgers, and more.
Not only that, you get to taste the soul-touching Kolkata chai, Royal Spice tea, coffee of various types, and more. Also, Hugo & Fin is one of the Instagrammable places in Kolkata.
Read: 9 Safe Places to Travel in India
Dog Parks in Kolkata – Pet-Friendly Places in Kolkata
5. Rabindra Sarabor
Address: Southern Avenue, Golpark, Tollygunge, Dhakuria, Lake Gardens, South Kolkata 700029
Location: Dhakuria
Time: 6.00 am – 6.00 pm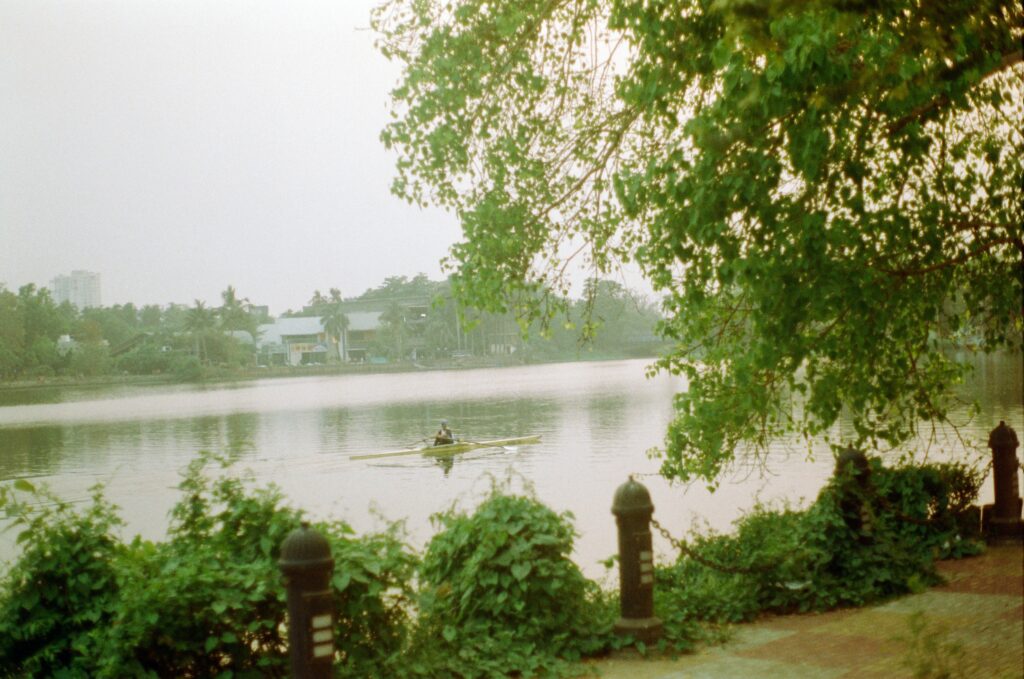 Rabindra Sarabor or Dhakuria Lake is one of the ideal dog parks in Kolkata that are surrounded by a garden, park, lake, and auditorium.
The area starts from Tollygung railway station to Dhakuria exemplary for running, walking, swimming, photography, dancing, and living the moment.
Spread over 75 acres, it is a perfect place for strolling or walking with a dog by the serene lake enjoying the views, and offering a lot of clean air to your lungs.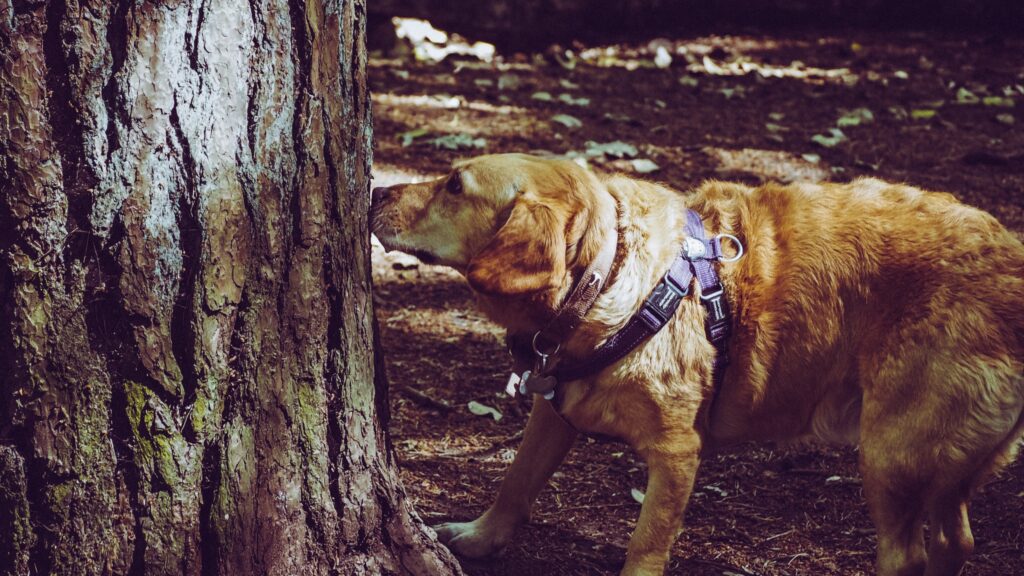 Moreover, Rabindra Sarabor offers you peace of mind, close companionship with your dog, and a sense of purpose in life that gets lost in the busy schedule of the office.
In the early evening, the sun plays hide and seek through the canopies making the place so soothing and peaceful.
Read: How to Travel in India with a Low Budget? Budget India Travel Tips
6. Citizen's Park
Address: 1A, Cathedral Rd, Maidan, Kolkata, West Bengal 700071
Location: Near Victoria Memorial, Kolkata
Time: 5.30 am- 7 pm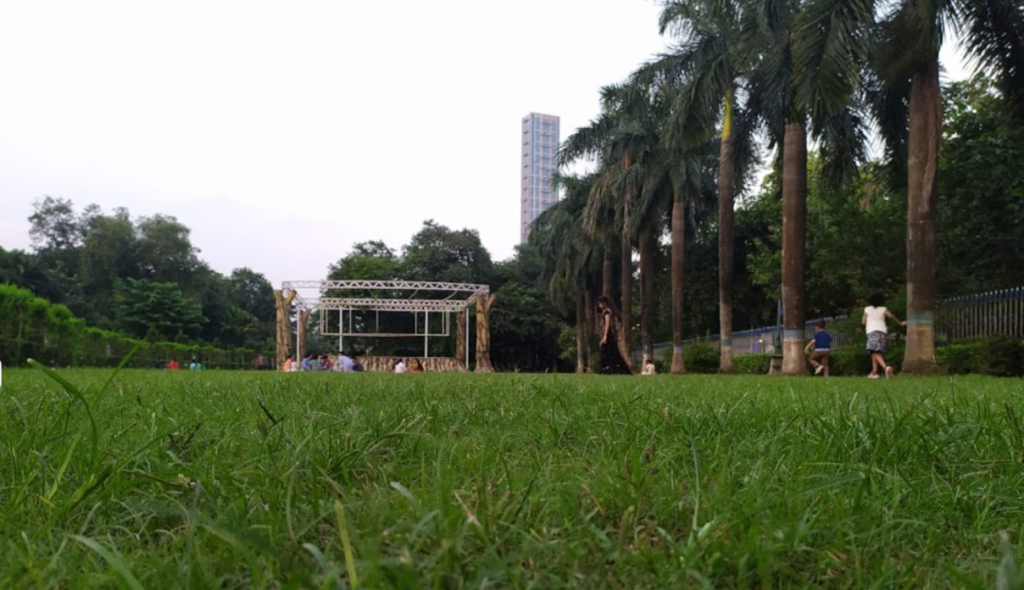 Picture courtesy: tripopola
Before beautification, Citizen's Park was Chaplin Park which people use to visit to spend quality time amidst nature with loved ones.
Moreover, Citizen's Park or Banabitan is one of the best dog parks in Kolkata that is latterly a breath of fresh air to your life.
You cannot argue that because of the heavy hectic city lifestyle, you hardly get time to spend in the cozy garden or surrounded by a place with ample flora.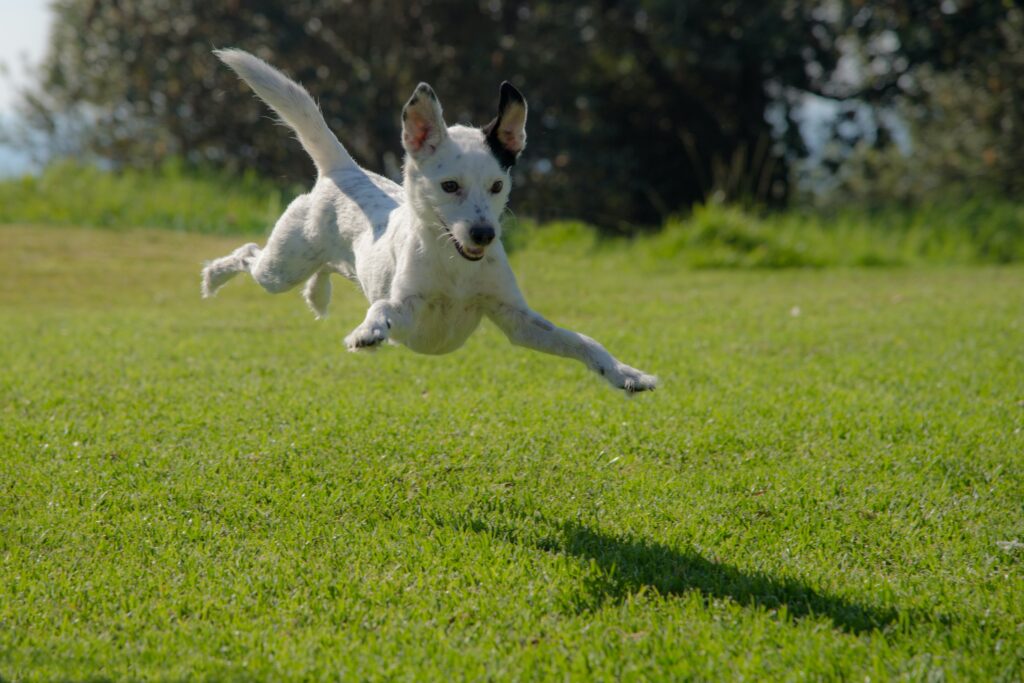 Hence, Citizen's Park is ideal for all age groups and welcomes pets with open arms. Also, it is one of the big urban parks after MAIDAN in Kolkata.
You will see a lot of butterflies, roses, and trimmed grass which makes it ideal for your pooch to run around and have the best gala time.
Read: 7 Days the Ultimate Meghalaya Trip Plan – Offbeat Meghalaya
7. Rosedale Pet Park
Address: Circular 6th Bye Lane, Uniworld City, Newtown, Kolkata, West Bengal 700135
Location: In AA3, near Rosedale
Time: Evening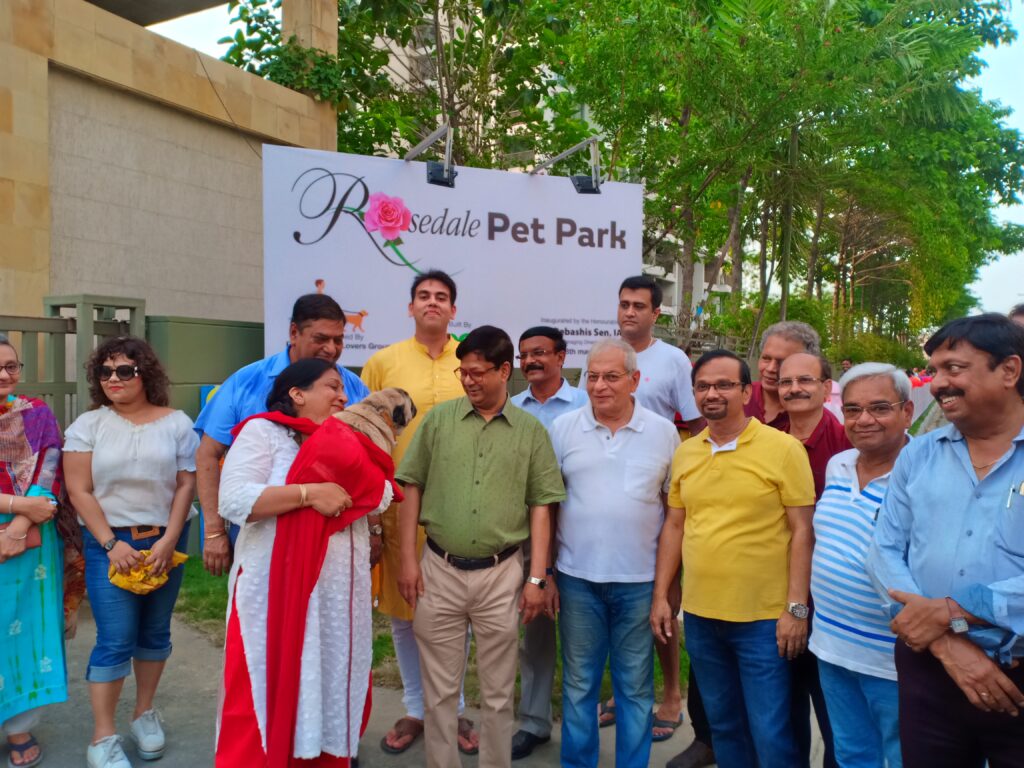 Housing Infrastructure Development Corporation (HIDCO) took the initiative to pool money to build a clean pet park on 400 m of land.
The park is fenced with steel net and surrounded by green grasses making it the best dog park in Kolkata in the New Town area.
Your pet would never feel out of place in Rosedale Pet Park because every resident in the New Town area come here with a dog of all shapes and size.
Beside the park at Action Area 3, there is an operating Pet Creech, a Pet Clinic, and a Pet Burial Ground.
During my visit, I saw a Great Dane, Afgan Hound, English Mastiff, GSD, Labrador, and St. Bernard. Your pooch will definitely love to stay here and spend his evening.
Read: The Guide: How to Travel with Dog in Train in India?
Pet-Friendly Hotels in Kolkata – Pet-Friendly Places in Kolkata
8. Novotel Kolkata Hotel and Residence
Address: Cf 11 Action Area 1C New Town, Rajarhat, Kolkata, West Bengal 700156
Location: 6 minutes away from Tata Medical Centre
Time: 24*7
In the heart of the New Town sits the 5-star Novotel Kolkata Hotel and Residence which offers a luxury experience to every guest.
It sits 12 km away from the airport, 20 km from Howrah railway station, and 2 Km from Mother's Wax Museum.
Novotel is one of the best pet-friendly hotels in Kolkata and offers impeccable service that makes your stay experience full of authentic memories.
They have a total of 340 rooms which include 47 serviced apartments, 280 rooms, 1 presidential suite, and 12 suites.
The hotel and residence have a separate lounging space, poolside, open-air garden terrace, ballroom, bouquet, salon, and beautifully decorated dining room.
9. Aditya Short-Term Rental
Address: 1 Central Park East, 700032 Kolkata, India
Time: 24*7
Aditya Short Term Rental is a whole apartment of 70-meter square size which is one of the best pet-friendly hotels in Kolkata. The pets are allowed with no extra charges.
Aditya Rental is 5 Km from Kalighat Kali Temple, 9 Km from Eden Gardens, and 6 Km from Nandan.
Moreover, the price of Aditya Short Term Rental is very affordable ranging around 1300- 1500 Rupees.
10. The Harrington Residency
Address: Flat no 5&25. 2nd floor Harrington Mansions .8, Ho Chi Minh Sarani, 700071 Kolkata, India
Time: 24*7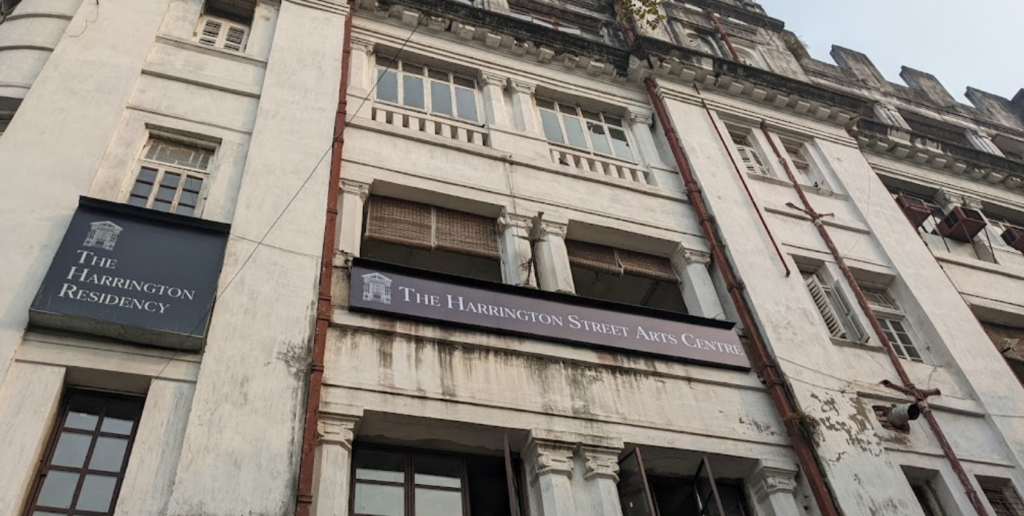 For a more private stay and away from the hustle and bustle of Kolkata life, The Harrington Residency is the best pet-friendly hotel in Kolkata.
The property sits 1.8 Km away from Victoria Memorial, Indian Museum, and 1.5 Km from Park Street Metro Station. Their front desk functions 24*7.
The best part of The Harrington Residency is they offer free Continental and buffet breakfast for you and Pedigree to your dog (extra costs).
From each room, you get a beautiful view of the garden making it one of the best pet-friendly places in Kolkata.
Read: 9 Best Budget Travel Tips: How to Travel on a Budget?
Pet-Friendly Restaurant in Kolkata – Pet-friendly Places in Kolkata
11. The Love Room
Address: The Love Room, 36, Tollygunge Circular Road, Tollygunge, Kolkata
Time: 11 am -10 pm
Picture courtesy: Ibb
The Love Room is the must-visit pet-friendly restaurant in Kolkata that serves humans as well as your dog.
Love Room has nine in-house dogs – Ego-Siberian Husky, Tipsy-Irish Setter, Shih Tzu, Oreo- French Bull Dog, Whiskey-Cocker Spaniel, Bruce –Lhasa Apso, Gucci-Lhasa Apso, Barney – Golden Retriever, and Gogo-Pug.
Ankush and Shruti, the owner of the Lover Room have successfully developed pet pet-themed ambiance that is therapeutic and calming.
Everything is so admirable, the food, pancake, tacos, and cupcakes are so mouth-watering. Moreover, they have "dog beer" and "cat wine" designed only for pets.
For pet parents, your options are endless. You get various types of soups, chicken wings, cheese balls, cheese founde, Italian cuisine, watermelon salad, burgers, and of course a full course menu too.
The best part of Love Room is the "nine dogs" and their steps of going the extra mile to make every dog and pets feel important.
Read: 10 Best Places to Visit in Kolkata with Friends
Pet-Friendly Cab Service in Kolkata – Pet-friendly Places in Kolkata
Did Yellow Taxis, Uber, Ola, or other app cab services ever refuse to carry your pet to a designated location?
Two years back, my parents did not own a car and it was hard to find a cab service that could take us to Howrah Railway Station.
However, thanks to a few individuals who came together to feel the inadequate space and develop a service designated for dogs in Kolkata.
Here are the two best pet-friendly cab services in Kolkata, that you can rely on.
12. K9 Pet Cab Service
Time: 24*7
Contact: +91 8017462335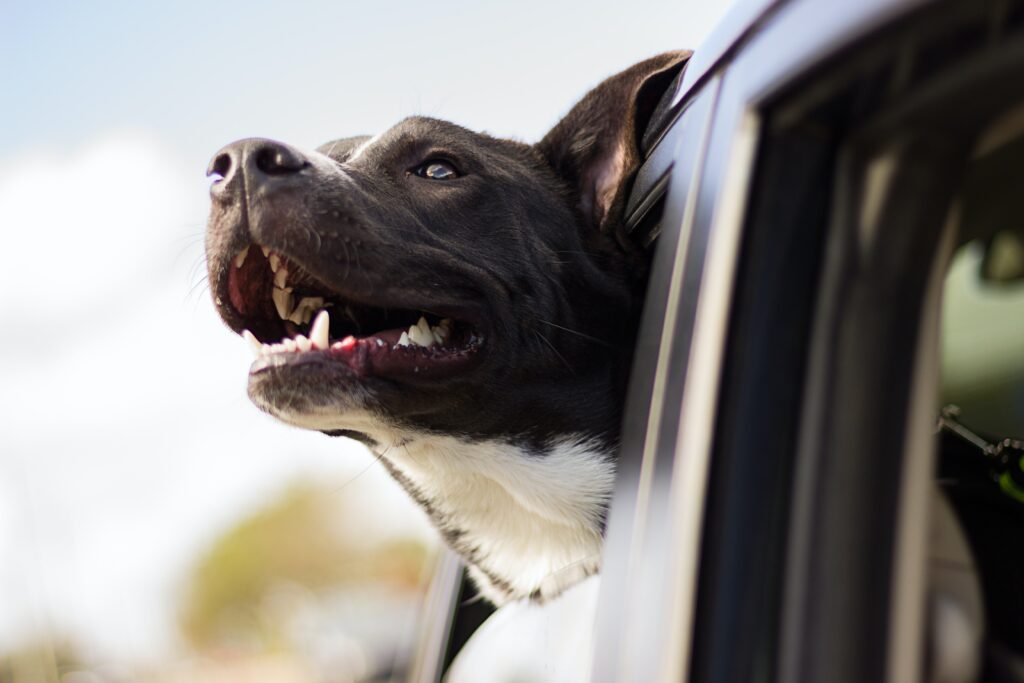 K9 Pet Cab Service is started by one of the residents of Kolkata, Sucheta Sinha who takes you and your dog to travel anywhere in the city.
K9 Pet Cab Service is like an ambulance – it takes your dog to vet appointments, hospitals, and dog salons and even ferries dead pets to the cemetery.
The drivers are well-versed and have deep knowledge of first-aid techniques, CPR, and BLS. Moreover, they are well-versed in details and nearby vet hospitals.
The service is done completely out of love. They have also helped a number of stray dogs and given them a lot of medical attention.
The cab service has a Swift Desire and Renault Kwid and the service charge depends on the distance and location. However, it might range from 150- 500 Rupees.
13. Payal's Pet Cab in Kolkata
Time: 24*7
Contact: + 919874272716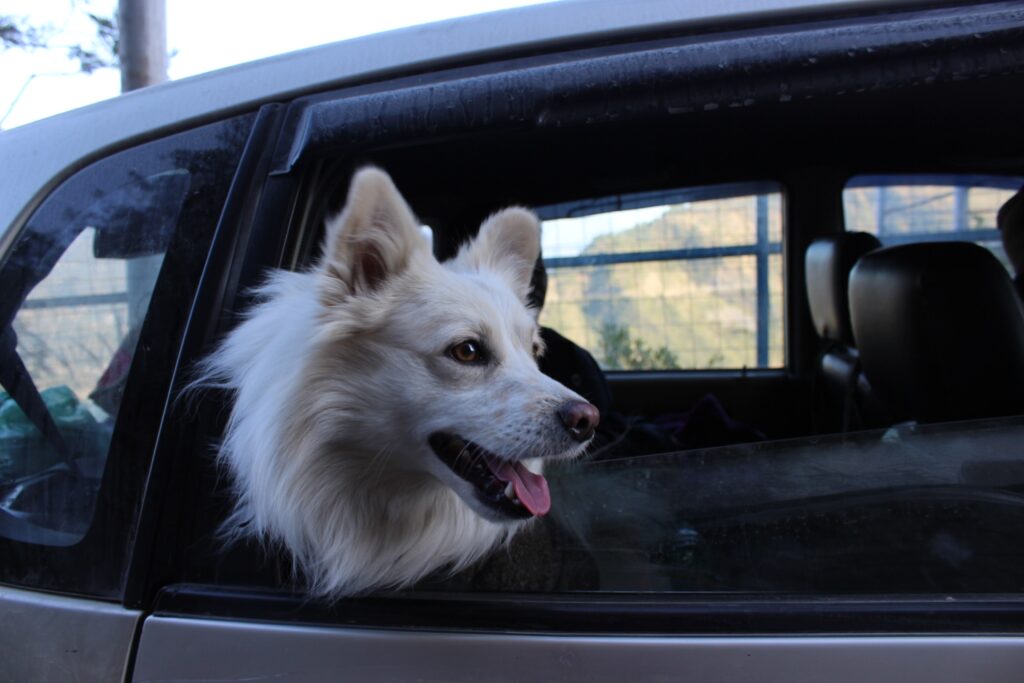 With the increase in pet travel in West Bengal, a resident of Kolkata Payal has come up with an initiative to offer taxi services for easy pick-up and drop-off of animals.
Payal's Pet Cab in Kolkata was started in 2019 for comfortable cab rides. This is one of the affordable pet-friendly cab services in Kolkata.
You can book their service through social media, and Facebook and they promise to take pets and pet parents to parks, cafes, hotels, hospitals, and more without any hustles.
I have personally taken their service and believe that it's a wonderful step to help our community. Her services ensure that every pet and pet parent reach their destination on time.
Conclusion
I hope now you don't need to leave your pet at home. These above pet-friendly places in Kolkata will surely offer gastronomical adventures just your pet wants. Have you been to these places before? Let me know in the comment below.
F&Q
Are pets allowed in Nicco Park Kolkata?
No pets are allowed in Nicco Park Kolkata. Visitors with tickets can enter only for the date and time specified.
Are pets allowed in Eco Park Kolkata?
Eco Park Kolkata is pet friendly, you can bring your dog. Remember, to keep him on a leash. However, you will see a lot of stray dogs roaming around therefore, stay aware that they do not get into fights.
Are dogs allowed in Starbucks?
You can not bring dogs inside Starbucks. Moreover, they do not have any services designated for dogs or pets.
What are the pet cafes on Park Street?
Hugo & Finn, and Cha Bar are the best pet cafes on Park Street, Kolkata.