7 Days the Ultimate Meghalaya Trip Plan – Offbeat Meghalaya
Did you manage to get 7 days' holiday from your job? Do you want to travel to mountains, valleys, rivers, and wildlife within these 7 days?
All the thrill seekers, welcome to Meghalaya, the slow-paced paradise in North-East of India. Shillong Meghalaya is the most exotic and ultimate paradise, as you will get a glimpse of hills, root bridges, waterfalls, and clear water all in one place.
Though I feel that exploring offbeat Meghalaya can create memorable experiences that can bring a twist to your travel stories. So, here is the offbeat Meghalaya trip plan itinerary that can help you to explore Meghalaya within 7 days.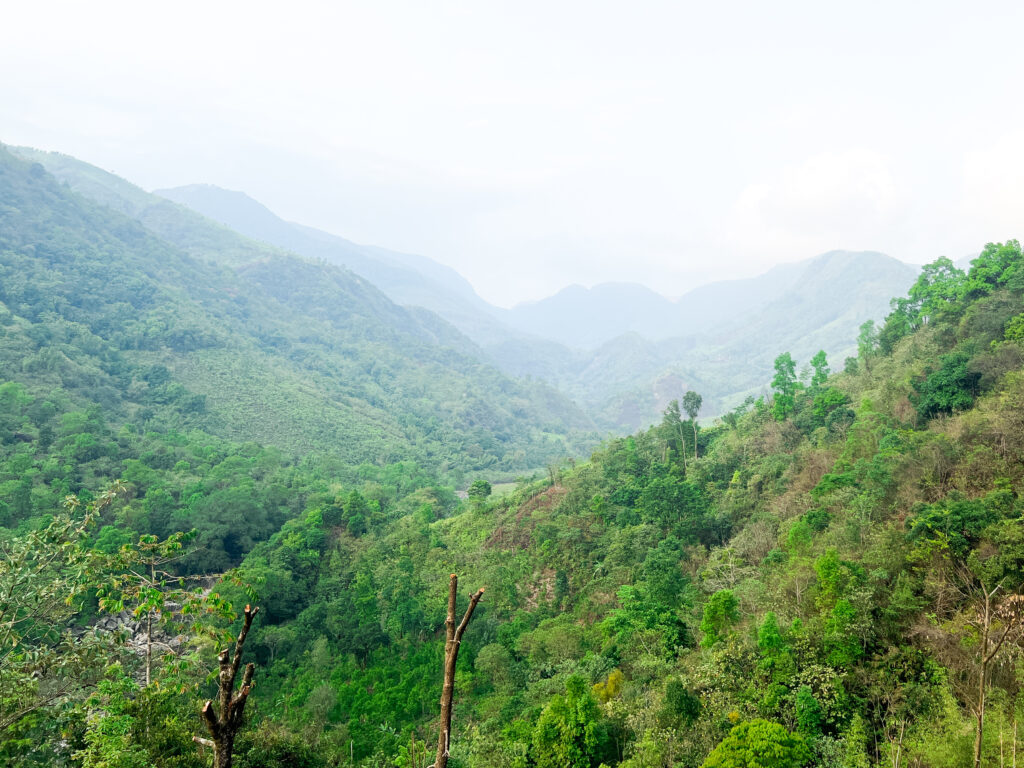 Offbeat Meghalaya Trip Itinerary for 7 days
I am from West Bengal, so let's consider West Bengal as our base point. This blog is an ultimate Meghalaya trip guide starting from offbeat Meghalaya places to visit, to where to stay. I did this trip on March, 2022 with my 4 other friends.
How to Plan a Meghalaya Trip?
Day 1– Flight from Kolkata to Guwahati and finally to Shillong
Day 2 – Journey from Shillong to Kongthong Village aka whistling village
Day 3 – Journey from Kongthong Village- David Scott trek– Wei Sawdong Falls-Cherapunji/Sohra
Day 4 –Visit Nongnareh and at night explore the local market of Cherrapunji/Sohra
Day 5 – Mawryngkhang Trek at Wahkhen
Day 6 – Visit Mawphanlur Village
Day 7 – Travel back to Shillong and Guwahati and West Bengal


Offbeat Meghalaya Trip Plan
DAY 1 – JOURNEY FROM KOLKATA- GUWAHATI – SHILLONG
The very day I took a 9 am flight from Netaji Subhas Chandra Bose Airport (CCU) and reached Lokpriya Gopinath Bordoloi Airport (GAU) around 10 am. You don't have to worry about any transportation because starting from Ola, Uber, and shared taxis, to private taxis everything is available. You just have to tell them your destination.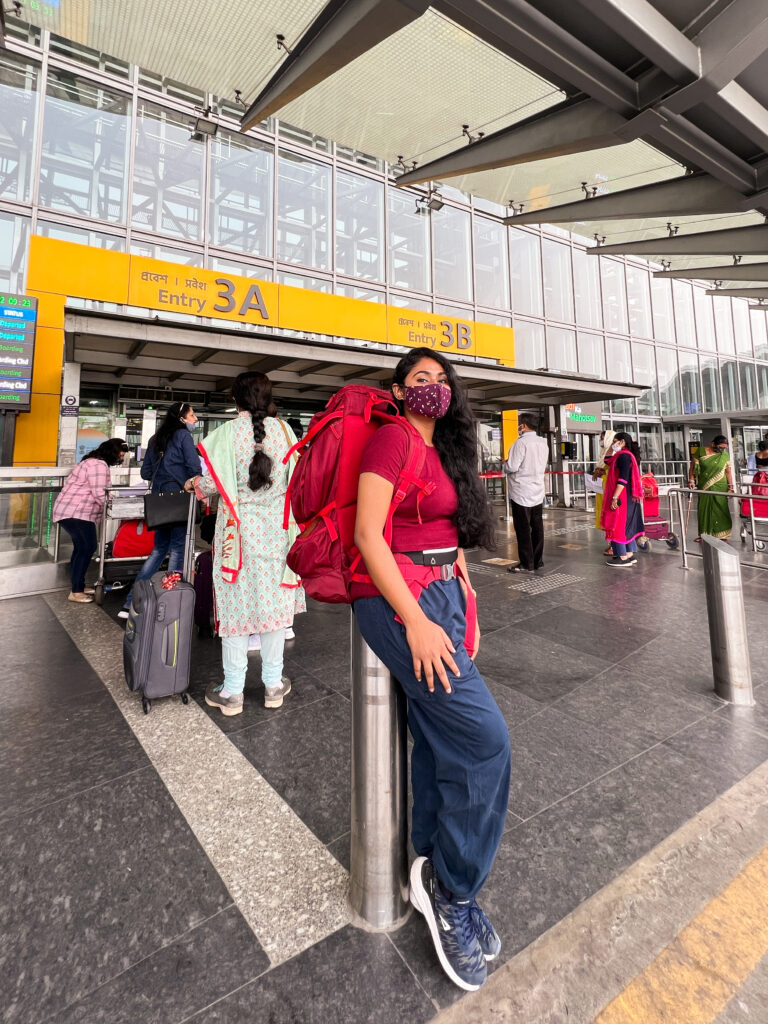 What's travelling without experiencing the local flavours? For me, you should have your lunch in Guwahati and pack some food because the journey will be long. I went to Missing Kitchen. We had pork with koldil, duck with kumura, pork with lai xaak & black sesame, pabda fish curry with outenga, roasted pork, and mutton curry. The food was so yummy!
We took a local taxi to reach Paltan Bazar, Guwahati, from there we bargained and took a private cab to Shillong. Though he asked for 3500, we girls used our barraging skills and made it to Rs 2700. It took us 3.2 hours to reach Shillong, damn traffic. That's why I suggested having food and carrying some. After reaching we were so tired that we checked in, in our pre-booked hotel, Hotel Woodland Hill Stay and ordered food on Swiggy and dozed off!
Though my friends were tired, they went to Daplieh Tours for a car rental. I would highly recommend this place if you're planning to rent a car, scooter or bike. The cost of rental for a scooty for 24 hours is 700, and for Himalayan is 1200. We booked a car for our whole trip and per day it cost us 2800, except diesel. Their contact number is 8415035771.
Meghalaya trip guide starts from the second day!
READ: 5 Best Places for Solo Female Travel in India
DAY 2 –JOURNEY FROM SHILLONG – KONGTHONG VILLAGE
Distance: 53.2 Km from Shillong
At Kongthong village you will get up with the sound of the random strain of music alluding to residents that mix up with nature sound! If you are stressed then Kongthong Whistling village is the place to get cured?
In the morning we started our journey for Kongthong Village aka singing village or whistling village. You will be amazed to be part of this quite remote small yet rich cultural village with approx. one hundred houses near Khasi Hills.
How do you call your friend, by calling out their names? At Kongthong Whistling village the fellow villagers call each other by a unique tune known as "Jingrwai Lawbei". Every 650 residents has a unique tune that passes from generation to generation.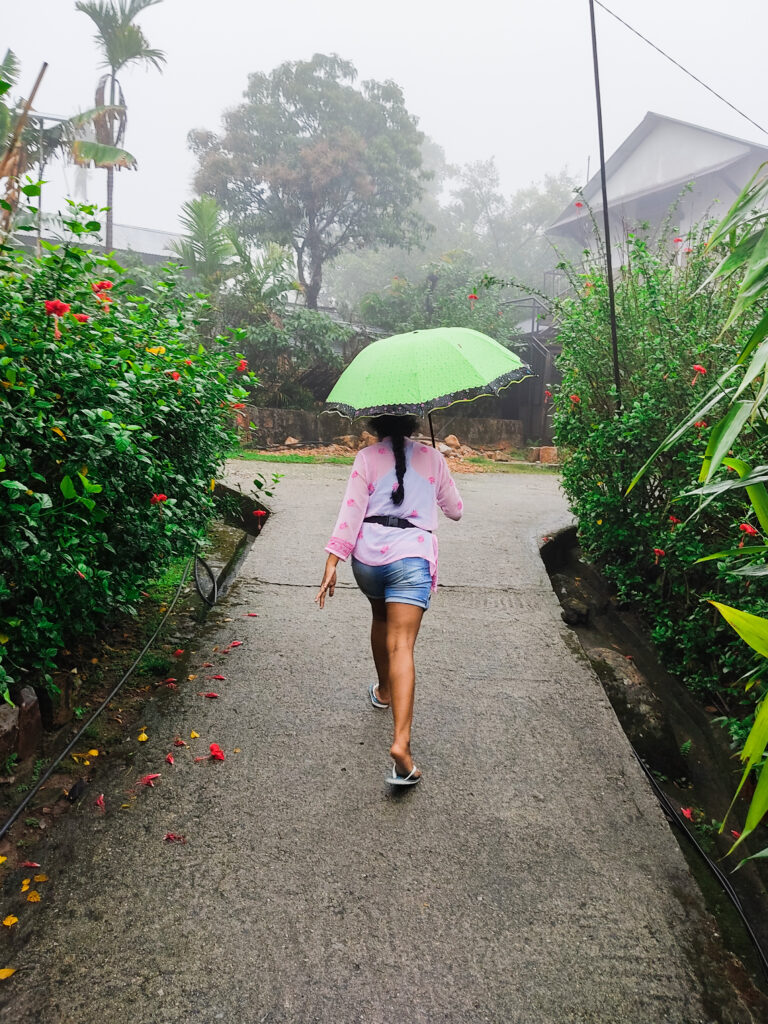 "Jingrwai Lawbei" means mother's love song. Mother hums and whispers the unique song tune to their children that becomes his or her caller tune. This tune comes from the core of the mother's heart and it is a symbol of love for their children.
I would highly recommend you to include Kongthong village in your offbeat Meghalaya trip plan because offbeat villages are the places where you can experience raw Khasi culture, and explore virgin beauty.
However, Kongthong Village does not have good road connectivity. You can get the offroad feeling, hence, be sure you are well experienced to drive in such situations. People here are simple, polite, and extremely hospitable, so take care of the place and respect nature.
What to do in Kongthong village?
Enjoy the utmost simplicity and mesmerising greenery and beautiful views around you. Enjoy the day talking to the people, playing with the children, in a word, take a rest from the hectic schedule. Shillong Meghalaya's trip is incomplete without exploring Kongthong.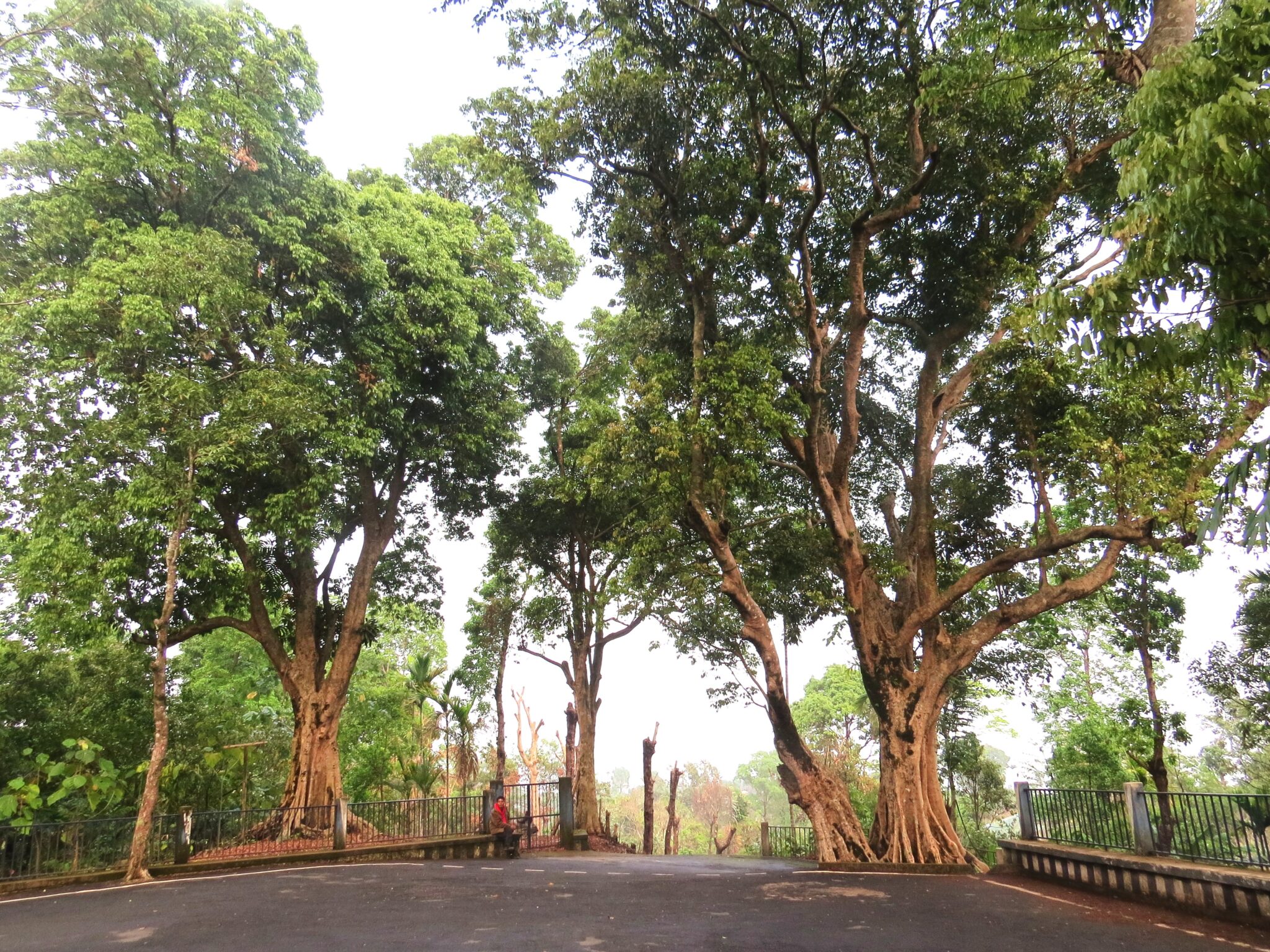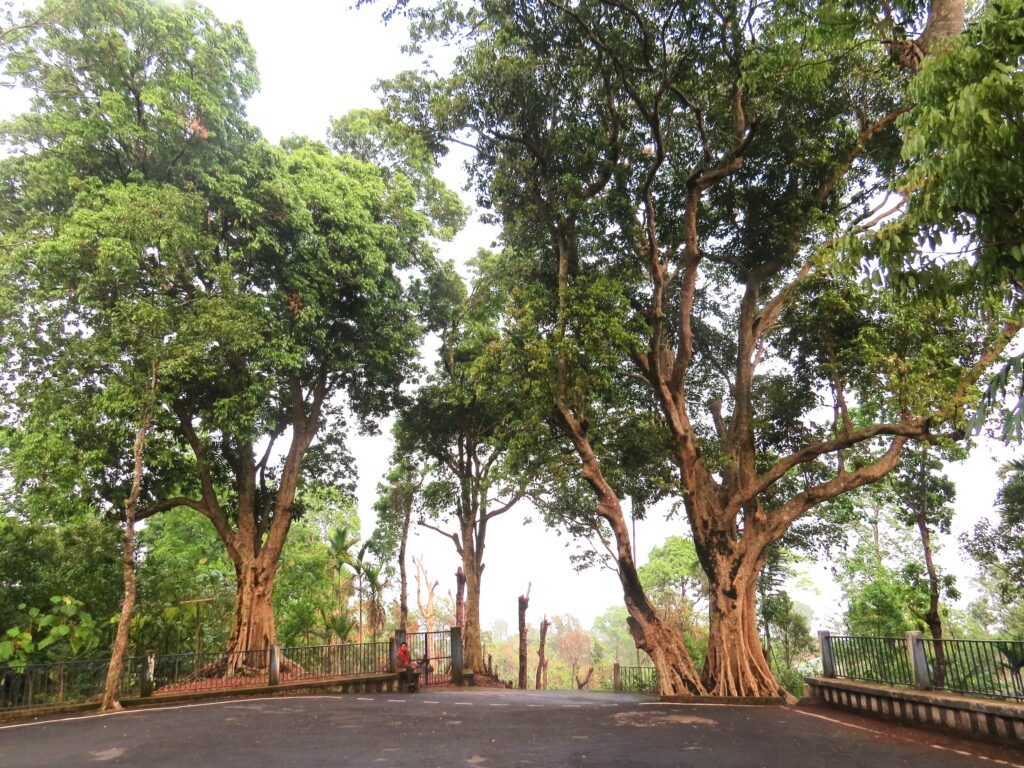 Tips for staying in Kongthong village
Stay at a local's house with basic amenities and do not expect fancy stuff. There is a lot of Bamboo hut accommodation in the village.
No hotels, no restaurants at Kongthong Whistling village. There is only one shop to taste the local food called Jadoh.
To reach Kongthong Village, the last motorable road is Khatarshnong Road, after which starts the off-road journey.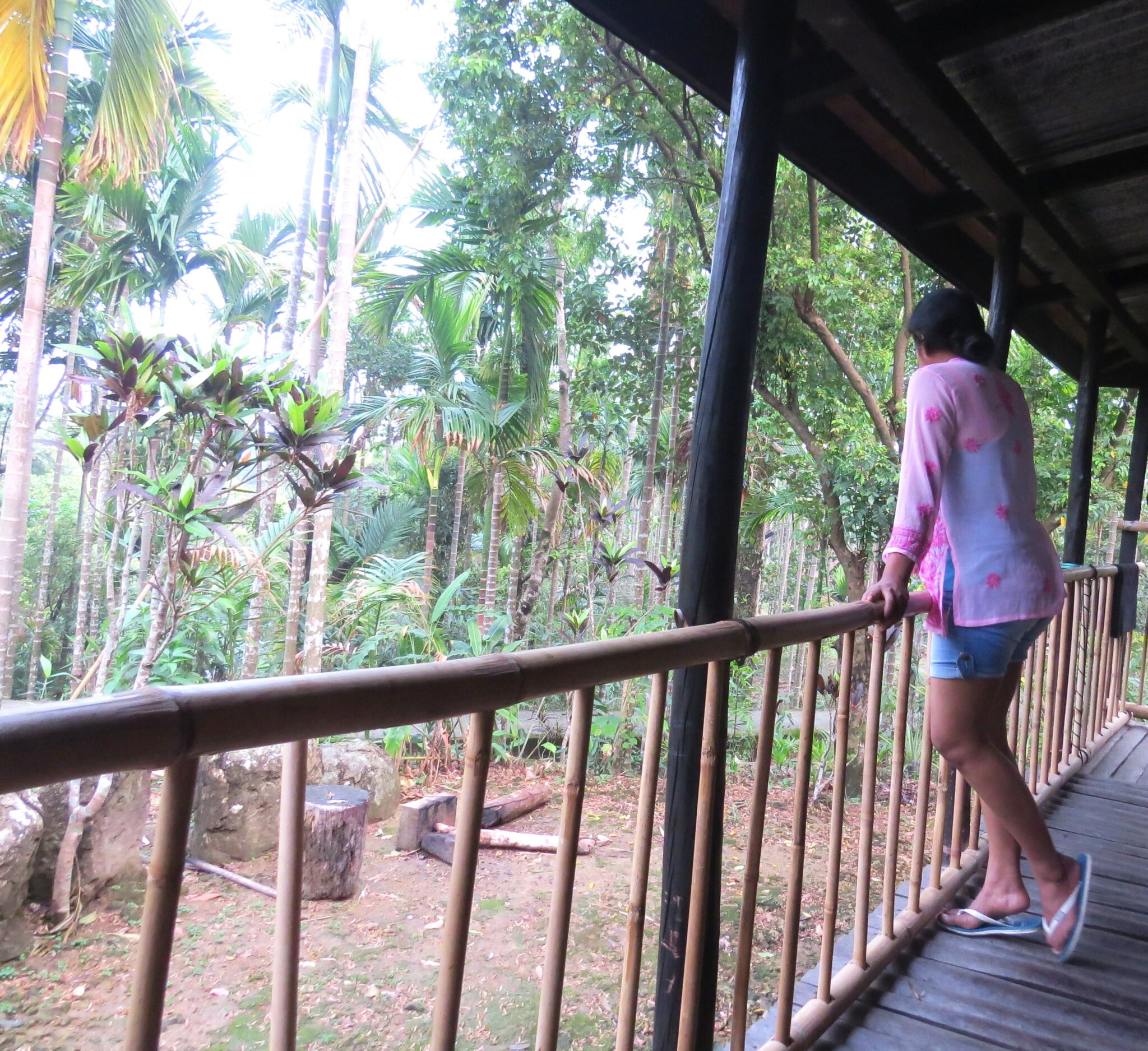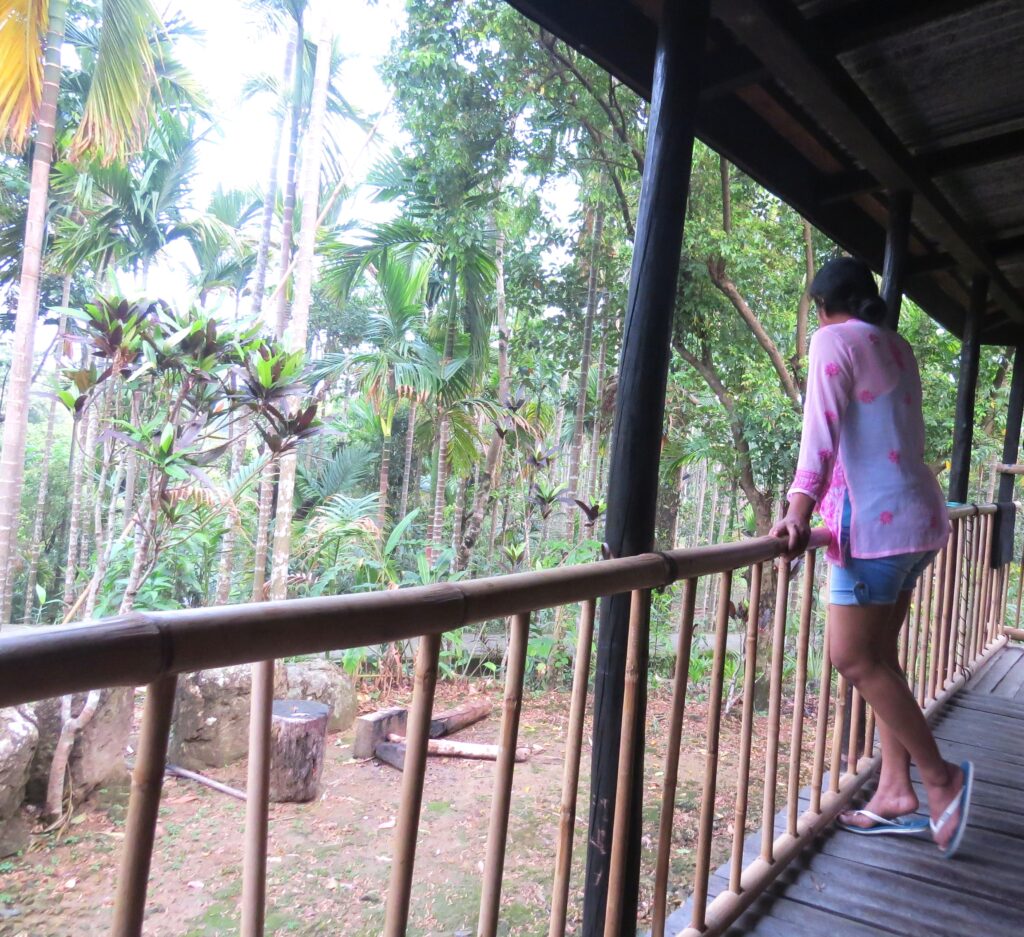 READ: 9 Best Budget Travel Tips: How to Travel on a Budget?
DAY 3 – JOURNEY FROM KONGTHONG VILLAGE – DAVID SCOTT TREK – WEI SAWDONG FALL-CHERRAPUNJI
Distance: 34.9 km from Kongthong village to David Scott Trek and 35.4 km from David Scott Trek to Cherrapunji
Today we decided to walk down the oldest horse cart trail of Meghalaya, David Scott Trek. David Scott Trek spans 16 kilometres winding through the virgin beauty of rivers, mountains, forests, valleys, sacred groves, natural pools, and a bright golden sky above you.
The trail has been named after a British officer called David Scott who made the route to connect Cherrapunji to Bangladesh. As the David Scott trek started, I was so amazed by the beautiful walk through the clouds getting sweeping views of the Umiam River and Pinewood lining up on the side of the trail.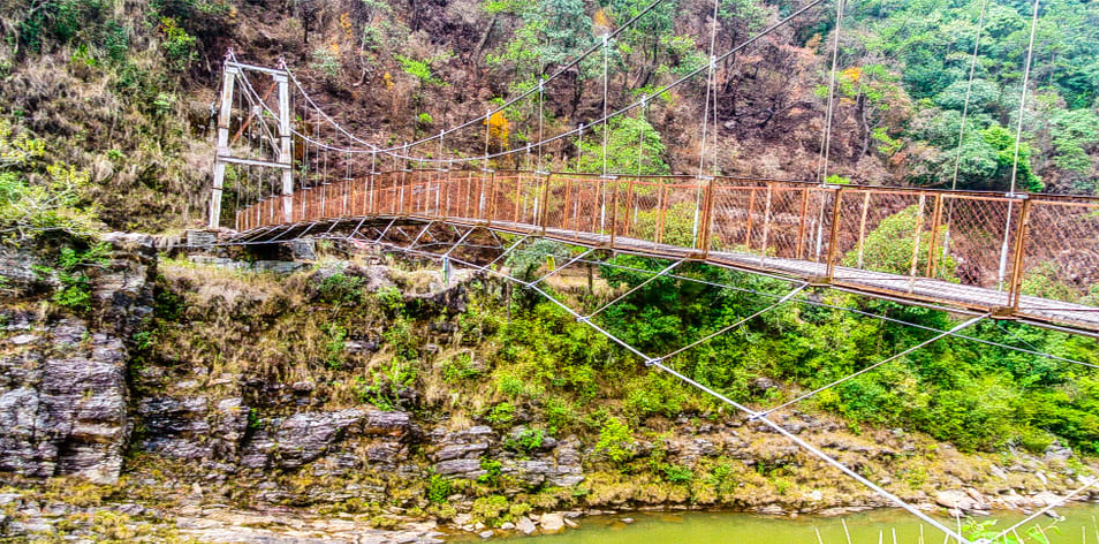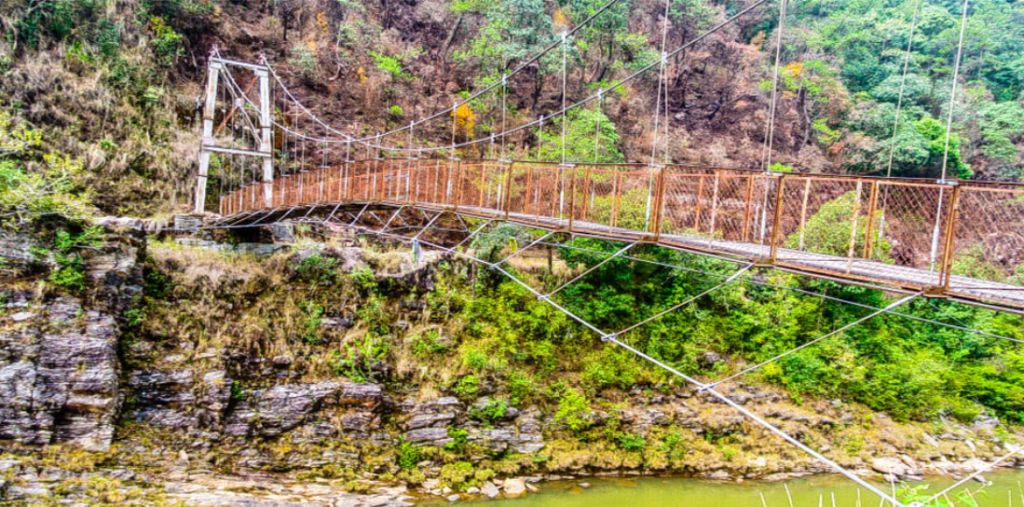 What to except in David Scott Trek?
Walking on the arch bridge at the end of the Ladmawphlang reminds you of history. On the way you will find a massive rock structure, again reminding you of a set of Games of Thrones. The trek offers the true taste of East Khasi Hill terrain and therefore, the David Scott trek is a must in your offbeat Meghalaya trip plan.
Tips while visiting David Scott trek
For one day trek choose Mawphlang to Ladmawphlang trail
Around 3 pm we completed our trek and drove towards Cherrapunji which is half an hour drive. On the way, we went to another beautiful offbeat Meghalaya waterfall, Wei Sawdong Falls. By the time we reached there were only 8-10 people.
What to do in Wei Sawdong Falls?
This three-step waterfall in Cherrapunji is something you do not want to miss because to witness the fall you need to trek which is enough to give you chills. There is no built path, hence, it's muddy, stairs are made up of bamboo trees, and in a one-word walk through a slippery forest surrounded by tall trees.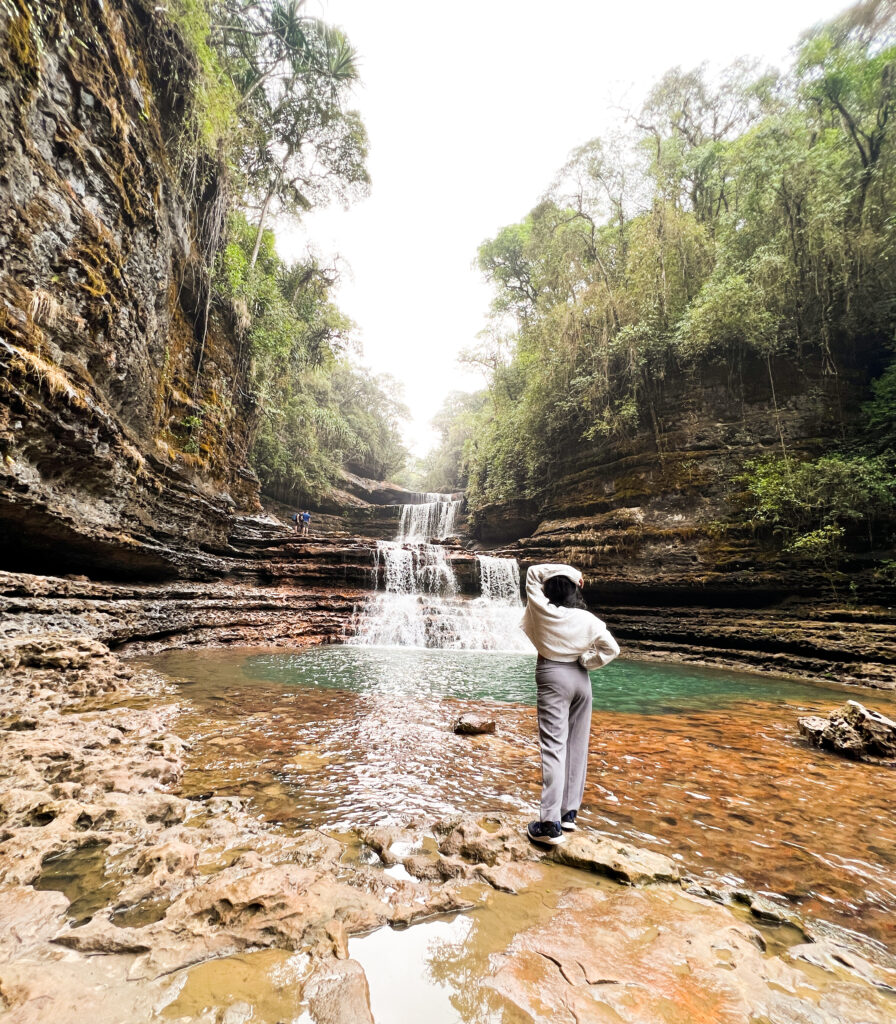 Wei Sawdong Falls is undeniably gorgeous and one of the surreal waterfalls that need to be included in the Shillong Cherrapunji trip. We went to the second-tiered cascade and spent almost 2 hours dipping, swimming, and enjoying the serenity of nature.
Tips while visiting Wei Sawdong Falls
Wear comfortable clothes and waterproof trekking shoes that have excellent grip
Carry a bottle of water and ORS because the trek can be draining
Carry a swimsuit at Wei Sawdong Falls. Remember, there are no changing rooms so ask your friends to cover you while you change
No lifeguards are so careful.
Where to stay at Cherrapunji/Sohra?
Head back to the city and check in to your homestay. Do not miss the food. There are a lot of options but we stayed at the Stay Awhile dormitory. I would highly recommend this place as the caretaker was so friendly, the rooms were cosy with verandas, and they even allow you to use their kitchen and cook your food (at extra cost).
We brought wine, cooked pork for the first time and made chicken fry. These romantic dinner recipes at the spectacular home perfectly set our mood for the coming days. The contact number is 7005747084.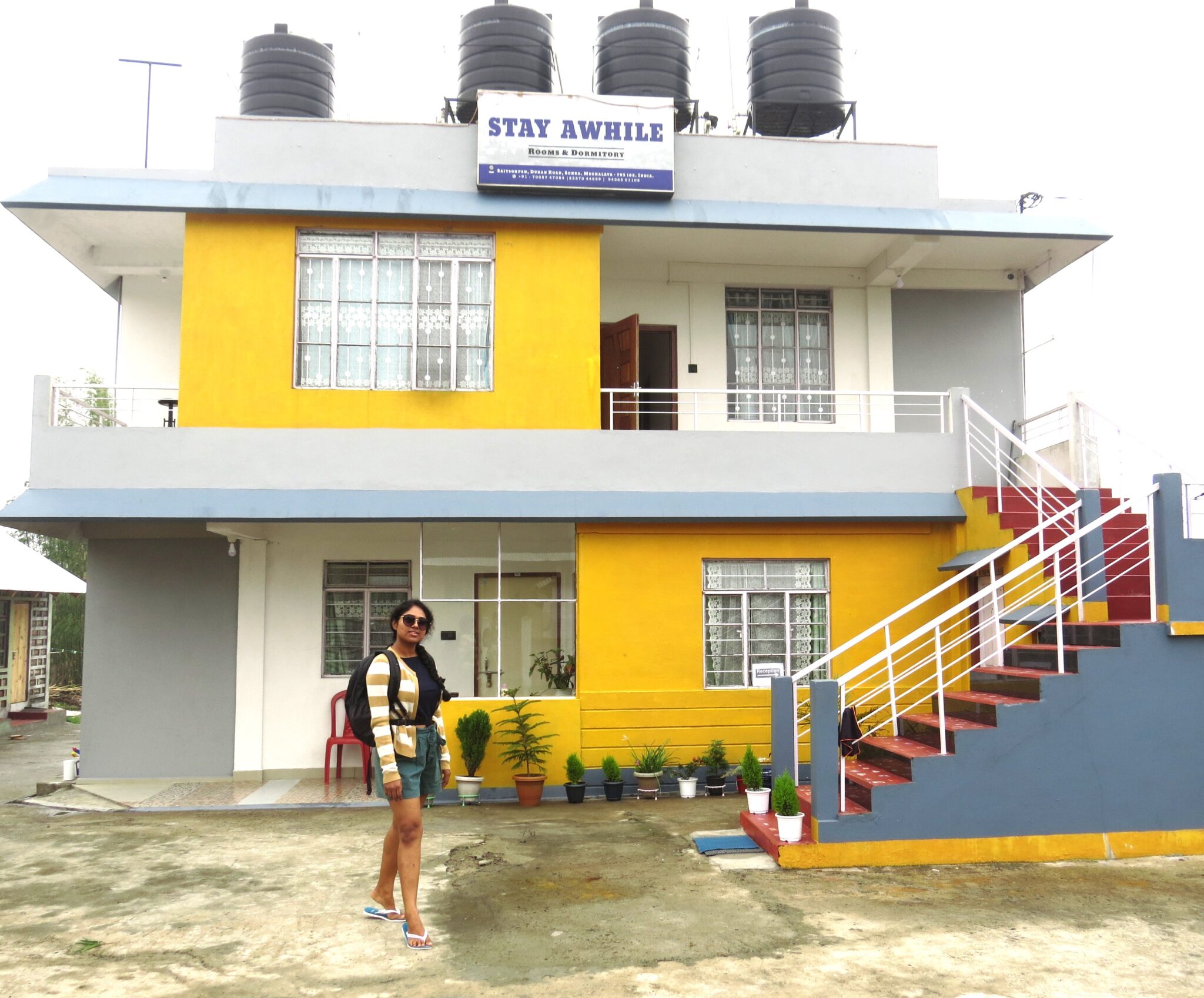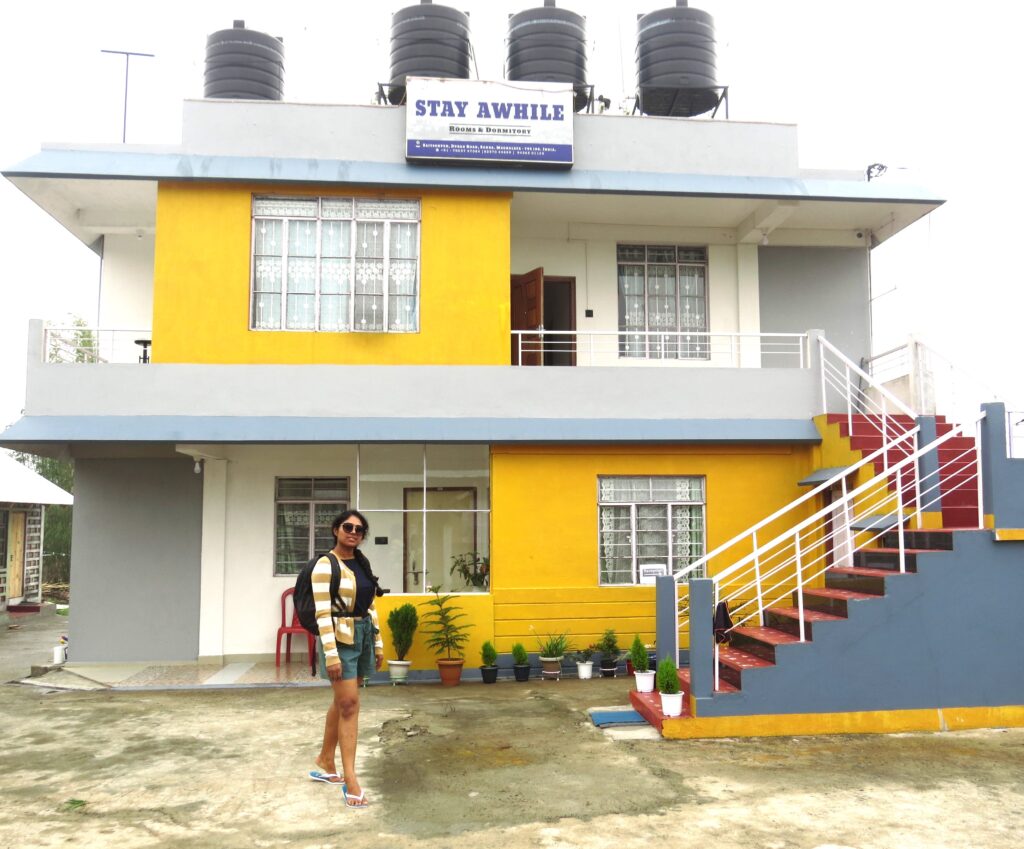 DAY 4 – VISIT NONGNAREH AND EXPLORE THE LOCAL MARKET OF SOHRA
Distance: 129 Km from Cherranpunji
Meghalaya is blessed with nature's bounty that is rarely explored hence let's start your day visiting Nongnareh near Kudengrim, famous for hidden caves and fish sanctuary. The village sits in Amlarem Tehsil of Jaintia Hills offering unimaginable beautiful caves, pristine rivers, a calm lake, waterfalls, and rare flora and fauna.
What to do in Nongnareh?
We first went to Am-Their Cave, this is hard to locate as it was not on Google Map. The cave was suggested to us by the local villagers who helped us to navigate the place. The most eye-catching view of the cave is its serenity and picture square of thousand years old stalagmites that are beautifully and elegantly hanging. The view is awe-inspiring so do not forget to bring your camera and click beautiful photos.
From here we went to Nongnareh fish sanctuary. I was amazed to find giant clouded mahseer and chocolate mahseer fish there. We spent 30 minutes here and came back to Sohra local market. You should include Nongnareh in your offbeat Meghalaya trip plan as you cannot spot such fascinating caves anywhere else with any tourists all around.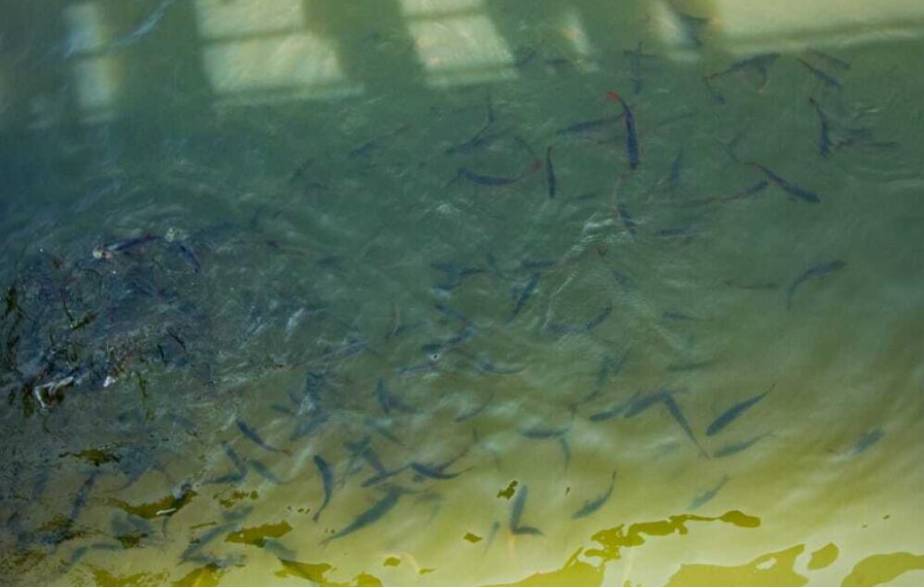 What to do in Sohra Market?
In the Sohra market try to visit the local stores rather than fancy cafes to taste the real Khasi food. I would suggest you visit a hotel that sits just at the beginning of the Sohra market that has a red door. Taste their momos, smoked pork, and the famous Jadoh. After having a lot of food we went to the local market and bought raw chicken and pork to return to our homestay to cook food and celebrate the night.
Tip for exploring Nongnareh and Sohra
Try to carry cash as much as possible. Very few places accept Gpay or debit cards.
DAY 5 – MAWRYNGKHANG TREK AT WAHKHEN
Distance: 50.7 Km from Cherranpunji
Mawryngkhang Trek or Bamboo trek is marked as one of the scariest treks in Meghalaya. It offers a unique experience that you will cherish for your lifetime. For the Mawryngkhang trek you reach at Wahkhen village which is again an offbeat destination of Meghalaya. The trail is made up by the villagers of Wahkhen with bamboo with no assistance from the government.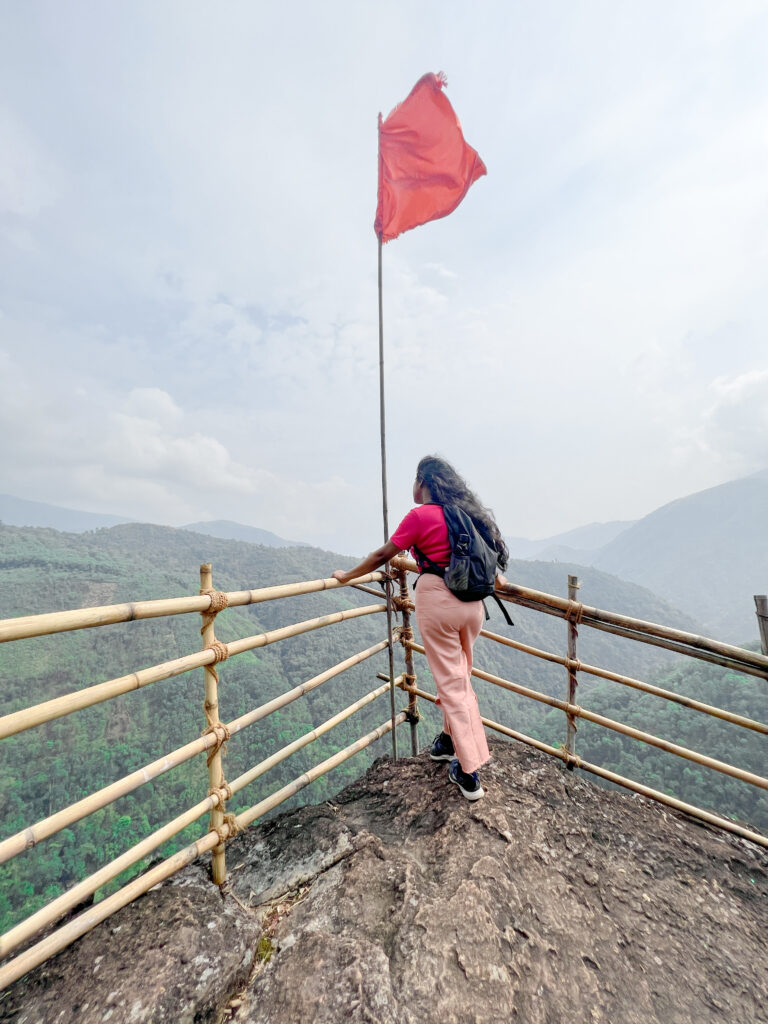 What to expect at Mawryngkhang Trek?
You will be surprised to see how beautifully and tactfully villagers have tied the bamboo and wooden ladders together with cane ropes at the edge of the mountain to navigate. The thrilling Mawryngkhang trek takes you to the legendary King of Stones of Meghalaya in Wahkhen Village.
There is a story behind this trek, as per the Khasi folklore two stones fell in love with a beautiful girl who belonged to a different kingdom. Resulting in a tremendous war between Mawryngkhang and Mawpator, where Mawryngkhang succeeded and became the King of Stones. The huge massive stones that you witness at the end of the trek echo the tale of Mawryngkhang's power, and force.
Tips for Mawryngkhang trek
Carry water and ORS
Do not try this trek during rainy season because the ropes can be loose which can result in accidents
DAY 6 – VISIT TO MAWPHANLUR VILLAGE- SHILLONG
Distance: 93.6 Km from Cherrapunji and 71 Km from Mawphanlur to Shillong
The sixth day brings us to the end of the trip and we checked out from the homestay at Cherrapunji heading to Shillong. However, on the way, we visit Mawphanlur Village, an unexplored place in Meghalaya.
The trip from Sohra to Mawphanlur Village is through clean roads, rolling hills, a city abode of cottony clouds and a heart full of memories. A little tingling sensation was running through me as I was amazed by the nature that was secretly captivating me.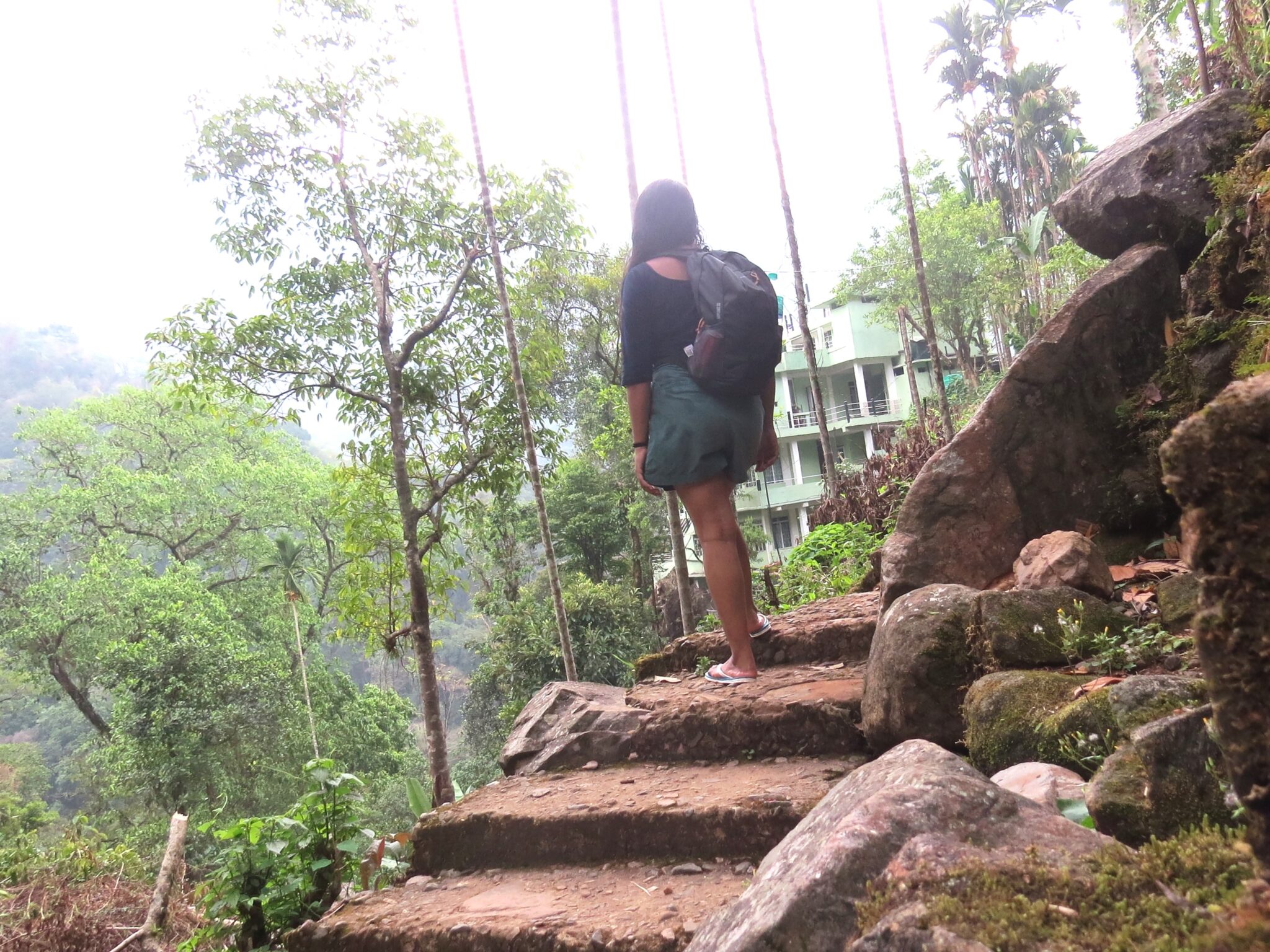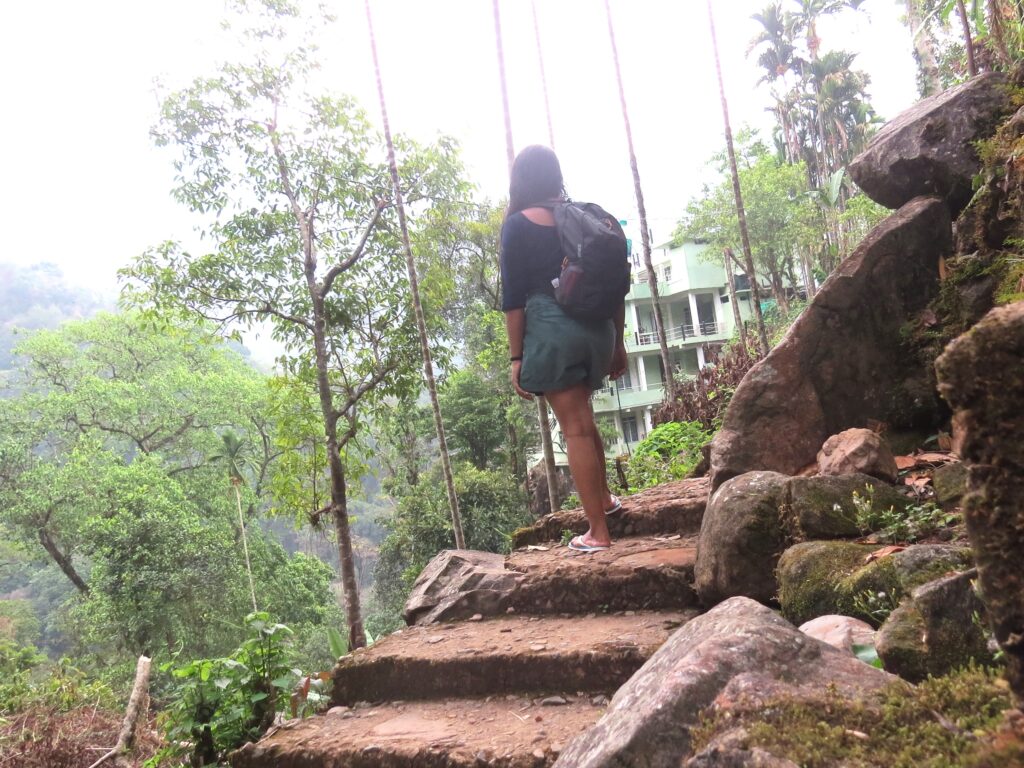 What to do in Mawphanlur?
Mawphanlur Village is a remote destination gifted with picturesque highland, idyllic rustic scenes, lakes and amazing natural portraits. You can also try kayaking or else I would highly recommend you to hike to Mawthadraishan to get marvellous views of the Eastern Himalayas with Khasi hills beyond them.
You should add Mawphanlur Village to your offbeat Meghalaya trip plan to end your trip in a more peaceful and relaxed way. After spending 3 hours, we returned back to Shillong around 4.30 pm and checked. After taking some rest we went to Police Bazar to have roadside food and finally end our exploration.
Tip to enjoy Mawphanlur Village
Make Mawphanlur Village an overnight trip to witness clear starlit skies and verdant scenery
DAY 7 – POLICE BAZAR-GUWAHATI-WEST BENGAL
The trip comes to an end and it's time to pack your bag and leave the beautiful city. Check out from the hotel and leave for Guwahati city to take your flights to your desired destination. Do not worry about transportation because there are a lot of options.
Either you can get a private car that would cost around Rs 2000- 2500 or take a shared cab that would cost 500 per seat. Remember to leave as early as possible because you may meet traffic on the way.
Conclusion
Most of the places mentioned above in Meghalaya have no public transport. These places are so remote that sometimes you will find no network. Moreover, the JIO mobile network was still working but the Airtel mobile network was so poor. Therefore, for an offbeat Meghalaya trip, it is always better to plan and design your itinerary beforehand.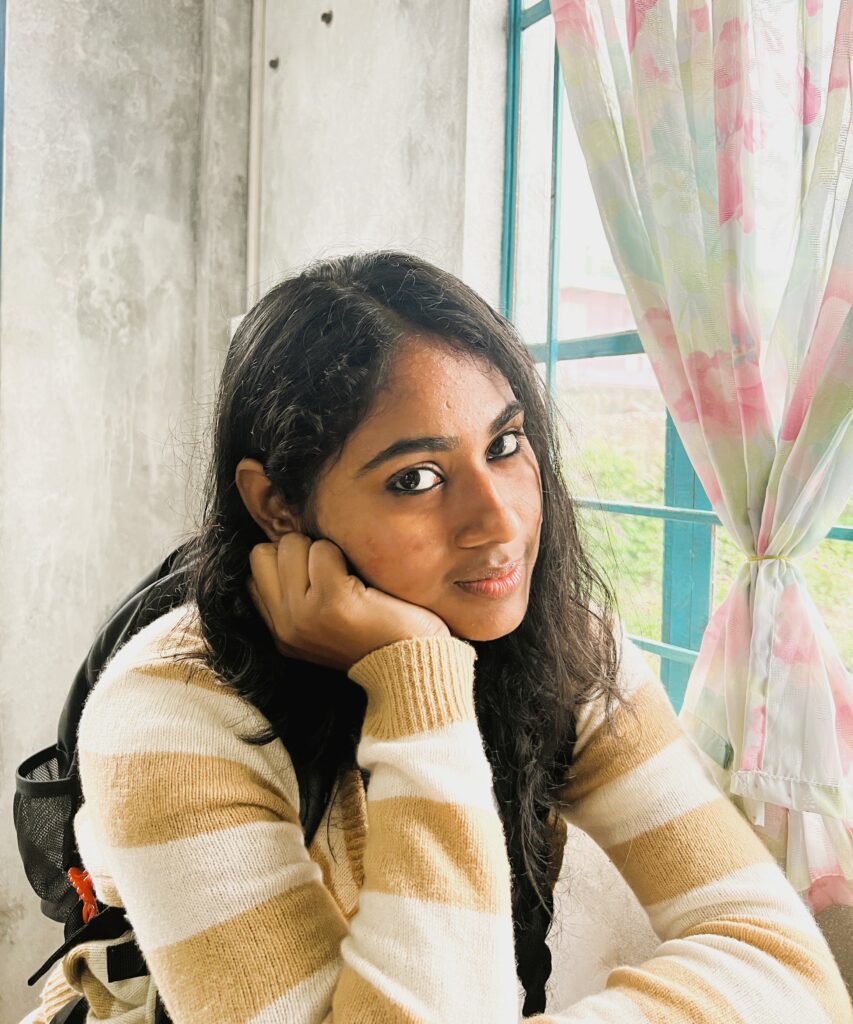 FAQ
How many days for the Meghalaya trip?
If you want to explore the whole offbeat Meghalaya then 15 days is necessary or else customise your plan for 7 days. However, you can also take a 3 days trip to Meghalaya but in that case, you won't be able to explore offbeat Meghalaya.
What things to pack for Meghalaya?
Always carry a good quality raincoat and a big umbrella. Also, carry a light sweater and some woollen clothes. Shillong Meghalaya trip is more about exploring, trekking, and hiking so carry comfortable clothes. Apart from clothes, carry waterproof shoes and good quality slippers.
Is Meghalaya worth visiting?
To witness the enthralling nature's wonders, Meghalaya is worth visiting.
How do I plan a Meghalaya tour?
Follow the above offbeat Meghalaya trip plan to make the most of Meghalaya trip.