9 Best Weekend Getaways in Florida for Couples
Do you know misaligned schedules, conflicting engagements, and lack of connection can result in an unhappy relationship between couples?
I am not scaring you but telling you the bare truth. You have to work on the project of unplugging yourself from work and spending time with each other.
The magical weekend getaways in Florida for couples are perfect to strengthen your love and make the relationship healthy.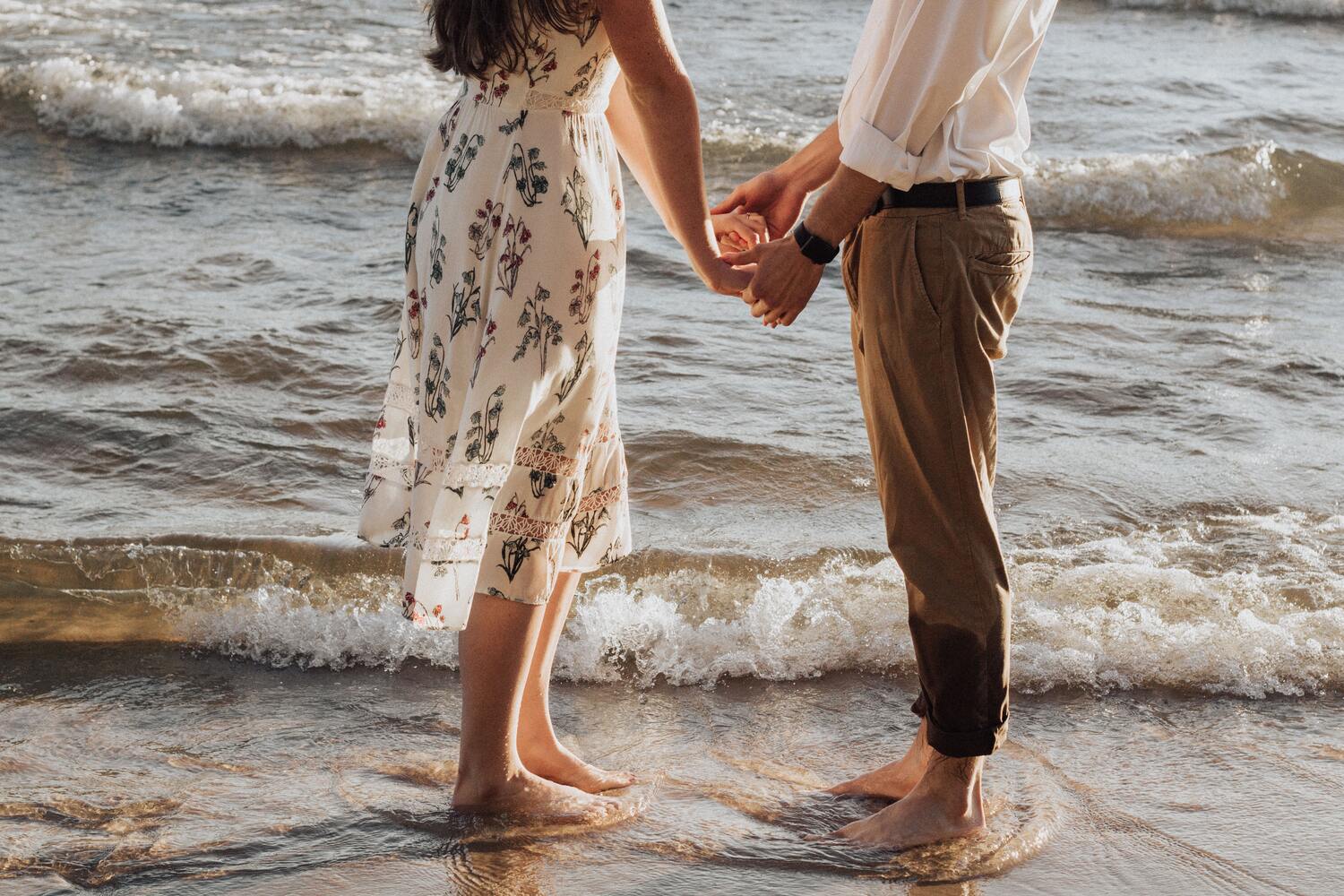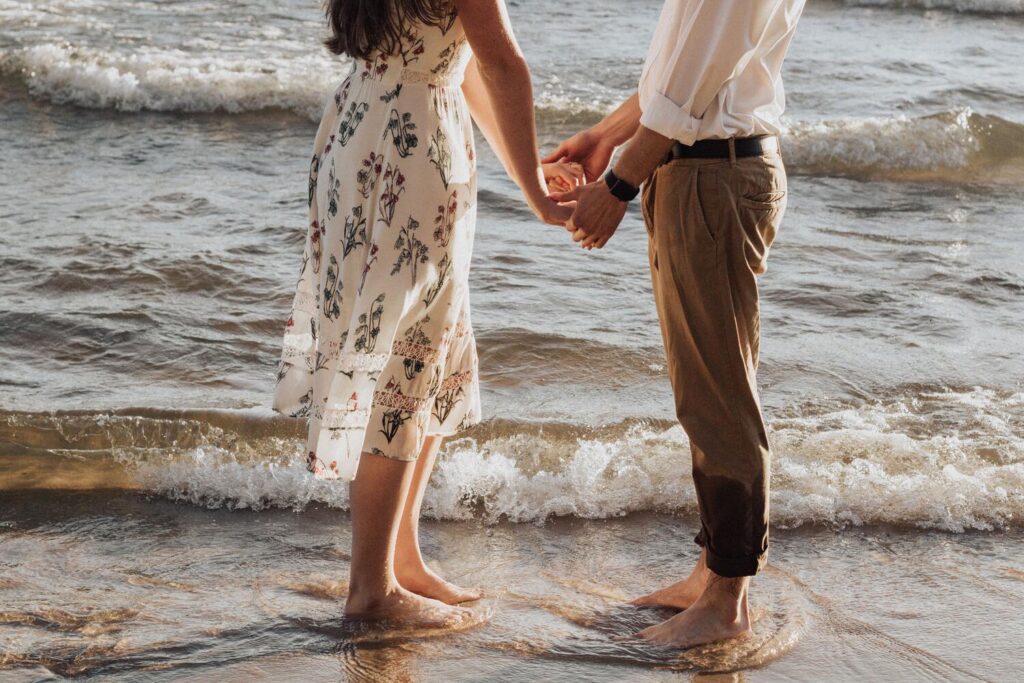 The Sunshine State is gifted with awesome beaches, good weather, stunning places, and peaceful getaways. Every place looks incredibly gorgeous!
Since every place looks gorgeous, this can be overwhelming. The first time when I visited Florida, I didn't know where to start or what to do.
Therefore, being a friend, I will tell you the best weekend getaways in Florida for couples that offer tons of awesome activities to learn and perform.
read: 17 Best Pet Friendly North Carolina Beaches
Best Weekend Getaways in Florida for Couples
Connect with your sweetheart in these unique weekend getaways in Florida!
Walking along the market or small dances on the empty road or buying small necklaces or having dinner at a roadside cafe. Everything makes special!
When you are in love, all these small things make a huge difference. However, there is no harm in taking a little effort to make the other person feel loved.
So, this blog is a complete guide on the most romantic weekend getaways in Florida for couples.
Let's get into it.
Read: North Carolina To South Carolina Road Trip Itinerary
Collect shells and swing in Cayo Costa
Cayo Costa offers the solitude and wilderness you always dreamt of with your partner.
Cayo Costa State Park sits west of Fort Myers where you won't find crowds and a lot of hammocks by the beach to swing and make memories.
Along the Gulf of Mexico nearby Pine Island, Cayo Costa is an unexplored place surrounded by acres of pine forests, mangrove swamps, and a shady picnic area.
Cayo Costa is one of the best weekend getaways in Florida for couples to relax, spot dolphins, and osprey, walk over 9 miles on a beach and have the best time.
I was so happy when I reached here and got the best rustic cabin facing the beach. In the early morning, I spot plenty of shorebirds. Can you imagine such a view?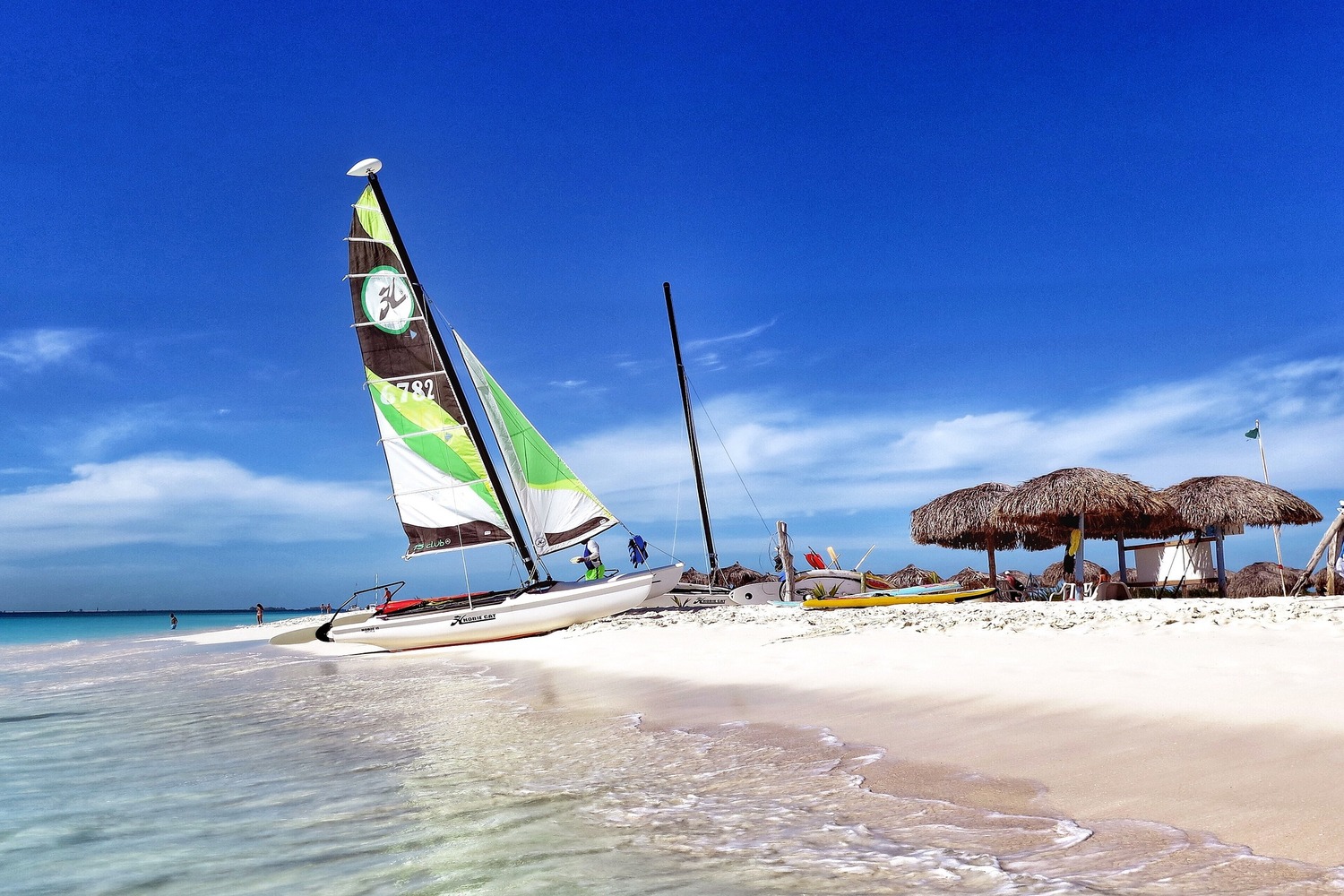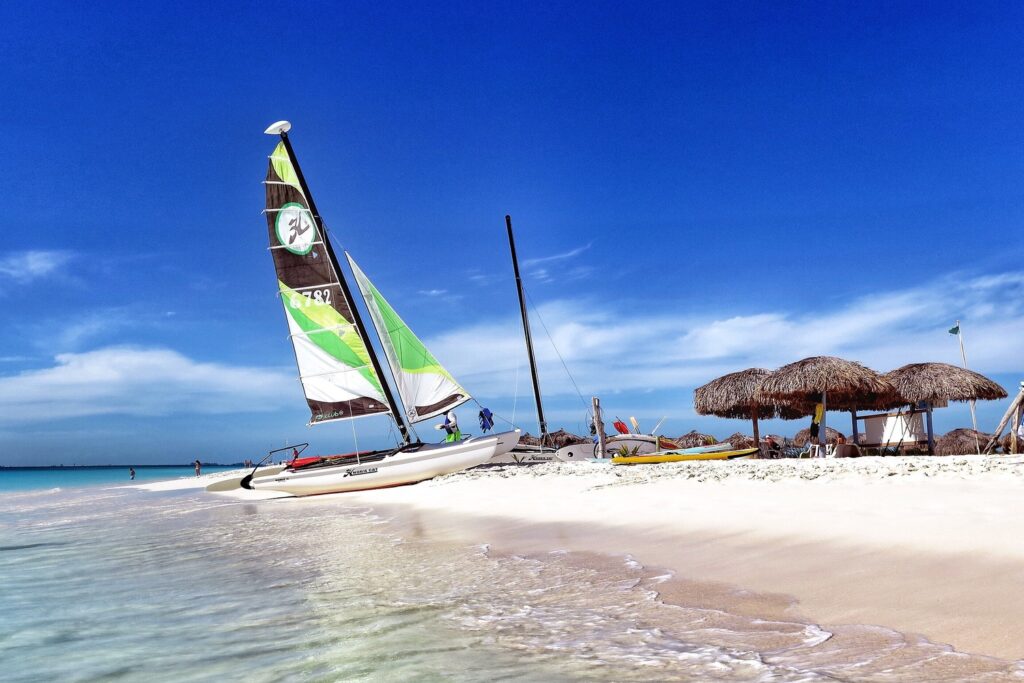 Also, I was awe-struck to discover different types of shells along the shores of Cayo Costa. I spot a large living conch shell too.
Long walks into the thick Australian pines, tanning, and shelling in Cayo Costa should not be missed!
Read: 11 Best Christmas Towns In South Carolina 2022
Cayo Costa: Romantic weekends in Florida for couples
Discover the coasts of Cayo Costa brimming with white sands and dramatic blue water which is as clear as glass. Go to Boca Grande pass at the north and Saltwater lagoon at the south
In the early evening go to Pioneer cemetery for a spooky experience with your partner.
Swing on the hammock at the Inland Trails to take the perfect instagramable photo with lush hardwoods and a shady beach
Tips for Cayo Costa: Best Florida weekend getaways for couples
Cayo Costa is only accessible by boat. From Bokeelia, it will cost you $35 – $45. However, there are a lot of ferry services running to Cayo Costa from several mainland locations at various costs
There are 12 rustic cabins for overnight stays, so pre-book before coming here. They have 6 bunk beds with a plastic-covered mattresses For one night you have to pay $36. Camping is allowed only in designated sites
No WiFi and a lot of bugs, and snakes. Therefore, carry repellents, and be careful
You have to take a boat to Cayo Costa State Park for shelling. There's no special name for this beach but what I can say is it is long and secluded. The cost is equivalent to the cost of the Cayo Costa ferry
Pack your food and water from home. Cayo Costa has no restaurents
Bring dollars and not cards
Pack very little because you have to load onto a boat then on the tram and then to your cabin on the campsite
Witness the dramatic sunset at St. George Island
Unwind yourself at the most paradisiacal oasis of Florida – St. George Island
A 30 miles long quite unspoiled beach in the Gulf of Mexico, St George Island is the best weekend getaway in Florida for couples.
The un-crowded beach offers you the privacy with your partner to click romantic pictures, swim, shell, castle-building, and relax without constant grazes.
St. George's serene environment and pristine nature with extraordinary wildlife to spot, simple yet charming cottages to gulf-front homes make everything so perfect.
The calm bay, turquoise water and sugary white sands paired with fresh seafood make St. George one of the ideal romantic getaways in Florida for couples.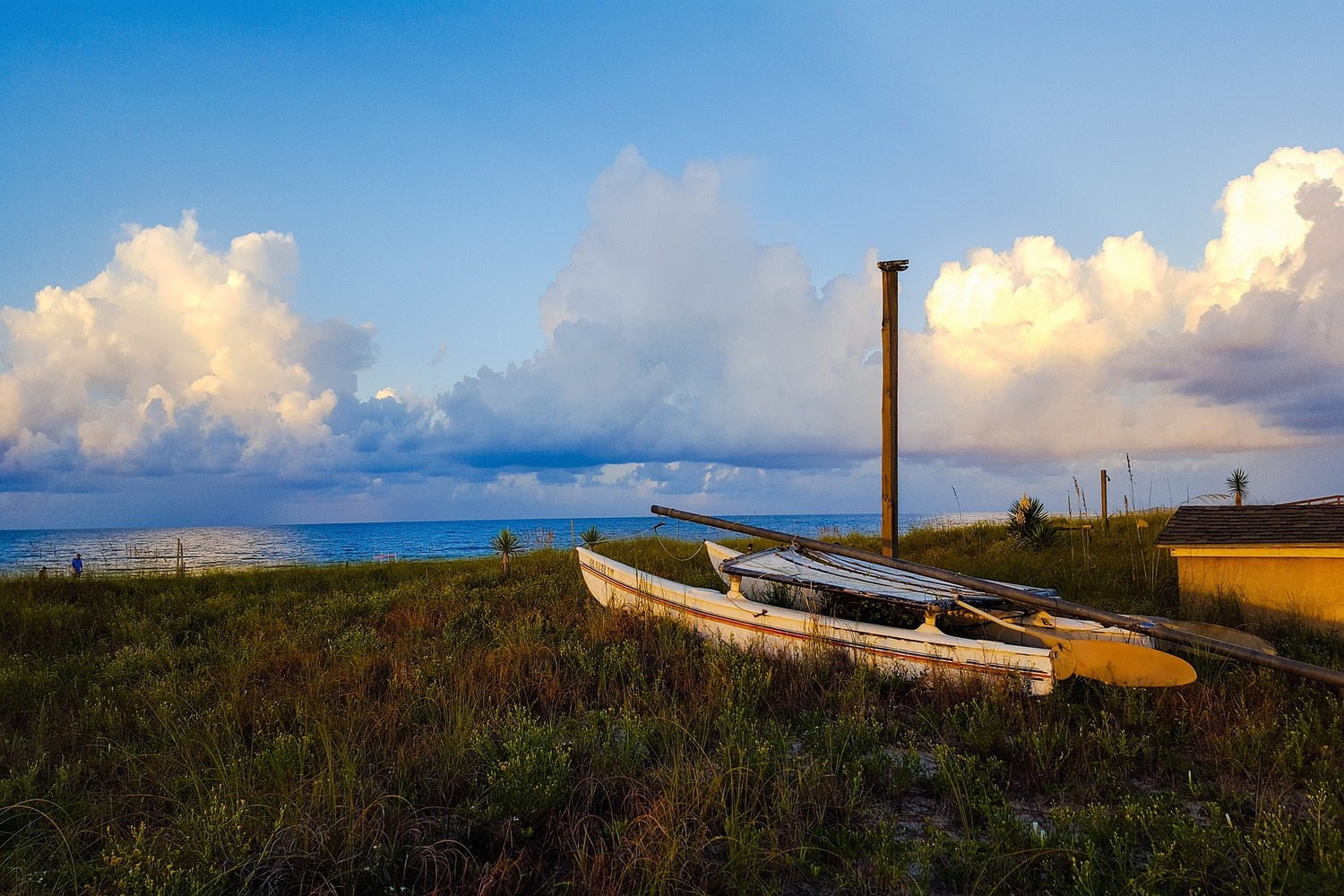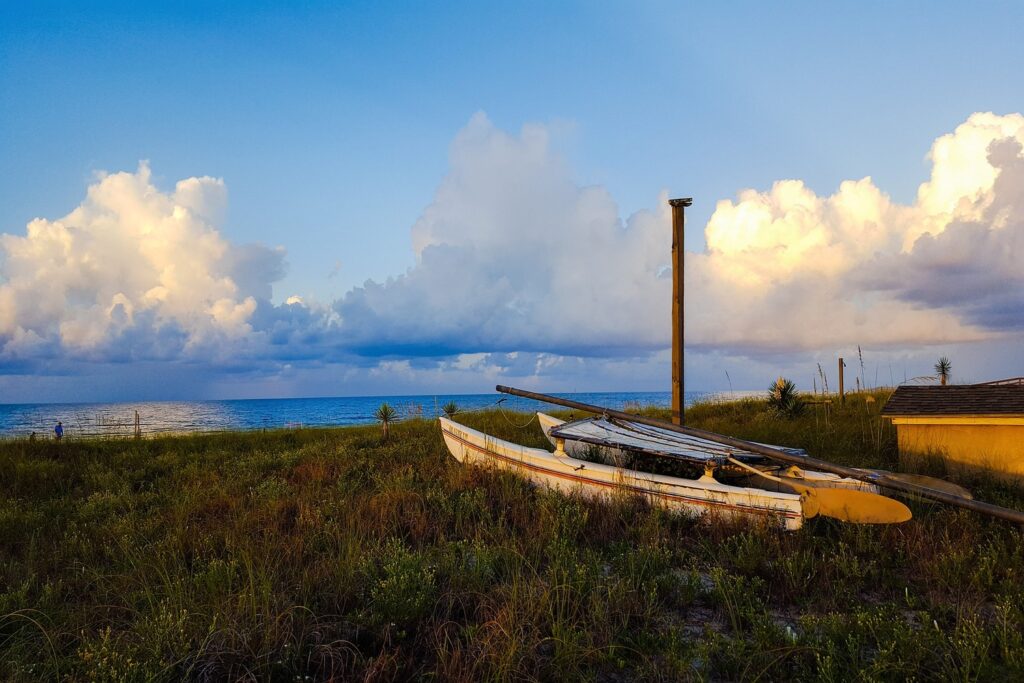 I came to St. George Island with my dog, Barlie and was so happy to find out that he was not only allowed but received a lovely welcome from everyone.
Take your partner and go for the East Slough Trail hike to get a bird's view of the gorgeous St. George Island.
Read: 9 Best Places For Christmas In North Carolina
St. George Island: Romantic weekends in Florida for couples
Dance with your partner to the beats of live music and don't forget to be as romantic as you can! Every Wednesday at 7 pm there is live music at Harry A's Bar and Grill which is must visit the place on St. George Island. If you can come here during the summer and fall seasons to take part in Rock By the Sea Festival event. Also, every March there is a Chili Charity Cook-Off event where thousands of chilli lovers visit St. George Island.
Give sweet treats to your lover and pack the tasteful lemonade doughnuts from Weber's Little Donut Shop at St. George Island.
Rent a bicycle from a local shop and explore the island. Check out the dunes, and salt marshes and pedal down the Big Bend Scenic Byway Coastal trail.
Come to St. George Island's lighthouse and climb up the stairs to reach the top of it and enjoy the air, the view and the love around you.
Visit Blue Parrot Oceanfront Café in the evening to witness the best sunset with frozen mango daiquiri on hand. You can also take your girlfriend to Aunt Ebby's Ice Cream.
For some unique yoga therapy books, a slot with Island Fit Stand Up Paddleboard & Yoga. Have some water experience yoga at St. George Island
Come to fishing at Bob Sikes Cut, a channel that separates Little St. George Island and St. George Island. Also, bring your binoculars you will spot hundreds of migratory birds
Have you forgotten to shop? Visit Seaside Cotton, one of the charming shops to buy souvenirs
Picture courtesy: meggoelz
Tips of St George Island: Best Florida weekend getaways for couples
Rentbikes, kid bikes, tandem bikes, golf carts, kayaks, and SUP's from Island Dog Outdoors. And, for beach gear visit Island Adventures. They offer good products at a really good price
St. George Island is one of the best pet-friendly beaches in Florida. Just be ready to meet dogs of various sizes and breeds
There are a lot of rental options in St. Georgia Island but remember to book in advance
Surround yourself with the nature of Ocala National Forest
Explore the glorious woods and fresh greens of Ocala National Forest,
the third-largest national forest.
Do you Ocala Forest is a hidden gem in Marion County? It is one of the best weekend getaways in Florida for couples to explore the raw natural beauty.
This is 387,000 acres of forest, home to more than 180 species of flora
and fauna surrounded by lakes, rivers and springs and breathtaking views.
I have visited Ocala National Forest 4 times; the sand pine, flatlands,
natural springs, palm oases, cypress-studded wetland and the entire ecosystem is mesmerizing.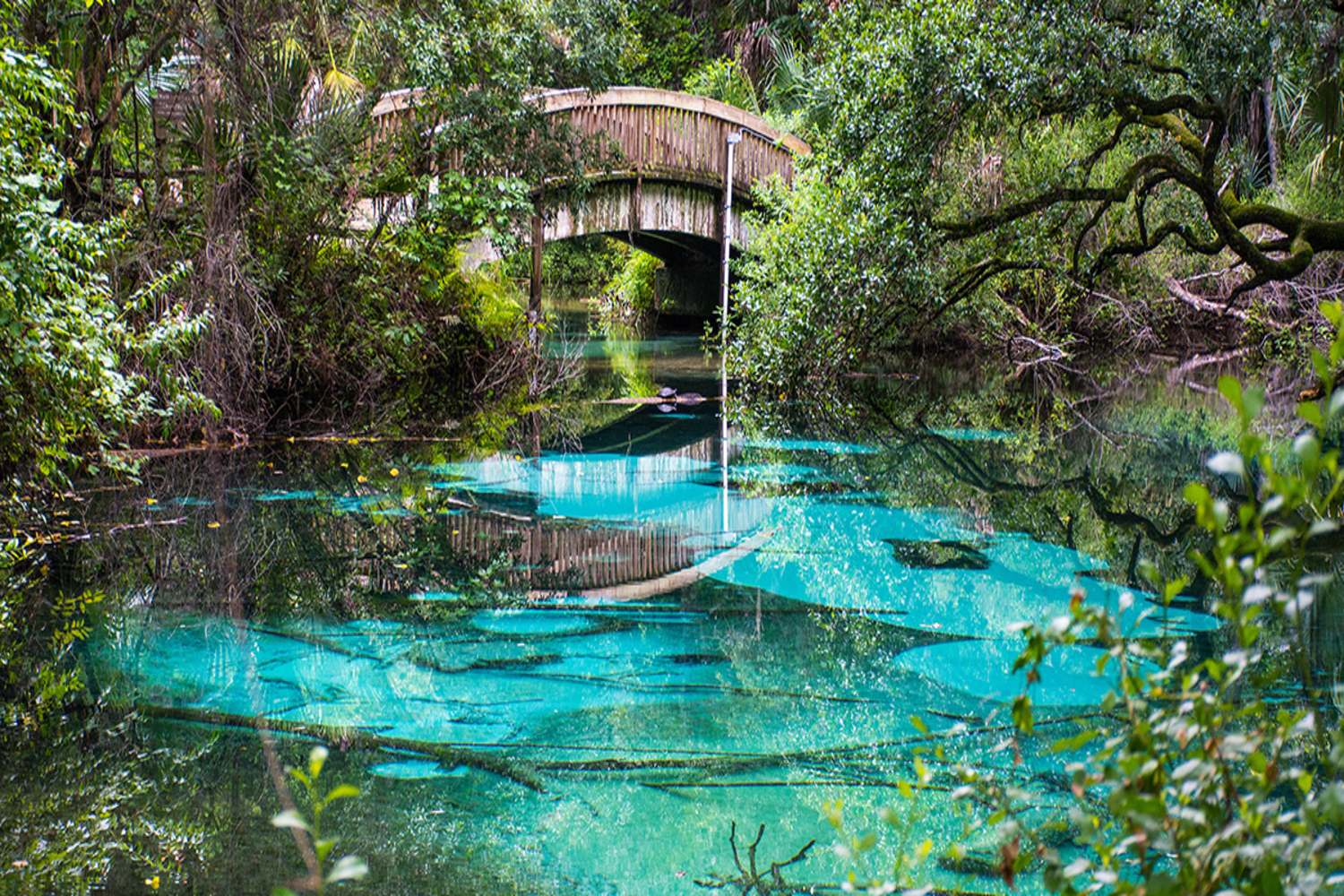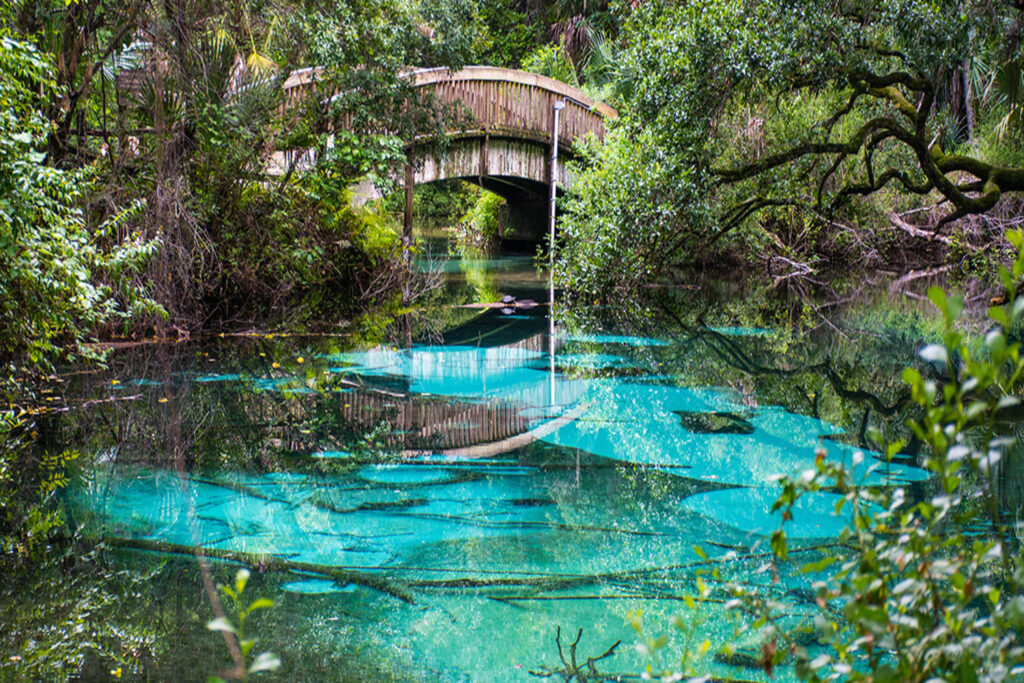 Picture Courtsey: fs.usda.gov
Ocala National Forest: Romantic weekends in Florida for couples
Camp at Juniper Springs, the oldest springs on the east coast. This site is a magnet for nature lovers to enjoy canopies of palms and oaks as shelter and sound-bubbling water
Both of you enrol yourself at Ocala Public Shooting Range run by Wildlife and Sport Fish Restoration Program (WSFR) to learn a new skill or improve an old one. There are shotguns, rifles, and handguns
Go hiking along the St. Johns River to witness the magical nature's creation. The tall palm trees, sand hills, oaks, hardwoods, and so more. Because of this Ocala National Forest is known as Dark Sky Park
Did you forget Alexander Springs? On the way to Florida National Scenic Trail, you will find this freshwater spring where you can take out your swimsuit and dip into the water
Sit on the horseback and go for a ride. Yes, you can ride a horse and Ocala National Forest has a designated horseback riding trail
Tips for Juniper Springs: Best Florida weekend getaways for couples
At Juniper Springs There Is Electricity, So No Worries For Campers. However, Fishing Is Not Allowed Because That Can Harm Natural Habitats Like American Eel. The Water Temperature Is Around 72 Degrees
Come to The Salt Springs Recreation Area, an offbeat spring in Ocala National Forest. This Salt Spring is the best Florida weekend getaway for couples. the rich minerals that are carried to the surface from underground aquifers make it so good for health
Read: 10 Best Places To Visit In South Carolina In Winter
Travel to the underwater world at Ginnie Spring
You will experience love in the air, or should I say, love in water – Ginnie Spring
One of the greatest natural wonders of Gilchrist County, Florida is Ginnie Spring where you can witness seven natural springs. The water is crystal clear!
Also, nature has made such magic while creating Ginnie Spring's limestone that there are tons of underwater caves for scuba drivers to explore beautifully.
Ginnie Spring's scenic beautyis unforgettable and I would rank it as one of the most affordable and best weekend getaways in Florida for couples.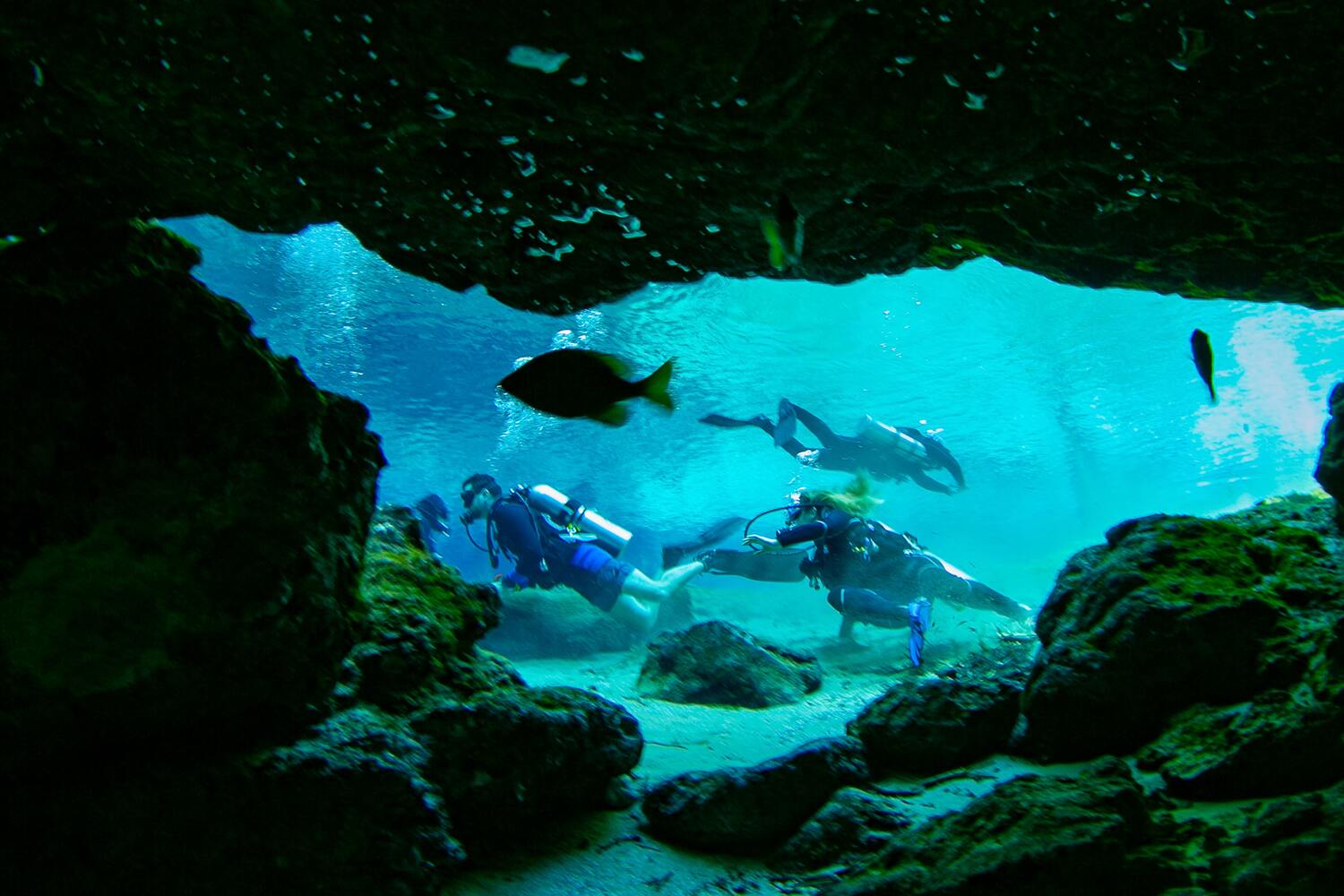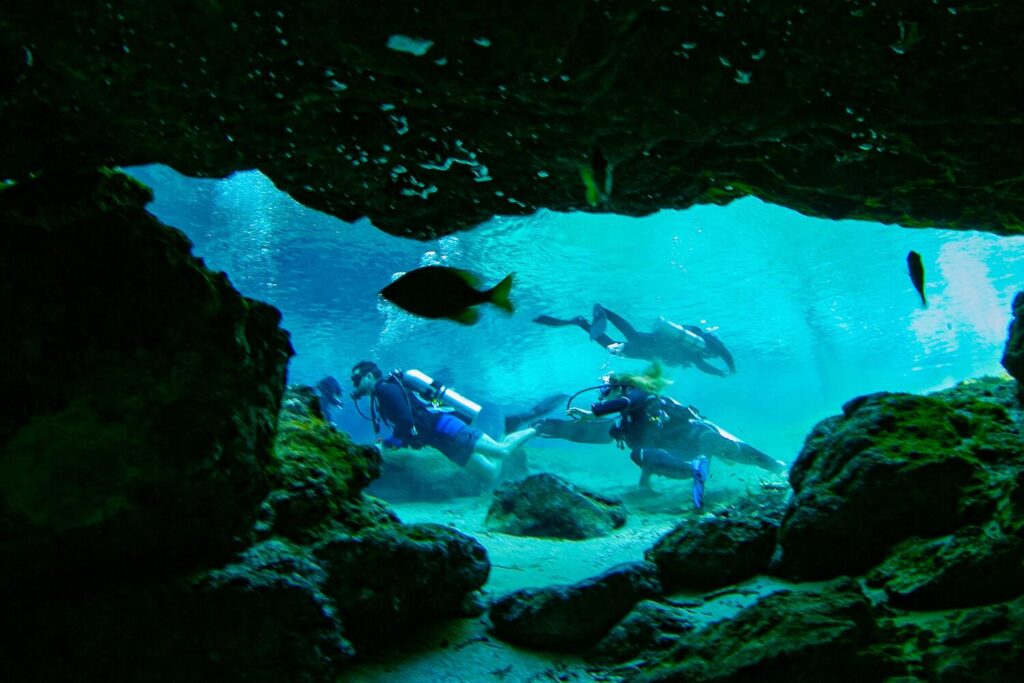 Ginnie Spring: Romantic weekends in Florida for couples
Bring all your underwater equipment, gear, and swimsuits because swimming, snorkeling, scuba diving, and kayaking are a must in Ginnie Spring. You will spot turtles, bass, catfish, mullet, and other aquatic fishes.
Tips for Ginnie Spring: Best Florida weekend getaways for couples
To enter Ginnie Spring you need tickets because it is privately owned. For a daily pass between Thursdays to Saturdays in the summer season, the fare is $19.40. On a normal day from Sunday to Wednesday, the fare is $14.00. A child between 6- 12 needs to buy tickets for $3.00
Swimming and snorkeling is a great ideas in Ginnie Spring but aware of its temperature. It's cold and therefore get the wetsuit
If you do not know how to swim then float on the river. Tubing with your partner is so romantic. I would suggest flowing along the Santa Fe River, Devil's spring, and Twin Spring
You can stay at Holiday Inn Express &Suites Alachua – Gainsville Area getting all the amenities. However, I would suggest to camp in the onsite campgrounds. There are 123 camps with electricity and water on supply. You can bring your RV too
Ginnie Spring is a type of party spring so you can see people drinking around you
Spark up the romance at Lovers Key State Park
With the Gulf of Mexico as a backdrop and sugar sand between your fingers, don't you want to fall in love again?
Southeast of Fort Myers Beach sits a 712-acre park called Lovers Key State Park which is famous for being one of the affordable romantic weekend getaways in Florida.
With Long Key, Black Island, and Inner Key, Lovers Key is the main barrier island making it one of the remote beaches for couples in Florida.
You can hold his hand look into his eyes and just get lost in the surrounding. Also, you can spot West Indian manatees, dolphins, marsh rabbits, shore birds and more.
Picture Courtsey: oceanwideexplorer
Lovers Key State Park: Romantic weekends in Florida for couples
Just chill at the Lovers Key State Park, a secluded paradisiacal and one of the greatest weekend getaways in Florida for couples. Watch the sunset together and forget everything. Just be in the moment! Do not forget to click a perfect couple of pictures with twigs, creepy crawlies, a boat, powdery white sand, and the ocean as the backdrop. Also, collect a few shells!
Hike to Black Island Trail, the popular 2.6-mile loop trail to enjoy the view from the top
Do you know that Lovers Key State Park is listed among the top 15 places to spot peaceful creatures? You can spot trout or barracuda. Be aware of alligators too. You can kayak to Estero Bay and just be old fashion couple. Rent equipment from Lovers Key Adventures and Events
In 2021, a Discovery Center has been opened to educate visitors on the history of the island and exhibit artistic books, handmade pieces of jewelry, and knick-knacks
Tips for Lovers Key State Park: Best Florida weekend getaways for couples
Lovers Key State Park is not dog-friendly
The entrance fee per vehicle is $8, for a motorcycle with a single occupant is $4 and by bike is $2
You can ride a tram or walk 10 minutes to reach the parking area of Lovers Key State Park
There can be red tide in Lower Key State Park therefore, check the current conditions on Google before heading
Sunshine is delicious at Cocoa Beach – Soak in the yellow light
When the sun peeks out of the clouds, let it tan you because sunshine at Coco Beach is free!
In Brevard County sits Coco Beach, one of the best weekend getaways in Florida for couples offering the best sunshine and sand galore!
The cities of Cocoa Beach and Cocoa are separated by the wide Banana River, there are no skyscrapers, therefore, making the beach ideal for travellers.
The subtropical breeze and soothing waves make Cocoa Beach ideal for water sports. On the other hand, it is also home to famous industries.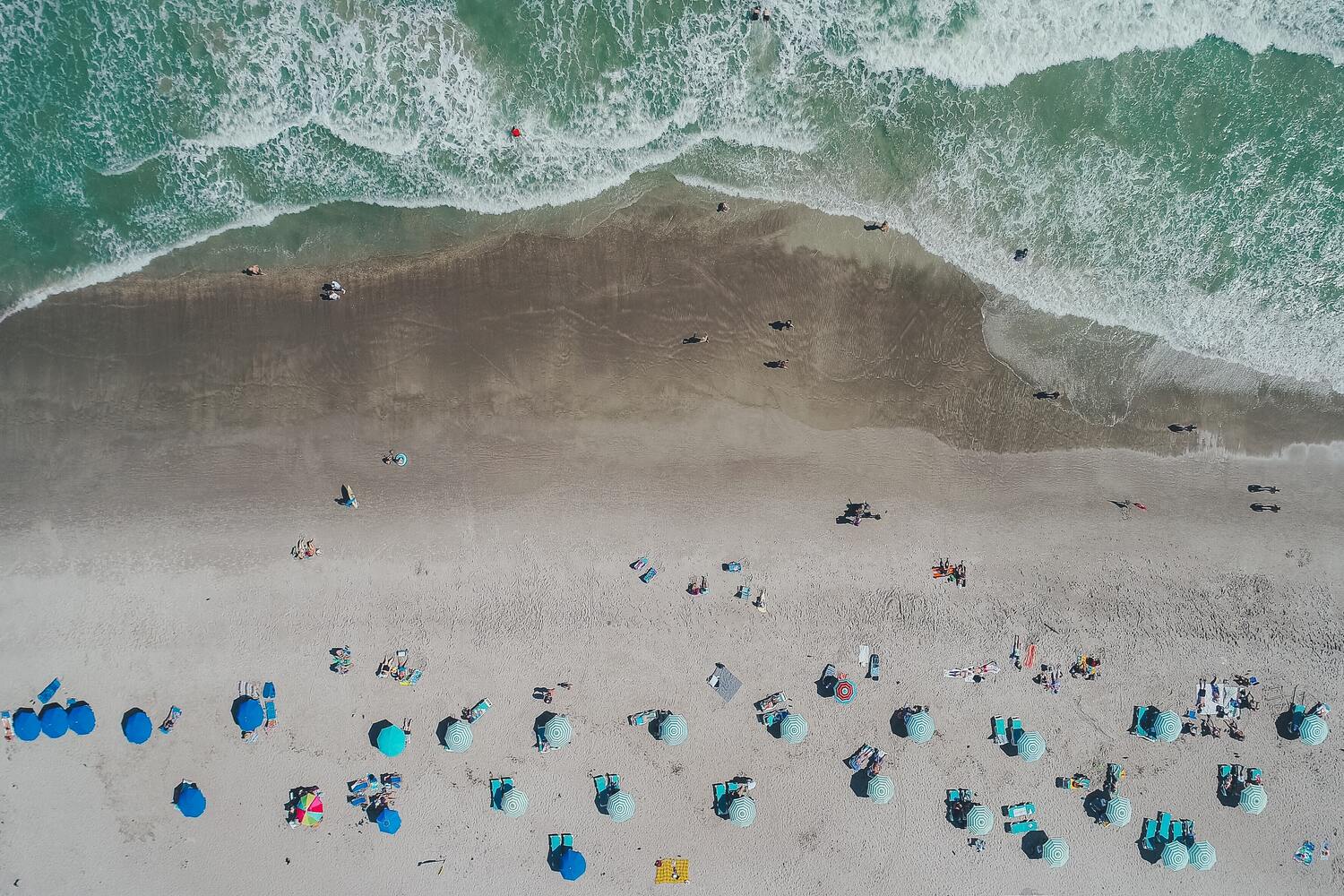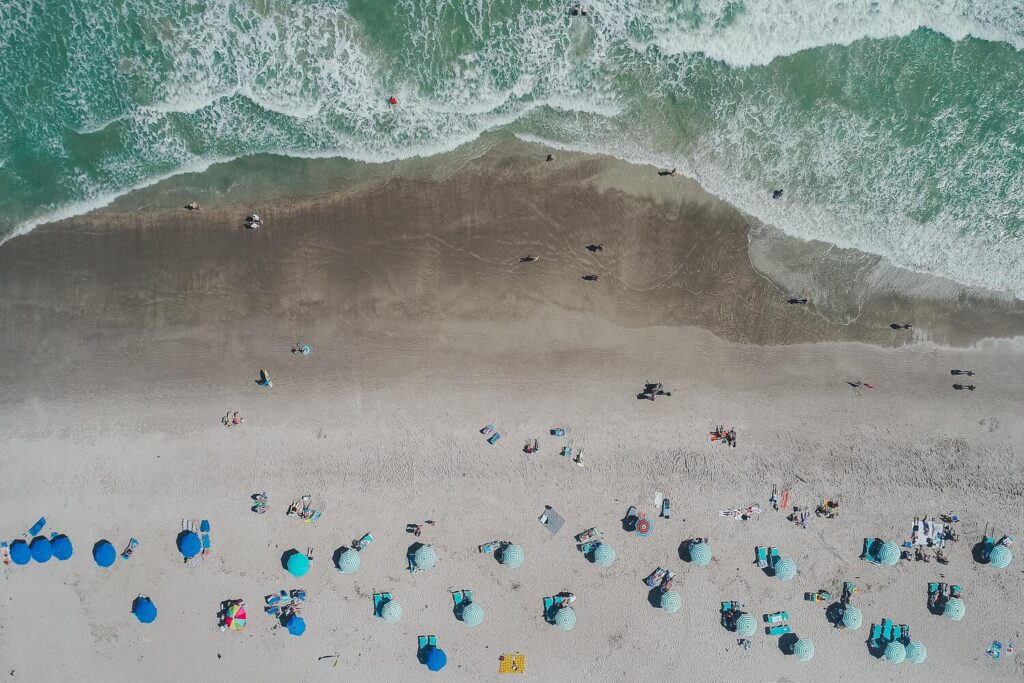 Cocoa Beach: Romantic weekends in Florida for couples
With more than 70 miles of shoreline, Cocoa Beach is home to the best waves. Come to Cocoa Beach Pier, here you can hit the waves, surf, or play beach volleyball with your lover
Peer into the galaxies from the Kennedy Space Center. Learn more about Earth's orbit, moon, space, and other celestial bodies. The display of artifacts, rockets, and space-related small movies gives you a golden chance to experience so many new things
A small trip to "historic" Cocoa Village is a must during your visit. The place, heritage ambience, buildings, colorful doorways, windows, and the surroundings give you vibe of the mid-19th century
Have food and enjoy live music at Coconuts on the beach. Do not forget to ask your girl hand to dance to the beat
Tips for Cocoa Beach: Best Florida weekend getaways for couples
Parking fee for a car is $15 for non-residents and $5 for residents of Brevard County
Dogs are allowed only between 4th street south to the north side of Murkshe Park. You cannot take your dog to the beach
Witness gorgeous vistas of Rock Springs & Wekiwa Springs State Park
Click some water reflection pictures with your partner like no one before at Wekiwa Springs!
In Kelly Park sits Rock Springs one of the unique weekend getaways in Florida. It flows downstream 8 miles and later merges with another river called Wekiwa Springs.
From the River, the springs bubble up from the underground vent at the rate of 26,000 gallons/ min. The water is always 68 degrees without any change. All natural!
Rock Springs is also called Orland's natural lazy river. Do you why? There are absolutely no harsh waves and this makes it perfect for tubing.
In Orange County sits the Wekiwa Springs State Park, all-natural brilliant blue water making it perfect to swim and float.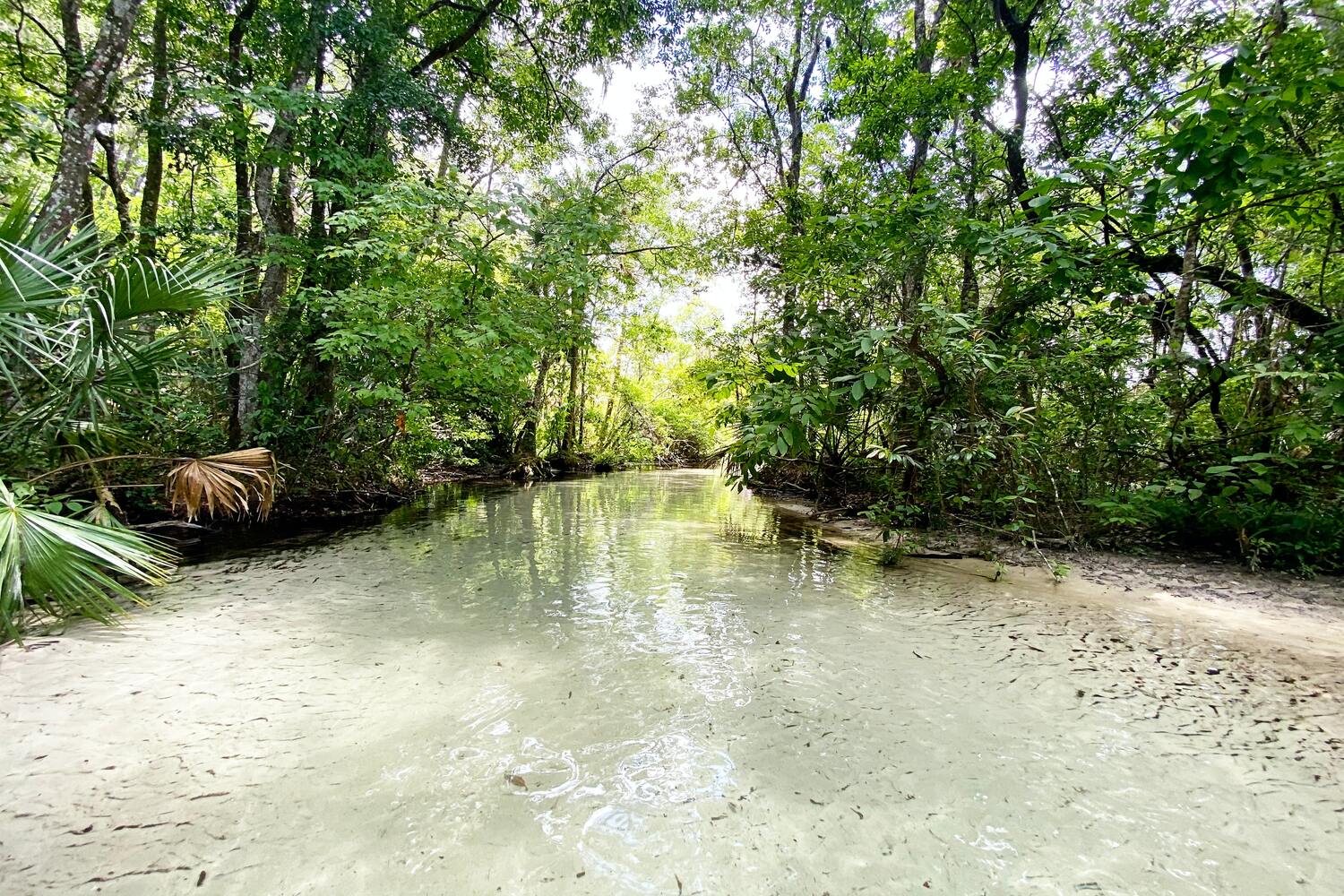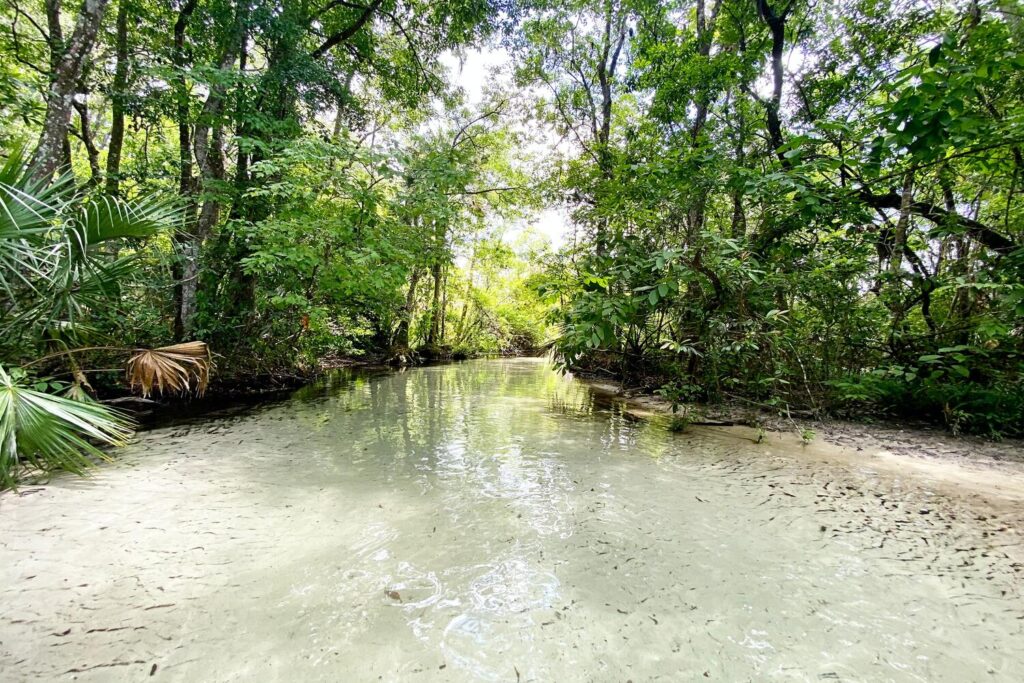 Rock Springs: Romantic weekends in Florida for couples
Tubing is a popular recreational activity at Rock Springs proving you ample opportunity to chill and have fun with your partner
The beautiful oasis is covered with trees making it perfect to sit and converse with your partner for hours
You can hike to Sand Beach or follow the map and visit "Spring Head". There is a picnic area too. Just chill!
Tips for Rock Springs: Best Florida weekend getaways for couples
Just pay $3 and $ 5 for a car of 2 people and 8 people respectively to enter Rock Springs. As I said, Rock Spring is a very affordable romantic weekend getaway in Florida for the couple
I would suggest bringing your tube from home for tubing. Why I am saying this because you can rent only from outside Kelly Park and there are limited. There is nothing inside the park
Ride around with pool noodles. The pool is perfect
Canoeing and kayaking happen down at Kings Landing
No drinking or liquor allowed. Pets are also not welcomed
During high season pack your bags and come as early as possible because by 9 Am the gates would be closed. Only 280 cars are allowed inside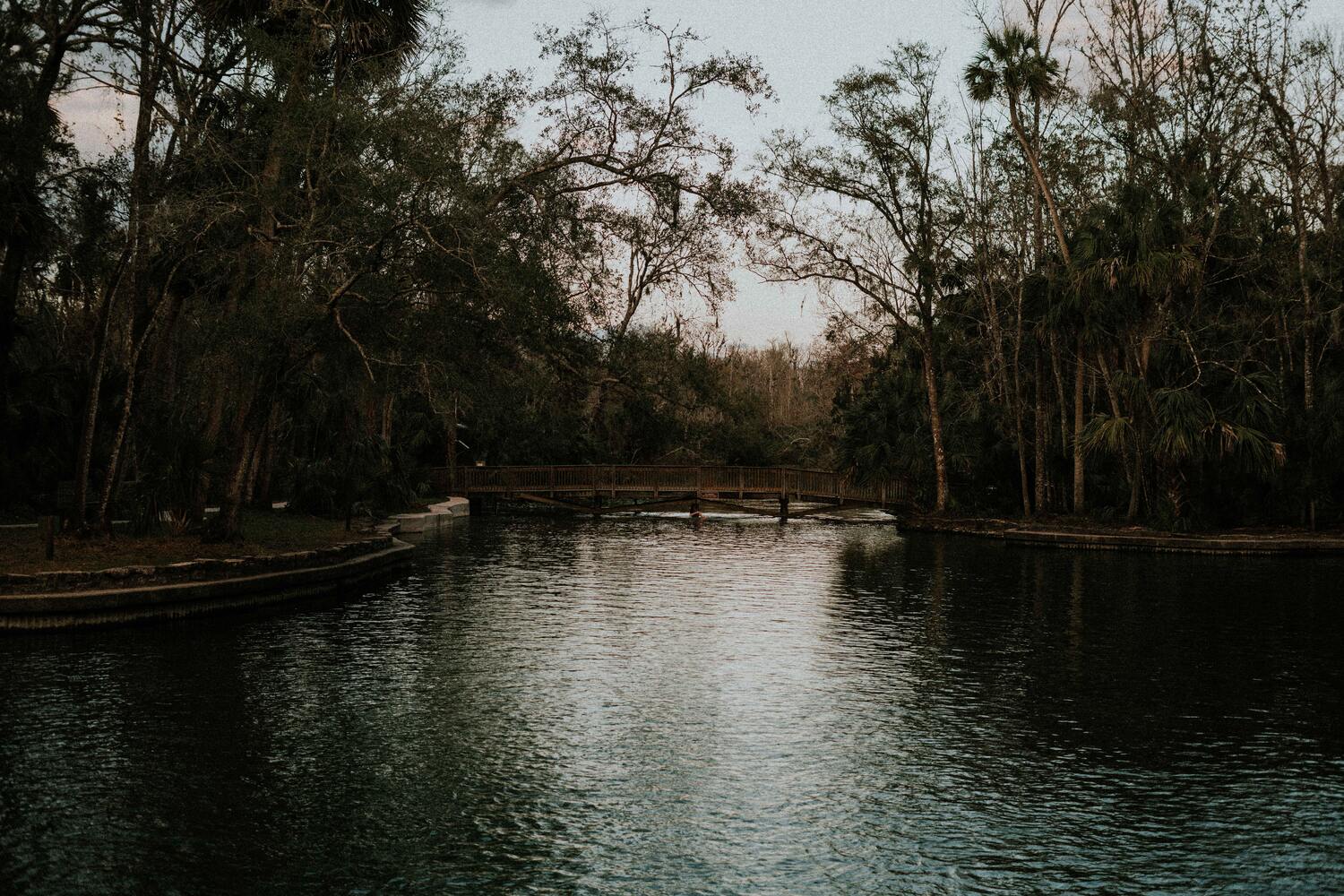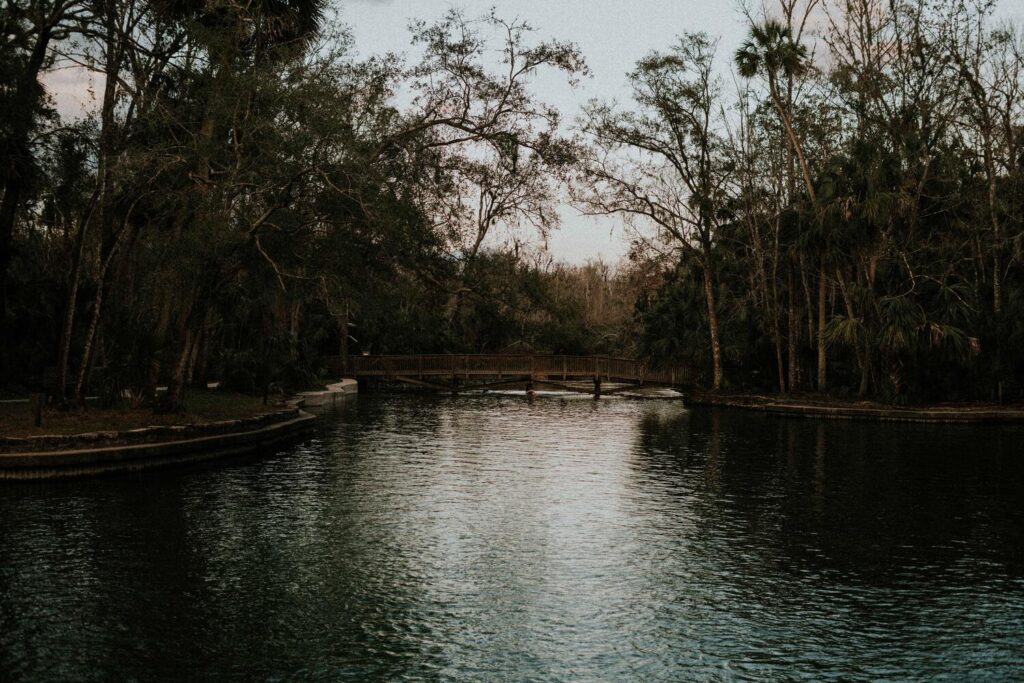 Wekiwa Springs State Park: Romantic weekends in Florida for couples
Camping at Wekiwa Spring State Park is a beautiful thing to do to enjoy raw nature at night and early morning. The vehicles are 50 ft in length and dogs are welcome if you abide by the rules and policies. Apart from this, there are 60 camps on the ground with all the amenities
Under the green canopies kayak as much as you want
Go hiking on Orange trail, and White trail covering the spring, sandhill, hardwood, mesic flat woods, river swamps and nature. While hiking you can see a variety of bird species, white-tailed deer, turkeys, and also some rare species
Tips for Wekiwa Springs: Best Florida weekend getaways for couples
The fee of Wekiwa Springs is $120 yearly for 6 people. The spring is open from 8 am till sunset. Wekiwa Springs is the best weekend getaway in Florida for the couple at cheap rates. Moreover, for 2- 8 people parking fee is $6 (one-day pass).
Stay at the swimming section because the sign greets about "alligators and other wildlife may be preset"
Bring plenty of drinking water
Participate in adventurous activities at Amelia Island
Amelia Island never ages for lovers. The universe gives you the chance to ride a horse on the beach be loud, messy and playful all with your lover by your side!
With sparkling quartz beaches pristine nature and secluded charms in the air, Amelia Island is one of the best weekend getaways in Florida for couples.
Just near Jacksonville, you will find 13 miles long island surrounded by the Atlantic Ocean, 60 feet sand dunes, and practically designed for outdoor recreation.
I spend days in Fernandina Beach and Amelia Island exploring its beauty and some authentic local foods. I was up for boating, horse riding, hiking, and exploring.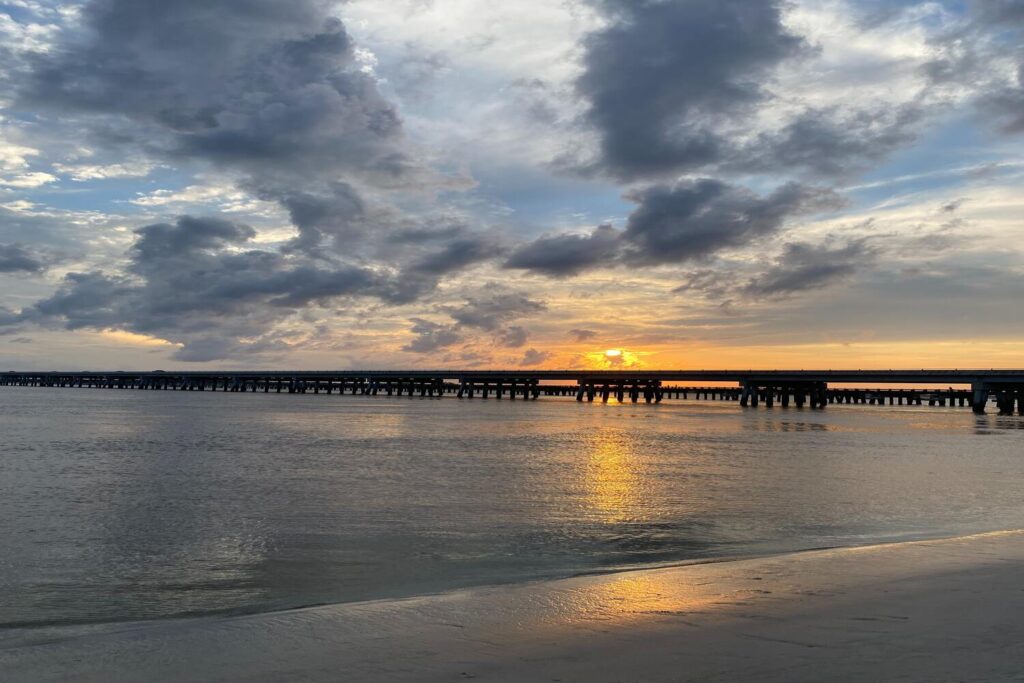 Amelia Island: Romantic weekends in Florida for couples
The surrounding of Fort Clinch State Park is so colorful and romantic that it feels like you have used a time machine to reach the 1990s. The stunning landscape, blooming pink flowers, oak trees, and the broad beach are perfect for walking with your partner's hands in hand. You can go for six miles long hiking trail or sit to spot a lot of birds
Go to Amelia Island's northern part, Fernandina Beach which is one of the most fascinating spots for couples. The 13 miles gorgeous beach with crystal clear water is the perfect antidote for interesting weekend getaways in Florida
Sit with your partner by your side and challenge him to spot share teeth from the shores. This will be really fun because it is hard to spot white treasure from white sand
Visit Timucuan Ecological and Historical Preserve to witness get a sneak peck of French history. Therefore, Amelia Island is a true gem and the best weekend getaway in south Florida for couples
Dine at the award-winning Salt Restaurant, the famous Ritz-Calton Hotel. The food not only steals her heart but creates the best memory for talking to her here
Tip for Amelia Island: Best Florida weekend getaways for couples
For Special Moments, Come To Amelia Island On Special Events Like The Isle Of Eight Flags Shrimps Festival (May), Right Whale Festivals (November), And On Concours Week (March)
Fuel your car and drive down to Key West
Don't confuse your daily hustle with your life. Your "daily hustle" isn't your life. It's just a part of it. So, seize the day my friend…
Drive down to the Florida Keys enjoying the eccentric bohemia charm, hawking beaches, turquoise flashes of nature, and dazzling roads, all with your partner.
For the search query of the best weekend getaways in Florida for couples, I would recommend starting from Key Largo to Key West.
This 113 miles journey will surely change your life. Take a stop along the way and enjoy the journey.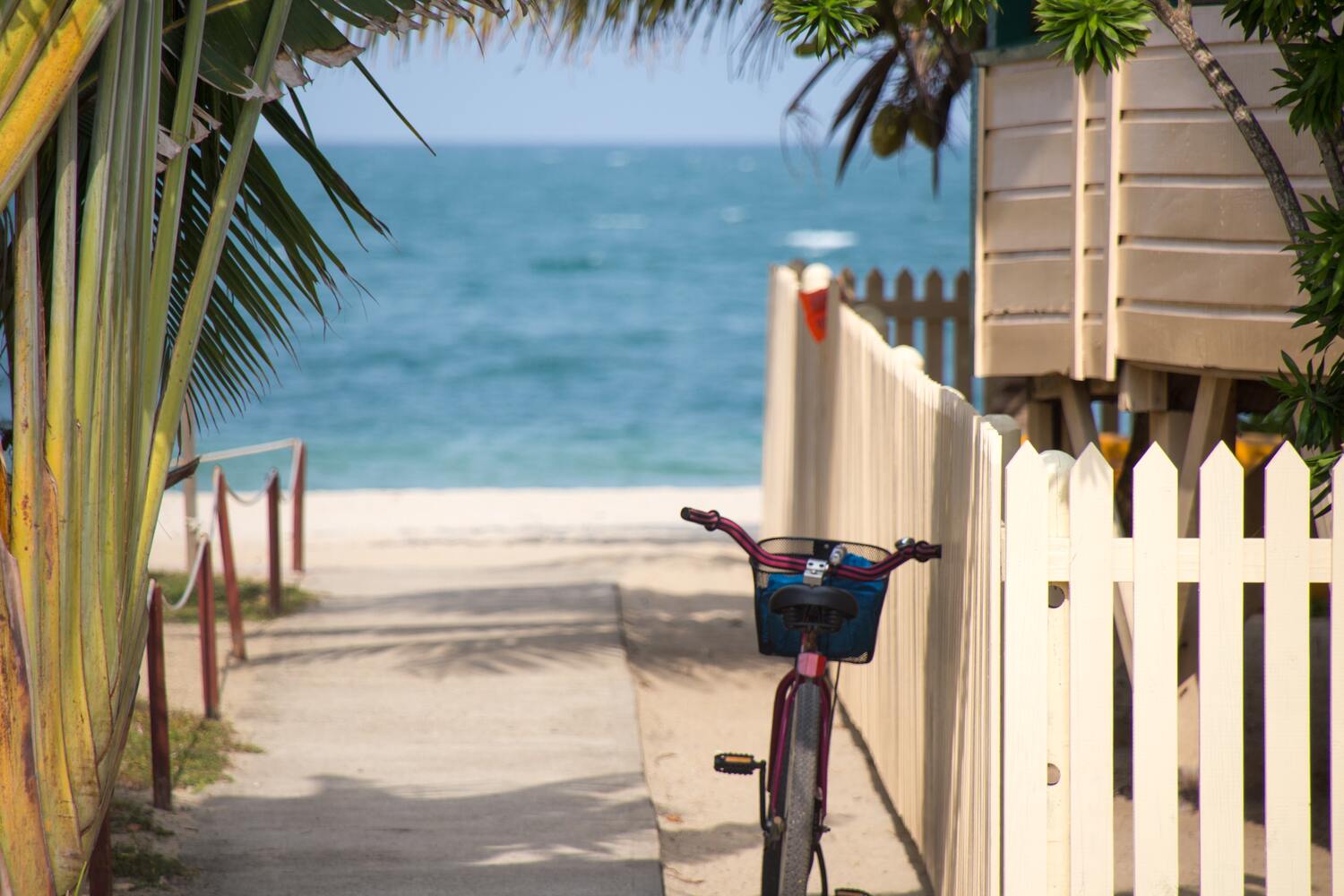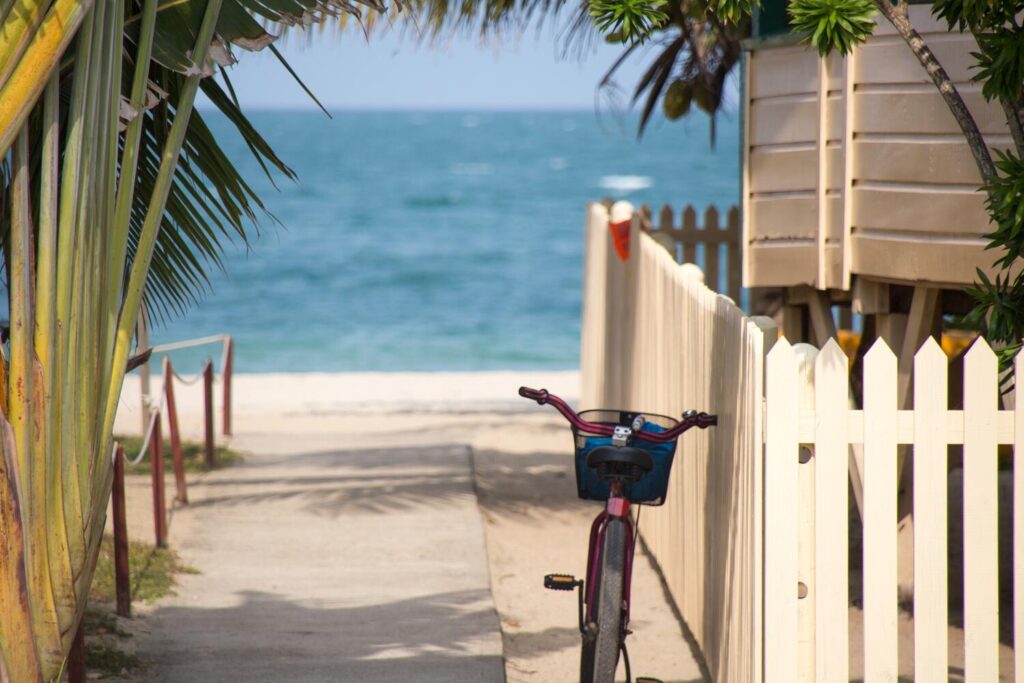 Along Key West: Romantic weekends in Florida for couples
Stop at Alabama Jack's restaurant, taste conch fritters and a lot of water. Get ready for the trip
Stop at Islamorada. Visit The Moorings Village, Morada Bay and Cultural District, and take a leisurely walk around the place. Also, you can visit Robbie's Marina and take a tour
Stop at Marathon and drive along the Seven-mile Bridge and enjoy the beauty
Enjoy the bliss of nature at Lower Key. The air feels so different. The view of the Gulf and Atlantic is mesmerizing
Come to Key West and check in one of the colourful conch cottages in the Old Town
Tip for a road trip to Key West: Best Florida weekend getaways for couples
Drive slowly and enjoy the journey. You do not have to worry about the destination
Carry all the important car documents and id proof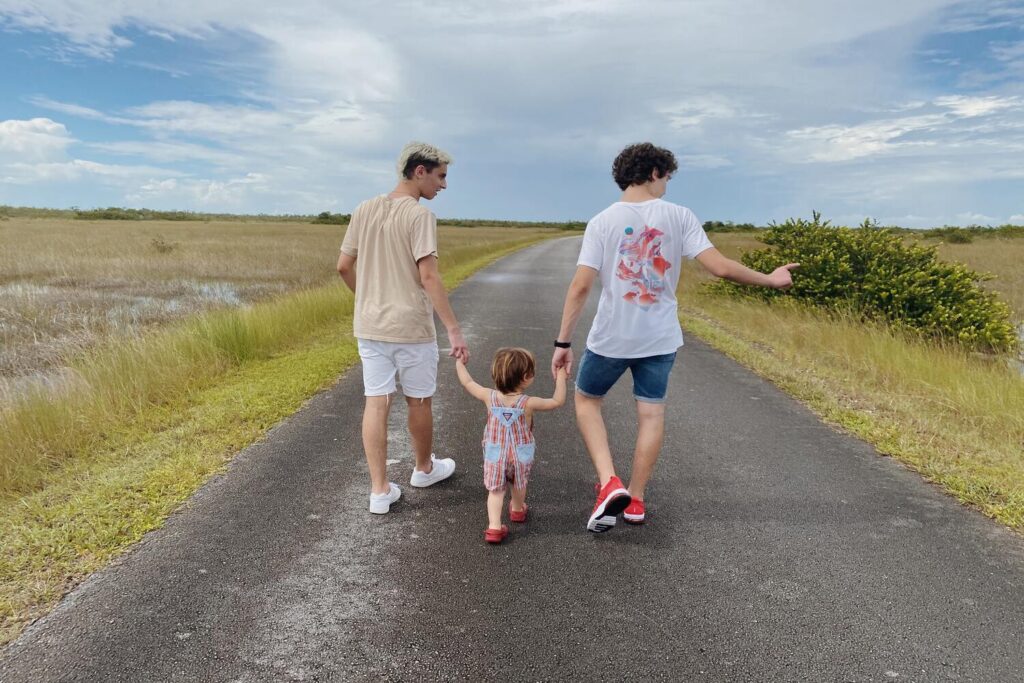 Conclusion
Float your worries away in the "Orland's natural lazy river", cool off at these best weekend getaways in Florida for couples and recharge your love all over again.
Also, don't forget to take her on a sweet date in an old-fashioned way at Abracadabra Ice Cream Factory or Hudson Beach Ice Cream Parlor.
I hope this blog gave you a vivid idea about Florida's weekend gateways for couples.