12 Best Small Towns in Arizona in 2023
I heard my sister asking our father–"Is it better to live in a small town or a big city?"
My father smiled and said – "Small towns are always better than cities".
That time I was in class 11 and I didn't believe him because I thought large cities have ample opportunities in terms of adventure, education, jobs, and fitness.
Now, having spent my last 26 years in a small town in Arizona, Jerome, I realized a lot about small towns. I am not debating on the superiority of Phoenix with Prescott.
Read: 9 Best Weekend Getaways In Florida For Couples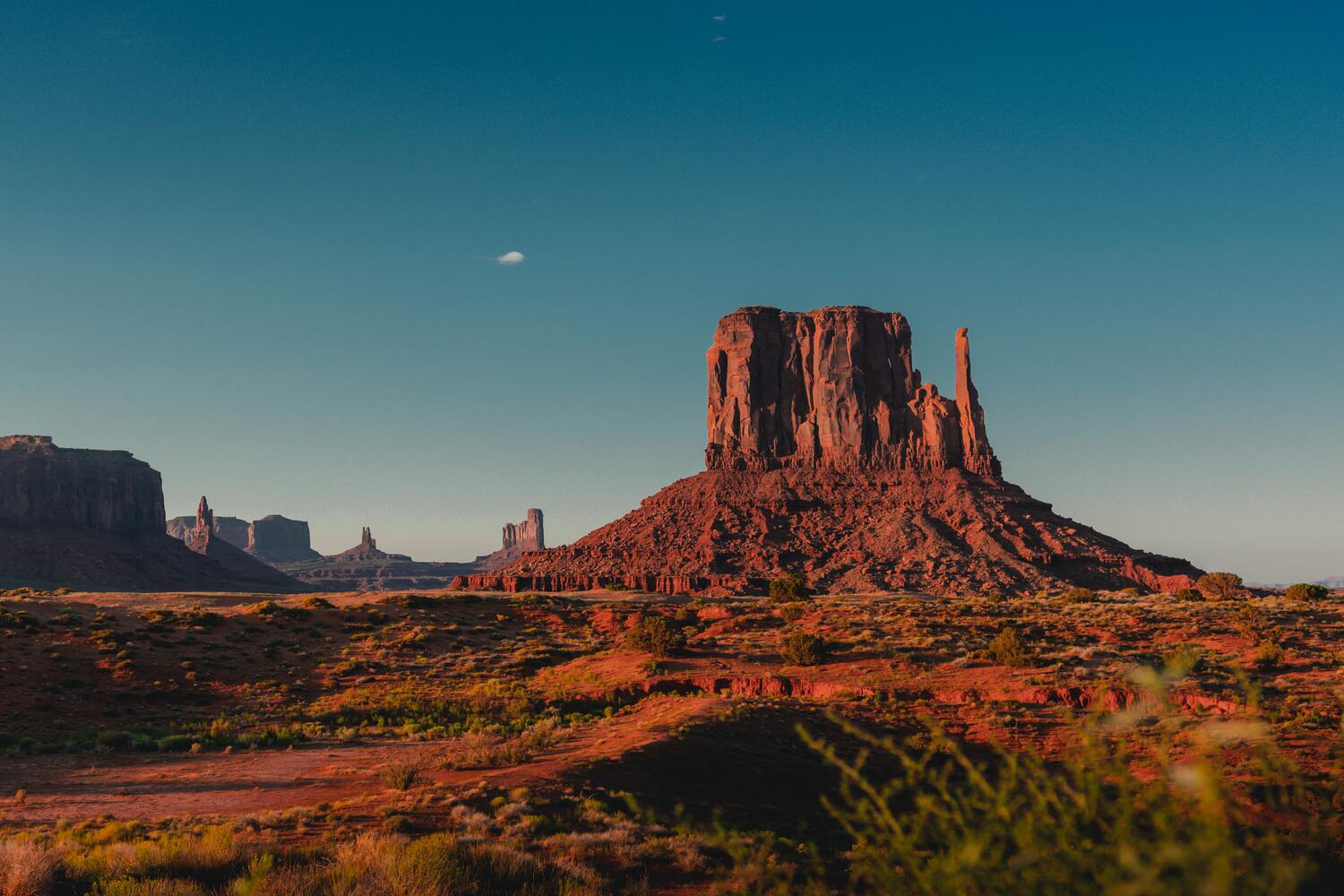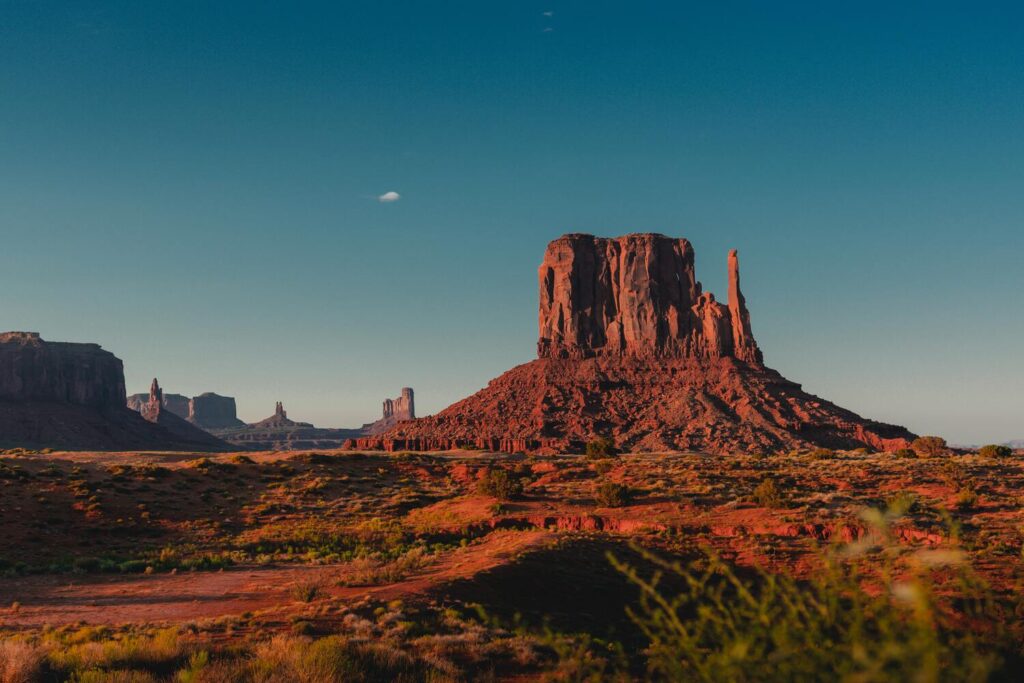 Big cities indeed have better schools and universities and have ideal career opportunities but Arizona's small towns are no less.
From artistic colonies, historical centers, ghost towns, close-knit communities, simple quiet life, and diverse landscape, to good health and safety –
Small towns in Arizona are worth living in.
The list of small towns in Arizona once held tons of wealth during the Gold rush, it is no surprise that this Copper State has fame not only for beauty but gold too!
Check out the list of the best small towns in Arizona that are unique in their own stories about beauty, and cowboys.
Best Small Towns in Arizona to Live
The humble beginning of safe small towns in Arizona reflects a turbulent time when gold once ruled the state and is now left deserted.
Moreover, these places are worth visiting in the middle of the desert and enjoying the small-town vibe away from the city hustle and bustle.
Therefore, use this list of the best small towns in Arizona to plan an upcoming trip.
Let's start.
read: North Carolina To South Carolina Road Trip Itinerary
Some days, you need to "Take it Easy" in Winslow
Population: 8,875
Crime rate: 56.86 (per 1,000 residents)
Cost of living: 80.4 (US average of 100)
In Navajo County, 57 miles South of Flagstaff Arizona sits Winslow, a beautiful Arizona small town that was featured in a major pop song in 1972 Eagles song.
This old Route 66 town is also home to Jackson Browne, the Eagles singer-songwriter on the Corner Park where to date fans come to celebrate live music.
Beyond its musical legacy, Winslow is famous for La Posada Winslow Hotel which was made in the 1930s by Fred Harvey. For luxury Southwestern style, come here!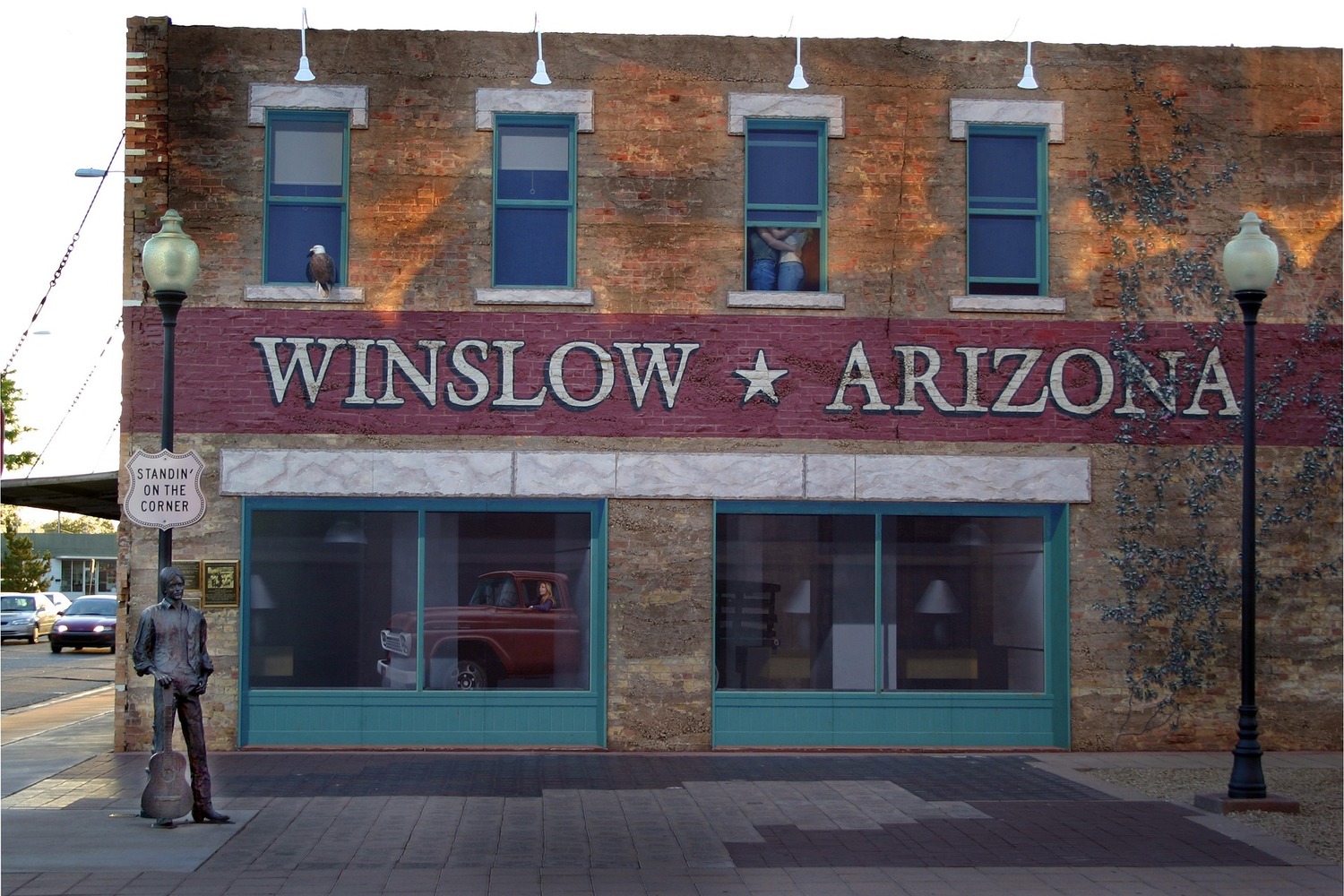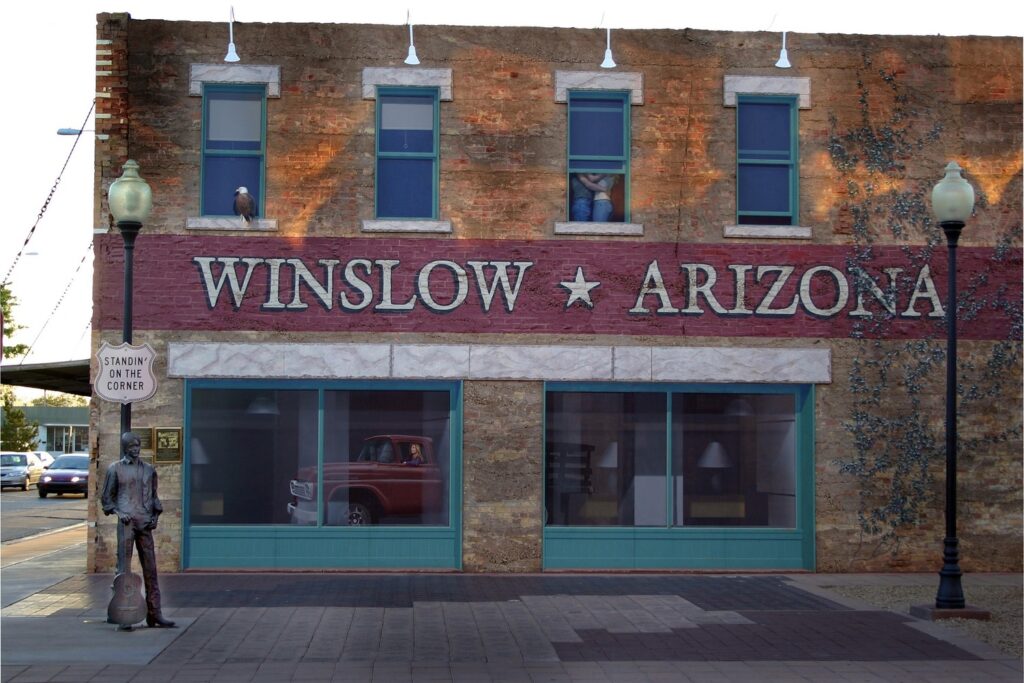 The cost of living is 9.6% lower that the U.S. average with $34,239 as the median household income. It has a lot of parks and offers a sparse suburban feel.
Things to do in Winslow:
Fun and outdoor activities in Clear Creek Reservoir
Unfold history and know about Native American artefacts at the Old Trails Museum
Shopping at Arizona 66 Trading Company
Book adventure fun on knowing Space Meteor Craters & Barringer Space Museum
Enjoy a thrilling experience at Apache Death Cave, a haunted site in Arizona
Come to Rock Art Canyon Ranch, gorgeous canyons with a lot of history
Hear stories from the architecture of Homolovi State Park where Homolovi lived
Visit McHood Park Lake which is also known as petroglyphs
Spend the afternoon in the "Dome" city where time freezes, Arcosanti
In Yavapai County sits Arcosanti, one of the best small towns in Arizona that reflects arcology, architecture, and ecology with its construction and design.
This best small town in Arizona to visit is just an hour north of Phoenix that aims for sustainability as it was designed by architect Paola Soleri in 1970.
Arcosanti looks like a sci-fi movie setup which is still under construction. Mostly residents are students attending work-shop and working in the bronze foundry.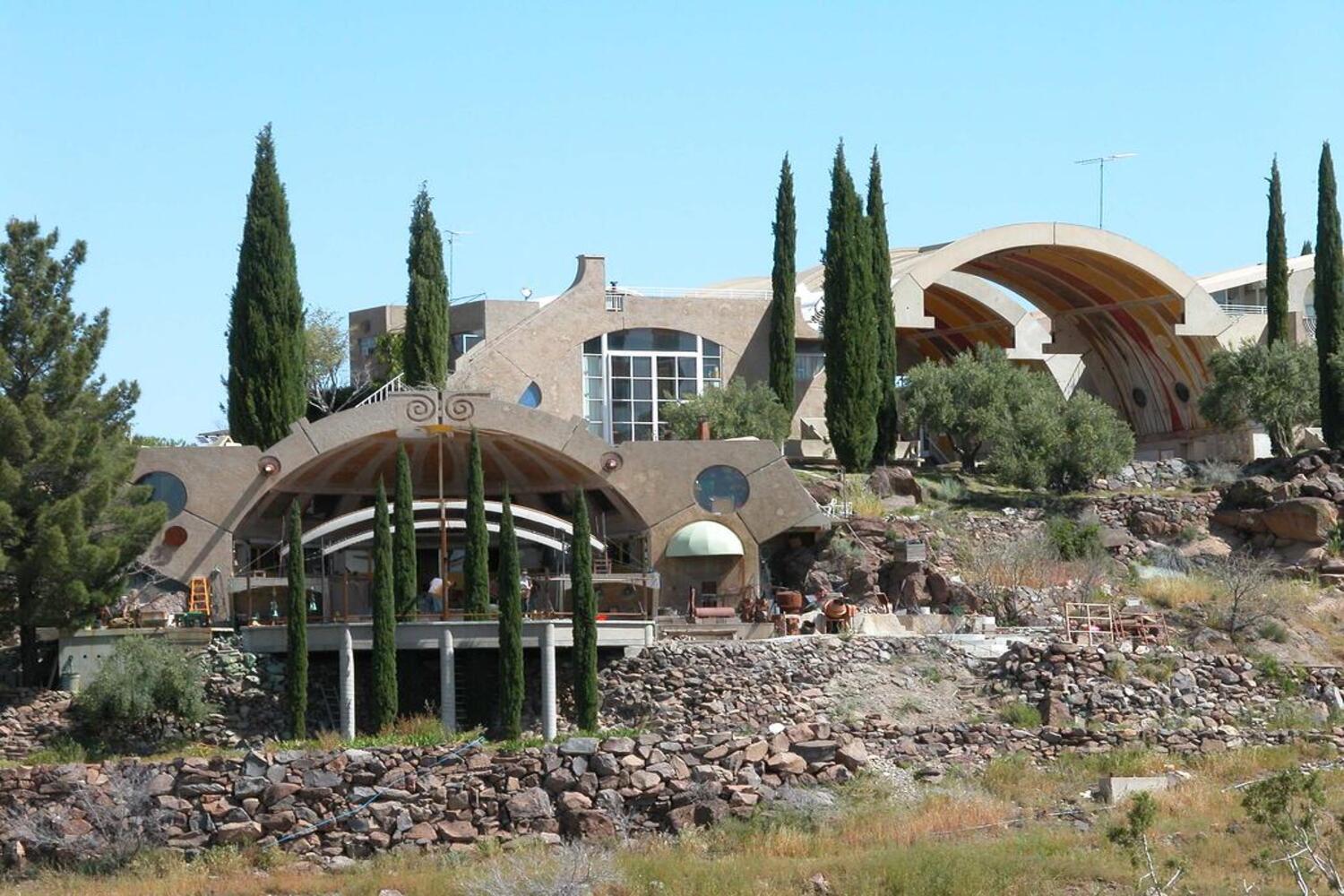 Picture courtesy: blog.allplan
Arcosanti is a small town in Arizona over 4400 acres that offers a gorgeous desert view with Olive and fig trees spreading harmony with the world.
Things to do in Arcosanti:
Learn more about Molten Bronze Bell Casting Business and sustainable environment in designing
Stroll around the town with a camera in your hand. Do not forget to make those reels for Instagram
Visit the five-story tourist centre, two massive barrel vaults, and ceramics apse
Attend the urban planning and arcology workshops
Tip: Visitors can come to the town's public area from 8 am to 4 pm daily. The resident-led tour is also available.
Read: 9 Reasons: Why You Should Move To North Carolina In 2023
Watch the vast Cleopatra Hill and Verde Valley, from Jerome
Population: 468
Crime rate: 2,632 (per100K residents)
Cost of living: 109.7 (US average of 100)
In Yavapai County in the Black Hills sits Jerome, one of the best ghost towns in Arizona and enjoys driving along the inclined mountain streets.
The town was founded in 1899 to mine copper. However, later when mines closed, people left the town and since then Jerome is called "the wickedest town in the west".
Jerome revived its booming character in 1967 when Government gave it a National Historic Landmark status. You can chill in small cool cafes and bars at night!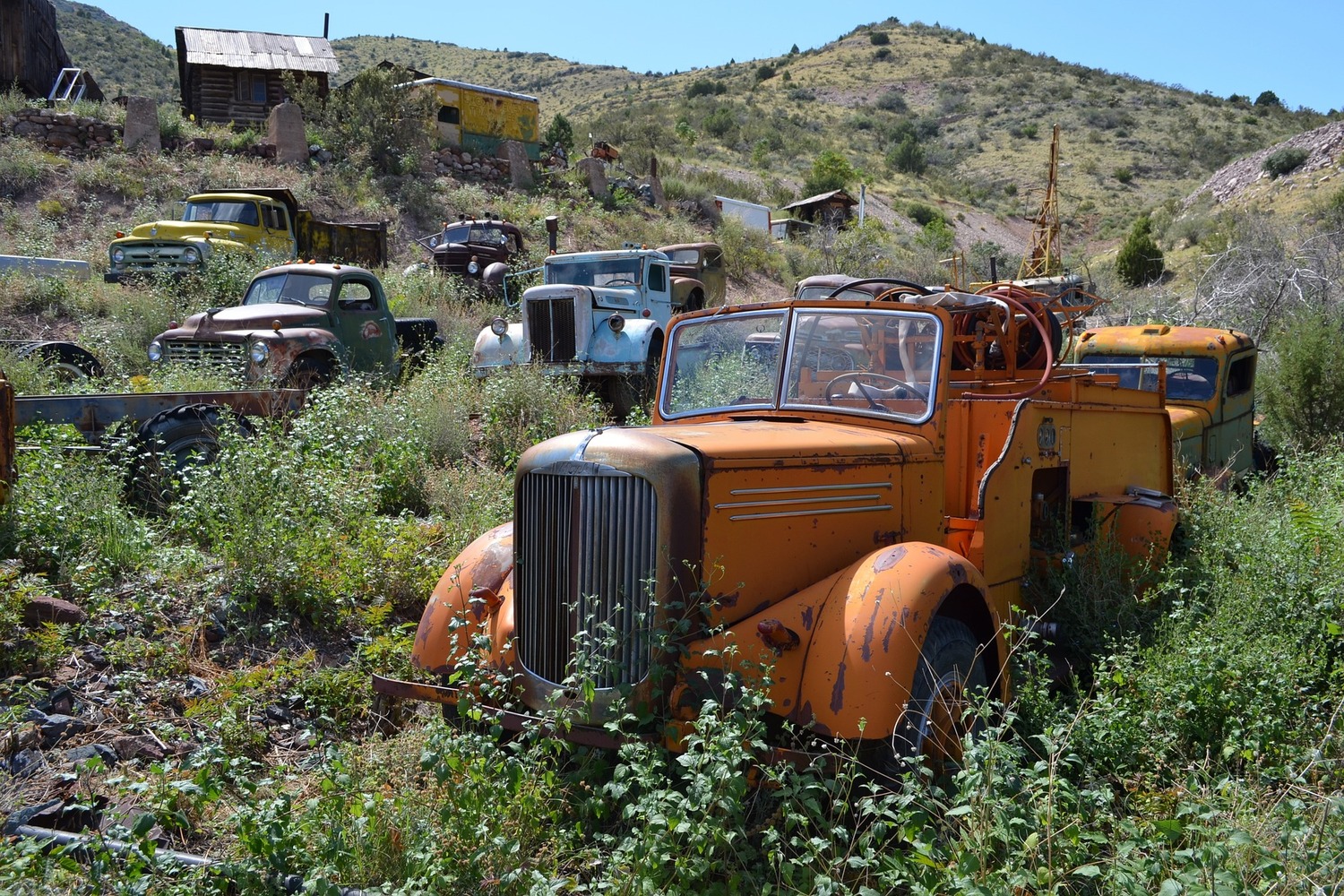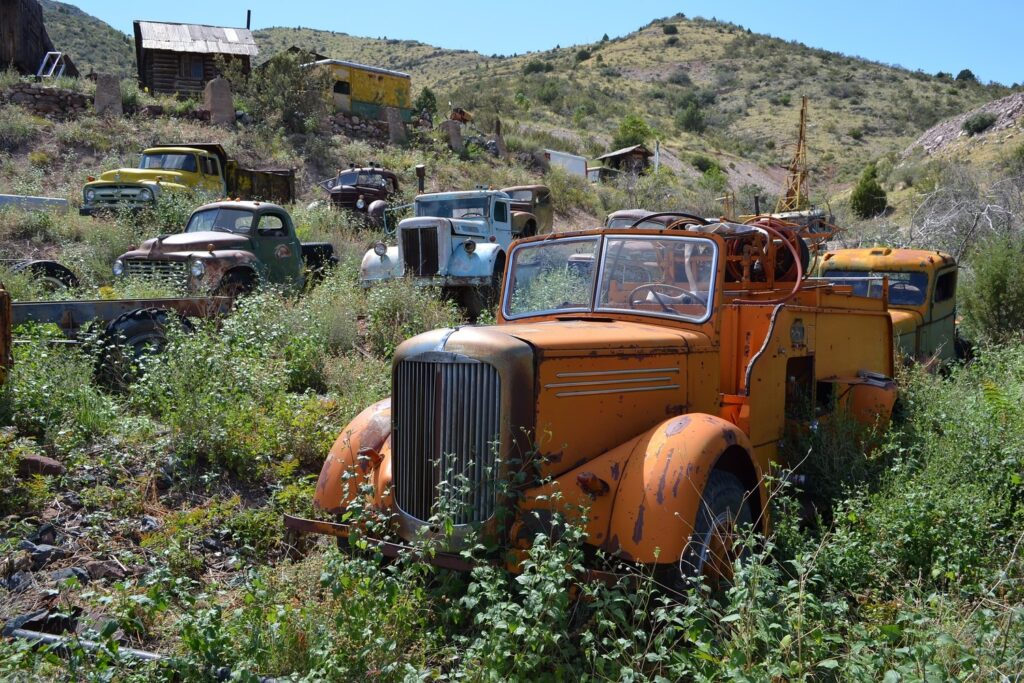 Mission Revival style Jerome Grand Hotel, Connor Hotel, and Audrey Shaft Headframe are some old historical pieces.
In Jerome, the total cost of expenditure of a single adult is $40,253 annually. The real estate market is stable with a median home value is $307,100.
Read: 17 Best Pet Friendly North Carolina Beaches
Things to do in Jerome:
Start shopping from my favourite Nelli Bly Kaleidoscopes and taste the unique local wines at Jerome's tasting rooms or Caduceus Cellars or Bitter Creek Winery.
Taste fancy food at Haunted Hamburger
Go for a ghost tour in Jerome, one of the best small towns in Arizona
Learn the community's mining past from Jerome State Historic Park
Explore Kaibab National Forest. Just a few miles away
Bring yourself to Gold King Mine and Museum
Try to spot snowcapped San Francisco Peaks in the distance and Tuzigoot National Monument
Go on a drive on Mingus Mountain Scenic Road with your friends
Spend time with Apache people and singing cowboys, Willcox
Population: 3,105
Crime rate: 44.51 (per 1,000 residents)
Cost of living: 79.9 (U.S average of 100)
In Cochise County in the Sulphur Springs Valley sits Willcox, an affordable small town in Arizona with a $199.5K Median Listing Home price.
It is mostly an agricultural town focusing mostly on cattle production. On average the median household income is around $45,351. It is known as the "Cattle Capital' of the US.
Now, it is home to tourism, agriculture and wine production. It has seven wineries and Apple Annie's Orchard. You can go hiking near Chiricahua National Monument.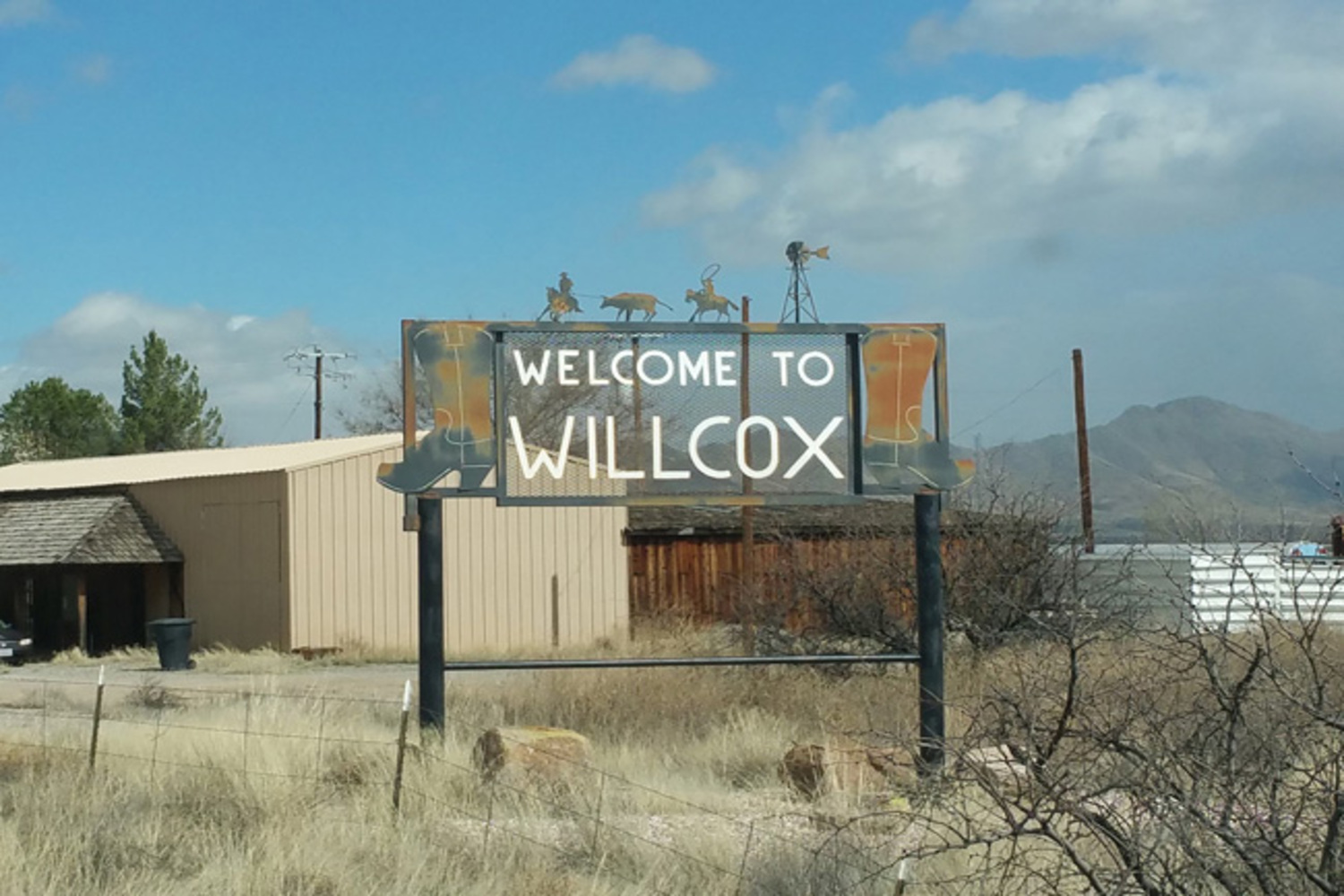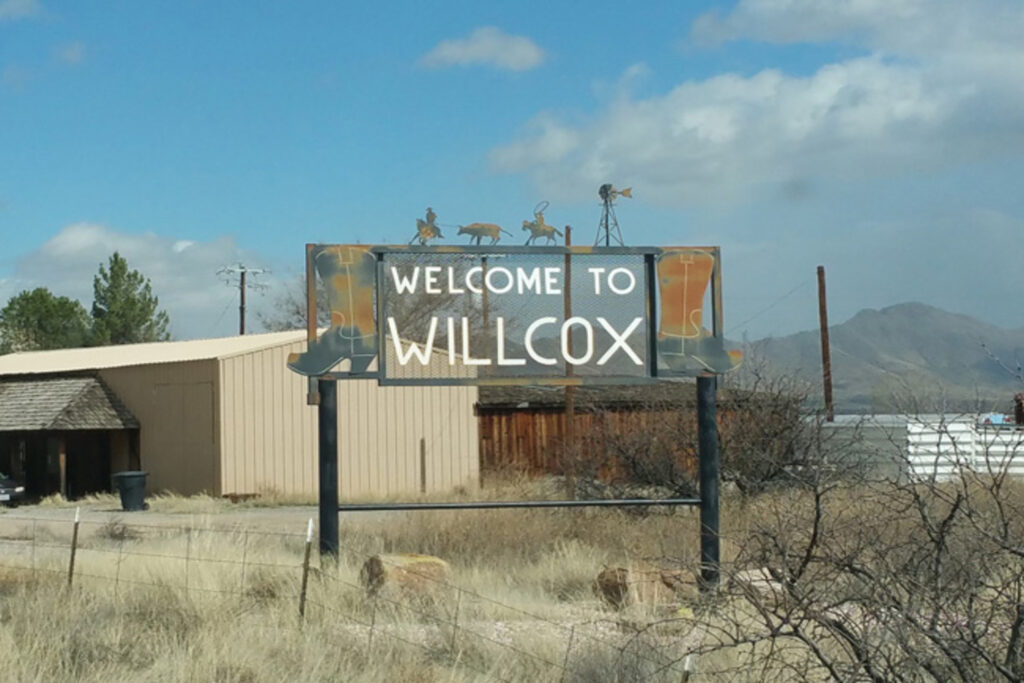 picture courtesy: placesthatwere
The view of growing cotton, small grains, pistachio, pecan groves, grape vineyard, and ostrich farms is mesmerising.
There are a lot of "U-Pick-it" industries where you can enjoy picking varied fruits and vegetables and enjoying the process.
Read: 10 Best Places To Visit In South Carolina In Winter
Things to do in Willcox:
Attend the Southeastern Arizona Fine Arts Show in April
Attend the Balloon Festival in June
Visit the international wineries, local festivals and tasting rooms in Arizona
Enjoy Miniature Art Show in February
Visit the world's oldest rodeo, Prescott
Population: 47,023
Crime rate: 18.44 (per 1,000 residents)
Cost of living: 122.1 (U.S average of 100)
In central Arizona, north of Phoenix between Kaibab National Forest and Prescott National Forest sits Prescott, the best small town in Arizona to retire.
The area has a lot of trees, shaded areas, restored Victorian homes, pristine trails to walk or trek, sprawling meadows, towering mountains, and crystal Watson lakes.
This gorgeous small town in Arizona every evening organises small events at Heritage Park Zoological Sanctuary. Prescott is the perfect summer retreat!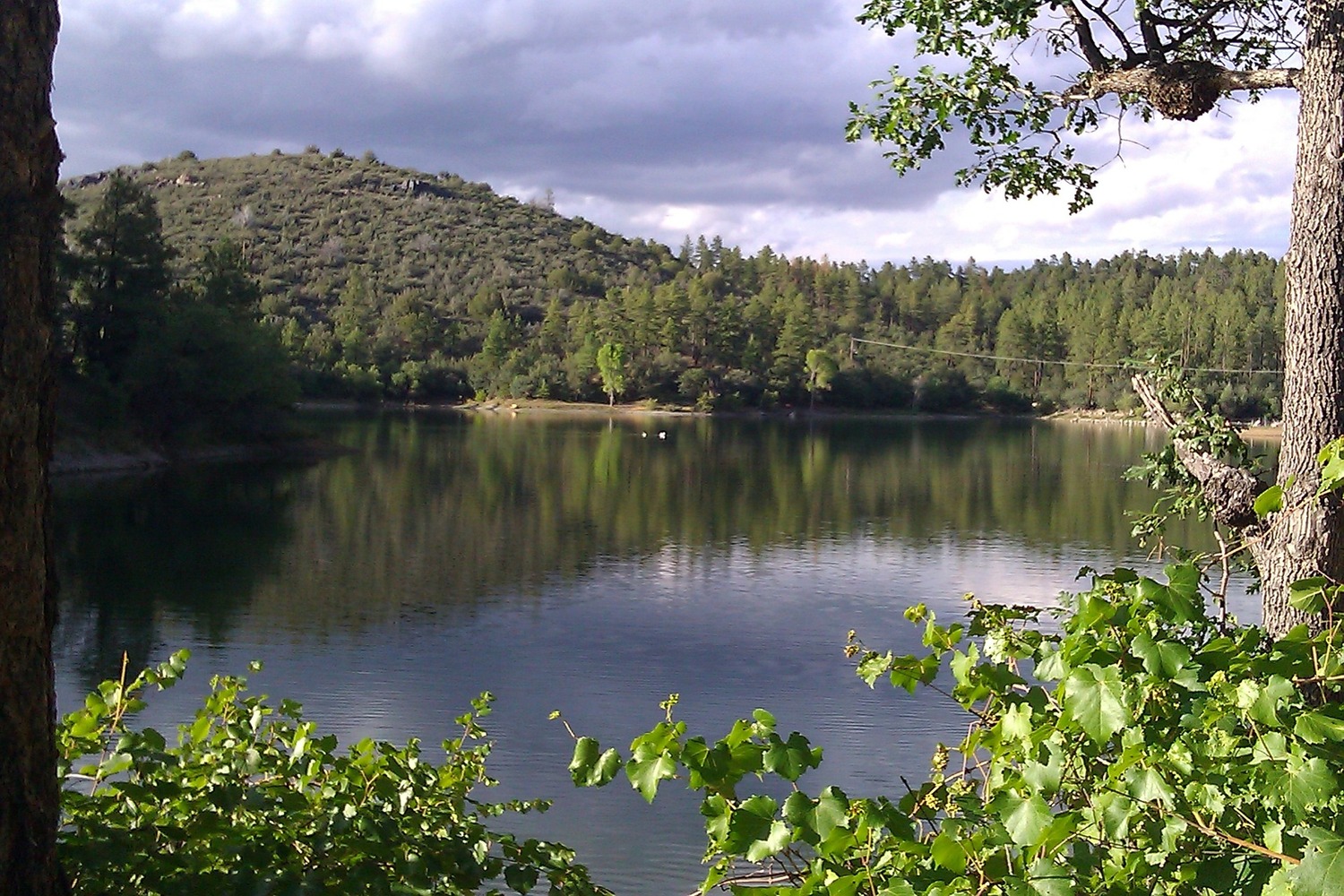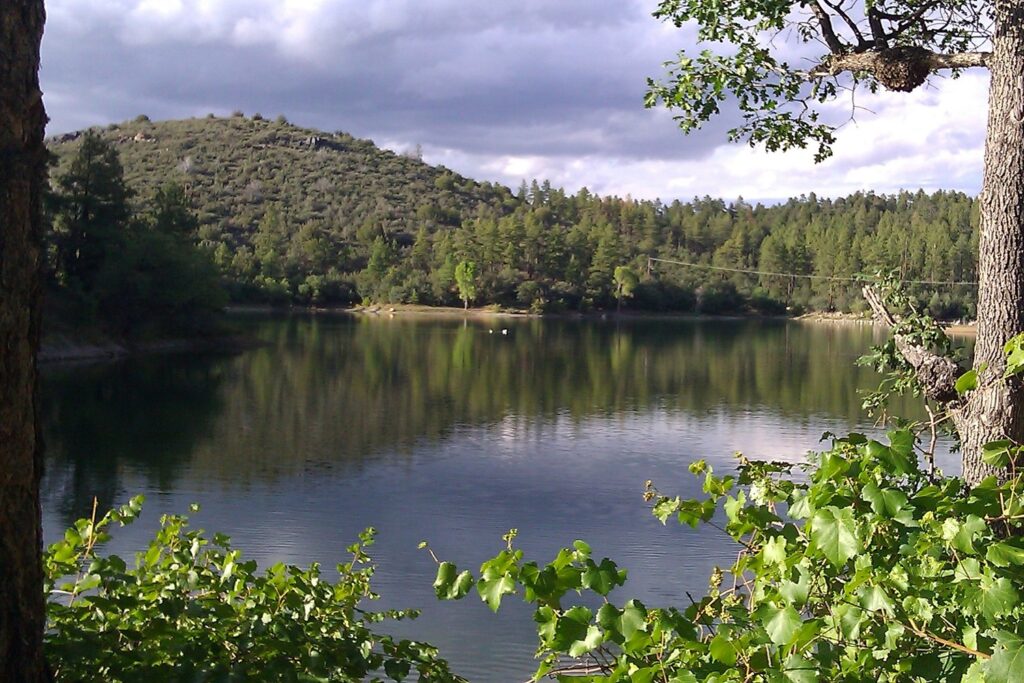 Old population, you'll never get bored of Prescott. Moreover, it is busy with multiple shopping centres, and cafes to explore. The place offers a lot of "white –collar" jobs.
Home here has a high price tag costing around $328,000.
Things to do in Prescott:
Historic buffs welcome to Sharlot Hall Museum, Rough Rider Monuments of the equestrian Bucky O'Neill.
Click a photo of Marty McFly zipping by his SteamPunk DeLorean
Hike on weekends at Thumb Butte
Hit with your friend at Prescott Brewing Company or The Palace
Go fishing at Watson Lake
Do you know where all the "hottin" & "hollerin" happened? Come to "Whiskey Row".
Come with your friend to Arizona Festival & Craft Fairs or watch the show at Elks Theater
Come to the Taj Mahal to taste Arizona's finest food
Sail, swim, and stand-up paddleboard. Kayak and enjoy other water activities at Watson Lake
Inhale the musky smell of fermenting grapes in the air, Cottonwood
Population: 12,181
Crime rate: 44.06 (per 1,000 residents)
Cost of living: 103 (U.S average of 100)
Just east of Jerome and Woodchute Mountains sits Cottonwood which is famously known as the "Biggest Little Town in the State of Arizona".
It is coined as the "Heart of the Verde Valley", alongside the Verde River, and the capital of Northern Arizona's fast-growing wine scene.
Cottonwood is indeed one of the best small towns in Arizona famous for its offbeat location, Vineyards, warm laid-back atmosphere and mid-century street style.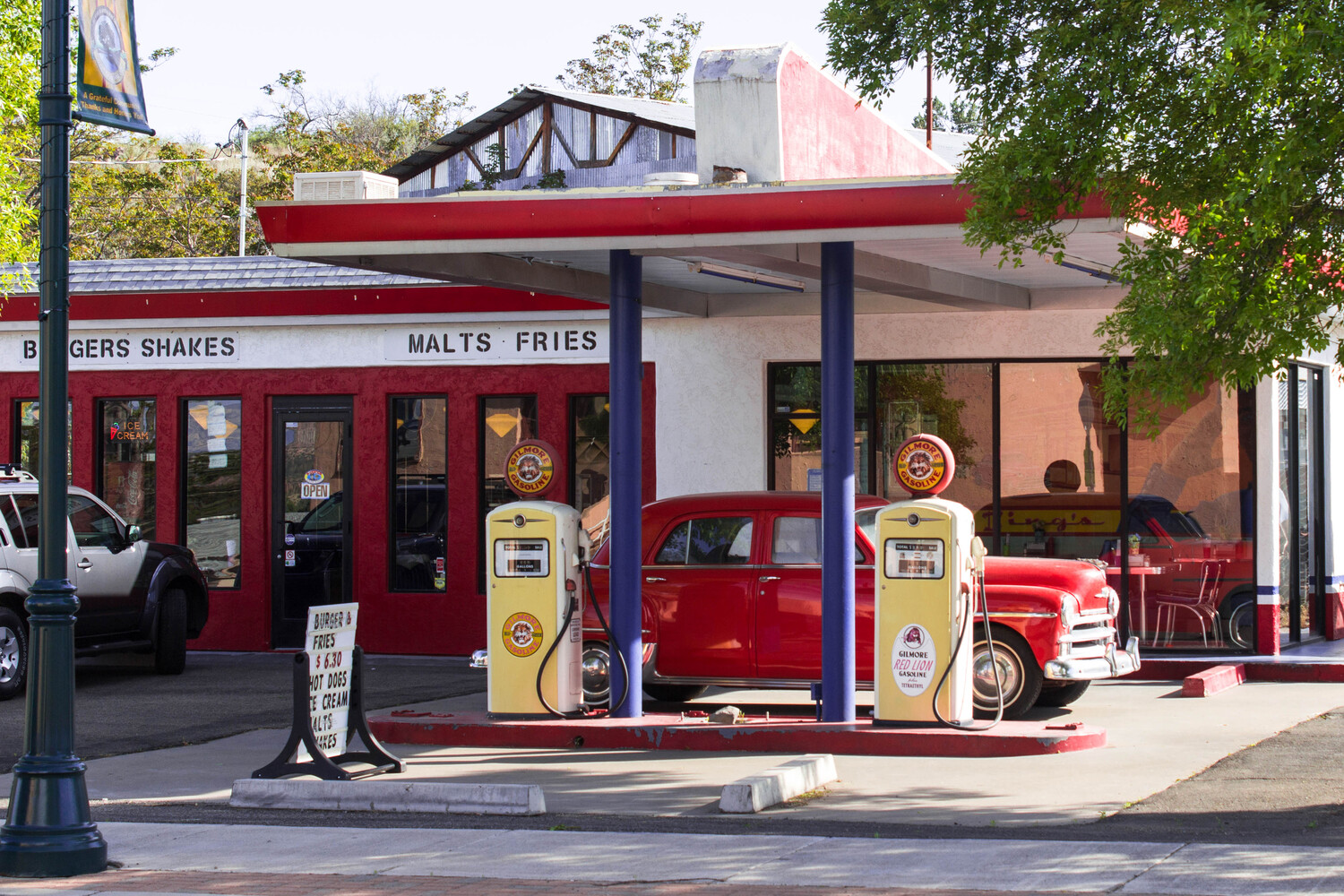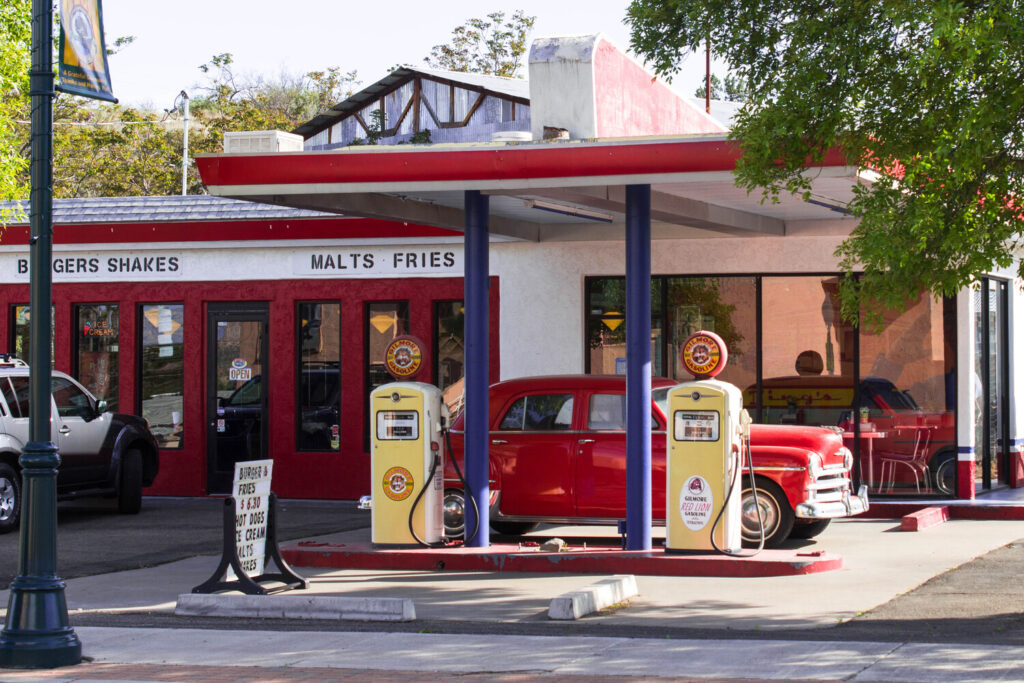 Picture courtesy: upload.wikimedia
The community started farming in the 1870s and still outgrows its belief in agriculture and ranching. However, Cottonwood is not home to top-ranked colleges.
The average annual cost of the expense of a single adult in Cottonwood is $36,607. Here you'll find a lot of tasting rooms, taps, and tours to take and chill in the sun!
Moreover, the average median home price is around $146, 7000 with 53.3% of people having their own properties. These days you'll find a lot of shops, and restaurants.
Things to do in Cottonwood:
Drive beyond Horseshoe Bend, and welcome to the friendly town, Page
Population: 7,611
Crime rate: 48.92 (per 1,000 residents)
Cost of living: 99.1(U.S average of 100)
Right at the border with Utah in the North East sits Page, one of my favourite charming small towns in Arizona. The community was founded in the late 1950s.
Do not confuse "Page" with loose-leaf because it is a beautiful book!! At Page, you can spot Antelope Canyon and giant rock formations contrasting with blue skies.
Here you get an opportunity to explore ample outdoor fun! Camping on the shoreline at Lone Rock campground is such a beautiful experience.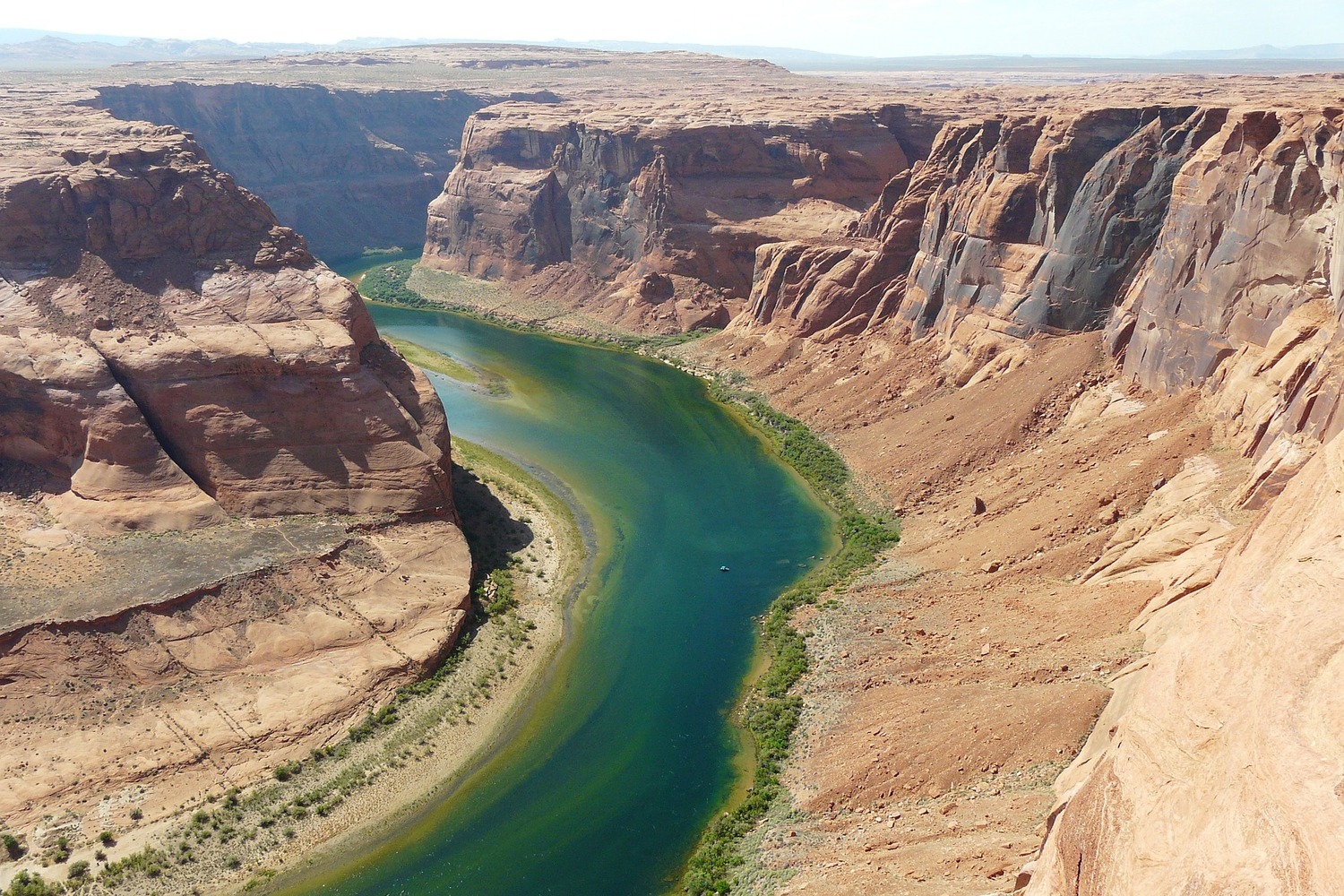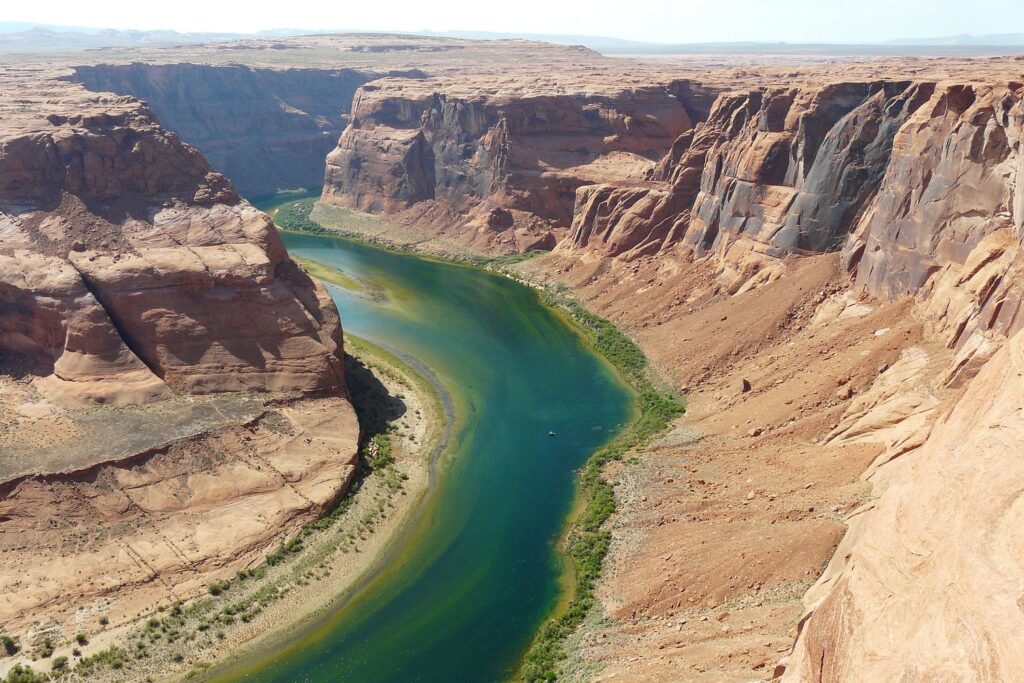 However, such beauty comes at a cost; on average a single adult expense in Page is $41,543 annually which is $38,433 higher than the national figure.
Things to do in Page:
Plan a friend's drive trip via Highway 89A through Vermillion Cliffs National Monument, Kanab and back to Page via Big Water. Carry a lot of food and water. You will find yourself in the magical ground. You can see Pine trees, Jacob Lake, the famous Navajo Bridge and more.
Plan to go paddle boarding on Lake Powel
Watch the magical sunset with your partner at Horseshoe Bend. Walk right out to the edge and drop yourself straight down the river which is around 1,000 feet
Tour a boat tour to reach Rain Bridge National Monument, just to sit and soak all the powerful "canyon" energy
Tip: To witness Antelope Canyon, you've to spend around $40/ person and prior reservation. Not cheap my friend. It's very crowded
Take the name seriously, and enjoy leisure at Carefree
Population: 3,756
Crime rate: 517 (per 100k residents)
Cost of living: 182.7 (US average of 100)
Just a short drive to northeast Phoenix in Maricopa County sits Carefree, one of the best towns to visit in Arizona to relax with a ton of leisure activities to hit!
Carefree does not need added fame because it already holds a top position as it is home to the largest sundials in the world – 11 metres tall and extended 22 metres.
In terms of cost of living, Carefree has been ranked 160 out of 273 cities across the USA. The median household income average is $79,152, which is 34% more than the national average.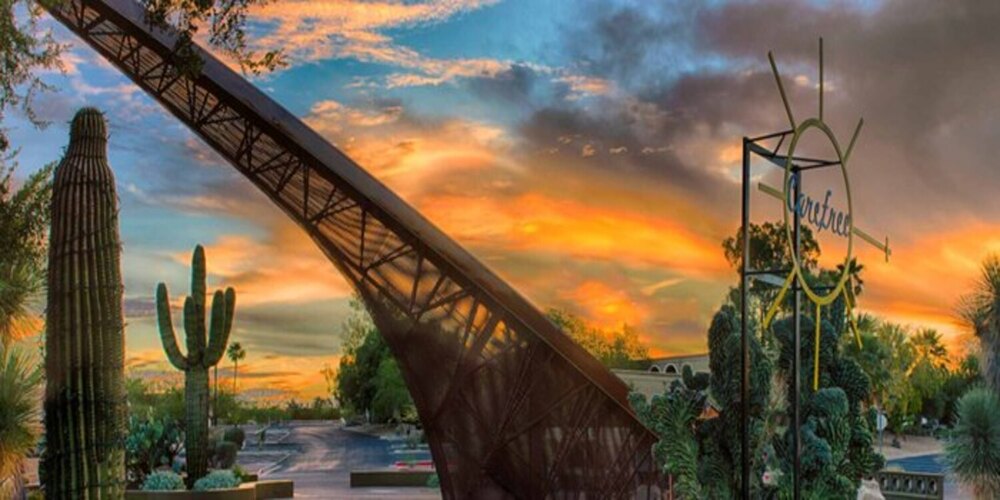 Picture courtesy: onlyinyourstate
Carefree is also one of the coolest places to visit in Arizona to find the Sears-Kay Ruin and see the fort built by the Hohokam, a native civilization of 1050 AD.
Things to do in Carefree:
Hike to the fifth largest forest in the USA, Tonto National Forest
Stroll along East Street clicking cool pictures of the residents and shops
Go for an evening walk at Tranquil Trail and Ho Hum Road trail – also one of the best places to hike
Afternoon visit at the botanical garden to see Sonoran desert plans. The garden tour is free of cost.
Arizona's small town, Carefree is fresh to explore art galleries, culture festivals, and small boutiques
Click the photo with burros/donkeys at Oatman
Population: 96
Crime rate: —
Cost of living: 78.2 (US average of 100)
In the Mohave County of Black Mountains, just 100 miles from Seligman sits an Oatman where on the streets you'll find donkeys walking by.
Such an authentic Arizona village! The wildlife, birds chirping, and landscape are all photo-worthy.
If you're coming through Sitgreaves Pass, a stop at Oakman is a must to enjoy the warm colours standing out in beautiful contrast against clear blue skies.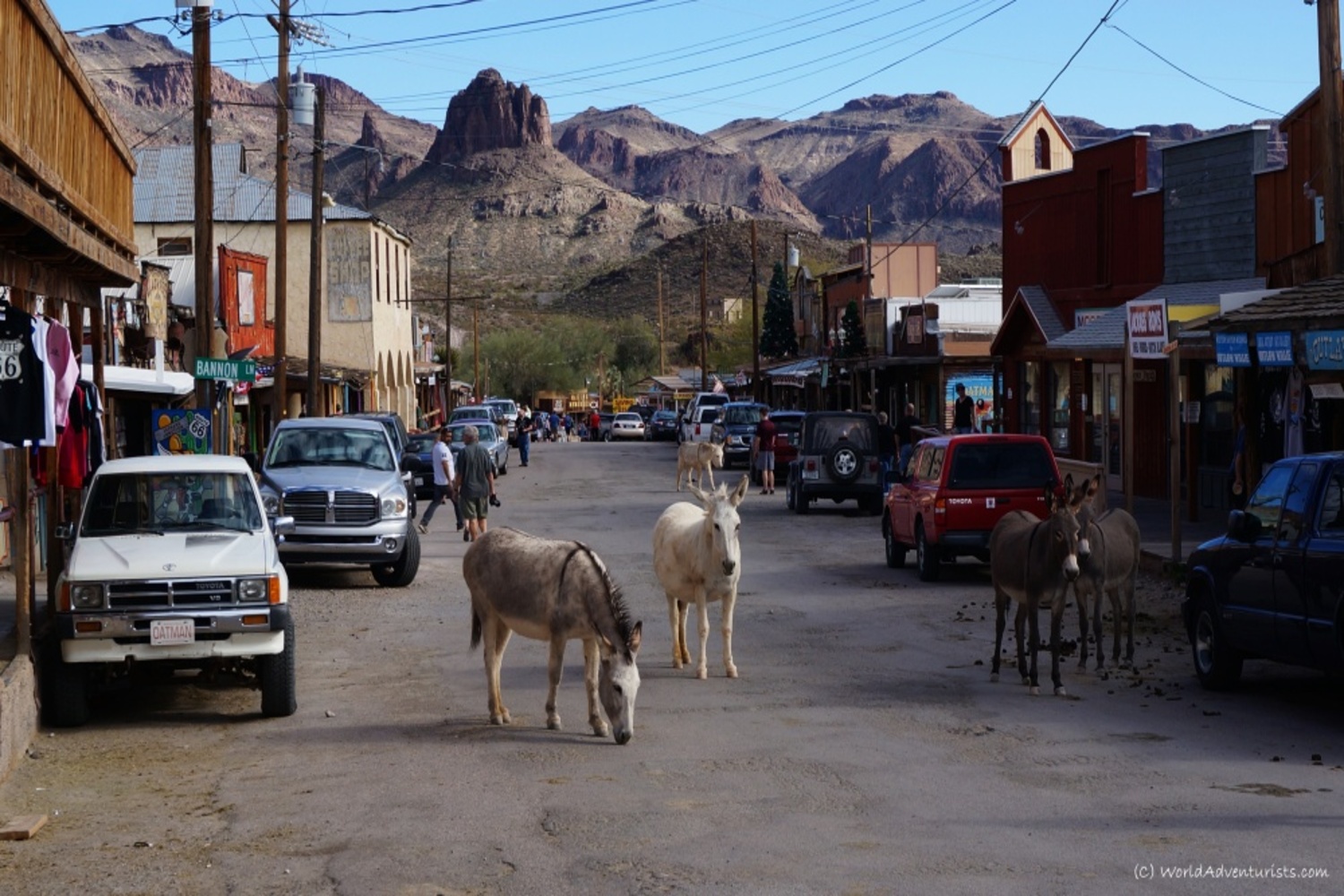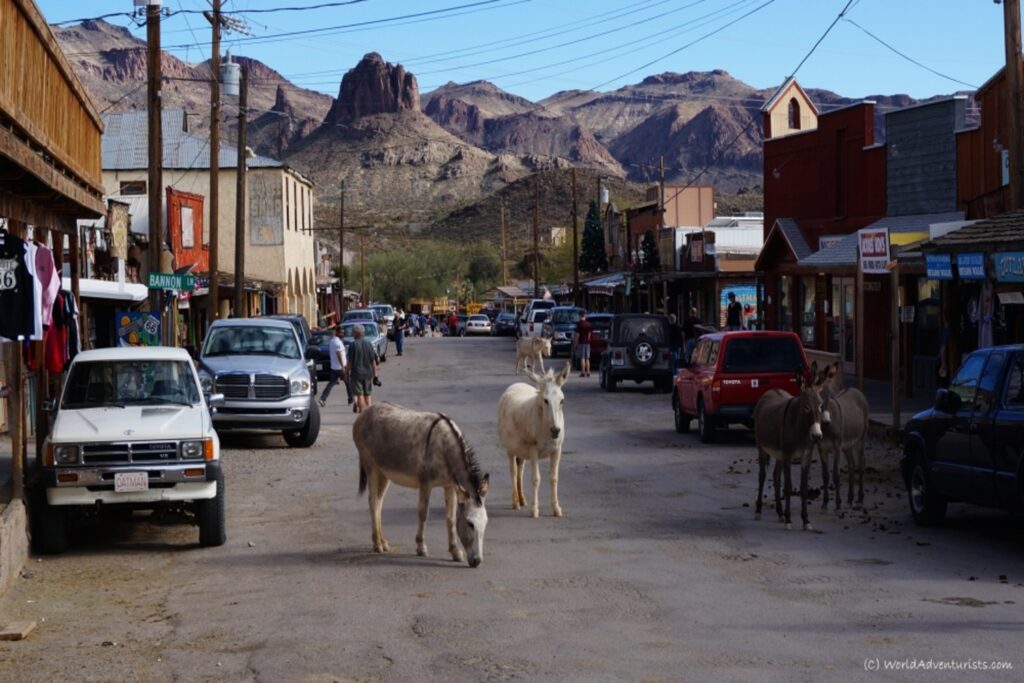 Picture courtesy: worldadventurists
Oatman is one of the prettiest towns in Arizona lined up with cool restaurants, souvenir shops, and donkey braying which sounds like "hee-haw" or "eeyore".
Oatman is one of the unique places to visit in Arizona for tourists. Moreover, if you're staying in Las Vegas, it is such a beautiful stop for weekend plans.
Things to do in Oatman:
Plan an exploration tour to the famous ghost towns in Arizona, Old Route 66 running through the middle of Oatman
Take an organised tour of the abandoned mining spot at Oatman. Also, come to Oatman Mine Museum
Go back in time and witness "Oatman Ghost Rider Gunfighters". This is a half an hour show!
Book Oatman Hotel Restaurant and Saloon where actor Clark Gable and Carole Lombard are believed to have stayed.
Get true Wild West experience at Wickenburg
Population: 7,696
Crime rate: 2,582 (per 100K Residents)
Cost of living: 116.5 (US average of 100)
In Maricopa County sits Wickenburg, one of the best small towns in Arizona. You can experience the authentic Wild West fun. Vulture mine made it so famous.
Also, it is the "dude ranch capital of Arizona"! The 19th-century buildings, the historic main streets, and the six large bronze sculptures are unique pieces of Wickenburg.
Now, Wickenburg is one of the unique ghost towns to visit in Arizona but back in 1862, it was thriving as Henry Wickenburg the founder made $30 million from here.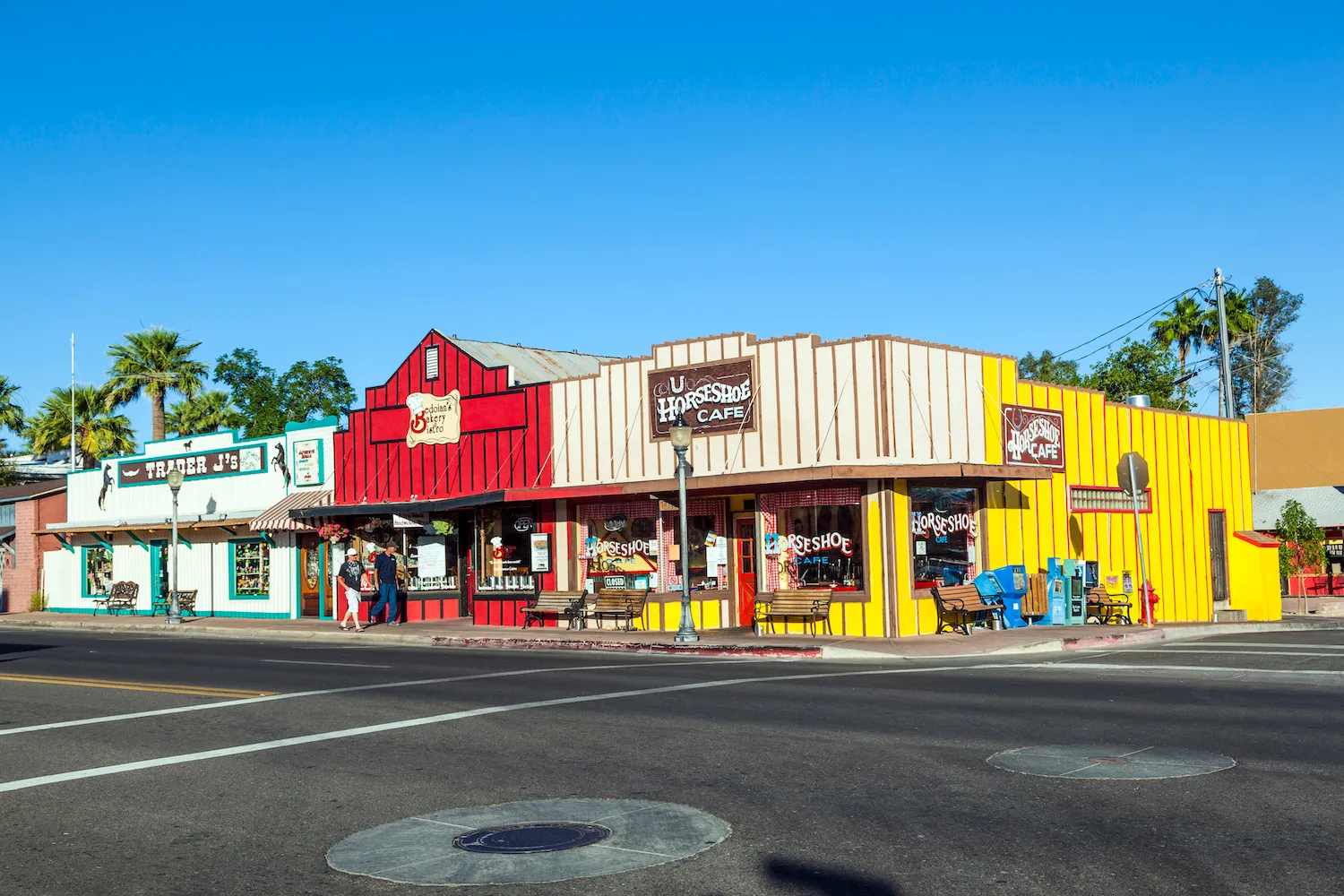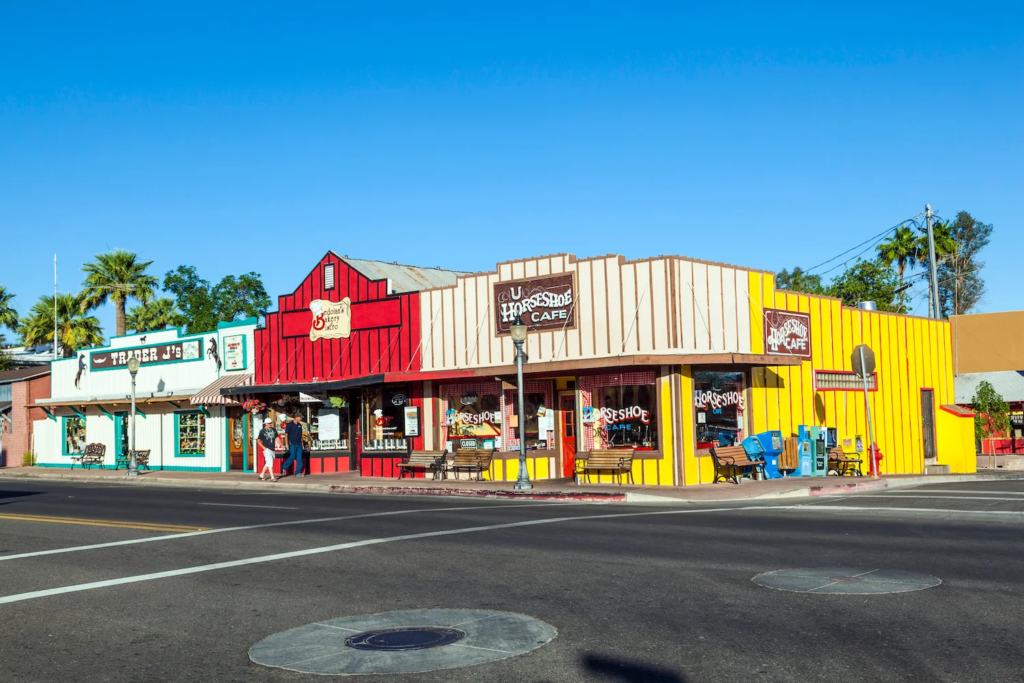 Picture courtesy: travellens
Moreover, if you're in search of affordable small towns in Arizona, Wickenburg is a good hunt. As the cost of living is 5% lower than the Arizona average.
Things to do in Wickenburg:
Sit by the Hassayampa River looking at the oasis and enjoying the sight.
Take a walk down the lane just witnessing and enjoying the air. The town played an important role in the Indian wars
See the 200 years old Jail Tree where people from the past were shackled. I'm sure it will give you chills down the backbone.
Switch off your cell phone and embrace the 1863 lifestyle of riding the horse at Wickenburg
Have unexpected fun in Williams
Population: 3,238
Crime rate: 3,455 (per 100K Residents)
Cost of living: 100.8 (US average of 100)
Williams or "Southern Terminus for the Grand Canyon Railway"
If you're going to the Grand Canyon, Williams is the spot you've to pass through. It sits on Route 66 and is coined as the last town on the "mother road".
In Coconino County, Williams is the best Arizona small town. Tourists love to take the famous historic train and reach the Grand Canyon and have a blast.
This unique small town in Arizona was first established as a cattle town by William Sherley Williams in 1881 with the idea of business and industry development.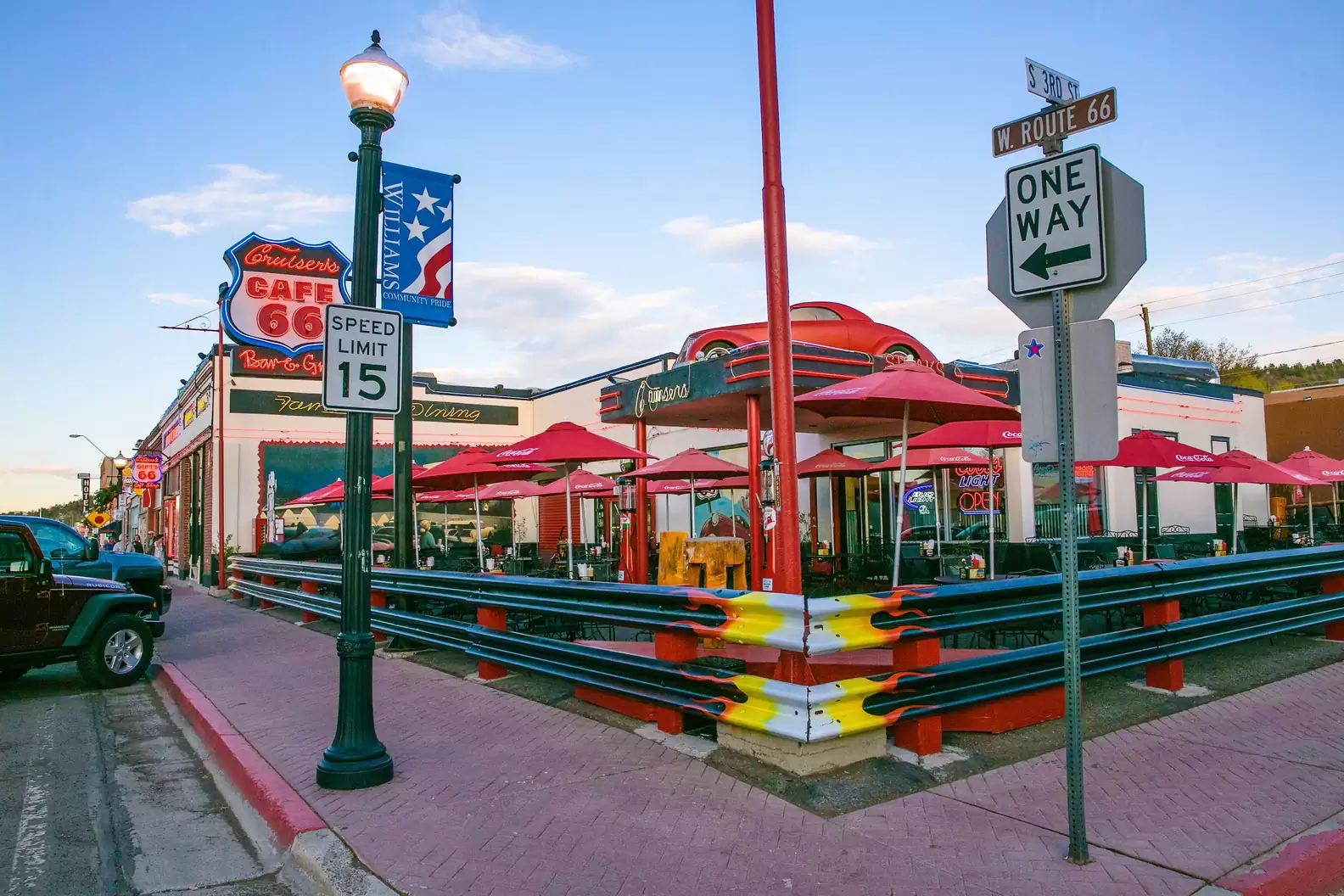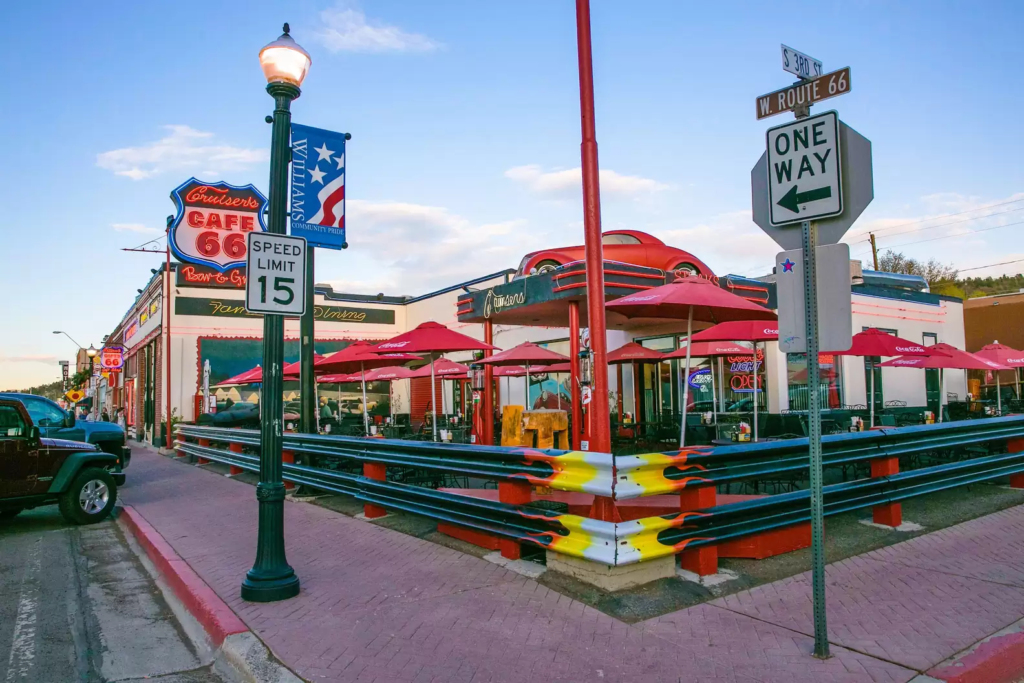 Picture courtesy: thrillist
It has been recognized as the National Historic District and headquarters of the Grand Canyon Historic Railway and Hotel. There are a lot of employment opportunities!
Things to do in Williams:
Explore the charm of the Grand Canyon
Have a dinner date at Fiesta Mexican Grill
Take the steam train ride!
From street lights to the gas station – the retro town is Instagram worthy
Book a historic memorable stay at Red Garter Inn, which was built in 1897
Adventure zip line fun at Canyon Coaster
Come shopping at Tubac
Population: 1,695
Crime rate: 466 (per 100k residents)
Cost of living: 104.2 (US average of 100)
Tubac is one of the best towns to visit in Arizona from Tucson (45 minutes). This New Year for home décor, Tubac is the place for budget shopping.
Starting from innovative jewellery, beautiful décor items, ceramics, fine sculpture, leather items, and amazing artwork – this artistic town is so perfect.
I feel Tubac is the most unique place to visit in Arizona with a mother to purchase decor items, especially Tumacookery. There are more than 100 shops!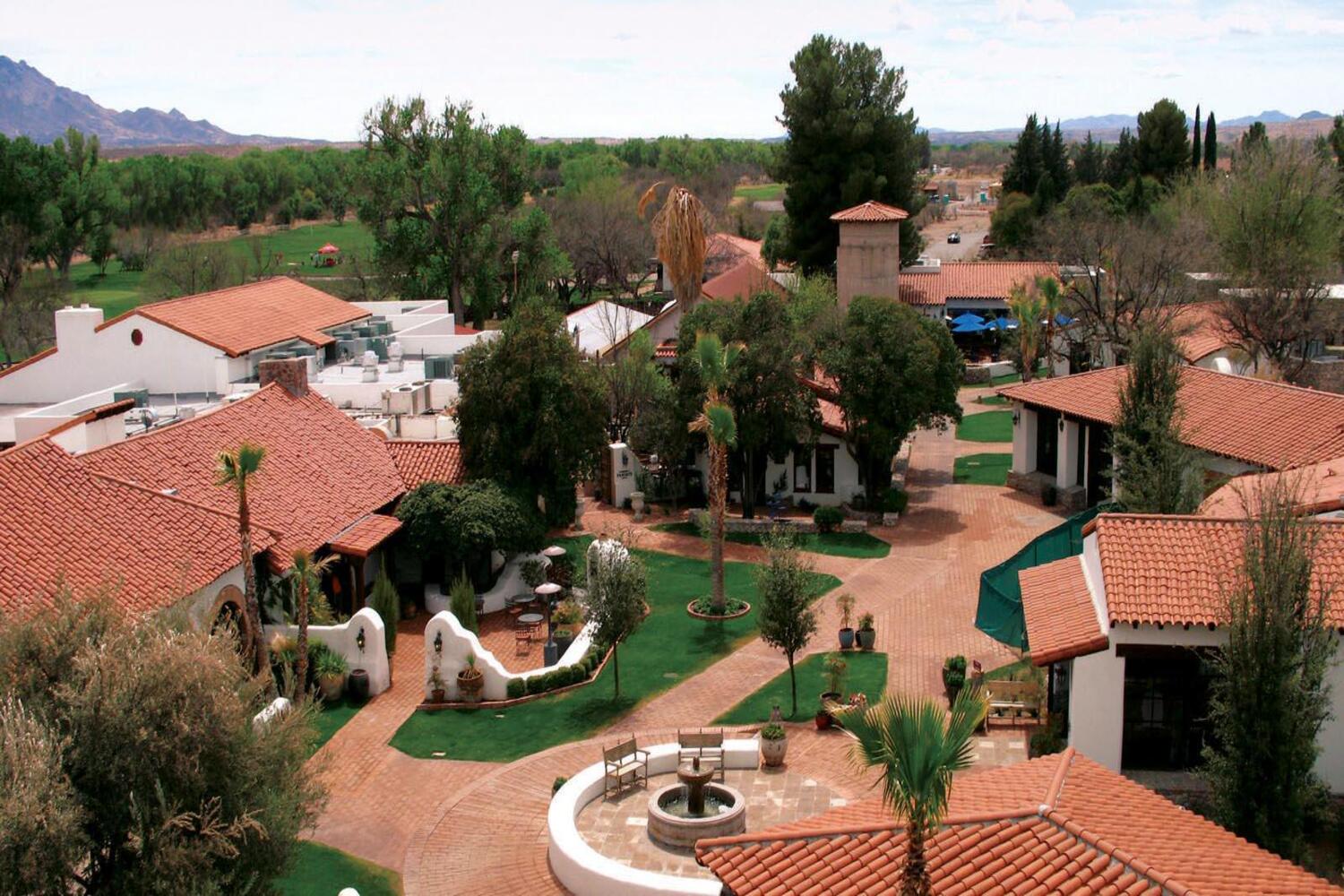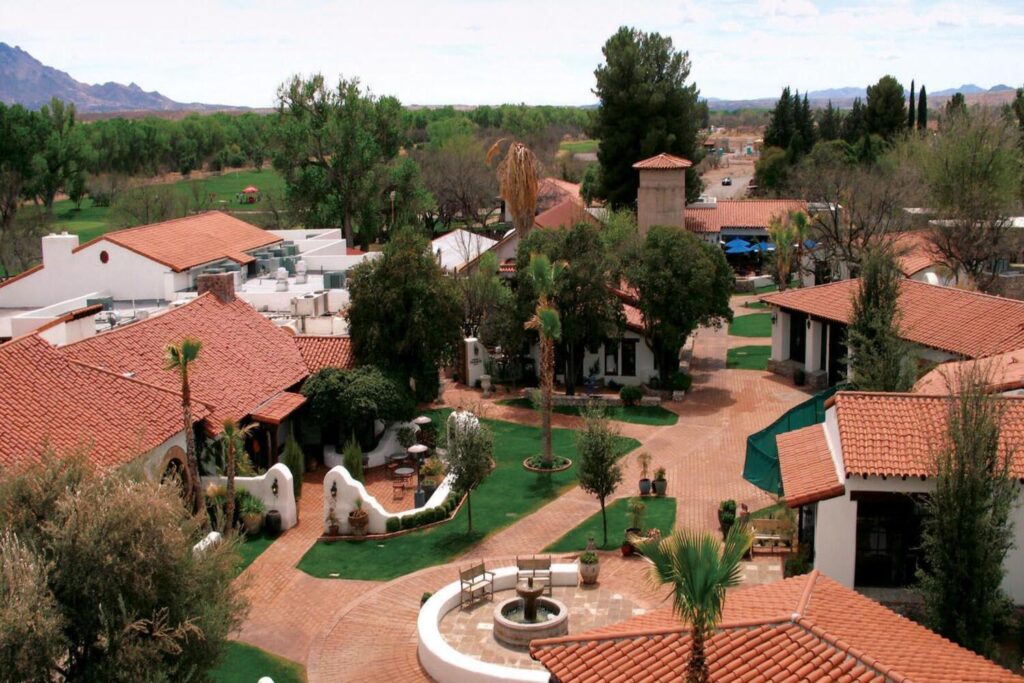 The movie "Tin Cup" featured the famous Tubac Golf Resort. Its position along the Santa Cruz River makes it ideal for small tribes to reside peacefully.
Things to do in Tubac:
Explore the first settlement area in Arizona, Tubac Presidio State Historic Park. If you're coming here between October to March, you're lucky to enjoy the live history demonstration
Explore the Spanish fort
Conclusion
Arizona has a rich mining history, and these above best small towns are excellent in preserving historical charm making it a pleasant place to go for a stroll and enjoy.
Along the way to the planning process, Arizona's best small towns are very scenic and you should plan your visit soon!
FAQ
What are the best towns in Arizona to live in?
William is the most "neighbourly" town to live in Arizona as people here are friendly. It has good walkable streets with the peace you always dreamt of. It is also home to high-rated public schools that ensure good quality learning and job facilities.
What are the old western towns in Arizona?
Bisbee is old western town in Arizona tucked away in the Mule Mountain filled with copper mining history and old-fashioned streets. You should explore the Bisbee Mining & Historical Museum.
What are the safest small towns in Arizona?
Florence, Arizona is a small town which recorded a total number of 73 property crimes and 25 numbers of violent crimes. Your chance of becoming a victim of a violent crime is 1 in 1,071. Also, the town's beauty is equal to old Western cowboy films.