13 Fun Christmas Activities in Charleston, South Carolina
Charleston, South Carolina in December…oh! Christmas and New Year, what can be more amazing than that? Trust me this place is the best place to spend your holiday with your loved ones! Also, the South Carolina Christmas town looks no less than The Hallmark Movie set.
This blog is all about letting you know the best Christmas activities in Charleston, South Carolina so that you know what to expect, what to wear, and where to go. Let's not miss out the Charleston's Christmas season.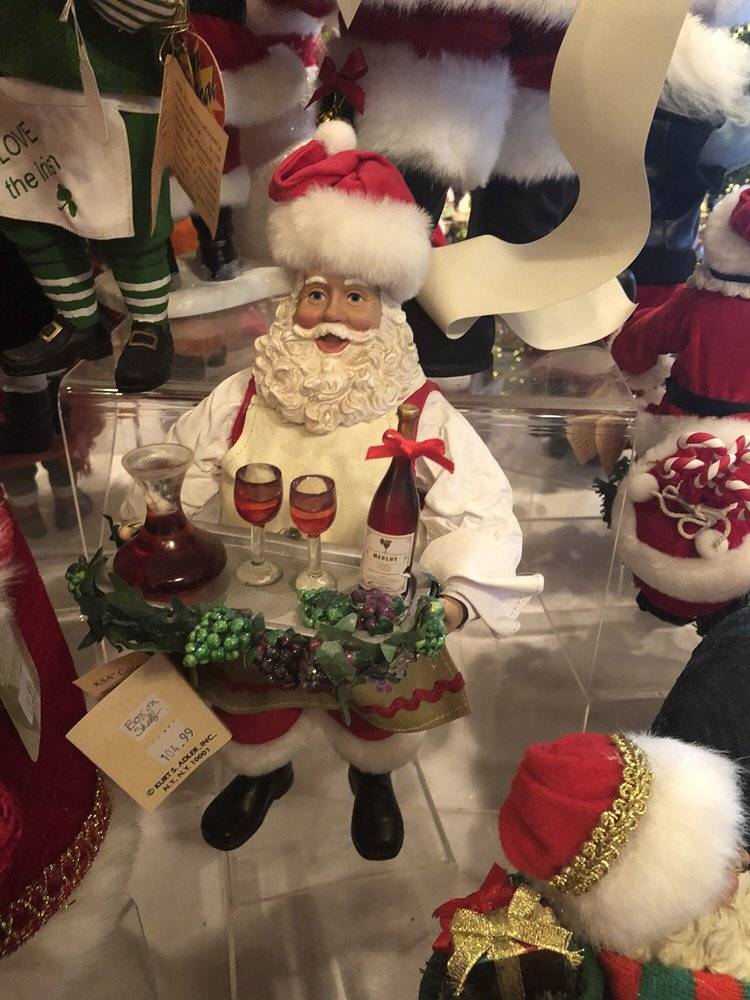 Table of Contents
What to wear in Charleston South Carolina in December?
A girl wearing a mild white mid-dress over a red trench coat, block-heeled high boots, open hair, with a black umbrella and a big smile on her face. Yes, that's the image of a girl in Charleston in December.
The temperature during this time of the year is so bearable, light, and cool, as there are light periods of rain throughout! The temperature is roughly around 61 degrees Fahrenheit and it can go as low as 45 degrees with no snowfall.
The winter is the best time to explore Charleston, South Carolina. The traffic and tourists are less, making it so bearable to explore as much as you want. You'll encounter snow only in late December or early January, even that is an uncertain thing.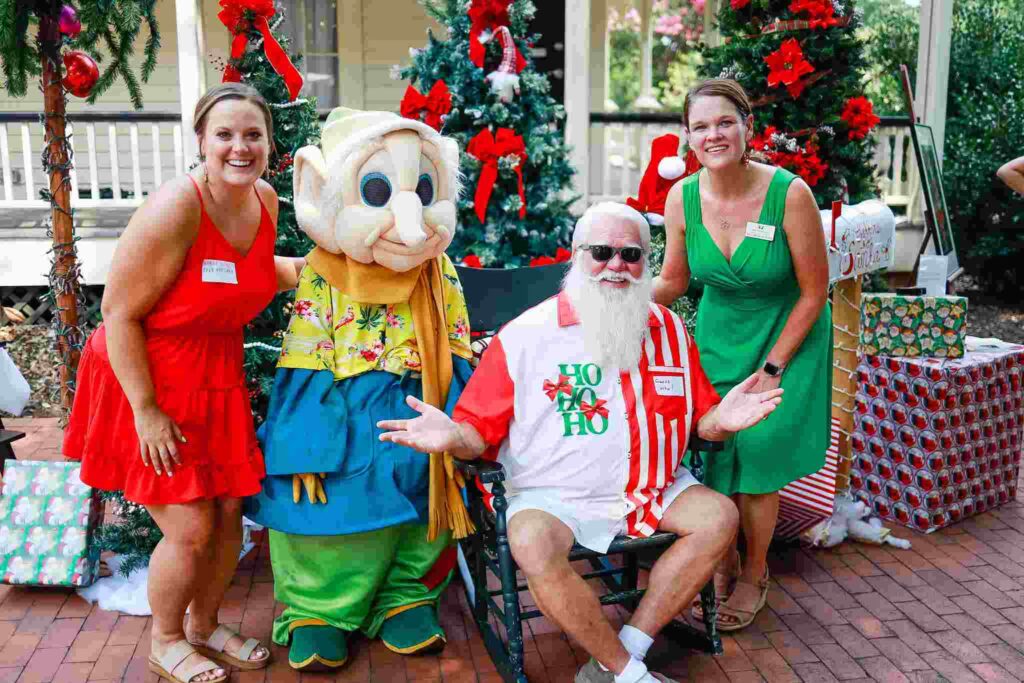 Read the blog to know what makes South Carolina the best:
What is South Carolina known for & what makes it the best?
Christmas activities in Charleston, South Carolina
Free Christmas Activities in Charleston, South Carolina
1. Marion Square: where Holiday Magic comes alive
Address: 329 Meeting St, Charleston, SC 29403, USA
No place can greet you with a cheerful "Merry Christmas" by watching a 60-foot tree getting lit up, events taking place, music performances happening, small games, and other activities being hosted.
Every year the Mayor lights the trees, and trust me this is one of the best Christmas trees you'll see in Charleston, South Carolina. The event starts from 4.30 pm – 6. 30 pm and I recommend not missing out Charleston Symphony Brass performance.
Highlight: One of the best things to do in Charleston, SC is to see the holiday tree lighting up and seeing Santa Claus for the first time in the King Street with gifts.
Tips:
No cars will be allowed between Calhoun and Queen Streets
At Marion Square, you can join the Tri-Country's Fire Chiefs Association's Holiday Parade
2. Marion Square: where Holiday Market dreams blossom
Address: 329 Meeting St, Charleston, SC 29403, USA
Walking through the local market bursting with women selling different colors of flowers, vendors selling local foods, artisans selling crafts, and everyone smiling at each other is one of the best festive ways to celebrate Christmas in Charleston.
Starting from chocolate-covered pretzels, and candy canes, to fruit cakes, and cookies, there is nothing there you won't find here. This is the best place to buy Christmas gifts, handmade Christmas cards, and souvenirs for your friends too.
Highlight: Marion Square Holiday Market is one of the best Charleston Christmas markets and has been voted as the "Best Outdoor Event" and "Best Attractions" in Charleston.
Tips:
The market is open on Saturday & Sunday from 9 am – 3 pm
Click some amazing fun photos with Santa and Mrs. Claus at the photo booth
Explore the market on foot and you can park your cars at the parking garage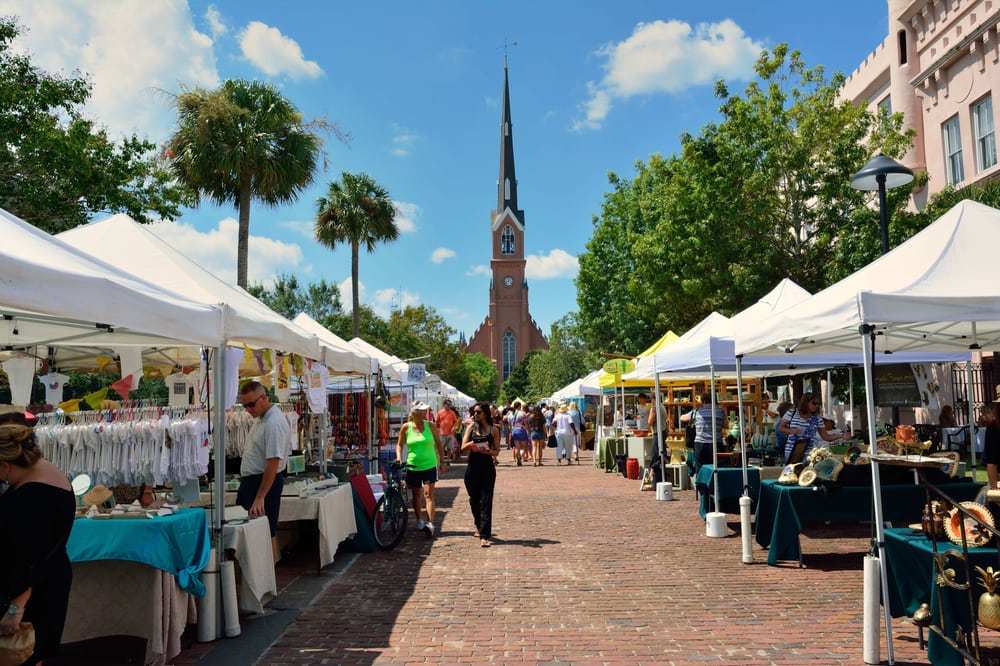 3. Charleston's River gleams with Holiday Boat Parade
Address: Charleston Harbor, Charleston, SC 29401, USA
As the clock struck 5.30 pm, after the magical illumination of the Town of Mount Pleasant Christmas Tree and a dazzling fireworks display at Moultrie Middle School, the holiday parade starts at the Cooper River! What a show!
However, you need to pay a little to book your own boat and enjoy the ride through the Charleston Harbor to Ashley River watching the Christmas lights decorated by others and decorating your own boat.
Highlight: Joining the Holiday Boat Parade and decorating the boats with fairy lights is one of the most fun family-friendly Christmas activities in Charleston. The fireworks are the show topper
Tip: If you're not participating then you can enjoy the view from the downtown peninsula starting from 7.30 pm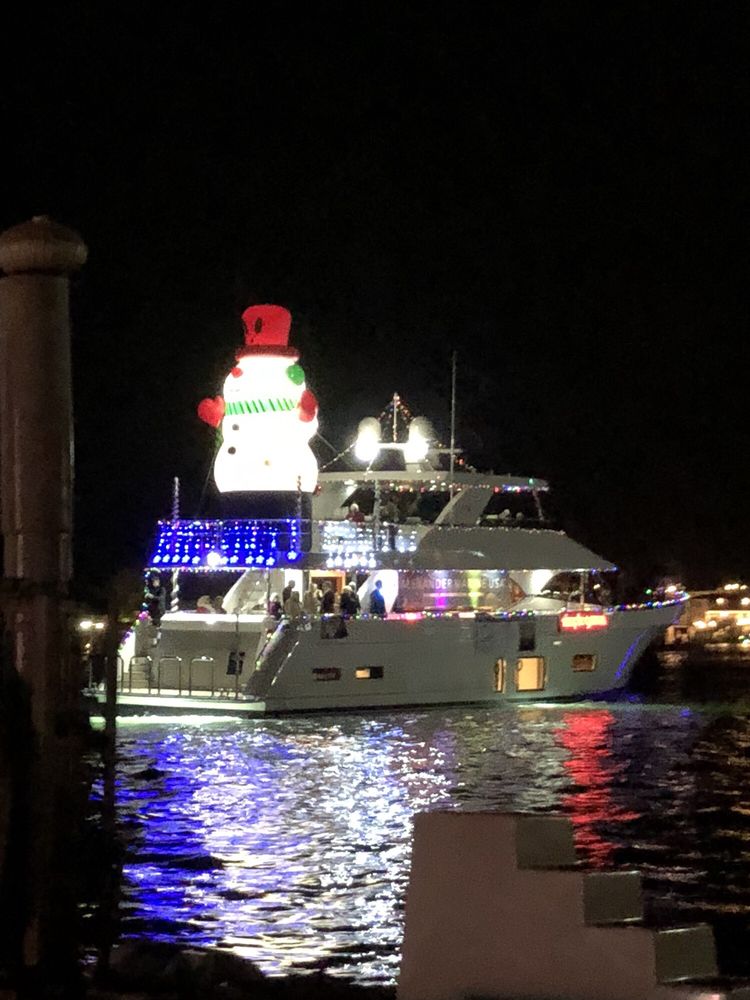 The Best Events of Charleston during Christmas
4. Where Christmas Comes Alive: Made in the South
Address: The Exchange Park, 9850 USA. 78, Ladson
Christmas is not only about celebrating 25th December but also getting the house decked up, shopping, buying gifts, buying a Christmas tree and so more. So, here I bring, a Christmas Made in the South, award-winning holiday shopping event.
Under one roof, you'll encounter 350 artists, craftsmen, and decorators selling the best contemporary arts and designs the country has. If you have a huge appetite for handmade designs, silk wearables, fabric bags, and glass jewelry, this place is a gem!
Highlight: Get ready for the holiday season under one roof buying all you need
Tips:
On the weekends Friday – Saturday (10 am – 6 pm), and Sunday ( 11 am – 5 pm) only in early December the event is conducted
The entrance fee for adults is $9 and for kids below 12 is free
5. Emeline's Annual Tree Lighting
Address: 181 Church St., Charleston
Everyone is welcome to gather beneath the radiant glow of a majestic 14-foot Christmas tree designed by Emeline, a boutique hotel. The air echoes holiday music while you'll be served complimentary hot cider, cocoa, cookies, and sweets.
There is no doubt how beautifully you'll enjoy the Christmas lights in Charleston clicking pictures with Santa, and Mrs. Clause enjoying the free treat and vibe. The live music and shopping opportunities is the attractive feature of this celebration.
Highlights:
HALO and Leah Edwards come together to perform
Hob Nob Entertaining opens there stalls selling the best quality and fun holiday crackers and other holiday decor items
Tip: The celebration starts on 3rd December from 4 pm – 6 pm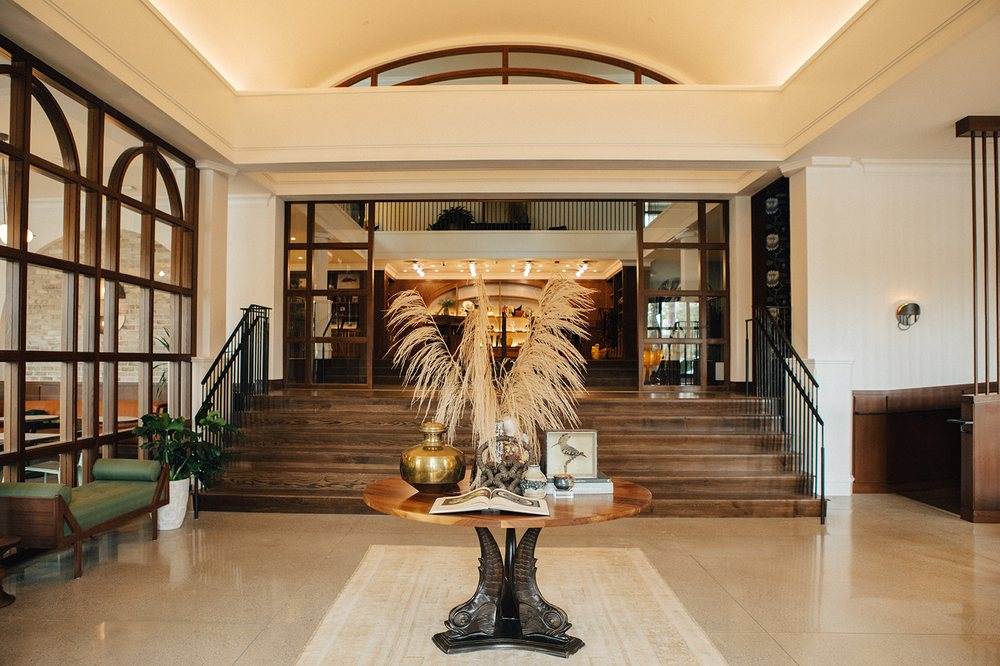 Read the blog if you love road trips:
North Carolina To South Carolina Road Trip Itinerary 
6. A journey to remember: The Holiday Sleigh Ride
You're in Charleston in December, how can you not try out sleighing? If you haven't tried, I recommend trying out this best festive activity to do in Charleston this holiday season with your family! What an experience!
You'll be sitting on a beautifully decorated sled driven by none other than your favorite childhood characters – Santa & Mrs. Clause and elves giving you a tour of Downtown Charleston for a good 25 minutes. 
Highlights: The tour ends with serving with hot cocoa, and cookies at Santa's stable (behind the barn). You can click as many as pictures you want. On the way you'll enjoy the Chrismas carols playing
Tips:
Get your own blanket to cover yourself and enjoy the December ride in Charleston!
Per ride is accompanied by 16 people and children aged 2 and below can enjoy the ride for free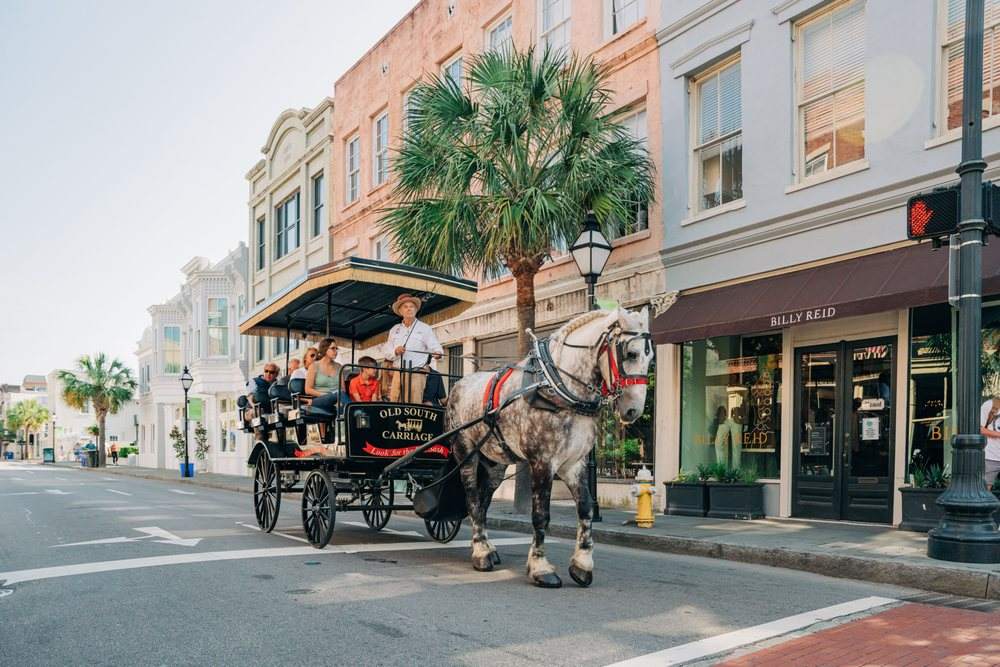 7. Discover Charleston's Christmas charm: strolls walking tour
Christmas and holidays in Charleston can be enjoyed hugely, especially if you book a walking tour strolling through historic Downtown, landmarks, neighborhoods, and mad markets knowing the story behind them and not aimlessly.  
Just imagine, your guide will narrate to you all the exciting stories showing you the history and revealing the tradition. Isn't that more fun? I recommend connecting Bulldog, for such walking tours. If you book it in advance, I guarantee you'll get good discounts!
Highlights:
You get the chance to see Four Corners of Law, The Battery Districts, Whitepoint Garden, Antebellum Mansion, Charleston Harbor, and Charleston House Museum
The guide will tell you the history of Rainbow Row, take you to historic churches, graveyards, Revolutionary Civil War landmarks, gardens and so more
Tip: Walking tours are one of the best Christmas things to do at Christmas time in Charleston. You'll be accompanied by 8 more adults. Motorbikes are not allowed so if you're fit to walk this tour is the best!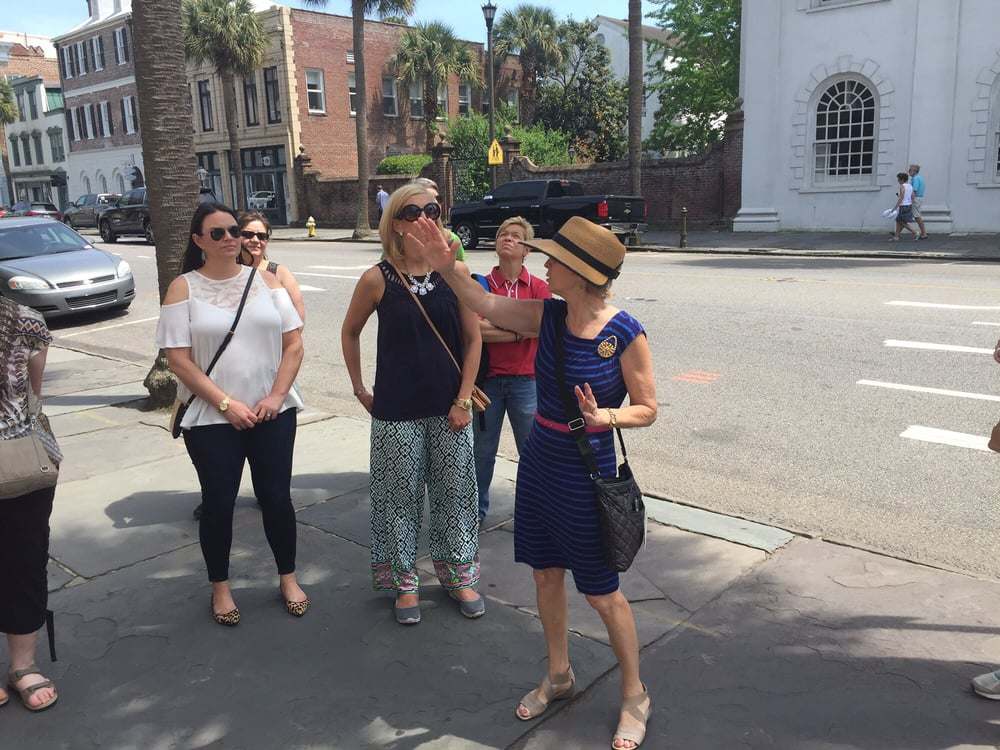 8. Watch the illumination: The Christmas candlelight service
Address: The Citadel campus at the Lowcountry at Summerall Chapel
Each year SC Corps of Cadets from Catholic, Gospel Choirs, the Protestant, and the Citadel Regimental Band come together to enchant timeless notes of seasonal melodies and narrate the story of Christ's birth and unfolding others events encountering it.
I recommend attending this special Christmas event in Charleston that will stay a great memory for you and your family as the magical ambiance and music are bound to offer you all the positive energy. 
Highlight: The idyllic settings with two thousand candlelights lighting can really help in calming minds and knowing about Christ's birth story
Tips:
This Christmas activity happens on the weekends of the first week of December
Do not bring your cameras or video lights. Also, the event is free for visitors
9. Sip and savor: Wine Beneath the Majestic Oaks
Address: 1235 Long Point Rd. Mt. Pleasant, S.C. 29464
Christmas and wine, you know, always go hand in hand. As the families and friends gathered in the cozy back lawn, and the aroma of hearty feasts filled the air at the Boone Hall Plantations, the real festivities started to set.
The winery gets decked up with twinkling lights, and garlands, the tables are set with an array of bottles, and you stand beneath the towering oaks that framed the estate with glasses of wine, which are one of the spectacular Christmas activities in Charleston to participate. 
Highlight: Wine Under the Oaks is a traditional festival of wine, where musicians, saxophonists, and artists come together to cherish the festival. There are themed tents where you can try the food, oysters, and varied food types
Tip: Wine under the Oaks is celebrated on 8th December starting in the afternoon till the evening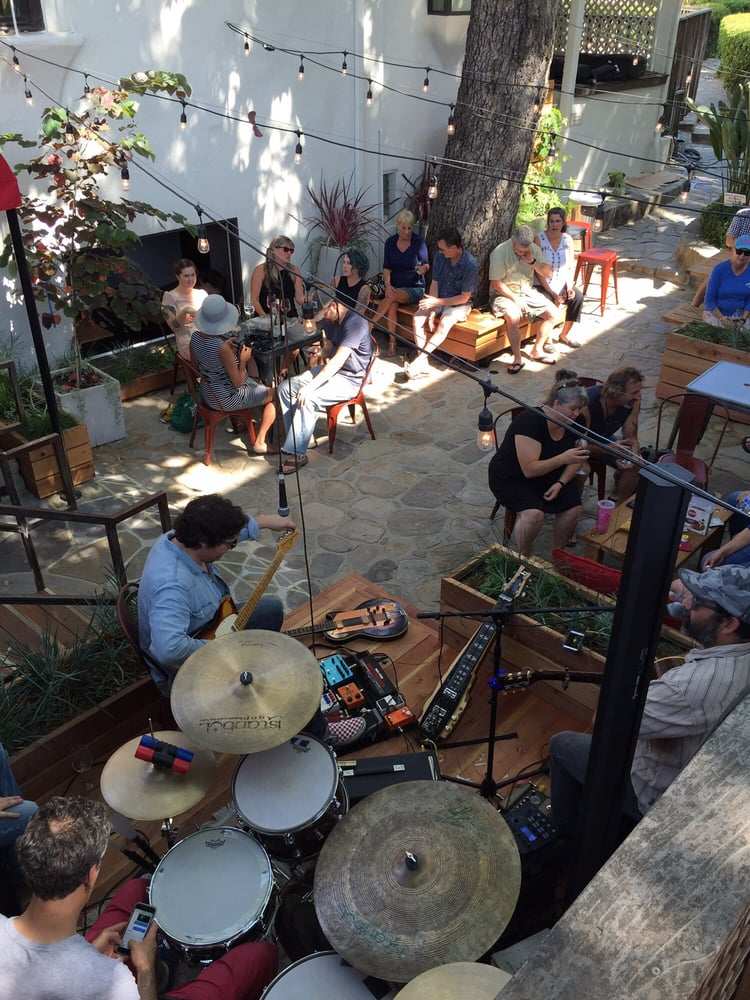 10. Drayton Hall: where oysters roast and stories unfold
One of the best Christmas things to do in Charleston, South Carolina is to attend the best annual oyster roast delicacies with chill bar, local beverages, wine, and music with locals at the backdrop of Charleston's historic building.
You'll surely enjoy getting together with locals listening to their jokes, and stories, and also playing small games, and cherishing the night. This Low County tradition of roast oysters at Drayton Hall Mission is surely one of the most memorable events in your life!
Tips:
Pets are not welcomed
Book your tickets as early as possible
December Charleston Holiday Tour
11. Hampton's heartwarming holiday homecoming: A festive tradition 
If you want to create some Christmas special memories in some holiday sites, look no further than Hampton getting decorated for Christmas. If you want you can also book a stay here and enjoy Christmas which will obviously cost a lot!
However, I did not book to stay but rather booked my tickets for a walking tour which starts from 12 Pm – to 2 Pm. They take you around the house, and rooms, telling you the stories in a word take you back in the ages.
Highlight: A musical function starts at 1 pm which I'm sure you'll love it
Tip: A tickets cost $10/ person
Charleston Christmas Parade
12. Folly Beach Christmas parade: joy on display
Address: Second Street and West Ashley Avenue
Right down Center Street, Santa Claus joins the traditional parade welcoming flocks of every age to join it and make it the most memorable parade in the history of South Carolina.
Santa who is also called Sandy Claus gives candies and other prizes to the small ones as the parade continues making it the most thrilling for children of all ages. You can join the float ad if you win then get ready to get the prize!
Tip: The celebration happens on the second Saturday of December at 1 pm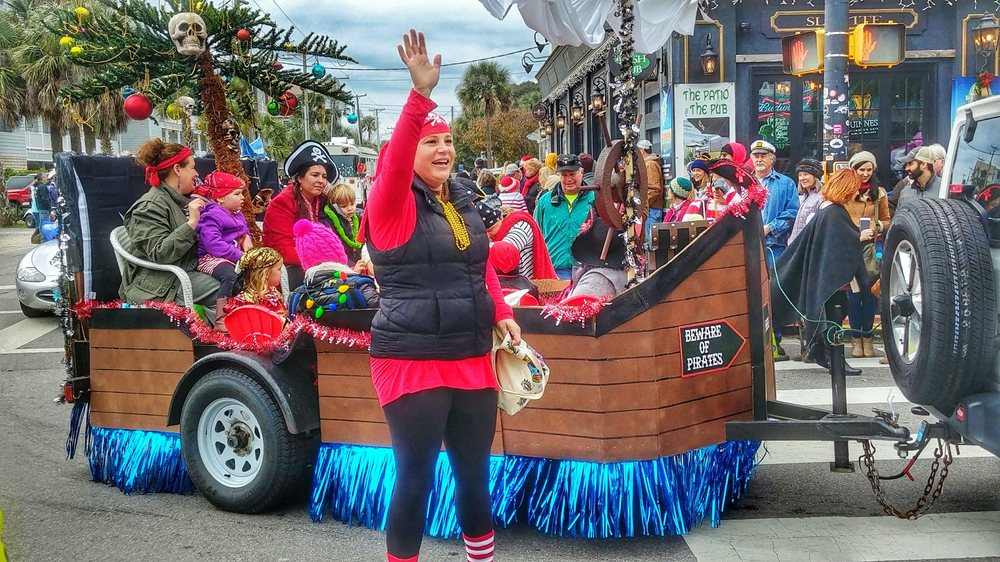 Christmas Shows in Charleston South Carolina
13. Charleston School of Arts: holiday spectacular delight
Address: Charleston Gaillard Center 95 Calhoun St Charleston, SC 29401
The auditorium of the award-winning Charleston School of the Arts Symphony and Singers gets all decked up with classics to modern songs playing and enjoying Christmas as no other.
The singer's voice carries the spirit of the holiday on their wings, I guarantee you'll fall in love with such celebrations. You can feel as the night grows the unity, and shared joy grow much stronger. Try to attend this event for some treasured memories!
Tip: $18/ person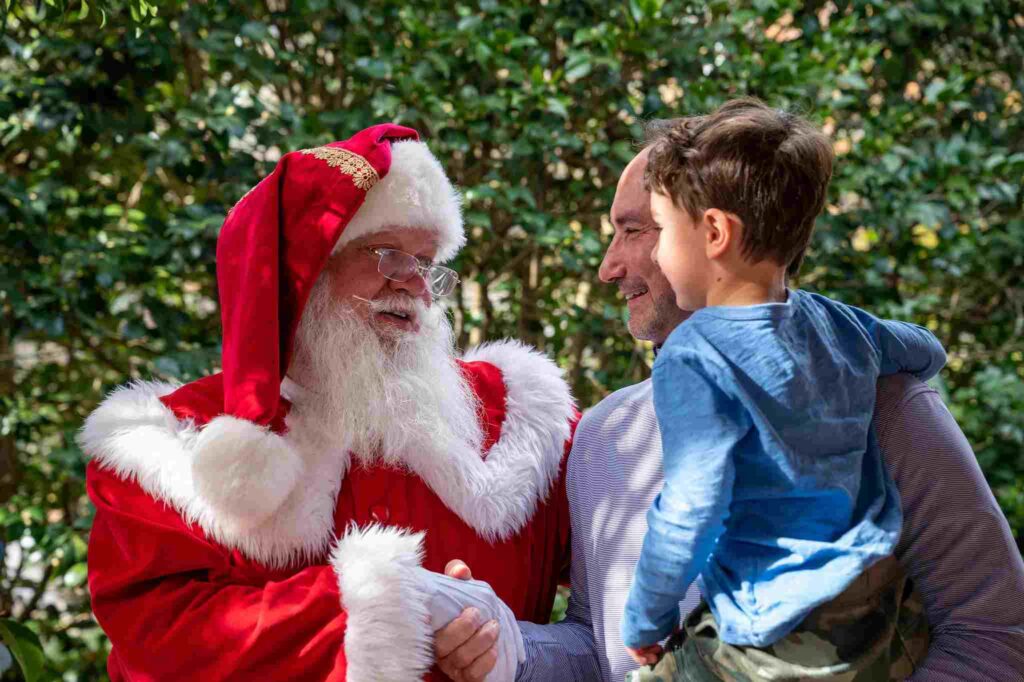 Read More: