Mardi Himal Trek Itinerary: Highlights from Trekkers
As my alarm rang, I understood it was 3:40 a.m., and I should get ready for the final hike from High Camp to Mardi Himal View Point.
However, I didn't feel like waking up. As I moved the blanket, I could sense the cold. I checked my phone, which showed a temperature of 0 degrees.
I was even thirsty, and in the darkness, I fumbled for my water bottle inside the blanket, only to realize that I had forgotten to keep it.
It was beside the bed on the ground. I was a little irritated with myself. As I opened the cap and took a sip of water, oh my god, it was so cold, as if someone had served me water from the freezer.
However, after two sips, I knew I had to have water because hydrating is important before the hike. I took four more sips.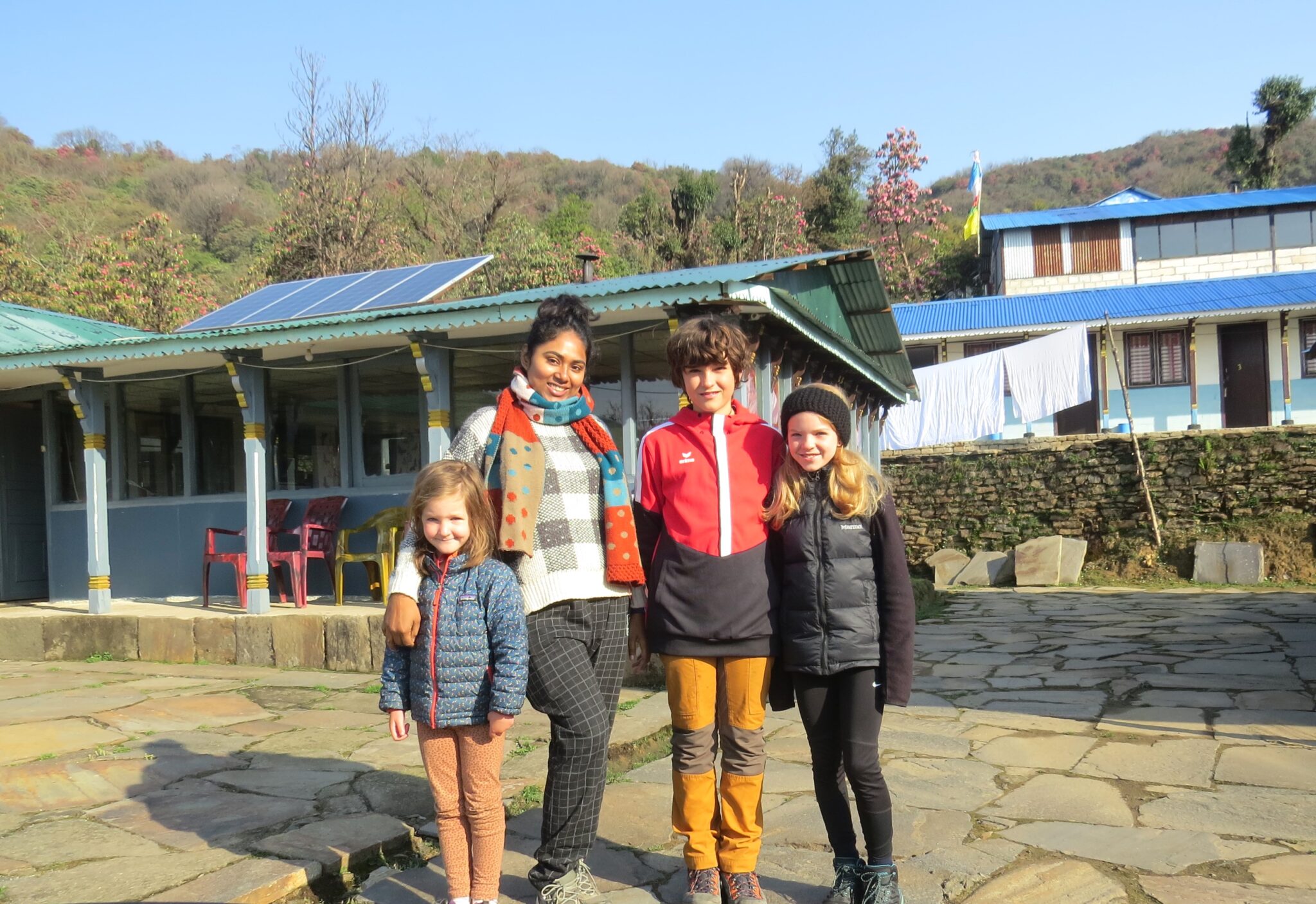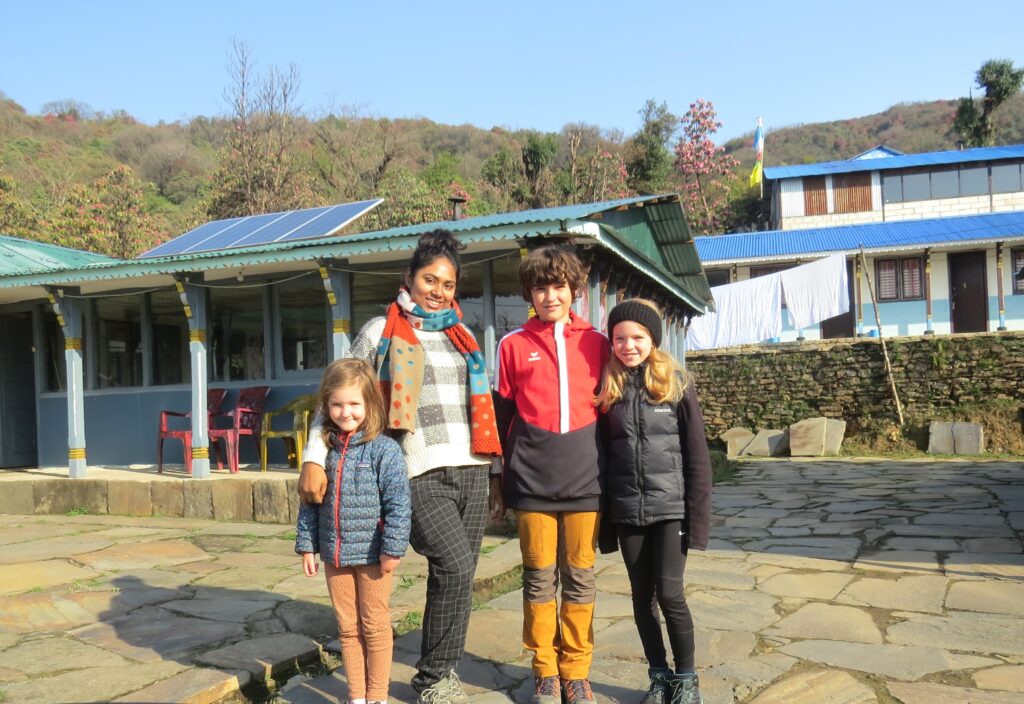 Until now, I was in bed. I knew I had to get up and get ready, but still didn't feel like it. My body felt tired, and I could tell my muscles didn't want to work right now.
A part of me was telling me to stay in bed and watch the sunrise from the camp itself. Another part was questioning why I was here. I wanted to complete the trek.
After 3-5 minutes of self-talk, I got up from the bed without thinking much, switched on the light, and took the towel to go to the washroom, which was outside.
So, yes, I finally got ready by 4:05 am to embark on the most important day of the hike – to see Machu Picchu, Annapurna South get the first rays of the sun, and be at the Mardi Himal Base Camp with the glory of completing my first solo trek in Nepal.
If you're a beginner and want to learn about the lesser-known facts of the Mardi Himal Trek, I highly recommend checking out the first part of the series where I've covered all the things to know before embarking on the Mardi Himal Trek.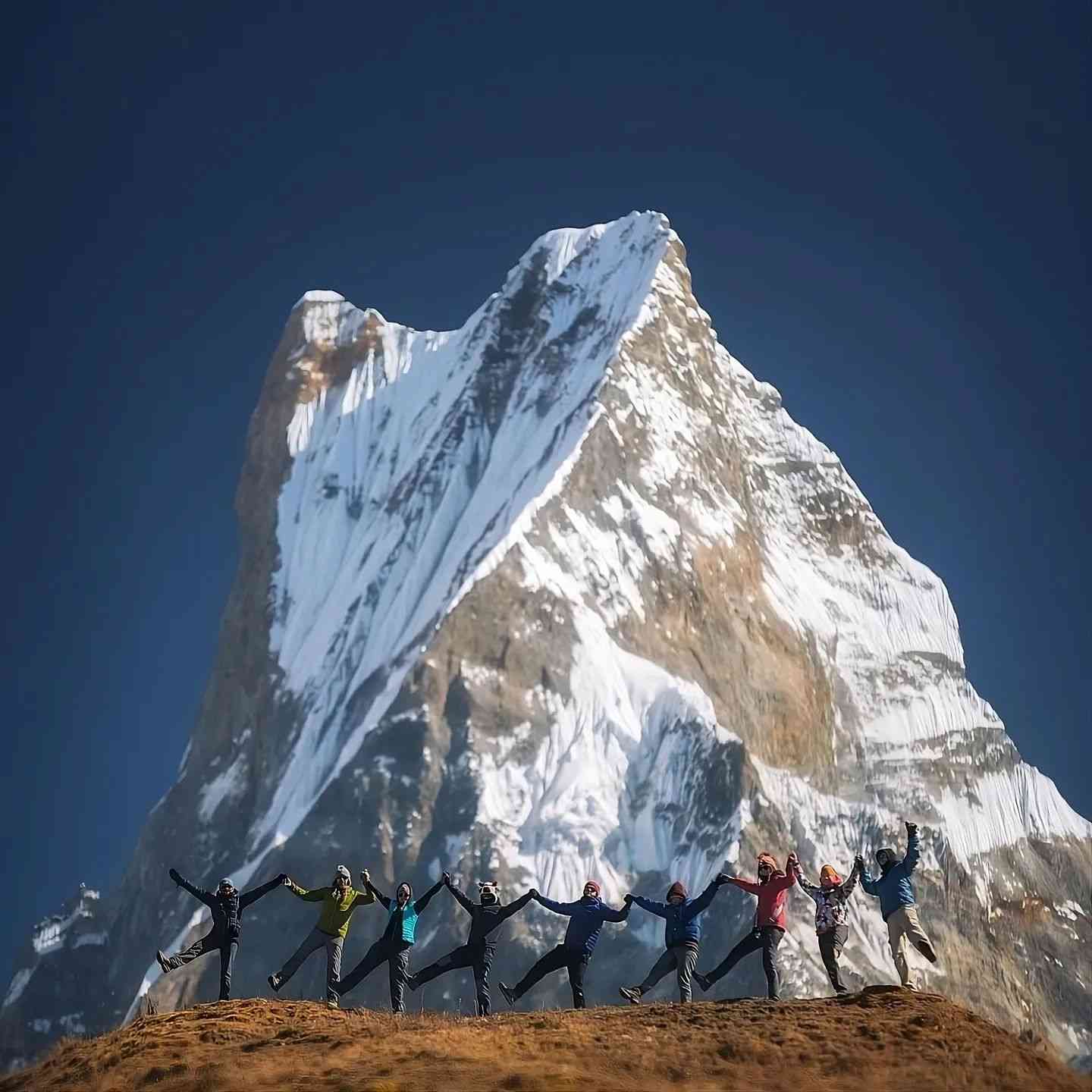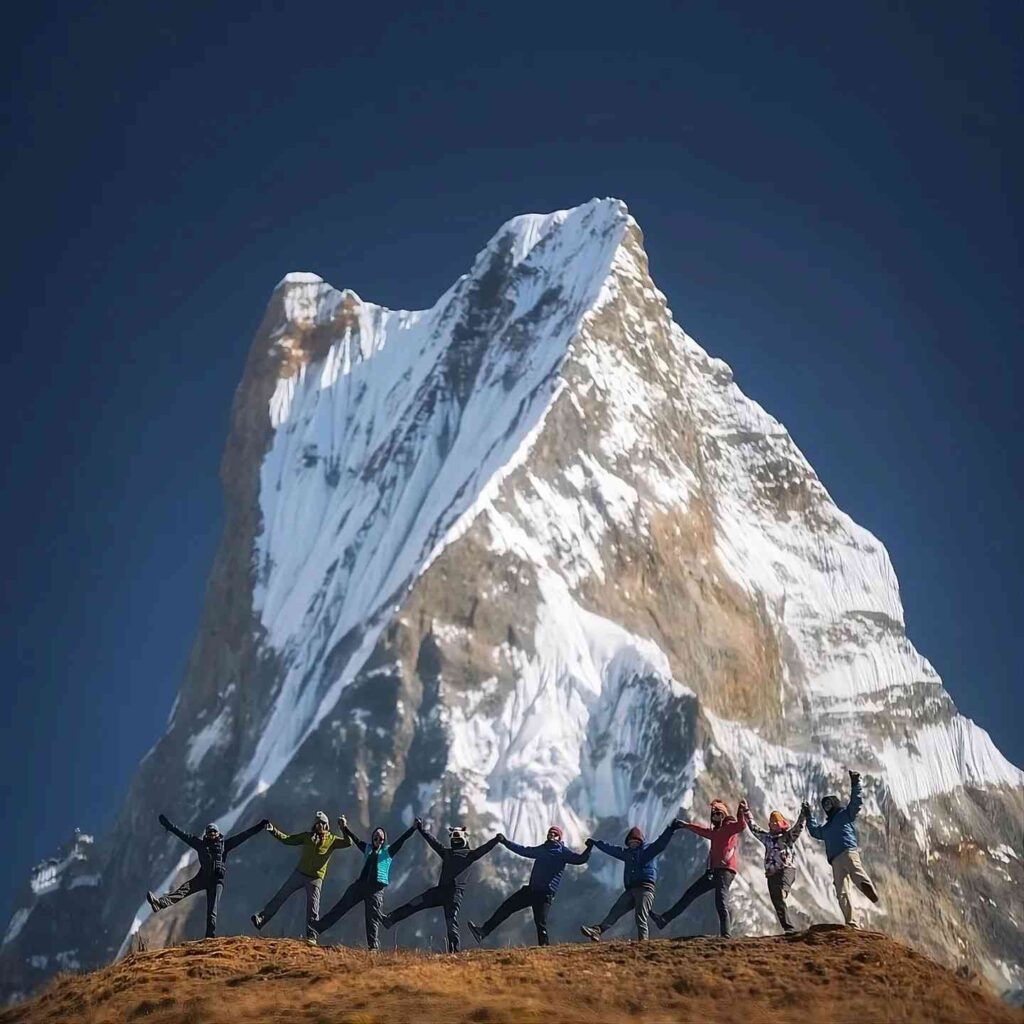 Table of Contents
Mardi Himal Trek Itinerary Map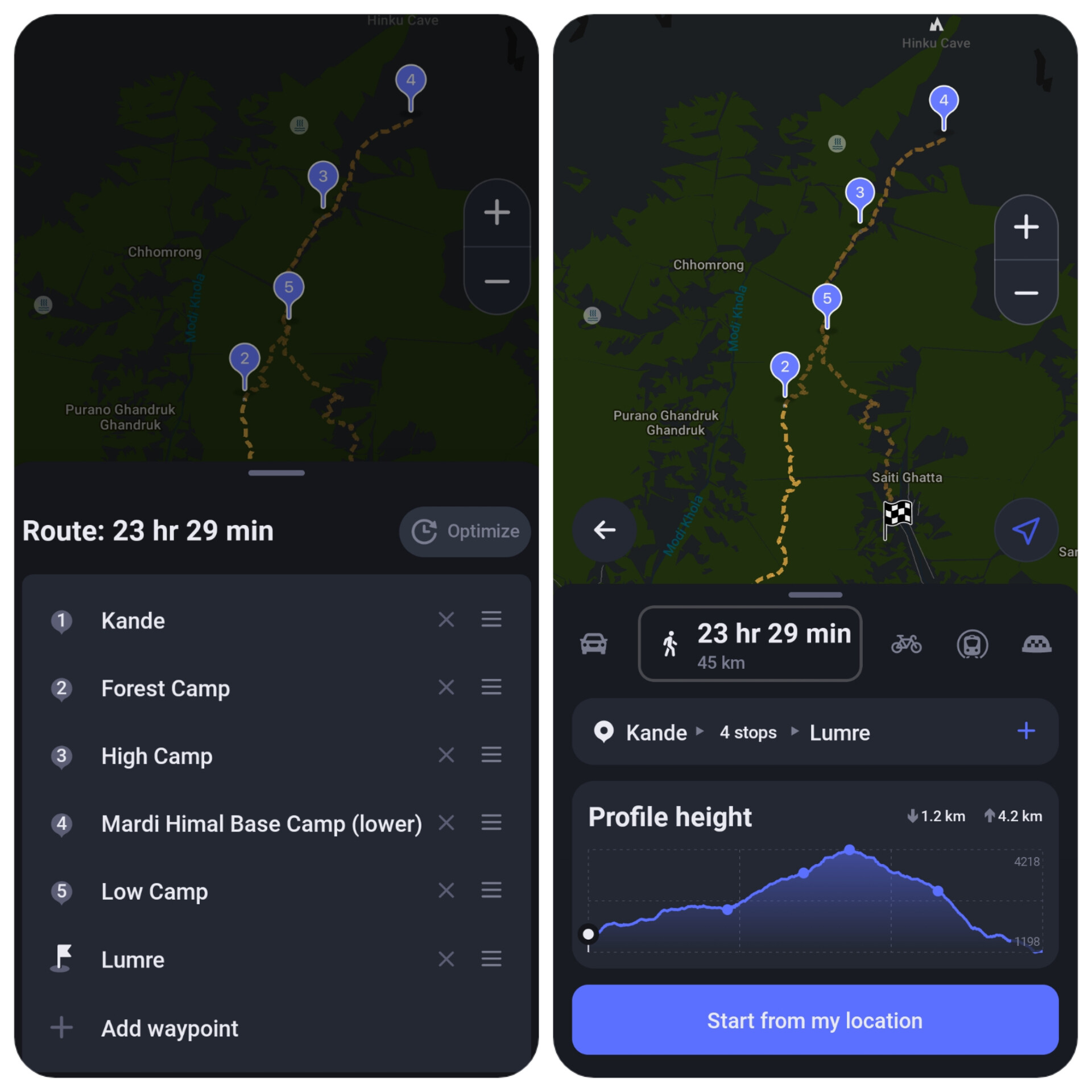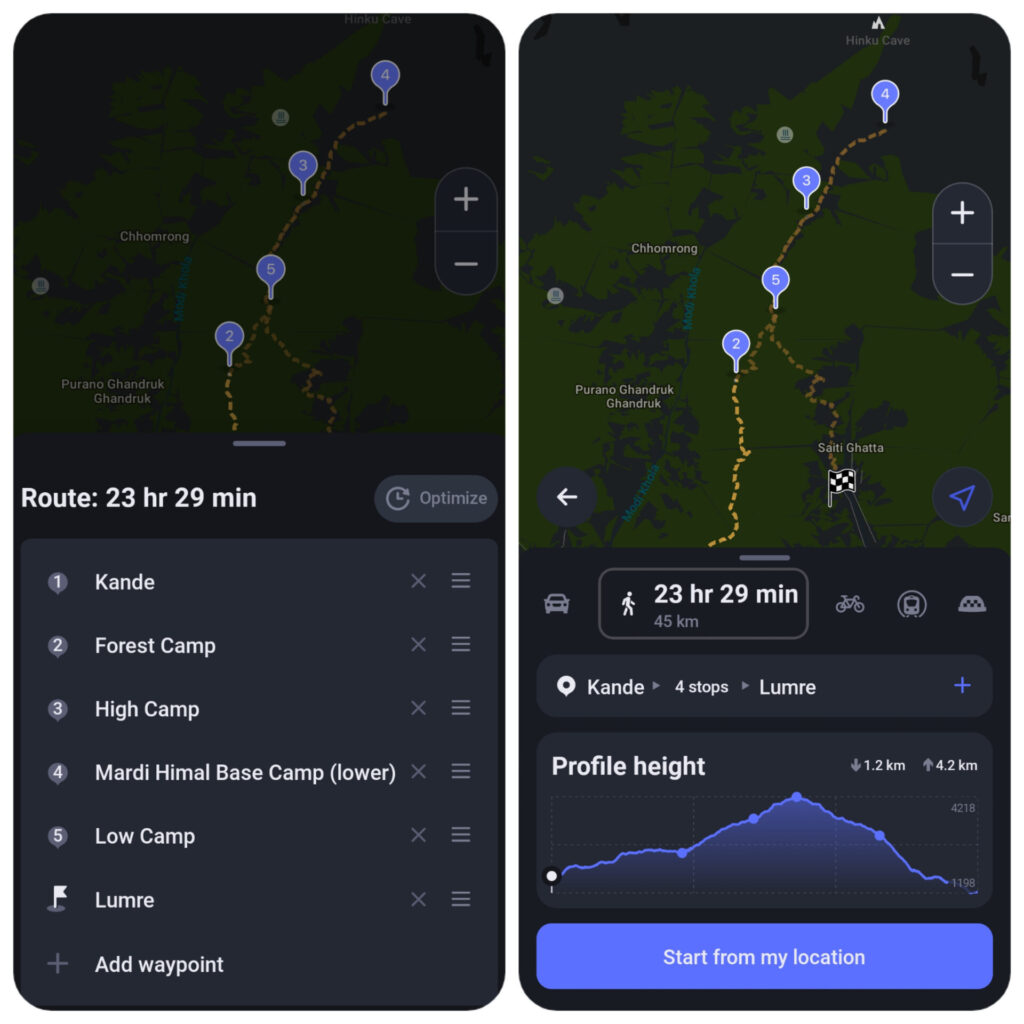 Maps. me is an incredibly offline map with a remarkable level of detail. Trekkers often use this map to get the routes and do treks solo without difficulty.
Did you buy your insurance yet? Read the blog to know why you should buy travel insurance.
Mardi Himal Trek local guides You can contact
Nimay – +977984-5431718 (contact details)
Mardi Himal Trek tour company You can contact
Best Time to Visit Mardi Himal Trek
The last week of April and mid-October are the ideal times for trekking to Mardi Himal Base Camp. During these periods, the camps are open to accommodate you and offer food, and the sun is high.
However, don't assume that you won't encounter any challenges on the trail if you visit in April or October. While it's the best time to be on the trail, the mood swings of the mountains can be unpredictable.
It's highly recommended to avoid the months from May to September due to the monsoon season.
During this time, there's a possibility of rain leading to the falling of large old trees on the trail, thunderstorms, and even snowfalls and hailstorms at times. If you're carrying a power bank or wearing hats with metals on them, thunderstorms can be very dangerous.
Additionally, the period from December to February constitutes the winter season, meaning the trail will be covered in snow. Many accommodation centers might be closed during this time as they prefer staying in town.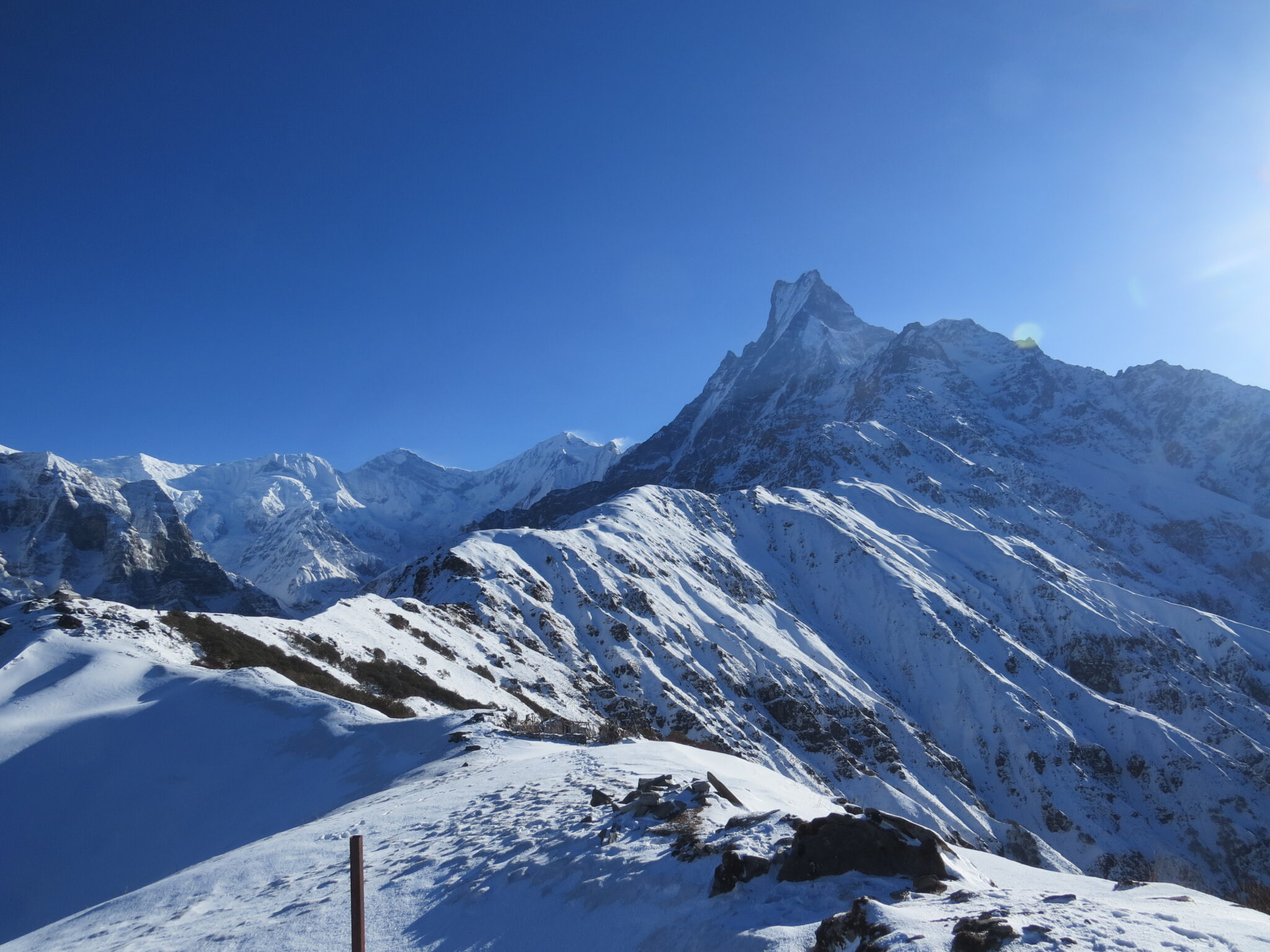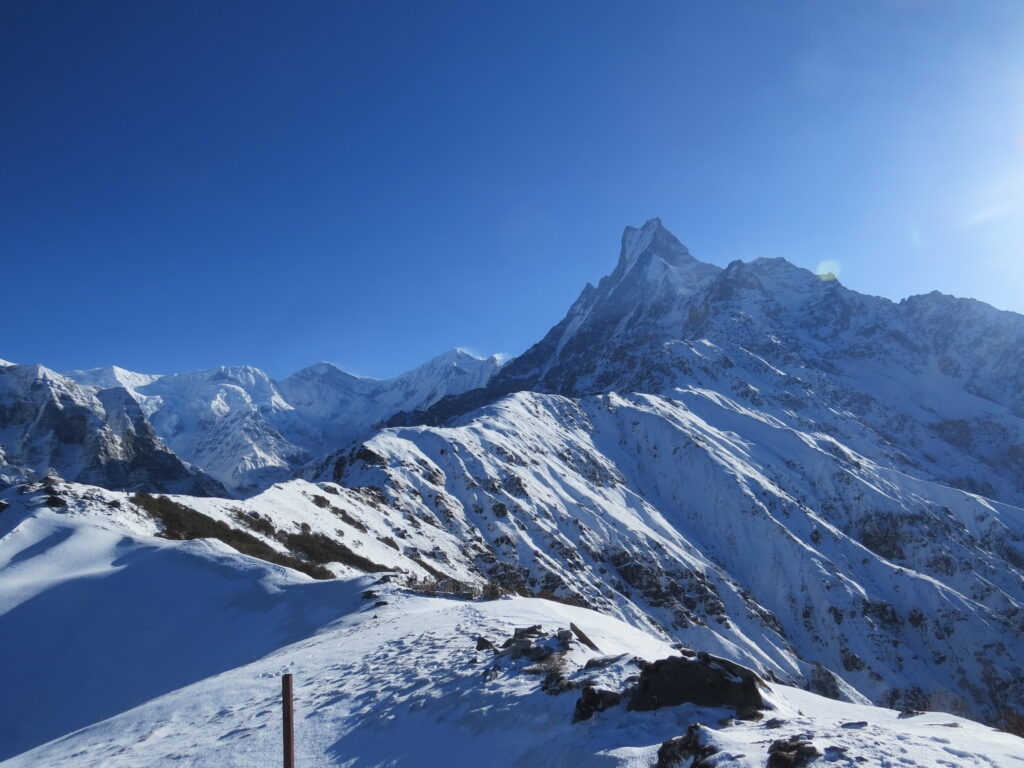 The temperatures will be freezing, making hiking difficult. Moreover, the trails will be blanketed by thick layers of snow, increasing the risk of mishaps and accidents.
I started my trek on the 23rd of April, 2023. On the day I began my journey from Kande in Pokhara, the weather was very sunny, and I found myself drenched in sweat.
However, as I reached Forest Camp around 4:20 p.m., I noticed the sky turning black. Initially, I thought it might be due to the mountains causing early darkness, but I soon realized it was clouds rolling in. 
Gradually, cold air started to blow, creating a stunning scene. Yet, within 20 minutes, the weather transformed entirely. I had to retrieve my jacket and muffler from my bag to protect myself from the cold.
From that point onwards, it rained consistently. When I woke up around 7 a.m. the next day, it was still raining. A local girl at the Camp mentioned that it had rained throughout the night.
The sky was dark and gloomy, and I was concerned about whether I should continue the trek. Nimay, the tour guide I had met on the trail, assured me that we could proceed.
That's how we prepared ourselves by 8:30 a.m. wearing a raincoat and began our hike to High Camp. I took frequent breaks, as sometimes it was raining cats and dogs.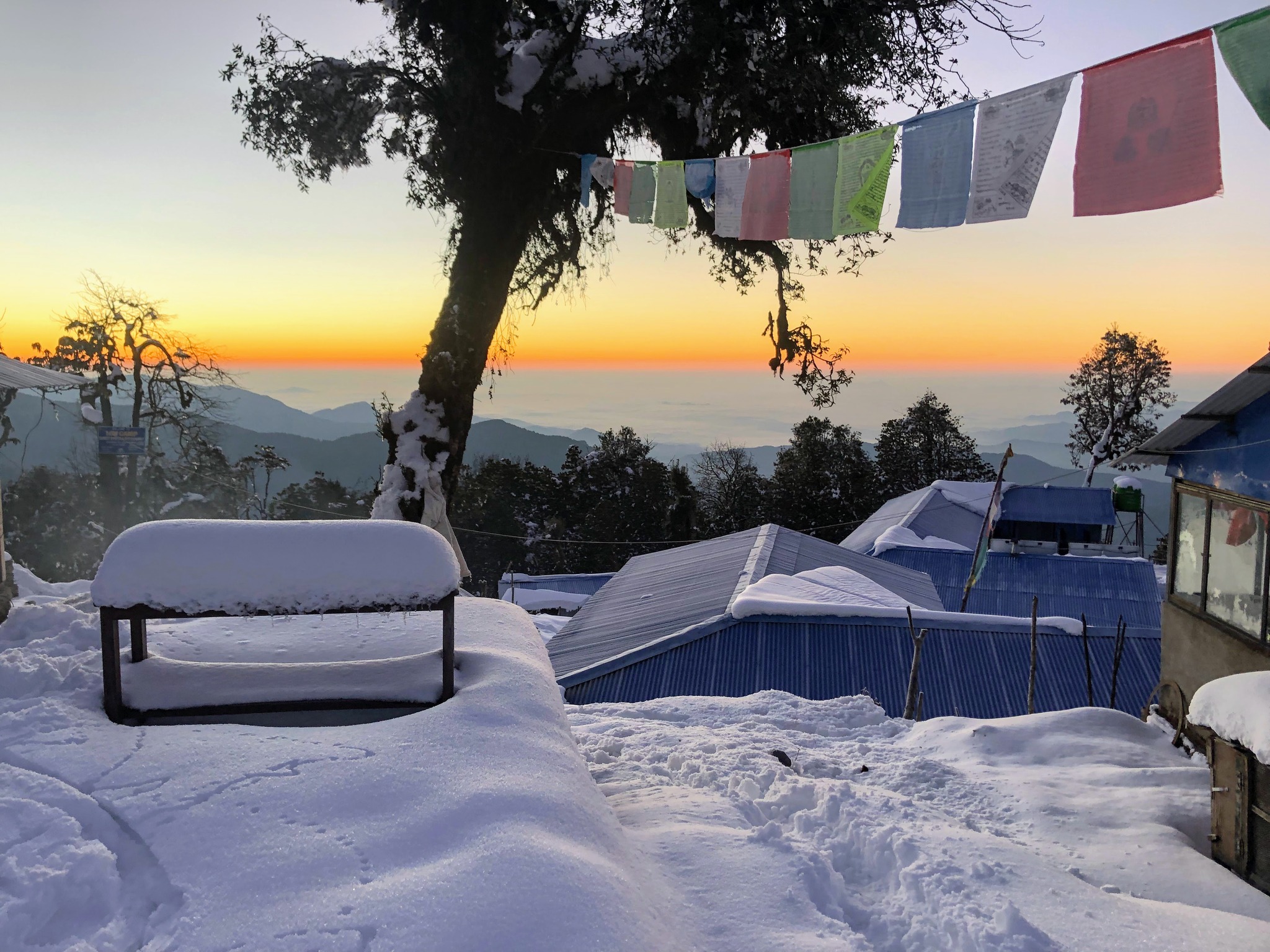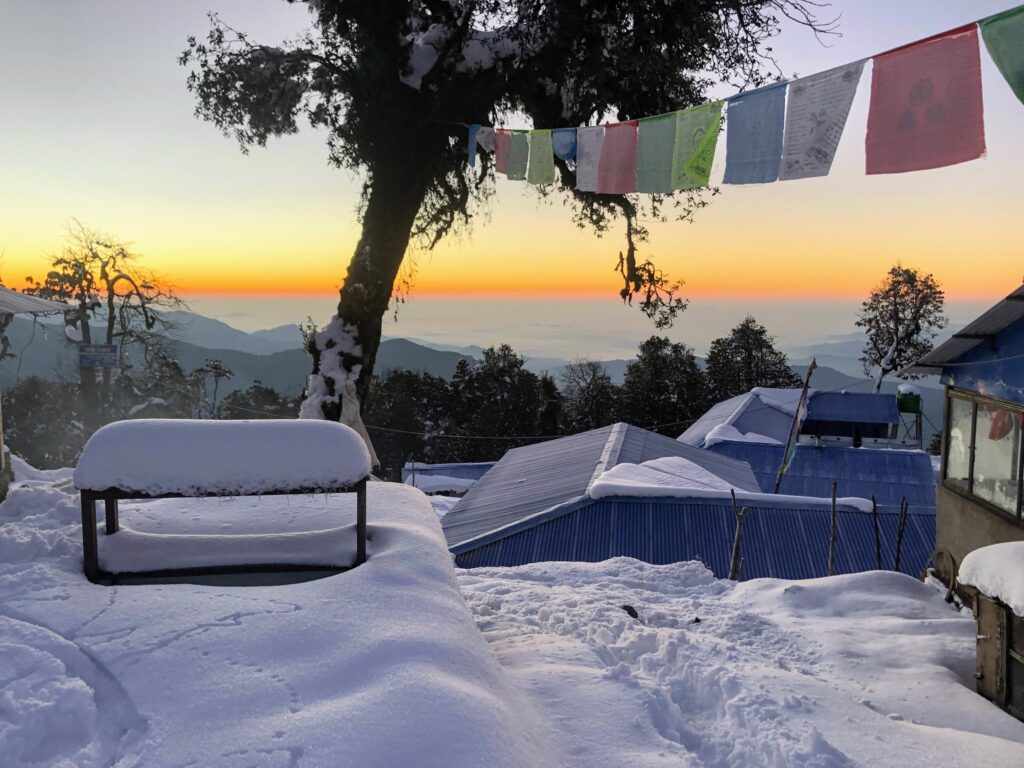 Even when it stopped, it only lasted for not more than 15 minutes. Some people were still trekking in the rain; there was no other alternative. We were all on the trail, walking at our own pace.
Despite wearing gloves, my hands felt cold, and my nose and ears were cold too. My shoes were covered with mud. I prayed fervently so that I wouldn't fall sick at such an altitude.
Even while on the trail, I kept wondering what would happen if it rained like this tomorrow. The famous short trek in Nepal was not looking short to me anymore!
I wouldn't be able to see the sunrise, the view, the beauty. I kept praying, and we were all hoping for the clouds to move.
Fortunately, after 5 p.m., the rain finally stopped, and the sky cleared. Then, on the third day, I was able to witness the sunrise, see the Annapurna, and admire the Machu Picchu.
As I mentioned, the mood swings of the mountains are quite frequent!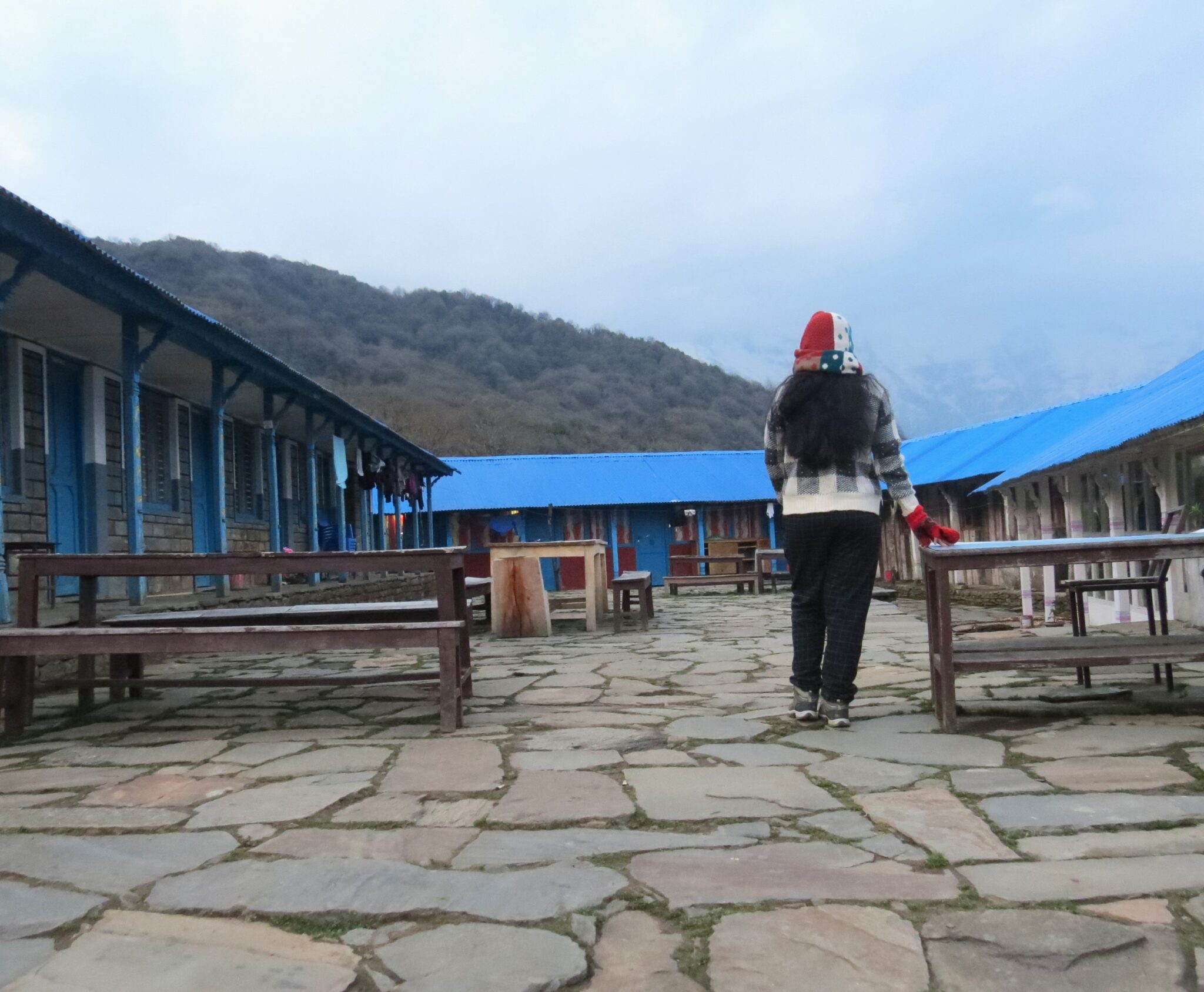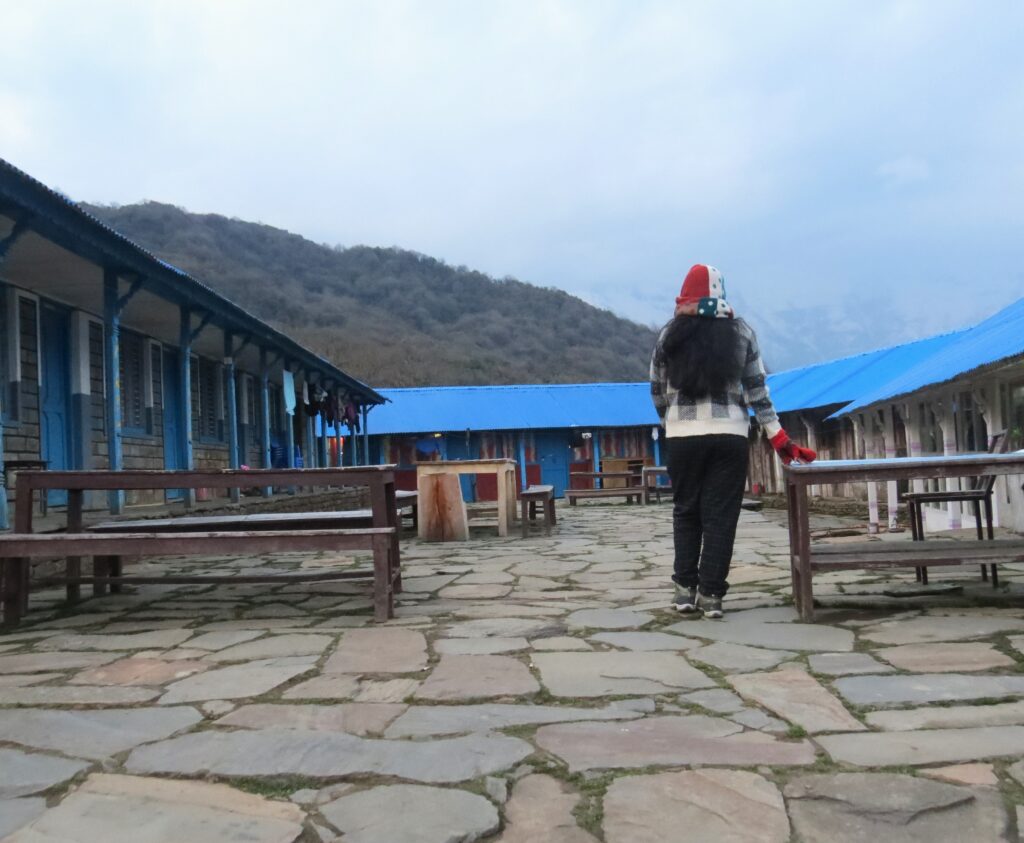 You'll love to read on:
How to Reach Mardi Himal Trek Trailhead?
You need to be in Pokhara a day before the trek starts. From Pokhara, you have two options: hire a private taxi, which will take around 40 minutes and cost NRP 1500, or take a bus available frequently from the Pokhara bus stand.
The bus ride takes approximately 1 hour 30 minutes and costs around NPR 400. However, if it rains, the roads might become muddy, and the bus journey could extend to 4 hours to reach Kande, the starting point of the Mardi Himal Trek.
I met Sam, a guy from Switzerland, at the Backpackers Hostel. He took Mardi Himal Trek guided tours, which included a private cab ride from the hostel to Kande.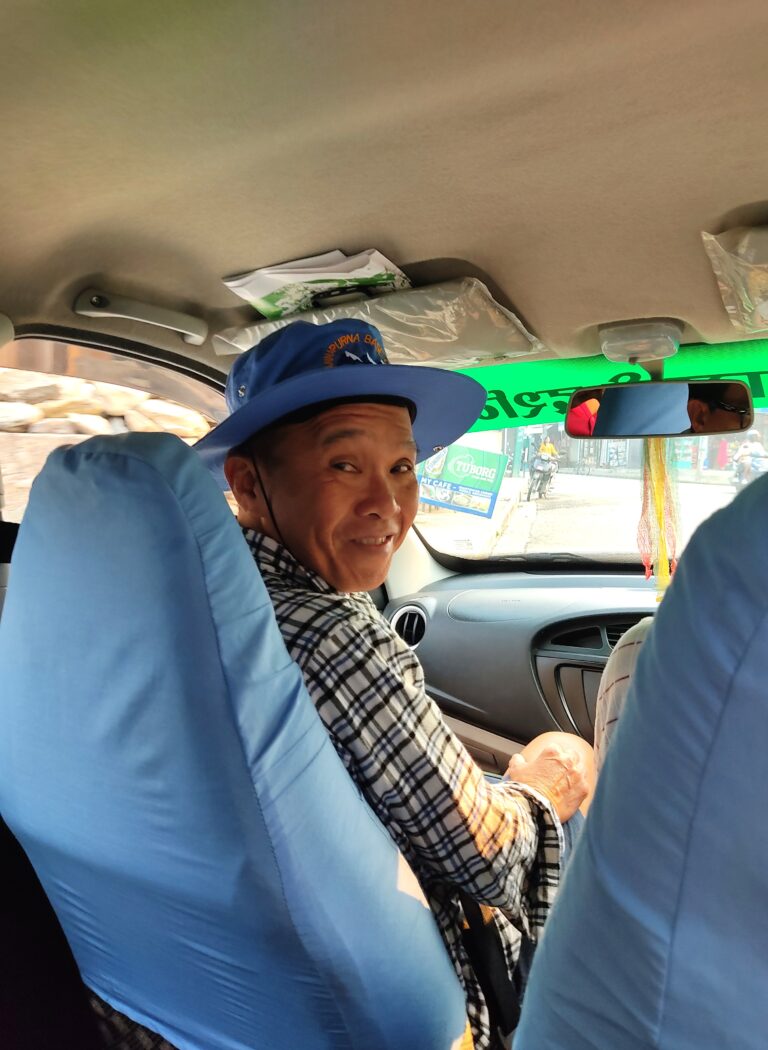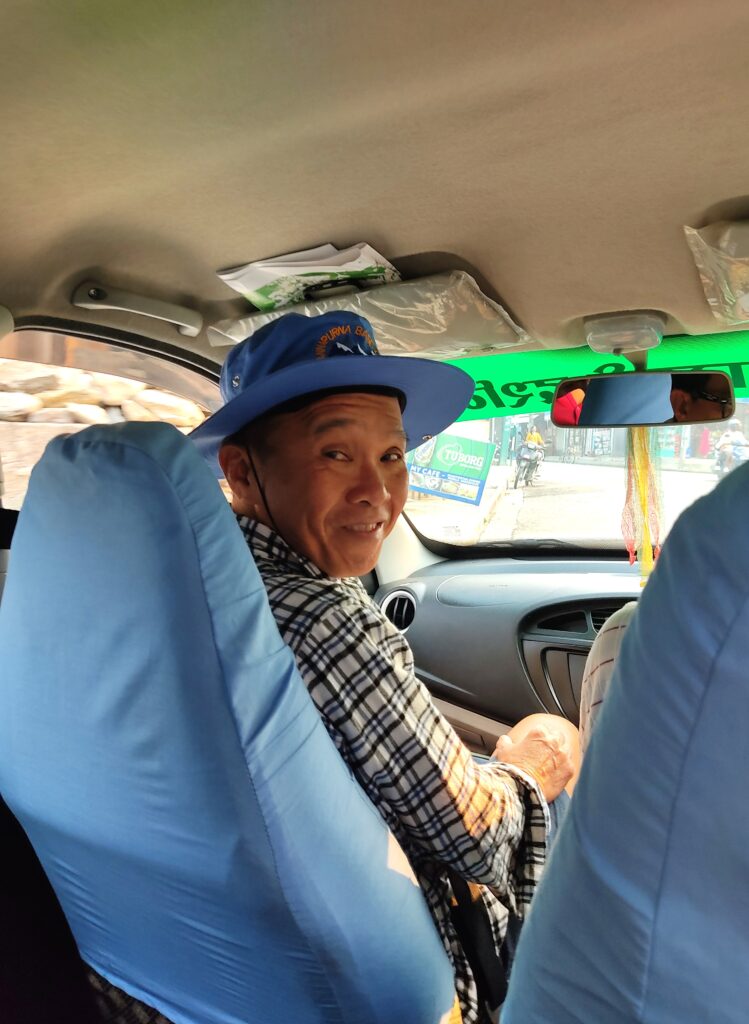 It was very kind of him to give me a lift without charging. I'm thankful to him. If you're staying at the hostel or know people who are going on the same trek, you might consider sharing the fare for the cab. This option is much more convenient than taking the bus.
Also, if you're opting for the bus, please ensure you're at the bus station by 8 a.m. While there are frequent buses, it's still better to arrive early to start the trek as early as possible.
4 Days Mardi Himal Trek Day-by-Day Schedule
I completed the four-day trek, which follows the most standard route. Starting from Pokhara, you need to take a cab or bus to reach Kande, and from there, you begin the hike. The routes are well-marked, so there's no need to worry about finding the trail.
After coming to Siding from Low Camp, you need to hire private taxis to reach Pokhara (there are no other options). If you're traveling through a guided tour, then it's their responsibility. If not, then you have to book taxis. These taxis operate on a shared basis.
For instance, each taxi has 8 seats. So, if you're traveling solo, you'll need to wait for seven other passengers. Once all the seats are filled, the cab will take you to Pokhara. They will charge 1000 NPR per person. However, if you're in a hurry, you can book the entire taxi, which will cost you 8,000 NPR
Note: Please avoid hiking in the dark. It's highly recommended to stay in your campsite once the sun sets. Remember, the trail runs through the Annapurna region, which is a forest and also home to many wild animals.
The time you spend on the trail depends on your speed; therefore, it might vary from person to person. I will mention the distances in kilometers, which you can follow.
Here come the 4 days of the Mardi Himal Trek Itinerary –
Day 1: Pokhara (800 m) –Kande – Forest Camp (2,465 m) (start from 9 am – 4 pm)
Day 2: Forest Camp – High Camp (3,550 m) (start 8.30 am – 4 pm)
Day 3: High Camp – View Point (4 am – 8.30 am)
Day 3: High Camp – Low Camp (3, 050 m)(10 am – 3 pm)
Day 4: Low Camp through Siding – Lumre (1,885 m) (10 am – 2 pm)
Day 4: Lumre – Pokhara (1 hour) by car
You should travel to India too...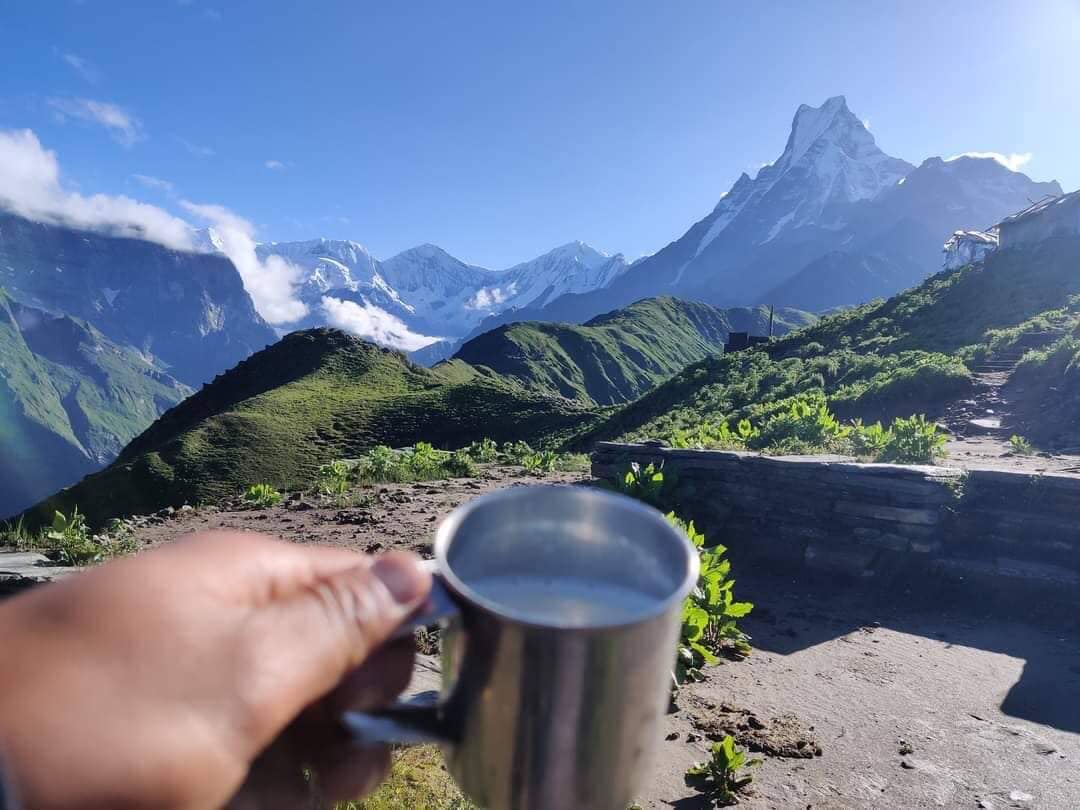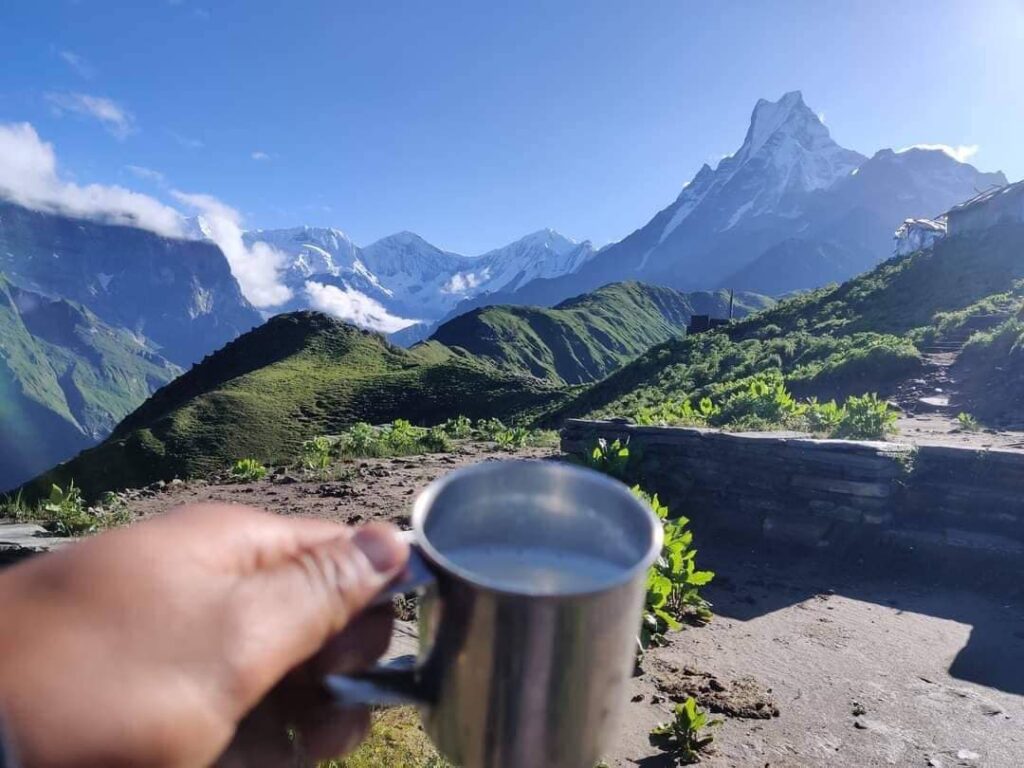 5 Days Mardi Himal Trek Itinerary
Day 1: Pokhra –Kande – Australian Camp (from 9.30 am – 11 am). If you want, you can hike a little more to reach Pitan Deurali (overnight stay) which is not very crowded compared to Australian Camp
Day 2: Australian Camp/ Pitan Deurali – Forest Camp/. Again, Rest Camp is 30 more a hike from Forest Camp and less crowded
Day 3: Forest Camp/ Rest Camp – High Camp
Day 4: High Camp – View Point (4 am – 8.30 am)
After returning to High Camp from the viewpoint you can either choose the trail leading to Low Camp (stay overnight) and then on the 5th day take the Siding route to reach Lumre. Moreover, this is the regular route, but if you want to take a different trail then follow –
Day 4: High Camp – Kalimati
Day 5: Kalimiati – Pokhra (from Kalimati, you'll get a share jeep to reach Pokhara)
Where can you see the Himalayas from India?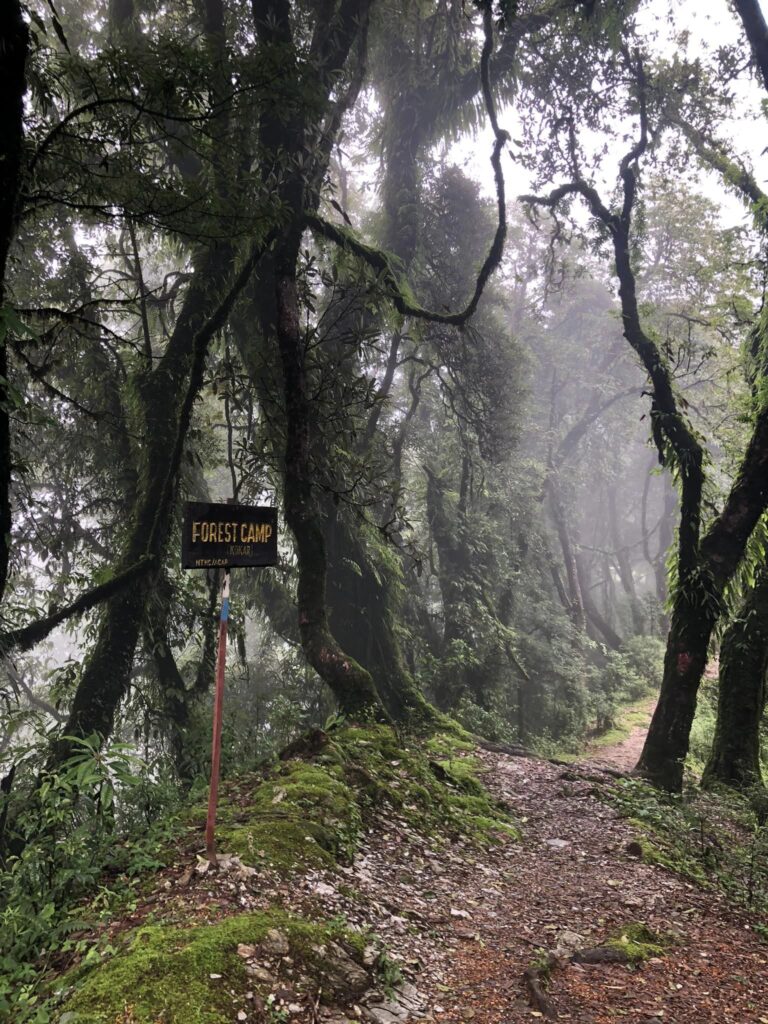 Comparison Intent: Mardi Himal Trek vs. Annapurna Base Camp
Difference
Duration of the trek
The Mardi Himal Base Camp Trek and the Annapurna Base Camp Trek vary significantly in terms of trekking days.
The Mardi Himal trek typically spans 4 to 5 days, whereas the Annapurna trek demands 11 to 12 days. It's important to note that this discussion pertains solely to the trekking aspect and does not include the travel to Pokhara or the interim resting days.
When considering the best Nepal trek for beginners, it's crucial to assess the number of days available for the trek within your holiday period.
Popularity
As a hypothetical scenario, if you encounter 10 individuals trekking the Mardi Himal Route, you're likely to find at least 25 people on the Annapurna trek route.
The Mardi Himal trek gained popularity among people starting from around 2010, whereas the Annapurna trek had already gained prominence back in the 1990s.
Consequently, if you inform a friend about your plans for the Mardi Himal Trek in Nepal, there's an 80% chance that your friend won't be familiar with it, whereas the Annapurna trek is widely recognized.
Mardi Himal Trek is indeed one of the offbeat treks in Nepal that was once used by locals for pasturing, as well as for the movement of yaks and sheep. In contrast, Annapurna has become highly commercialized due to the influx of tourists.
Elevation gain and altitude
The Mardi Himal View Point takes you to an altitude of approximately 4,500 meters above sea level, while the High Camp is situated at an altitude of 3,350 meters.
On the other hand, the Annapurna Base Camp takes you to an altitude of approximately 4,130 meters above sea level.
However, for both treks, it is necessary to acclimatize yourself effectively to prevent altitude sickness. Additionally, both trails require mental resilience to complete them.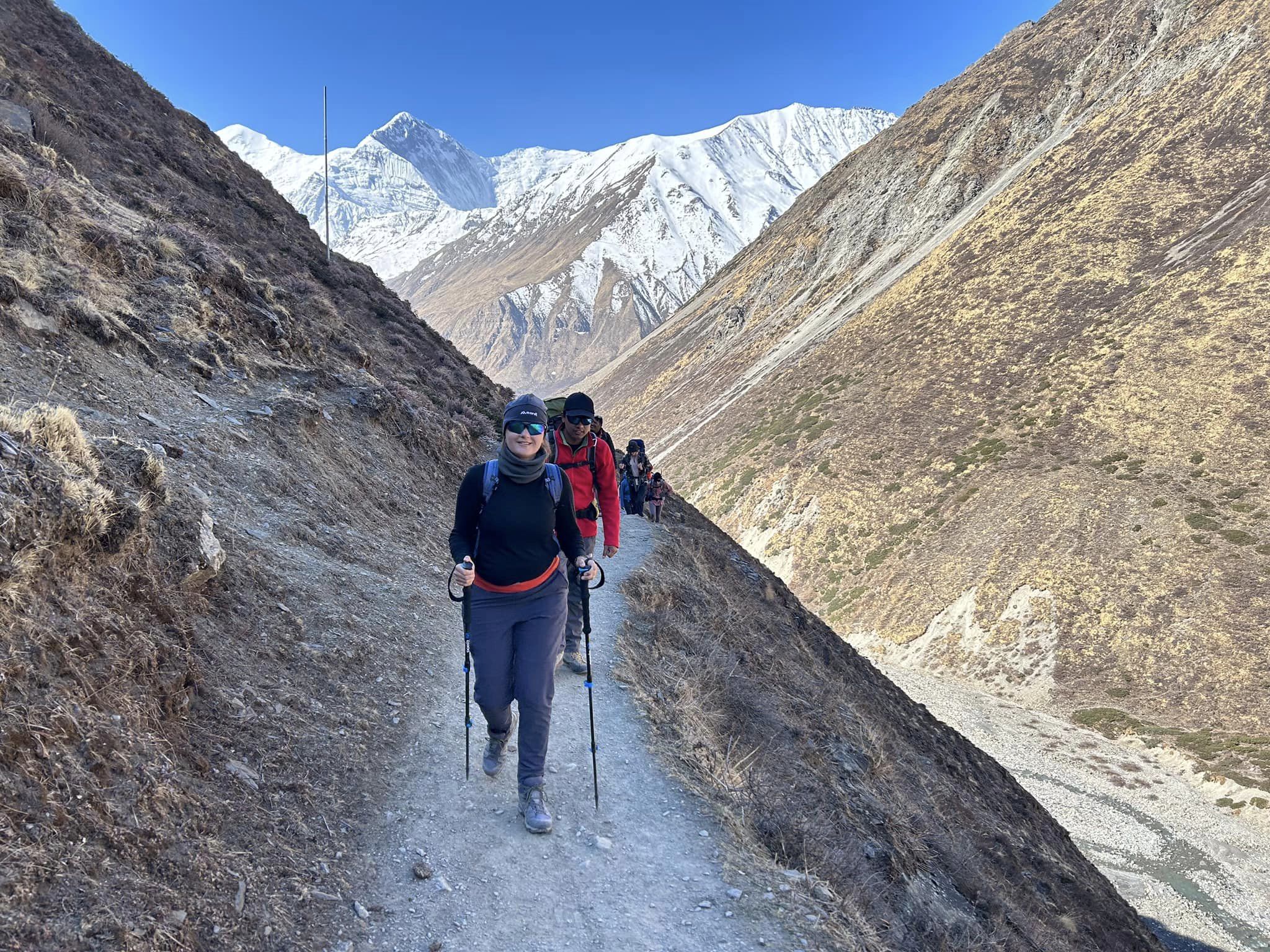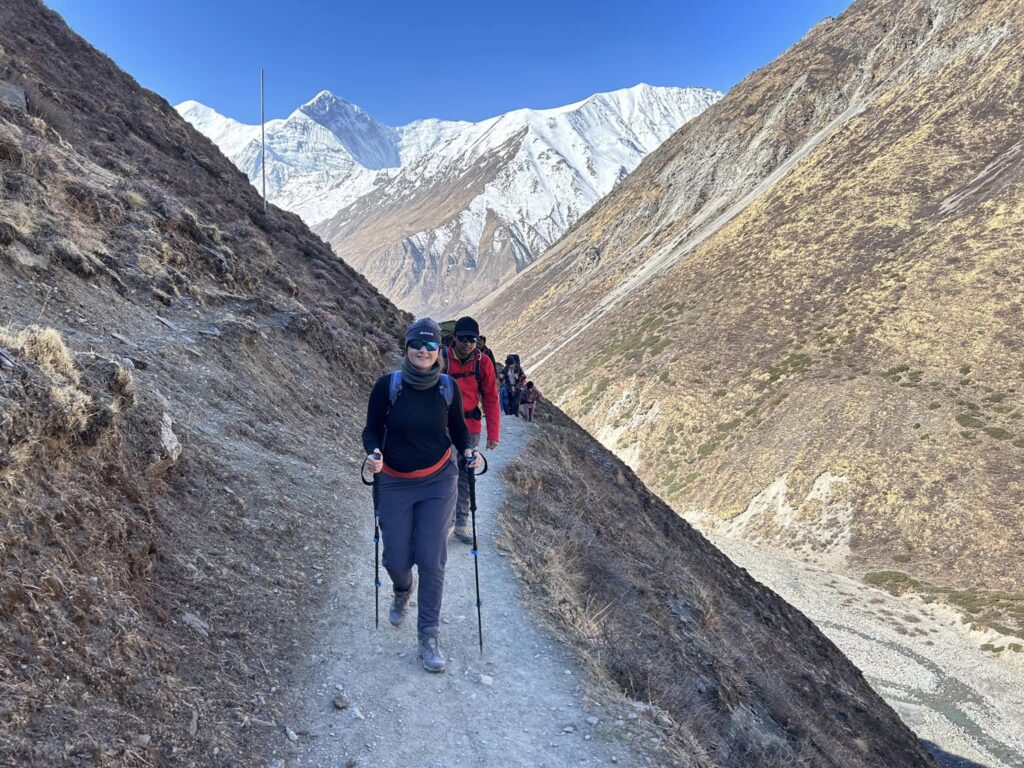 Similarity
Path and panorama
Both treks offer you a fleeting glimpse of Nepal's rugged landscapes, enticing with promises of adventure and an extraordinary journey.
Upon completing either of these treks, you'll find yourself energized and eager to embark on more such expeditions, each leading to a hidden doorway that unveils untouched beauty and cultural wonders.
The pristine forests, the symphony of rustling leaves accompanies your every step, and the hushed whispers of insects create a melodious backdrop as you traverse above them, while your gaze is captivated by the dance of canopies overhead.
These enchanting elements are shared by both treks, weaving a harmonious thread of nature's song.
Occasionally, the trails wind through traditional villages, where warm smiles and kind hearts await.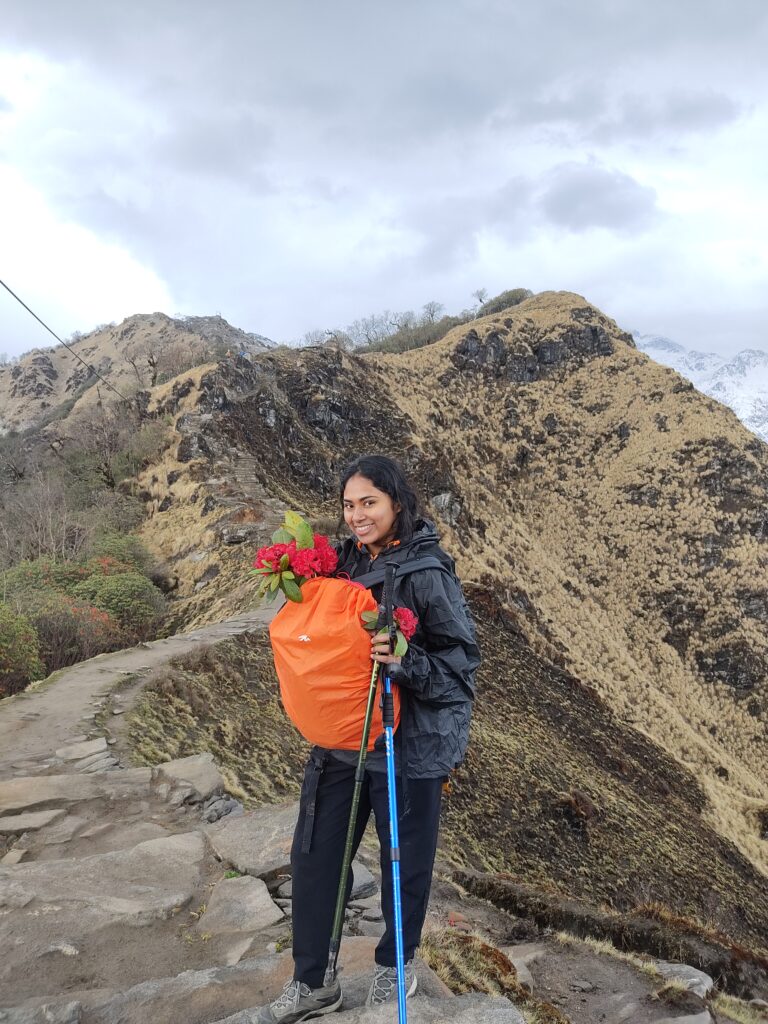 These villages serve as restful oases where you can refuel, savor local cuisine, engage in conversations, and relish the joy of cherishing the journey you're undertaking.
The scenery bestowed upon you is nothing short of picturesque, casting an equally potent spell on all who pass through.
And as your trek culminates, what you'll carry back are memories—unique imprints of your very own adventure etched into the tapestry of your experiences.
My Experience: Mardi Himal Trek Scenic Beauty
A journey that commenced with a myriad of uncertainties and hesitations ultimately culminated in an unquestionably beautiful experience.
This marked my inaugural solo trek in Nepal, where I was gifted with breathtaking vistas of Dhaulagiri, Annapurna South, Machu Picchu, and Hiunchuli.
Each day I was gifted with some new experiences to make, yet certain elements remained constant—the persistent chill in the air, a comforting cup of lemon ginger tea, the flavors of Nepali cuisine, and the strangers who swiftly transformed into a family.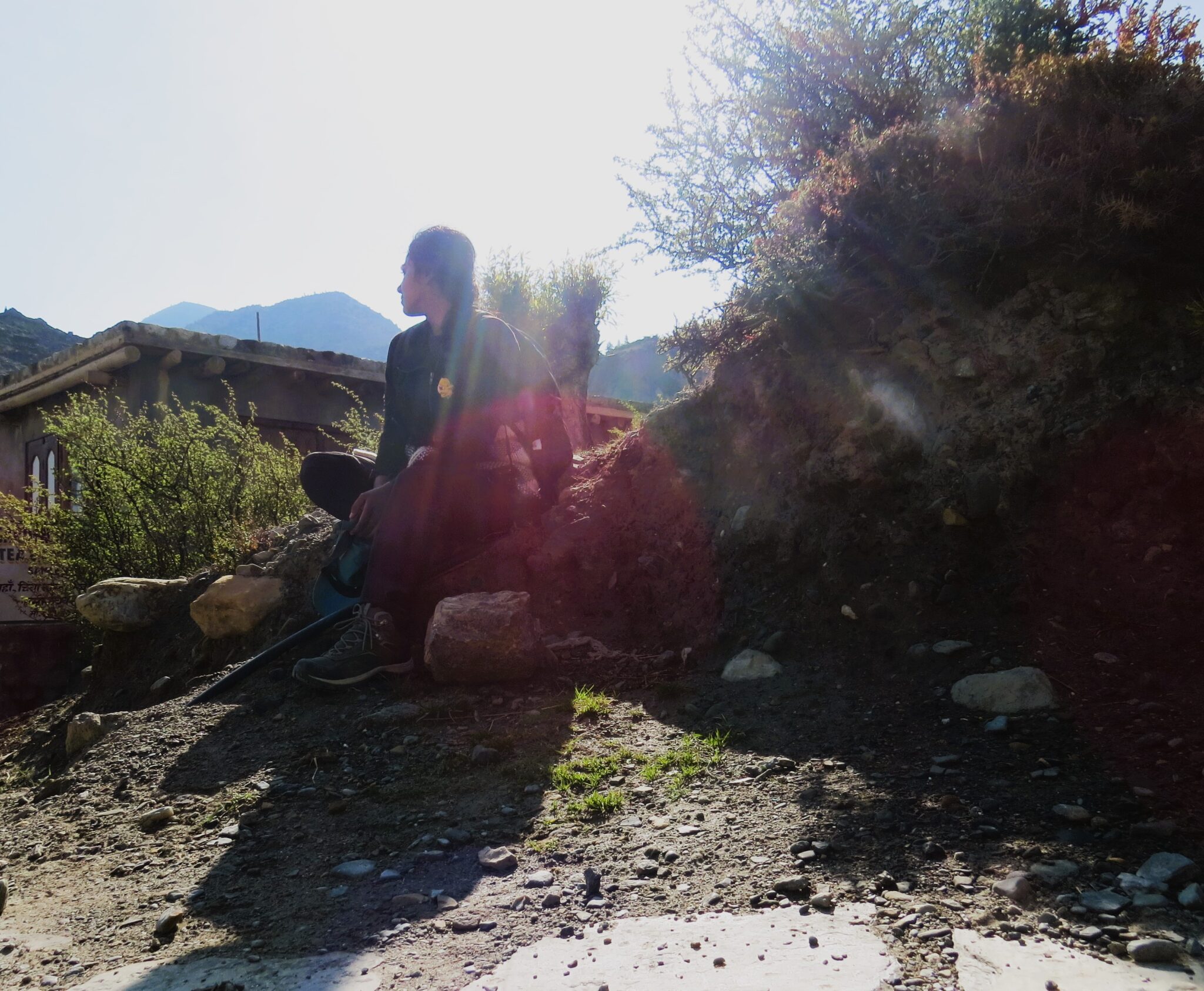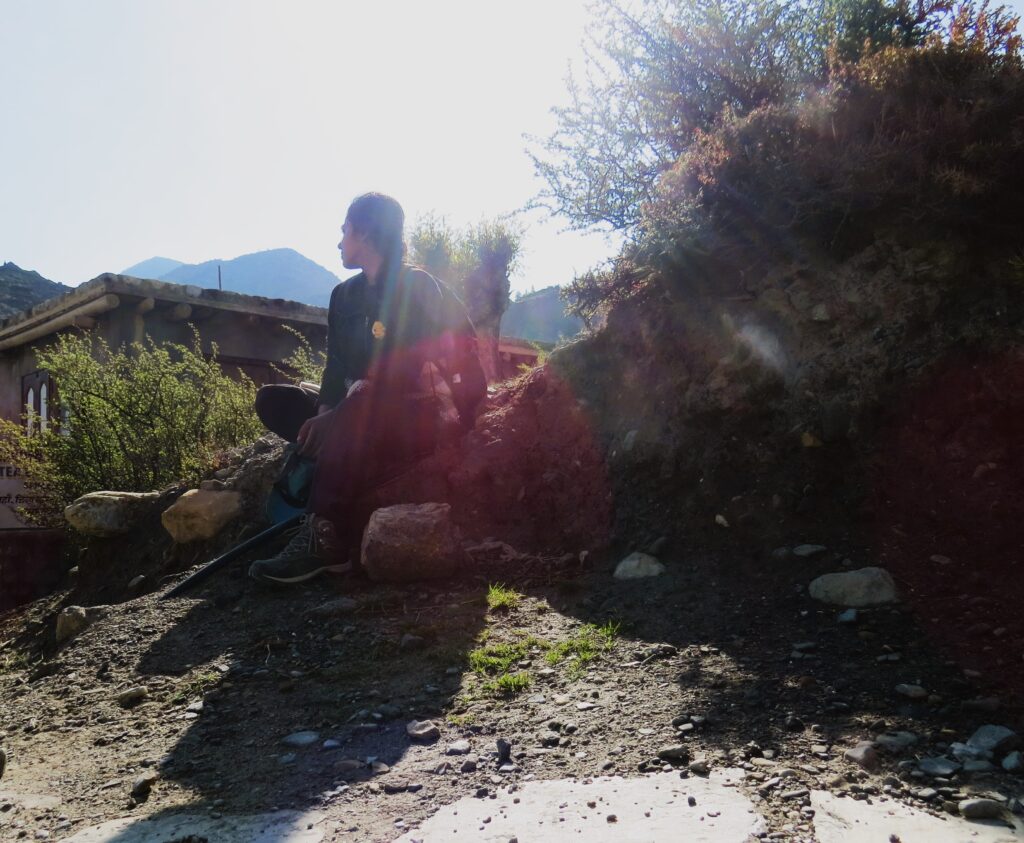 The first-day trek unfurled through dense meandering trails, with not a soul in sight. And, truly uncertainty whispered in my thoughts. I was a little frightened.
However, the symphony of sounds, the captivating glimpse of a BulBul, a dainty blue-feathered bird, and the unexpected companionship of a four-legged friend kept me moving forward.
I wish I had brought a binocular with me; I spotted numerous bird species along the trail. Along the way, herds of cattle and horses could be seen, either descending or ascending. You needn't worry, for they were under the guidance of a local.
And oh, how could I forget, the trail treated me to the sight of Rhododendron flowers. After walking for about 2 hours, I encountered three individuals—Roy, Ray, from Israel, and Nimay, their local guide.
From that point onwards, I trekked alongside them. The experience of sharing stories about India, learning about Israel, discussing tourist spots, and the places they had explored during their trek was truly enriching.
After that the trail itself posed no significant challenge; it felt as though we were conversing, sharing laughter, and strolling together. And yes, occasional breaks were taken to stay hydrated and enjoy some protein bars.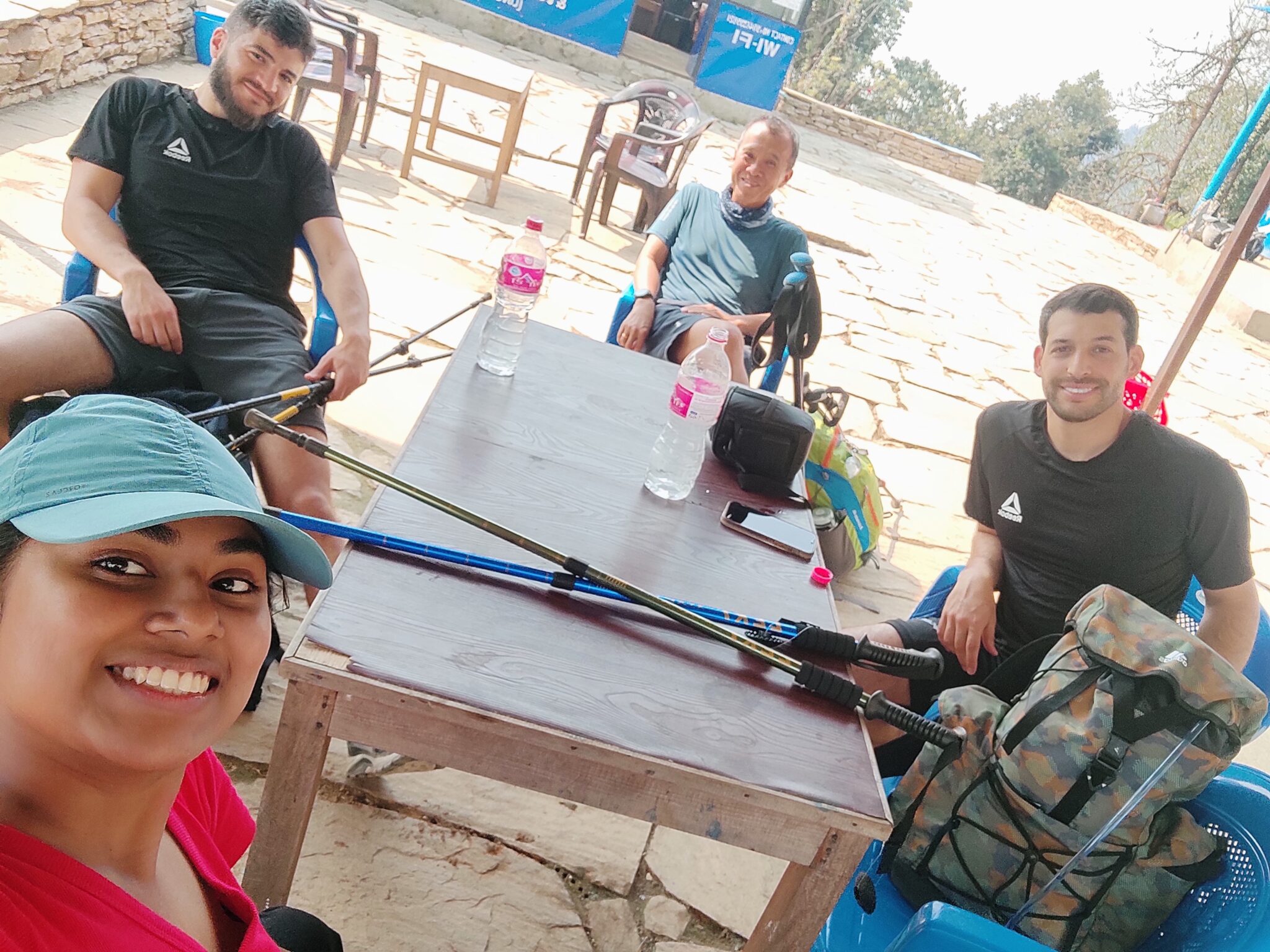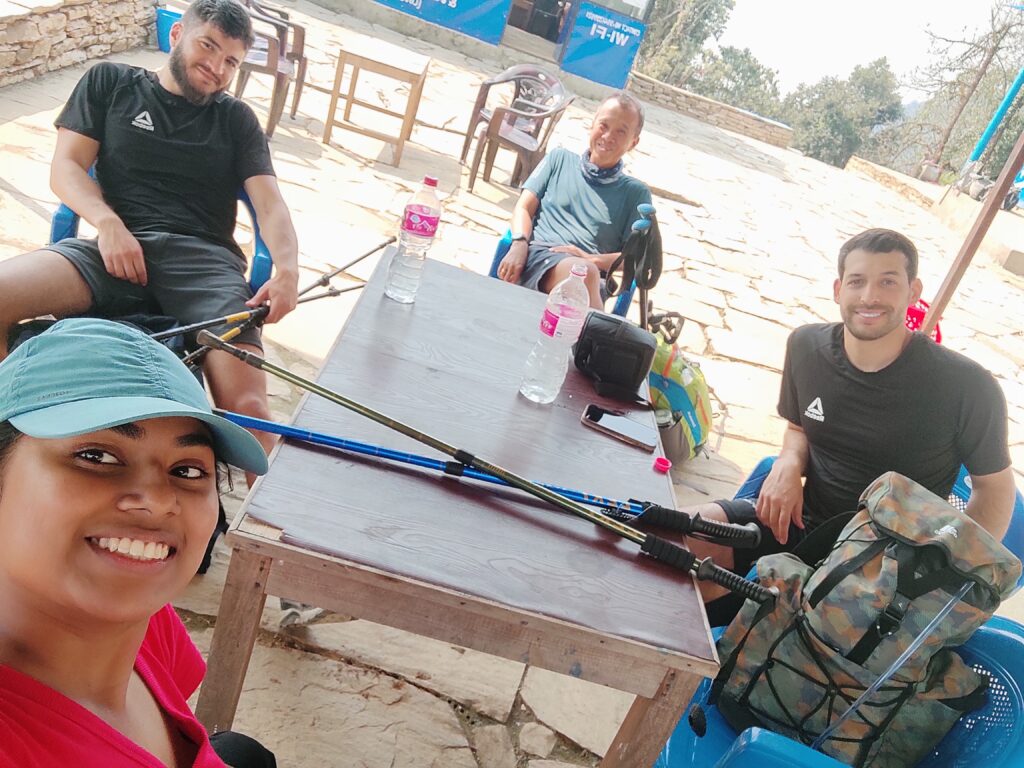 I encountered another group of individuals who were Indians but were residing in Dubai – Shashank, Sarans, and Priyankee, forming a trio.
On the second day, it began to rain, forcing me to stow my camera inside my bag. Consequently, I wasn't able to capture many photos of the surroundings or myself along the trail.
However, it was the trio who exhibited greater enthusiasm for taking photos of me. They guided me on how to pose against the backdrop of the mountains, helped me create reels, and overall made the trek incredibly enjoyable.
The experience of trekking with them was filled with so much fun. Their welcoming nature was evident, and I never felt like an outsider within the group.
f you've read the initial part of my Mardi Himal Trek journey, you'd be aware that I had two bags with me, which at times posed difficulties while trekking.
Even in this situation, they came to my aid by taking turns to carry one of my bags. I felt a sense of guilt, but they met it with smiles and willingly shouldered my burden.
They adjusted their walking pace to match mine, shared numerous travel stories, and much more. Describing the impact they had on my journey is challenging; they've etched an indelible mark on it.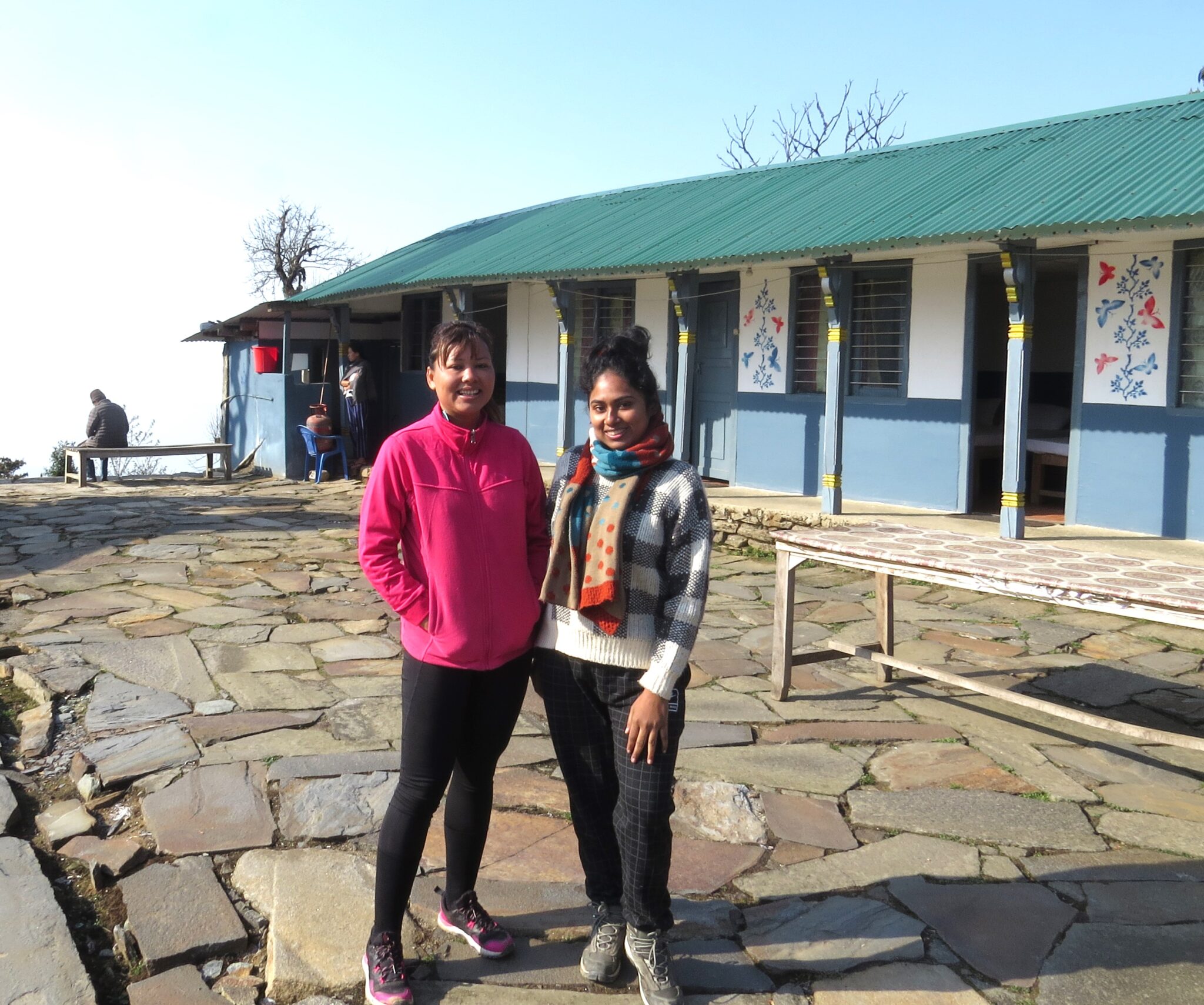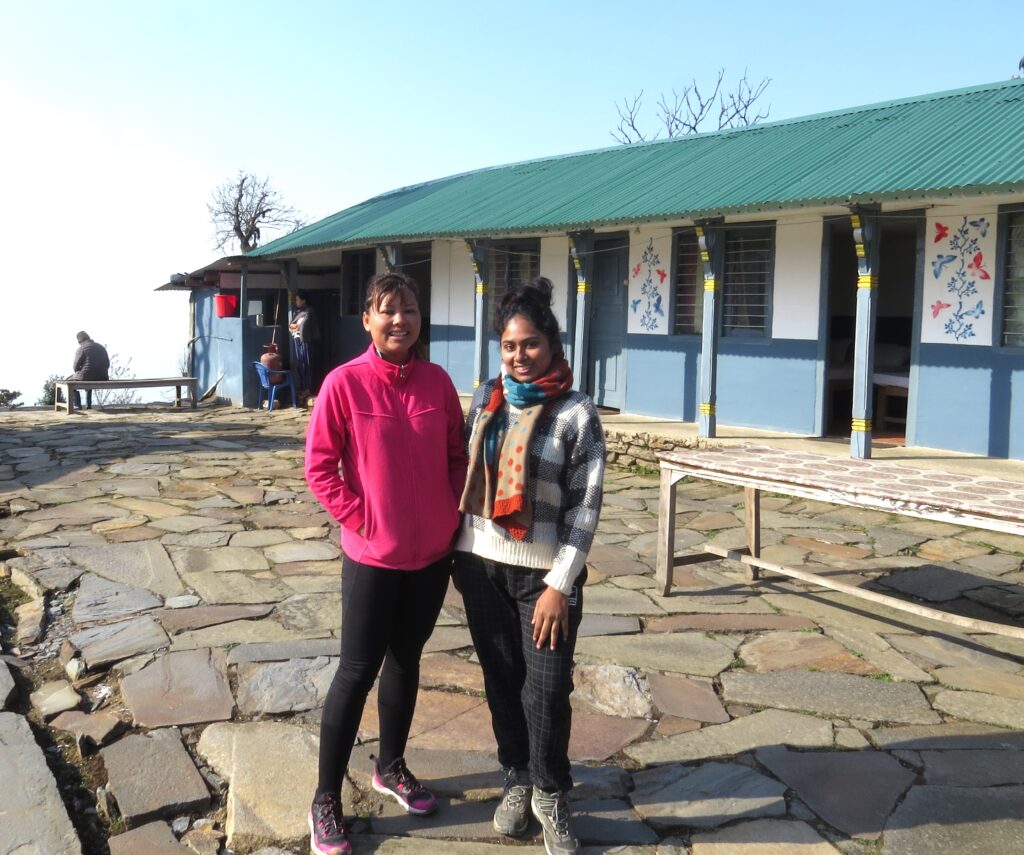 From High Camp to View Point, from Low Camp to Lumre and Pokhara, I shared every step of my journey with them.
Even during the journey from Lumre to Pokhara, they kindly offered me a ride, showcasing their kindness once again.
Afterward, we gathered at a charming hotel in Pokhara and savored a delightful lunch together. Eventually, the moment arrived to bid them farewell.
And, that's how my four days of Mardi Himal Trek completed with a lot of memories, pictures, and great friends.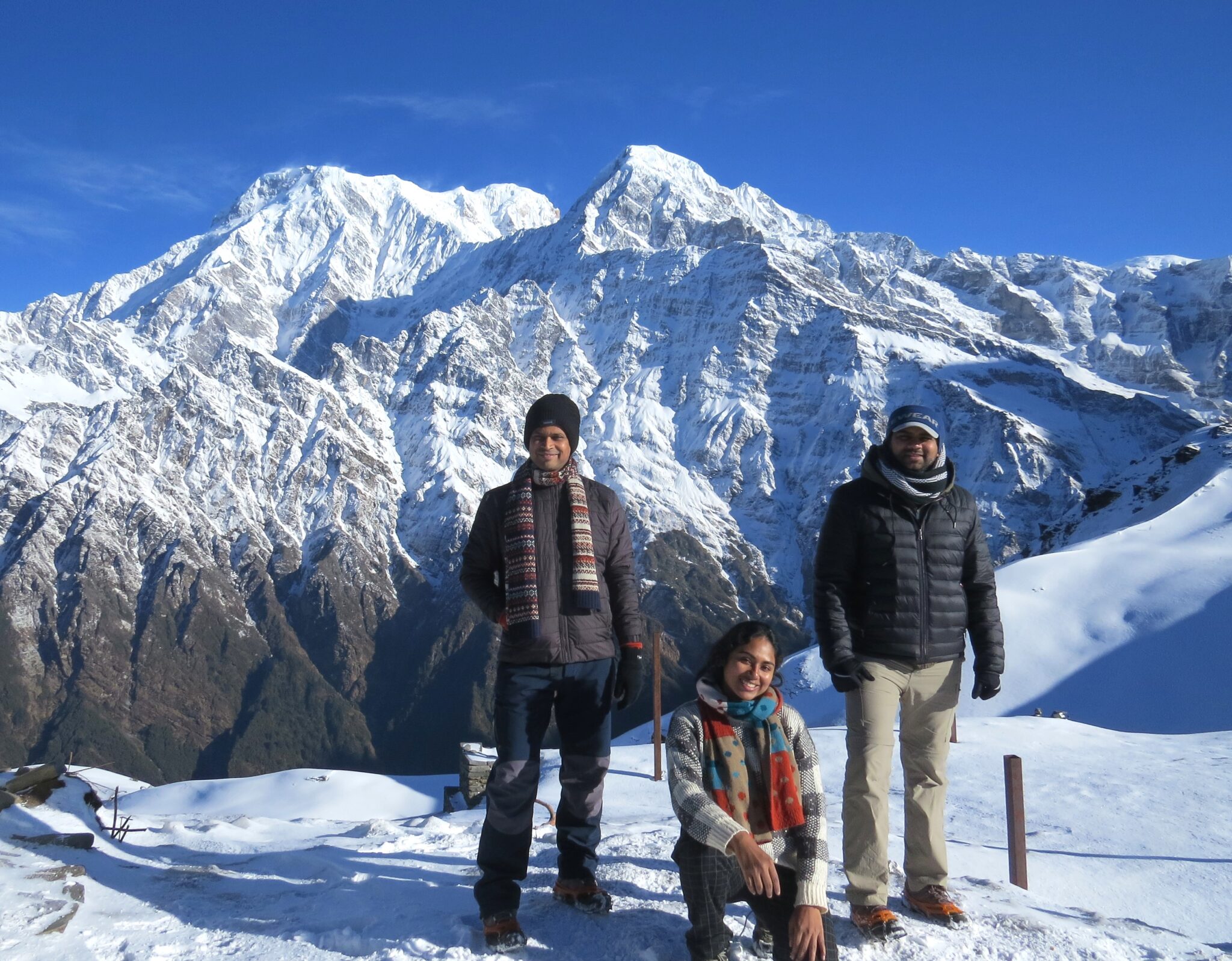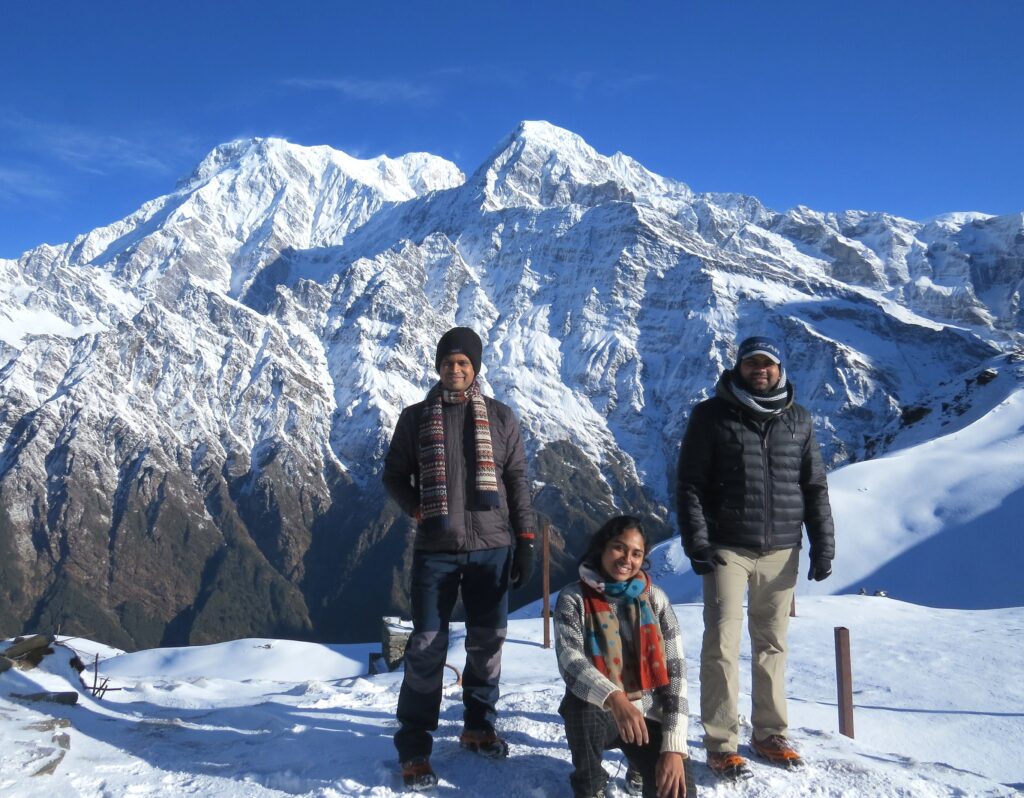 Read More:
FAQ: Mardi Himal Trek Itinerary by Solo Female
1. What does the Mardi Himal Trek cost from Pokhara?
A. If you're from a SAARC country, your permit will only cost NPR 1000 (fixed cost). The transportation from Pokhara to Kande by private cab is around NPR 1500, but if you can share the ride with fellow travelers, the cost per person can certainly be reduced. The accommodation cost for three nights at the campsite will be approximately NPR 1500 (this is set by the government, ranging from 400 to 500 NPR). Food expenses tend to be on the higher side; if you're having a Nepali Thali, eggs, ginger lemon tea, and fried rice, it will amount to around NPR 1200 – 1300 per day. Therefore, the budget is around NPR 5000- 5200 for three days. Lastly, if you decide to hire a guide, they will charge US $25 per day (You can have a talk with the guide for any discounts).
2. Can you wash socks and underwear at Mardi Himal Trek?
A. Yes, you can wash your socks and underwear at all the rest camps where you will be staying overnight, as water is available. However, the concern is not about washing the clothing but rather about drying it. You won't be able to dry your socks at such a high altitude overnight because you have to leave the camp for another campsite the next day. If you're planning to stay at the camp for the next day and are sure about the sun coming out, you can go for it.