Leh Ladakh in September – 11 Reasons to Travel
I don't know what paradise looks like, but if Leh Ladakh is called paradise on Earth, then I want to be born and die every day.
Leh Ladakh in September is the best time of the year to enjoy the extremely surreal environment and pristine beauty. 
You would ask me then why June is considered the peak time. Undoubtedly, the summer season is the best time to witness melting snow and gorgeous views.
You can explore the hidden gems of Ladakh too. But the Ladakh trip in September is the best. Let me explain why.
To taste the true paradisiacal beauty of Ladakh, empty roads, fewer tourists, and a picturesque green oasis everything – on budget, is only possible in September.
Leh Ladakh in September end looks all green, yellow, and slowly turning into white.
My mother says snowflakes are butterflies of winter. I agree because she is not wrong. By the end of October, Ladakh slowly closes down to tourists.
Moreover, what makes Leh Ladakh in September special is fresh cotton soft snowflakes falling from the skies and slowly turning the black roads into white. Can you imagine that?
I have a guide that describes how beautiful September morning in Ladakh can be and narrates some places which have their own set of charms and offerings. 
So, grab a coffee, because this blog is the ultimate guide for Leh Ladakh in September.
Read: 9 Safe Places to Travel in India
Is September a good time to visit Leh and Ladakh?
Leh in September gets into a solitary avatar that makes it perfect to sit with a steaming cup of masala tea and enjoy the sweet cold with the Himalayas at the backdrop.
I reached Leh on 23rd September 2022, believe me, there was almost no crowd and no rush on the road. 
Starting from flights, cabs, and cafes to vehicles you get hefty discounts on everything. Often this discount runs as good as 40% off!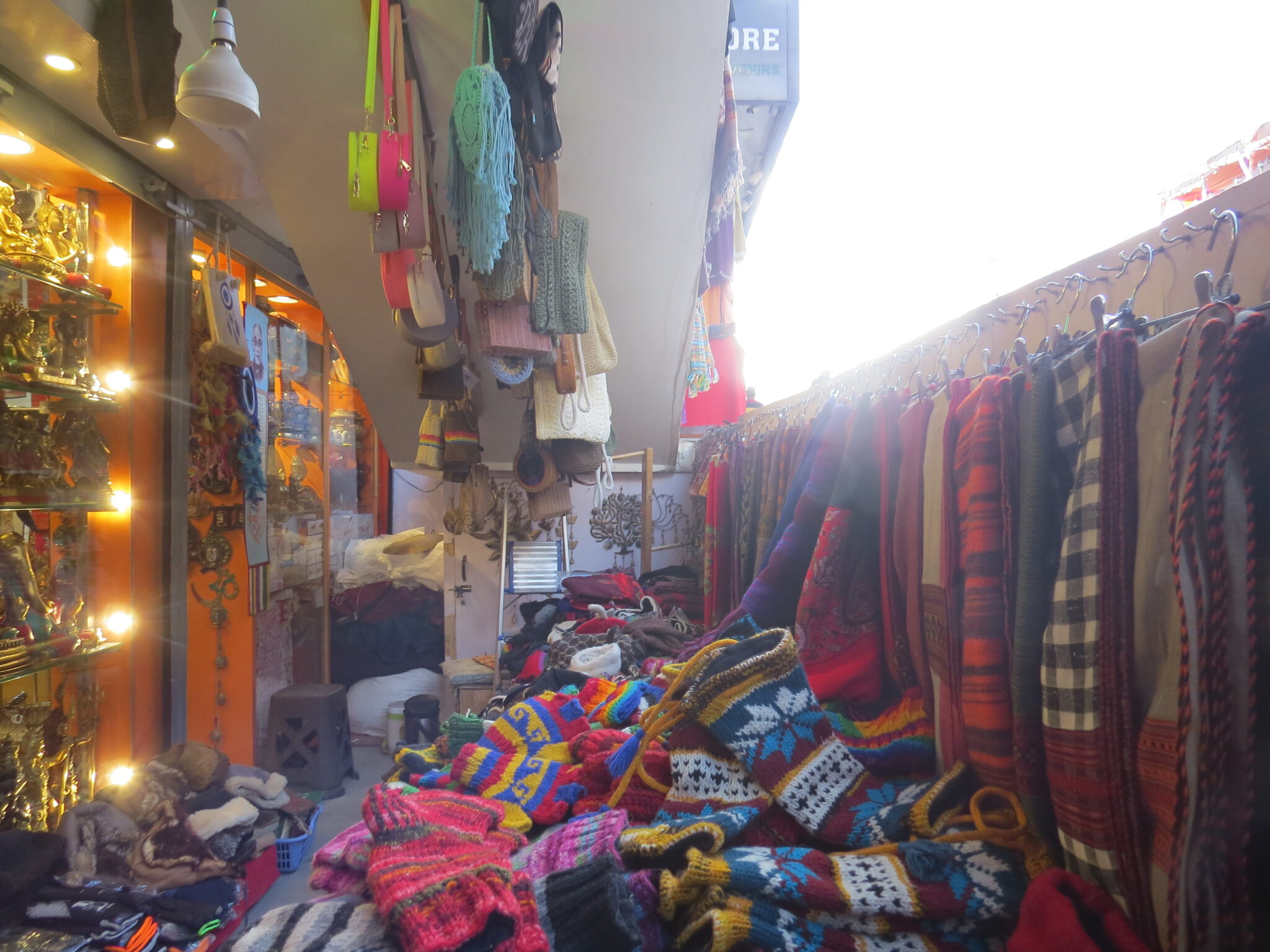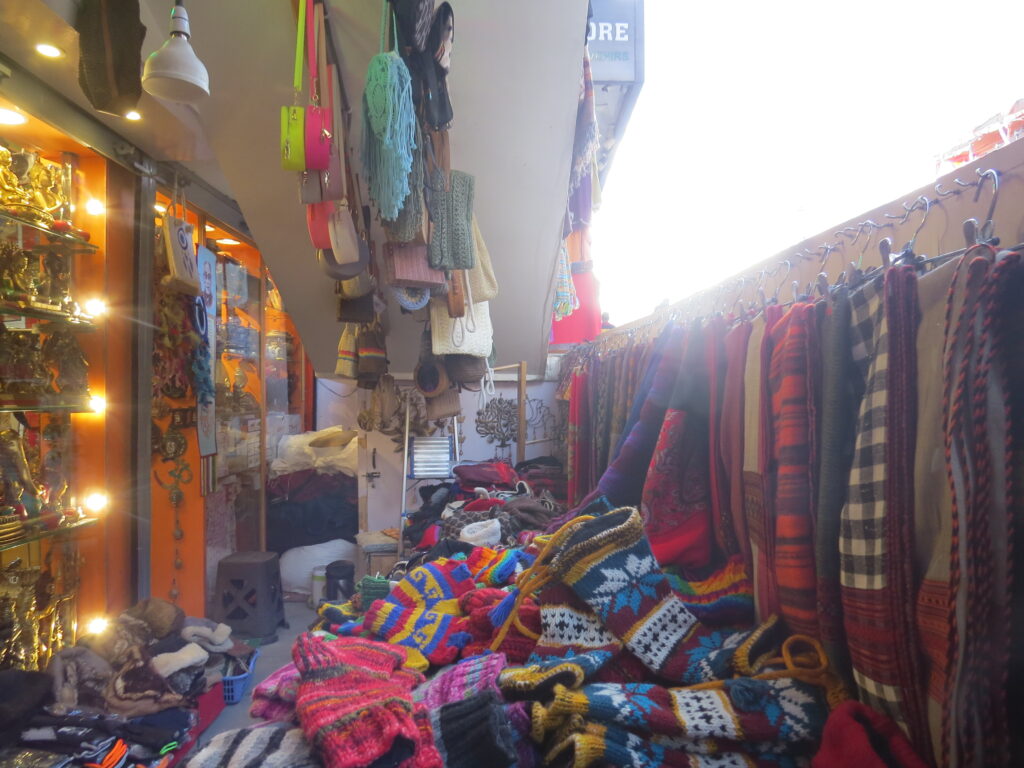 To my delight, I got a hotel that's next to the Leh market with an amazing view of Leh Palace at just Rupees 1200. Normally, they charge 1700 Rupees for the same room.
September is the transitional period from dry summer to winter, making the blue lakes crystal clear. The entire aura of Ladakh changes to paradise.
Leh Ladakh in September won't be chilling. You won't regret rejuvenating in the warm morning sun, enjoying food in the Himalayan café at the Leh market, and enjoying it.
Sitting by the café's window and watching the Ladaki women weaving woolen socks, sweaters, and other shops selling apples and apricots is just the best feeling.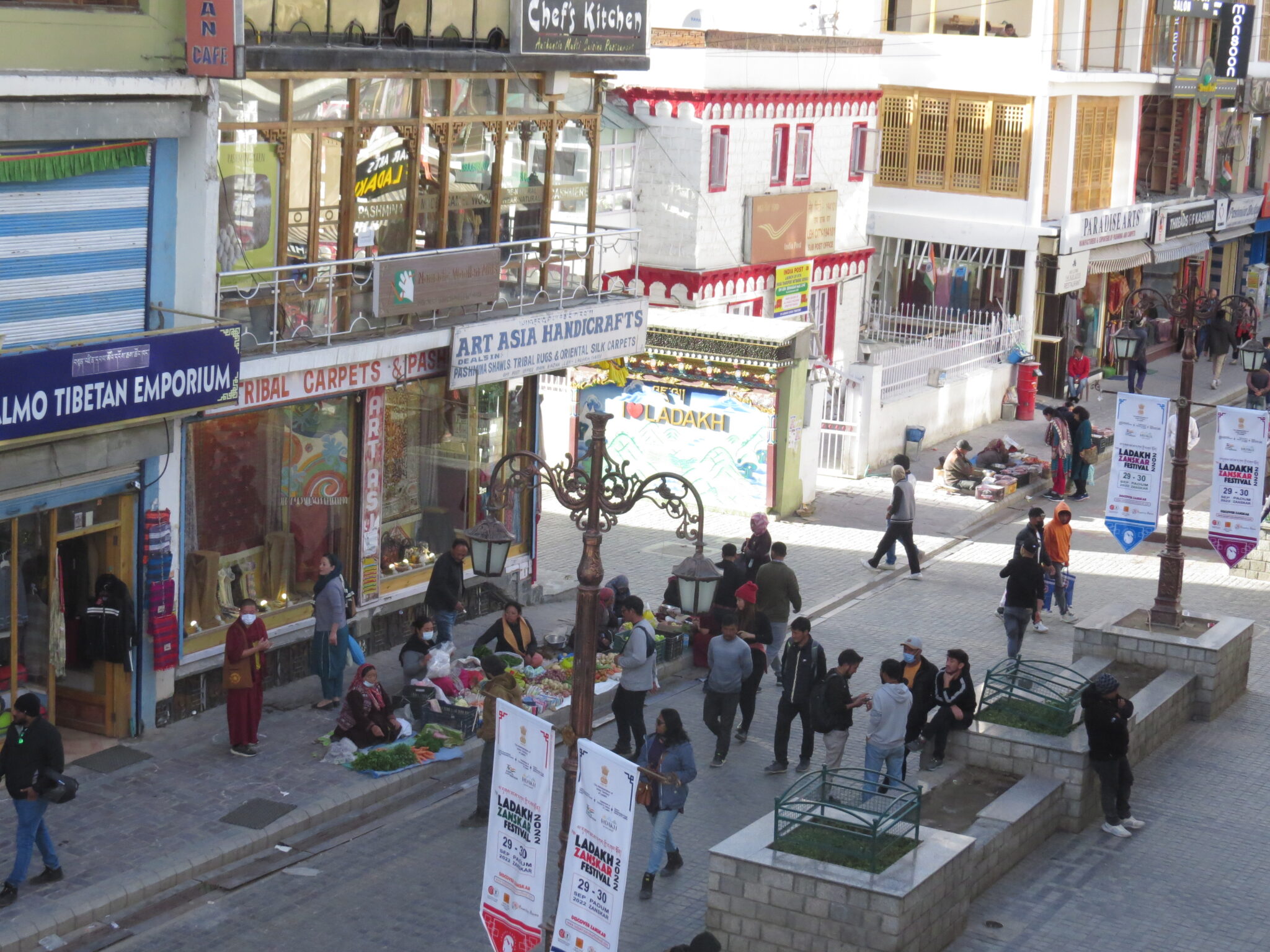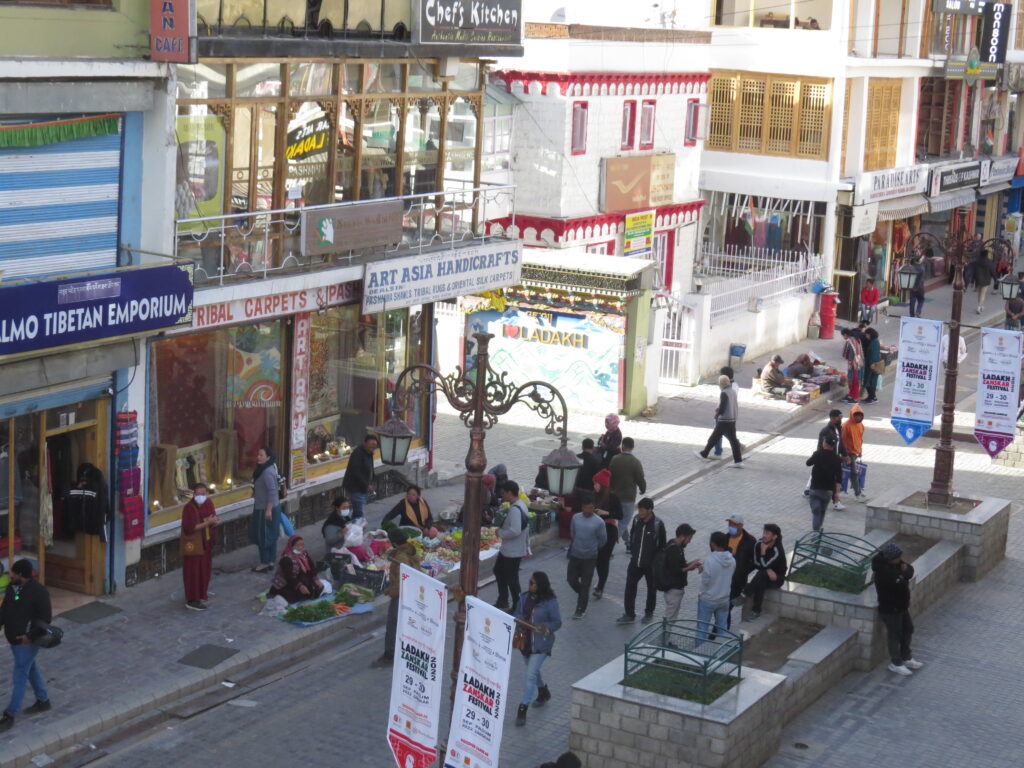 Winter is coming! Do not forget to shop for winter-wollen clothes they are making.
Ladakh in September has fewer tourists which reduce the price of hotels, and food. This makes Leh Ladakh more affordable. 
Also, the roads are empty making it perfect for Leh Ladakh bike trips, rock climbing, trekking, camping, and cycling.
Read: How Much Does a Trip to Andaman Cost – Cost for Andaman Trip
Will there be snow in Leh in September?
No, you won't get snow in Leh in September. But, if you are lucky, then you can witness snowfall at higher altitudes during your Ladakh trip in September.
By mid-September, if you travel close to higher altitude passes like Chang La, and Khardung La, then you might experience snowflakes that turn to snowfall.
During my visit to Leh Ladakh in September (23rd September 2022), I saw no snow in the proper town. However, on the way to Pangong and Tso Morir, I received little rainfall.
And, on 30th September on the way to Khardung La, I saw snowfall. Slowly it covered the whole place white leading to snow storms later.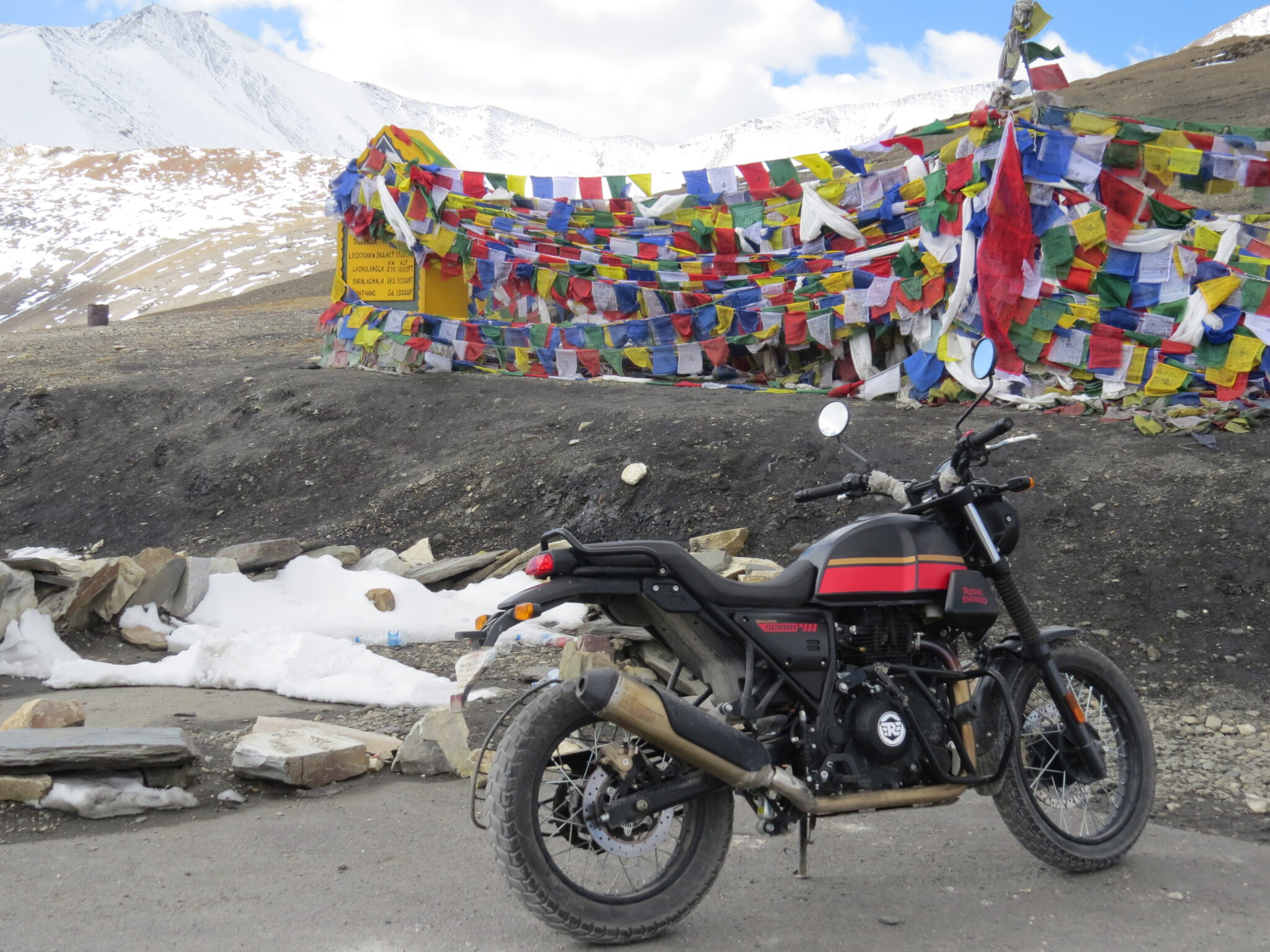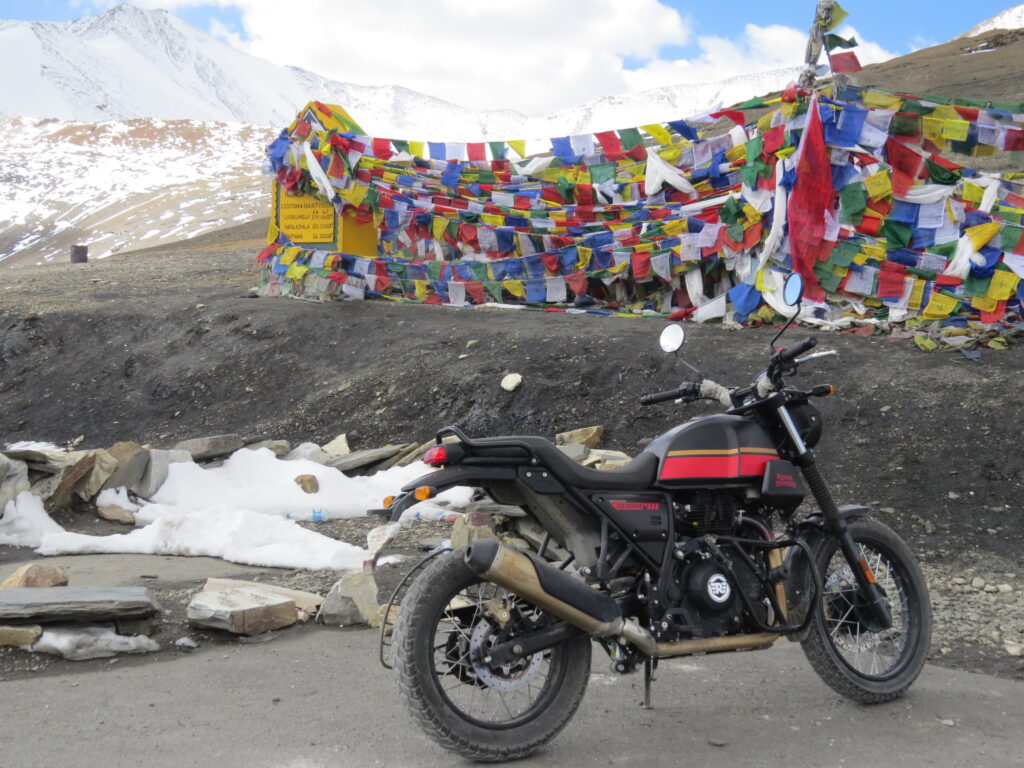 Because of the heavy snowfall, my trip to Nubra trip got canceled. It was a bike trip and riding on snow was life-threatening. 
The front wheel was slipping sideways resulting in disbalance and fall off! Yes, nothing really happened to me, but riding in the snow was adventurous and invigorating.
During the same time, in Leh, the weather was moderate with little rainfall. The day temperature was 17 degree Celsius, while at night it fell to 3 degrees Celsius.
However, on the way it was little and we thought we could easily pass but by the time we reached Khardung La, it was a heavy snowstorm.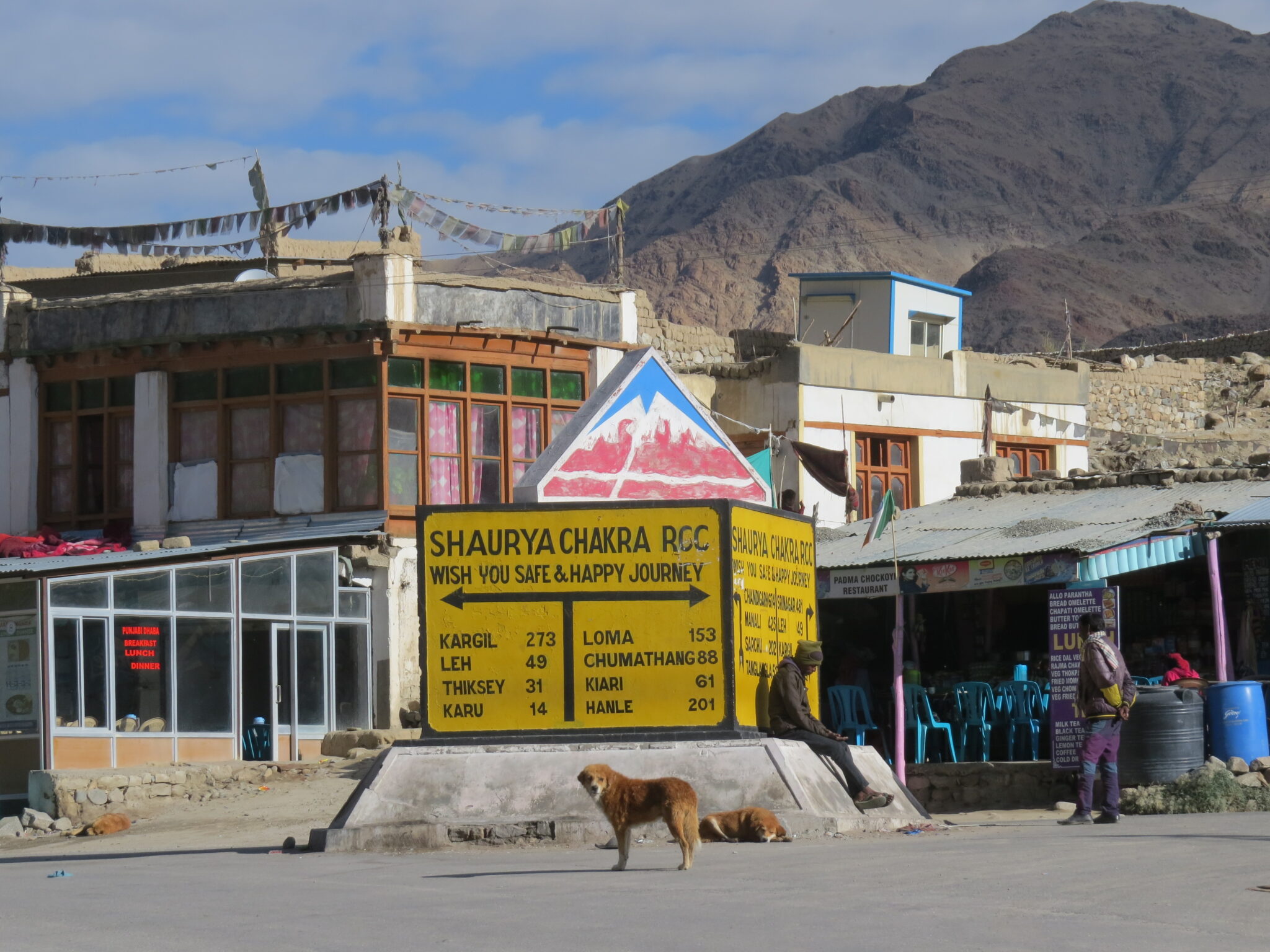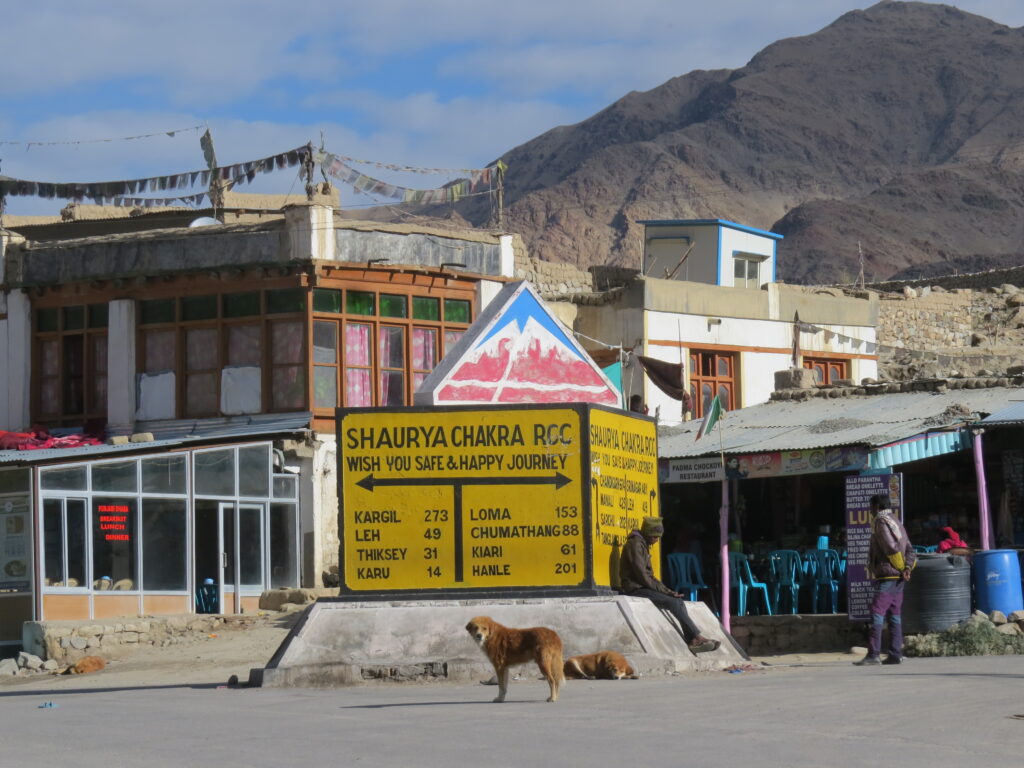 You will find a café beside the pass, where I waited for more than four hours and decided to call off our plan to Nubra and return back to Leh.
The café person told me that the snowfall in Leh in September is completely lucky.
Read: 7 Days the Ultimate Meghalaya Trip Plan – Offbeat Meghalaya
Is Leh closed in September?
No, Leh is not closed in September. Moreover, Ladakh in September is a pleasant time as roads are in good shape, and empty, and you enjoy everything at discounts.
Leh Ladakh in September is completely functional, starting from hotels, homestays, cafes, car rentals, bike rentals and shopping centers everything is open.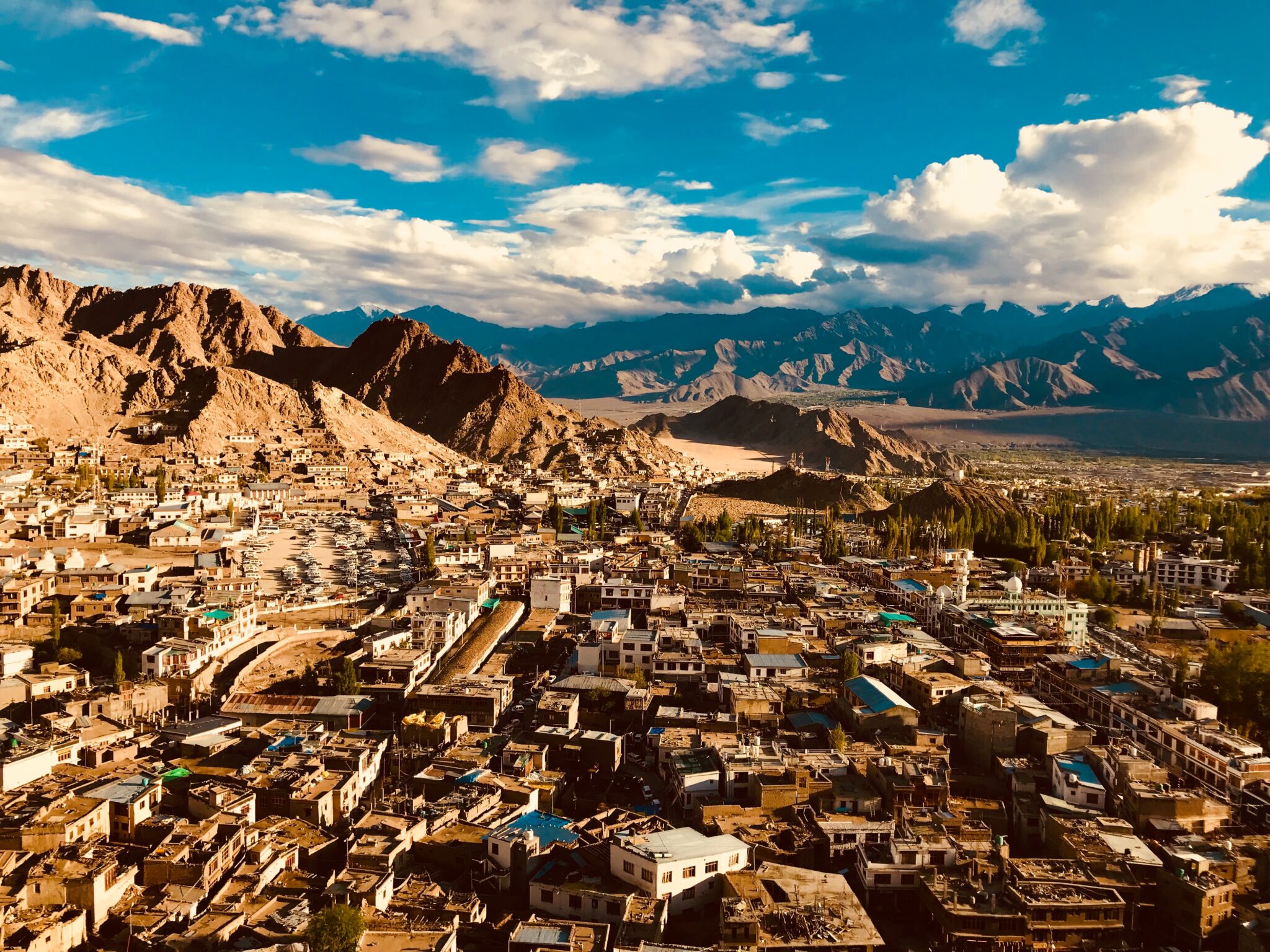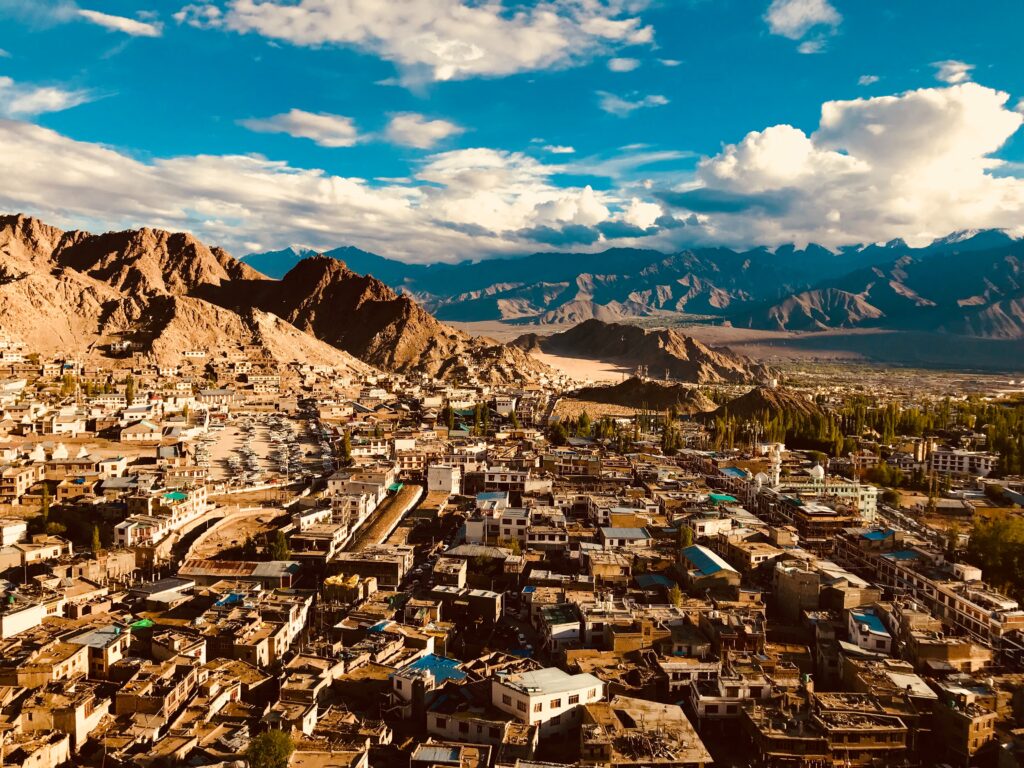 Furthermore, places listed below in Leh are also open in September –
(I) Around Leh city
(II) Suru Valley,
(III) Manali Leh Highway,
(IV) Srinagar Leh Highway,
(V) All Nubra Valley,
(VI) Pangong Tso,
(VII) Changthang Valley,
(VIII) Leh to Tso Moriri,
(VIIII) Leh to Batalik,
(IX) Tangier trek,
(X) Agham Shyok Route,
(XI) Wari La Route,
(XII) Umling La,
(XIII) Salsal La,
(XIV) Chumur Route,
(XV) Marsimik La
(XVI) Phobrang,
(XVII) Ukdungle.
I rent a brand new scram 411 Royal Enfield bike at only Rupees 1700 per day (24th September 2022 – 1st October 2022).
However, on season time you need to pay 2200 Rupees per day for the same. Therefore, to the question of whether Ladakh is open in September, the answer is yes.
During September, the weather is perfect and the lush green hills look so spectacular. You will get small water crossings too on the way.
In late September, you can witness snowfall. However, once the sun is up everything melts down. Additionally, you can be part of the biggest Ladakh festival, impressive dance performances, and so more.
Read: What to Pack for Andaman Trip?
Is it cold in Leh in September?
Leh in September is not very cold, one warm jacket, earmuffs, waterproof shoes, raincoat, and winter skin care items will be good to go for the month of September.
Around Leh, the day temperature will be around 17 degree Celsius to 22 degree Celsius. The sun is quite strong but the cold makes the sun feel so good on the skin.
At night, the temperature can drop to 3 degrees Celsius. However, because of altitude and less oxygen, the fast walking will result in puffing and tiredness.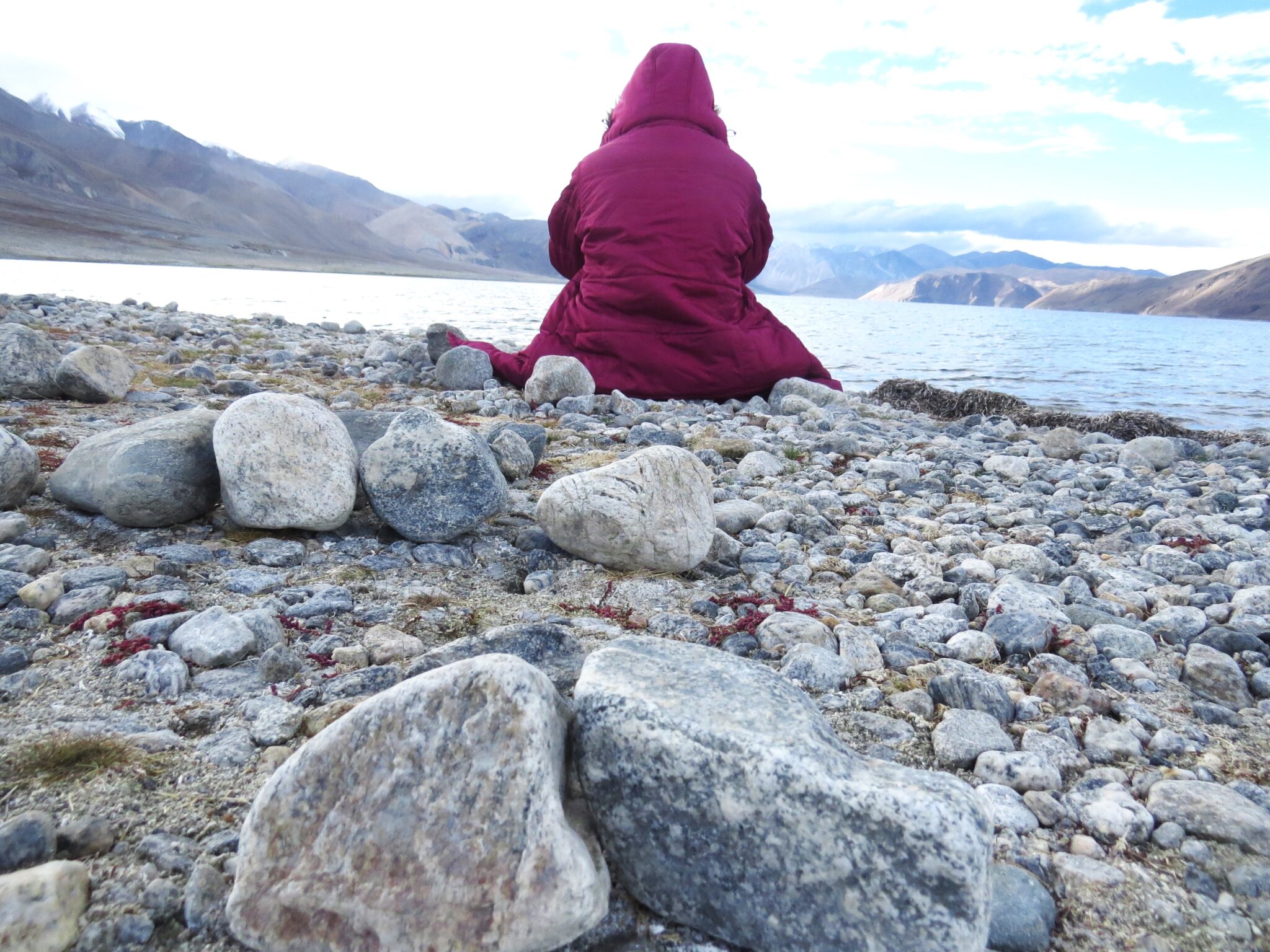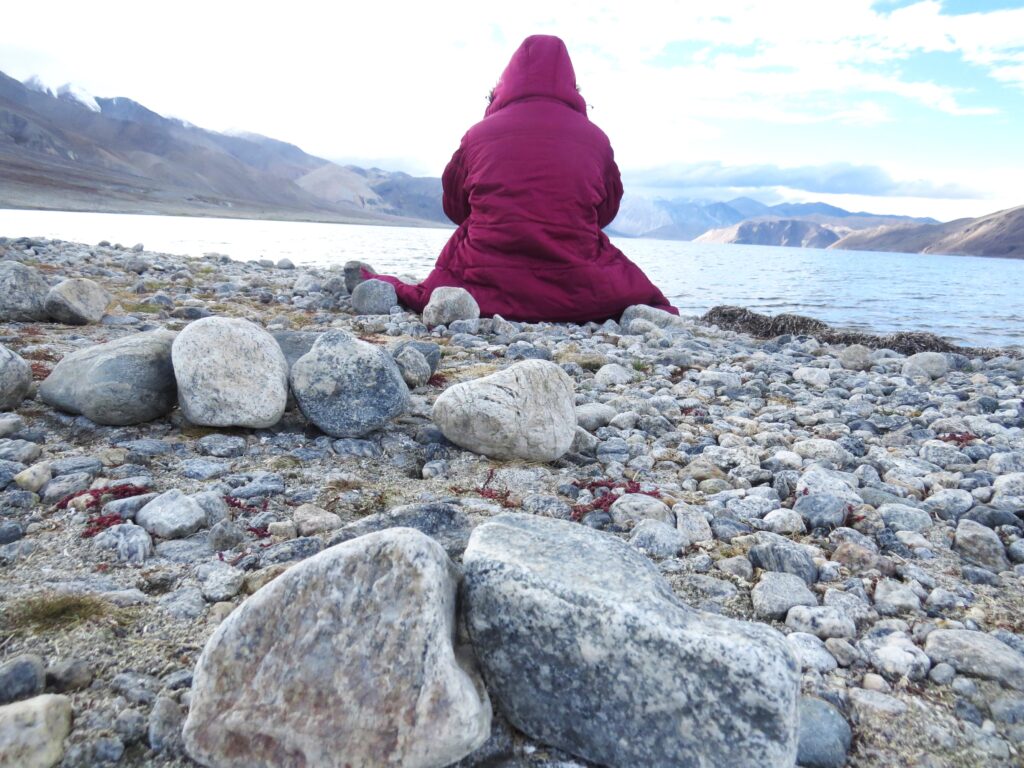 I will advise you to carry woolen and waterproof clothes to protect yourself from the cold. If you are traveling to high-altitude passes, you might witness snowfall.
During my visit in 2022, I received harsh sun, rainfall, and snowfall. So, make sure you are carrying sunscreen, a waterproof jacket, socks, and shoes. 
Moreover, apart from a higher pass or during snowfall, there won't be a minus temperature in Leh in September.
Therefore, to the popular question, how cold is Ladakh in September, the answer is a little bit cold. You should carry your thermals, fleece, and jackets.
Read: How to Travel Andaman and Nicobar Islands?
Does it rain in Leh in September?
Also, does it rain heavily in Leh?
Yes, you will get either light or heavy rainfall in Leh in September. However, September is considered a dry season but get ready for some rain and snowfall.
During my visit to Leh, from 23rd September 2022 – 4th October 2022, I saw a clear sky, clouds, rain, snowflakes, and snow storms.
Leh was mostly sunny but for three days it rained very lightly. On the other hand, in Pangong Tso, it rained heavily. In Khardung La, I witnessed a snowstorm.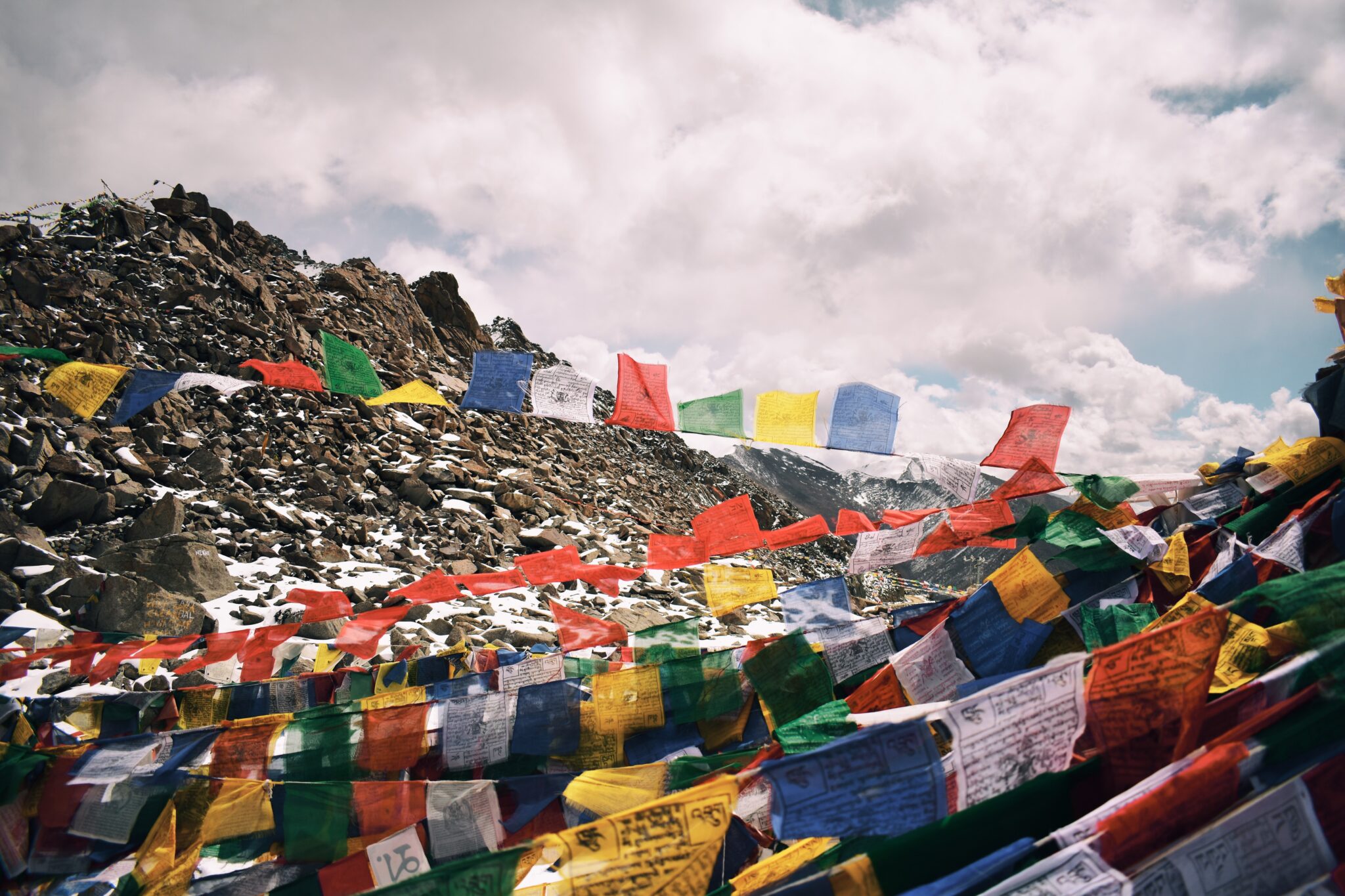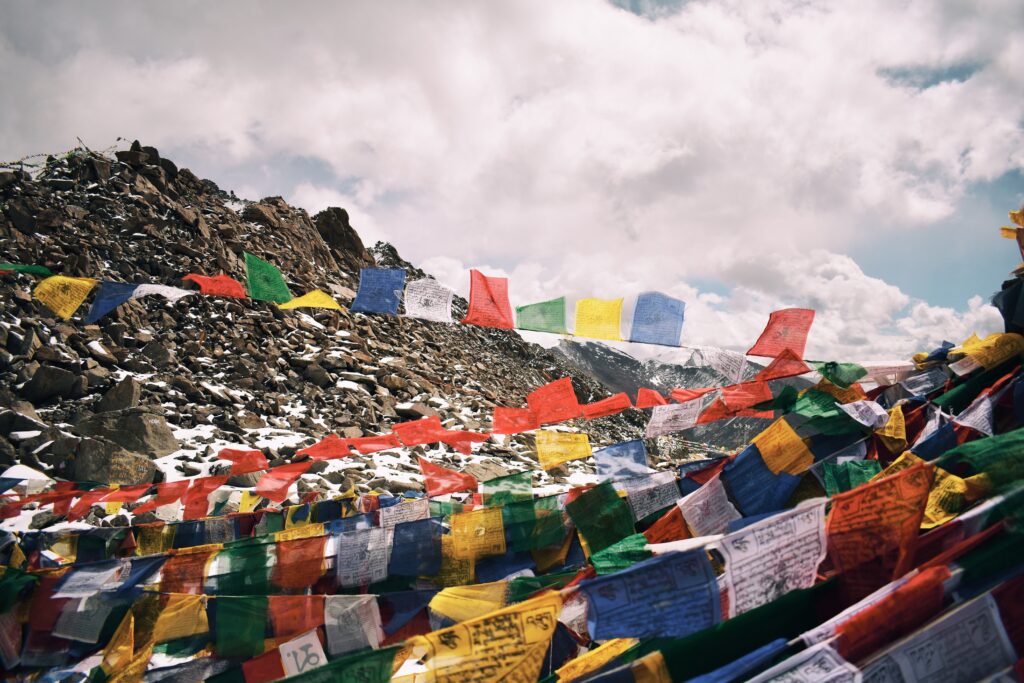 In Hanle, I saw starry nights which were glowing and twinkling. You will be amazed by its beauty. With clear skies, twinkling stars, and complete silence, Hanle is just amazing.
Therefore, Leh Ladakh in September is a box of surprises filled with unexpected events, memories, and feelings.
During your Ladakh trip in September, you will witness snowfall, rain, harsh sun rays, and also chilled wind. 
Just carry your waterproof pieces of stuff and woolen clothes.
Read: 10 Best Places to Visit in Kolkata with Friends
Is Manali Leh highway open in September?
Yes, NH – 003 which is properly known as the Manali-Leh highway is open in September. It's only in October the roads become risky due to heavy snowfall and it closes down.
However, because of heavy snowfall at Baralacha La Pass, at 4,850 meters the police can close the roads. Therefore, it is highly recommended to check before planning.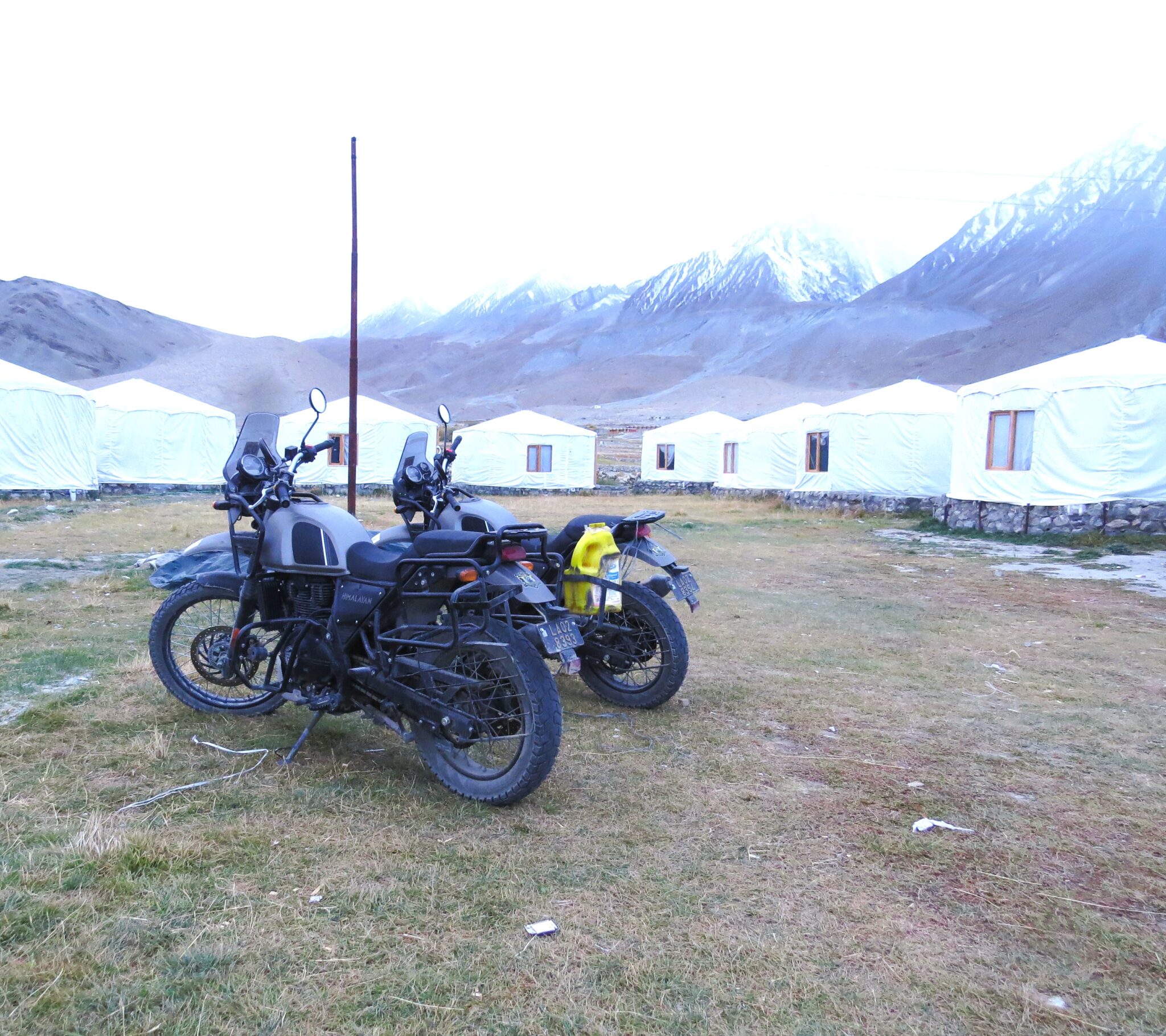 While driving from Manali to Ladakh, you will come across five passes where a light shower or snowfall is possible.
Don't forget to get lost at More Valley.
Read: The Guide: How to Travel with Dog in Train in India?
Which month is best for the Leh Ladakh car trip?
September is the best time for the Leh Ladakh car trip because comparatively there are fewer tourists and fixing of broken roads are done by now.
The best part is you get those empty roads that you always dreamt about on your Ladakh trip. It is so easy to navigate, park at the side and enjoy the pristine nature.
Additionally, September is the best time for the Leh Ladakh car trip because you can rent a car and other utilities at a minimum 25% discount.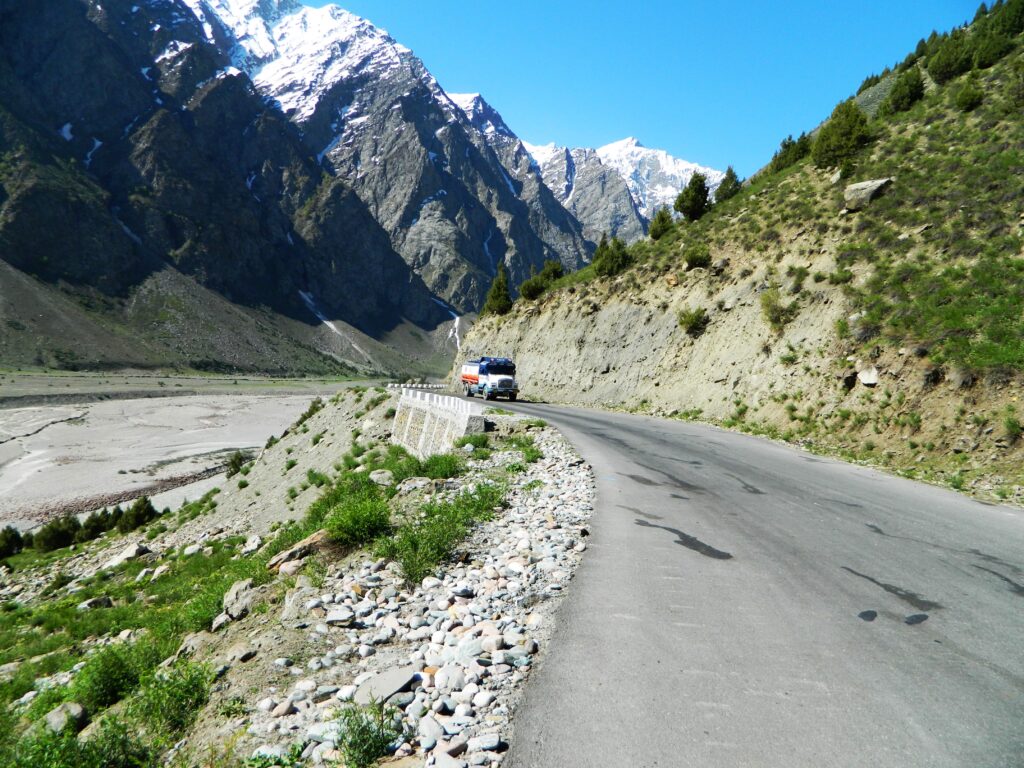 For example, one of my friends rented a Sedan for Rupees 2000 per day during a Ladakh trip in September. Normally, they charge Rupees 3000 per day.
However, always rent a car from the best car Rental Company and know their return policies before renting. The car should not be more than 18 years old.
You should have valid IDs and driving licenses.
Read: The Ultimate Guide- How To Travel Alone In India?
What should I pack for Leh in September?
Leh Ladakh in September can be chilling, hence carrying thermals, woolen sweaters, jackets, neck warmers, hand gloves, waterproof socks, and waterproof shoes. 
Other than that, carry an umbrella, raincoat, and rain cover for your backpack. Apart from clothes, bring sunscreen and winter moisturizer for your body and face.
I hope you do not want chap–chap broken lips so carry lip moisturizer. Carry the inner permits, aadhar card, driving license, and important documents.
Also, bring ORS, medicines, and eco-friendly water bottles. You should have a packing list for the Leh Ladakh trip.
Therefore, I hope now you know which type of clothes to wear in Ladakh.
Read: 5, Best Places for Solo Female Travel in India –
Is Pangong Lake Open in September?
Yes, Pangong Lake is open in September. The lake looks magical during this time of the year.
The sun, sky, and the dramatic look of nature make Pangong a must-visit destination in Leh Ladakh. You will be amazed to see the reflection of sunlight playing with the mountains.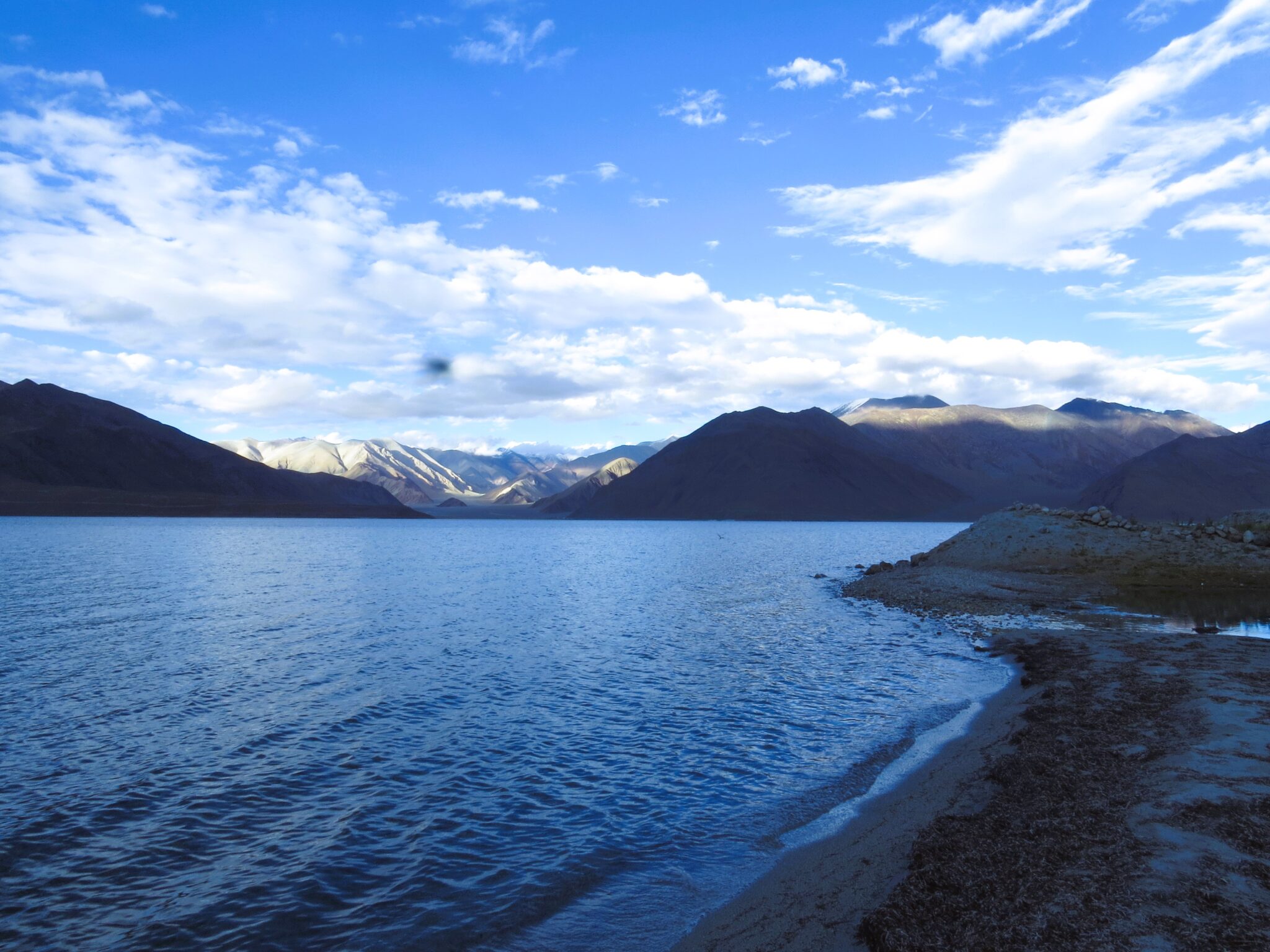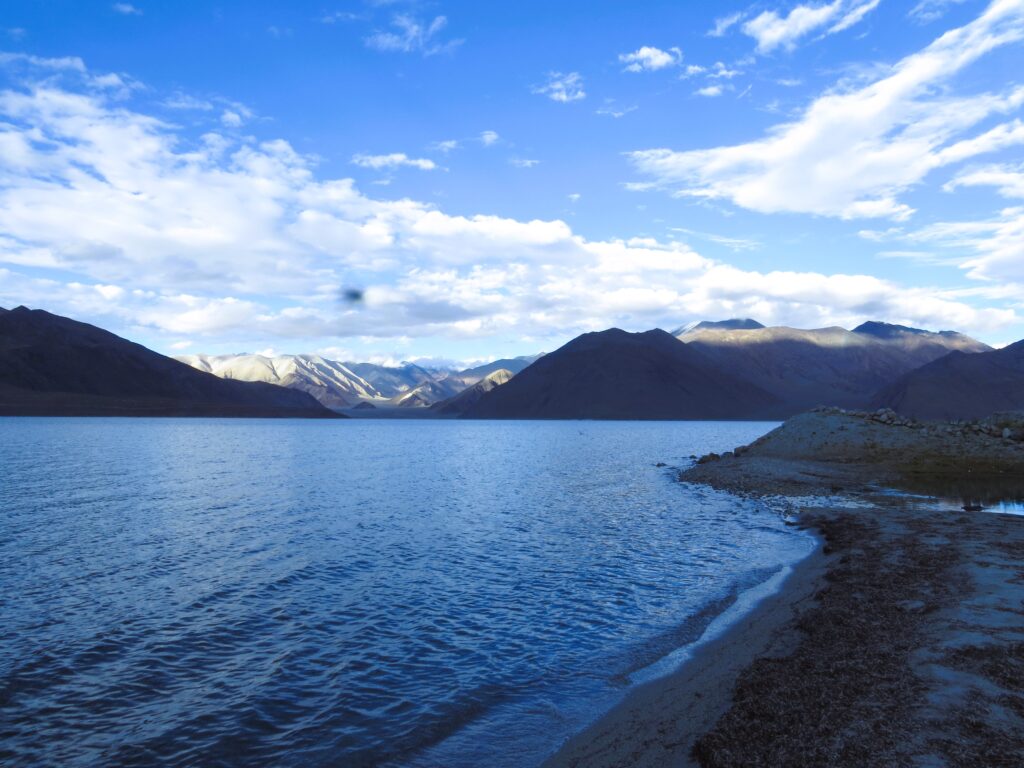 However, to the popular question is Pangong frozen in September, the answer is no. From November, Pangong starts freezing when the temperature falls from -5 degrees to -10 degrees Celsius.
Read: Your Ultimate Guide: How To Plan Goa Trip For 3 Days?
How can I get an inner line permit in Ladakh?
Book your permits beforehand from the "Leh District Permit Tracking System" website. The Inner Line Permit is the most important travel document for the Leh Ladakh trip.
After visiting the website, register yourself and select your routes and mention the dates. Moreover, for the entire Leh Ladakh, there are 13 circuit names and passes.
You should take permits only to the places you want to visit. Ensure, you provide the right ID number, dates, and other required areas.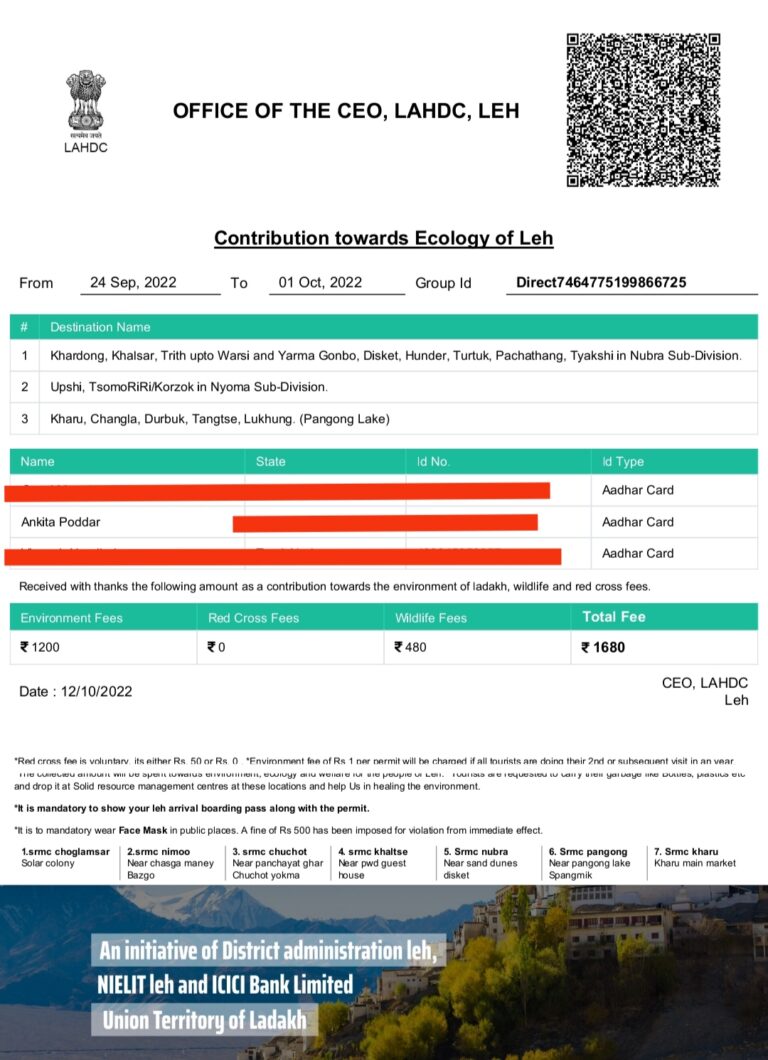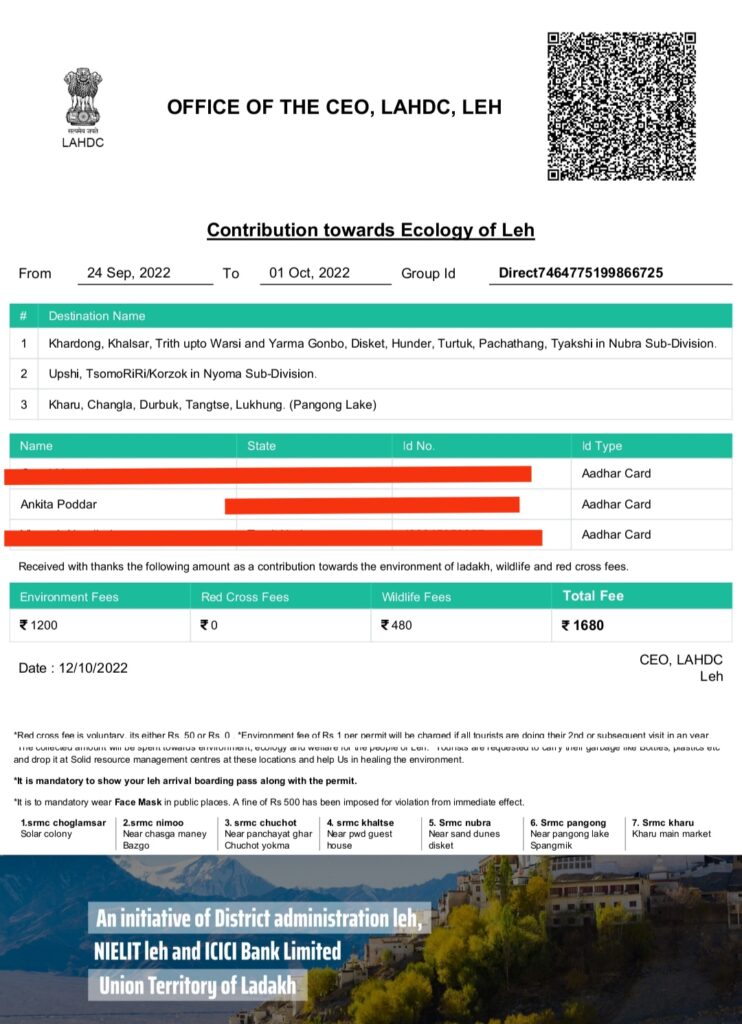 The permits are issued by the Government of India. For Indians, the permit is valid for three weeks whereas for one week for foreigners.
Read: 10 Best Places to Visit Near Kolkata for the Weekend
Leh Ladakh Festivals In September
From the Naropa festival, and Cham Mask Dance festival, to the Ladakh festival, Leh Ladakh in September brings people of all races together to celebrate all the rituals.
Leh Ladakh Festivals in September continue for days with a regular celebration in different villages and monasteries including mask dance, archery, musical concerts, and polo.
I was so amazed to find out how the people of Leh Ladakh do not complain about their life, but rather strongly appreciate life and hold on to their roots! 
In 2021, one of my friends stayed a month in Leh Ladakh. He told me a lot about the festivals in Leh Ladakh in September.
Picture courtesy: swantour
Festivals in Leh Ladakh mostly embrace Mother Nature. From 16th September to 20th September Ladakh celebrates its Buddhist legacy.
However, I missed the Naropa Festival that was held in Hemis Monastery. It is one of the biggest Buddhist monasteries in Leh Ladakh.
Second, the Cham Dance, the beautiful folk dance wearing vibrantly masked and religious costumes is a must-attend festival in Leh Ladakh in September.
The traditional Cham Mask Dance festival has roots in Buddhism and Tantric mystic art. You should attend the Cham dance festival at Chokhang Vihara Temple.
Lastly, the Ladakh festival scheduled in mid-September from 20th September – 23rd September is another beautiful Leh Ladakh festival in September.
The festival portrays North Indian, Tibetan, and Central Asia culture in a festival ambiance of sports bringing joy to people. This was held in the Leh main market.
Read: A Complete: North Kolkata Durga Puja Guide Map – 2022
Places to visit in Leh Ladakh in September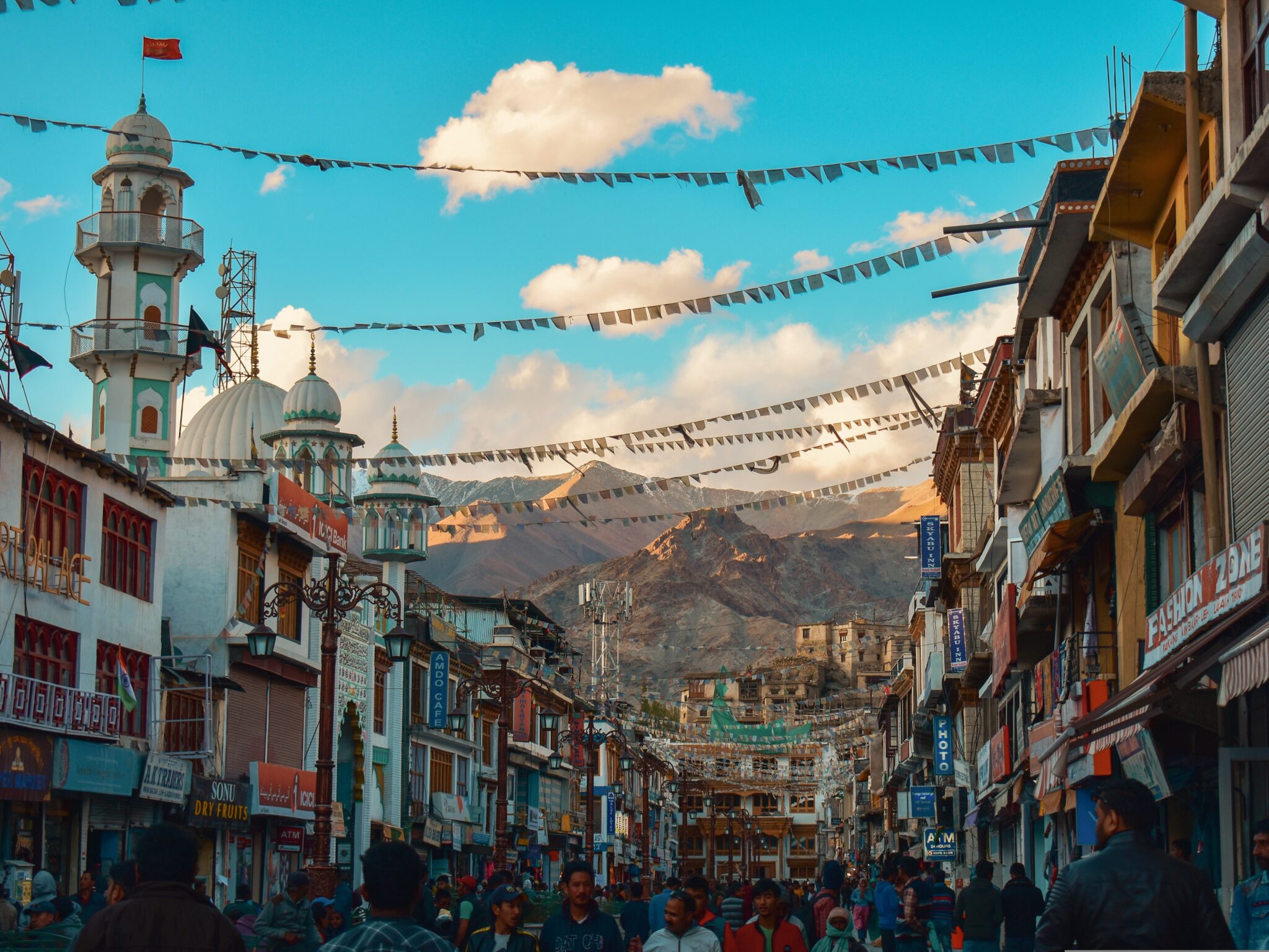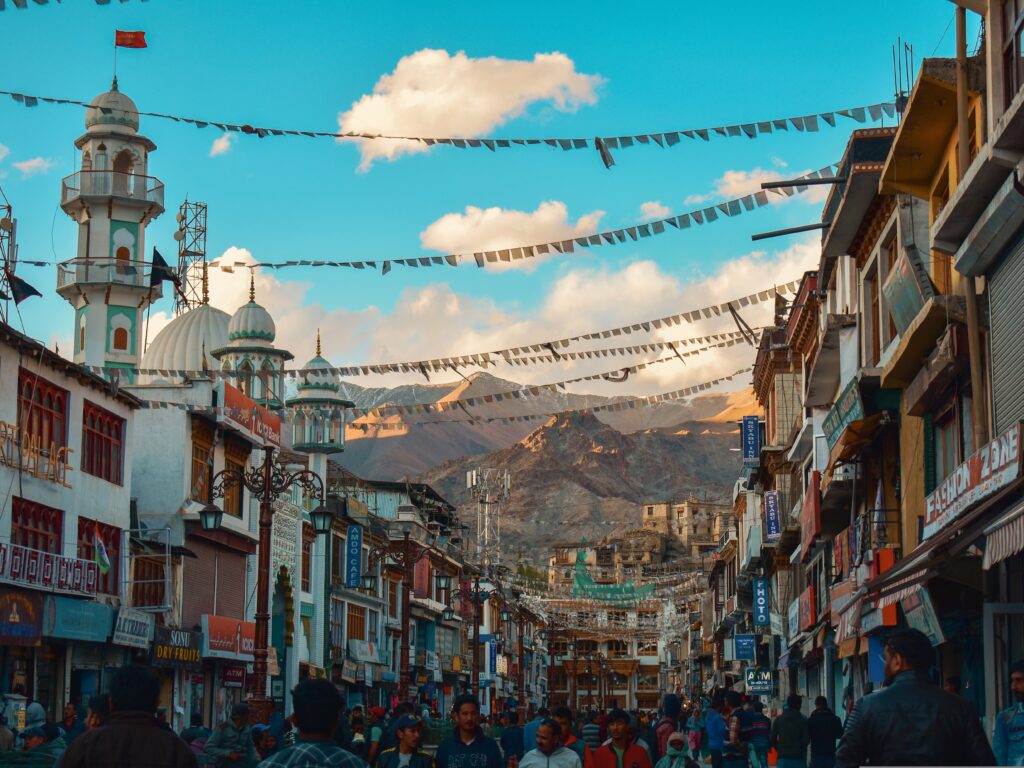 The entire Leh Ladakh is open in September.
The best part of the Leh Ladakh trip is the thrilling journey across Himalayan land and unrealistic panorama more than reaching a destination.
If you are in search of unexplored and offbeat places to visit in Leh Ladakh in September then I have a separate blog post for that.
Here, I am suggesting only a common itinerary for places to visit in Leh Ladakh in September. No matter how you plan your trip, always start your day early in the morning.
Day 01 -02: Arrival in Leh, spend the first day in a hotel taking rest and having healthy food. On the second day, visit Leh Palace and explore the Leh Market
Day 03 – 04: Leh to Hunder to Turtuk to Panamik. Stay in lower Turtuk for a budget-friendly homestay.
Day 05- 06: Turtuk to Pangong via Shyok to Umling La
Day 07: Pangong to Tso Morir
Day 08: Tso Morrir to Hanle
Day 9: Hanle to Leh
Day 10: Spend the day in Leh or go to Stok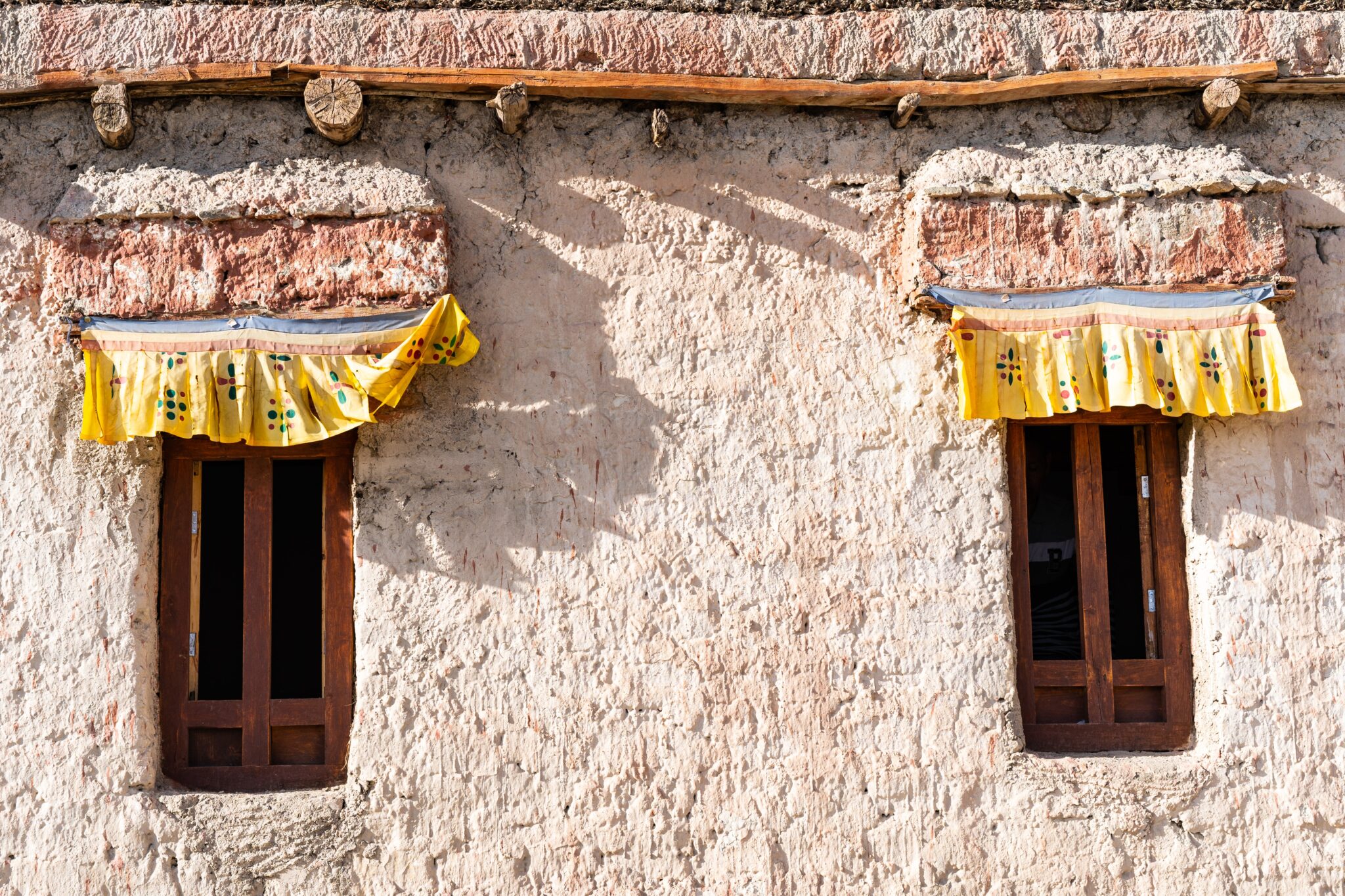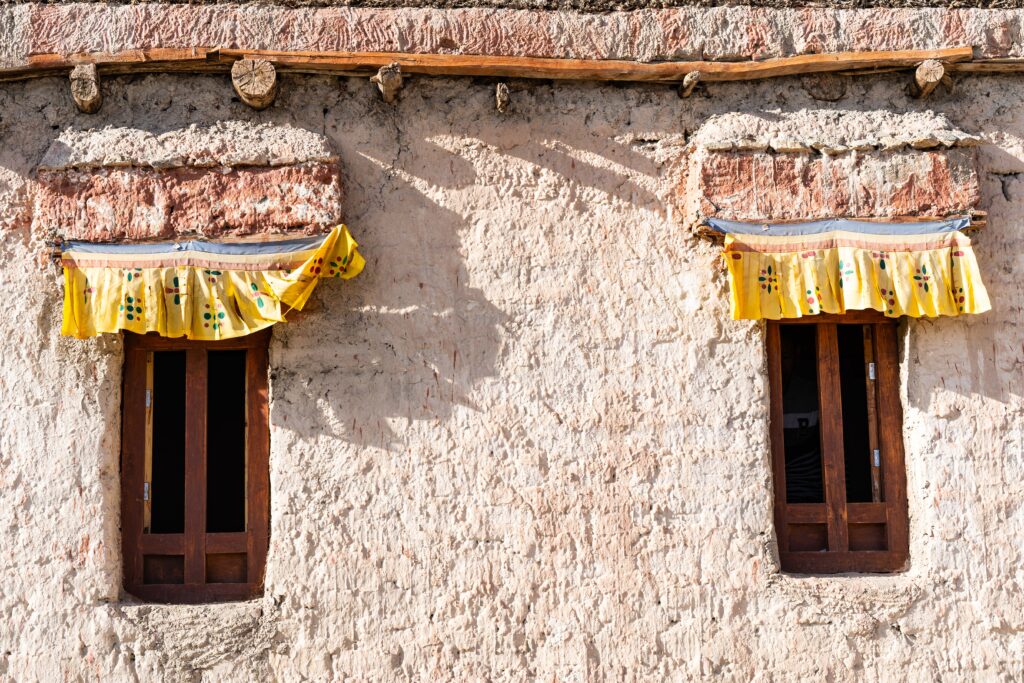 However, you can make moderation as per your health, wealth, and importantly the number of days.
Moreover, the weather in September can be very unpredictable. Therefore, sometimes you might have to change your plan on the spot.
It happened to us on the way to Nubra Valley, as snowfall started and we came back to Leh and decided to visit the Aryan Village.
Always keep a separate budget for such conditions and a buffer time between your trips to cover up for all delays.
Read: 7 Best Places to Visit Near Kolkata Within 100 Kms
How much does the Ladakh trip cost? In September
What is the average cost of a Ladakh trip?
How much will a trip to Ladakh cost?
These are the first questions that come to your mind after you plan for the Leh Ladakh trip. I will break down the average cost of the Ladakh trip in September to plan better.
Transportation from Kolkata to Leh and Leh to Kolkata in September:
How much does it cost to go to Ladakh from Kolkata?
Via flights, the cost will be 10 – 11 Thousand Rupees one way, therefore two ways it will be nearlyly about 22,000 Rupees. 
However, via train, the cost can be reduced. Take a train from Kolkata to Delhi for 1,700, stay in Delhi for one night, and take an early morning flight to Leh for just 2,700 Rupees. 
Total, including stays and both way flights and train the cost will be 12,000 Rupees only.
Transportation in Leh – Bike
During my Leh Ladakh trip in September, I rented scram 411 Royal Enfield for Rupees 1,700 per day with petrol at my cost.
If you are taking the bike for 7 days then, the cost will be Rupees 11, 900. And, I spend 9000 Rupees on petrol.
Therefore, transportation in Leh by bike for 7 days will be Rupees 20,900
Budget hotels in Leh
I stayed in Palace View at Rupees 1200 per day. The rooms come with big windows and a balcony from where you get a close view of Leh Palace.
Normally, these rooms are available at Rupees 1700 per day but we just got for Rupees 1200. This is the best part of traveling Leh Ladakh in September.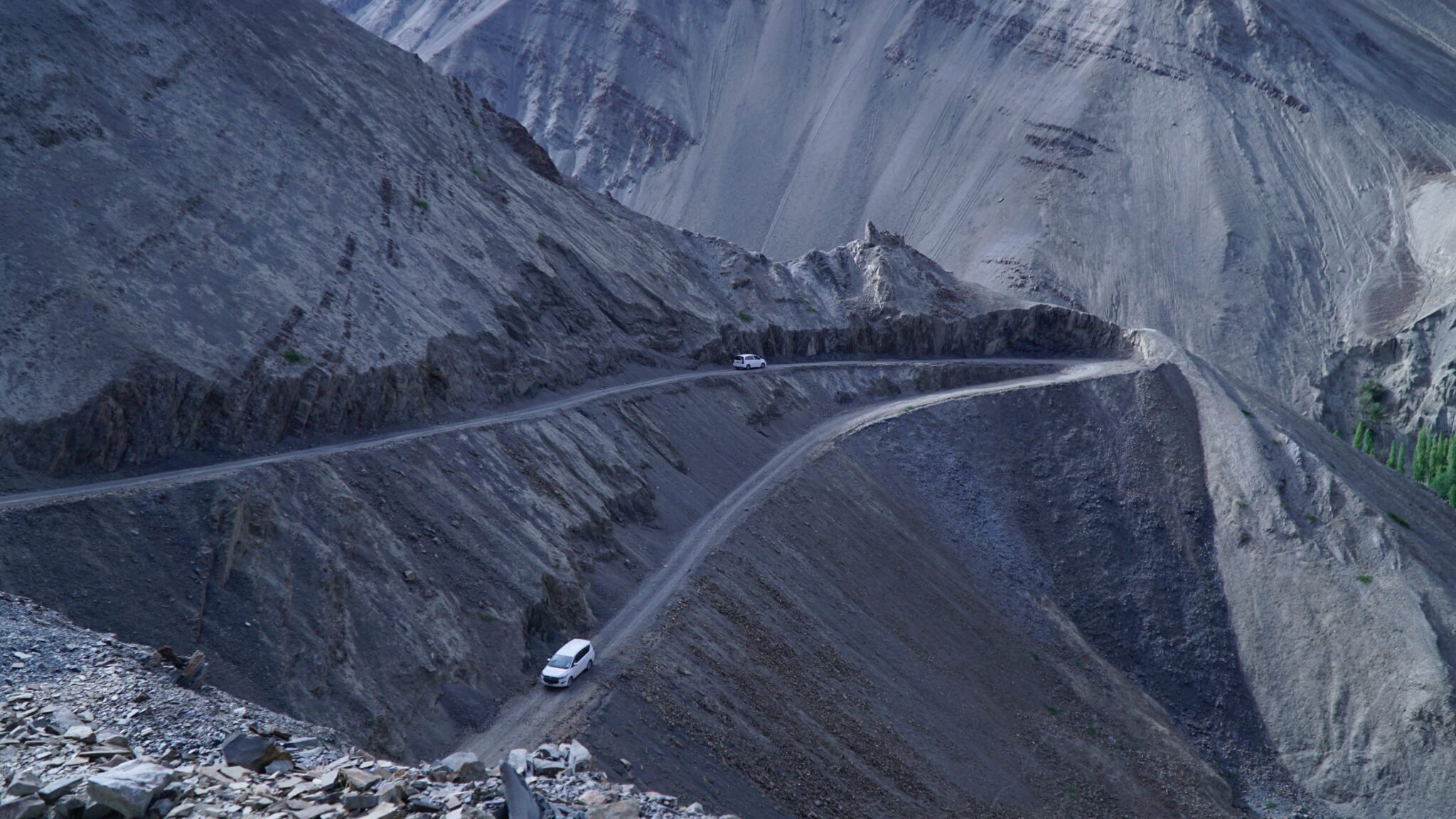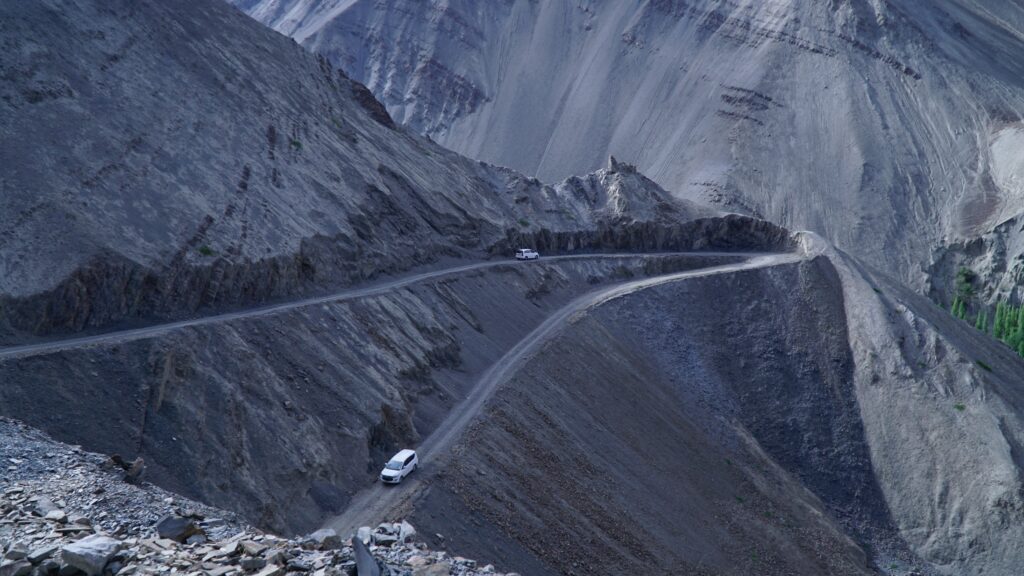 DISCOUNT ON EVERYTHING!
You can also choose to stay at the Woosah hostel or the Himalayan bunker in Leh. Staying at the hostel is around Rupees 400 to 500 per day in dorms.
Apart from hotels in Leh, hotels in Nubra, Pangong, Hanle, Tso Morir, and Karzok will cost you around Rupees 1000 – 1200 per day.
Therefore, hotel cost in total for 7 days will be around Rupees 5000 – 7000
Food in Leh
The food cost in Leh in September would be around a minimum of Rupees 2000 – 3000, only, if you decide to eat in cafes. Apart from that food costs in Leh are very negligible.
For example, in Hanle, I paid Rupees 1000 per day which includes a meal for 2 times (breakfast and dinner) and the accommodation cost.
Isn't it cheap?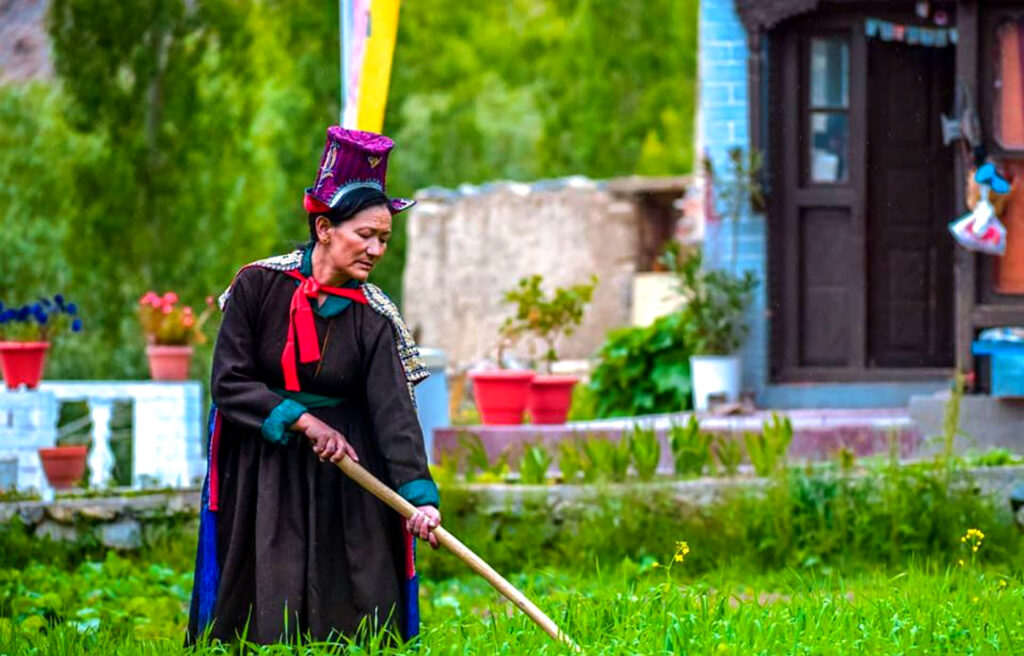 Picture courtesy: responsibletourismindia
The best part is most of the homestays and hotels in Leh include food costs in hotel prices, therefore, you do not have to pay extra.
Therefore, to the popular question, how much does it cost to go to Ladakh from Kolkata? The answer is Rupees 35,000- 41,000 for 10 days including flights, train, hotel, food, and bike.
However, the cost can be reduced or increased depending on your travel appetite.
For my Ladakh trip in September from Kolkata (23rd September 2022 – 2nd October 2022), I spent 38,000 Rupees.
Read: 10 Unique Offbeat Instagrammable Places in Kolkata
Conclusion
Leh Ladakh in September is beautiful to the eye, but you need sturdy physical and mental health to enjoy it.
There is a lack of oxygen, and harsh cold nights, with minimalistic lifestyles in villages. I would recommend not expecting luxury rather than a simple and minimal life.
Remember, you are traveling to the remote parts of Leh, where people survive with minimal requirements. You won't get internet or any sort of luxury treatment.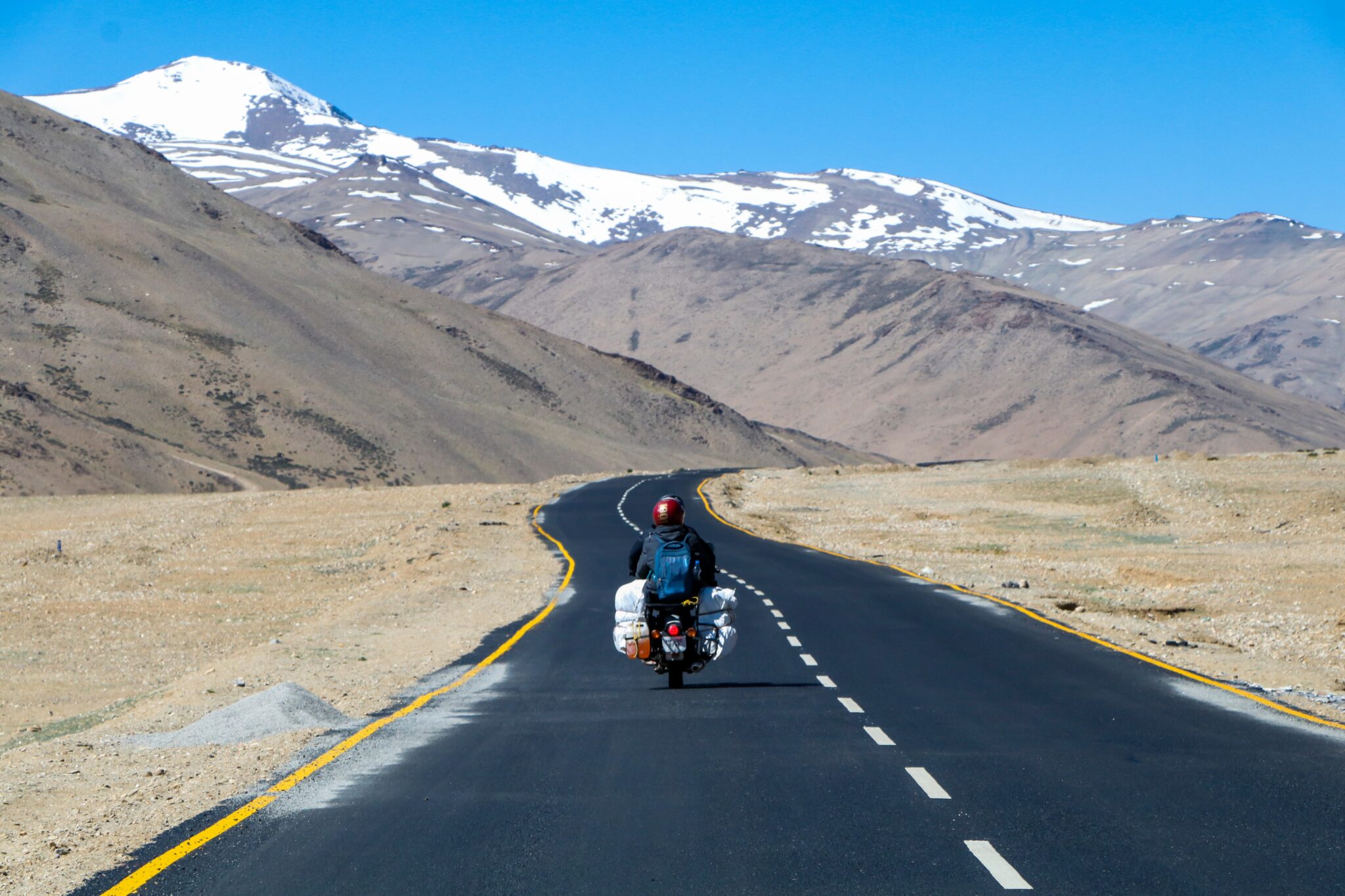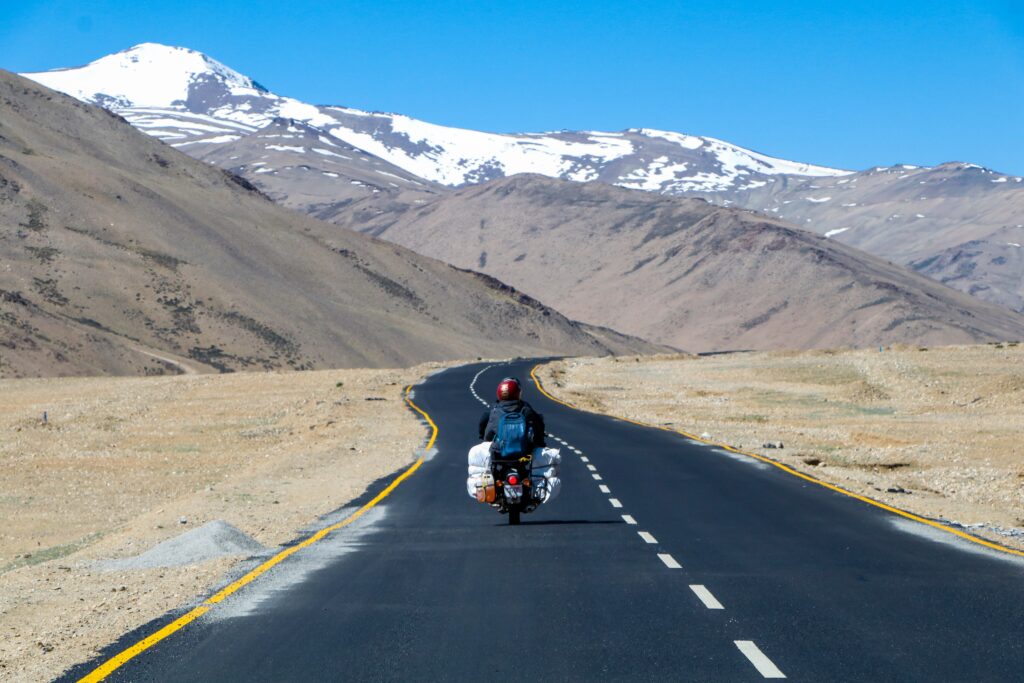 On the last few days of my Ladakh trip, in Karzok (end of Tso Morir), I was getting cravings for Masala Kulcha and Chicken Bharta. But, what I got was Maggie, rice, daal, egg, and vegetables.
See, I am not frightening you, this is just a reminder. Before you embark on the trip, make sure you are mentally prepared for things that are outside your comfort zone.
Moreover, with all the above information, care, and caution, you will have a blast on your Ladakh trip in September.
Are you planning your next trip to Ladakh?
Let me know.