10 Best south Indian restaurants in Chennai
Sangeetha, Sukkubhai's Chennai Biryani, the Wedding Biryani, The Old Madras Baking Company, and Batter. What? Did you hear any of these names? These are the famous restaurants in Chennai serving yummy quality food at affordable prices.
This blog is solely for food lovers in Chennai and around.
I am from West Bengal, I love experimenting and tasting food. So, in December 2022, when everyone was planning for a Goa trip, I came to Chennai to check out the local restaurants and take a real taste of Chennai food.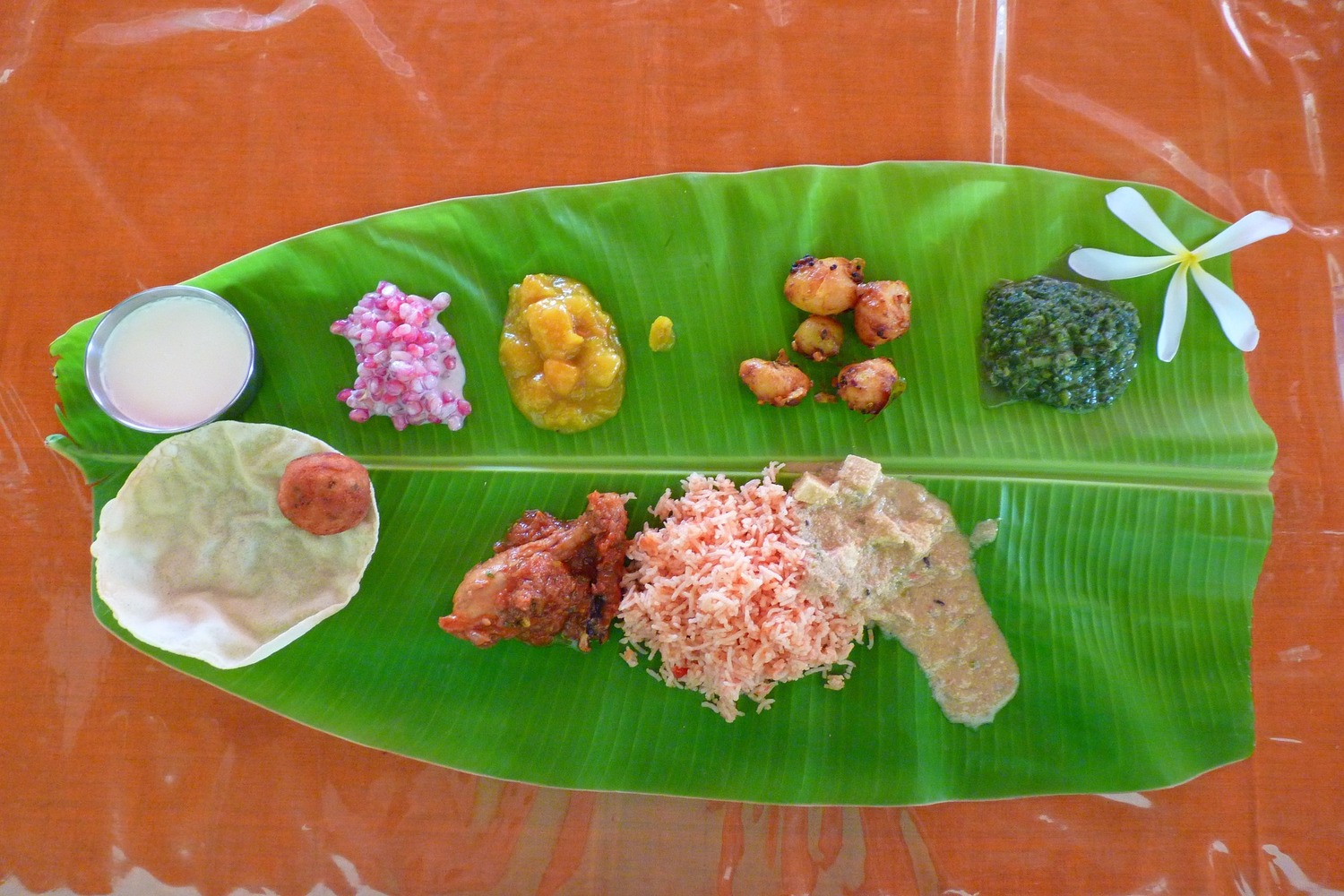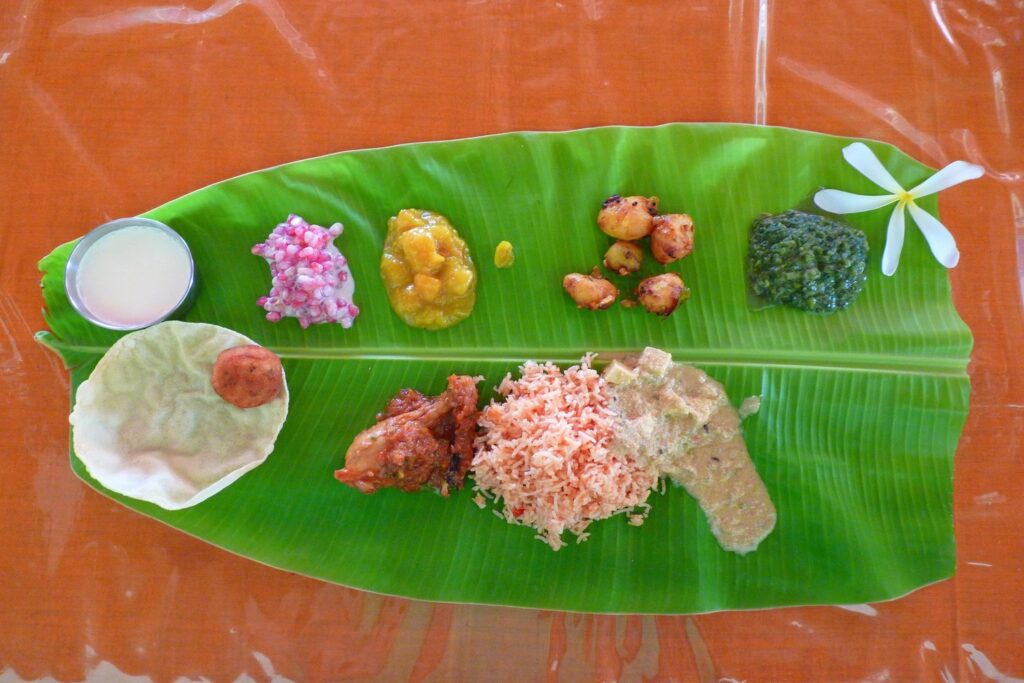 So, if you're craving South Indian food and biryani, let me take you to some of my best South Indian restaurants in Chennai because I'm not J.O.E.Y and I love to share my food.
"I like it when my friends take food off my plate, okay?" So, let's go!
Read: 9 Safe Places To Travel In India
Best South Indian Restaurants in Chennai
A love affair with food is not new, Chennai's culinary scene reflects on the plate as it is influenced by traditional culture and several migrations. So, let's unravel some of the remarkable flavors of South Indian Restaurants in Chennai.   
Sangeetha
Address: No 91, Shivalaya Building, Ethiraj Salai, Egmore, Chennai, Tamil Nadu 600008
Sangeetha has always been associated in my mind with appetizing Ghee Podi Dosa, filtered coffee, and pineapple kesari. It is a nice choice if you are in search mode for the best South Indian restaurant in Chennai.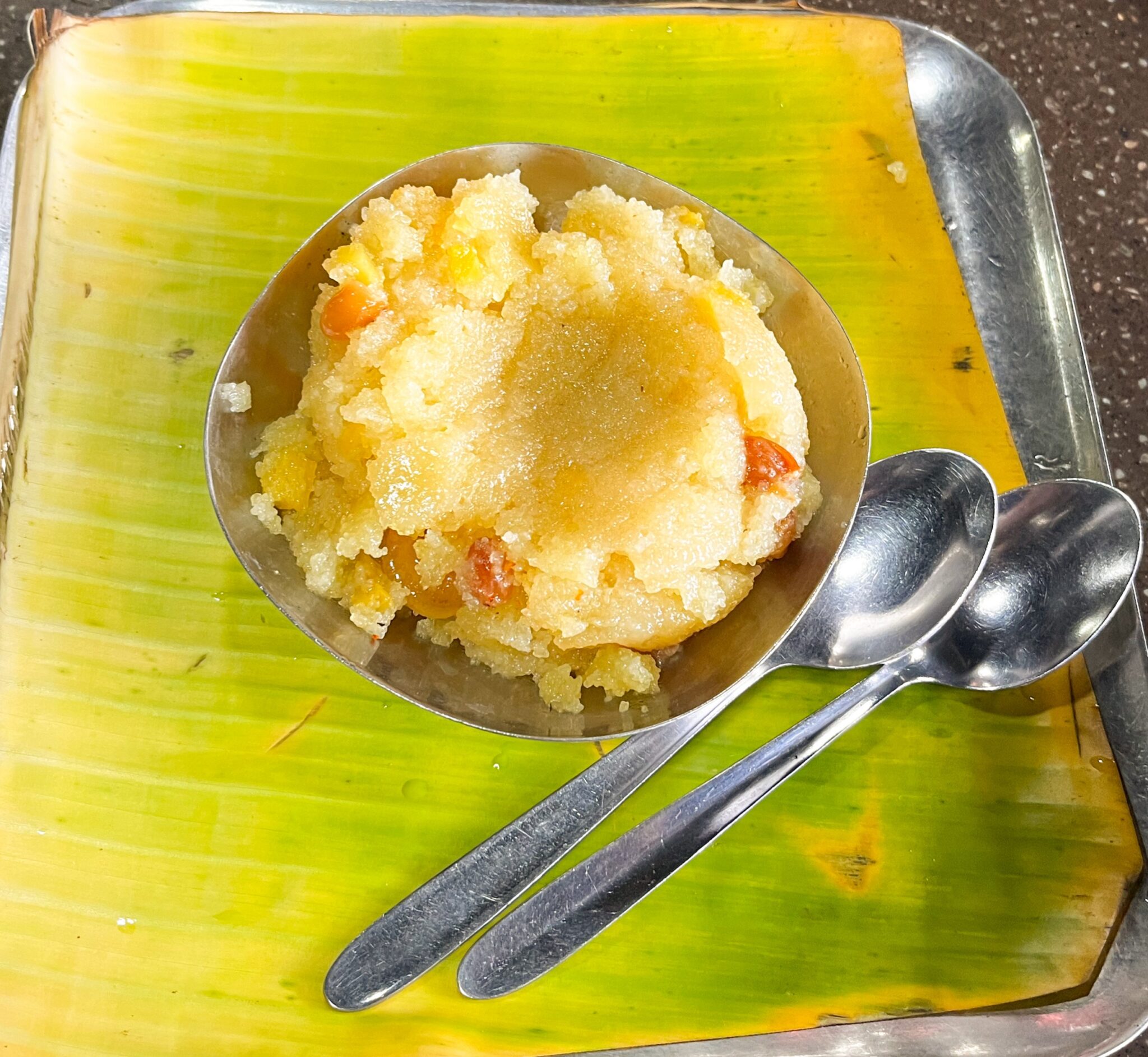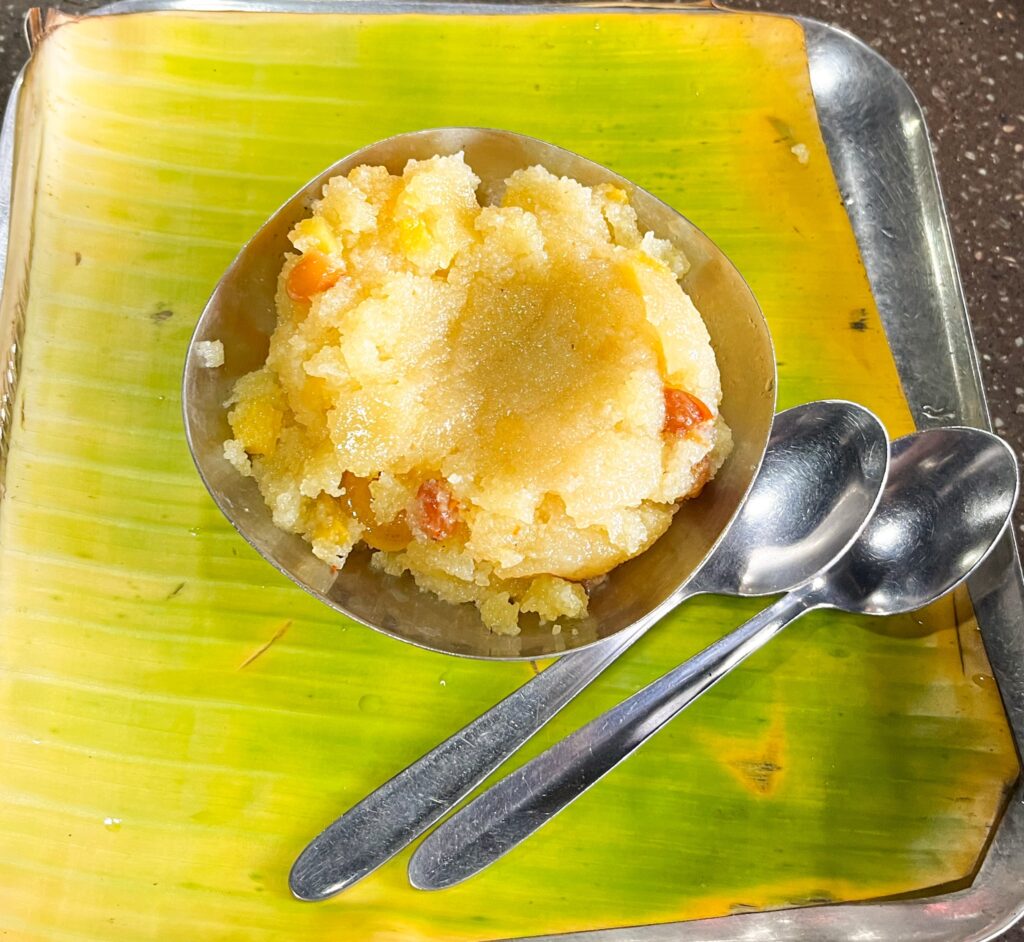 I never saw a menu chart with 15 Dosa varieties– starting from Butter Dosa, Paneer Masala Dosa to Mysore Masala Dosa and so many others. They have 5 franchised outlets of Chennai-based food. I went to their Velachery, and T Nagar outlets.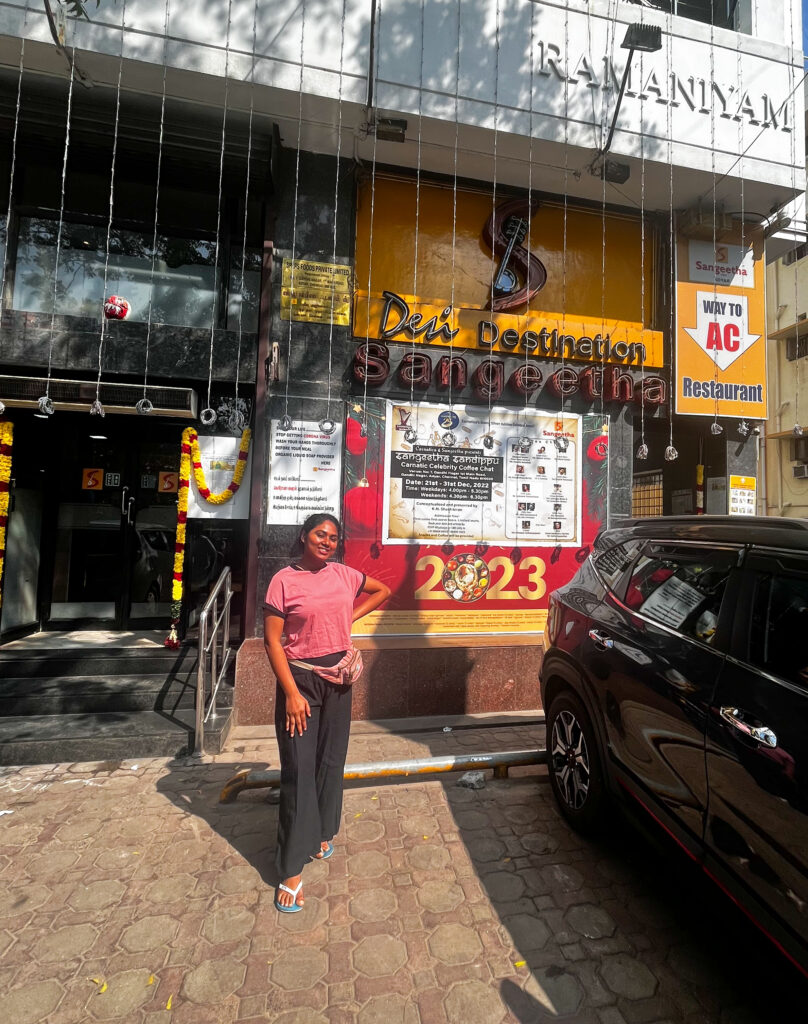 Sangeetha which is also called Geetham (rebranded) offers the perfect South Indian breakfast. Though they sprinkled Podi on the top of the Dosa, it was not at all spicy. The Dosa was crispy and the flip was so clean. I tried Vada too!
The spice kick was beautiful for the day to start. For the best ambiance restaurant in Chennai for breakfast, Sangeetha is a must-visit place. I got to know that every Friday, for instance, there is Vazhathandy Kootu for lunch, which I am recommending try for once. 
The best part of their restaurant is the people, serving the food. I have never seen staff so efficient in taking orders and delivering in no time. The inside ambiance at an affordable price is something every customer looks for and I was no different.
Read: How To Travel In India With Low Budget? Budget India Travel Tips
Dindigul Thalappakatti Restaurant
Address: 27, Venkatanarayana Rd, Parthasarathi Puram, T. Nagar, Chennai, Tamil Nadu 600017
If you are a biryani lover and want to try unique Tamil Nadu biryani, Dindigul Thalappakatti Restaurant is your chance. What is so different about it? Well, the rice was different, high-quality Seeraga samba rice called Parakkum Sittu.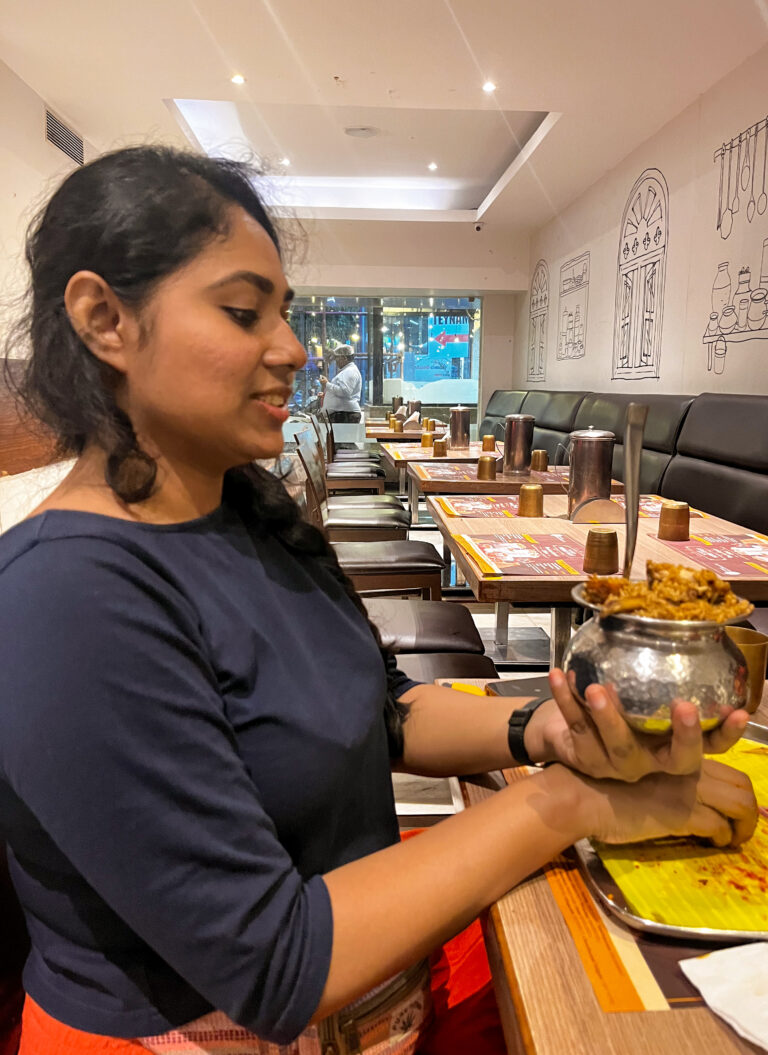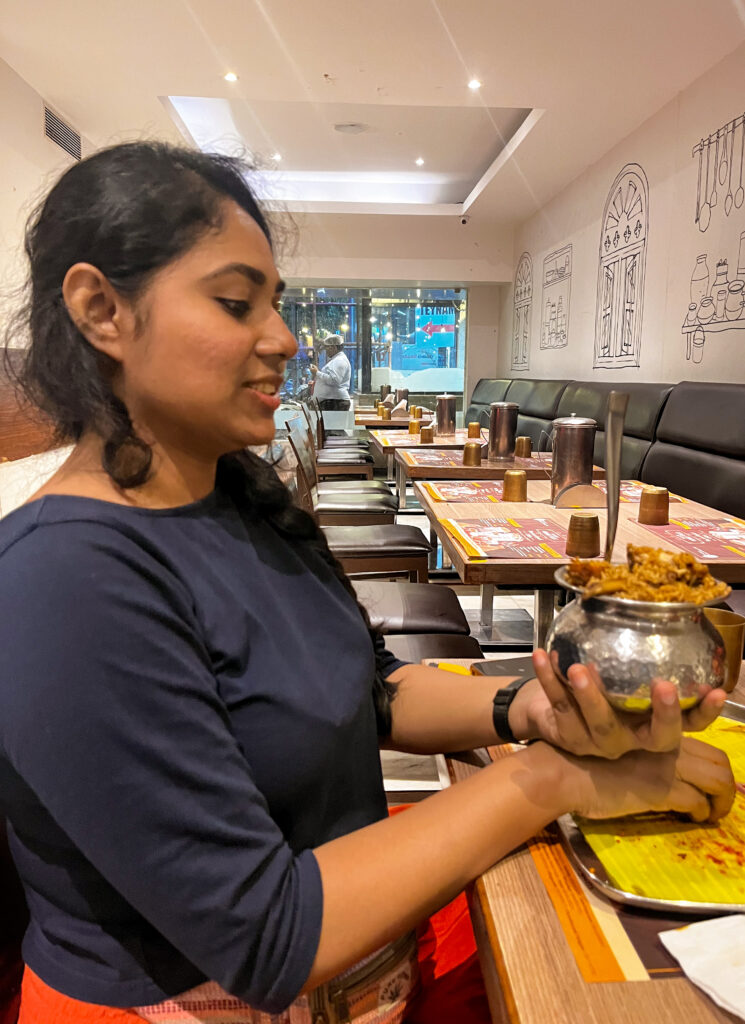 Curated by Mr. Nagasamy Naidu, the cooking style and foods use ingredients prepared from the quality masala and top-class breeds of cattle particularly found in Kannivadi and Paramathi. 
Dindigul Thalappakatti Restaurant is a non-veg Restaurant in Chennai where I had pomfret fish fry, chicken peri peri, biryani, fried rice, Falooda, ice cream, and brownies. I was not the only one there were Ipsita's friends too!
The fish was juicy with caramelized onions served over the fish and heavy gravy. The chicken was grilled just right and didn't make my taste buds work too hard. I noticed the menu has a lot of Tamil influence, to my experience Dindigul Thalappakatti Restaurant is the top restaurant in Chennai for lunch.
The chicken biryani in terms of its flavor profile ranks at the top position as they kept the South Indian flavor top priority. It is an experience you need to collect, of course, along with a nice Tamil soft song playing in the background.
Read: The Guide: How To Travel With Dog In Train In India?
Old Madras Baking Company
Address: NEW NO.279, TT Krishnamachari Road, Next to Universal, Sri Ram Nagar, Alwarpet, Chennai, Tamil Nadu 600018
If you see a fresh flaky finished baked Croissant once it gets into your mouth it only melts like butter and smells like it, you know it's from Old Madras Baking Company, one the best bakeries in Chennai.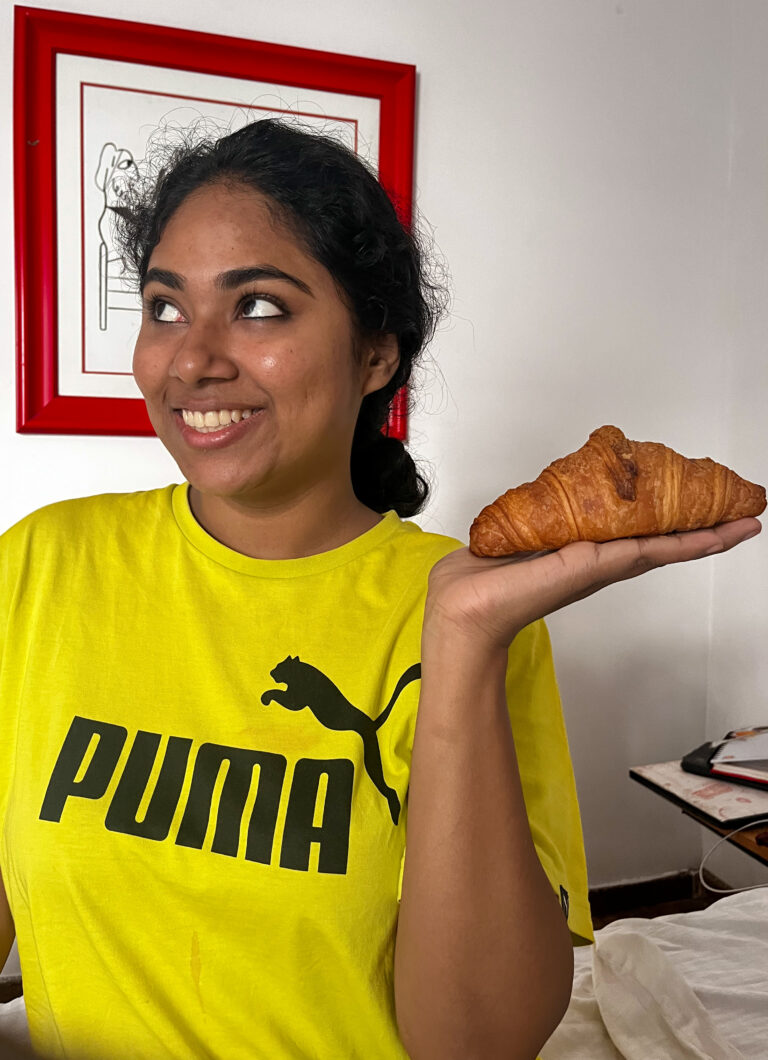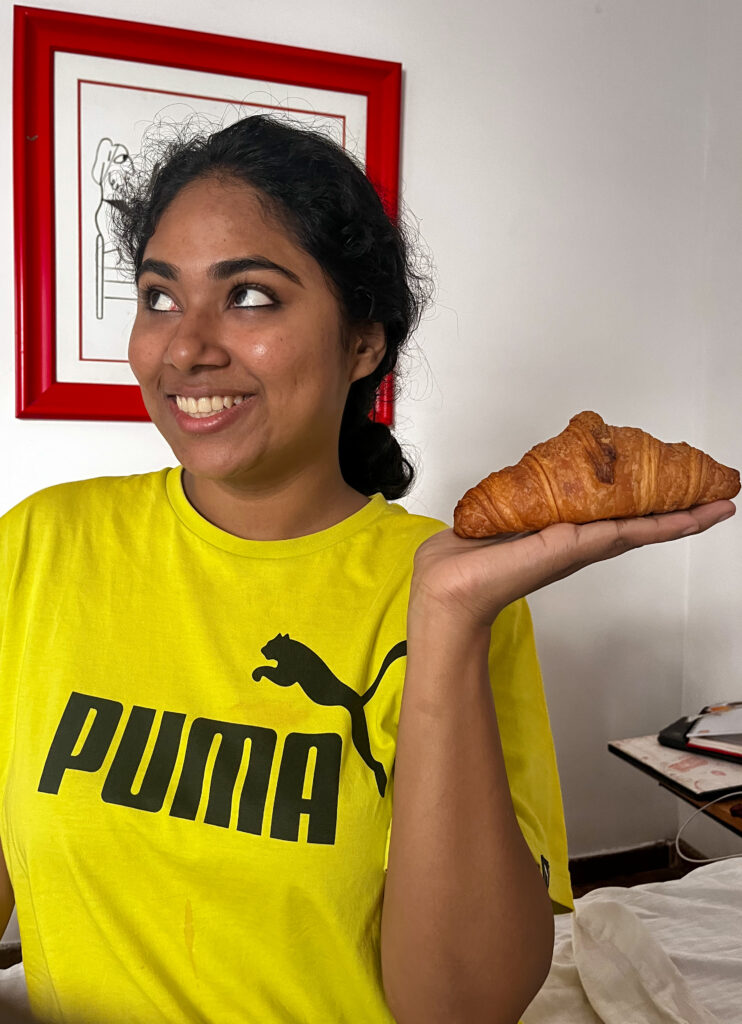 You enjoy the preservative-free bread taste that you always craved in morning breakfast. I was amazed by the taste of Croissant, Panini, Pound cake, and Carrot cake. I feel unlucky to miss out on their cookie collection.
I heard Victoria cake and Custard Danish of Old Madras Baking Company is a deadly choice for people on diet (because it is hard to say no). I was in search of the best south Indian restaurants in Chennai and ended up coming here. I can never regret this place!
The aroma, and visceral decoration of the store, with the local Madras touch and the smell of freshly baked products, is so intriguing that consciously you cannot stop eating back-to-back croissants and order a few more cakes. 
Read 5, Best Places For Solo Female Travel In India –
Shawarma Man – Food Court Perungudi
Address: Shop B10, KC Food Street, Tamil Nadu 600096
One of the best combinations of fluffy pita, grilled beef, and fat with the right mixture of mayo and cheese, Shawarma Man is an unforgettable memory. The well-seasoned mat and juicy mayo are the real treats you can offer yourself for a delicious dinner.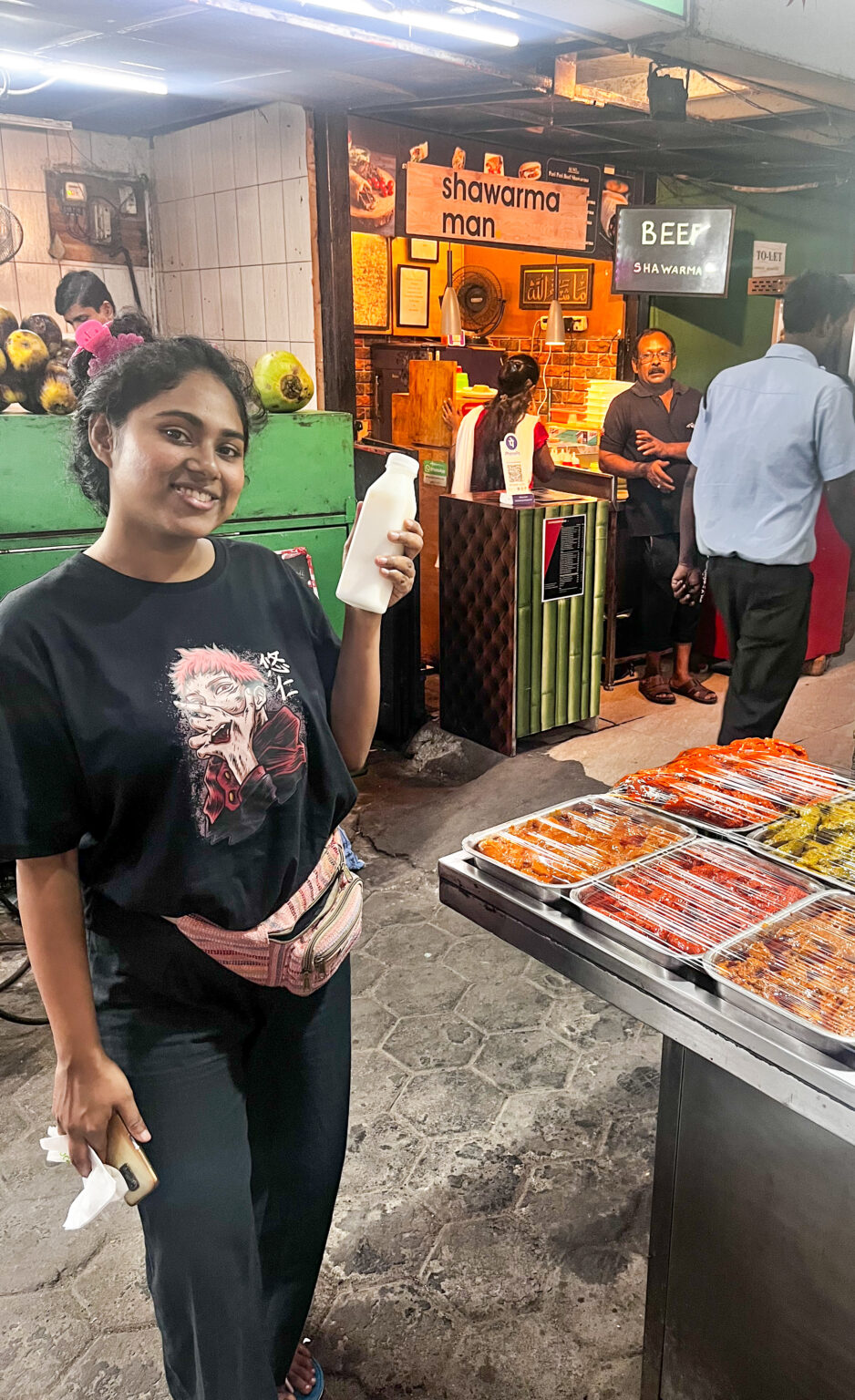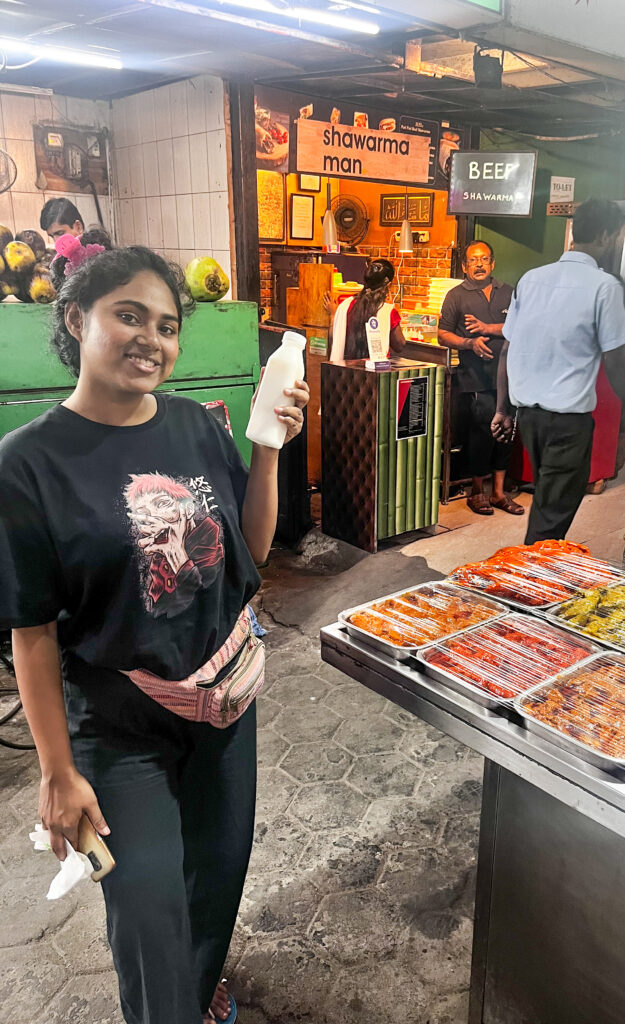 I feel the secret to beef Shawarma here lies in the way the chef makes it and serves it. His face is so welcoming. I heard he used to work in Dubai in one of the famous restaurants. 
Moreover, he wanted to be with his family and hence came back and opened this shop. His beef Shawarma tastes so different from others since all spices he uses are blended and mixed differently. The flavors jam so well that it tastes so yummy. 
Tip: Beside Shawarma Man, you'll find a North Indian man sealing tender coconut shakes which you must try if you're in Chennai. Did you see me holding the coconut shake? it was a refreshing healthy drink!
Hence, if you are in search of cheap and best restaurants in Chennai, then Shawarma Man shop and the coconut juice shop must stop.
Batter
Address: 145/105 St Mary's Road, Alwarpet, Chennai, Tamil Nadu 600018
Batter felt like a London café, aesthetically so appealing and classy to have ice cream. The warm interior color in dainty pink with a green window is no less than a beautiful place to bring your mother to treat to a delicious frozen dessert.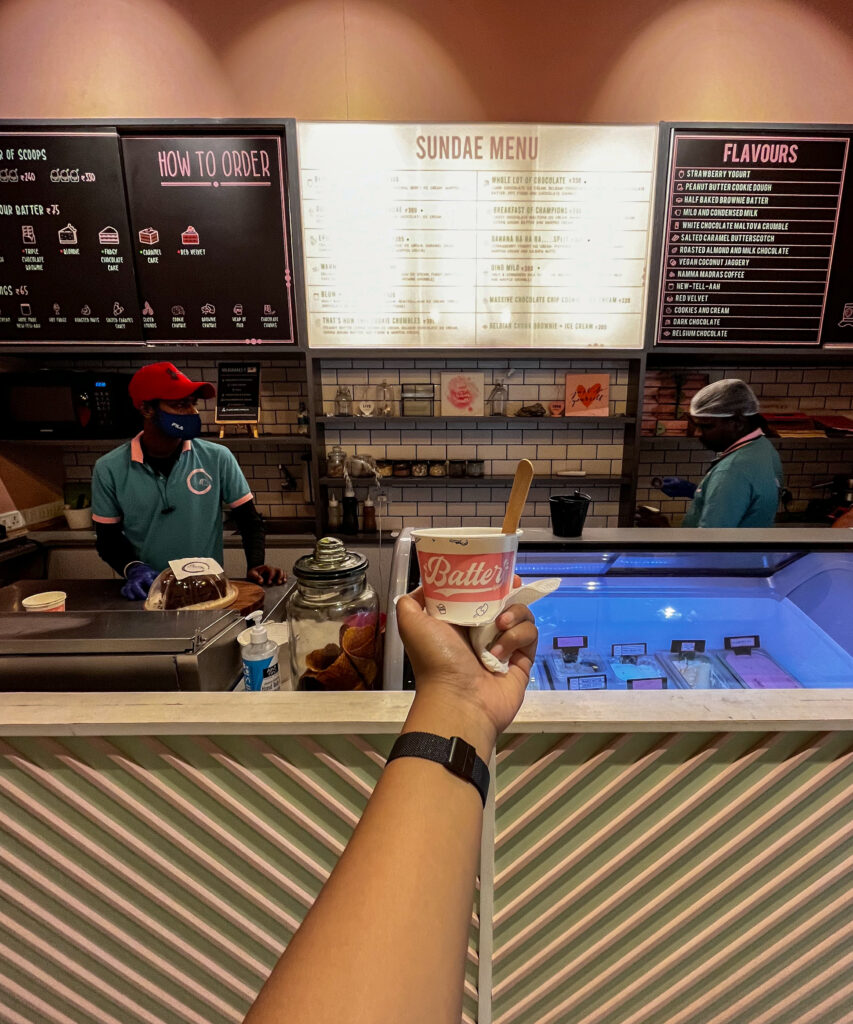 I ordered Belgium Chocolate with bountiful variety – it felt so organic and fresh. This might sound very greedy, but do try their Wafer separately, it was light, had a subtly chocolate flavor and tasted so good. 
I heard they manufacture by themselves. I am craving it right now! Batter features ice creams like Salted Caramel Butterscotch, Belgium Chocolate, White Chocolate Maltova Crumble, Biscoff, and so more. Yes, I tasted all these.
What's awesome about all these new options, these "new" ice creams will not taste extremely sweet and the taste lingers in the mouth for the rest of the night! And, you no longer have to give up a little bit of heaven in order to maintain your diet.
I would suggest experimenting with all these different flavors to find which one hits heavenly on your taste buds! So, if you are in the mood to quench your thirst for ice cream, Batter is the place. 
Read: 9 Best Budget Travel Tips: How To Travel On A Budget?
Biryani Restaurants in Chennai
As the sun touched my skin in Chennai….and I was stuck in the traffic in the middle of honking—I felt a hunger pang inside me. I want to dig my hand into the famous Biryani in Chennai served on a nice plantain leaf.
Ipsita tells me Kolkata Biryani has a very subtle flavor with no masala. She used to tell me, Come to Chennai, and I will take you to the best biryani restaurants in Chennai. More than food, I wanted to know how it was.
I can never agree with that. I believe both the biryani have completely different tastes. Moreover, there is one similarity I noticed between Chennai Biryani Restaurants and Kolkata Biryani Restaurants – people eat biryanis with their hands and no spoons!
Sukkubhai Biryani Restaurant
Location: 14, Railway Sta Rd, near Saint Anthony's Church, Alandur, Chennai, Tamil Nadu 600016
I would say that Sukkubhai's Chennai Biryani tantalizes my senses with its secret aroma with natural flavor and a lot of spices and no Allo (potato) in it. The biryani is a little lumpy, has an old gold color, and does look very appetizing.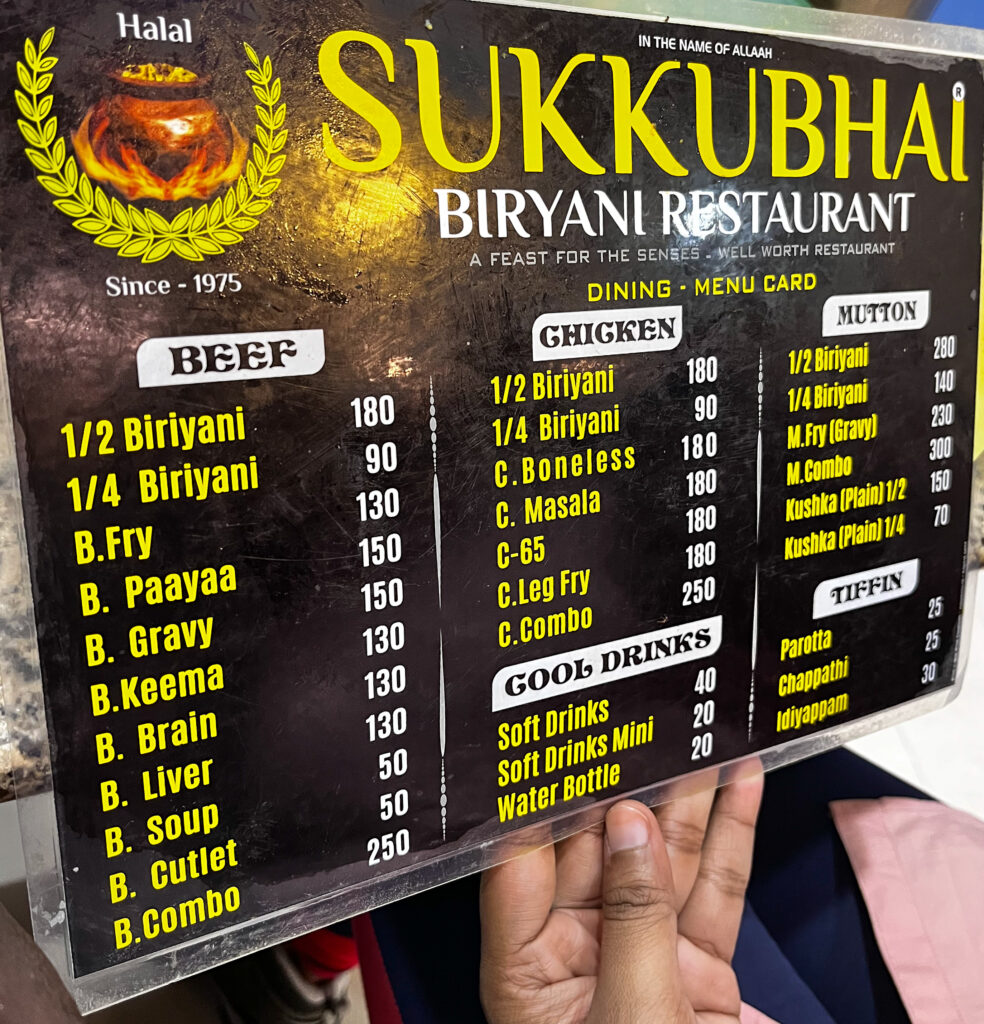 Ipsita ordered mutton biryani and I ordered beef biryani. The long-grained Basmati rice and smell were so enriching that I Tell you they have added a lot of cinnamon and black pepper. The rice is generously coated in masala and spices.
The beef and mutton pieces were so soft that I hardly felt anything in my mouth. I need not chew them before swallowing. However, I have a little complaint that the biryani did not have enough pieces of meat and also they were small in size.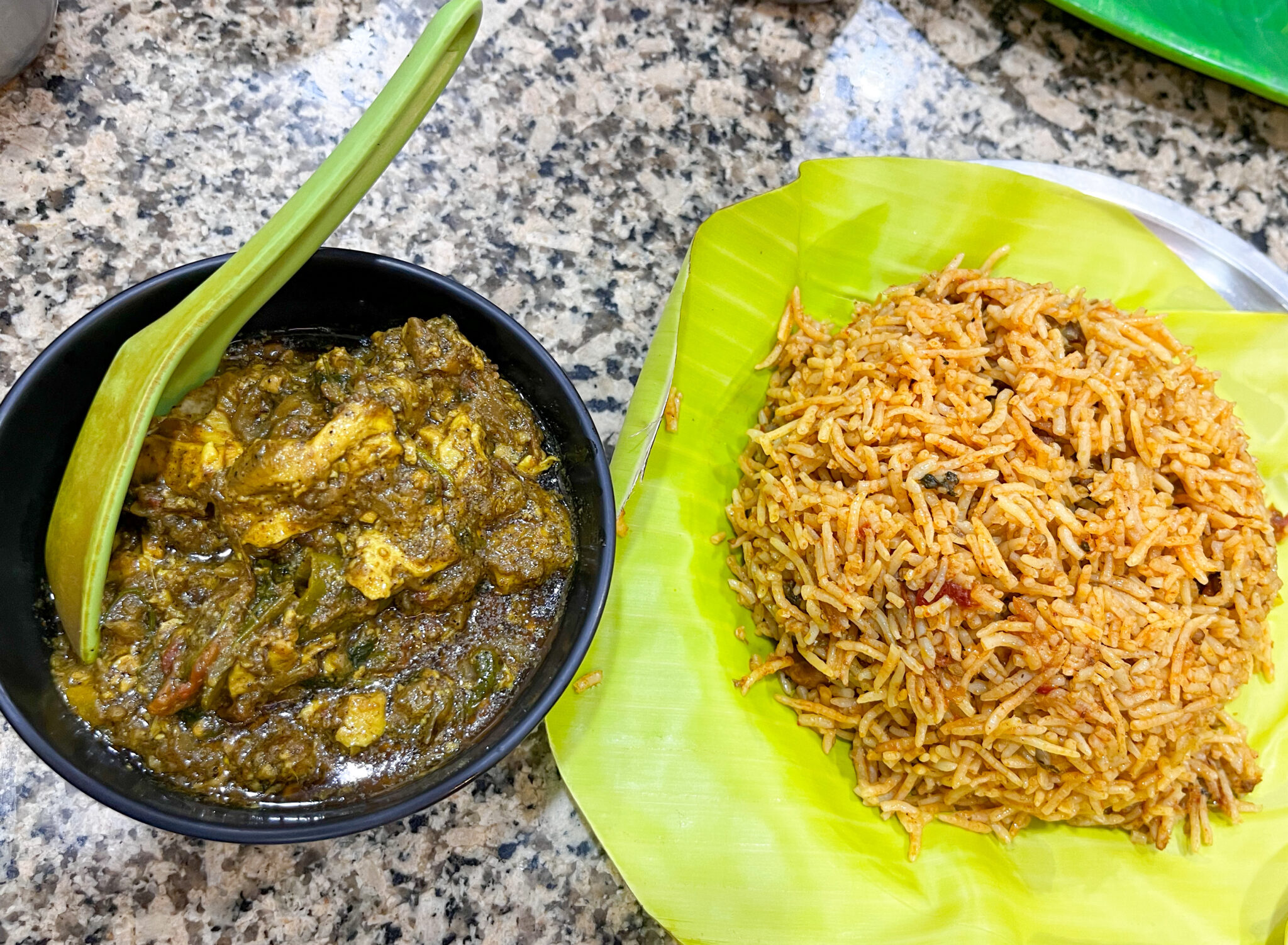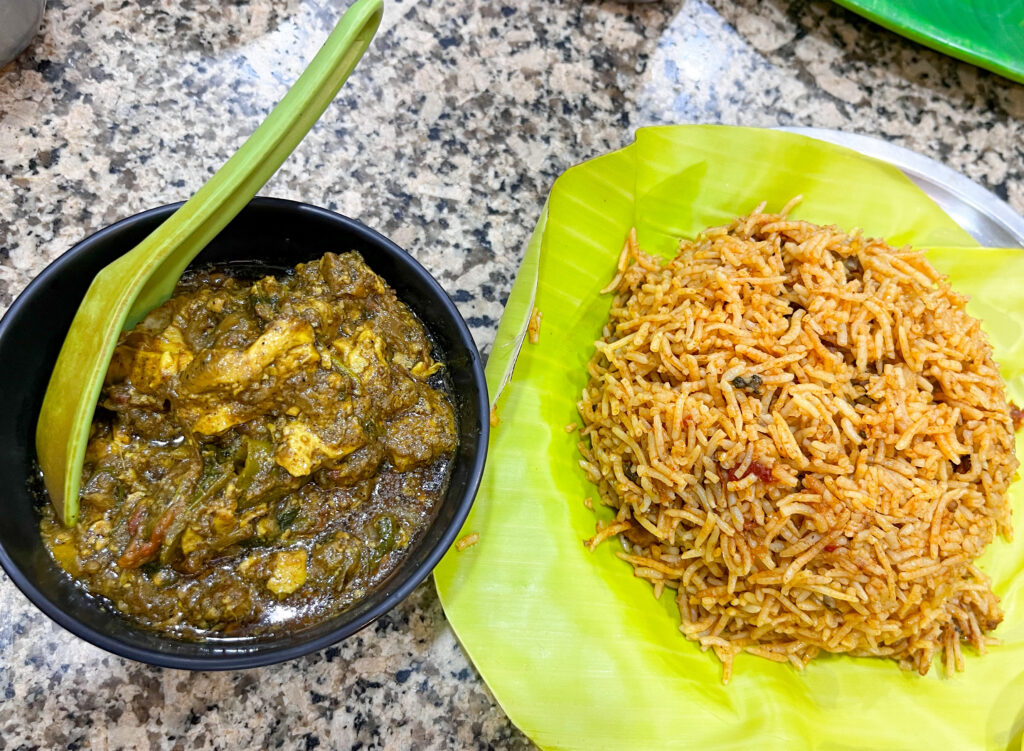 The biryani is on spicer side. The flavor and ingredients just shined on the rice served to me. The beef biryani tasted far better than the mutton biryani. On the table, there was Raita and Brinjal gravy. The Raita has so many pieces of onions.
I did enjoy it. Moreover, have soda after the biryani to digest faster. The biryani was Ruppes 180 each. The wonderful flavors at such affordable rates make me tell you that Sukkubhai Biryani Restaurant is the cheap and best restaurant in Chennai.
Daddy's Biryani
Location: 30, Madley Rd, Postal Colony, T. Nagar, Chennai, Tamil Nadu 600017
The biryani is delivered to me on a sustainable banana leaf in such a huge quantity that I felt – I need to pack home the leftovers. The biryani looked overly spicy but its homely appeal and flavor made me consider it a comforting meal.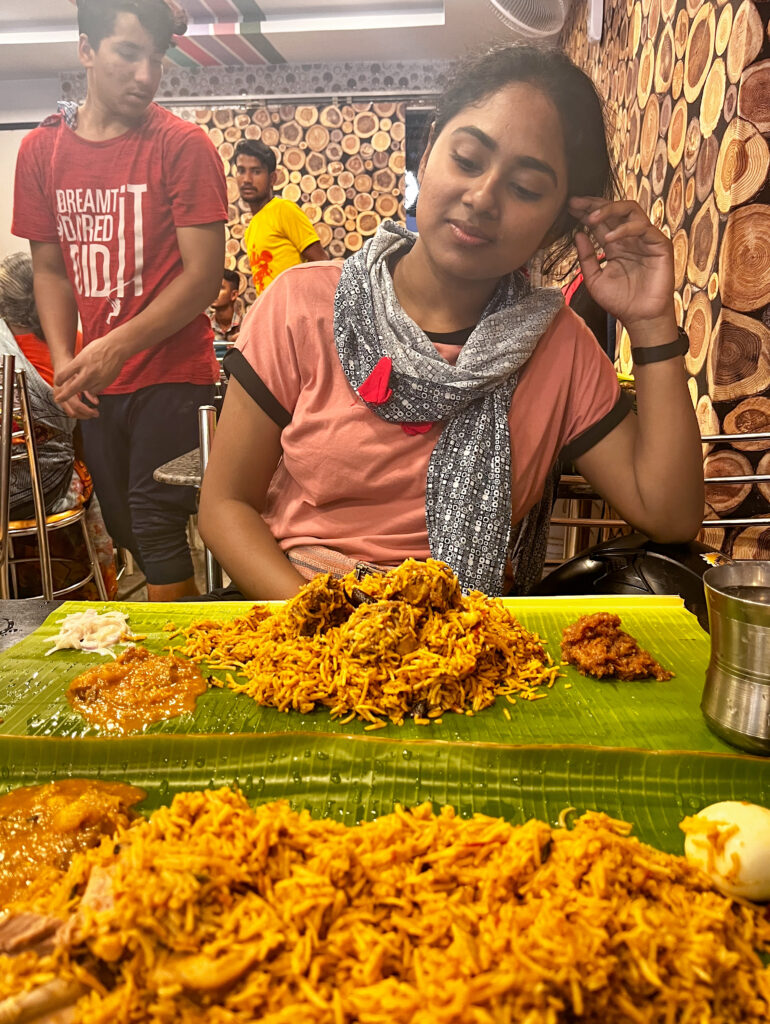 Daddy's Biryani has no fancy ambiance, a simple roadside shop with no air conditioner, and no wooden great furniture, but its fast serving and consistency in flavor make it one of the best mutton biryani in Chennai. 
Pair Daddy's biryani with their Chicken curry and believe me you've got yourself the best meal for the day. In my version, the mutton biryani had garam masala, fennel powder, and biryani masala and was loaded with the flavor of the South (curry leaves). 
mutton has a rich masala flavor and you can feel its freshness while chewing. I feel that the curry taste was a hindrance to my Bengali tongue but Ipsita told me, she loved it. I tried this biryani with Raita (which I loved it).  
Daddy's Biryani at T. Nagar is the cheapest and best restaurant in Chennai as one plate of mutton biryani and chicken biryani cost only Rupees 360 in total. Their hallmark is their quality, quality, and fast service.
The Wedding Biryani
Location: 123, 4, Velachery Bypass Rd, Maheshwari Nagar, Velachery, Chennai, Tamil Nadu 600042
If there is any biryani I fell in love with in Chennai then that has to be –The Wedding Biryani. Among everyone, The Wedding Biryani is the best biryani restaurant in Chennai as it has all the power to satisfy biryani cravings.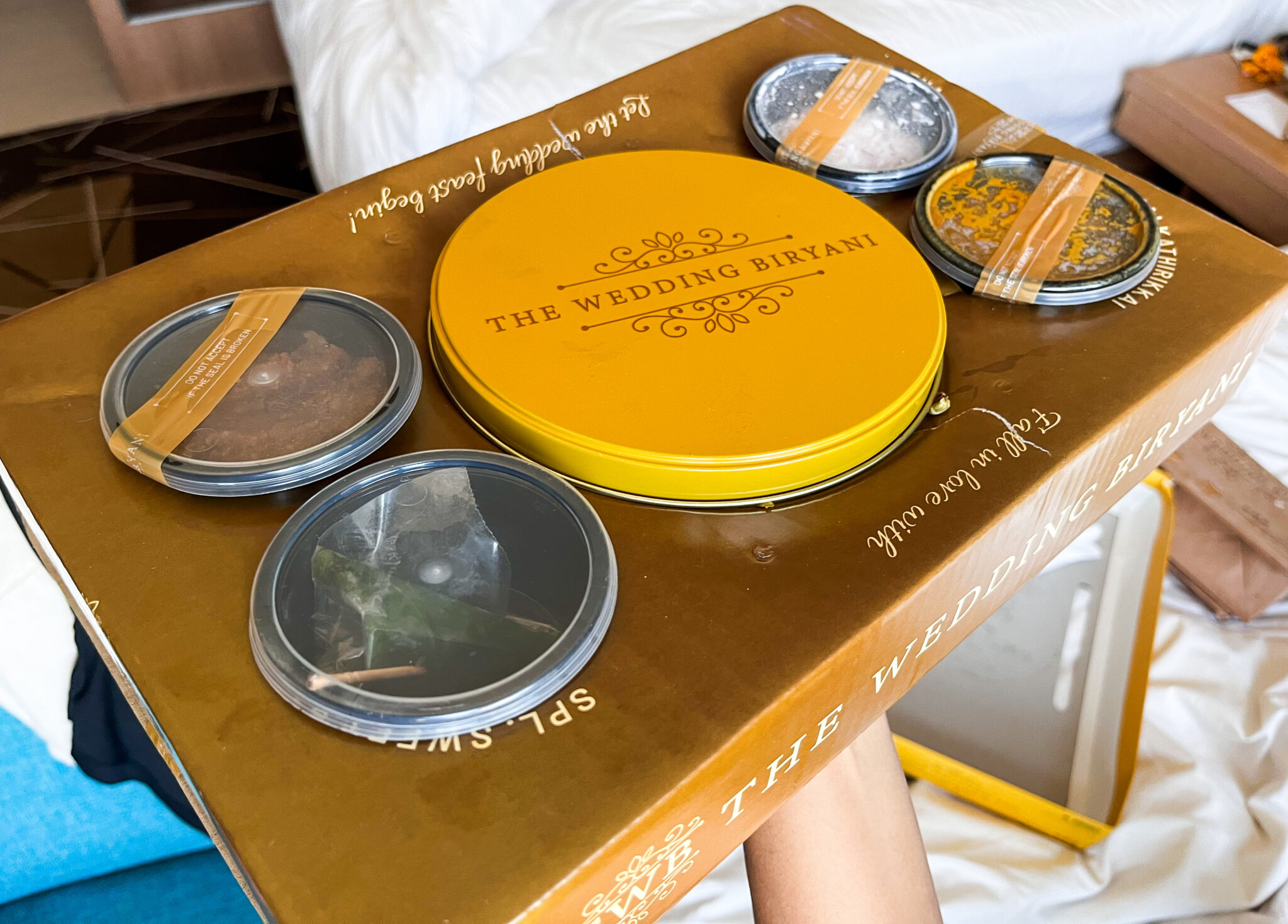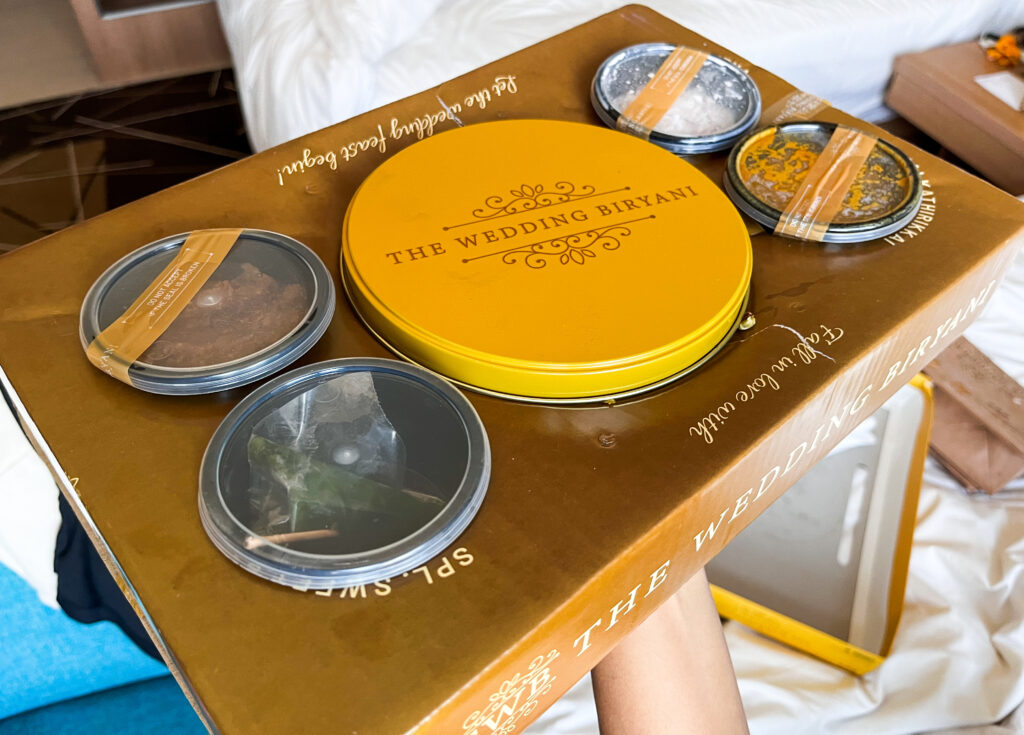 The rice is soft and flaky and at the same time, the meat felt soft when I tried tearing it from the bone. Trust me, it's out of the world, the quality felt so right for me to complete it in one go without thinking about anything else.
Before eating, Ipsita told me that till now they adhere to traditional cooking methods. The Biryani combo comes with Chicken/mutton biryani of your choice, chicken leg fry, Raita, brinjal chops, bread halwa (this was again amazing), and a pan. 
However, I felt unlucky to order it online rather than visiting the store and having it. I want you to visit their store and order the unlimited biryani concept. I also heard that they serve in Pandhi style which is yet another new concept for me to look forward to.
The rich steamy flavor with the aroma of South spices makes The Wedding Biryani the best South Indian restaurant in Chennai. Not all biryani tastes like this, the chef cooks it to perfection. It is a must-try when you're in town! 
Best Andhra Restaurant in Chennai
Andhra cuisine offers a tangy taste which adds a new definition and taste to food that you never tasted. The rich combination of aromatic herbs, spices, and the succulent taste was very new to me.
Tip: You would be served Ghee Podi first which tastes delicious but please do not overeat because this might lead to indigestion. Overeating the ingredients might trigger vomiting too. It happened to me!
The National Lodge
Location: Parry's, 112, Govindappa Naicken St, Sowcarpet, George Town, Chennai, Tamil Nadu 600001
The National Lodge, a pure veg restaurant in Chennai offers the best Andhra cuisine as per my Bengali taste buds. The veg Andhra cuisine is what ­I love the most. And, the price, I was shocked that the whole Thali was only Rupees 120.
The best part of The National Lodge is the people, they are served with warmth and love. Once the owner understood I am from Bengal, he himself stood beside me and told me how to eat and when to eat. I was so delighted knowing about the Andhra style of flavor and cooking. 
The restaurant setting is very simple – a simple table setting for you to taste the excellent Andhra cuisine Veg only. Also, the texture and taste of Gajar ka Halwa were so good at the end that it felt homely to me.
The curd rice was so different from Kolkata, I adored its taste till now. So, if you're in search of the best Andhra restaurant in Chennai, The National Lodge is highly recommended.
The New Andhra Mess
Location: 26RQ+7Q7, Sir Thyagaraya Rd, Parthasarathi Puram, T. Nagar, Chennai, Tamil Nadu 600017
Well, if someone talks about spicy tangy food, The New Andhra Mess comes to my mind. I would say that Andhra cuisine at The New Andhra Mess welcomed me to the world of chilies and spices which can only be bid goodbye by a glass of buttermilk.
Ipsita and I ordered non-veg Andhra thali which started with a dose of piping hot rice with Mudda Pappu followed by Parippu Podi and many more. Actually, Mudda Pappu and Parippu Podiwas are quintessential of Andhra.
They served Chepala Pulusu which is an Andhra-style fish curry where the fish is tossed in tamarind sauce and assorted with spices to give it a die-for-taste touch. I saw Ipsita completing her as well as mine.
I saw Ipsita was having the same spicy food at ease with a happy face. Talking to her I realized that it was me who was alien to the taste and food. For her, The New Andhra Mess is the best non-veg Andhra restaurant in Chennai. 
Not all dishes might touch your heart, but the Rava and Ghee Podi at The New Andhra Mess was my favorite. The food was filling and was also very affordable. I saw a lot of people having food there and understood it was a famous South Indian restaurant in Chennai. 
Conclusion
With so much choice all around, when are you planning to explore the best South Indian Restaurants in Chennai? In terms of taste, quality, and price, I think the above restaurants are must-try.
Let me know which one is your favorite South Indian restaurant in Chennai.