Uncovering 11 Hidden Gems in Kolkata for Great Experience
Kolkata – a mixture of old and new. The place where you'll see historical landmarks as well as trendy new buildings. For someone, like me who has lived all their life here has seen the city growing, changing, and evolving.
Though through my previous two blogs, I took you through instagrammable places in Kolkata and the best places to visit in Kolkata with friends, I thought this time let's take you through some Hidden gems in Kolkata that no one talks about.
Yes, I'm bringing you some places and knowledge that I'm sure you did not know before about my city. So, here comes the blog on offbeat places in Kolkata giving you the flavor that you never tasted.
Table of Contents
1. C. Brothers
Address: 5/C, Grey St, Sovabazar, Shobhabazar, Kolkata, West Bengal 700005
C. Brothers is a century-old photo studio that has been standing in the street of Shobhabazar at the Arabinda Sarani since the British Raj. It was the city's inaugural indigenous photography studio and is now one of the hidden gems in Kolkata for photographers. 
Photographers from all over the world come here to look at the essence of the art form that Kolkata hold since its early days. I was here with Manju, my best friend, and by the tie we entered we felt like someone imported us back to 1912.
We saw glass negatives, which reminded us of the old times which we only saw in the pages of our history books. These days photographers use film. Can you imagine the time? It was a time when people were skeptical of the tools to capture photos, Kunjbihari Chatterjee started C. Bros Photography Studio.
Note: C. Brothers in Kolkata is one of the oldest surviving studios in India. Don't you want to come to this unique place in Kolkata to get your picture clicked in old shades?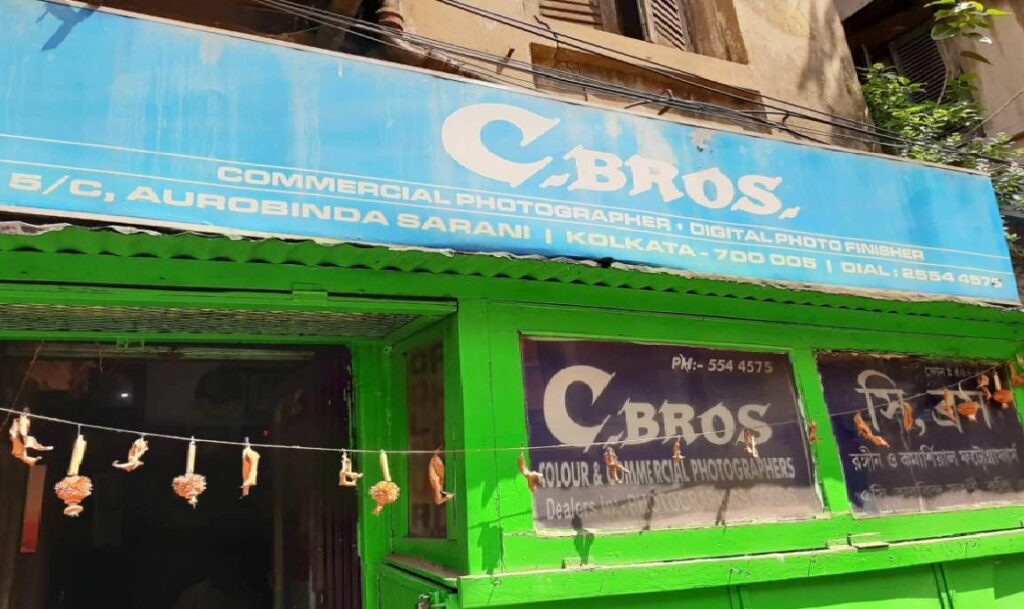 2. Doctor of Pen
Address: narrow alleyway of Chowringhee Road in Esplanade
As unbelievable as it may sound, by now this shop – Pen Hospital has completed almost eight decades old and sitting in the busy streets of Esplanade. This is surely an offbeat place to visit in Kolkata for children. But, what is this place, after all?
Just imagine, you're using a pen for a prolonged time, what happens to it? Either its cap is lost or back is broken, or the color is faded. And, you simply throw it in the bin replacing it with a new one. But, there are people, who bring it to "pen hospital".
Even here you'll find pens that even date back to 100 years. Of Corse, this is a must-visit North Kolkata place; travelers all around the world come here to Mohammad Imtiaz, the present doctor of pens, in search of that one rare part that could set their price possession.
Note: Currently, the business is not very financially rewarding, hence, if you're in need of fountain pens, come here and help him to flourish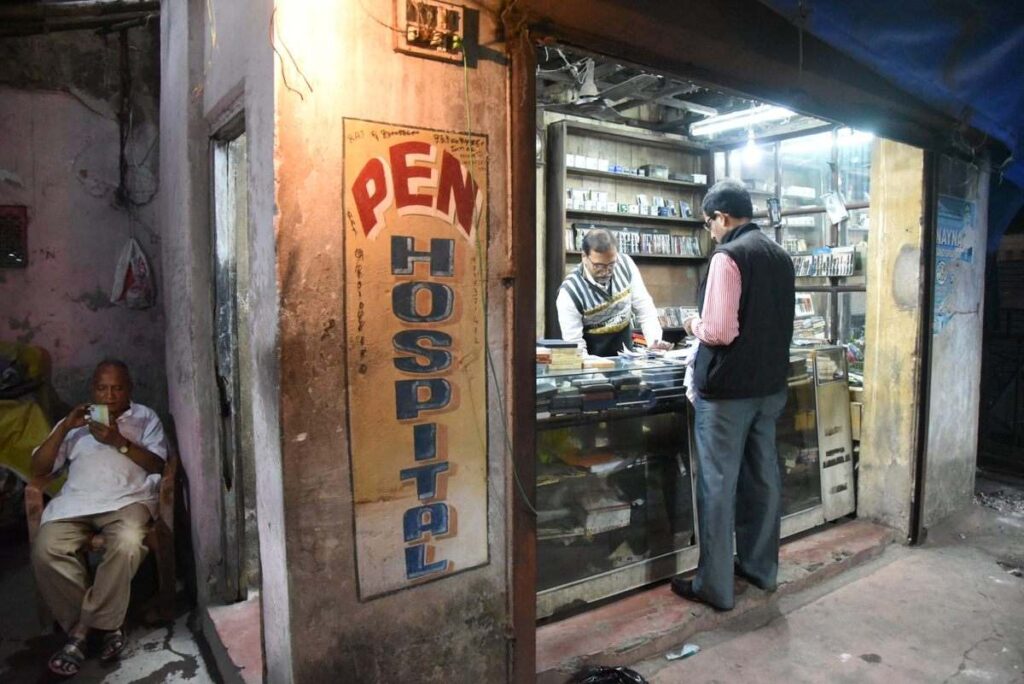 you can also read blogs on…
3. Aparnaa Handlooms
Address: SP Mukherjee Road, Rash Behari
If you want to find a Bollywood-inspired fabrics store in Kolkata, then Aparnaa Handloom store is the newest store for fashionistas. I Found A Fabric Exactly Like Alia's Famous Diwali Dress.
The store has endless collections of fabric that matches the fabrics won by Bollywood stars like Alia, Sara, Janvi and so more. Besides that, the fabric is so lightweight making it appropriate to style like stars.
Fabrics like Jaipuri prints, tie-dye, chiffon, silks, laces, and dupattas are all available. You'll find a lot of theatre professionals prefer shopping here
Tip: Aparnaa Handloom is one of the hidden markets in Kolkata with 4 stores on Loudon Street and Park Street.
4. Mayer Bari at Bagbazar
Certainly! I am happy to share one of the most hidden heritage sites in Kolkata where my mother takes me on every birthday morning to seek blessing. Well, we also mediate in the Nathmandir attending the Sandhyarati in the evening. 
Mayer Bari is the home of Sri Sarada Devi, the wife of Sri Ramakrishna Paramhansa at Bagbazar, where she lived from 1909 – 1920. It is a two-story house where she lived for 11 years. However, now renovations have been done but only for good!
It's a stone's throw distance from the Udbodhan building and Nivedita's house. On the other side sits Mayer Ghat, during sunset the subtle sunrays and chit-chat of Kolkata vendors make this place ideal to sit and just enjoy!
Tip: Come here during the puja timing – 6 am – 11 am in the morning and 4 pm to 8 pm in the evening. You also set tasty Prasad as a treat!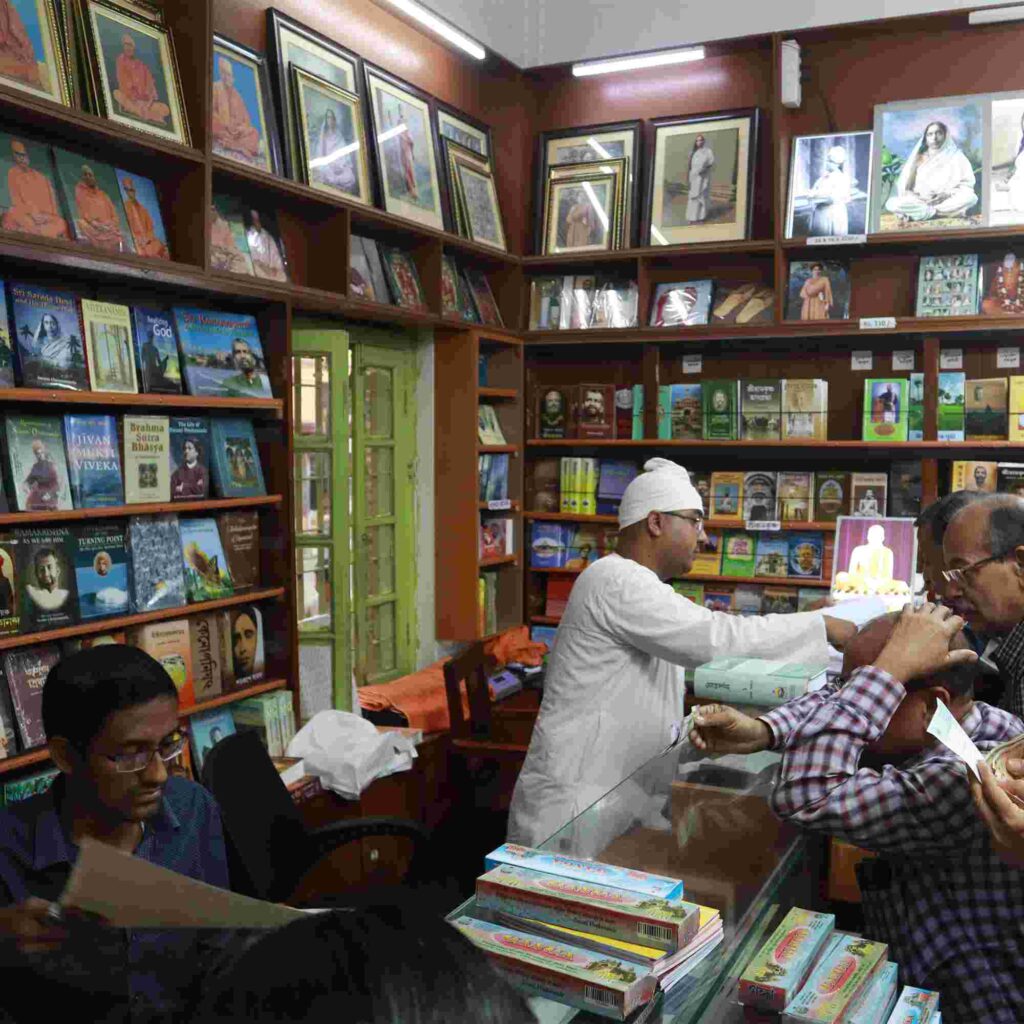 5. Graphiti Para
When Kolkata is in question, how can I not talk about artists and their great art? After all, you're in the cultural capital of India. I bring you a place where you can see wall art proving the kind of talent the City of Joy holds.
Graphiti Para is one of the best places to visit wall art in Kolkata and I discovered it place unknowingly. One fine evening Soniya and I went for a walk, and to our surprise, we didn't even release that we had walked one kilometer away from Gariya, near Brahmapur, till we saw a colorful neighborhood.
The house adorning both sides of the lanes has become the center of attention – the graffiti on the house walls. The paintings are so detailed and lifelike that you cannot pass by without standing there and adorning them.
Tip: Graphiti Para is one of the hidden gems of Kolkata for photography, you can search on Google naming – Rong Chobi Para or Bangla Horof
Note: the paintings are mostly influenced by children's paintings and fantasy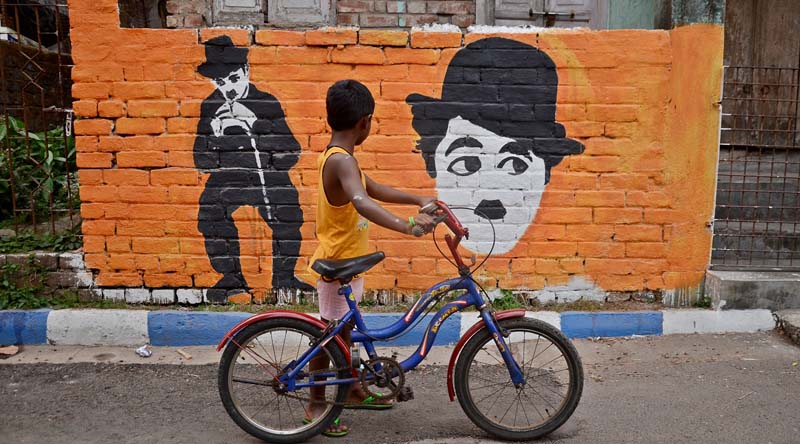 6. Durga Museum
Address: Dhakuria, Rabindra Sarobar, Kolkata, West Bengal 700045
You are well aware of Rabindra Sarabor, one of the pet-friendly places in Kolkata and the best place for hanging out on weekends, but do you know just a few minutes walk from here you can reach Durga Museum?
Yes, the Durga exhibition museum – is home to 14 idols (till now), in a way of preserving the artworks of the panels and protecting the cultural heritage of Bengal. Durga Museum saves the artworks of artists from destruction.
It is also known as "Ma Phire Elo".  By the entrance, the two huge decorative terracotta lamps with flames on just give you the vibe of Durga Puja. It is indeed one of the locals' favorite spots in Kolkata.
Note: Come to Rabindra Sarobar and then take Gate No. 2 and walk straight. You can ask the locals. Durga Museum sits on the southern side of the lake
7. Nimtala Burning Ghat
Address: Beadon Street, Kolkata
Well, I cannot argue that Instagram reels have made us believe that Manikarnika Ghat in Varanasi is not for the faint-hearted. So, whenever I hear "burning ghat" the cremation on wooden pyres along the holly water of Ganga comes to my mind!
Unless, the previous year 2021, when I came to Nimtala Burning Ghat on Beadon Street with my relatives and my father to cremate my grandfather. The background and past linked history with this ghat just game me chill!
The air felt so heavy that I wanted to come back home as soon as possible. Back in the 1800s, Kolkata Hindus burned dead bodies, and Aghori sadhus, used these bones and ashes to perform rituals. The first cremation happened here back in 1717!
Note: Nimtala Burning Ghat is one of the un-tourist places in Kolkata which alleged a lot of "supernatural" and haunting stories from locals.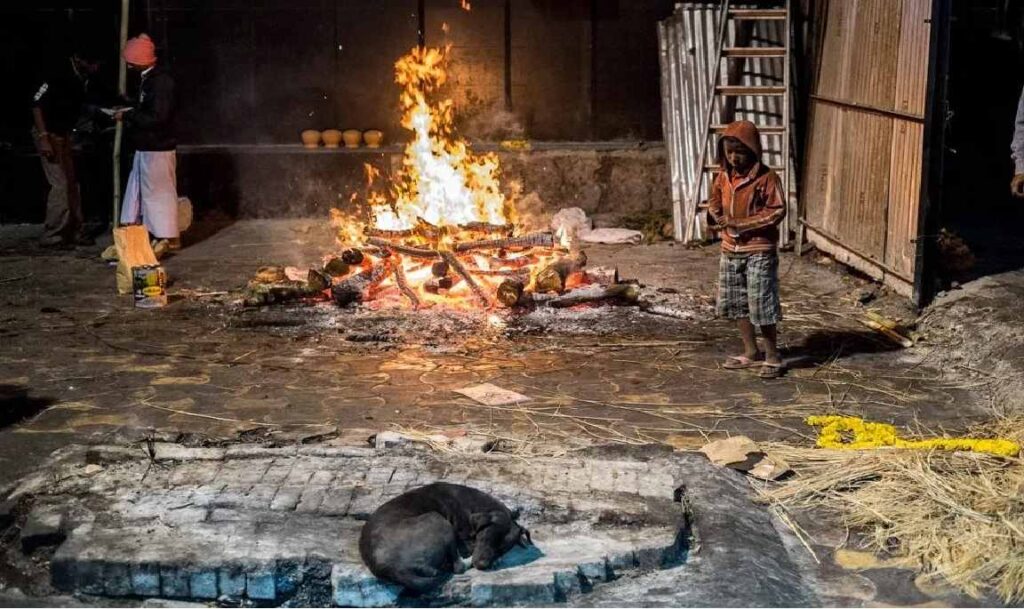 8. Boat Museum
Address: Ambedkar Bhawan, Kankurgachhi, Kolkata
Boat Museum is one of the unexplored places in Kolkata by tourists in Kankurgachi, a busy metro neighborhood of northeast Kolkata. The museum displays models of miniature boats that once sailed on the river in Bengal.
The place is not at all fancy but attracts a lot of artisans and craftsmen who love to know more about indigenous boat designs. You'll find 46 scaled models here. During my visit to Bangladesh at Dhaka National Museum, I saw 176 models of boats.
Note: Boat Museum does not have any entry fees hence it is one of the free things to do in Kolkata as a tourist as well as art lovers.
9. Mancherji's
Address: 14, Near Indian Museum, Kyd Street, Park Street-700016 near Indian Museum
What happens when a Bengali girl gets married to a Parsi household? The same happened to – Supriya Mancherji. Her interest in the world of Parsi cuisine and her entrepreneurship ideals gave birth to Mancherji's, an authentic Parsi Eateries in the heart of Kolkata.
It is indeed not a hidden gem in Kolkata but surely a secret place to have lunch in Kolkata's warm afternoon. You get to taste the best Patra Ni Machcchi, Chicken Farcha, and other Parsi-Bengali food at affordable prices.
My friend Aradhana suggested me this place and one afternoon I came here with my sister. Sali Chiken, Chiken Dhansak, and Lagan Nu Custard all under Rs. 200/. Can you imagine that? Do you know she gets all the ingredients from local Parsee land?
Note: The place is simple with no fancy decoration.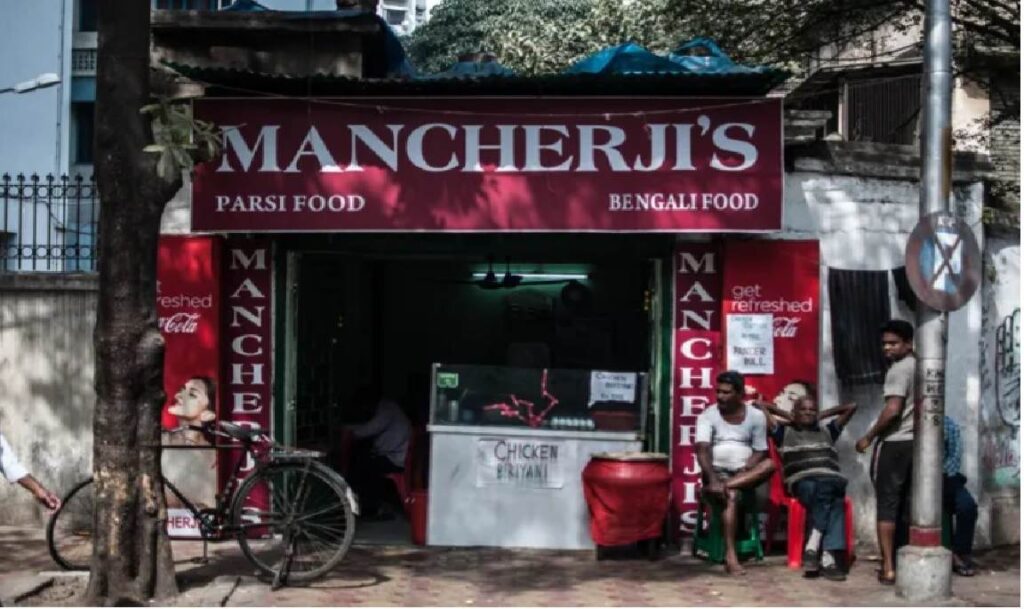 10. Bhim Chandra Nag
Did you know, Bhim Chandra Nag earned its name as one of the best heritage eateries in Kolkata National Trust for Art and Cultural Heritage? "Mishti" or sweets is an integral part of Bengali's food galore, and this shop in Bowbazar brought Pantua to life.
Bhim Chandra Nag is a must-visit sweet shop in Kolkata that make the best Ledikeni. If you do not know what it is then let me just give you a hint – it's a unique variation of gulab jamun but with Bengal's touch and flavor.
It received its name from "Lady Canning" back when the Britishers ruled India. Lady Canning loved the sweet so much that from her name the sweet was named. Hence, this sweet shop is one of the secret places in Kolkata to come in the evening with your grandparent.
11. Chaat Street
Address: the intersection of Wood Street & Upper Wood Street
What if your cravings for chaat arise in the middle of the night? The Fuchka walla at the corner of the street is gone by now. What then? Where do I get the best chaat in Kolkata, at midnight? Welcome to Chaat Street, off to Shakespeare Sarani.
The street food stalls open around 12.30 at night serving the best spicy chaats, bhelpuris, fuckas, and also an array of kulfis and mouthwatering street foods. Well, this is surely not an offbeat destination but a must-visit spot in Kolkata at night. 
Read More:
1. Can you recommend some offbeat places to visit in Kolkata?
A. C. Brothers at Shobhabazar, Pen Hospital at Esplanade, and Mayer Bari at Bagbazar are some offbeat places, away from the popular tourist spots. You'll love These places.
2. Are there any hidden gems in Kolkata for food lovers?
A. Food lovers come to Chaat Street at the intersection of Wood Street & Upper Wood Street off to Shakespeare Sarani. The street stalls open around 12.30 in the night serving the best chaats, fuckas, kulfis, and other midnight snacks. Also, if you want to taste true Parsi food at an affordable rate come to Mancherji's at New Market.
3. Can you suggest some lesser-known markets in Kolkata?
A. Dakshinapan Shopping Center is one of the lesser-known markets in Kolkata, just eight minute's drive from Gariahat. It's an open-air shopping center where you get terracotta handicrafts, artifacts, cotton sarees, fancy cotton dresses, fancy blouses, and a huge place to sit and hang out with friends over Chatt!
4. Are there any hidden gems in Kolkata for art enthusiasts?
A. Boat Museum at Kankurgachi is one of the hidden gems in Kolkata for art enthusiasts as entry is free and people can learn more about boats that sailed in the heart of West Bengal forever.